Regarding high-quality gaming displays, it's hard to look past those with OLED panel technology. From the near-instantaneous response times (0.03ms) you get, all but eliminating the very concept of 'ghosting' to the crisp blacks and vibrant colors for HDR - it's no wonder we're seeing more and more PC gamers looking to OLED so they can fully immerse themselves in what they're playing.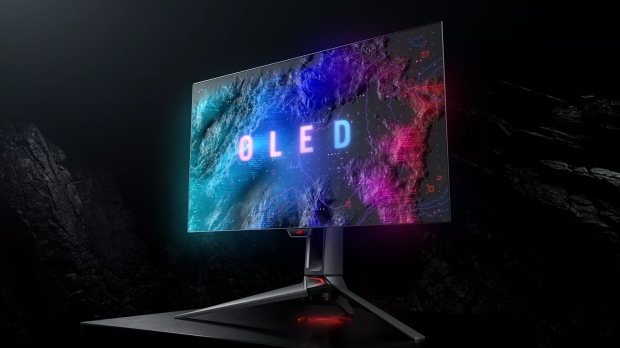 For competitive gamers, the new ROG Swift OLED PG27AQDM from ASUS delivers a blisteringly fast 240 Hz refresh rate with 1440p resolution, full G-SYNC compatibility, true 10-bit color, 99% DCI-P3 color accuracy, and a 1000-nits peak brightness. Competitive or esports displays traditionally put image quality second to focus performance. The ROG Swift OLED PG27AQDM is a game changer because it offers the best of both worlds.
The OLED difference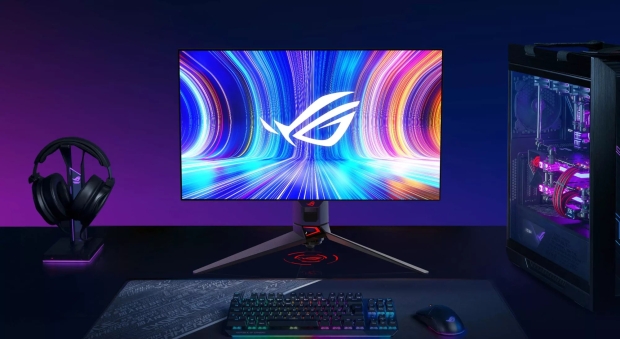 The most immediate difference in jumping to an OLED display is the panel technology's self-lit pixel technology. Each pixel can turn on or off, creating near-infinite contrast for the images displayed. In scenes where there's a lot of black, those pixels are effectively 'turned off,' which is something no other display tech can match.
At this point, you might wonder if there's a catch or an area where OLED might fall behind traditional LCD technology. The answer to that is yes, but only to a point. OLED panels are traditionally unable to hit the same brightness levels as LCD panels and, by generating more heat, are prone to 'burn-in' or image retention. In the world of PC usage, where a Windows icon could be visible and displayed for several hours, this is a cause for concern.
However, OLED displays are improving every year, with the innovative design in the ASUS OLED range leading the pack. The ROG Swift OLED PG27AQDM highlighted above is a testament to that.
ASUS OLED displays offer cutting-edge heatsink and voltage optimization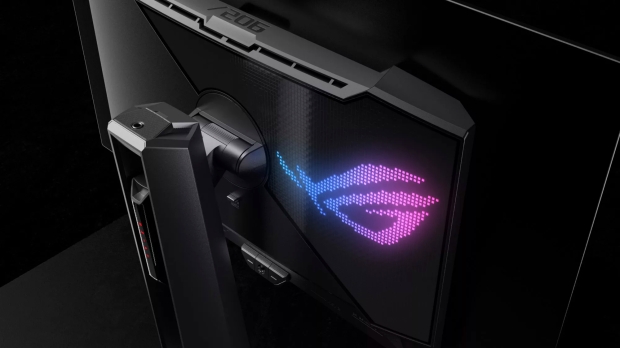 OLED panels run hot, and with the technology being organic, overall brightness can degrade over time or lead to retention or 'burn-in' issues. The good news is that there are solutions. No two OLED displays are alike, and with the ASUS OLED range, you can access cutting-edge design.
ASUS OLED displays like the ROG Swift OLED PG27AQDM arrive with a custom-designed and tuned heatsink that draws heat away from the OLED panel - leading to a 17% increase in brightness while operating at lower average temperatures than OLED panels from the previous generation.
Across the entire ASUS OLED range (which includes the Swift OLED PG27AQDM), you've also got Intelligent Voltage Optimization. This algorithm optimizes the voltage applied to each pixel based on the current temperature to add another layer of protection from burn-in. It's an incredible bit of technology found in ASUS OLED displays.
Combined with custom heatsinks and uniform brightness, you've got cutting-edge technology on all ASUS OLED displays for gaming.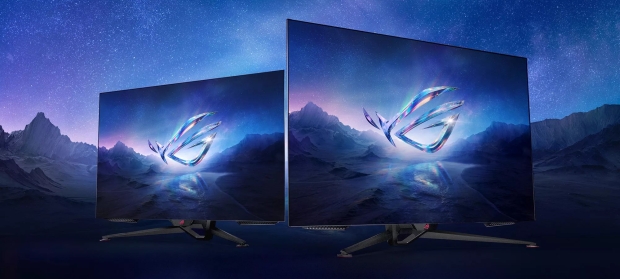 Switching the focus over to the ROG Swift OLED PG48UQ, a massive 48-inch display designed for big-screen gaming - you're looking at excellent features designed to maintain that OLED magic for years. With its 4K 138 Hz (overclocked) refresh rate, uniform brightness, brilliant colors, and immersive HDR, it's the sort of display tailor-made for a high-end GPU like the GeForce RTX 4090 or even the GeForce RTX 4070 Ti.
Big-screen, vibrant, and accurate productivity and PC gaming are just one side of the story as the ROG Swift OLED PG48UQ and 42-inch ROG Swift OLED PG42UQ are excellent choices for couch gaming thanks to modern consoles like the PlayStation 5 and Xbox Series X|S fully supporting the HDMI 2.1 standard.
The ROG Swift OLED PG48UQ features a custom heatsink to lower temperatures and enhance long-term OLED performance, and it features another bit of tech found in the ASUS OLED range.
Uniform brightness for the highest-quality image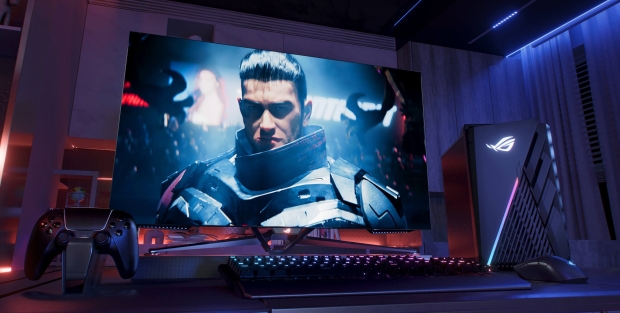 When it comes to a display's brightness, maintaining the same brightness level across every pixel is not easy, and for the most part, it isn't noticeable when gaming. Productivity is a different story, whether you're working on a document or spreadsheet, editing videos, or setting up a stream - variances in brightness become easy to spot when the image isn't constantly changing.
Uniform brightness is easier on the eyes, leading to more comfortable viewing over long periods. Even for gaming, it's a big plus, so it's excellent to see that it's a focus for ASUS and the ROG range.
This is where the ROG-exclusive Uniform Brightness setting comes in, a powerful bit of software and hardware that decreases the peak brightness to keep levels consistent across the entire display. The following clip showcases a bright white window expanding and contracting to demonstrate the technology, retaining uniform brightness throughout the display.
ASUS's Uniform Brightness tech also helps improve clarity and smoothness when transitioning from a bright image or page to a dark image or page, with additional smart support for those working (or gaming) in a dark setting.
There's an ASUS OLED perfect for every situation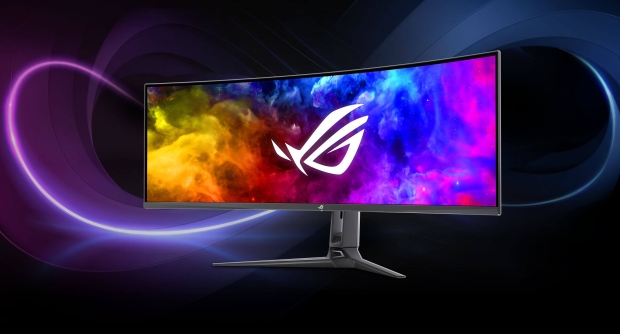 ASUS recently announced the new ROG Swift OLED PG49WCD, a massive 49-inch ultrawide with a 5120x1440 resolution QD-OLED panel - effectively giving you two 1440p displays in one. In the age of powerful GPUs and PC hardware, the display adds a new dimension to immersion - bolstered by the brilliant features, image quality, and specs you get from an ASUS OLED.

It also delivers impressive connectivity with ROG Smart KVM, so you can connect multiple devices and control both with a single keyboard and mouse (with both screens split evenly across the 49 inches), plus USB-C with 90W power delivery, so you don't have to worry about laptop battery life. Next-level UltraWide gaming meets next-level productivity.
I/O wise, it's stacked with DisplayPort 1.4, HDMI 2.1 ports, high-bandwidth USB 3.2 Gen 1 Type-A ports, and USB Type-C.
The ROG Swift OLED PG49WCD also takes ASUS's cutting-edge cooling technology to the next level. The custom fan-less heatsink not only keeps the display cool, but the entire OLED panel features a layer of graphene film - one of the best materials in the world for thermal conductivity. And, yes, you've also got the same Uniform Brightness tech in this massive ultrawide.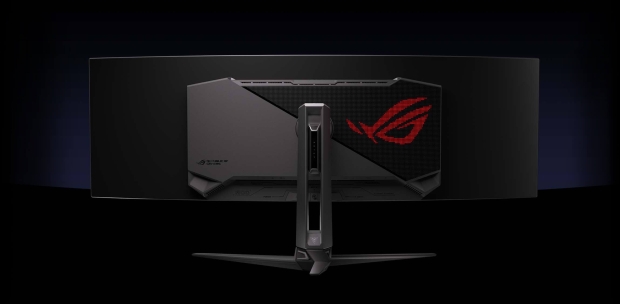 The ROG Swift OLED PG34WCDM is another soon-to-be-released ASUS OLED to drool over, a 34-inch ultrawide with an incredible 240 Hz refresh rate and 0.03ms response time (GTG) that makes it perfect for cinematic immersion with Cyberpunk 2077 and competitive action with Call of Duty: Modern Warfare III. Throw in the same versatility, excellent customization tools, and protective features, and you've got an ultrawide OLED you could call an esports display.
The innovation doesn't stop there. ASUS is taking all its learnings, cutting-edge OLED technology, and know-how to deliver the ROG Swift OLED PG32UCDM, a 32-inch 4K OLED panel with a 240 Hz refresh rate. With a peak brightness of 1000 nits, G-SYNC compatibility, and a custom heatsink, it's the ultimate display for creators, designers, and gamers.
From big screen displays to massive ultrawide monitors to compact and powerful 27-inch OLED panels, there's an ASUS OLED to suit every situation. And with the company a leader in cooling, smart features like Uniform Brightness, it can push OLED brightness, refresh rates, and overall specs into territories we haven't seen - while maintaining long-term performance and reliability.
No two OLED displays for gaming or PC use are identical, and thanks to custom heatsink technology, Intelligent Voltage Optimization, and Uniform Brightness, the ROG Swift range from ASUS is hard to beat. Custom heatsink tech and Intelligent Voltage Optimization offer reliability and stability, free from issues some might associate with OLED. At the same time, Uniform Brightness delivers the best possible image while focusing on eye care, whether in a bright or dark setting.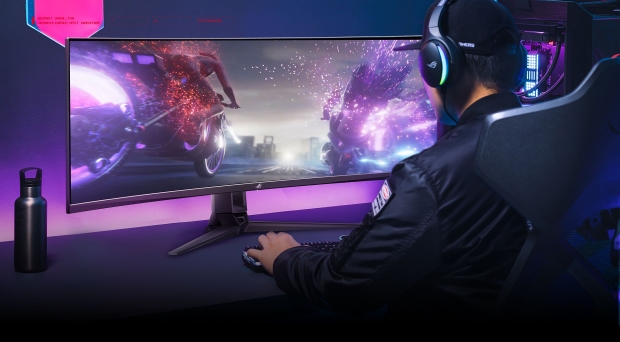 Check out the ASUS OLED range if you're considering making the OLED plunge. And keep an eye out for new models (PG32UCDM and PG34WCDM) coming soon.