The samples going out for the Radeon R9 390X haven't been well spread to other sites, but we were fortunate enough to have three separate cards sent to us for review. What do you do with three Radeon R9 390X cards? Well, you throw them into CrossFire and run them at 4K, that's what! We have our review of the SAPPHIRE Tri-X R9 390X 8GB and the MSI Radeon R9 390X Gaming 8G.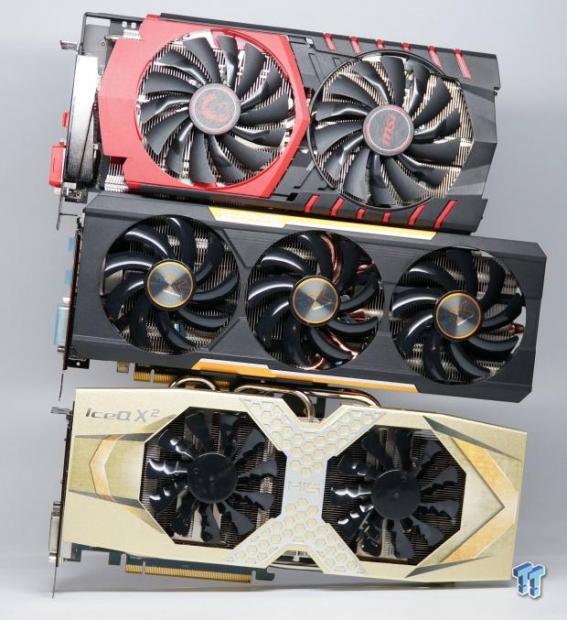 A single R9 390X provides ample performance at 4K with a mix of medium/high settings, but I wanted to see if AMD had improved the scaling on the 390X, which has impressed me so far. We've used our SAPPHIRE Tri-X R9 390X 8GB and MSI Radeon R9 390X Gaming 8G for our CrossFire testing, and only tested 4K obviously.
I was going to test 1080p and 1440p, but people spending $800+ on a duo of 390X cards most likely aren't going to sit around running 1080p. If you want to see 1080p and 1440p, let us know in the comments below and I'll write another article looking at 1920x1080 and 2560x1440. For now, let's jump into the system we're running these two cards with.
The system we're running, and its specs: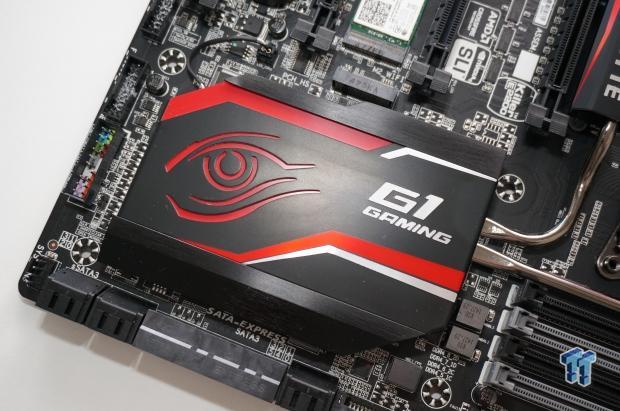 CPU: Intel Core i7 5820K processor w/Corsair H110 cooler
Motherboard: GIGABYTE X99 Gaming G1 Wi-Fi
RAM: 16GB Corsair Vengeance 2666MHz DDR4
Storage: 240GB SanDisk Extreme II and 480GB SanDisk Extreme II
Chassis: Lian Li T60 Pit Stop
PSU: Corsair AX1200i digital PSU
Software: Windows 7 Ultimate x64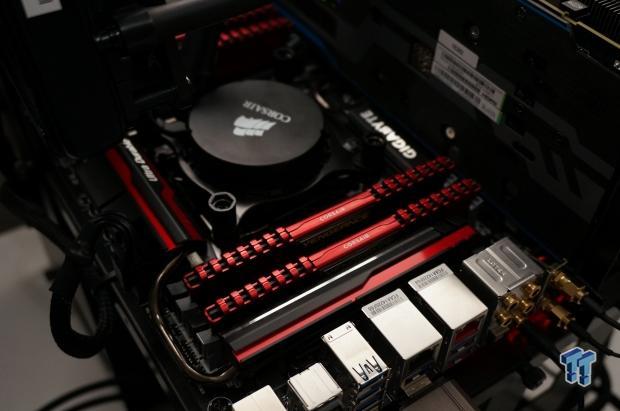 3DMark Fire Strike Ultra - 4K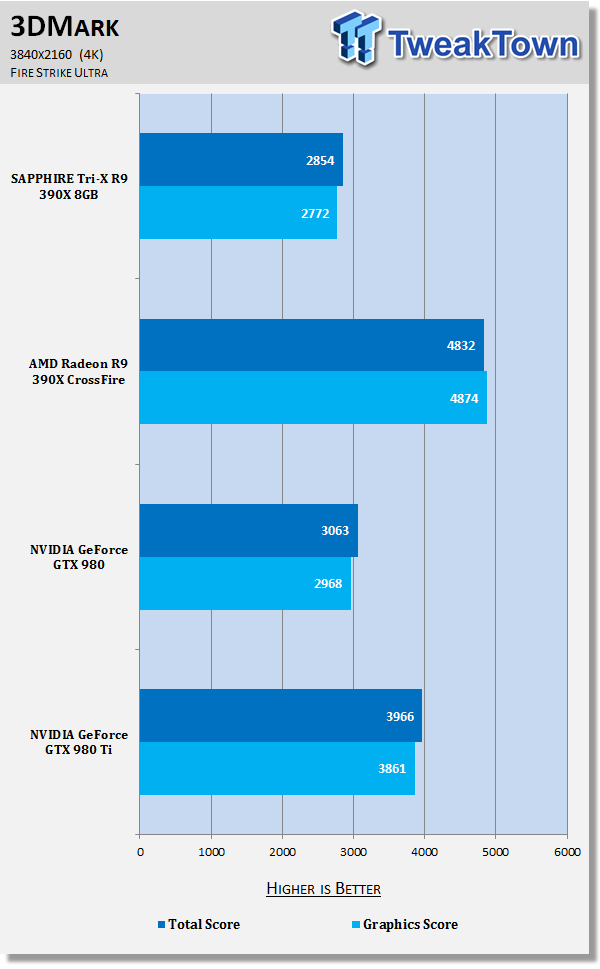 Heaven - 4K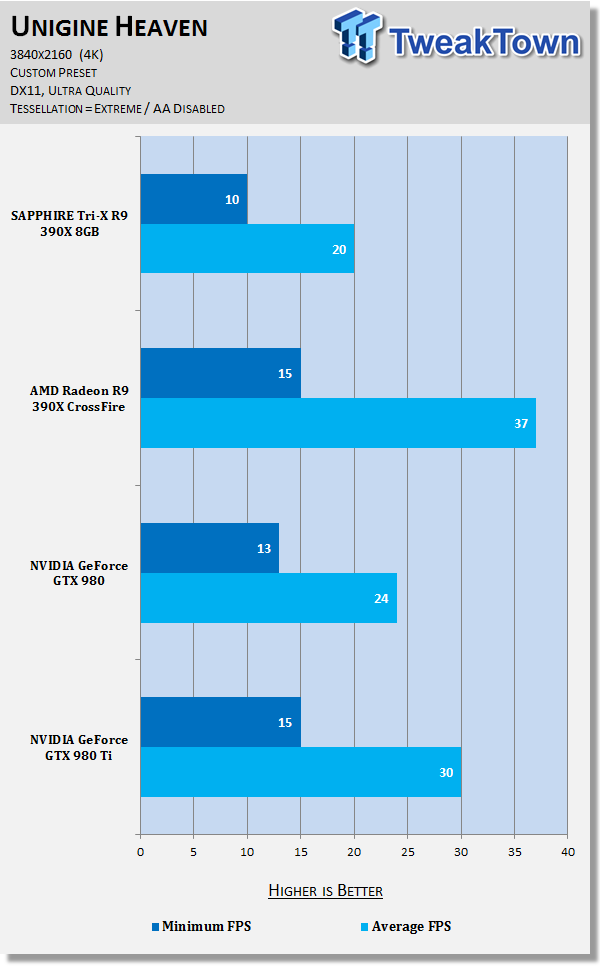 Battlefield 4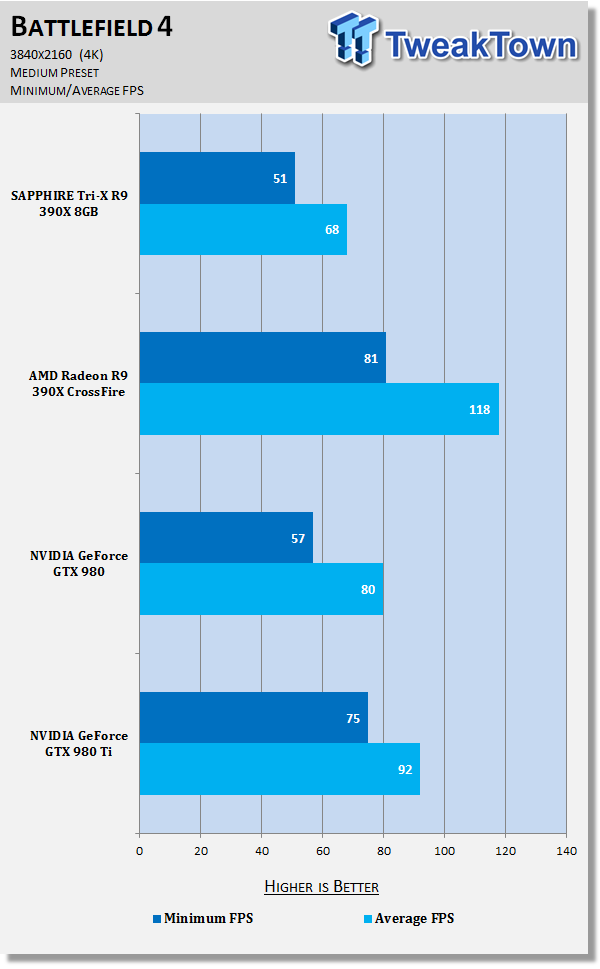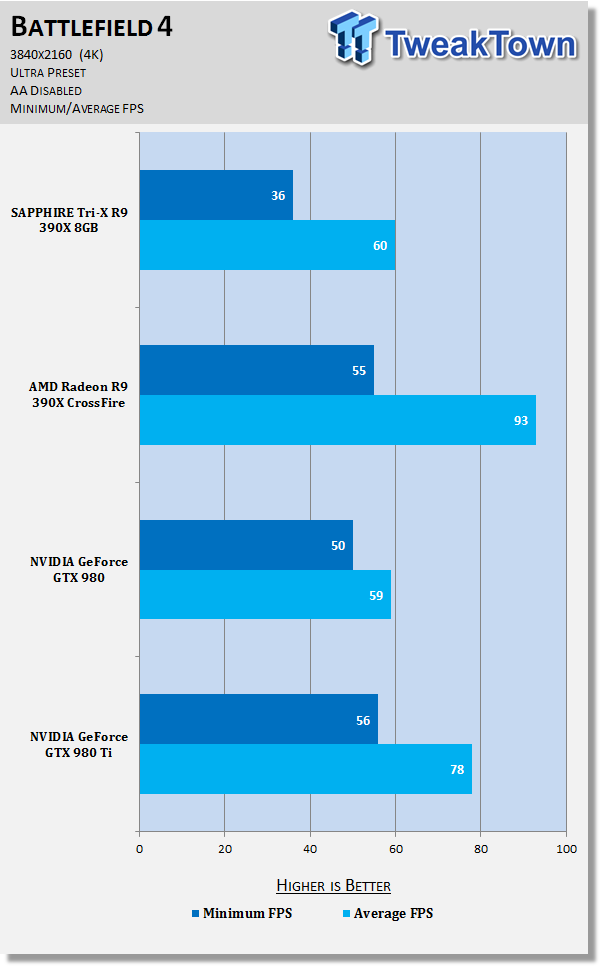 GRID Autosport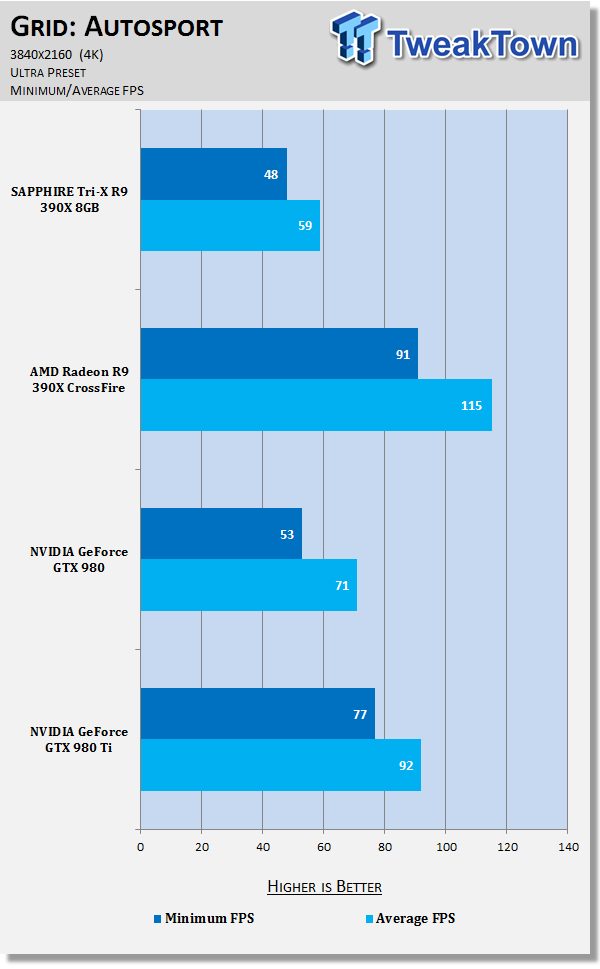 Metro: Last Light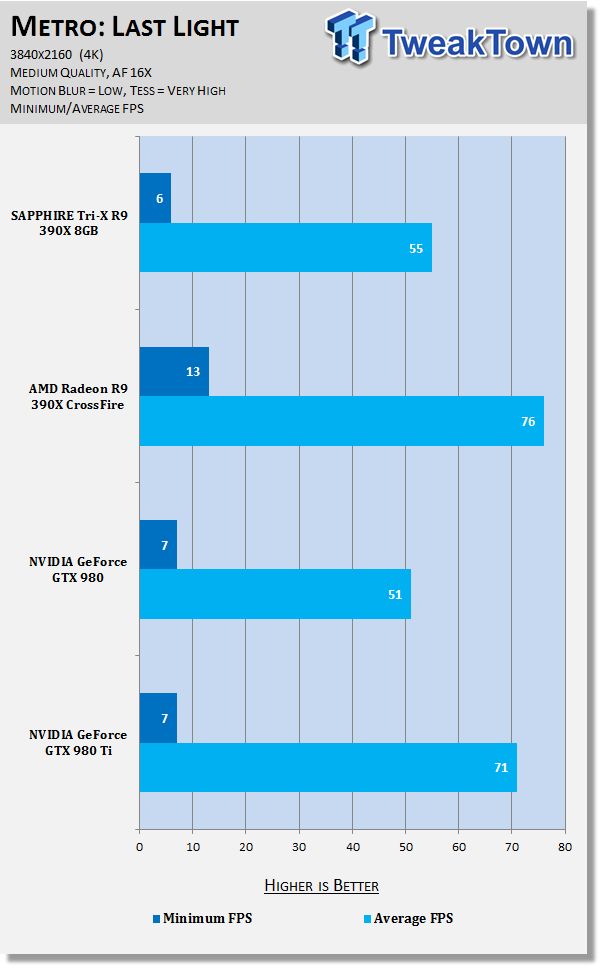 Middle-earth: Shadow of Mordor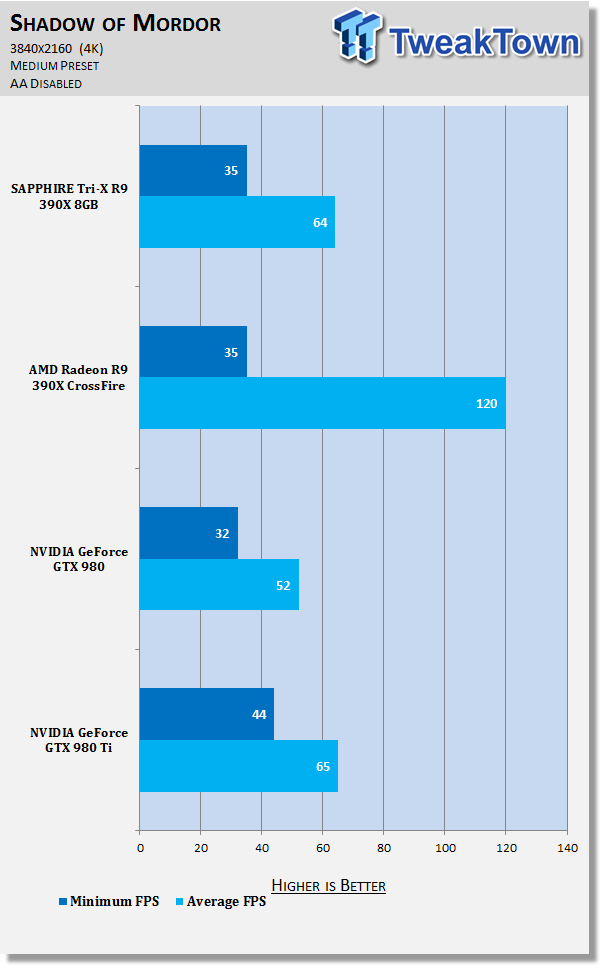 Thief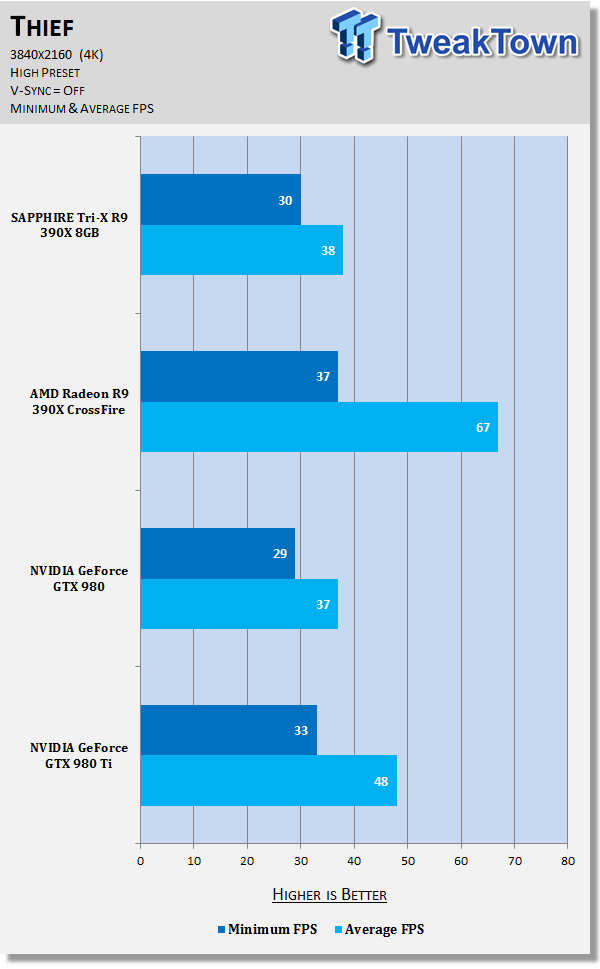 Tomb Raider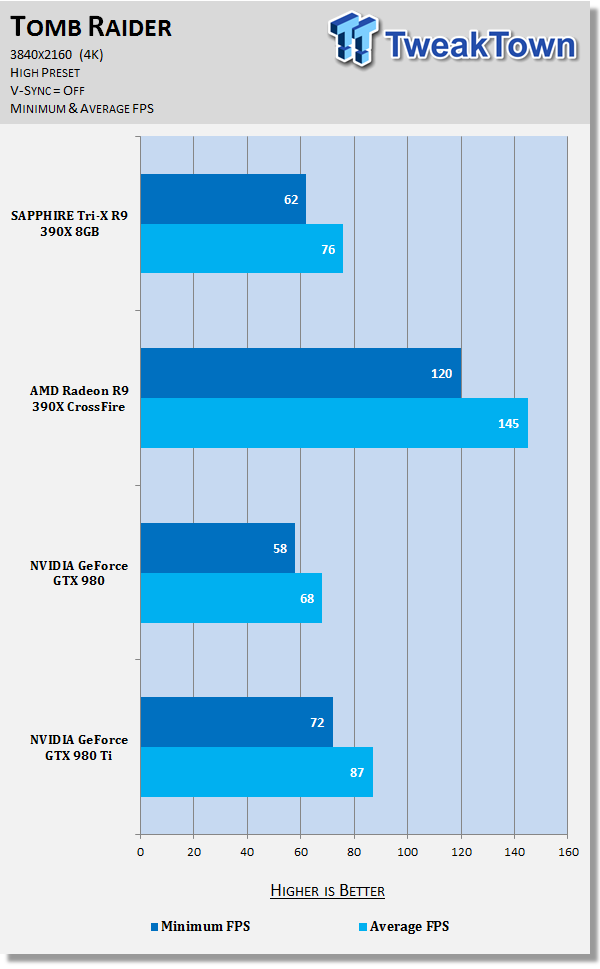 BioShock Infinite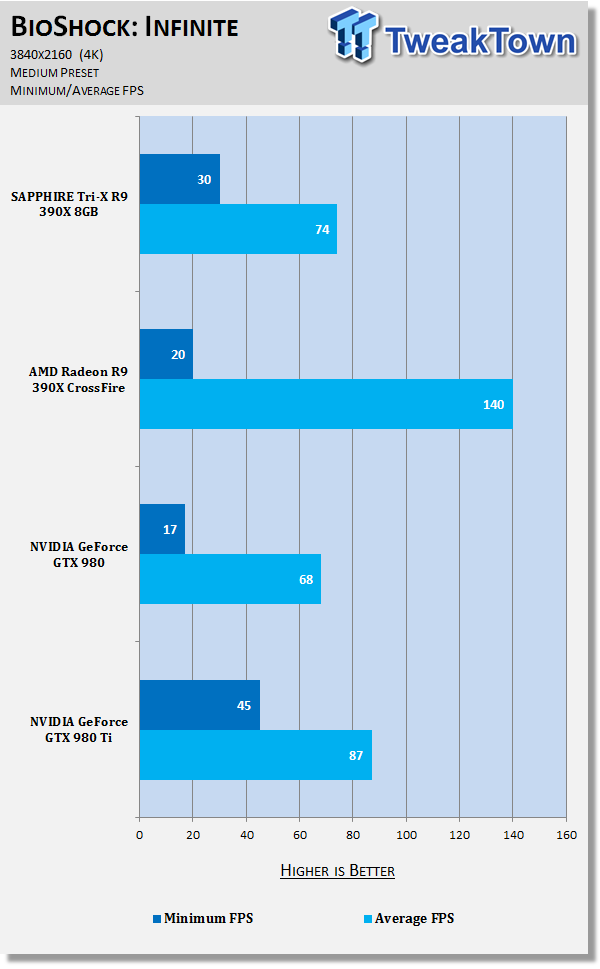 Power Consumption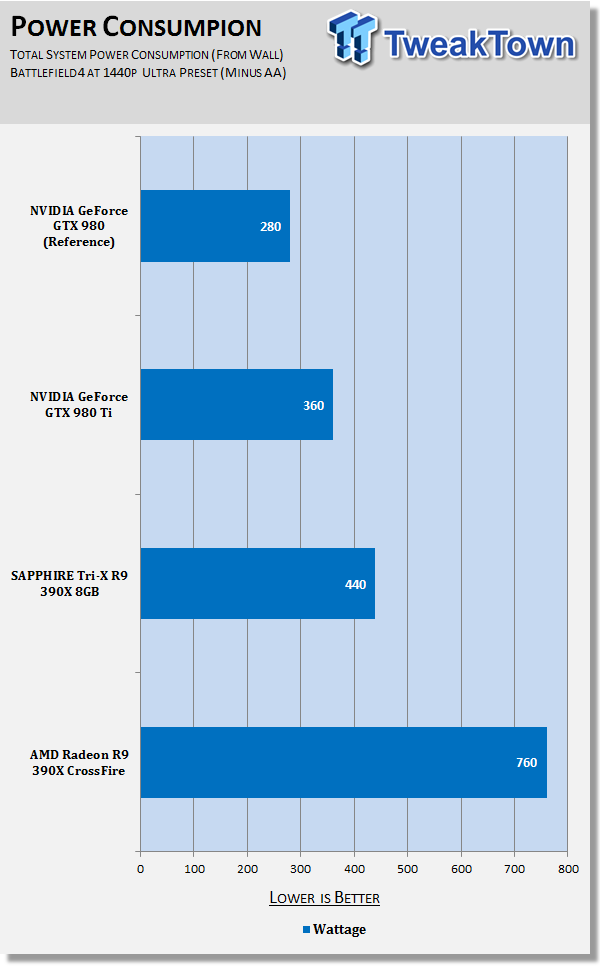 Power consumption is quite insane on the two R9 390X cards in CrossFire, hitting 760W and even peaking at just over 805W in our testing.
Final Thoughts
There you have it. Two AMD Radeon R9 390X cards in CrossFire pack a damn impressive punch. We're looking at more than playable performance at 4K, with close to 80-100% scaling in every single game.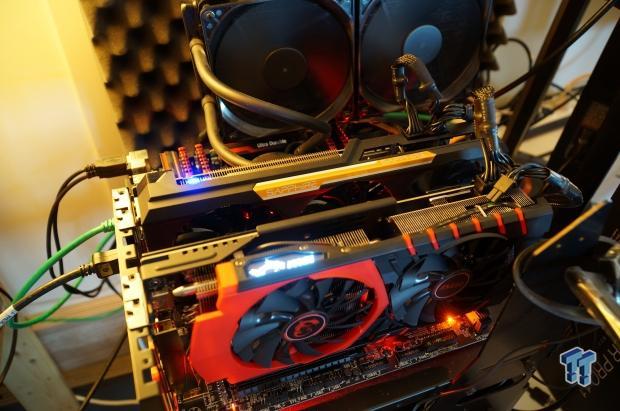 A single Radeon R9 390X isn't that impressive as it's just a rehashed R9 290X, but two of the new R9 390X cards in CrossFire represents great performance. With a price of $429 or so per card, you're looking at $850+ for this setup which is why we've included the performance of the NVIDIA GeForce GTX 980 Ti which sells for $649 and above (depending on the brand).
I'm more than impressed with what AMD is capable of here with two Radeon R9 390X cards in CrossFire at 4K, but I think the real excitement is going to be next week when the Radeon R9 Fury X arrives... we'll be running it through its paces, seeing just what HBM brings to the table.
Last updated: Nov 3, 2020 at 07:12 pm CST