Our review sample of the GeForce GTX Titan X is sitting behind me as I type, and while we can't test it just yet because we don't have our hands on drivers, we're seeing a really nice sneak peak at the performance and it is mind blowing to say the least.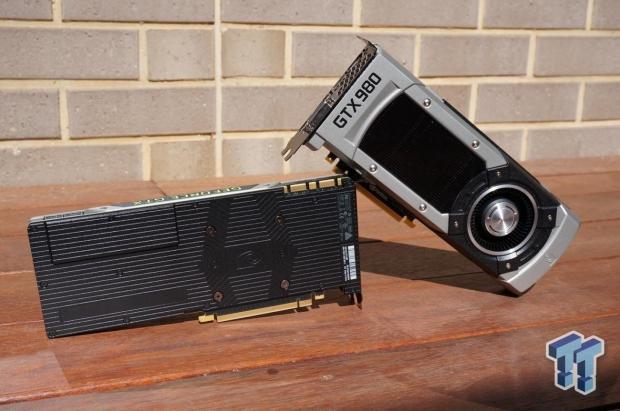 Before our review of the Titan X goes live, I thought I would run our GeForce GTX 980s in SLI through our benchmark suite and update our numbers. This will give us a better look at how the new Maxwell-based Titan X fares against the Maxwell-based 980s in SLI.
Seeing as though we can expect around 30-50% more performance over a single GTX 980, the Titan X should do quite well against even the GTX 980s in SLI. In VRAM limited situations (which we're going to get into with another article) the Titan X will trounce the competition thanks to its 12GB framebuffer.
The system we're running, and its specs: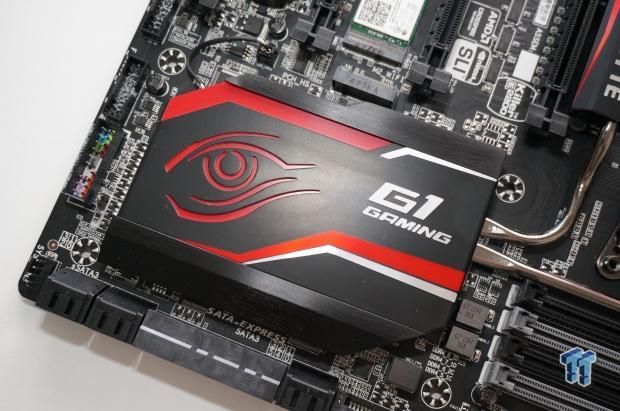 CPU: Intel Core i7 5820K processor w/Corsair H110 cooler
Motherboard: GIGABYTE X99 Gaming G1 Wi-Fi
RAM: 16GB Corsair Vengeance 2666MHz DDR4
Storage: 240GB SanDisk Extreme II and 480GB SanDisk Extreme II
Chassis: Lian Li T60 Pit Stop
PSU: Corsair AX1200i digital PSU
Software: Windows 7 Ultimate x64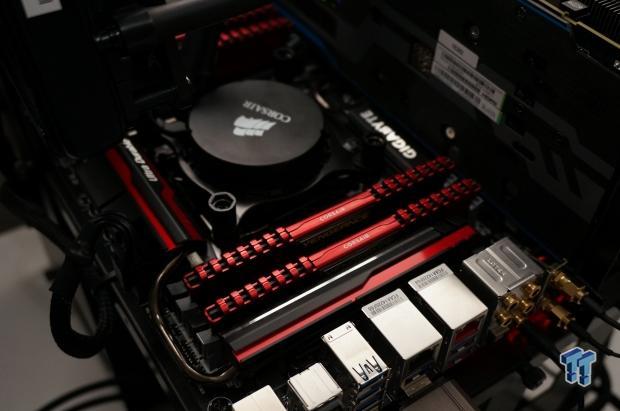 3DMark Fire Strike Ultra - 4K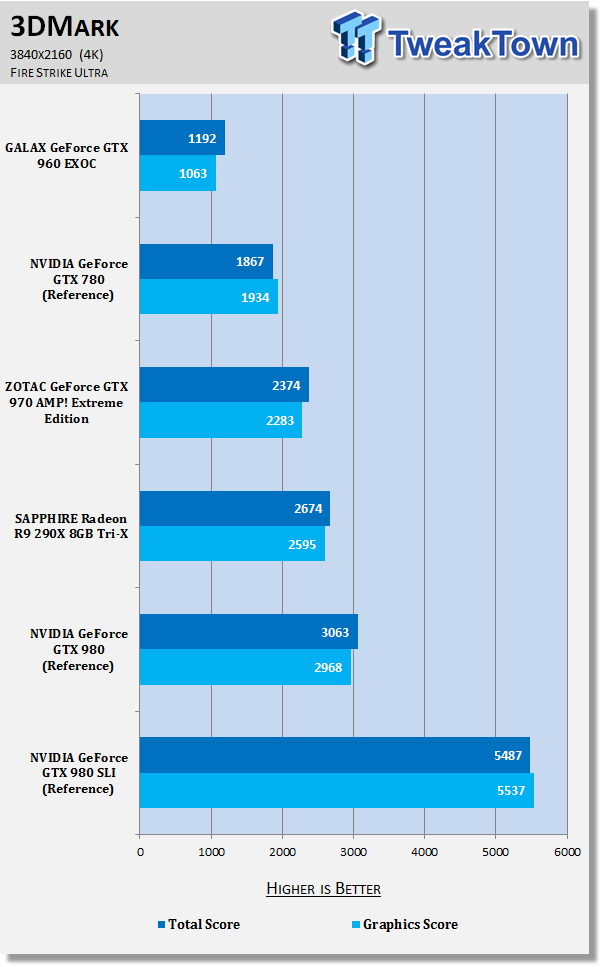 Synthetic benchmarks have always been great for testing performance, with a near perfect 86% increase in performance. Stunning scaling with 3DMark, as usual.
Heaven - 4K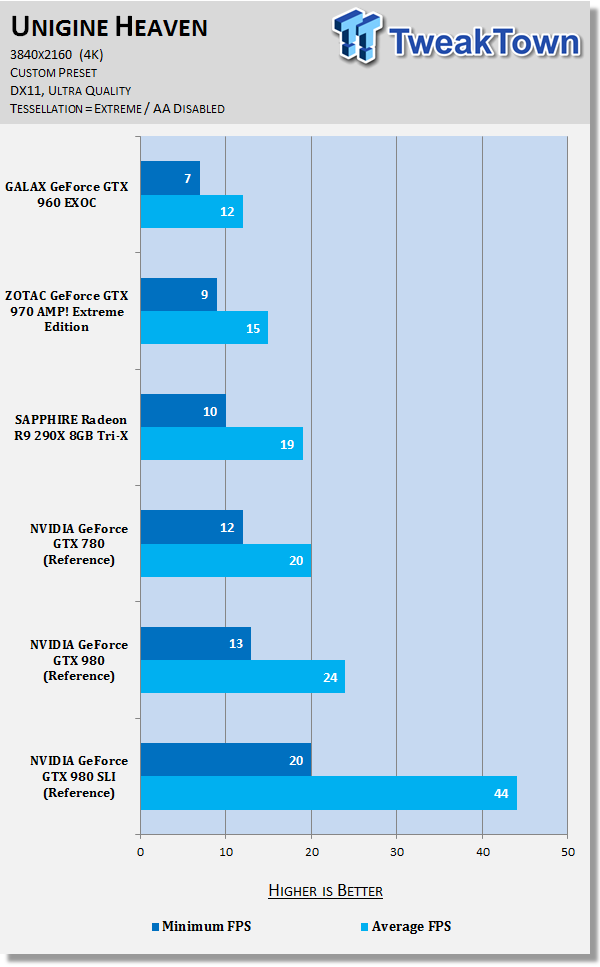 Heaven repeats this SLI scaling awesomeness, with an 83% increase in performance with our SLI set up over the single GTX 980.
Battlefield 4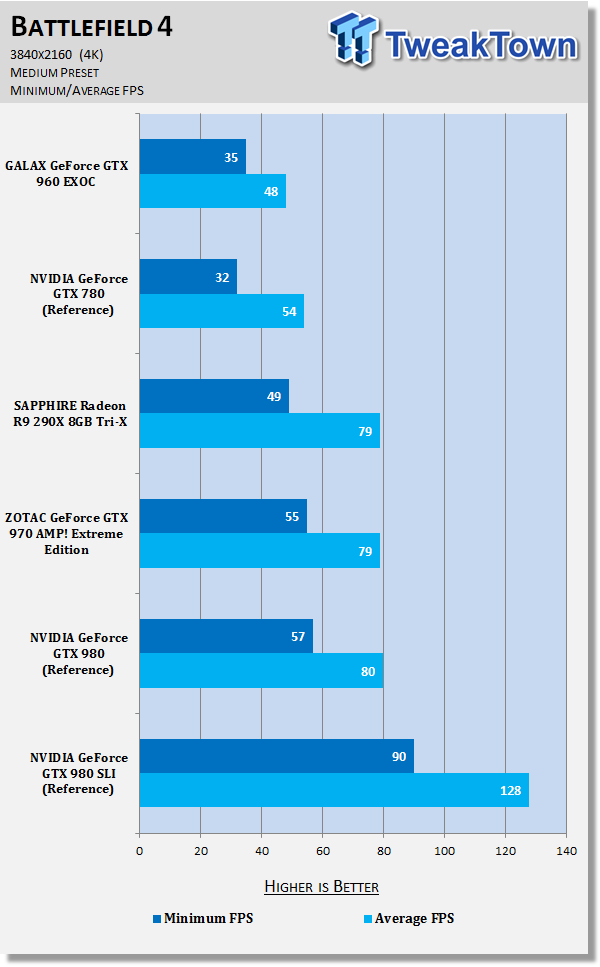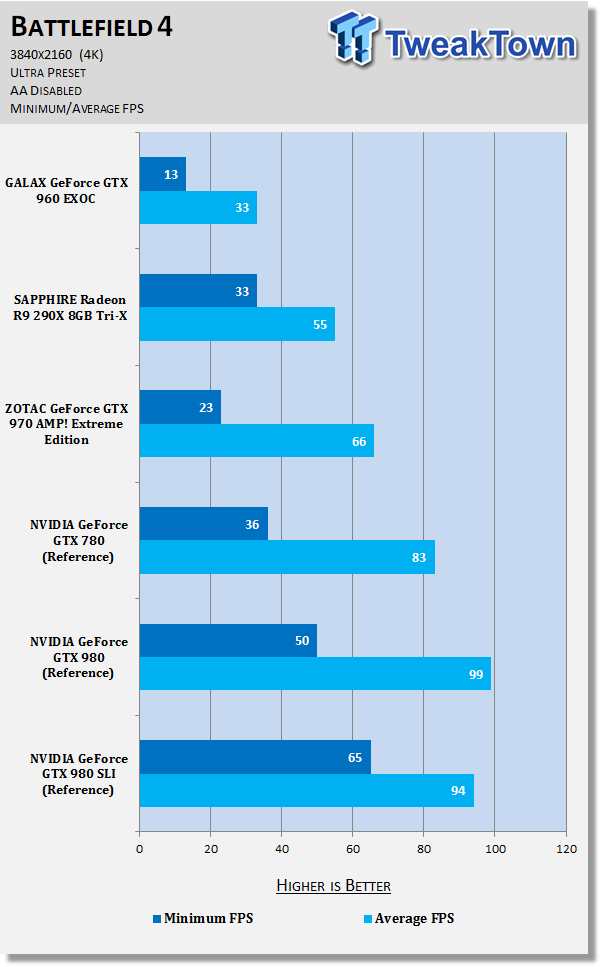 As usual, we'll begin with the thoughts on Battlefield 4. On the Medium preset, we have a 50% increase in performance thanks to the additional GTX 980. On the Ultra preset (minus AA) we have some bad scaling going on, with a drop of 5FPS. This is where the upcoming GTX Titan X is going to come into play, as its a single GPU that will have higher performance for Battlefield 4.
GRID Autosport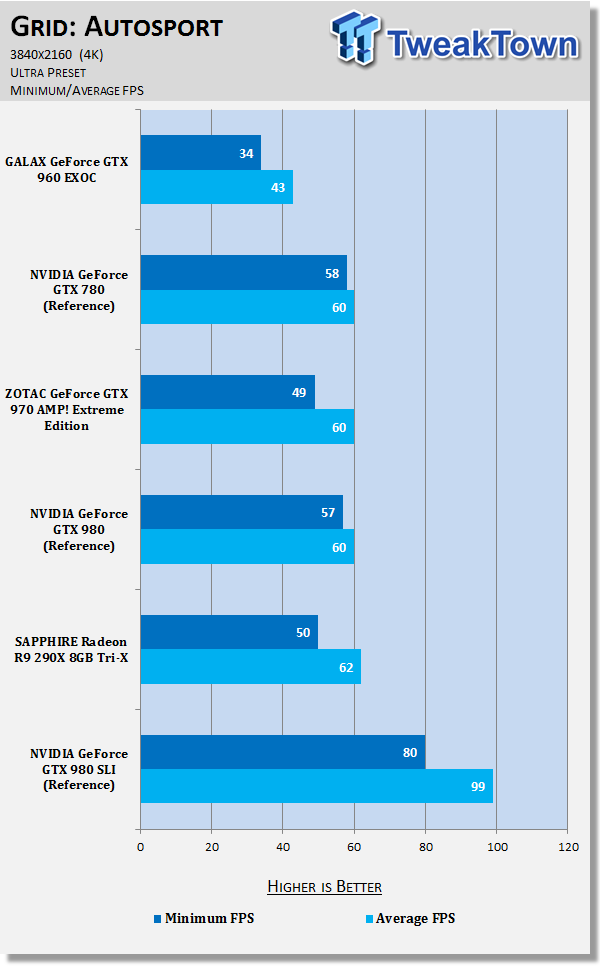 GRID Autosport sees some great SLI scaling with the two GeForce GTX 980s in SLI at 4K, with 99FPS versus 60FPS on the single GTX 980. This is a 65% increase in performance.
Metro: Last Light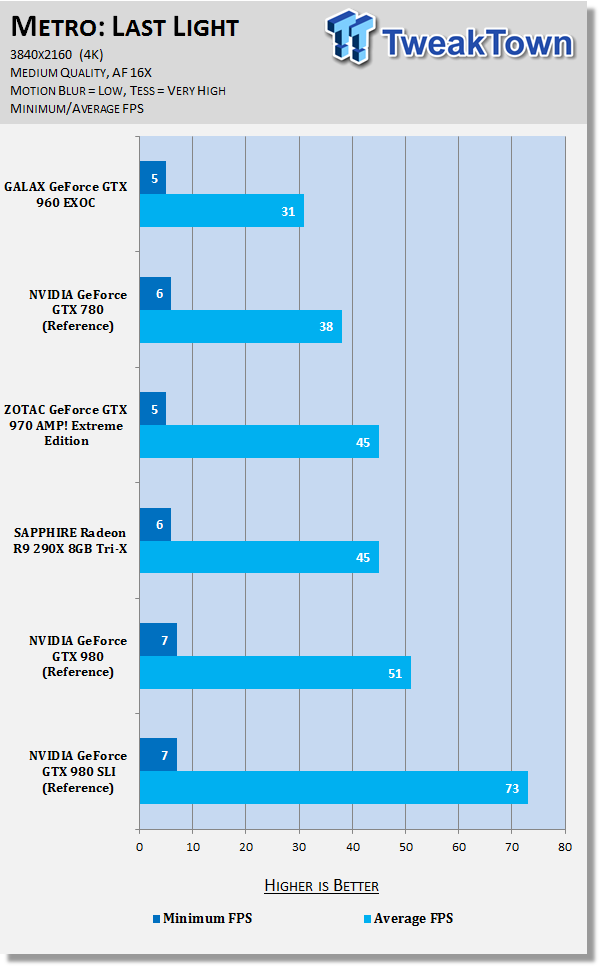 Metro: Last Light is always starved for more performance, where we have 73FPS with our SLI configuration, versus 51FPS, an increase of 43%.
Middle-earth: Shadow of Mordor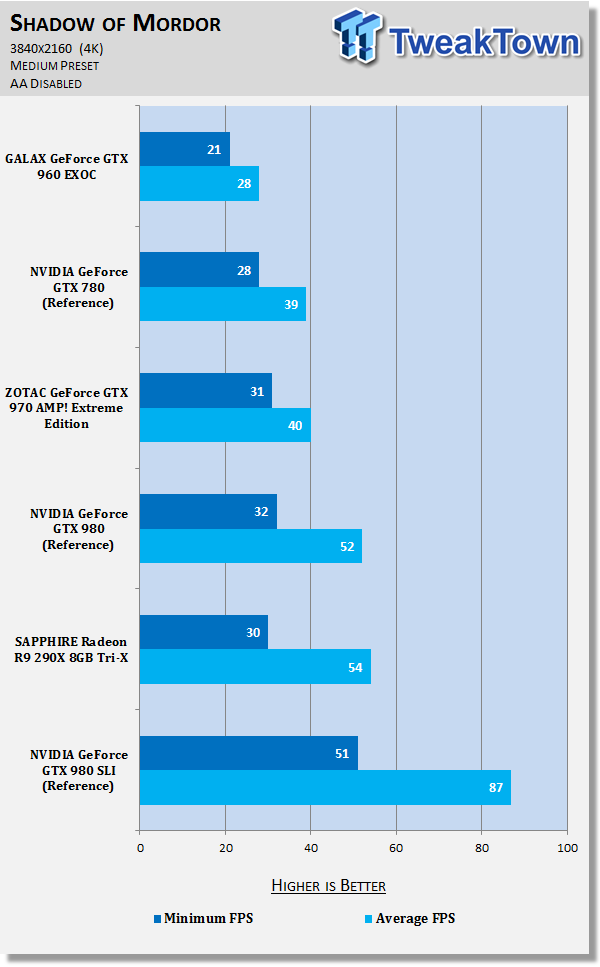 Shadow of Mordor is another GPU hungry game, with our GTX 980 SLI set up performing beautifully. We see an average frame rate of 87FPS, against the single GTX 980 which scored 52FPS - an increase of 67%.
Thief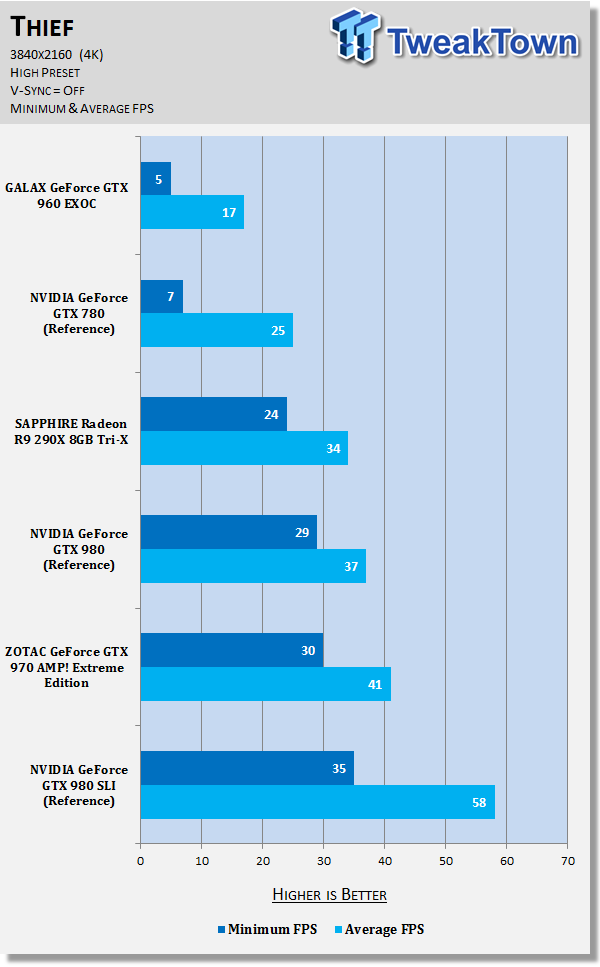 Thief continues the SLI domination, with a 56% increase in performance - jumping up from the single GTX 980 and its average frame rate of 37FPS, to 58FPS.
Sniper Elite 3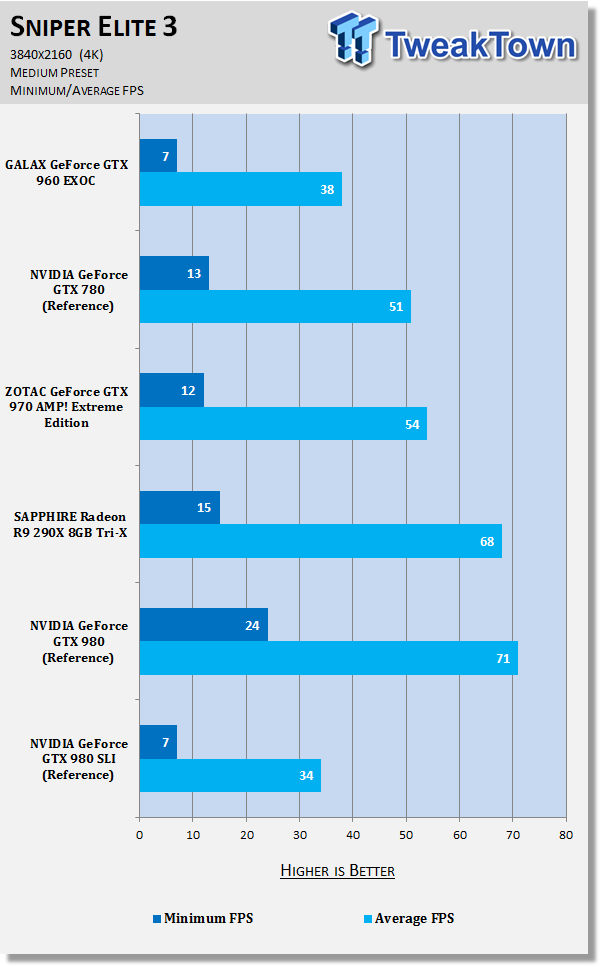 Sniper Elite 3 is playing funny buggers with us right now, with a huge drop in performance when SLI was enabled. We ran the tests multiple times to ensure it wasn't something we were doing, disabled and re-enabled SLI, rebooted, and everything in between. But still, bad SLI scaling or a problem with the 347.25 drivers, maybe.
Tomb Raider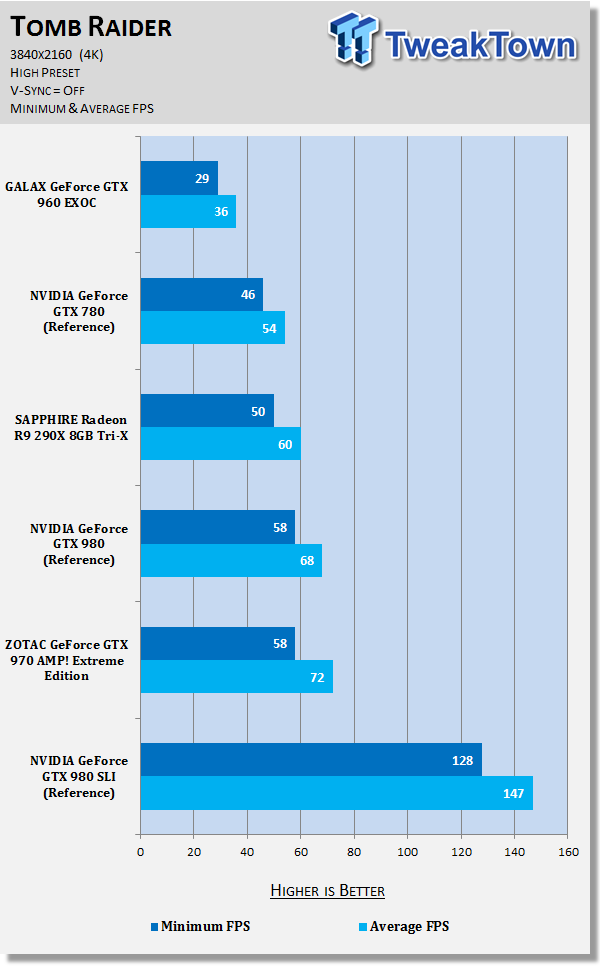 Whoa. Tomb Raider excels with the GTX 980s in SLI, with a gigantic 147FPS average over the 68FPS that the single GTX 980 provided. This is a huge improvement of 116%.
BioShock Infinite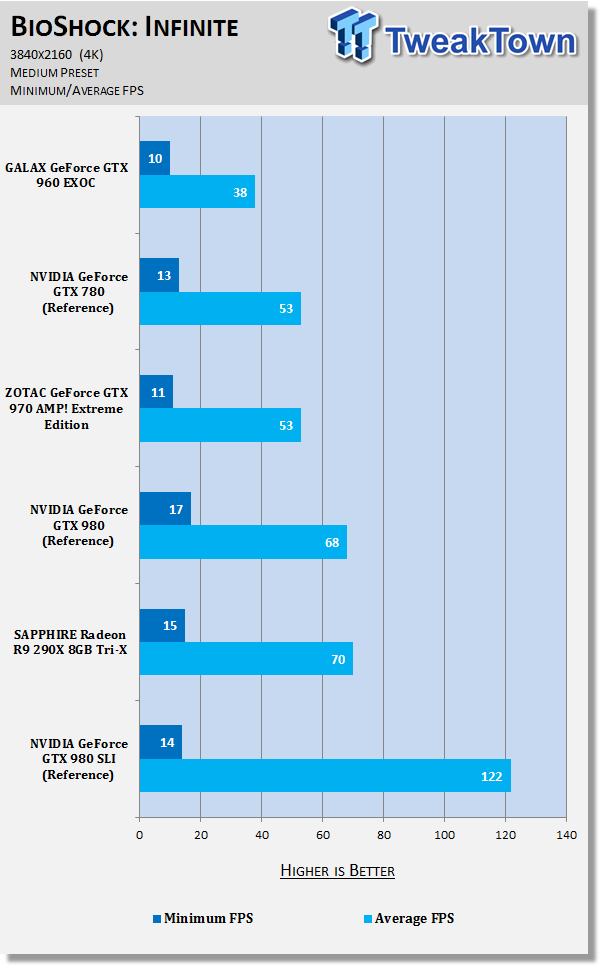 BioShock Infinite saw similar results to Tomb Raider with the SLI rig, with 122FPS versus the 68FPS on the single GTX 980, an increase of 79%.
DiRT Showdown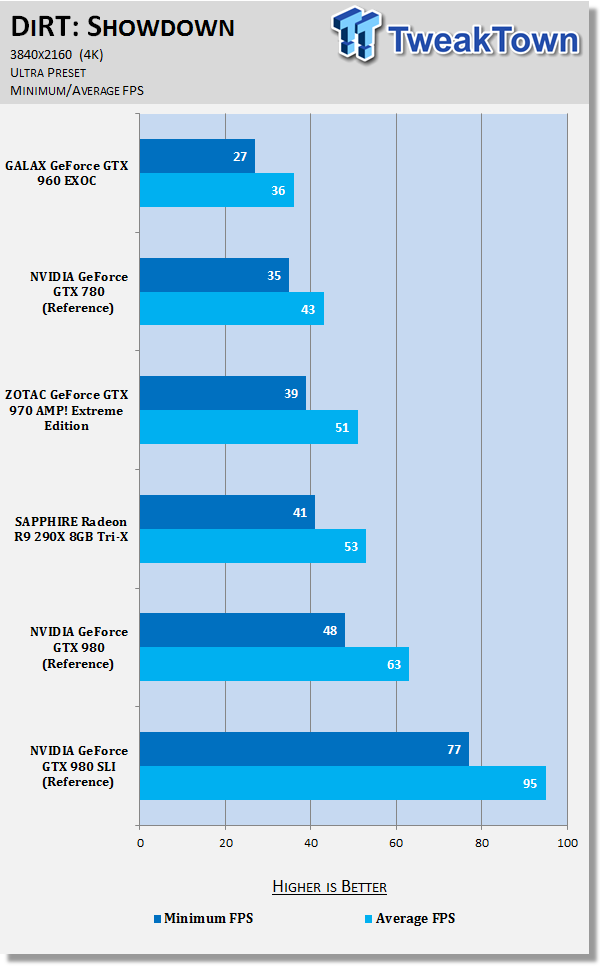 DiRT Showdown enjoyed the SLI-enabled system, improving up the GTX 980 and its 63FPS by a nice 50% boost in performance up to 95FPS average.
Power Consumption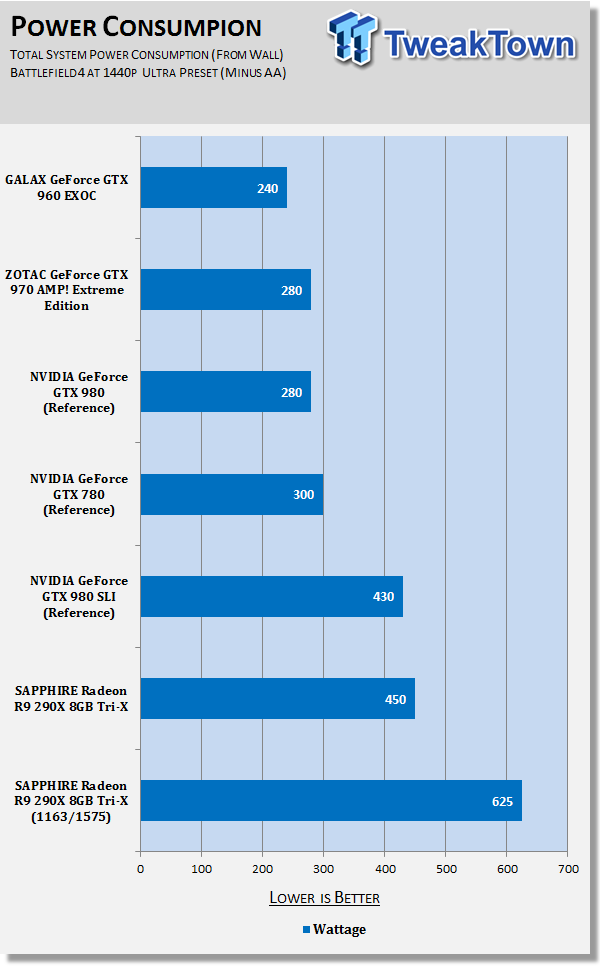 The power consumption of our GeForce GTX 980s in SLI was great, coming in at only 430W for our entire system running Battlefield 4 at 2560x1440 on our Ultra (minus AA) preset. Comparing this to the single SAPPHIRE Radeon R9 290X 8GB Tri-X which consumes a huge 450W, or when overclocked an insane 625W... the GTX 980 SLI is a power-sipping champion.
Final Thoughts
The NVIDIA GeForce GTX 980 SLI option is one of the best setups you can buy today, with huge performance scaling in most games, and not that much power consumption. Consuming only 430W in total, the GTX 980 SLI system is a great alternative to a Radeon R9 290X setup in terms of power consumption and heat output alone.
We primarily did this article as a tease of what's to come with the GeForce GTX Titan X, which isn't too far away at all. We were able to fill in our benchmark charts waiting for the Titan X, which should come along and stomp all over the GTX 980 and have a huge battle with the GTX 980s in SLI.
It is not long until that happens, so sit tight, as we have some more exciting things to come - 4K Surround testing.
Last updated: Nov 3, 2020 at 07:12 pm CST