TweakTown's Rating: 95%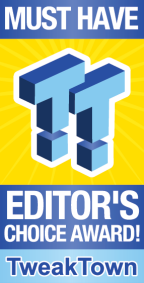 The Bottom Line
Gen4 performance and massive capacity. What more could you want?
Introduction & Drive Details
Sabrent is undeniably the most forward-thinking SSD company we know of on the consumer front. Its mantra of "Capacity is King" has changed the consumer solid-state storage industry forever. Before Sabrent burst onto the scene in the past year, 512GB was considered the sweet spot for consumer SSDs. Now, thanks to almost exclusively to Sabrent, 2TB is regarded as the sweet spot for fast NVMe storage.
These days, Sabrent is giving us more than just capacity; they are giving us Gen4 speeds to go along with all that glorious capacity. A perfect example of this is the drive we have on the bench today. Sabrent's Rocket Q4 4TB SSD is powered by Sabrent's exclusive version of Phison's proven E16 Gen4 x4 SSD controller. The drive is a uniquely potent mix of QLC flash and a Gen4 interface.
This particular SSD once again demonstrates Sabrent's commitment to offering more for less. There are other 4TB Gen4 QLC SSDs out there, but as far as we know, Sabrent's Rocket Q4 4TB SSD is the only one with 32 CE (Chip Enables) instead of the normal 16 CE common to E16 controlled SSDs. 32 CE means better performance because it potentially doubles parallel processing power compared with more standard 16 CE.
This becomes extra important as it relates to QLC SSDs, which typically have much lower random read performance than their TLC counterparts. In fact, that is the main weakness of QLC based SSDs as we see it. 32 CE changes the game as demonstrated by the following two benchmarks: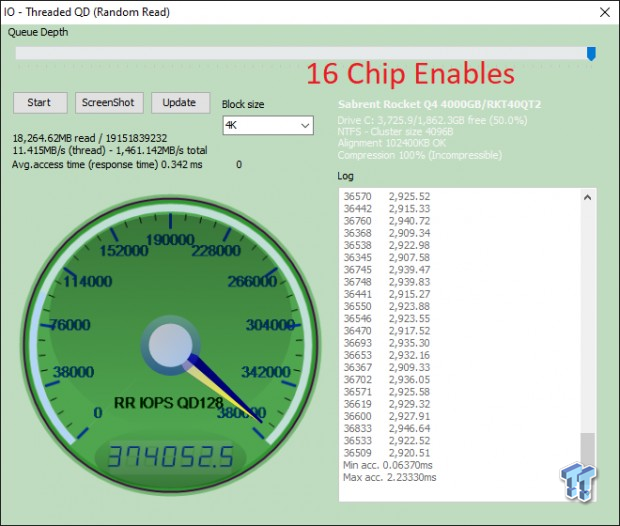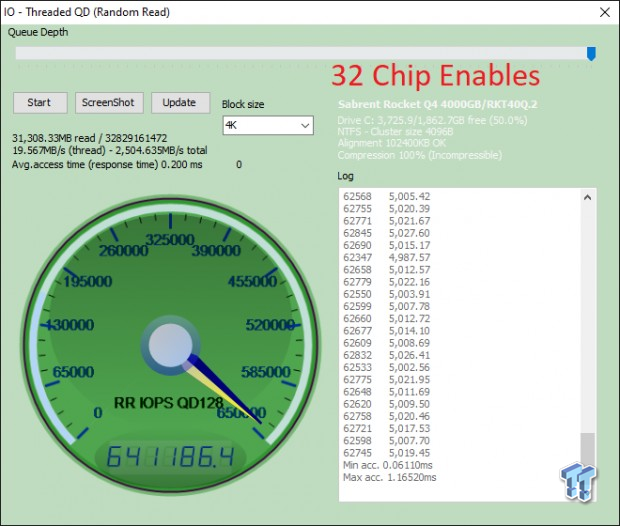 Look at the difference between 16 CE and 32 CE. 32 CE nearly doubles random read performance. Amazing, and not surprisingly, Sabrent is at the forefront of delivering this type of class-leading performance.
Now let's get into the review so we can demonstrate firsthand why Sabrent's Rocket Q4 4TB SSD with 32 CE is currently the best performing ultra-high capacity QLC M.2 SSD you can buy.
Drive Details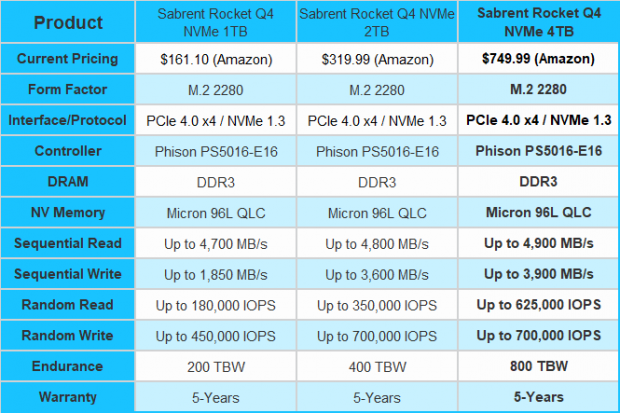 800 TeraBytes Written (TBW) is plenty of endurance for consumer usage.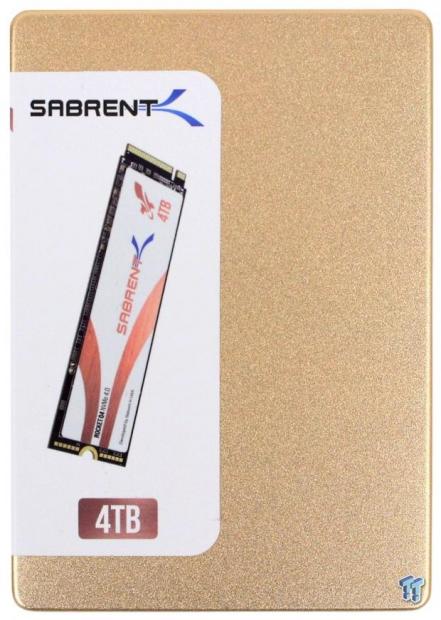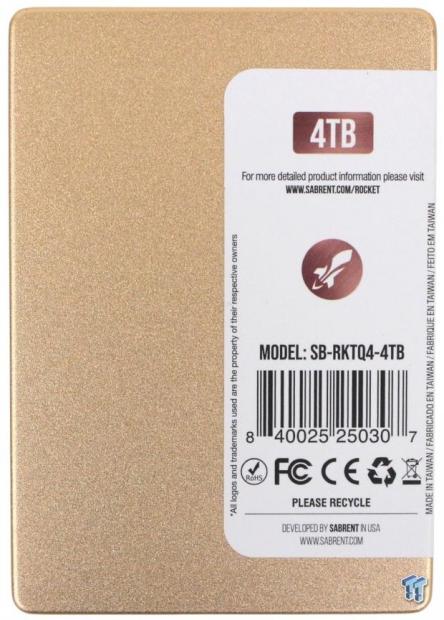 Under that attractive all copper thermal label, we would find a Sabrent PH-SBT-401 8-channel Gen4 x4 controller, two 1TB flash packages, and a 1GB Hynix DRAM package. The backside of the PCB houses another 1GB DRAM package and two more 1TB flash packages.
Jon's Test System Specifications
Free SSD Software
Sabrent Rocket Control Panel/Acronis for Sabrent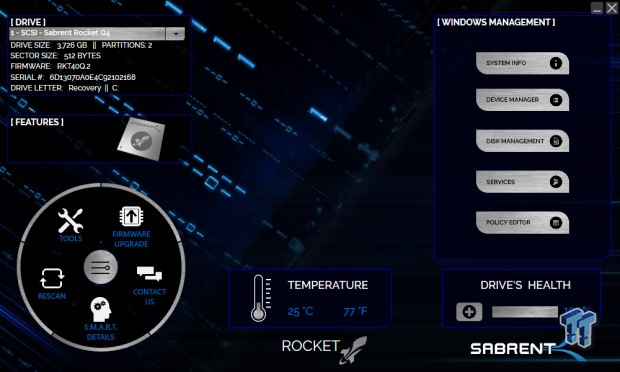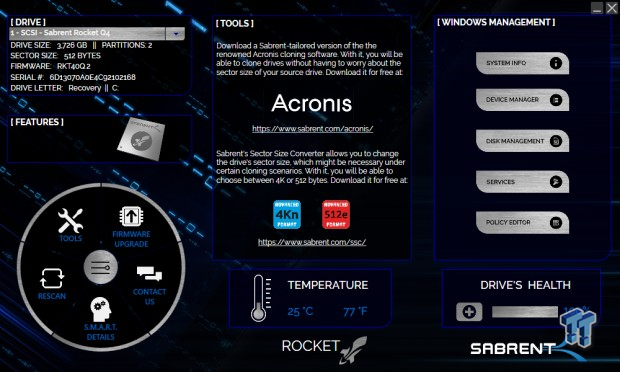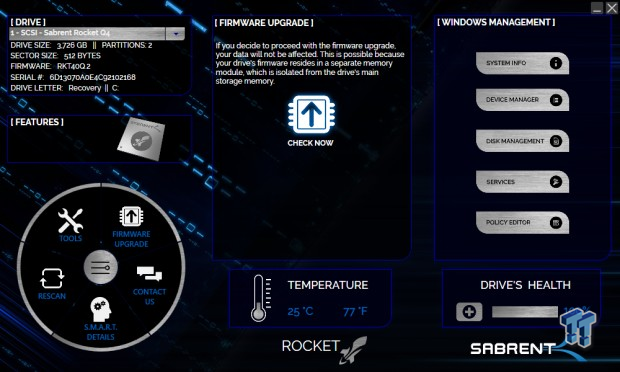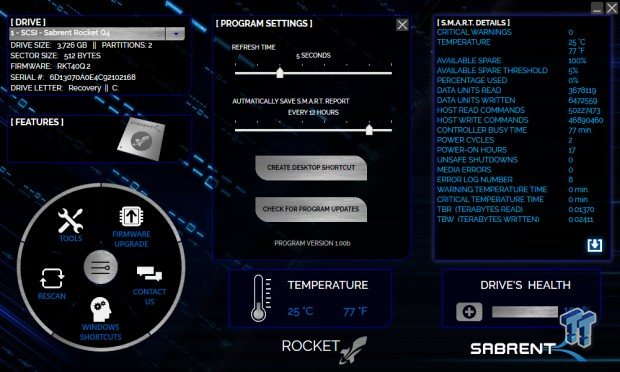 Click here to download Sabrent Rocket Control Panel.
Sabrent's SSD management software is free, and among the best there is. With it, you can perform numerous useful functions to maintain your Sabrent NVMe SSD. You can also get various free tools, including Sabrent's exclusive version of Acronis True Image, with just a click.
Register your SSD with Sabrent within 90 days to extend the Rocket Q4's warranty period from 1-year to 5-years.
Synthetic Benchmarks: CDM & Anvils
CrystalDiskMark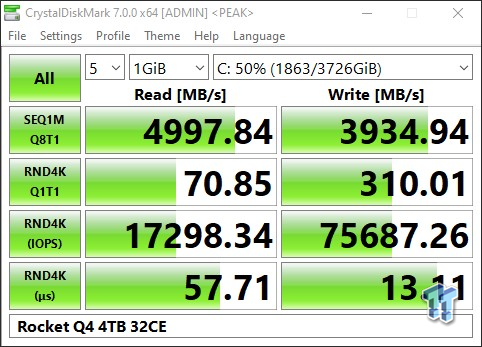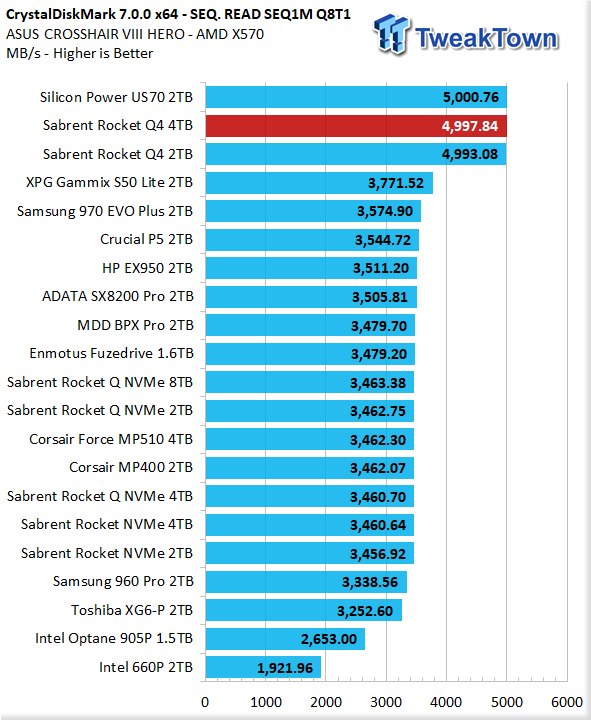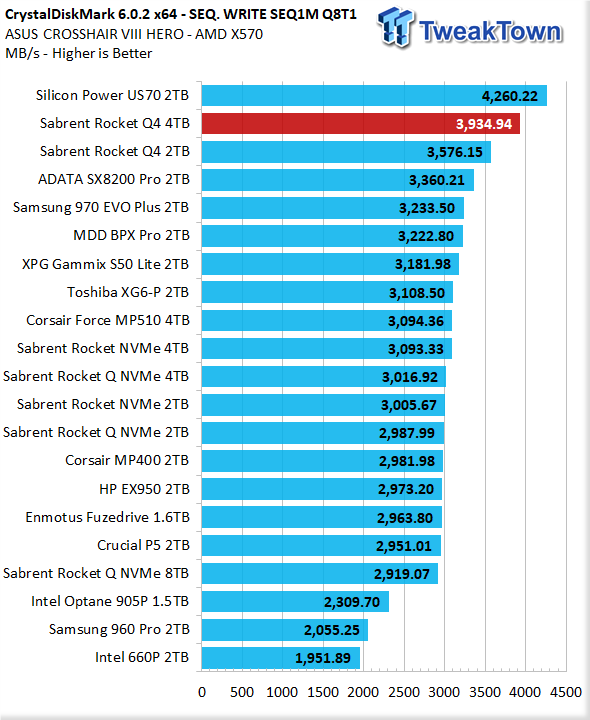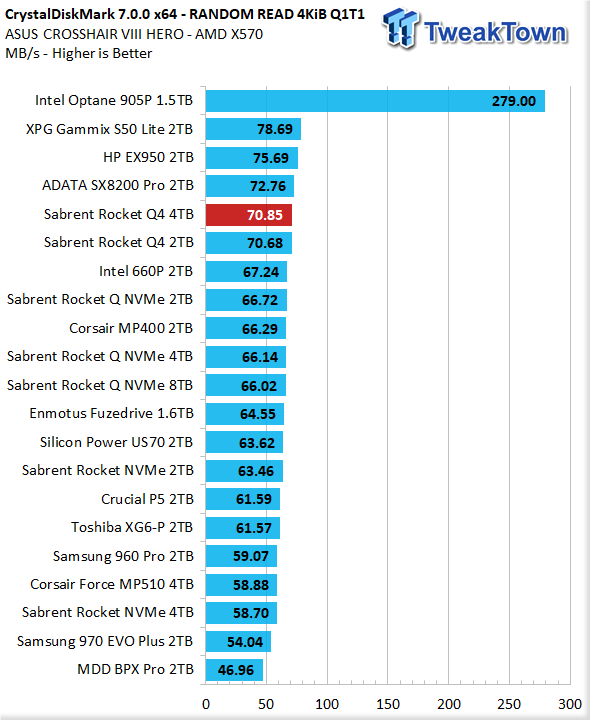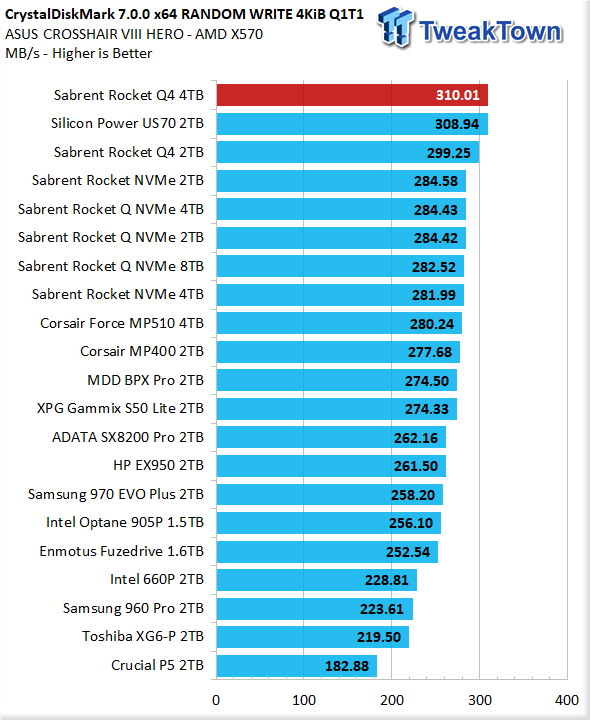 32 CE improves performance across the board, as evidenced when we compare the 4TB Rocket Q4 to its 2TB Rocket Q4 sibling. In this case, we are seeing far better sequential write performance and significantly better random write performance. In fact, the 4TB Rocket Q4 delivers a nice lab record for Q1 random writes. Impressive.
Anvil's Storage Utilities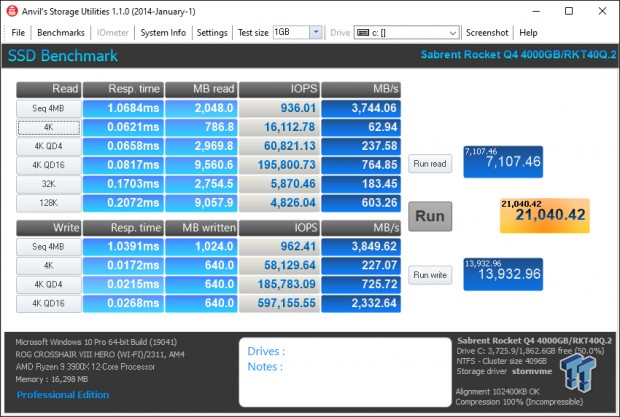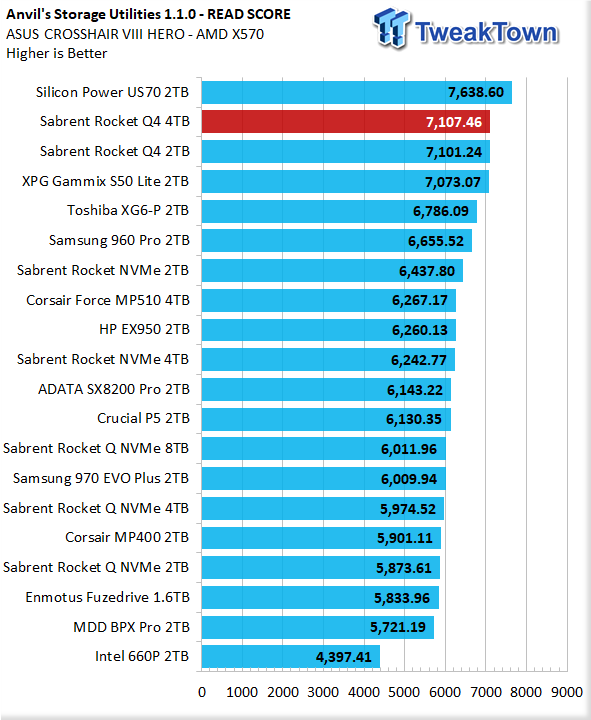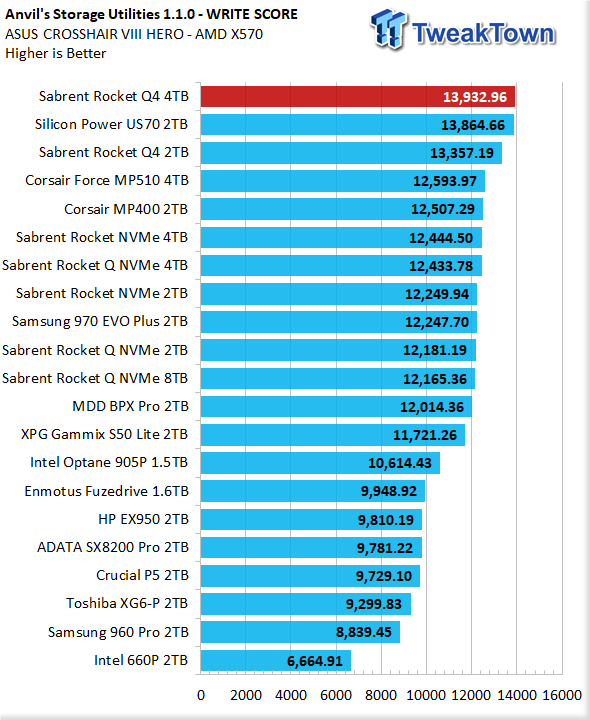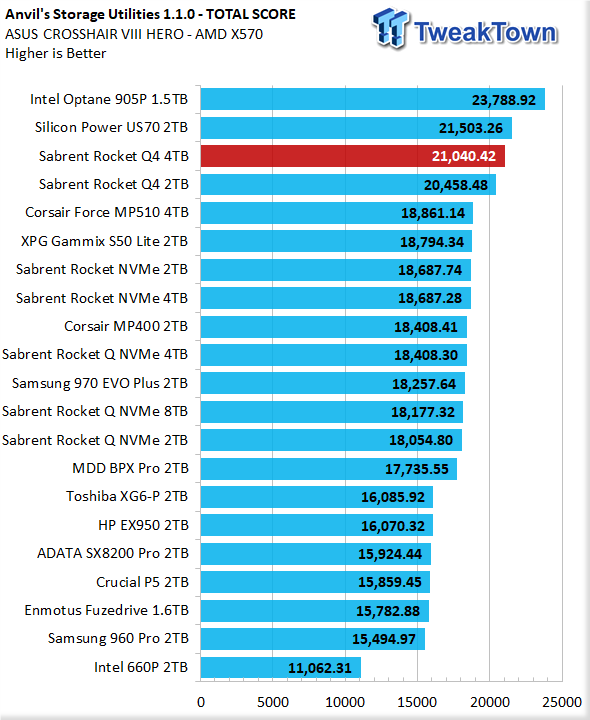 A total score of 21K puts the Rocket Q4 4TB right up there with the best we've ever seen from a high capacity SSD. Additionally, the total write score delivered by the 4TB Rocket Q is another chart-topper. Wow.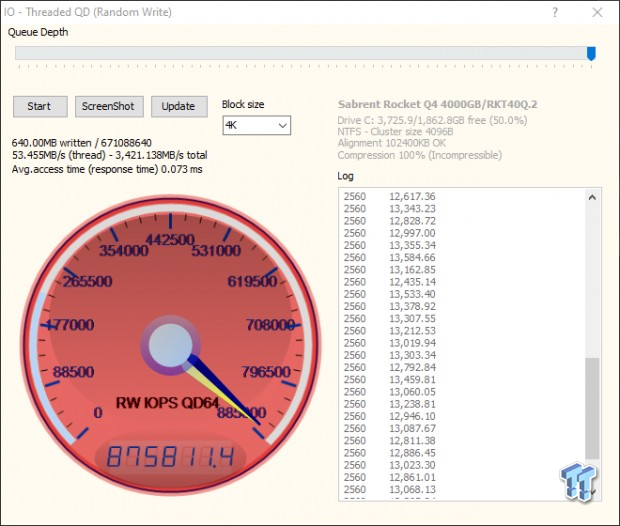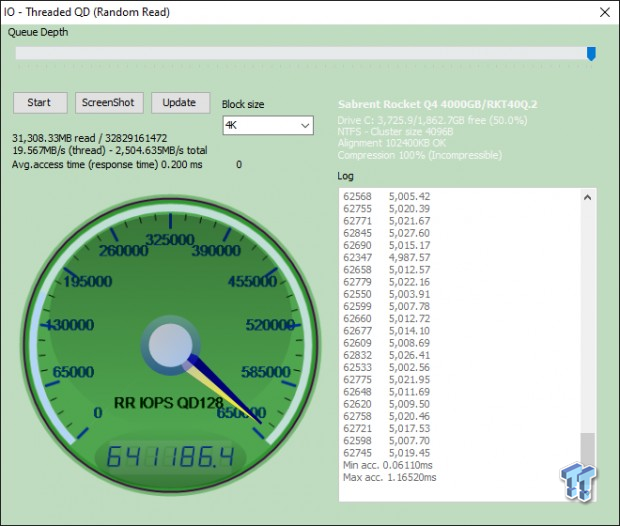 We can exceed factory max random IOPS figures for both read and write despite our more demanding user state of OS disk 50% filled.
Synthetic Benchmarks: AS SSD & ATTO
AS SSD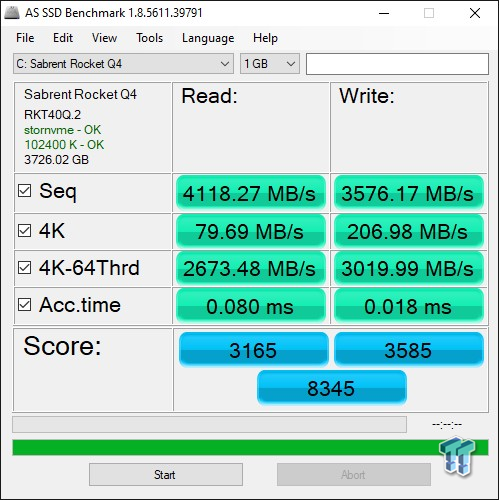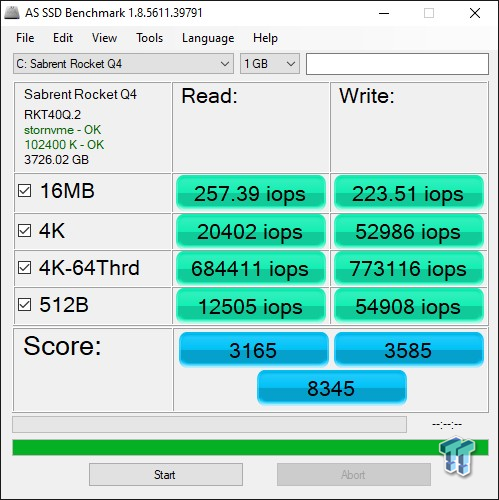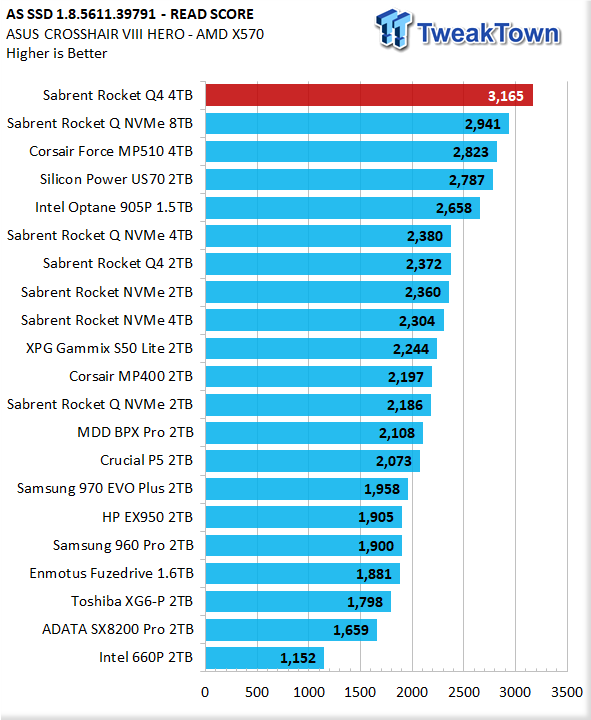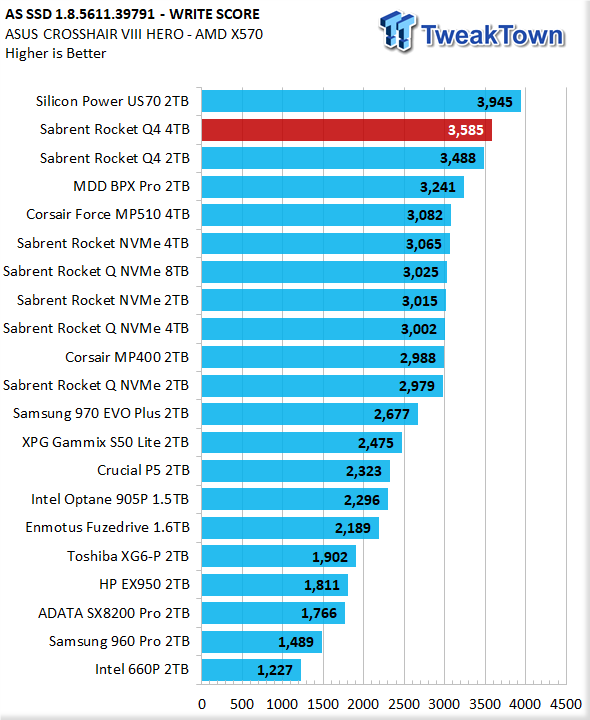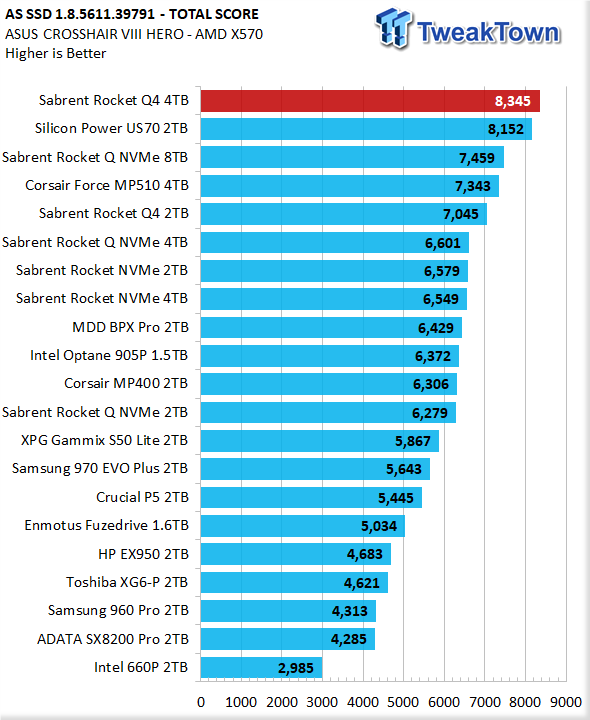 Well, look at that. Another two lab records for Sabrent's latest and greatest. It delivers a total score even higher than the TLC-powered US70 Gen4 SSD. It's hard to believe that this is a QLC-based SSD. Amazing.
ATTO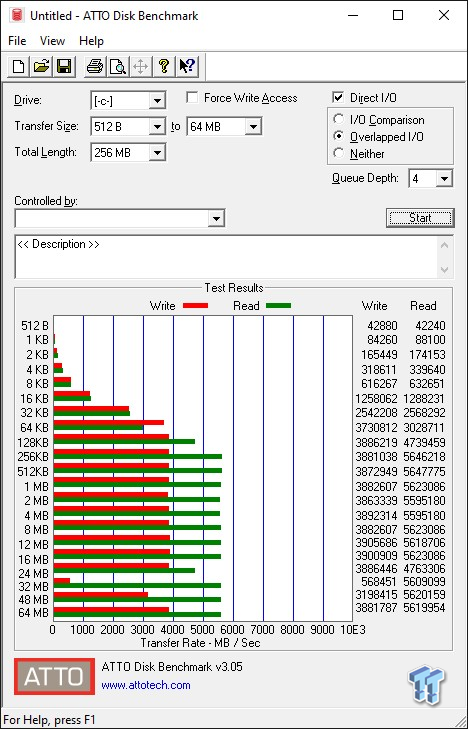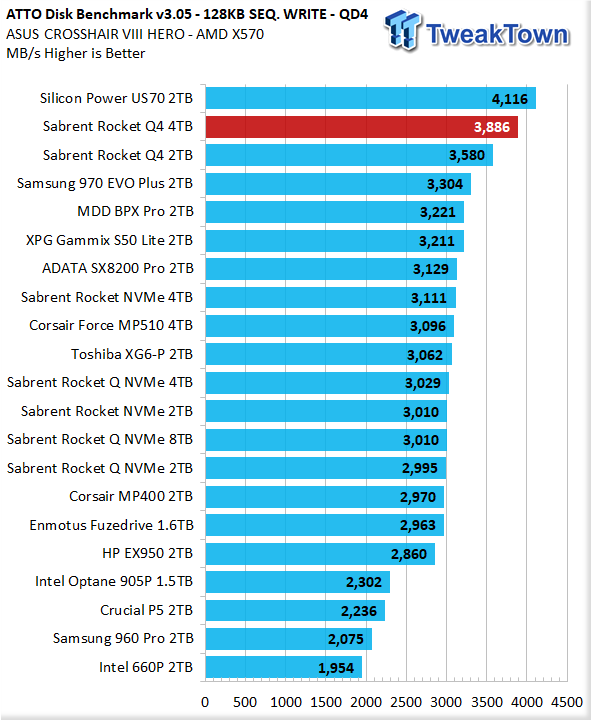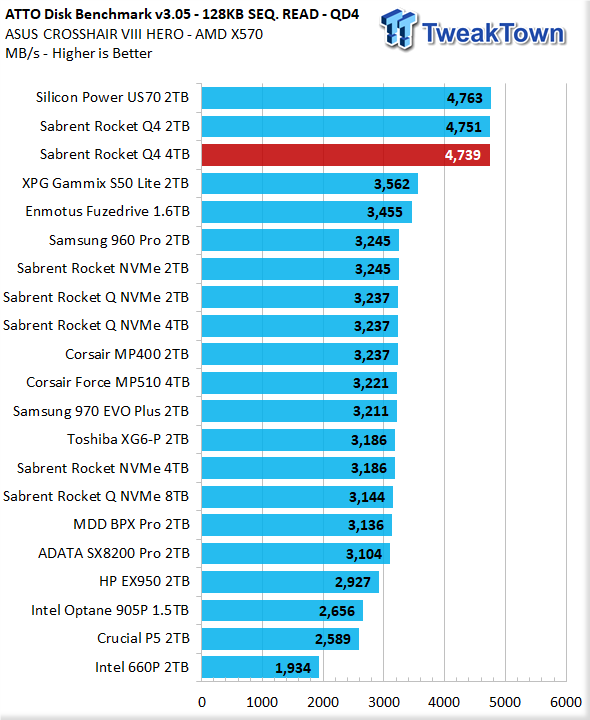 The 4TB Rocket Q4 is spending a lot of time at the top of our charts and is beating up on most TLC-powered SSDs in the process.
Real-World Testing: Transfer Rates & Gaming
Transfer Rates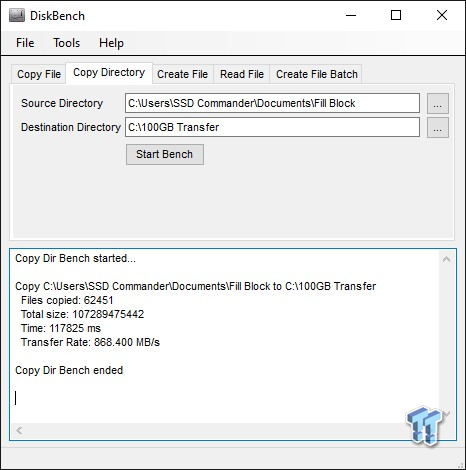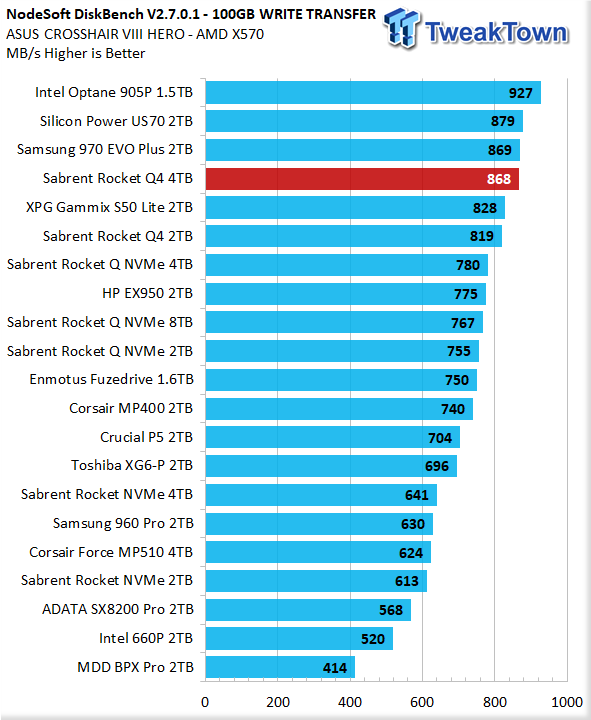 Strong performance here, which is the last place we would expect to find a QLC powered SSD. Keep in mind that this is 100GB in addition to the drive being half full. This is a testament to the drive's SLC caching prowess.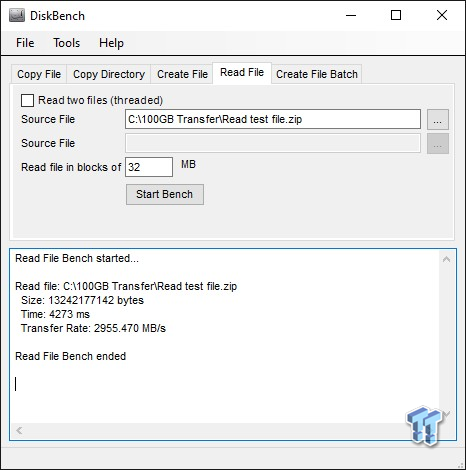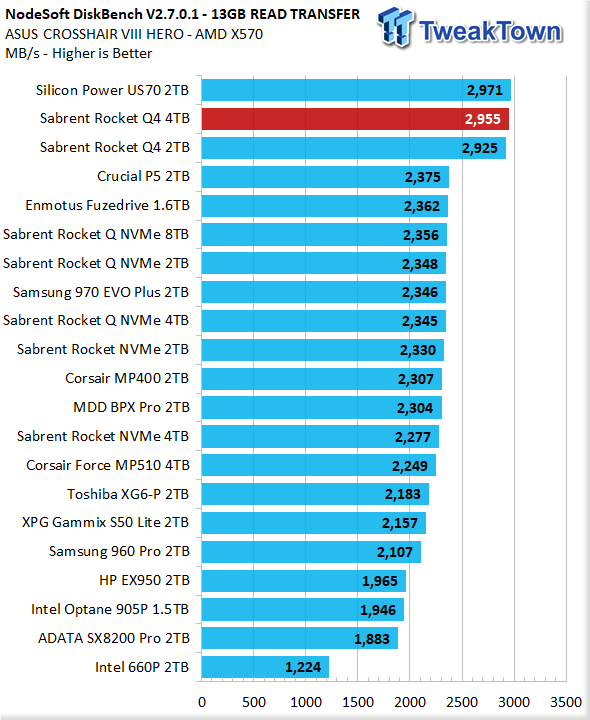 Here is proof that properly controlled QLC can serve data to the host as well as any TLC or even MLC SSDs we've tested.
Game Level Loading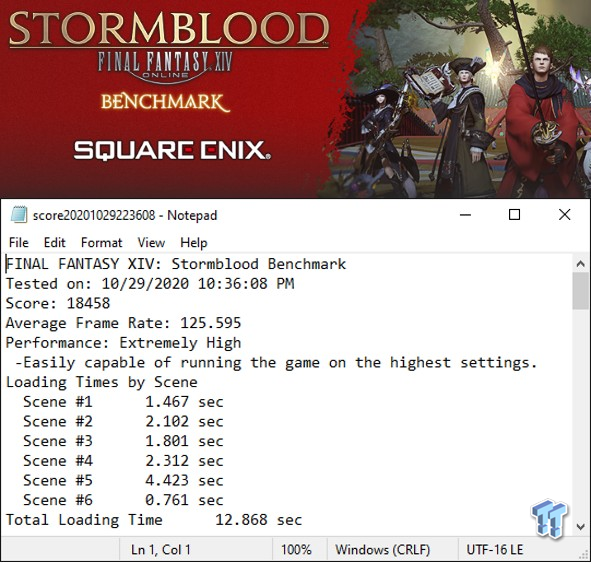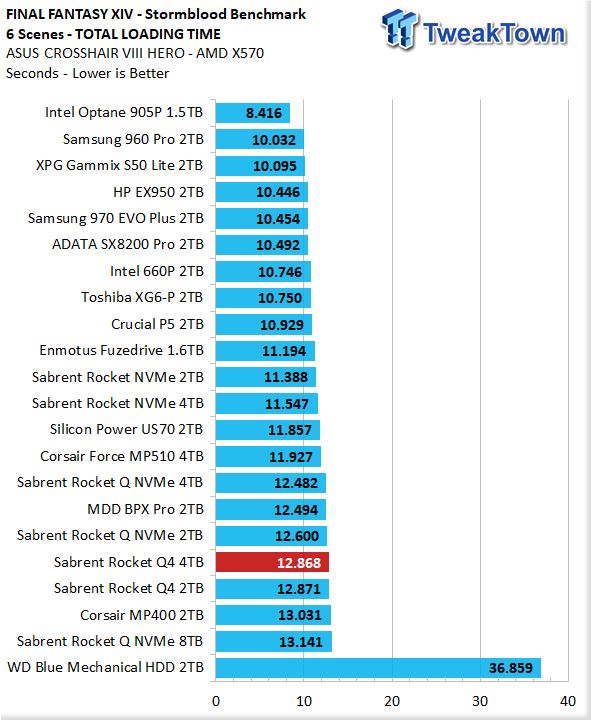 E16 powered SSDs have always had a hard time with this test, and the 4TB Rocket Q4 is no exception. However, we consider this well within respectable range, as it is only a fraction of a second slower per level load than the best performing TLC-based SSDs.
Real-World Testing: PCMark 10 Storage Tests
PCMark 10 Storage Test is the most advanced and most accurate real-world consumer storage test ever made. There are four different tests you can choose from; we run two of them.
The Full System Drive Benchmark and the Quick System Drive Benchmark. The Full System Drive Benchmark writes 204 GB of data over the duration of the test. The Quick System Drive Benchmark writes 23 GB of data over the duration of the test. These tests directly correlate with user experience. Of the two tests, we feel that the Quick System Drive Test most accurately replicates a typical user experience.
PCMark 10 Full System Drive Benchmark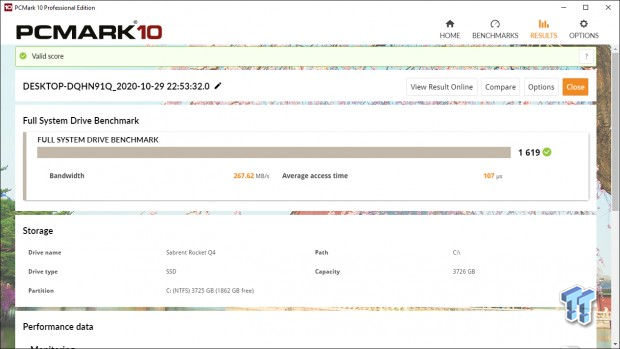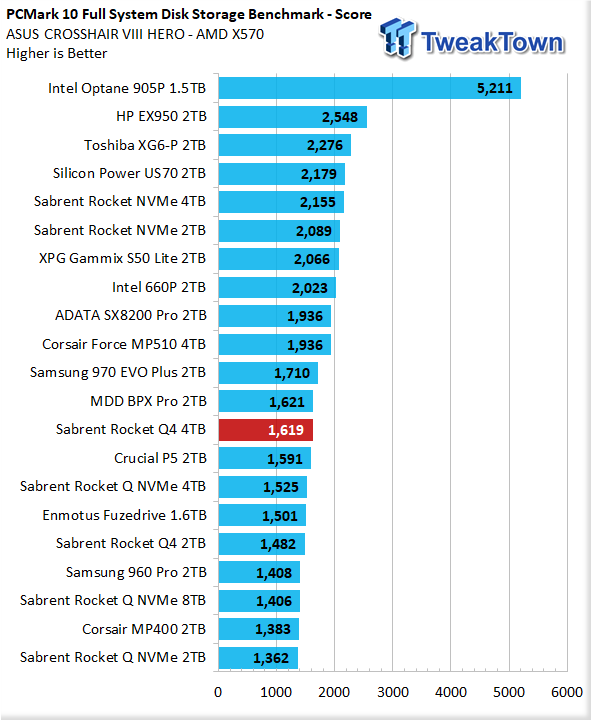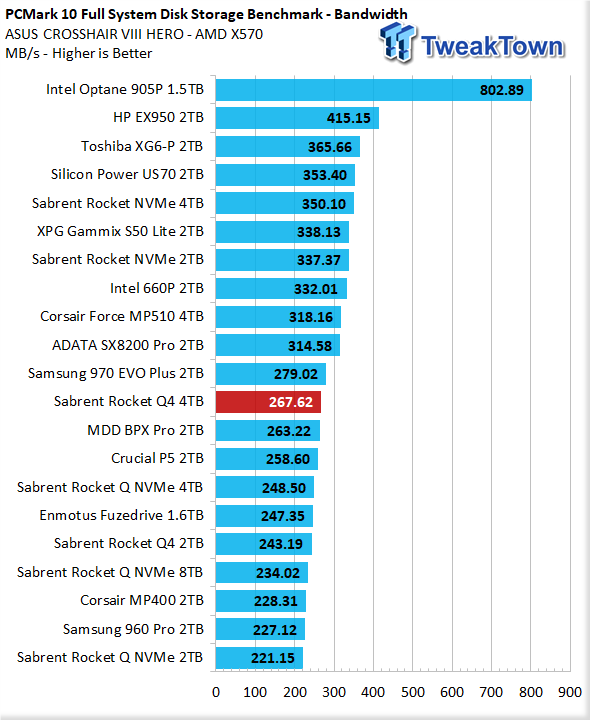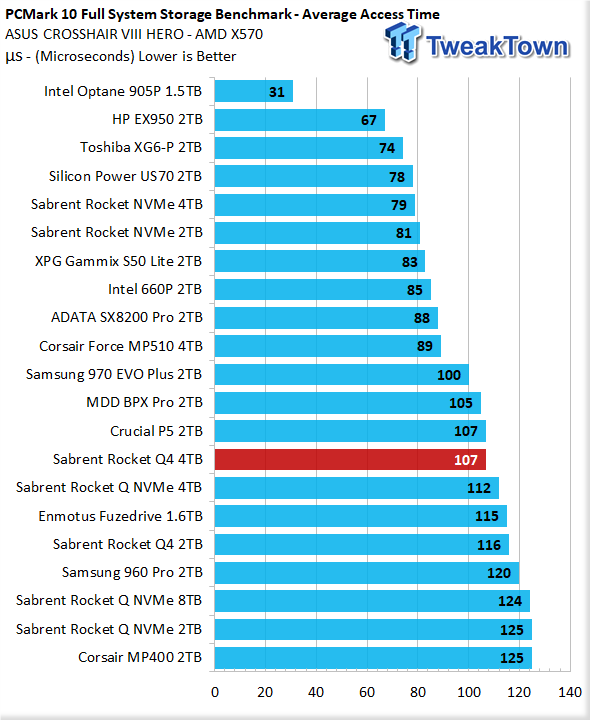 32 CE gives the 4TB Rocket Q4 the ability to handle heavy workloads better than we've seen from any Phison-powered QLC-based SSD.
PCMark 10 Quick System Drive Benchmark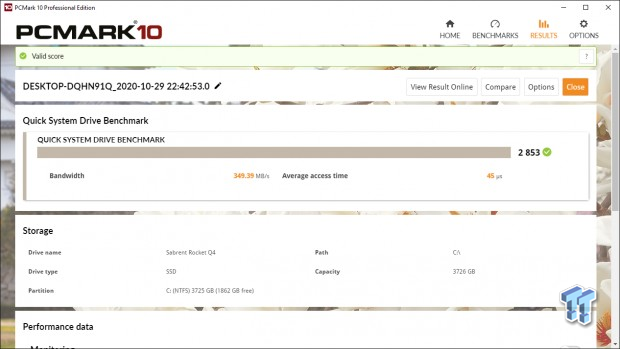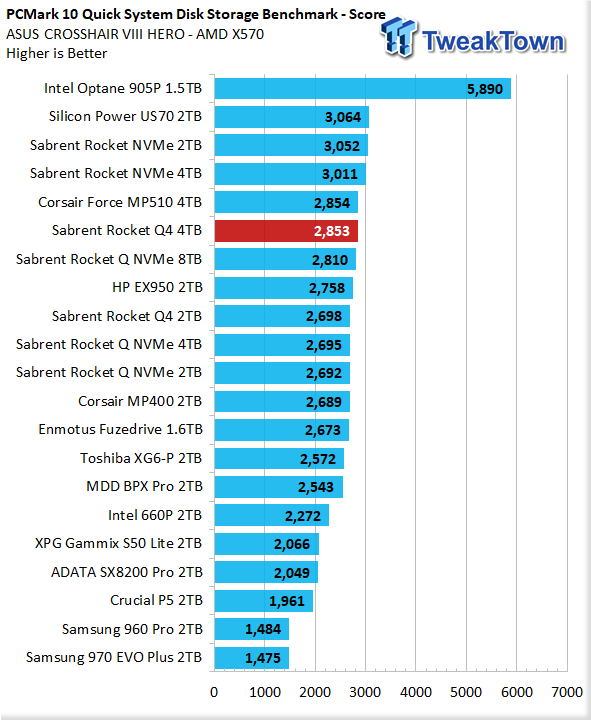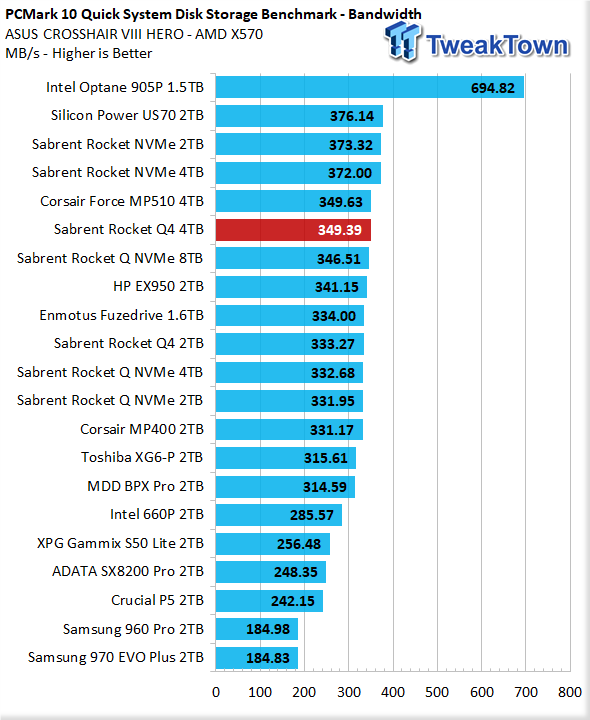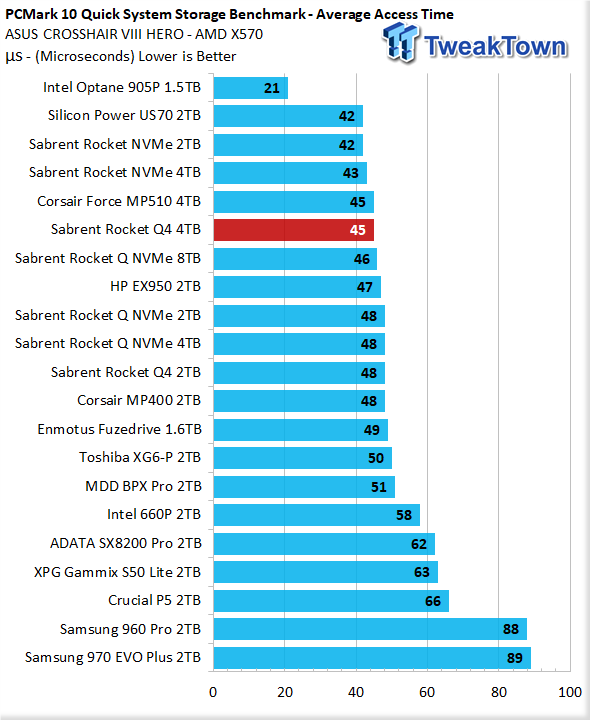 Okay, here we go. This is where we believe performance matters most, and this is where the 4TB Rocket Q4 is delivering astonishing performance. This sets the standard for QLC SSDs currently. Impressive.
Final Thoughts
With everything trending towards a QLC future, it's nice to see a drive like Sabrent's Rocket Q4 4TB perform as well as it does. To be honest, a drive like this helps ease the uncertainty that is always present when the bit per cell count goes up.
The 4TB Gen4 monster we tested today is one of the better SSDs we've seen to date, regardless of the type of flash it is powered by. It is easily the fastest QLC-powered SSD we've tested to date. More than that, though, and as our charts testify, Sabrent's latest and greatest is one of the fastest SSDs ever made, period.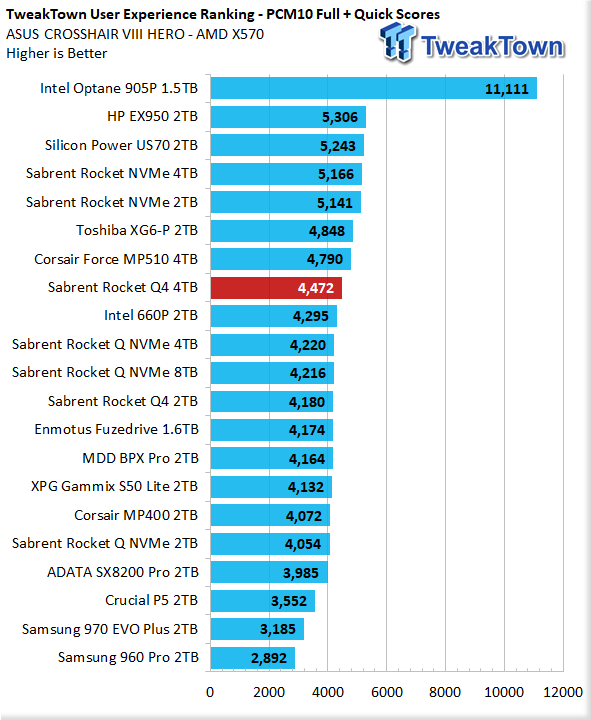 This is what we are interested in most. Not synthetic numbers run on an empty secondary device, but real performance as an SSD is actually used by the consumer. As the above chart shows, the 4TB Rocket Q4 is a beast that will deliver some of the best user experience available, regardless of bit count or cost. Impressive.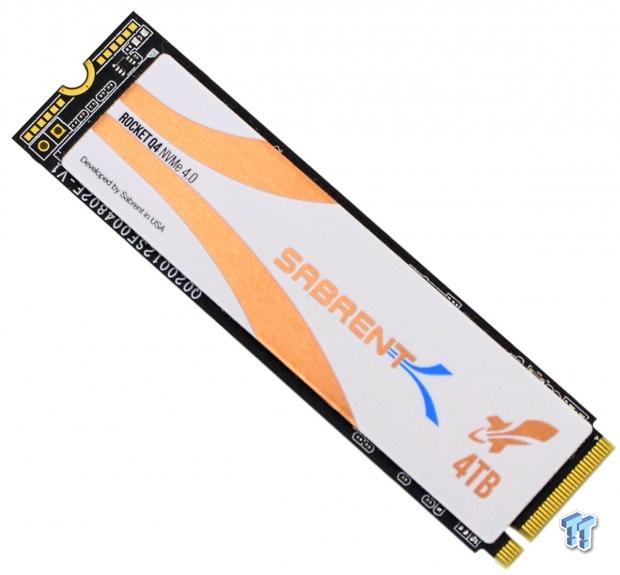 Looking back at our results, we find that the Rocket Q4 4TB can deliver 5000/4000 MB/s sequential performance even when it is 50% filled and used as a system disk. That puts it in an elite group. Furthermore, the Rocket Q4 4TB delivers some of the best real-world performance we've seen to date, as evidenced by our transfer results and typical consumer workload testing.
This is QLC at its finest, and Sabrent is leading the way, which is why Sabrent's Rocket Q4 4TB has earned TweakTown's highest award.
Pros
Sequential

Normal Workloads

Capacity
Cons
| | |
| --- | --- |
| Performance | 97% |
| Quality | 98% |
| Features | 90% |
| Value | 95% |
| Overall | 95% |
The Bottom Line
Gen4 performance and massive capacity. What more could you want?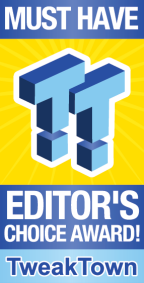 We openly invite the companies who provide us with review samples / who are mentioned or discussed to express their opinion. If any company representative wishes to respond, we will publish the response here. Please contact us if you wish to respond.