Intel Core i9-10850K LGA1200 CPU Review
Flagship on a budget, the Intel Core i9-10850K processor delivers in terms of performance and price. Join us as take a look.

Published
Manufacturer: Intel (BX8070110850K)
5 minute read time
TweakTown's Rating: 91%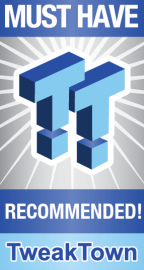 The Bottom Line
For most consumers, the Intel Core i9-10850K processor is the way to go if you need a place to save money in your new high-end build!
Introduction, Specifications, and Pricing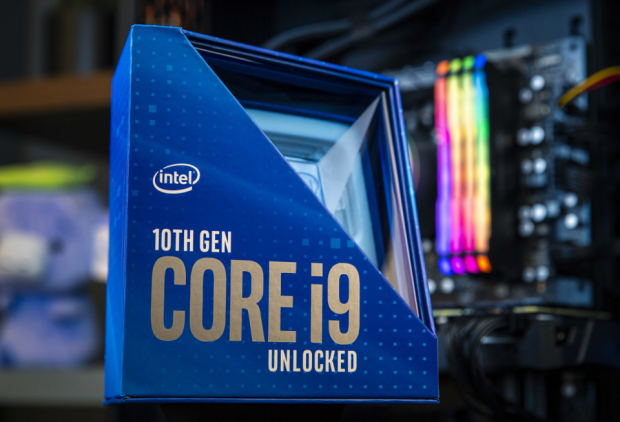 Intel released its latest desktop platform processors early in the year with the flagship Core i9 10900K being the first and the mainstream Core i5 10600K and i7-10700K to follow. With this launch, Intel once again tapped its 14nm silicon for one last hurrah before moving on to its newly announced "Rocket Lake" platform next year that's expected to take advantage of Intel's Willow Cove design with a host of new features.
Shortly after the 10th Generation Core platform's initial launch, AMD too updated Ryzen with higher clocked "XT" versions of its 3600, 3800, and 3900 to better compete with the high clocks Intel was able to achieve with its Comet Lake solutions. Nearly three months later, Intel quietly introduced the solution we have in the lab today, the Core i9-10850K.
Specifications and Marketing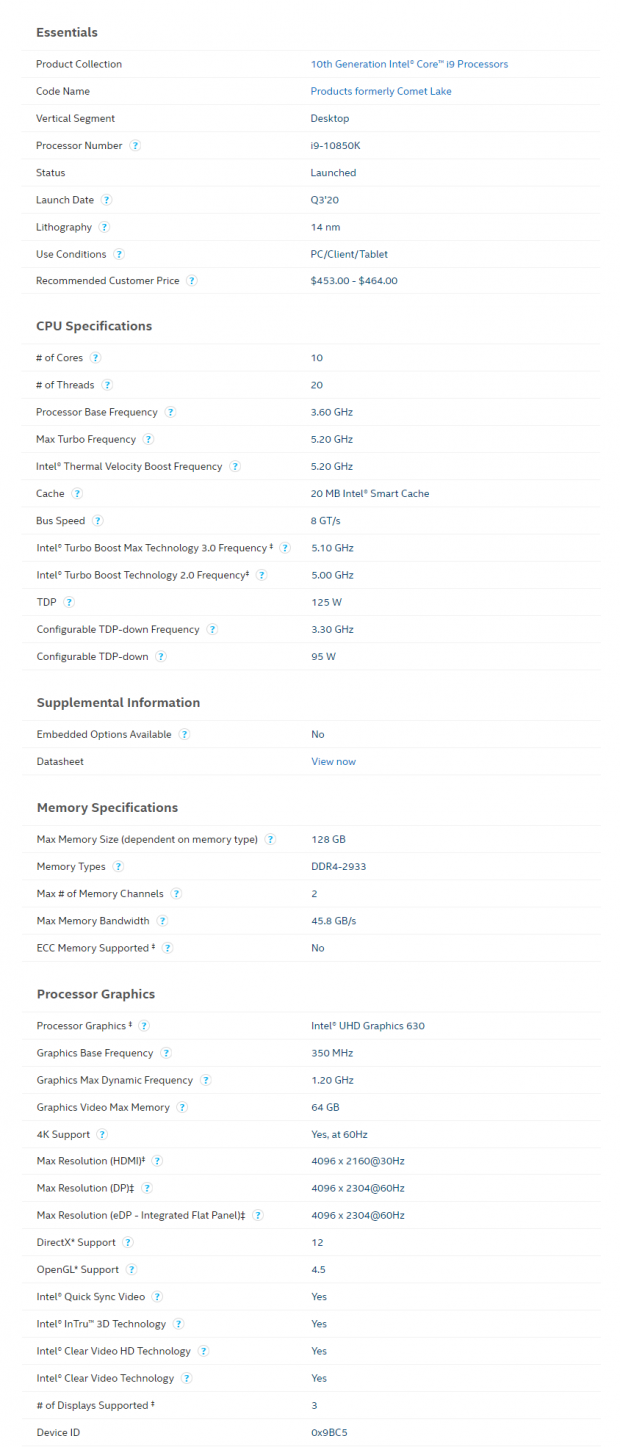 As you all know, the i9-10850K is a desktop solution in the Comet Lake family. It's a 14nm solution with ten cores supporting Hyper-Threading for a total of 20 threads. This processor's base frequency comes in 100MHz lower than the flagship 10900K at 3.6GHz but features core boost technologies, including TBT 2.0, TBMT 3.0, and Thermal Velocity Boost that allow this SKU to reach 5.2GHz at peak.
Thermal Design Power is set at 125w with a TDP-Down feature allowing 95W operation. 128GB of memory is supported on this platform with non-OC speeds reaching DDR4-2933 over a dual-channel config. UHD Graphics 630 makes an appearance once again with very little changes, maybe a slight bump in clocks for this iteration, still supporting 4K60.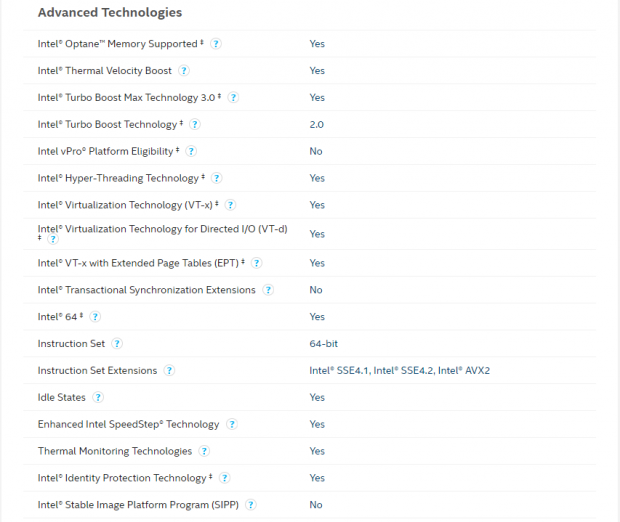 Pricing
At the time of writing, the Intel Core i9-10850K can be had for $449.99 with a three-year warranty.
Packaging, CPU and Test System
Packaging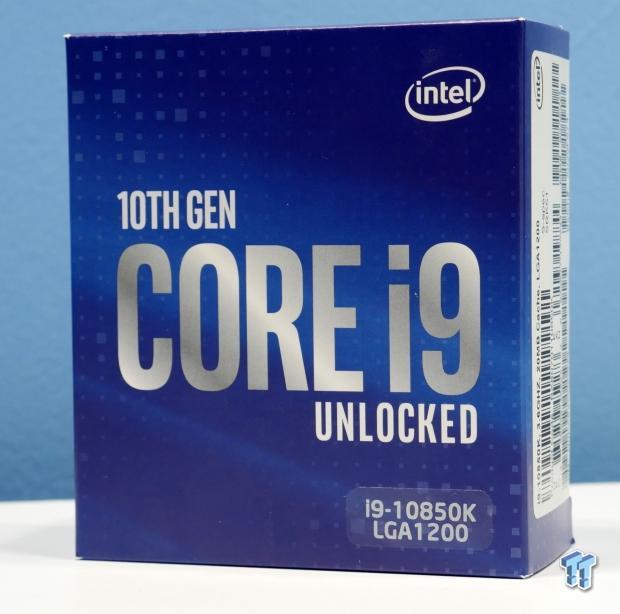 Our sample of the 10850K was a retail box processor. Intel branding along with 10th Generation can be found on the front with a model sticker bottom right.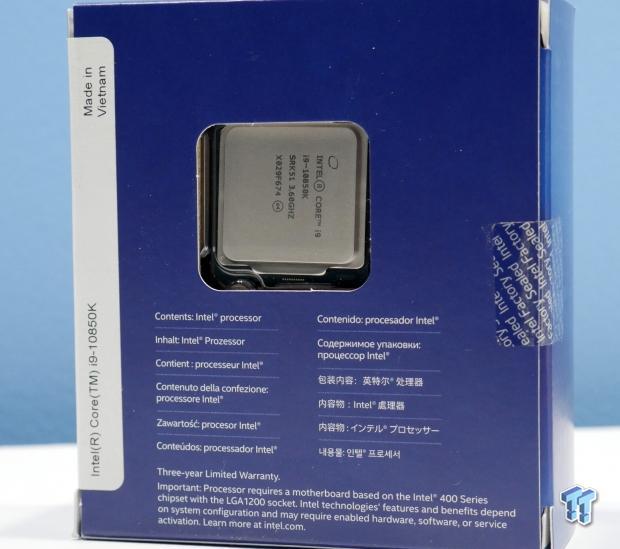 A side sticker shows information, including the part number and SKU. Through the window above, you can see your processor.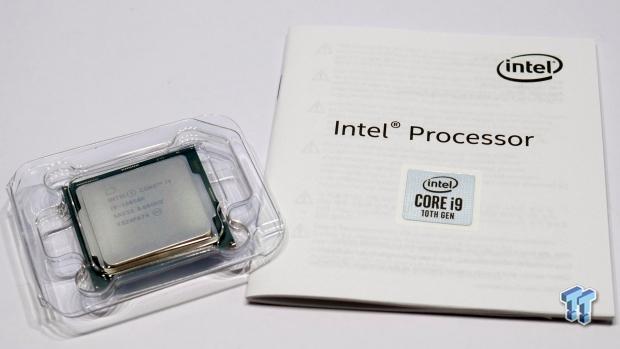 Included inside, we have the CPU in its plastic retainer and guide.
CPU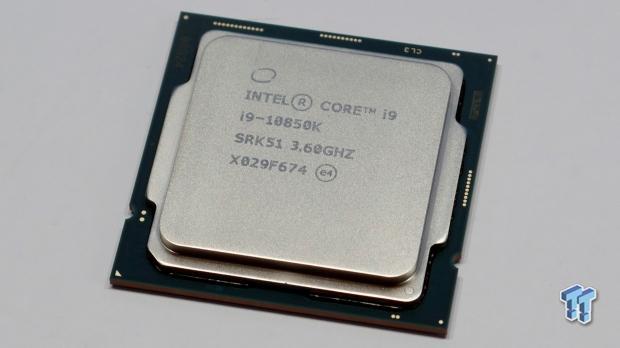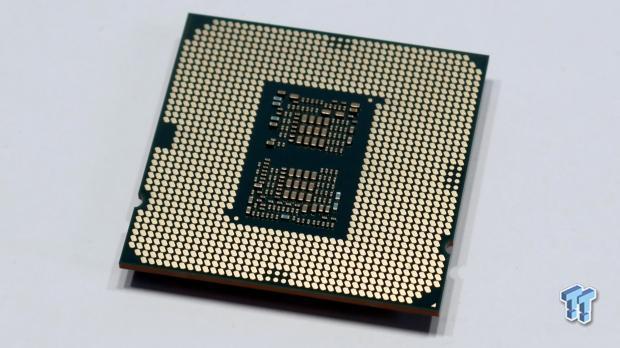 Physically, the 10850K is the same size as past 115x solutions but features an entirely new pin arrangement for LGA1200, and the slots on the side are cut in a new location to stop these from being locked into 115x carriers. The backside shows the pin arrangement.
Test System
WPrime, Cinebench, RealBench and AIDA64
WPrime, Cinebench,RealBench and AIDA64
WPrime
WPrime is a leading multi-threaded benchmark. In our setup, we will manually set the number of cores for the CPU under test.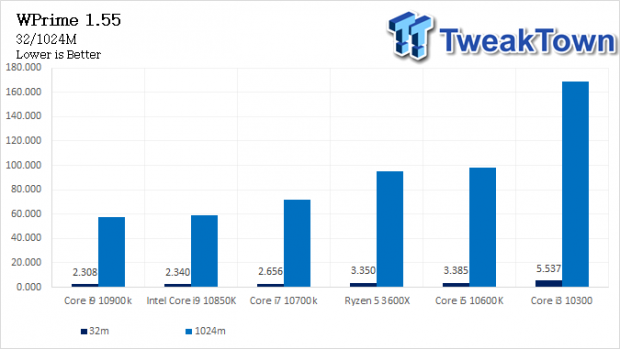 In our first test scenario, the 10850K started well, just 0.04 behind the 10900K in 1024M.
Cinebench
Cinebench is a long-standing render benchmark that has been heavily relied upon by both Intel and AMD to showcase their newest platforms during unveils. The benchmark has two tests, a single-core workload that will utilize one thread or 1T. There is also a multi-threaded test which uses all threads or nT of a tested CPU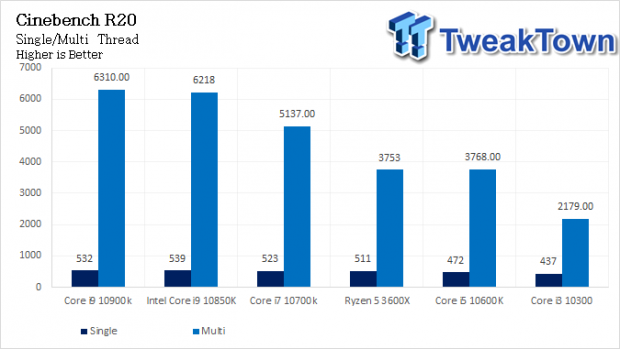 With Cinebench, we see the 10850K do really well in single threading, beating the 10900K by 7 points. Multi-threaded loses to the 10900K by nearly 100 points.
RealBench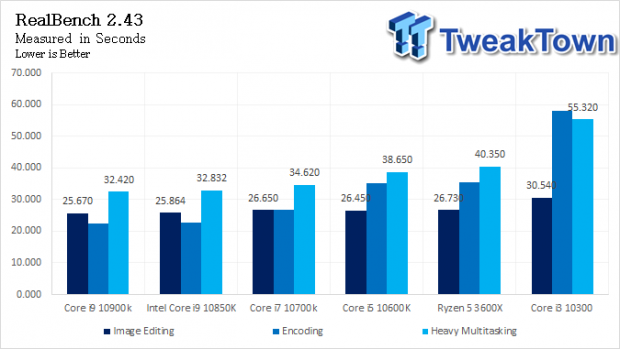 With RealBench, we see tight performance between the 10850K and 10900K, the latter coming out on top by a small fraction.
AIDA64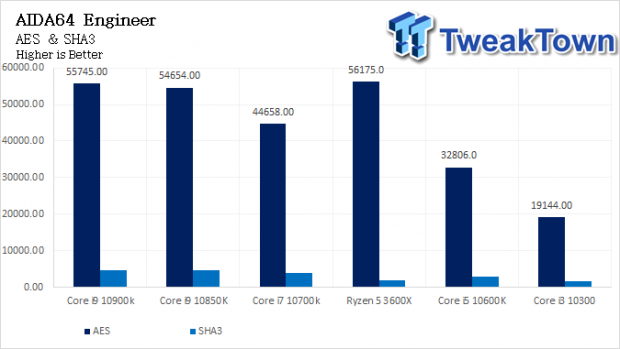 AES and SHA3 has the 10850K right with the 10900K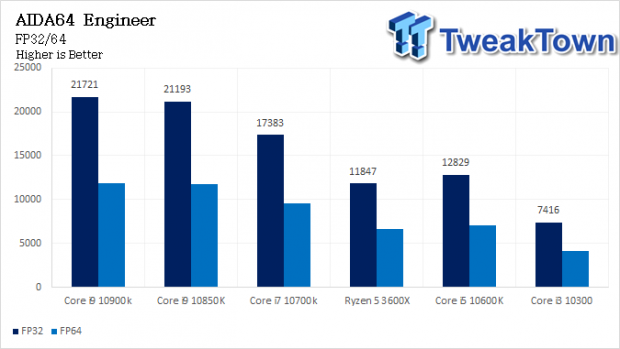 Looking at FP32 and 64 workloads, the 10850K does quite well at 21193.
Unigine and UL Benchmarks
Unigine Superposition
Superposition from Unigine is a DX12 based benchmark. We test with the 720p LOW preset as this removes all but the most basic GPU loading, with all of the FPS coming from the CPU.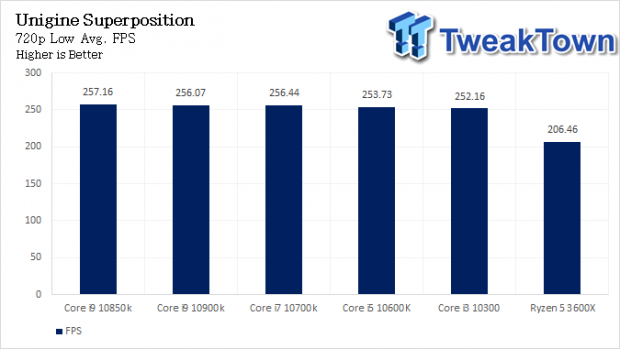 With Superposition, the 10850K brings in 257.16 FPS, the highest with our currently available CPUs.
PCMark 10
PCMark is a benchmark from UL and tests various workload types to represent typical workloads for a PC. Everything from video conferencing, image import, and editing, along with 3D rendering, are tested.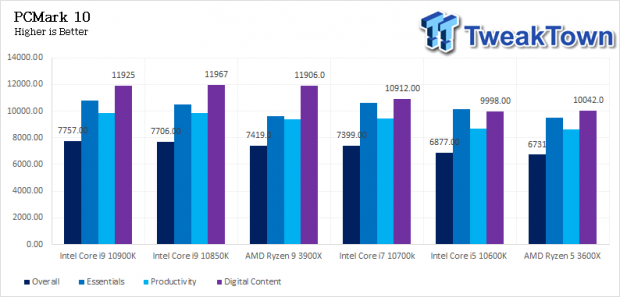 Looking at our PCMark results, the 10850K lives just behind the 10900K and just above the 3900X at 7706 overall. Digital content reached the highest score at 11967.
3DMark Timespy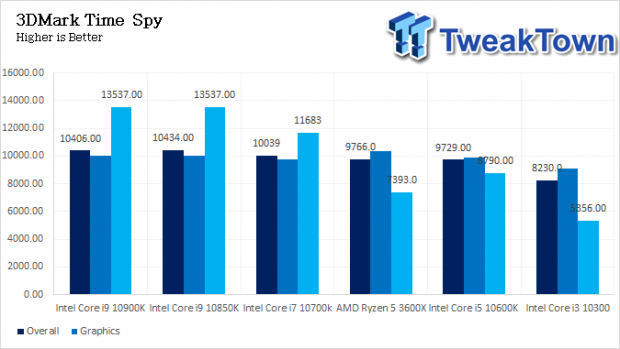 Moving into 3DMark, we start with Timespy, where we see the 10850K match the 10900K and even beat it in the overall score.
3DMark Firestrike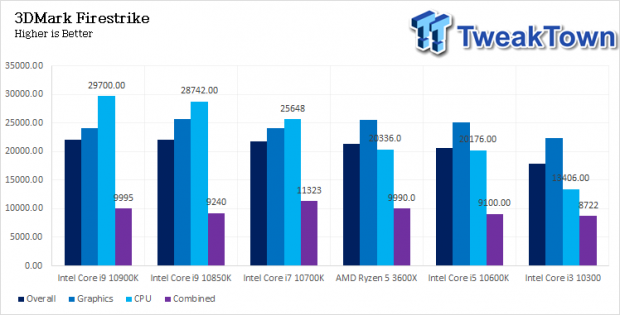 Firestrike gave the nod to the 10900K as flagship but wasn't far behind, 28742 CPU score.
Overclocking and Gaming
Gaming Performance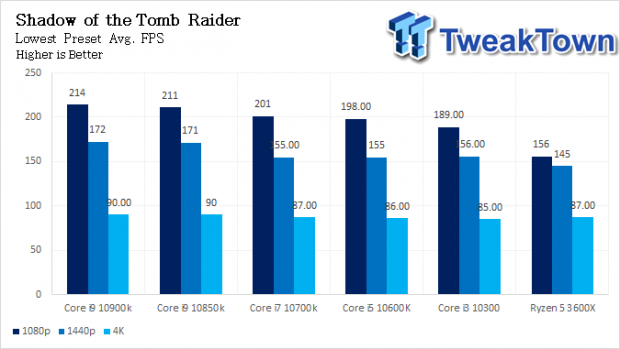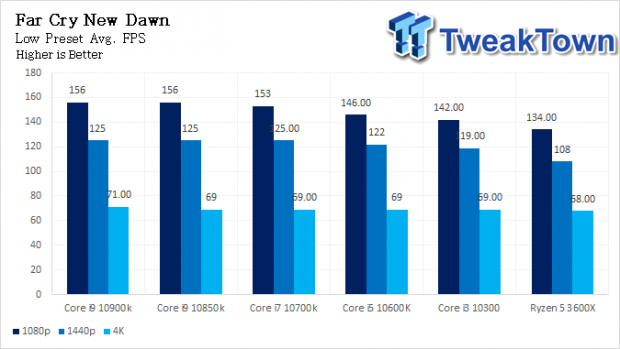 Our first gaming scenario shows off an impressive 211 FPS for the 10850K in Tomb Raider in 1080p. Moving up to 1440p, we see 171 FPS, while 4K brings in 90 FPS.
Our second game, New Dawn, brings a peak of 156 FPS from the 10850K, identical to the 10900K in 1080p. 1440p and 4K numbers reach 125 FPS and 69 FPs, respectively.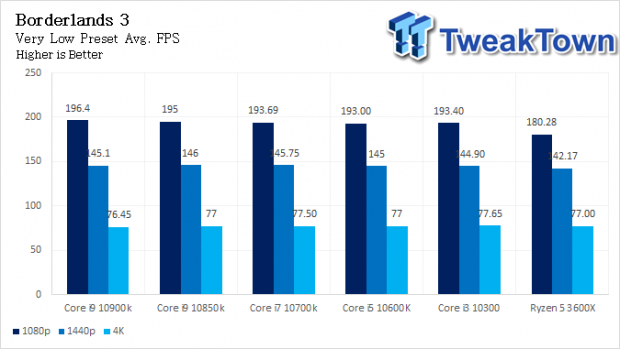 Our last gaming scenario is Borderlands 3 in DX12. For this test, the 10850K again is on par with the 10900K in all three resolutions tested.
Overclocking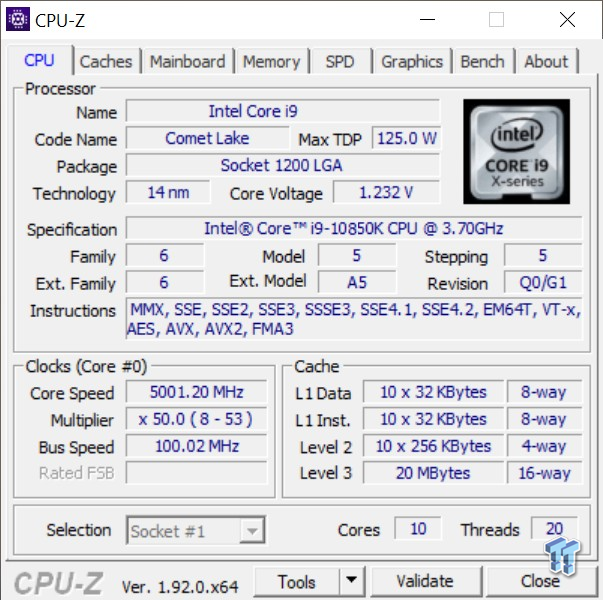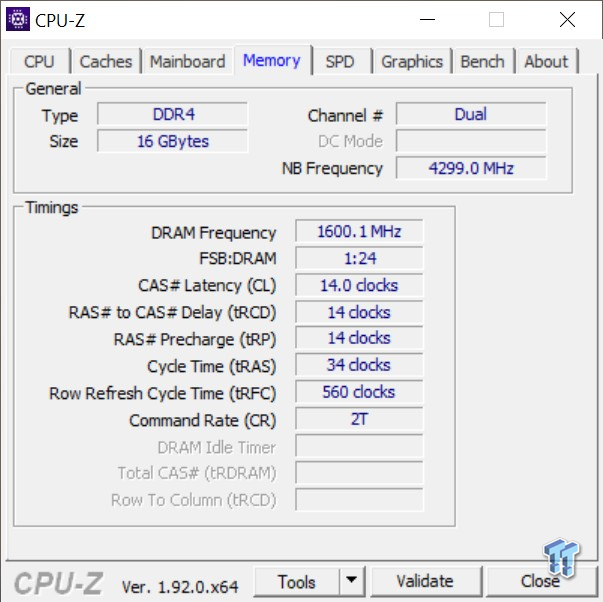 These new processors from Intel have all but eliminated the need to manually overclock as they will boost themselves based on temperature and power. That said, all core overclocks do net some performance gains in CPU intensive workloads where the processor out of the box would have a net core clock of 4.8GHz across all ten cores.
Playing with the 10850K, it wasn't quite as good as our 10900K that did 5.2GHz but did allow a healthy 5GHz all core, at 1.25v LLC 6 in our Maximus XII Extreme.
Power, Thermals and Final Thoughts
Power Consumption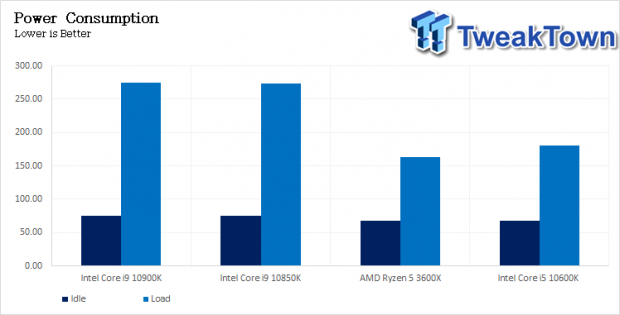 Power consumption showed little change between the 10900K and 10850K, even with the difference in boost clocks. This is likely due to us taking full system consumption instead, which tends not to be extremely accurate.
Thermals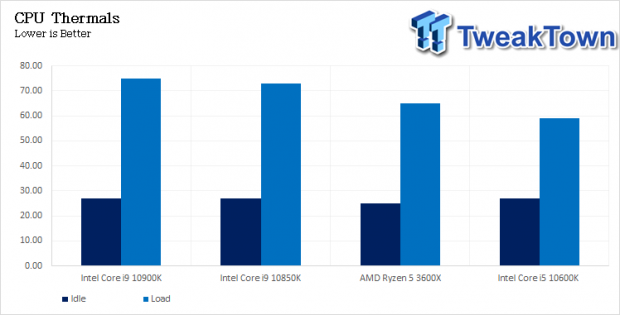 Thermals were almost identical across all processors at idle, 27-28c. At load, with Cinebench Multi-Thread, the 10900K tapped 75c while the 10850K touched 73c.
Final Thoughts
The Core i9-10850K is a unique processor in that it's not likely an SKU Intel planned to release to the public. It's only a guess, but we assume there was a good amount of silicon not making the cut for 10900K, prompting this late market release, and to be honest, it's a win for consumers wanting to stick with Intel as it gives you flagship performance $100 cheaper than the 10900K.
What We Like
Frequency: No one does this better than Intel, and while this silicon wasn't up to the task for 10900K, it performs almost identical with its 5.2GHz boost frequency.
Value for Gaming: If you are building a high-end gaming machine and want to save a few dollars, the 10850K offers flagship gaming performance $100 cheaper at time of writing.
What Could Be Better
Architecture: Just as we mentioned in our reviews of the 10600k and 10900k, we are not sure how much more Intel can squeeze out of its 14nm node. With impending launches from AMD, they inevitably fall further behind without a significant jump in performance with Rocket Lake.
PCIe4: With the launch of the Samsung 980 Pro and WD SN850, real PCIe Gen 4 storage devices are here for the mainstream, and it's a feature Intel users are still waiting to take advantage of.
Intel has somehow managed to hold the performance advantage for gamers even with the complete onslaught of Ryzen processors these last few years. AMD isn't holding back with Zen 3, so it will be interesting to see where Rocket Lake takes us at the beginning of the year. Still, for now, the 10850K holds a true value position in the market for DIYers, gamers, and enthusiasts wanting to build a machine with top of the line performance.
| | |
| --- | --- |
| Performance | 95% |
| Quality | 90% |
| Features | 85% |
| Value | 95% |
| Overall | 91% |
The Bottom Line
For most consumers, the Intel Core i9-10850K processor is the way to go if you need a place to save money in your new high-end build!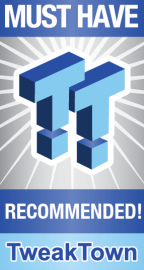 We openly invite the companies who provide us with review samples / who are mentioned or discussed to express their opinion. If any company representative wishes to respond, we will publish the response here. Please contact us if you wish to respond.
Related Tags