TweakTown's Rating: 91%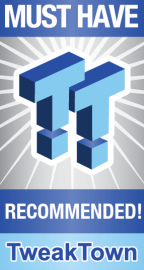 The Bottom Line
TeamGroup's Cardea Liquid is maybe the coolest looking SSD ever made. In addition, it delivers as advertised and then some.
Introduction & Drive Details
In August of last year, TeamGroup launched the "world's first water cooling M.2 solid state drive". The concept was something we had not seen before. The "water cooler" consists of an aluminum plate designed to transfer heat into an acrylic chamber filled with liquid. TeamGroup claimed a 10c lower heat range with its unique cooler.
Our review back in August of last year found the Cardea Liquid did not deliver lower temperatures as advertised due to a design flaw. The flaw? There was no thermal contact between the drive's Phison E12 controller and the aluminum part of the "liquid cooler." We dinged them pretty bad for that and proclaimed the Cardea Liquid a failed attempt at a novel idea.
Well, TeamGroup took the lumps we dished out, and rather than scrapping the idea and giving up, they decided to address the flaws we pointed out and have another go at it. After receiving the drive and upon removing the updated Cardea Liquid SSD from its packaging, we immediately noticed that at least visually, the problems we pointed out back in August of 2019 had been addressed.
This time around, TeamGroup is employing a thicker thermal interface between the drive's controller and the aluminum plate located under the water chamber. This time, we have a thermal interface that makes direct contact with the controller and the heat sink. Additionally, we observed that, this time, there are no stress cracks in the drive's acrylic water chamber. Excellent, but can TeamGroup's unique design deliver as advertised? Let's dive in and find out.
Drive Details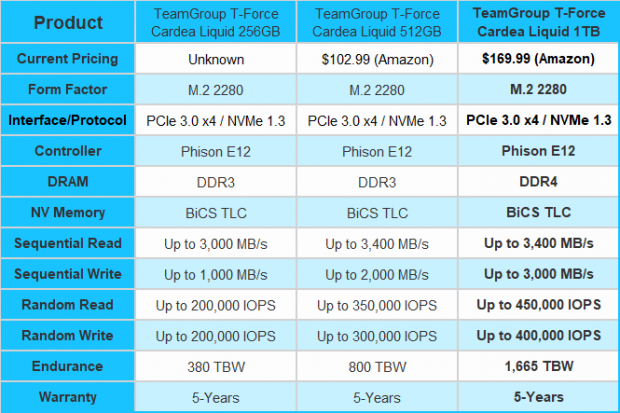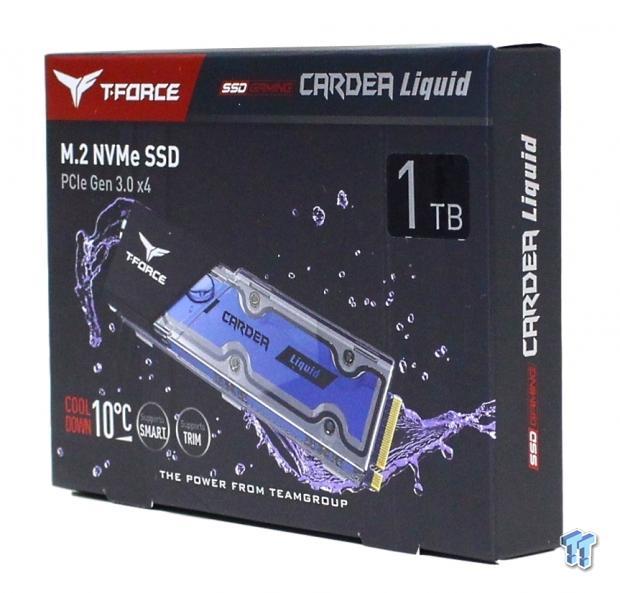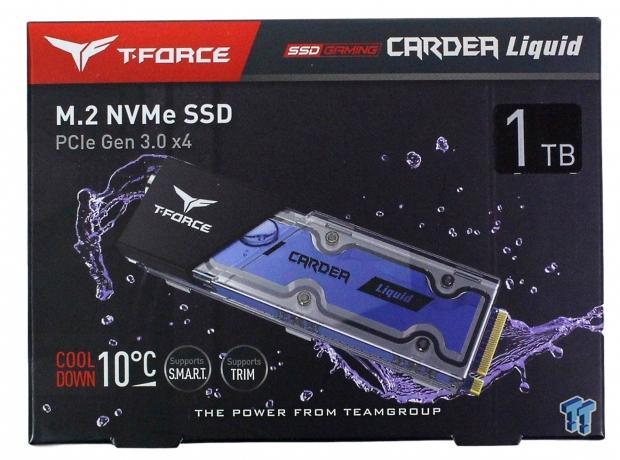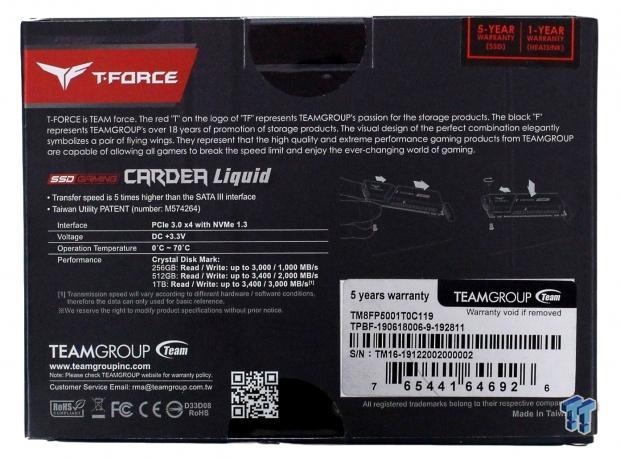 The drive is, in our opinion, super cool looking. You can change the liquid to any color you wish, and it will really add a nice touch to any custom water-cooled rig. More importantly, we can see that there is no gap between the controller, thermal interface, and the cooler. Additionally, we will note that there are no stress cracks in the drive's acrylic/aluminum "cooling" chamber. Perfect.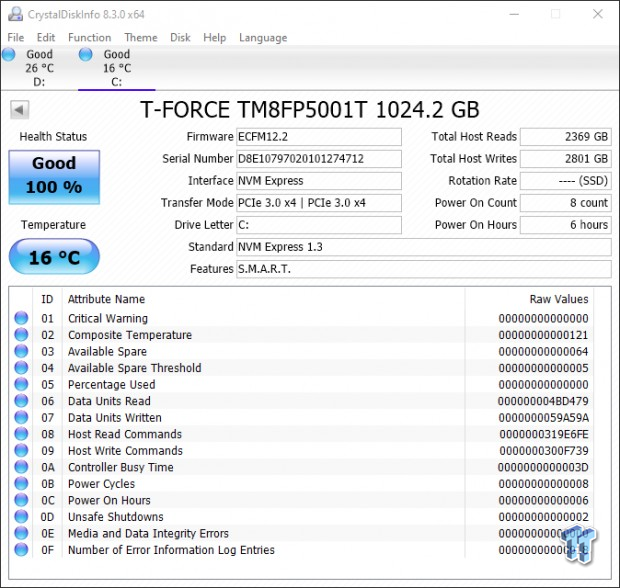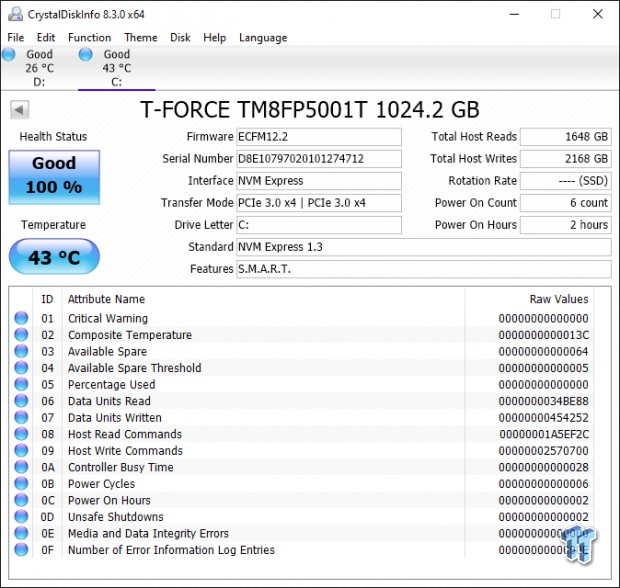 But, does it work as advertised? To our surprise, it absolutely does! The first CDI image above shows the drive at idle, and it is indeed running at 10c cooler than our drive "D". This is something we've not seen before, certainly not from a Phison E12 powered SSD.
The second CDI image shows the drive at its hottest point as we filled it with 328GB of proprietary data mix. Pretty remarkable and without a doubt the lowest temperature high mark we've seen from any Phison E12 powered SSD when filling the drive with data.
Looks cool, runs cool. We like that. Now let's see what kind of performance this little gem is serving up.
Jon's Test System Specifications
SSD Toolbox
T-Force SSD Toolbox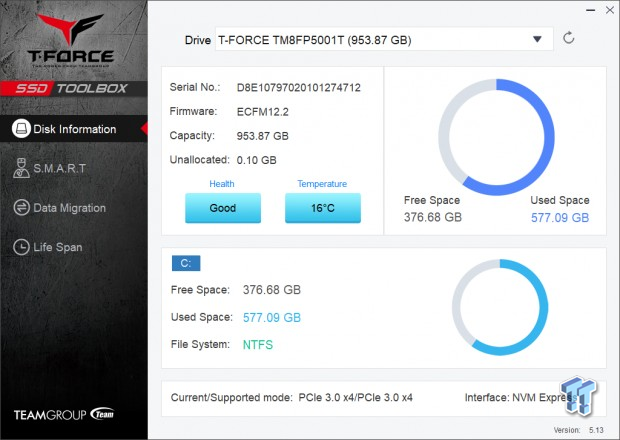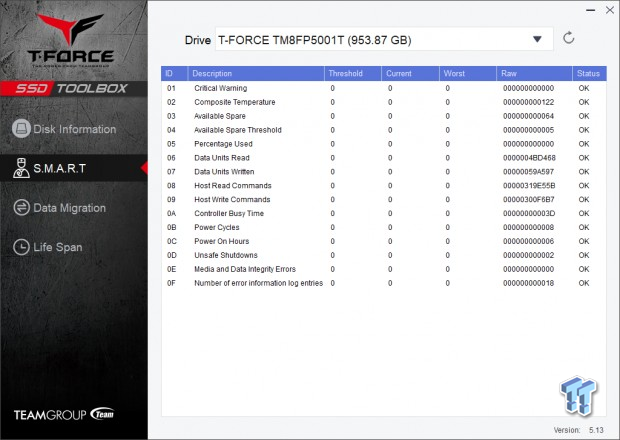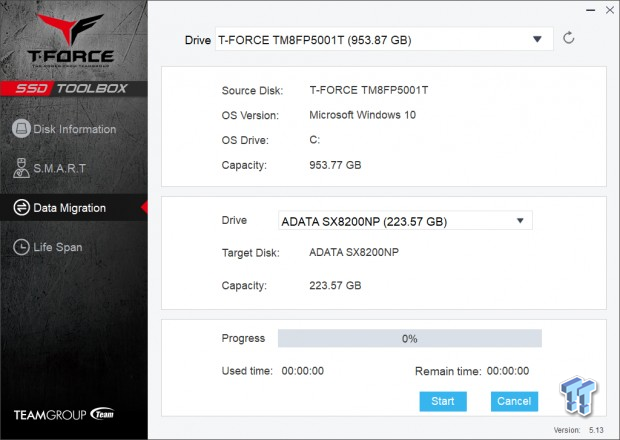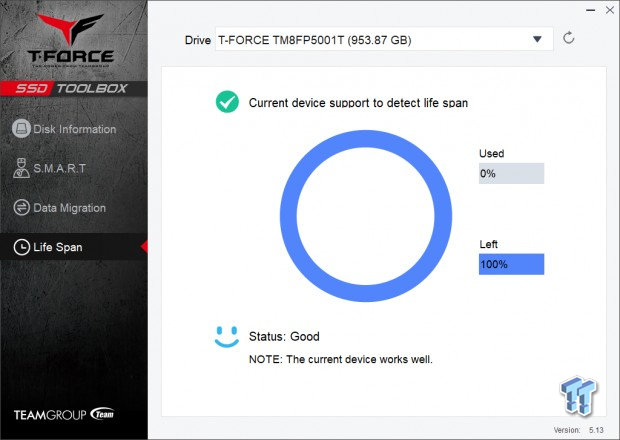 I had to search around a bit, but we did find an SSD Toolbox for T-Force SSDs.
TeamGroup's SSD Toolbox provides two main functions, health monitoring and drive cloning (data migration). The data migration tool is especially useful for users as it is the equivalent to Acronis for those that wish to keep their current OS install and transfer it to a new T-Force SSD.
There is no built-in firmware update feature, but not to worry because TeamGroup does offer standalone firmware updates for their SSD products.
Synthetic Benchmarks: CDM & Anvils
CrystalDiskMark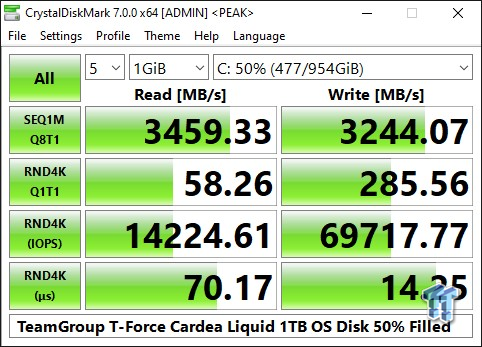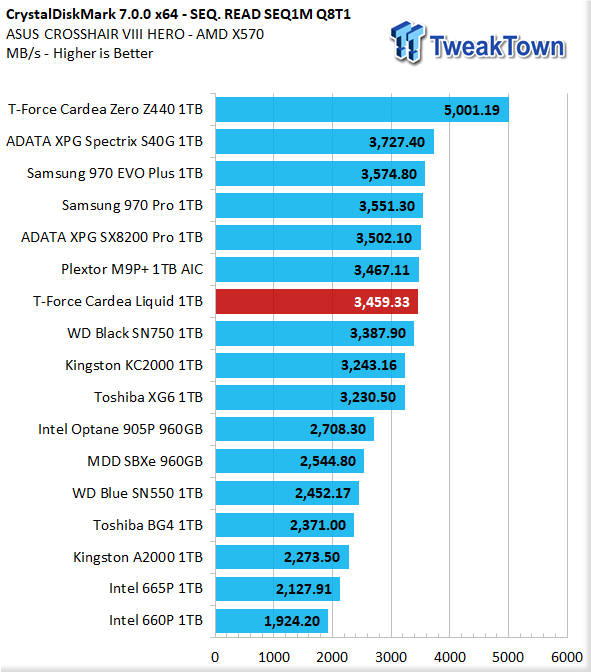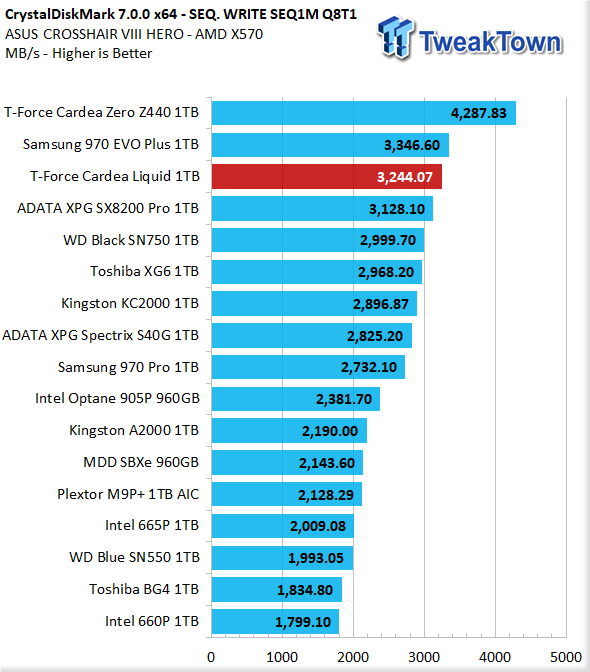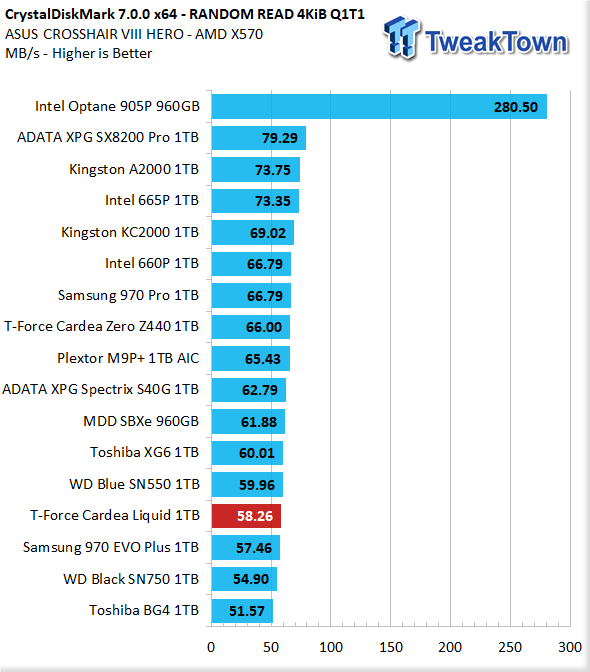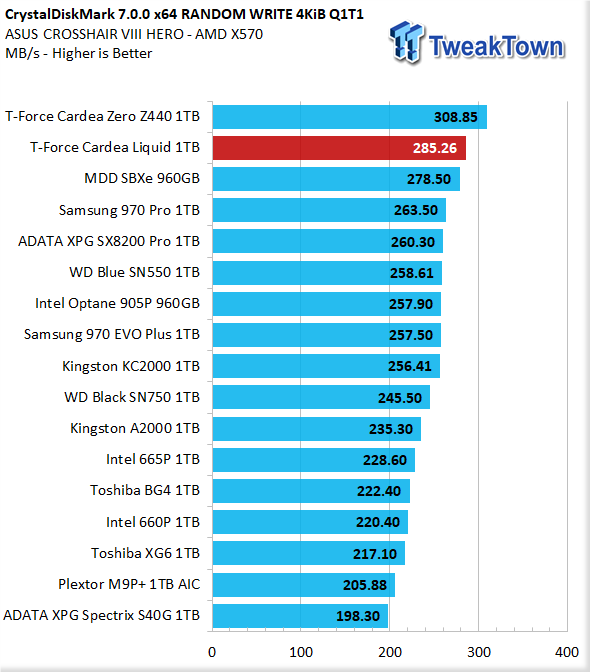 Something we always welcome is faster than advertised sequential speeds. The Cardea Liquid is delivering over 200 MB/s better than advertised sequential write speeds. Nice. Additionally, we observe the best 4K Q1T1 random write speeds we've ever recorded for a Gen3 SSD running on an AMD platform.
Anvil's Storage Utilities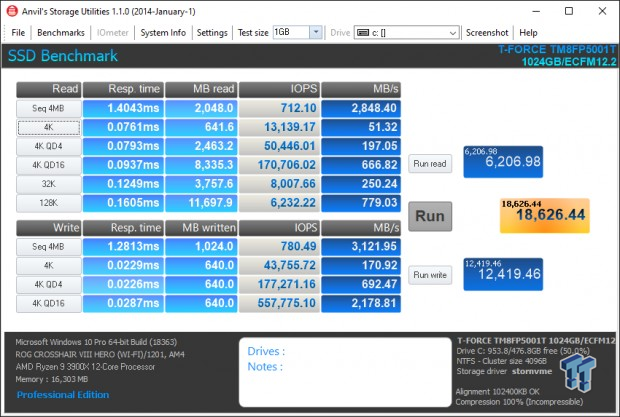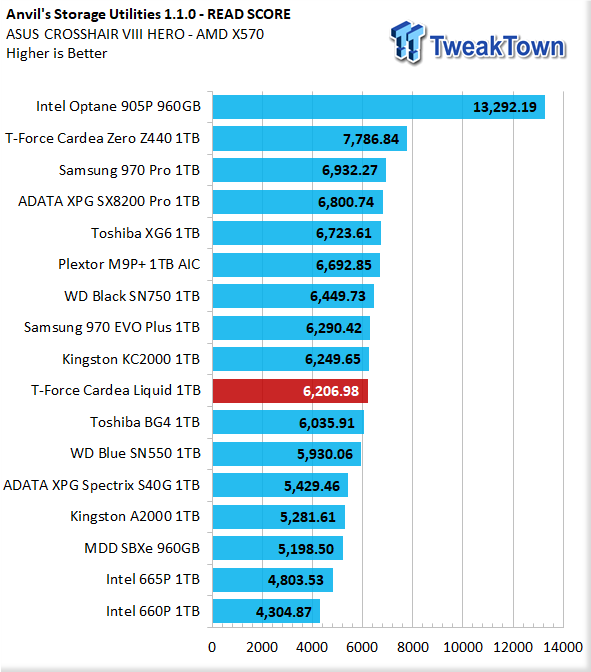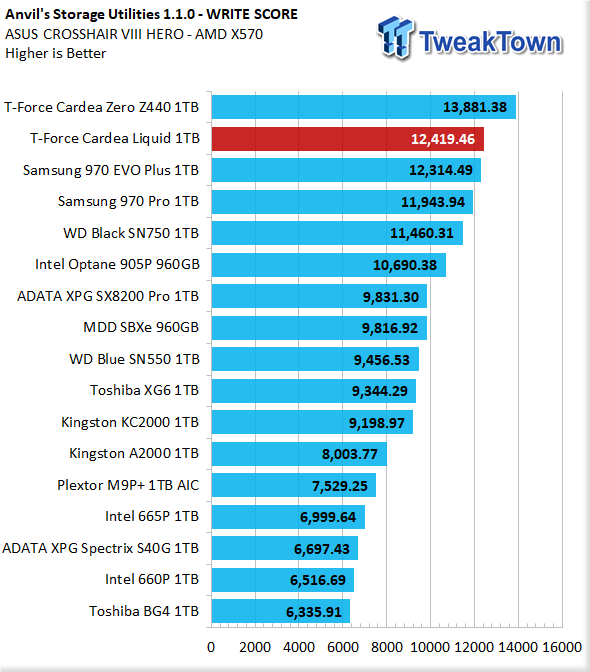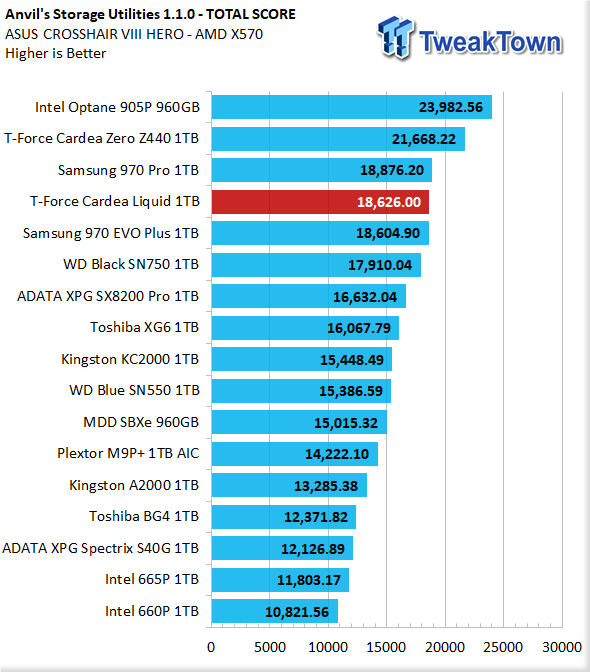 An overall score of 18,000 is up there with the best of them. Impressive to be sure. We like that we are seeing a total read score of over 6,000. However, we are also looking for QD1 random read performance of in excess of 15K. Here, we do not get what we are looking for. To be fair, E12 powered SSDs, in general, do not deliver our 15K QD1 random read desires.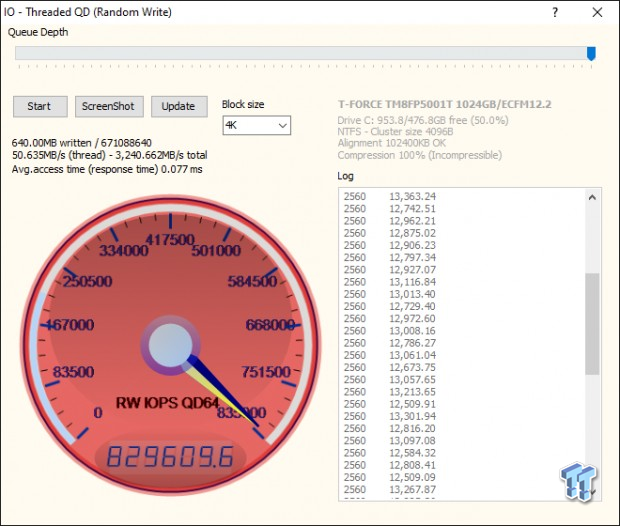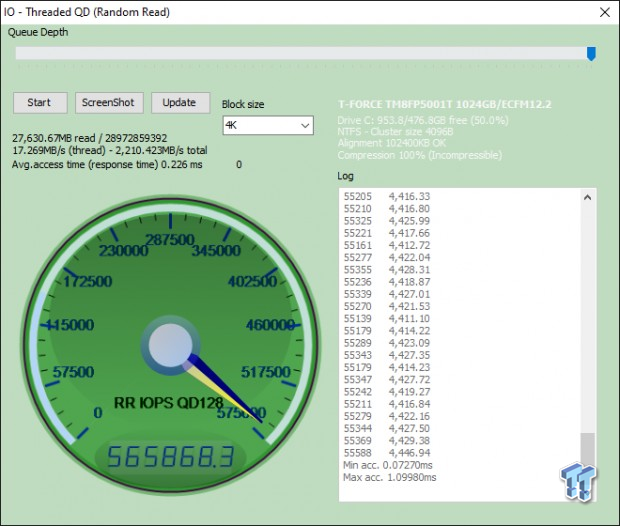 Demolishing factory specs by a mile. Impressive. Results like have us wondering if this SSD is sporting a 96L flash array?
Synthetic Benchmarks: AS SSD & ATTO
AS SSD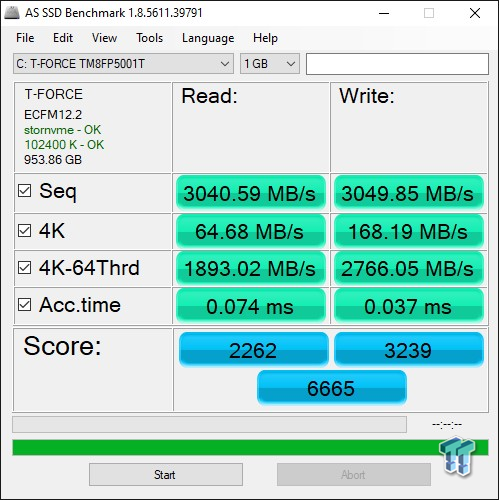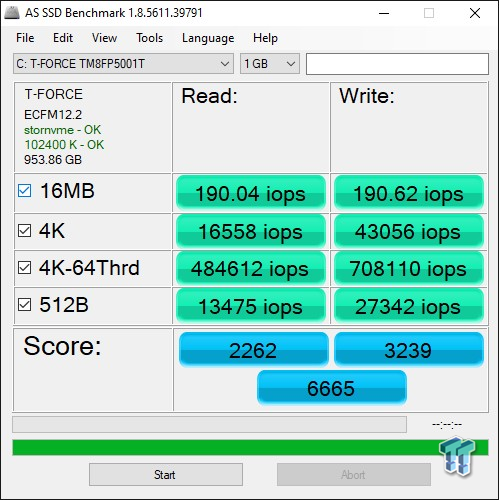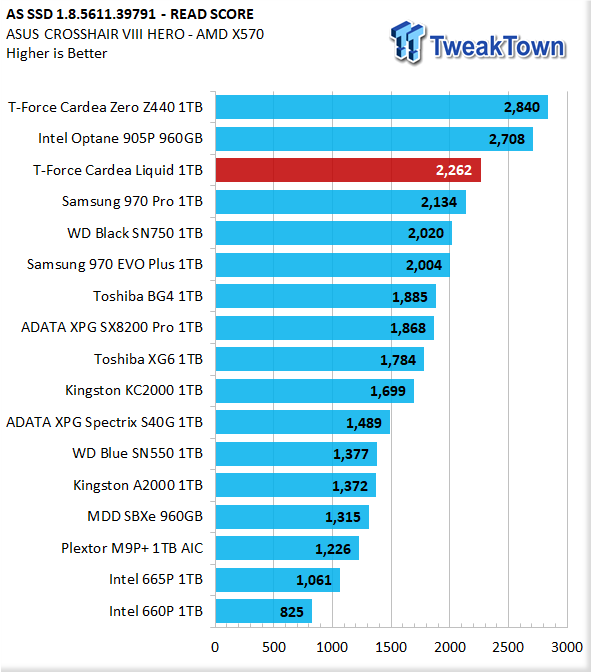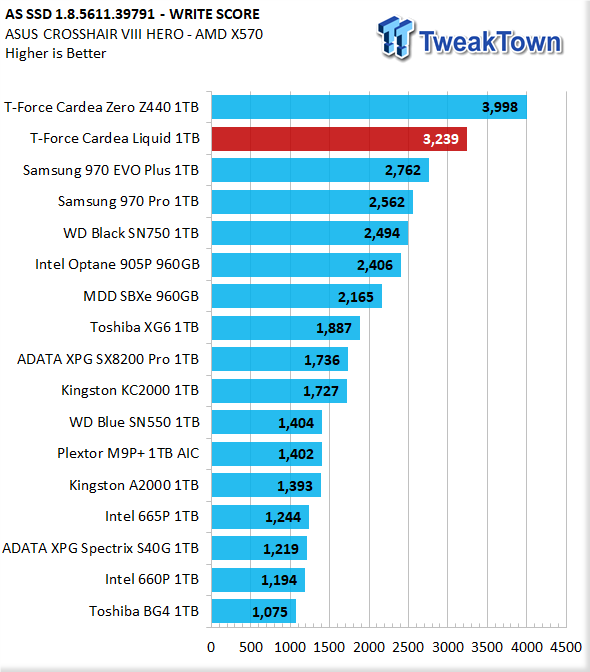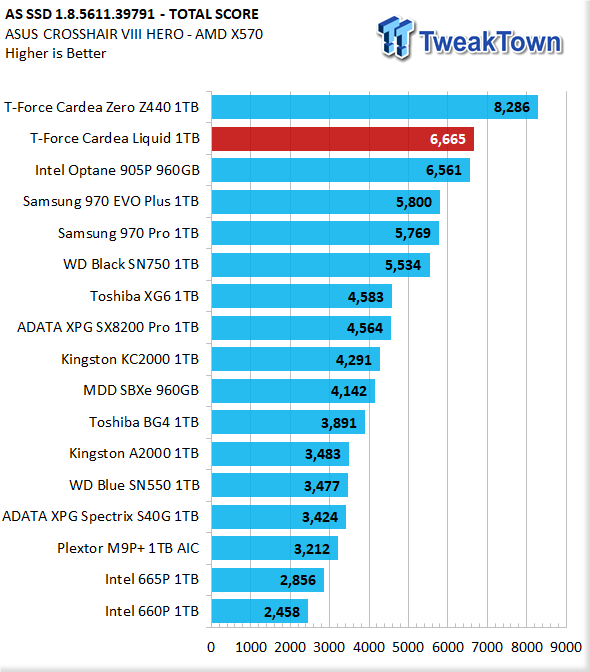 In terms of the overall score, the T-Force Cardea Liquid is second only to its younger sibling, the T-Force Cardea Zero Z440 PCIe Gen4 SSD. Where it really matters, read scoring, the Cardea Liquid is delivering the goods, coming in third place overall for 1TB NVMe consumer SSD.
ATTO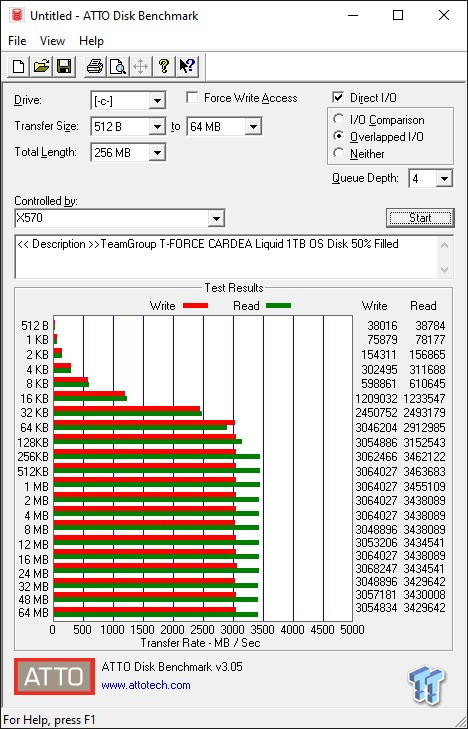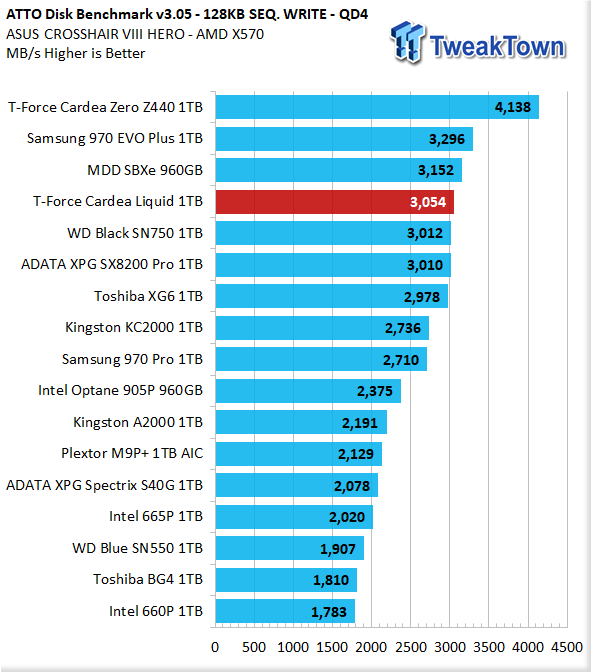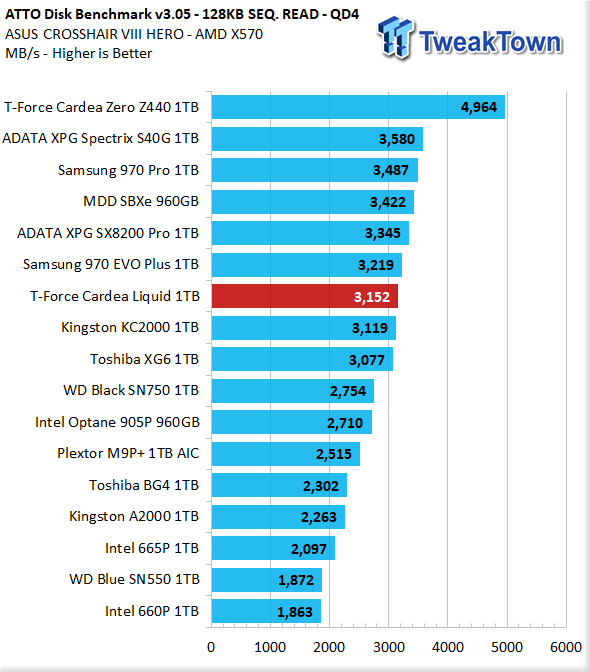 We don't quite get our preference of full speed at 128K transfers. Nevertheless, the Cardea Liquid is no slouch, as evidenced by our chart.
Real-World Testing: Transfer Rates & Gaming
Transfer Rates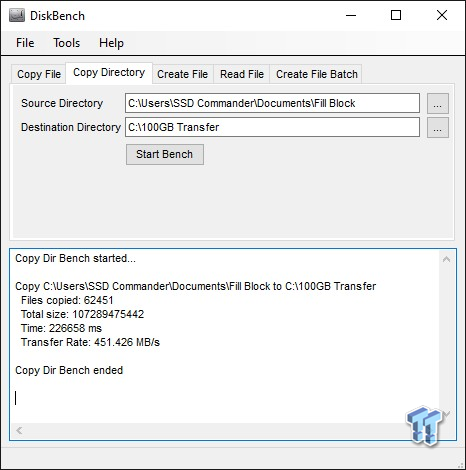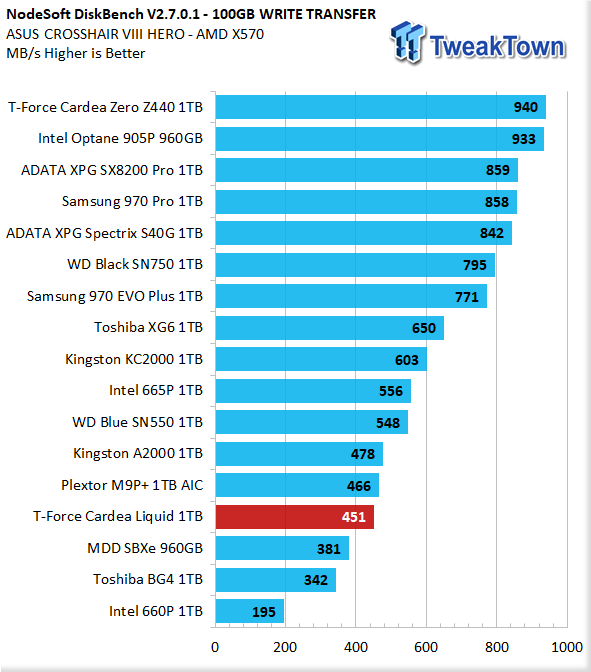 Our write transfer is 100GB in size and composed of more than 62,000 files. Not an easy transfer - as demonstrated by the Cardea Liquid. Disappointing. We are looking for over 500 MB/s test results, and the Cardea Liquid falls short, leading us to believe that this SSD does not have 96L on board as we earlier assumed, and is in fact sporting 64L flash, as reported by reviews done last year.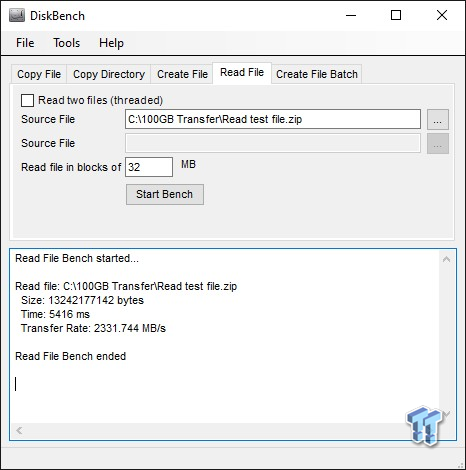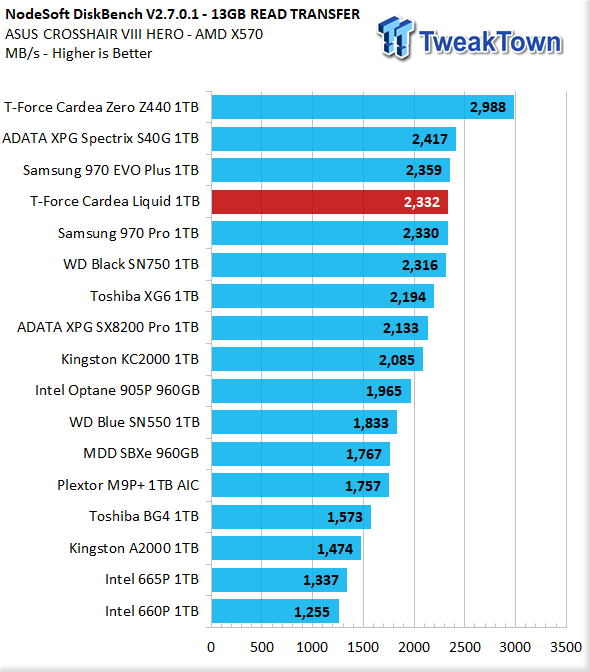 Ok, here we go. 2,332 MB/s is redemption for the Cardea Liquid. Reading data is always more important in a typical consumer usage scenario, and with performance like that, it is easier to overlook the drive's inferior write transfer performance.
Game Level Loading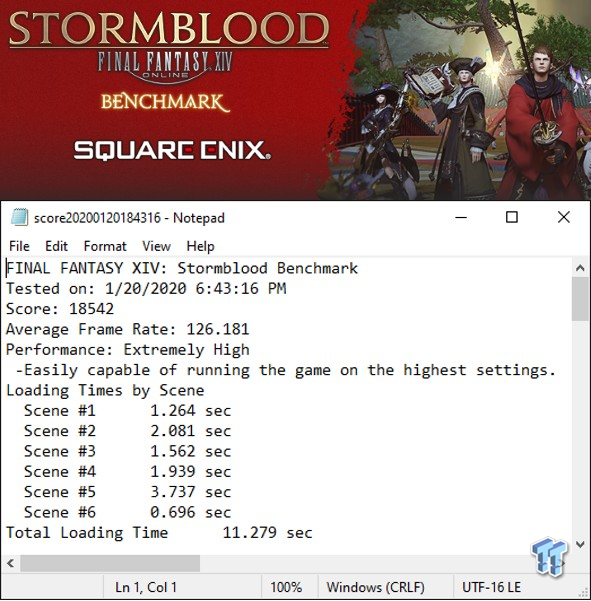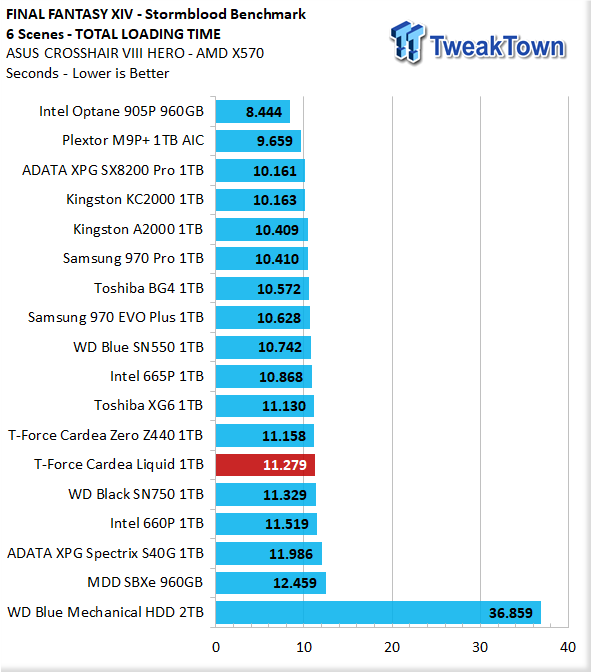 Although we are always looking for sub 11-second performance, the Cardea Liquid delivers very well for an E12 powered SSD.
Real-World Testing: PCMark 10 Storage Tests
PCMark 10 Storage Test is the most advanced and most accurate real-world consumer storage test ever made. There are four different tests you can choose from; we run two of them. The Full System Drive Benchmark and the Quick System Drive Benchmark. The Full System Drive Benchmark writes 204 GB of data over the duration of the test. The Quick System Drive Benchmark writes 23 GB of data over the duration of the test. These tests directly correlate with user experience. Of the two tests, we feel that the Quick System Drive Test most accurately replicates a typical user experience.
PCMark 10 Full System Drive Benchmark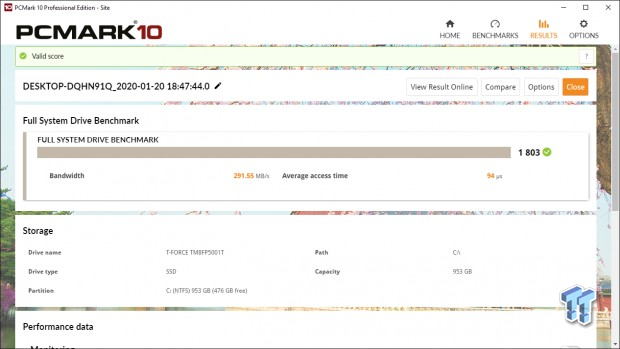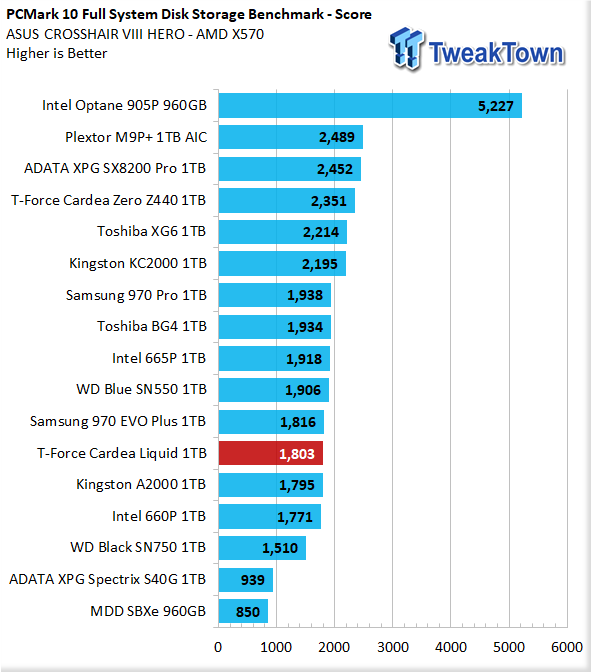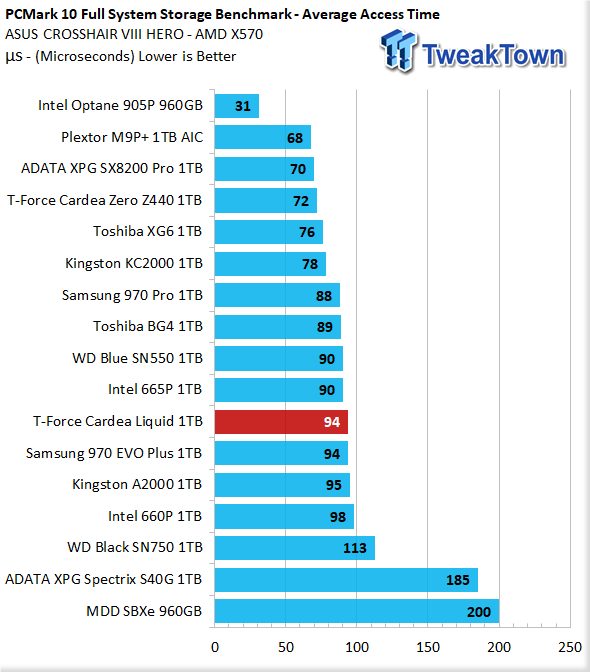 We were expecting a little more, but then again, this SSD has no built-in overprovisioning, which would help considerably when running heavy consumer type workloads. As you can see, the Cardea Liquid delivers below-average performance when performing heavy consumer type workloads.
PCMark 10 Quick System Drive Benchmark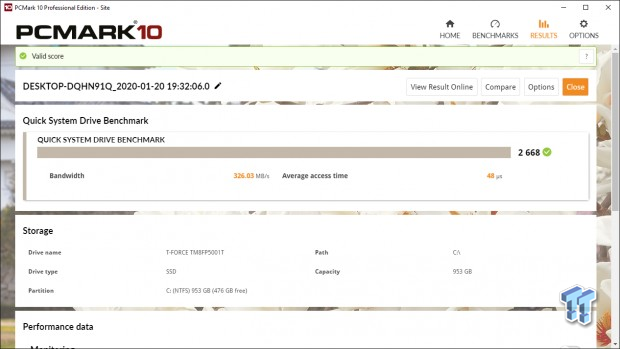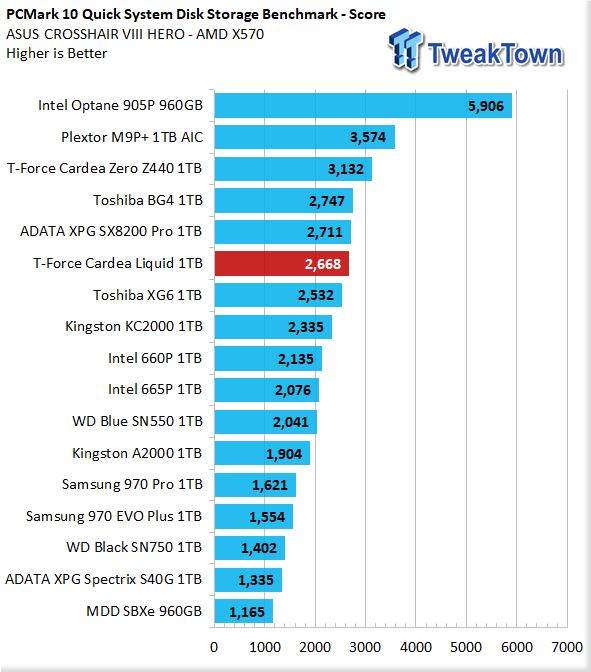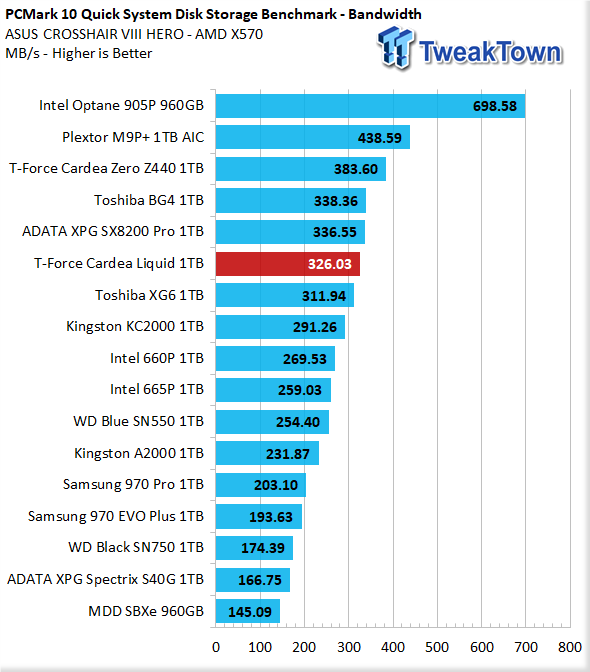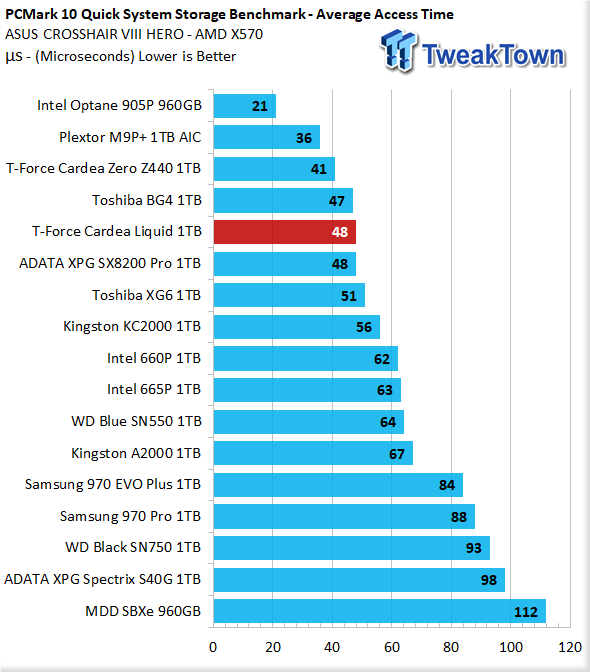 Checking in on more typical moderate type consumer workloads, we find the Cardea Liquid delivering Tier-1 NVMe SSD performance. This is where it matters most, and this is where we find the Cardea Liquid excelling. In terms of overall SSD performance, we believe the Cardia Liquid to rank in the top seven consumer 1TB class SSDs we've tested to date.
Final Thoughts
So, what do we have in the Cardea Liquid? As our test results clearly show, the revised Cardea Liquid first and foremost does perform as advertised. The Cardea Liquid does indeed deliver a 10c lower temperature curve. Not only that, but the Cardea Liquid also proved to be one of the better performing SSDs we've tested to date.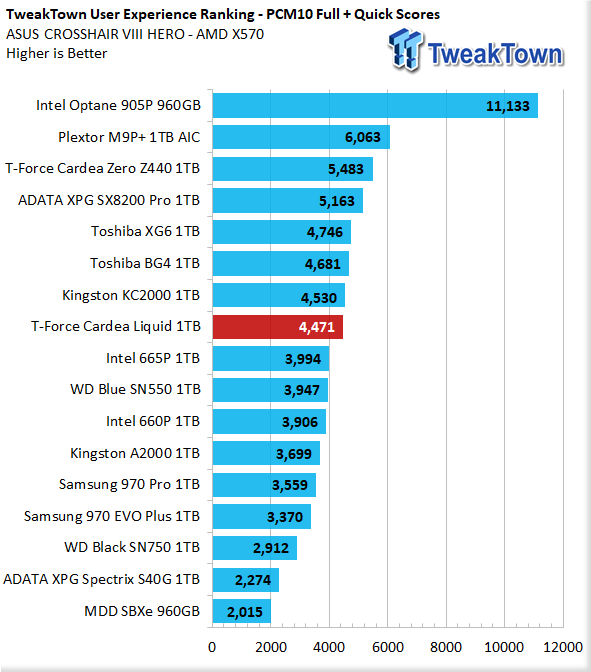 Looking at our user experience rating, we find the Cardea Liquid delivering an overall user experience that is a cut above. The Cardea Liquid serves up a significant user experience advantage over Intel's 665p and just under the user experience that Kingston's KC2000 1TB can deliver.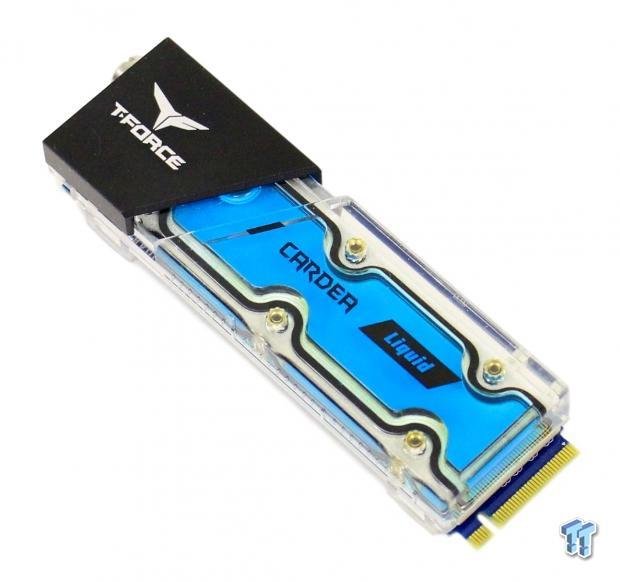 Looking back at our testing results, we can find several areas where the T-Force Cardea Liquid really stands out from amongst its peers. First and foremost is it does deliver 10c lower temps according to our results. Following that, we would point out that the Cardea Liquid delivered the second-best results we've ever seen for 4K QD1 T1 as measured by CDM 7.
In addition, several more benchmark highlights clearly indicate what the Cardea Liquid is all about, but we don't need to get into that to render a verdict on the new and improved TeamGroup T-Force Cardea Liquid SSD. The drive delivers as advertised and then some, which is why the Cardea Liquid is deserving of a TweakTown award.
Pros
User Experience

Low Temps

5-Year Warranty
Cons
Writing Large Blocks of data
| | |
| --- | --- |
| Performance | 90% |
| Quality | 95% |
| Features | 95% |
| Value | 85% |
| Overall | 91% |
The Bottom Line
TeamGroup's Cardea Liquid is maybe the coolest looking SSD ever made. In addition, it delivers as advertised and then some.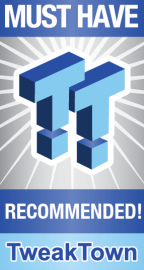 We openly invite the companies who provide us with review samples / who are mentioned or discussed to express their opinion. If any company representative wishes to respond, we will publish the response here. Please contact us if you wish to respond.