TweakTown's Rating: 96%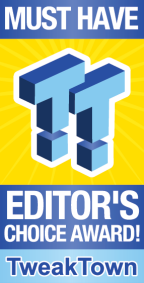 The Bottom Line
Class leading capacity, warranty, endurance, features, and blazing speed make Sabrent's 4TB Rocket NVMe M.2 SSD a must have when you've got to have the best.
Introduction & Drive Details
Sabrent is a relatively new player in the SSD business. They have quickly become popular in the PC enthusiast community by offering blazing fast NVMe SSDs at bargain prices. Bargain pricing is one thing, but providing cutting edge products and backing them with industry-leading warranties and endurance ratings is another. This is where Sabrent has found their niche and enthusiasts are starting to take notice.
When you purchase a Sabrent NVMe SSD, you get the complete package. You get a 5-year warranty and free customer support when you register your Sabrent NVMe SSD. That is industry-leading, and because Sabrent partners with Phison, you get industry-leading performance and endurance ratings. Additionally, Sabrent includes all their NVMe SSDs with a free copy of Acronis cloning software worth $30. On top of that, you get Sabrent's custom full-feature SSD toolbox.
As we've explained, Sabrent, as a brand, is checking all the boxes and becoming more of a household name every day. Now Sabrent is not just satisfied to sit back as one of the more well-known SSD brands, Sabrent is also venturing out onto the cutting edge of NVMe SSD products. Case-in-point is the SSD we have on our bench today. Sabrent's Rocket NVMe 4TB M.2x2280 SSD. That's correct, a 4TB M.2 SSD. As far as we know, it is currently the only consumer 4TB M.2 NVMe SSD you can buy.
This means Sabrent has one-upped every big name in the industry. Impressive. The Rocket NVMe 4TB is pure quality, utilizing the newest BiCS 96L TLC flash and Phison's latest controller, the E12S. Phison's E12S is a variant of their E12 controller that just as powerful but is physically much smaller than its older sibling. A smaller footprint allows for more flash packages to populate the same M.2 PCB allowing for greater flexibility in the overall design.
As you might imagine, the price of this unique beast isn't exactly cheap. However, we think that this drive is worth every penny. 4TB of TLC, not QLC, and it is fast - very fast. Typically, we see a decrease in performance as capacity increases above 1TB, but not this time. This drive is well-engineered to deliver both cutting edge NVMe performance and class-leading capacity.
Drive Details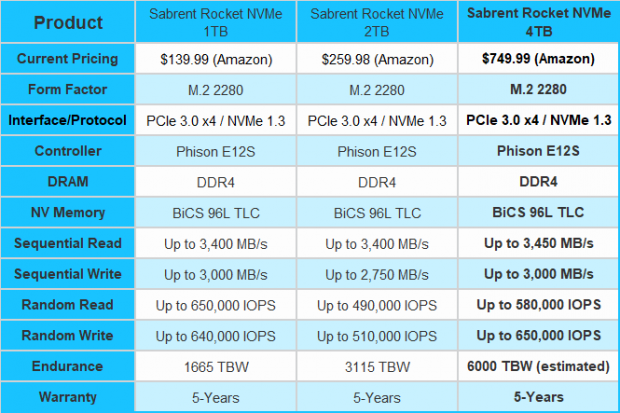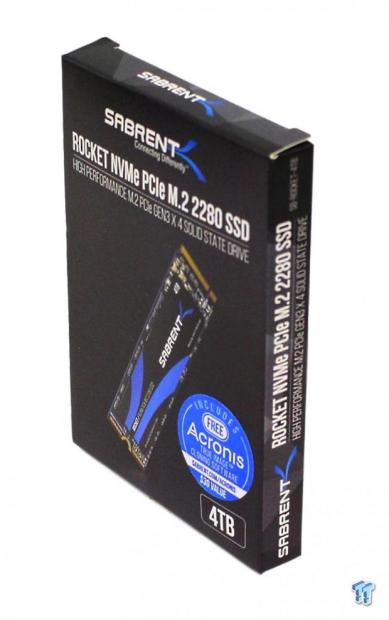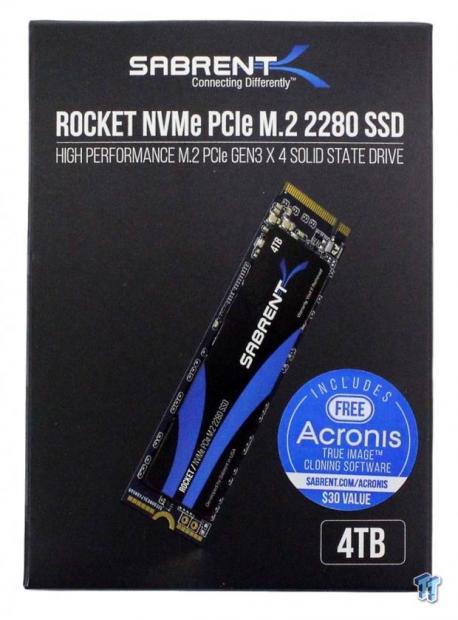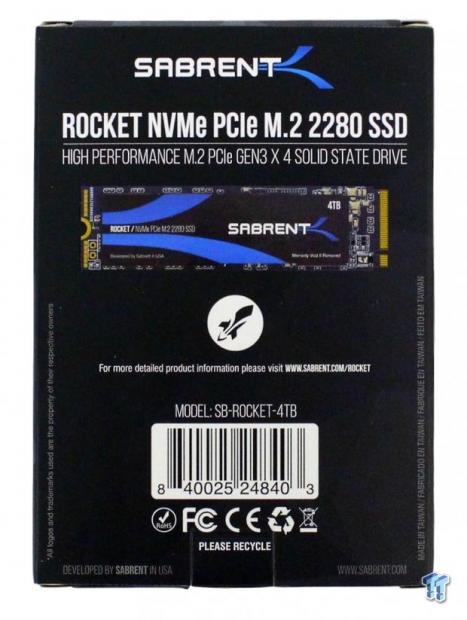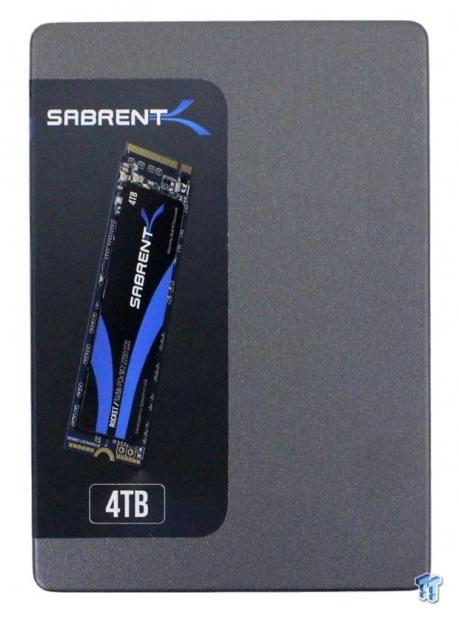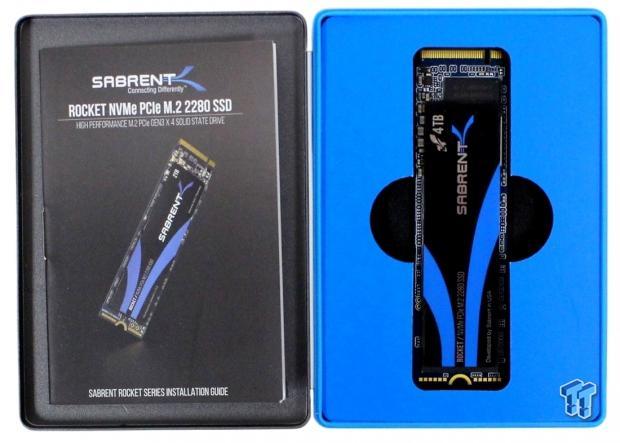 The Rocket NVMe 4TB SSD ships in Sabrent's unique packaging. Inside of the small colorful box is a stout aluminum clamshell type container that provides protection for the enclosed SSD. The SSD is cradled in a dense foam cutout. Included with the SSD is a small printed user guide.
The double-sided M.2 PCB is populated with a Phison E12S controller, two DDR4 DRAM packages, and eight 512GB flash packages (four packages each side). The controller side of the SSD features a pure copper label that boosts thermal capabilities.
SSD Toolbox
Sabrent SSD Toolbox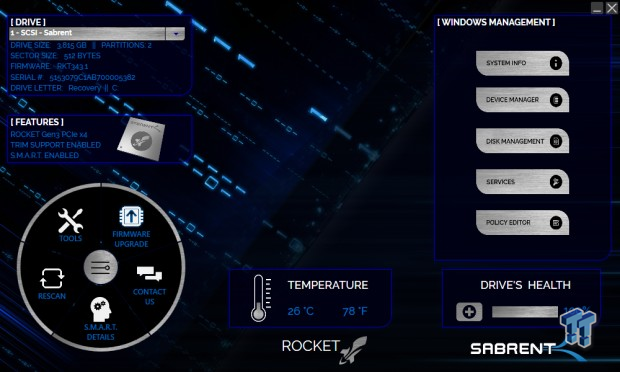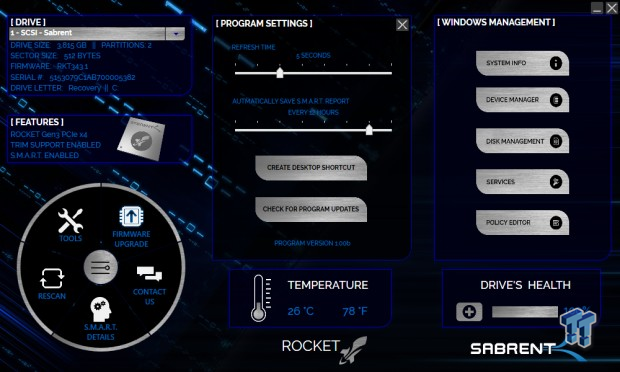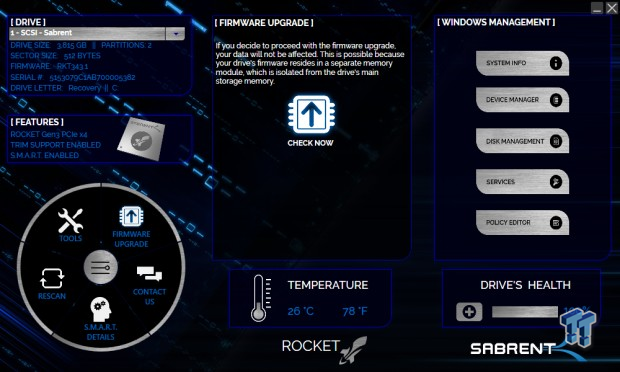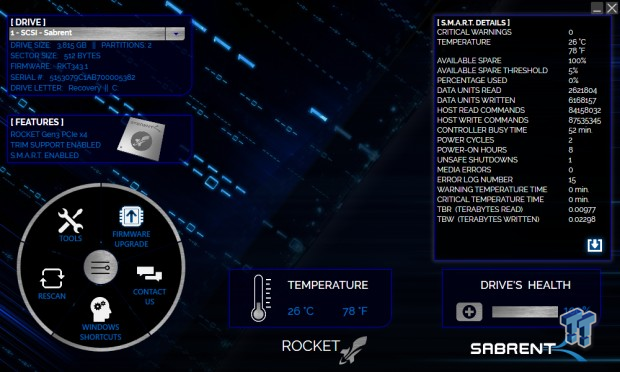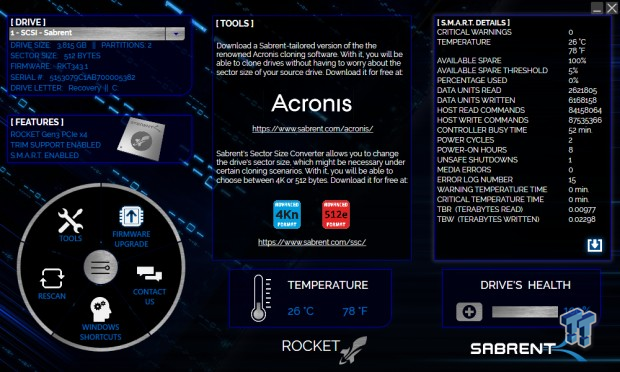 To complement their NVMe SSDs, Sabrent has developed a full feature SSD Toolbox. Sabrent's toolbox allows monitoring of your SSDs health, temperature, and SMART details. With the toolbox, you can easily update firmware, secure erase, and it gives you direct access to register your SSD and download Sabrent's custom-tailored version of Acronis cloning software.
Synthetic Benchmarks: CDM & Anvils
CrystalDiskMark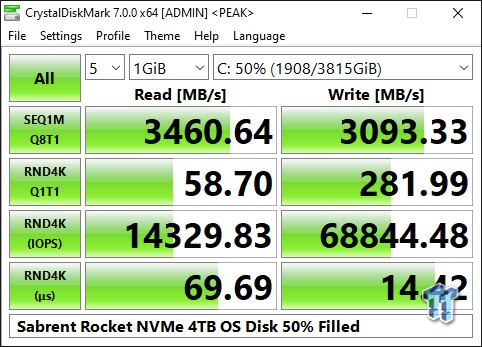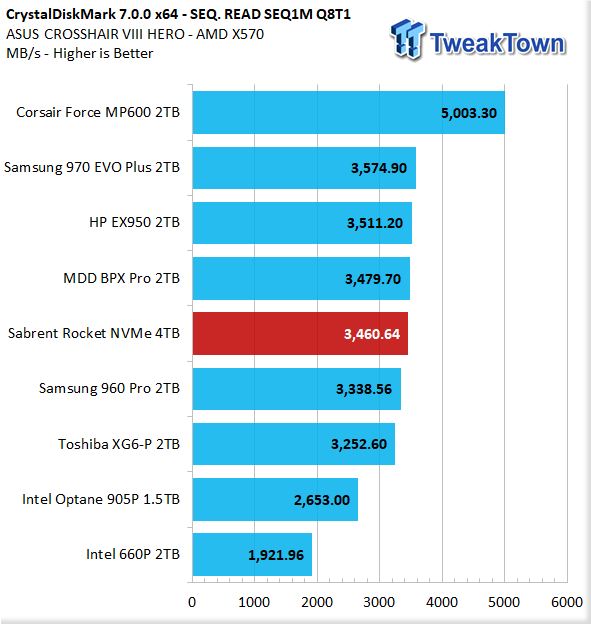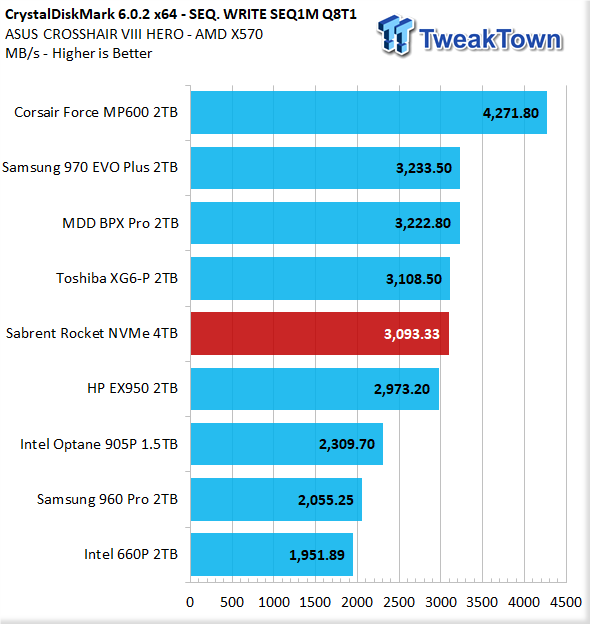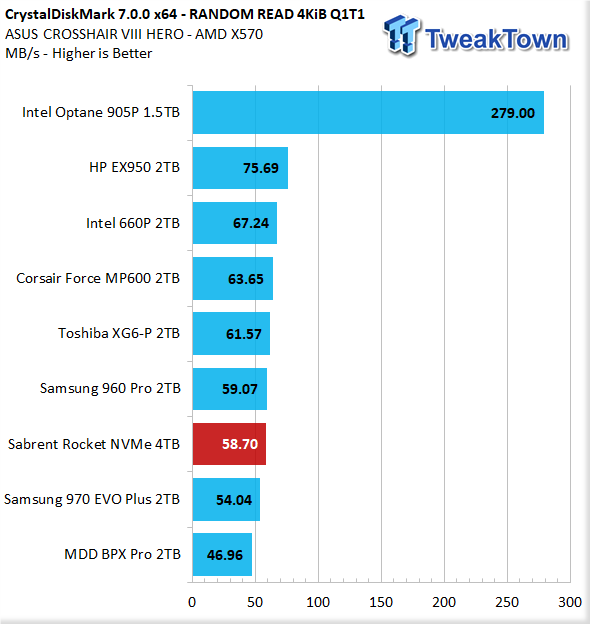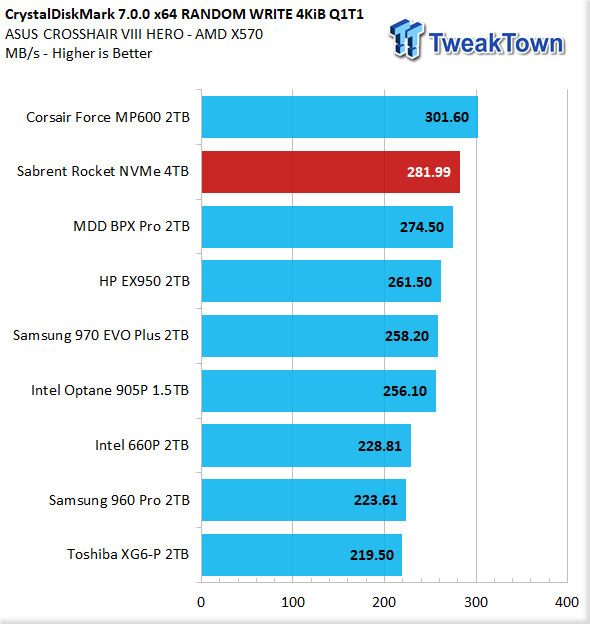 We test all SSDs as our system (OS) disk filled 50% with data. This allows us to closely replicate a typical user scenario and provides more accurate performance results. Factory sequential specs for the 4TB Rocket NVMe check in at 3,450 MB/s seq read and 3,000 MB/s seq write. We can exceed both even in our more demanding user state.
Anvil's Storage Utilities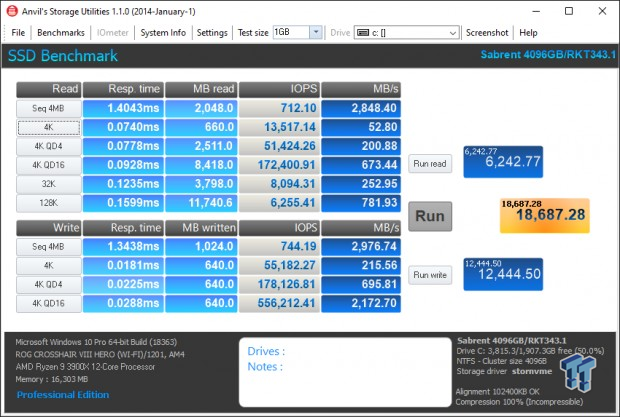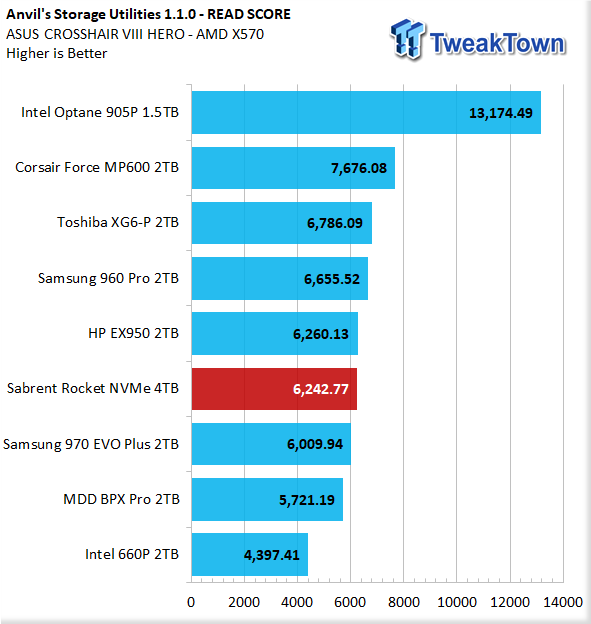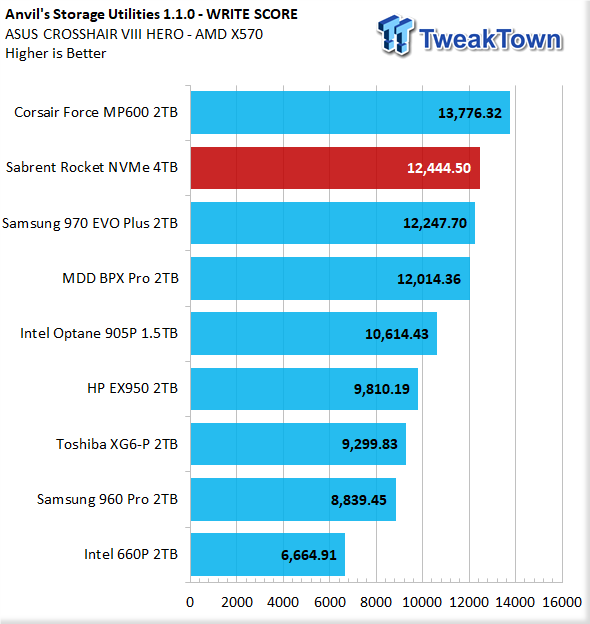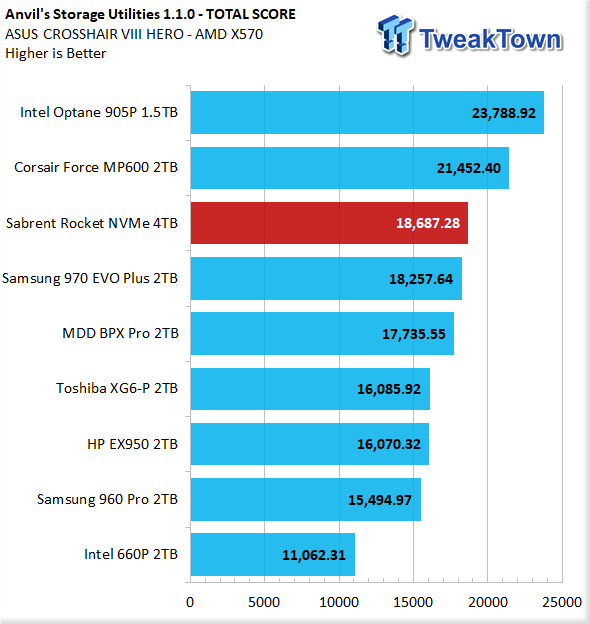 When evaluating Anvil's results, we focus on overall read scoring. We are typically looking for a total read score of over 6,000 points. The Rocket NVMe 4TB gives us what we are looking for, even outperforming Samsung's EVO Plus.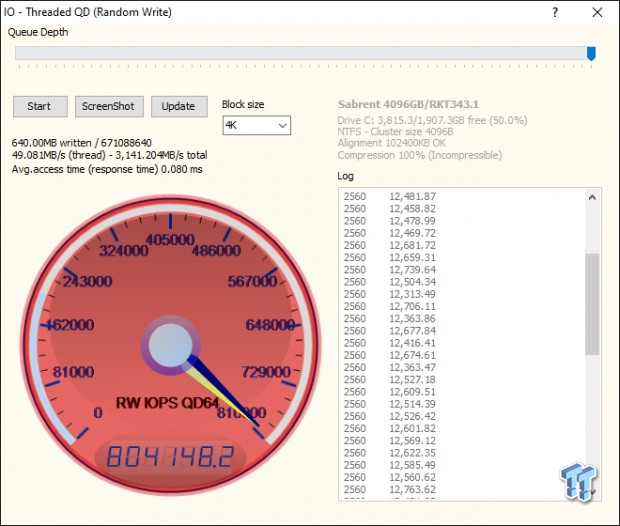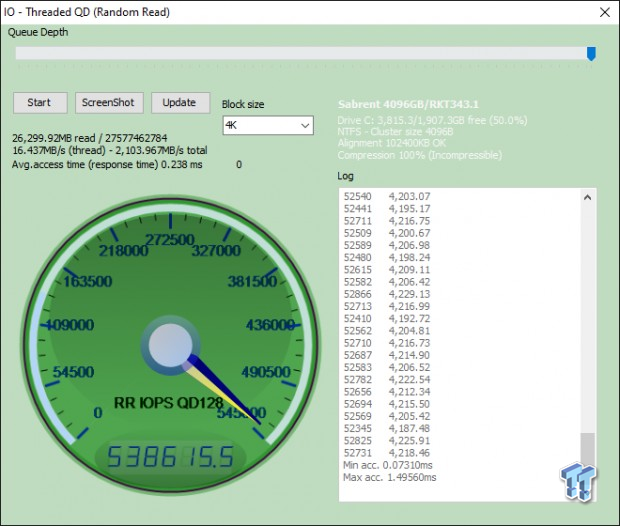 Max IOPS is meaningless to a consumer user, but we show it anyway to see if we can hit factory specs in our more demanding user state. Sabrent specs the Rocket NVMe 4TB max random performance at 580K read and 650K write.
Our max random write is an astounding 804K, which greatly exceeds factory specs. Our max random read comes in a bit below factory specs, which is exactly what we expect to see considering our user state.
Synthetic Benchmarks: AS SSD & ATTO
AS SSD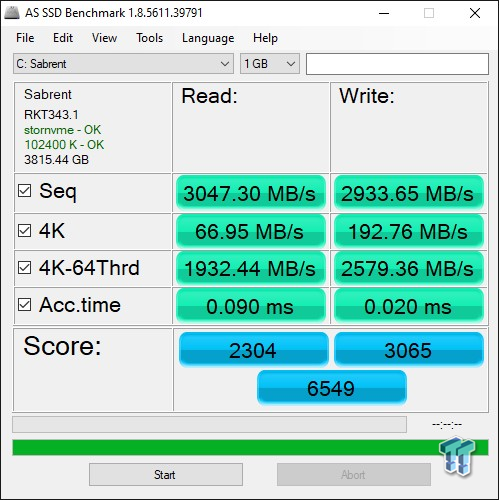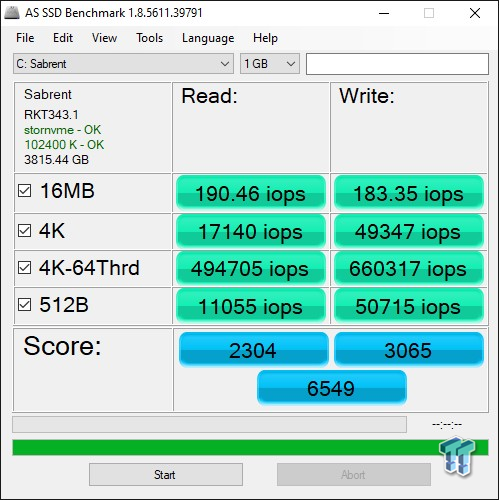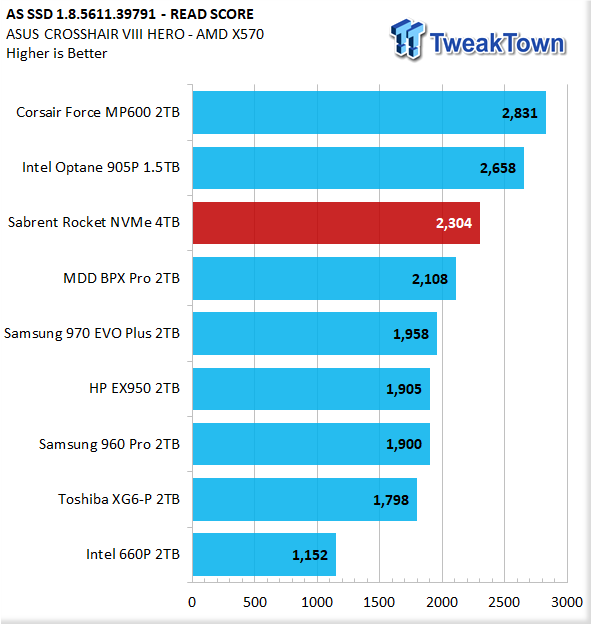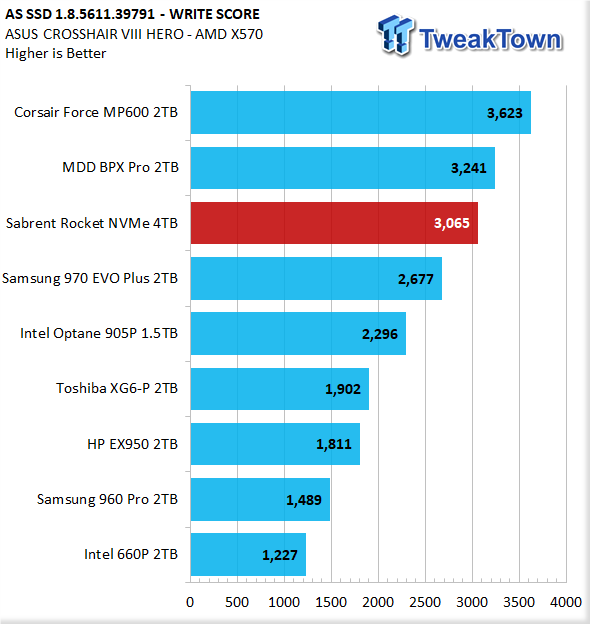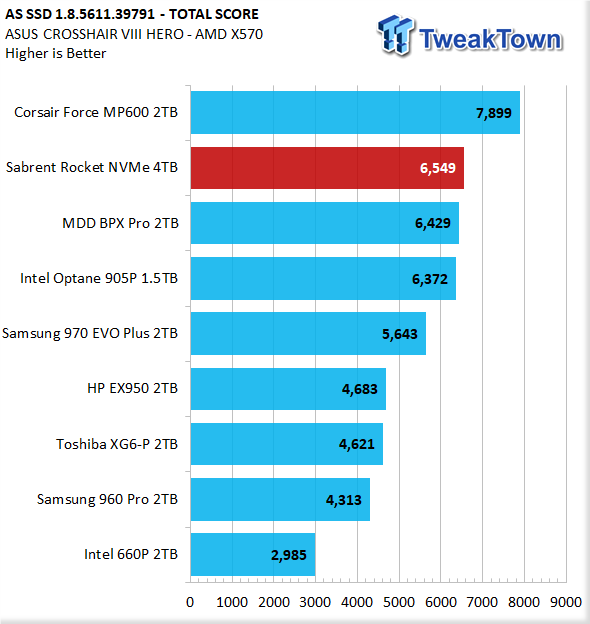 Across the board, the Rocket NVMe 4TB delivers the goods.
Looking at the all-important read scoring, we find the 4TB Sabrent drive delivering one of the best scores we've seen to date. In terms of the total score, the Rocket NVMe 4TB delivers the best performance of any Gen3 SSD in our test pool.
ATTO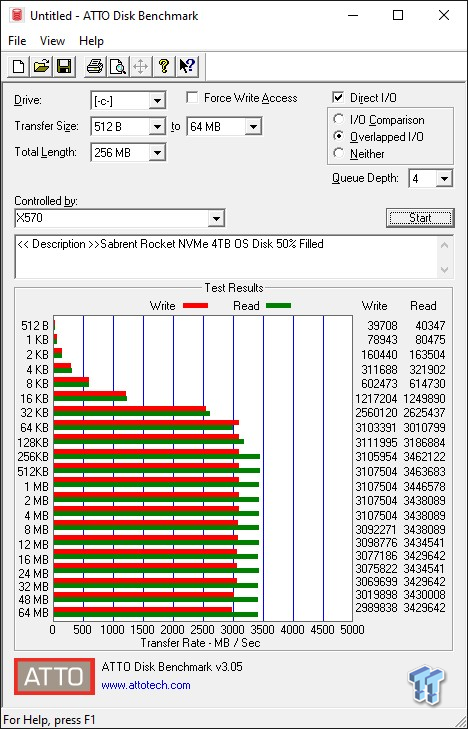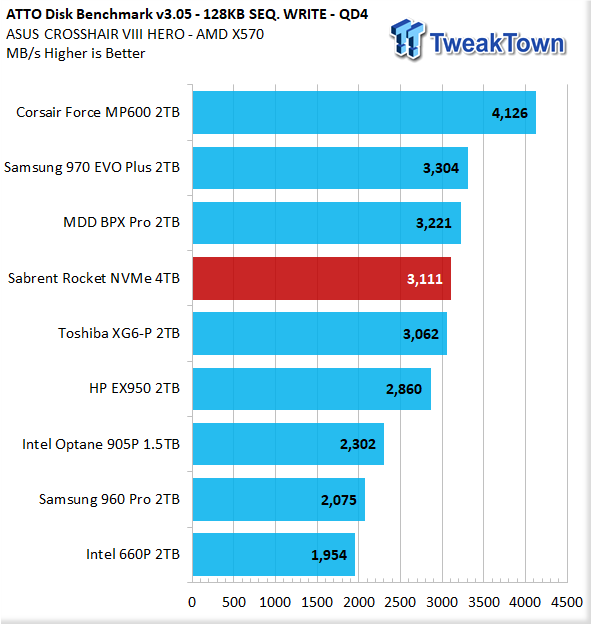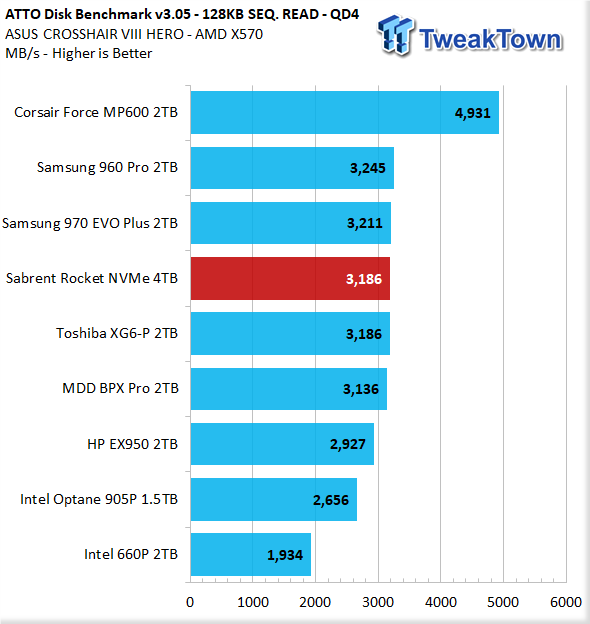 Focusing on 128KB sequential transfers, we again find the 4TB Rocket NVMe SSD near the top of our charts.
Sequential performance is right on the money despite it being a drive with twice the capacity of the comparisons in our test pool.
Real-World Testing: Transfer Rates & Gaming
Transfer Rates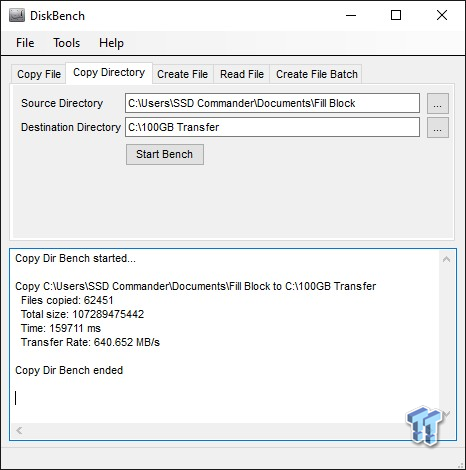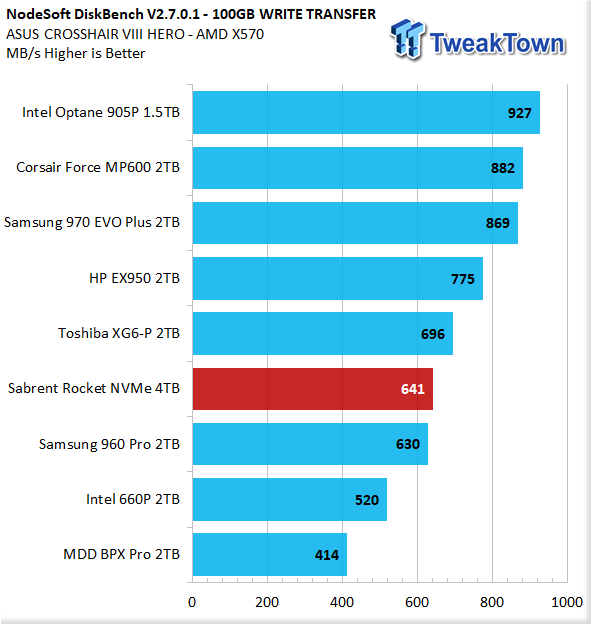 Our write transfer is 100GB in size and composed of more than 62,000 files. Needless to say, this is no easy test. This is actually a very good result when you compare the Rocket NVMe to the BPX Pro. Both are E12 controlled SSDs with BiCS TLC flash. We generally like to see a transfer rate that exceeds 500 MB/s, and the Rocket NVMe SSD gives us what we are looking for.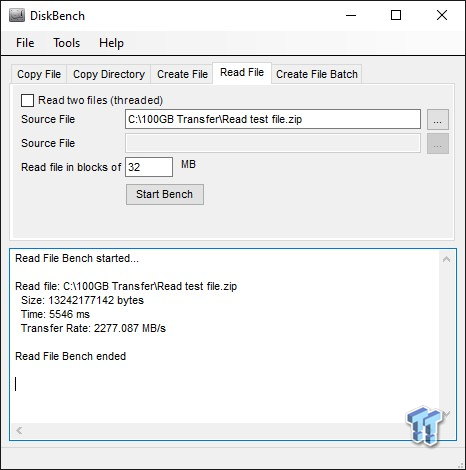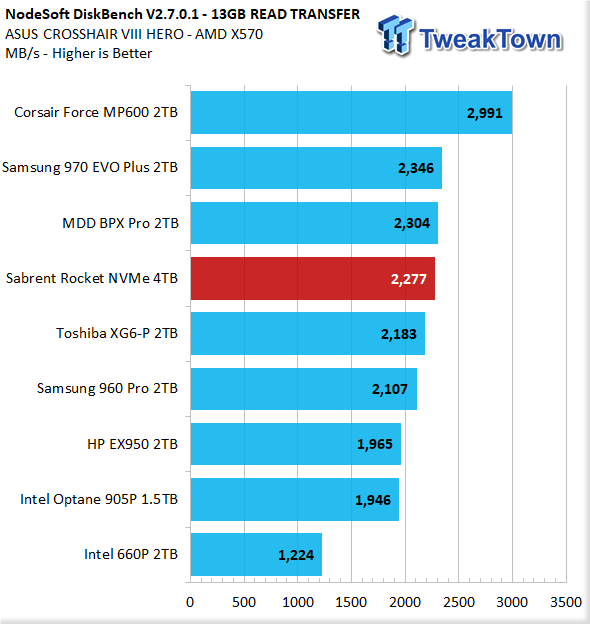 As always, read performance is more important than write performance. Again, we find the Rocket NVMe 4TB delivering the goods better than most of the competing SSDs in our test pool.
Game Level Loading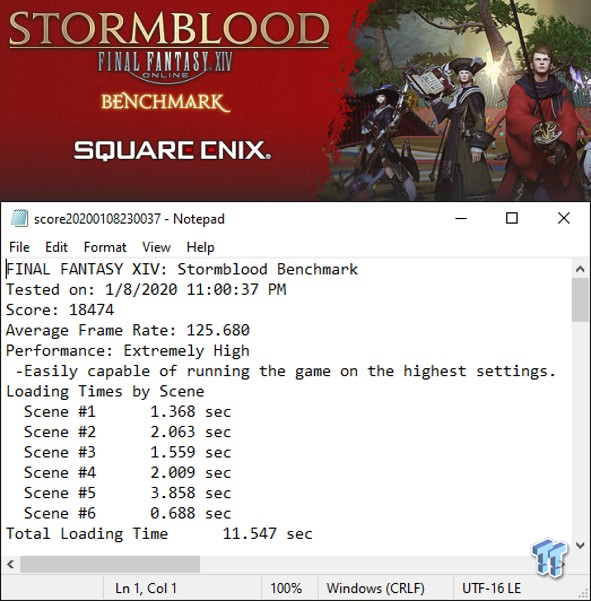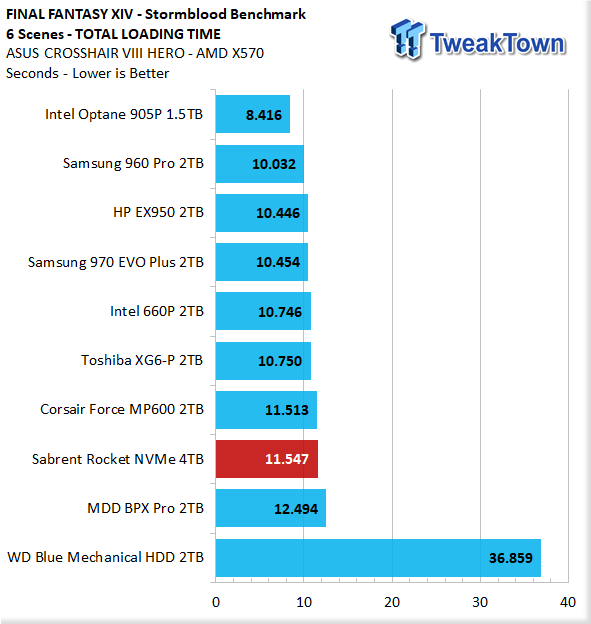 About 1.5 seconds spread across six level loads separates the 4TB Rocket NVMe from the flash-based leader Samsung's 960 Pro. It's not enough, in our opinion, to significantly impact the overall user experience. That said, we like to see SSDs get in the 10-second range.
Real-World Testing: PCMark 10 Storage Tests
PCMark 10 Storage Test is the most advanced and most accurate real-world consumer storage test ever made. There are four different tests you can choose from; we run two of them. The Full System Drive Benchmark and the Quick System Drive Benchmark. The Full System Drive Benchmark writes 204 GB of data over the duration of the test.
The Quick System Drive Benchmark writes 23 GB of data over the duration of the test. These tests directly correlate with user experience. Of the two tests, we feel that the Quick System Drive Test most accurately replicates a typical user experience.
PCMark 10 Full System Drive Benchmark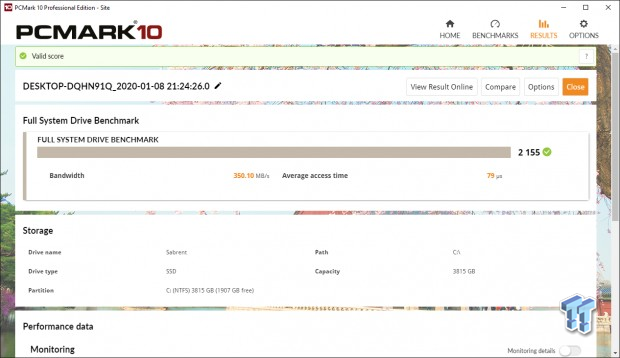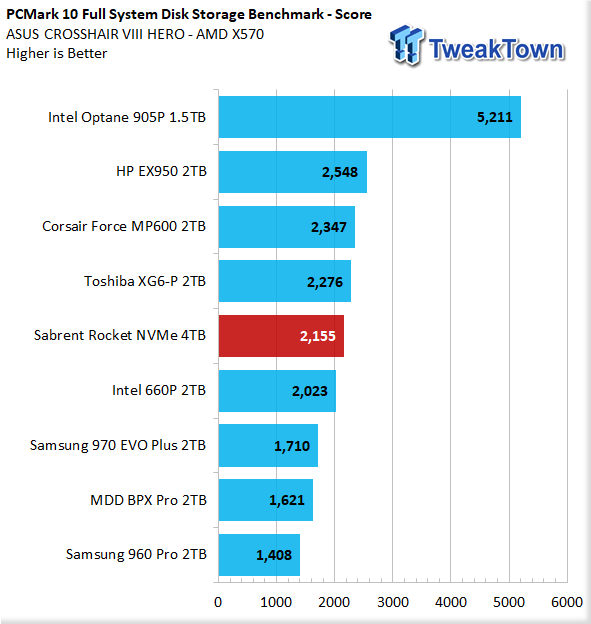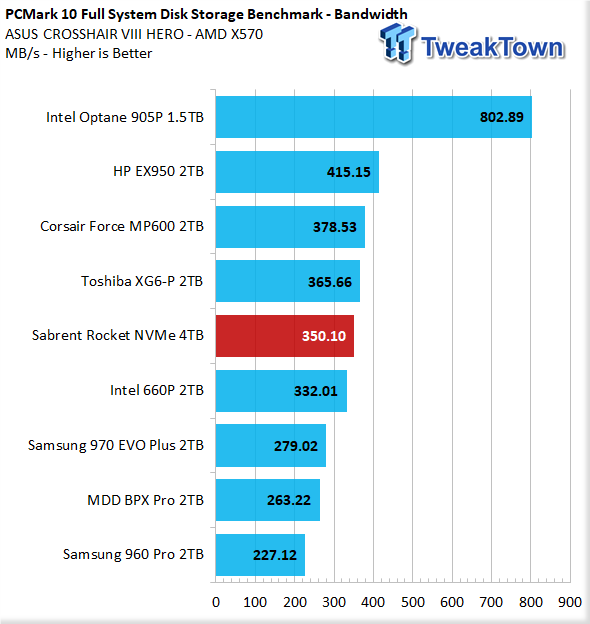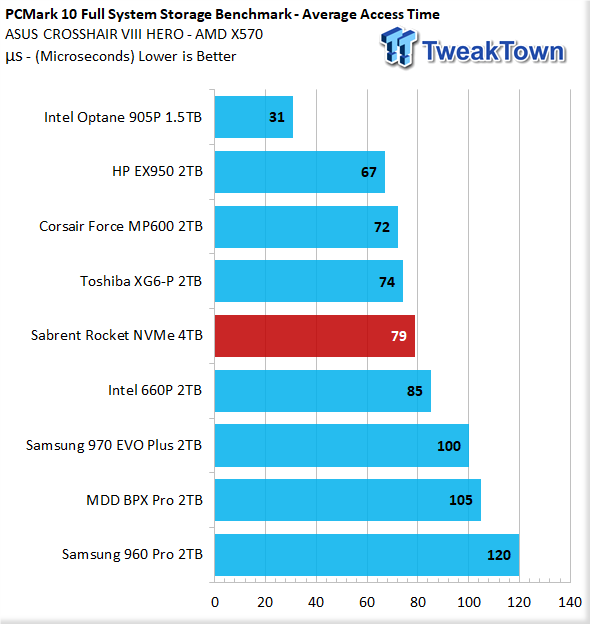 The Rocket NVMe SSD lands right in the middle of our charts. Overall an excellent showing. Keep in mind that PCMark 10 storage tests directly reflect user experience and that user experience should be what matters most to you.
PCMark 10 Quick System Drive Benchmark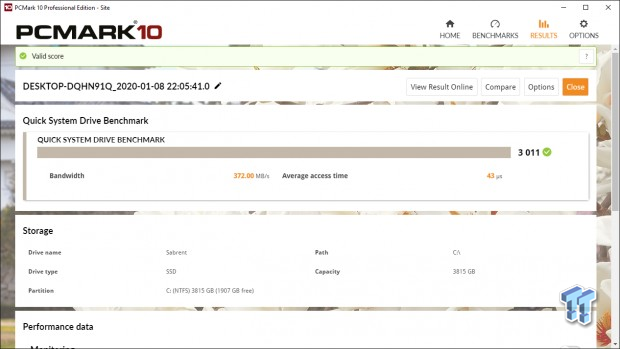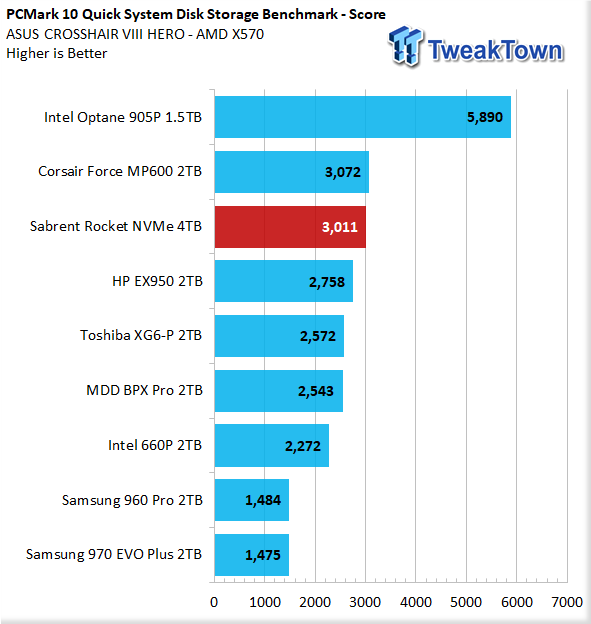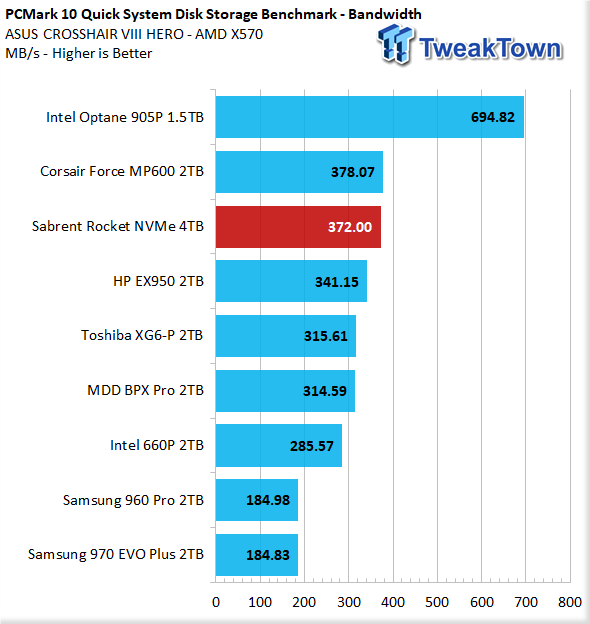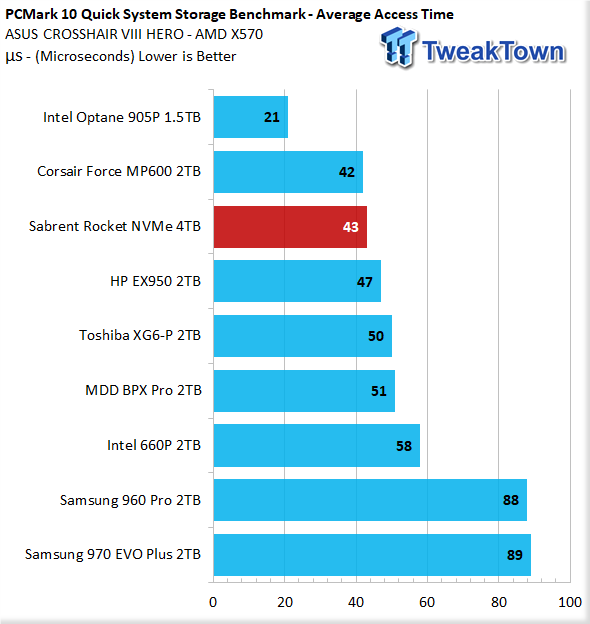 This time, the Rocket NVMe really delivers the goods with the second-best flash-based performance. We will remind you that we consider this test more important than the long test.
Final Thoughts
Sabrent is a forward-thinking SSD vendor, as evidenced by the fact that they are the only company to date to offer a 4TB M.2 SSD. 4TB of TLC goodness on an SSD, the size of a stick of gum, is amazing. With QLC soon to be the dominant type of flash, we are likely never to see endurance ratings anywhere near what the 4TB Rocket NVMe is rated for. The drive isn't cheap, but we believe it to be well worth the price when you consider what you get in return.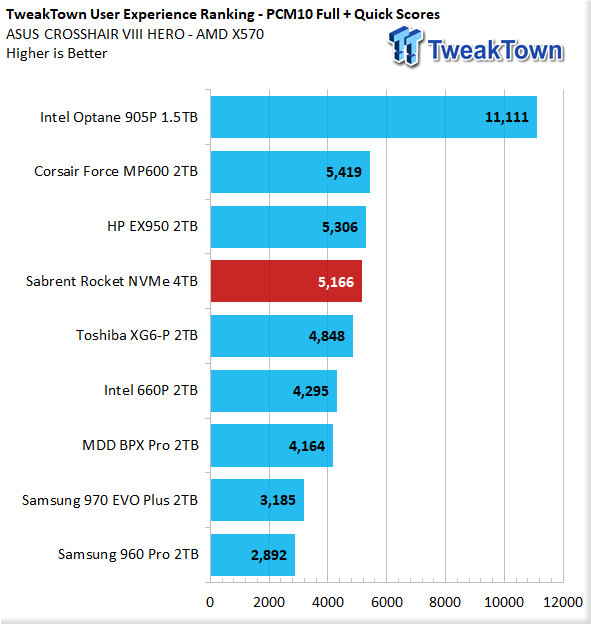 As our user experience rating shows, Sabrent's 4TB Rocket NVMe isn't just about capacity alone - it is going to deliver one of the best overall user experiences money can buy.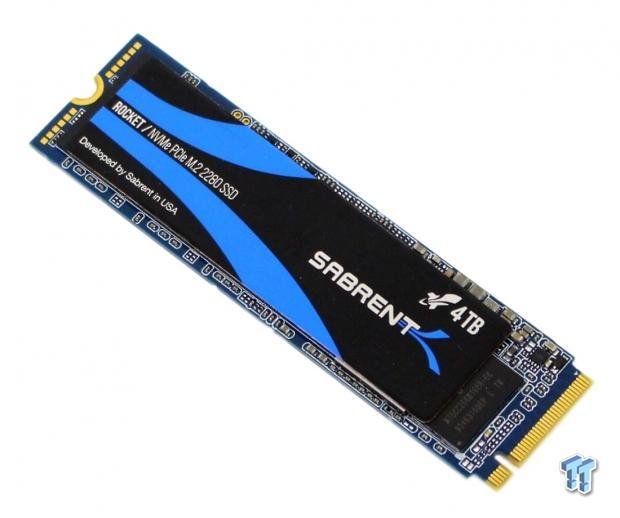 Looking back at our test results, what really stands out is the fact that Sabrent did not sacrifice any performance for a such huge capacity increase. We can attest that our experience with the drive running as our system disk is outstanding, which is why Sabrent's Rocket NVMe 4TB is TweakTown approved and highly recommended.
Pros
User Experience

Capacity

Endurance
Cons
| | |
| --- | --- |
| Performance | 96% |
| Quality | 98% |
| Features | 99% |
| Value | 90% |
| Overall | 96% |
The Bottom Line
Class leading capacity, warranty, endurance, features, and blazing speed make Sabrent's 4TB Rocket NVMe M.2 SSD a must have when you've got to have the best.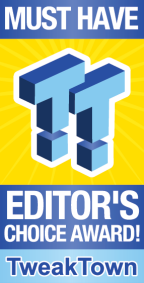 We openly invite the companies who provide us with review samples / who are mentioned or discussed to express their opinion. If any company representative wishes to respond, we will publish the response here. Please contact us if you wish to respond.