OCZ GameXStream Multi-GPU PSU under the spotlight
Today we take a close look at one of OCZ's newest power supplies designed for the gamer - the GameXStream Multi-GPU PSU.
Published Tue, Jul 25 2006 11:00 PM CDT
|
Updated Tue, Nov 3 2020 7:04 PM CST
Introduction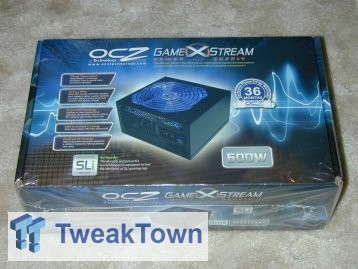 When you think of OCZ, odds are good you immediately think of products that cater specifically to the enthusiast crowd. In this thought you would be right. Since its inception, the folks at OCZ have had their eye on those who strive to get the last bit of power from their systems. From the early days of the company and their hand-picked processors with the bridges already soldered closed to their most recent custom made product line, OCZ means a product for the power user.
This brings us to today's piece where we will take a look at the GameXStream 600-watt power supply. This unit is reportedly made with the gamer in mind. While a solid reputation is certainly a good thing, this won't be a consideration when looking at a new product.
So relax a bit and kick up your heels as we delve a little deeper into the OCZ GameXStream 600.
In The Box
After you get through the shrink wrap, you will find only what you would expect to see when dealing with a power supply. Besides the unit itself, you get a power cable and mounting screws. There is also a small manual included, but you likely won't have need of this.
For those wanting to know the numbers, let's see if we can sate your curiosity. The total power output of this model is rated at 600 watts, with a recommended constant draw of no more than 580 watts. The 3.3v rail has a power limit of 36A while the 5v rail has an upper range listed as 30A. With multi-rail designs becoming more popular then ever before, the GameXStream consists of a total of
FOUR
12v power rails, each of which can handle 18A. At a glance, it would appear that this model is up to pretty much anything we can think of to throw at it.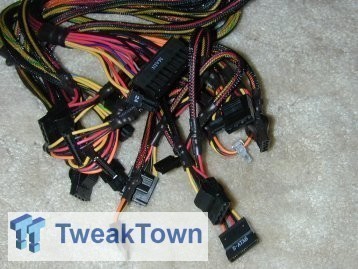 Taking a look at the cabling gives us an idea as to what this thing is capable of. In the gaggle of wiring harness above you will get a 20+4 pin primary power coupling, a 4+4 pin auxiliary power connection, six Molex connectors, six SATA connectors, two FDD connectors and two PCI-E connectors. Overall, this is a well rounded set of native power connectors and should suit most systems well. The six native SATA connectors also shows a lot of promise for those who are looking at using a RAID array in their gaming rig. This has become very popular of late and it is good to see it supported right out of the box.
A closer look will also show you that all wiring harnesses are wrapped in a mesh covering. Not only does this make the entire setup look a lot nicer, it makes it a lot easier when it comes to wire management. Additionally, the smaller footprint of the cabling will help you keep the airflow running as smoothly as possible through the case.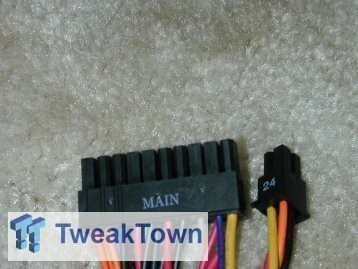 The two photos above show you the layout of the two "
+4
" couplers. Simply slide the two plastic couplers together and you have the higher rated power connection. With some older boards still needing a 20-pin main power port but newer ones needing a 24-pin and a 8-pin, this power supply ensures it will be compatible with nearly any current and legacy board on the market that requires ATX or newer specifications. It also becomes future-proof for those who are currently using an older motherboard but plan on upgrading in the near future. The GameXStream will grow with your system.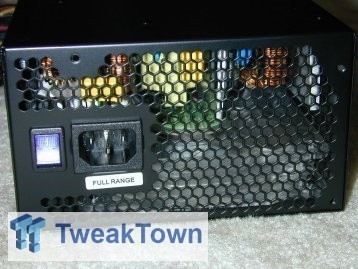 Moving around to the back side of the unit shows a very minimalistic layout. You have a port for the main power cable and a toggle switch that turns the unit on and off. The remaining space on the panel is dedicated to a mesh covering to aid in airflow.
You've likely already figured it out, but there is also no need to make manual changes between 120v and 240v power input. While not usually a big thing, this power supply can be used under either power standard and will switch automatically.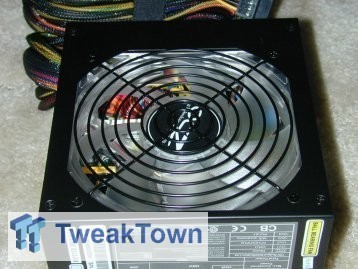 I mentioned the mesh back panel above, but what type of cooling comes with this model?
How about a large 120mm fan that not only moves a lot of air quietly, but also includes a blue LED lighting effect? When running, I was not able to hear the fan under any level of stress, so even if you are wanting to build a quiet gaming system, this PSU will fit the bill nicely.
Testing
I've been playing with power supplies for quite a while now and I guess in my old age, I like to sometimes make things interesting. My normal method of testing a PSU was to get the system up and running, get a burning session on a CD-RW running in the background, then cranking up something along the lines of Quake 4 and run a long-winded demo. Once everything is cranked up, I'll measure the voltage levels along the power rails to see how close they remain to specifications. The thought behind this method of testing is to see if the power supply can maintain acceptable power levels while under stress.
While I will continue to use this methodology, I also decided to compare these results with the power levels at system idle just to see how much the unit drops off while the system is under a load. This should give us a little more in depth picture of what the PSU in question is capable of. After all, with power supplies becoming a very important component in modern computers, it pays to know ahead of time what works and what doesn't.
But before we dig into the multimeter readings, lets take a quick look at the test system being used:
DFI LANParty UT nF4 Ultra-D motherboard (nVidia nForce4 Ultra chipset)
AMD Athlon FX-53 processor (Supplied by
Newegg.com
)
2x 512MB Mushkin "Redline" PC3200 memory (Supplied by
Mushkin
)
GeCube X1900XTX graphics card (Supplied by
GeCube
)
Four case fans + Thermaltake CPU cooler using 80mm x 38mm high performance fan
All right then... the system is running and the tasks are chugging along. The processor is at default speed and voltage is set to 1.5v. The memory is running at 2.9v and all other levels are set to default. The motherboard is an absolute power hog and the video card has sent many lesser power supplies to an early grave. Let's see what this thing can do!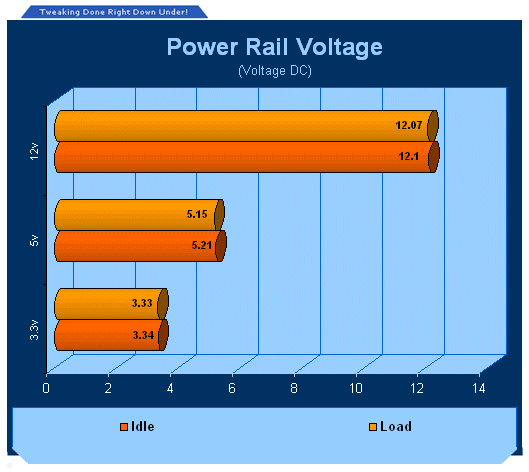 For those running newer processors, the main concern will be the 12v rail. For those still running something along the lines of a Socket A Athlon, the 5v rail will be of higher importance. It only takes a quick glance above, however, to see that it won't matter.
The OCZ GameXStream 600 managed to put up very solid numbers on all three voltage rails. This is especially interesting considering that the DFI mainboard being used requires both a 4-pin Molex and a FDD connection to be made from the power supply. This motherboard literally drains the life out of many lower-end models on the market but the OCZ didn't even flinch. This is excellent news for those who are looking at building that awe inspiring monster rig to take to your next LAN.
One item of note was the amount of fluctuation in this unit. While the levels never came down to under full factory specs, I saw a regular fluctuation of roughly .03 - .06v along the 12v and 5v rails. While I was a little concerned about this at first, no amount of torture was able to cause even the smallest amount of system instability, so I'll have to write it off as a trivial fact.
Final Thoughts
After the dust settles, we end up with a very fine power supply that handled all levels of stress with no difficulties. All rails maintained either full factory rated voltage levels, or in most cases exceeded them. Given that a power supply is generally given a +/- 5% leeway in any of the rails, the fact that the GameXStream managed to overachieve bodes well, especially for those looking for a power supply for a monster.
Another very nice addition was the native support for up to six SATA devices without having to resort to splitters. Gamers are notorious for wanting large RAID arrays and this thing will handle the load with ease. Some may be a little concerned with having only six Molex connectors, but with SATA becoming the mainstay nowadays, I don't feel this is much of an issue.
The LED lighting on the fan gives a nice effect to the overall aesthetics of the PSU. The light isn't terribly bright and doesn't look to be overkill, but you may want to beware that it is a blue lighting, so this may be of importance if you are running a different colored lighting scheme in your system. Also of note was the very quiet operation of the fan. Even when I hot-wired the power supply to see how loud it was, I had to strain to hear it with no system attached. Very nice indeed!
As far as price is concerned, this particular model will go in at around US$140 or so. While not at the very top of the price chart, it does sit toward the upper edge of it for this type of power supply. Of course, you also get a future proof layout and also compatibility with nearly anything ATX and above. This isn't something that you are assured of with many models currently hitting the open marketplace right now.
Bottom line... If you've been looking into a power supply upgrade and have plans for building a high-end gaming machine, then let me recommend the OCZ GameXStream 600 to you. It has power to spare, has nearly full compatibility with any motherboard you may have, and has native support for more devices than you are likely to be installing anyway. It is difficult not to recommend such a unit to anyone, so do yourself a favor and make sure this one hits your short list of potential candidates.
- Pros
Solid power across all voltage rails
Very slight dip in voltage when under stress
Cable meshes already in place
LED lighting
- Cons
Slightly pricey
Rating - 9 out of 10 and TweakTown's "MUST HAVE" Best Performance Award!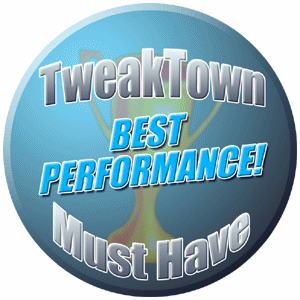 PRICING: You can find products similar to this one for sale below.

United States: Find other tech and computer products like this over at Amazon.com

United Kingdom: Find other tech and computer products like this over at Amazon.co.uk

Australia: Find other tech and computer products like this over at Amazon.com.au

Canada: Find other tech and computer products like this over at Amazon.ca

Deutschland: Finde andere Technik- und Computerprodukte wie dieses auf Amazon.de
We openly invite the companies who provide us with review samples / who are mentioned or discussed to express their opinion. If any company representative wishes to respond, we will publish the response here. Please contact us if you wish to respond.