G.Skill Trident Z Royal DDR4-4000 16GB Memory Kit Review
Today we spend some time looking into G.Skill's Trident Z Royal DDR4-4000 16GB RAM kit. Is it any good? Let's see.

Published Thu, Jan 17 2019 12:21 PM CST
|
Updated Tue, Nov 3 2020 6:57 PM CST

Once news broke about G.Skill's newest memory, we jumped to email them and shamelessly asked for a 16GB kit at 4600MHz. That request was denied due to a lack of that speeds availability, but was told that a package would be on the way. That was it, no mention of speed, no mention of timings, we were left to await the arrival of the Trident Z Royal eagerly, and we were not even sure if we were getting silver or gold. Once the kit showed at our door, and the box was opened, we found the wait to be well worth it. All of that shiny... the new crystalline RGB light bar... just wow.
What we found in the box, within some high-end packaging, was a matched set of silver Trident Z Royal memory. Once, after much time just staring at them, we moved past the aesthetic awesomeness and flipped the sticks over to see what we had to work with. We have a kit that is what we would call unique, even though the F4-4000C17D-16GTRS part number throws no immediate flags.
While 4000MHZ is not all, that unique, and that fact that they run with straight 17's for timings is not unheard of either. Voltage is standard for the speed, and it never hurts to be backed by a lifetime warranty. However, when you go to G.Skill to search for this kit, it is not available to the masses just yet. We were told it should be soon though.
While the standard Trident Z line and even the RGB versions of them are geared for the masses, and pricing reflects that where the Trident Z Royal is geared to the high-end users or extremists. Of course, it can inspire builds around it too, and it is already happening on social media. So while you are going to be looking at the latest and greatest aesthetically achievable from G.Skill, realize there is a premium that comes along with it. That being said, get the drool rag ready, as what you are about to see is, in our minds, a spectacular solution to fill slots on any DDR4 motherboard.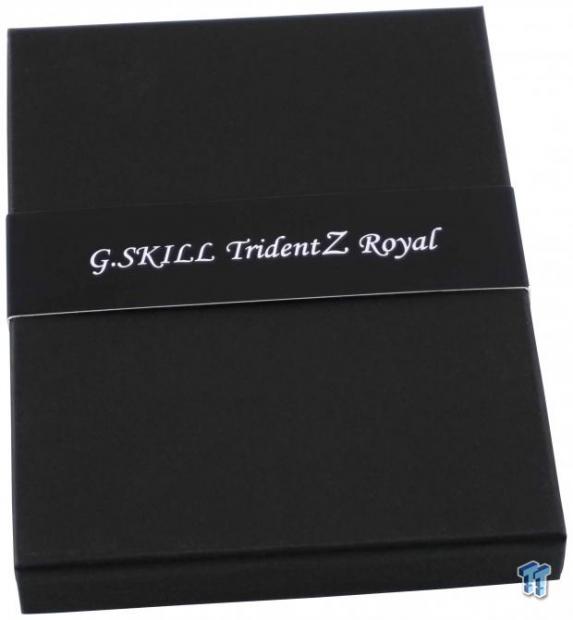 The packaging for the RAM is some of the best we have ever seen. On the outside of a black box, there is a band covering the standard G.Skill name and logo with the stylized G.Skill Trident Z Royal printed in chrome. Inside of the box, we found a pair of silver sticks surrounded with dense foam to keep them safe while traveling.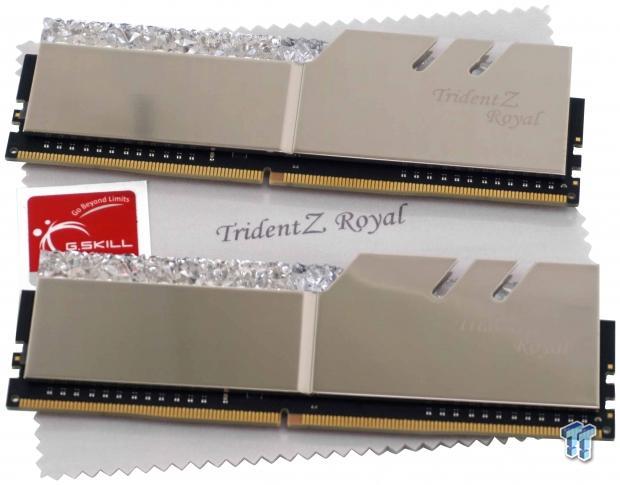 Not only do you get a pair of the most amazing looking memory we have had in our hands, but you also get a sticker to proudly display, as well as a microfiber cloth to keep dust and fingerprints at bay. The shaping of the heat spreaders is the same, just that now we have a choice of silver or gold coatings, there is a new name on the side of them, and that light bar looks stunning. We can't wait to light them up.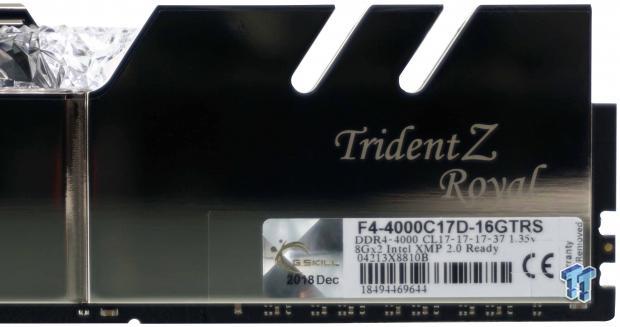 G.Skill shows two 4000MHz kits that will hit the market, one with CAS19 timings, and then there is this set. The F4-4000C17D-16GTRS is the better choice of the two by far. Our sticks will run 17-17-17-37 2T timings with 1.35V, which is snappy if you ask us.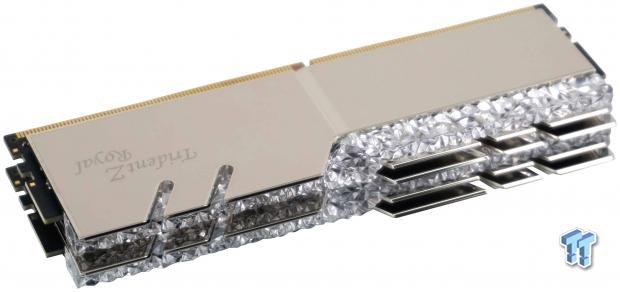 Most times, you will be looking at this kit from the top, where that fantastic crystalline light bar is. With many facets, the eight LED zones inside will bounce light around everywhere, and react differently to the eye dependent on angles. Then, of course, there is also the reflection of light off the silver coating to bounce even more light around the inside of the PC.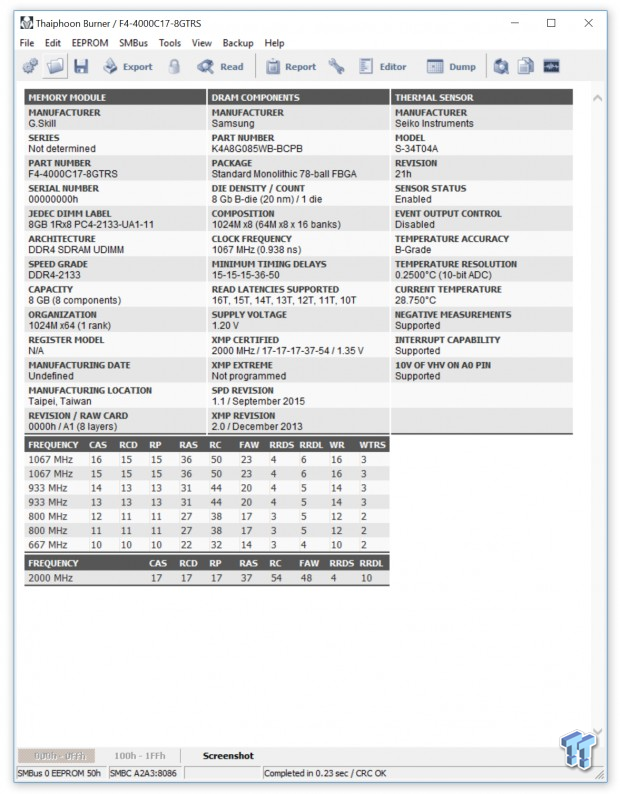 Rather than to press our luck with attempting to remove the heat spreaders on such a beautiful set of DDR4, we opted to look to Thaiphoon Burner for the information of the ICs. As we thought, they are Samsung K4A8G085WB-BCPB B-die under the hood. Considering the AMP 2.0 timings, we have a good feeling these are some of the best ICs available too.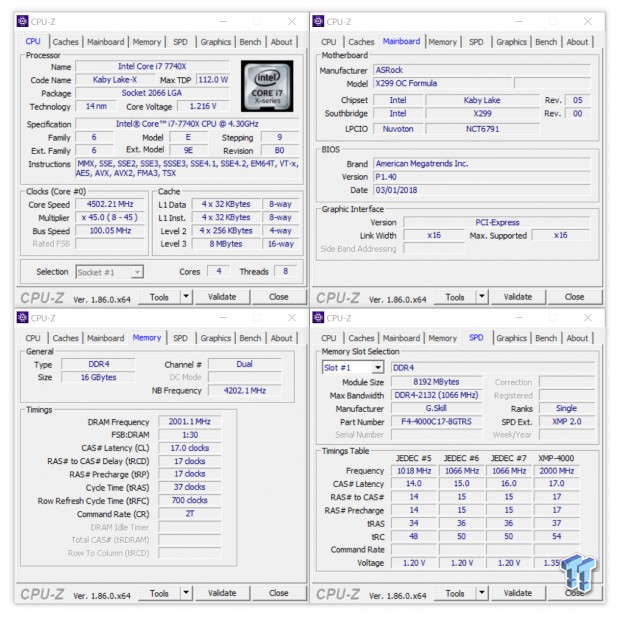 Going through the usual steps to clear the last kit we tested from the motherboard BIOS, we booted up the G.Skill Trident Z Royal and got what we are told we would have. We are in dual-channel, there is 16GB of memory showing, and we are at 4000MHz with 17-17-17-37 2T timings. With 1.35V used for the DIMM voltage, we also noticed our BIOS was pushing 1.35V to the VCCIO and VCCSA too.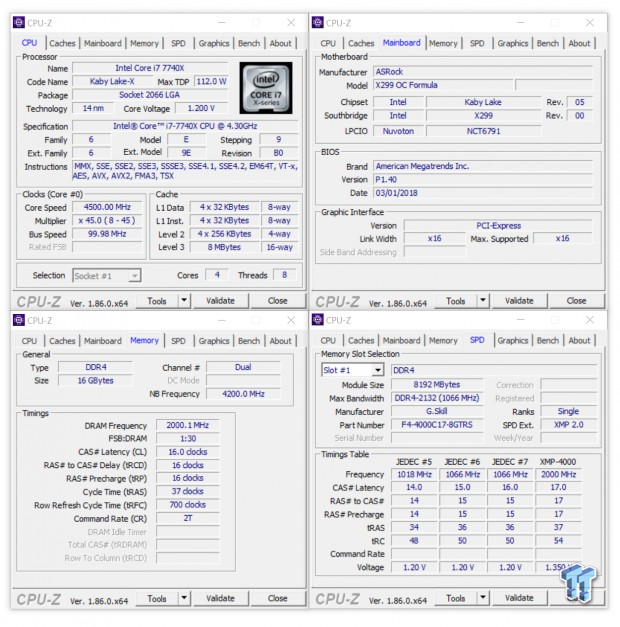 Since the VCCIO and VCCSA were already high enough, we chose to raise the VDIMM only, to 1.45V. Doing so allowed this set of DDR$ to continue running at 4000MHz, but we were able to get 16-16-16-37 2T completely stable and willing to take on anything we could test it with.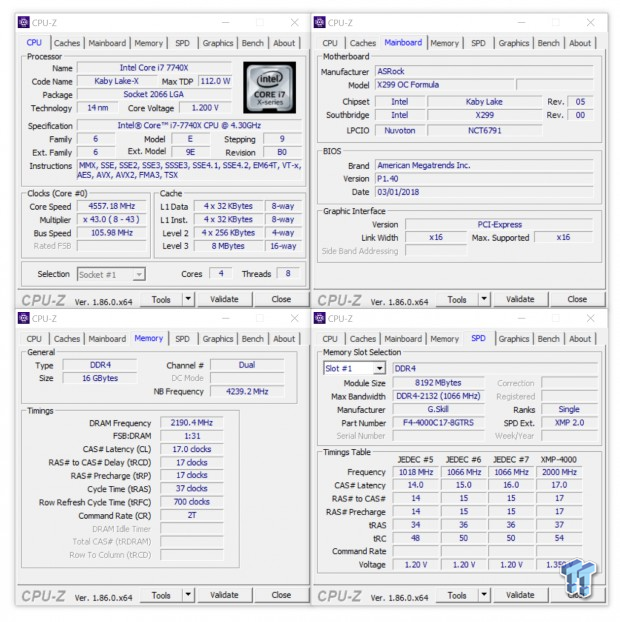 Using the same parameters as we did when lowering the timings, we tried for more speed. While we were able to get 4401 MHZ into windows, it kept failing the 7-zip test, so we settled for 4380MHz where the Trident Z Royal showed no issues for testing and usage. Judging from what we saw, if you are willing to take the chance of using more voltage, this kit has more to give.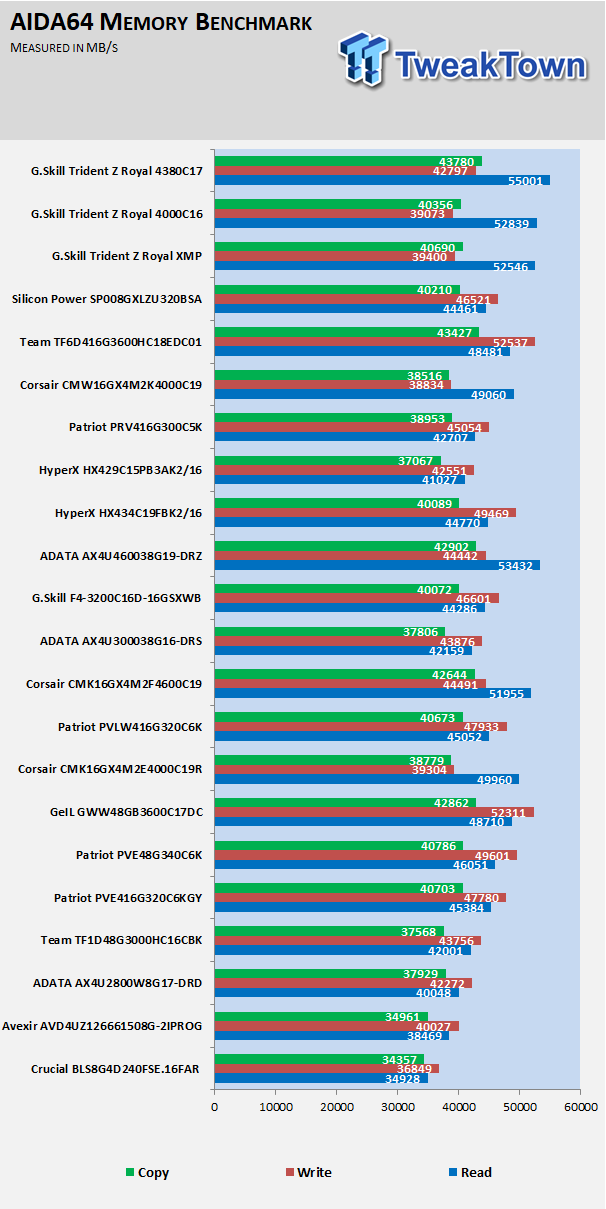 The read results are impressive. So much so it took a 4600MHz kit of ADATA to outperform it. Writes are not all that impressive, to be honest, but the Copy speed is where we expected for the profile of this memory. You can also see that both versions of the OC have benefited, but due to the low timings at 4380MHz, it won hands down.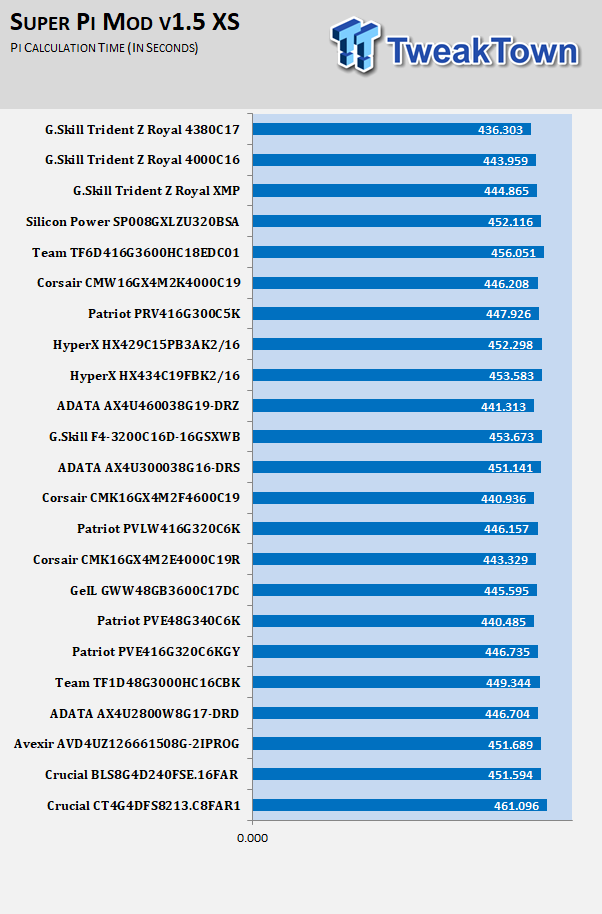 Seven minutes and twenty-four seconds is impressive, and only a few kits test well here as the Trident Z Royal does. Lowering the timings did show some advantage, if small, but the use of higher speed took us unto the 430s.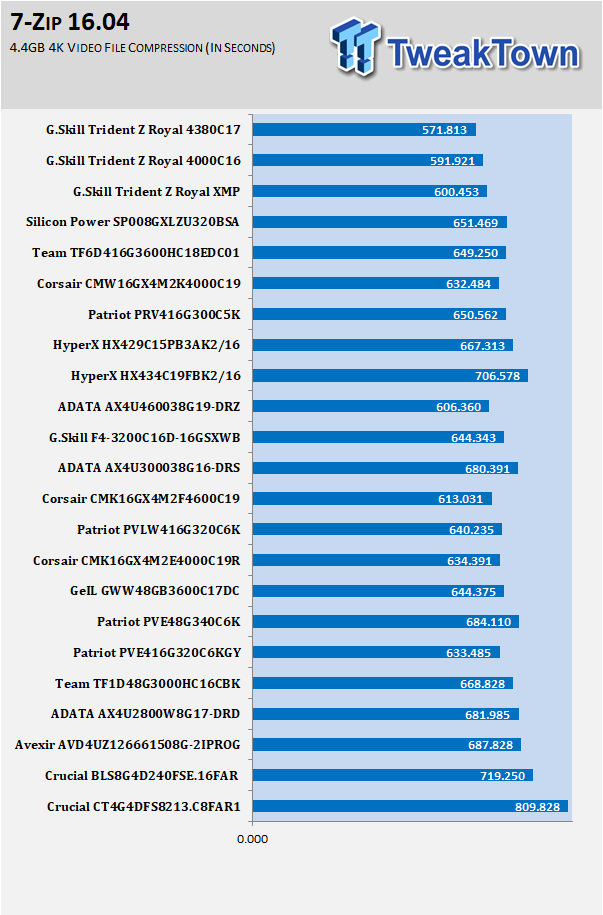 While the previous tests bode well for the Trident Z Royal memory we have, the 7-zip results show the most significant performance metric in favor of this memory. Using the XMP profile, we blew the doors off everything else in the chart. Nearly ten more seconds are gained by lowering the timings but opting for speed; you can get nearly thirty seconds back of your life for every 4.4GB of files being compressed. This is huge for 4K video production, where a few moments or recording can get into the tens of gigabytes.
G.Skill in our minds has taken RAM to a whole other level with the Trident Z Royal DDR4. With choices of speeds from 3000MHz to 4600MHz with various timings and densities. Ranging from 16GB kits to 128GB depending on the speed chosen. While we have no issue at all with the silver heat spreaders, there is also the option for gold, and the cost is identical no matter which color you opt for.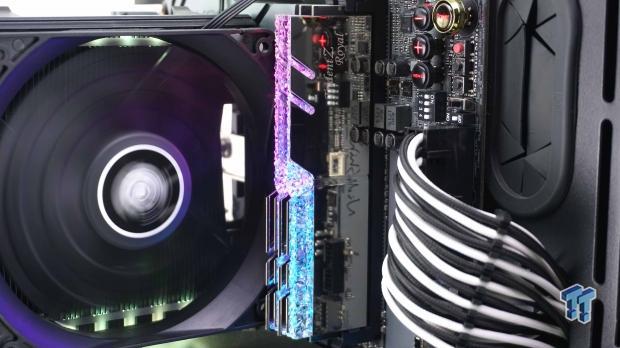 Taking it all in as we look at the image above, we cannot fault this kit in any way. It is stunning to look at even when lying on the desk. Peel the protective layer off the RAM and install them into a PC, and it just gets better. Not only does it reflect its surroundings on the motherboard, but the RGB lighting effect is also the best we have seen to date. Much brighter than previous RGB implementations from G.Skill, yet still keeps that buttery smooth transition of light. As with any G.Skill RGB kits, there is software from G.Skill, and any motherboard with RAM control in BIOS can also control what the crystalline light bars produce.
Fresh out of the box, we found that 4000 MHZ with 17-17-17-37 2T timings rock. The nice thing is, past the aesthetics, this is a super solid set of DDR4 to base an overclock off of. Being able to lower the timings with a touch of VDIMM is impressive enough, but with nearly 400MHz gained in speed with just 1.45V running to them, we know enough to say this kit will never leave the house. Cost may be prohibitive to some, but for those like us who are hooked, we are going to take our best guess at what to expect. If we were to opt for the CAS19 4266MHz kit, we are seeing them listed at $299.99.
On the other side of the speed spectrum, the next closest kit would be the CAS17 3600MHz set at $269.99. This did not leave much room for the 4000MHz kits of F4-4000C17D-16GTRS to fall into. So, taking our stab, we feel the cost would be in the range of $280 to $300. Considering anything else matching in density and speed is at CAS18 and sells for similar value, it bodes well for G.Skill. Even with the sexiest RAM known to exist in the DDR4 market, may ask a premium compared to the entire market, but with what we saw here, we would have no issues buying more of this once it hits the market.
Chad's DDR4 Dual-Channel Test System Specifications
Motherboard: ASRock X299 OCF
CPU: Intel Core i7 7740X - Buy from Amazon
Cooler: LEPA NEOllusion - Buy from Amazon
Video Card: ZOTAC GeForce GTX 970 AMP. Extreme Core
Storage: Samsung XP941 256GB
Case: Thermaltake Core P3 - Buy from Amazon
Power Supply: Corsair RM750 - Buy from Amazon
OS: Microsoft Windows 10 Home 64-bit - Buy from Amazon
Software: CPU-Z 1.78.3 x64, Super Pi Mod 1.5XS, 7-Zip 16.04, AIDA64 Engineer 5.92.4300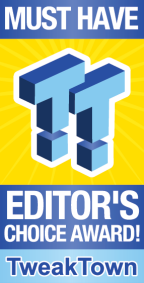 | | |
| --- | --- |
| Performance | 100% |
| Quality | 100% |
| Features | 100% |
| Value | 95% |
The Bottom Line: Compared to what the average user buys, the Trident Z Royal is pricy, but totally worth it! Either Gold or silver, with the new crystalline light bar, they are amazing to look at, and our kit had the grunt to back all that up too!
PRICING: You can find products similar to this one for sale below.

United States: Find other tech and computer products like this over at Amazon.com

United Kingdom: Find other tech and computer products like this over at Amazon.co.uk

Australia: Find other tech and computer products like this over at Amazon.com.au

Canada: Find other tech and computer products like this over at Amazon.ca

Deutschland: Finde andere Technik- und Computerprodukte wie dieses auf Amazon.de
We openly invite the companies who provide us with review samples / who are mentioned or discussed to express their opinion. If any company representative wishes to respond, we will publish the response here. Please contact us if you wish to respond.