Intel Core i7-8700K and i5-8400 Coffee Lake CPU Review
Intel today takes the covers off its newest desktop processors, the Core i7-8700K and i5-8400 Coffee Lake CPUs. Strap in as we check them out.
Published Thu, Oct 5 2017 8:01 AM CDT
|
Updated Tue, Nov 3 2020 6:58 PM CST
Rating:

93%
Manufacturer: Intel
Introduction, Specifications, and Pricing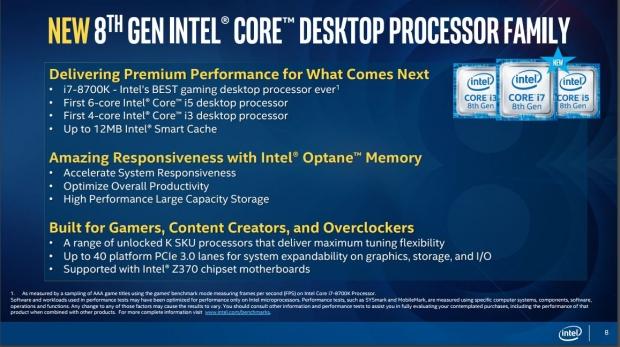 The day has finally come, Intel has increased the core counts of their mainstream processors, and added two extra cores to their Core i3, i5, and i7 lineup. For roughly the same price as a 7th Generation i7-7700K, you will get 6-cores and 12-threads of processing power. While there have been many unfortunate leaks revolving around Intel's 8th Generation Core processors, today we can bring you official benchmark scores with fully validated parts. We also tried our hand at overclocking the new 6-core processor, and things are looking pretty good.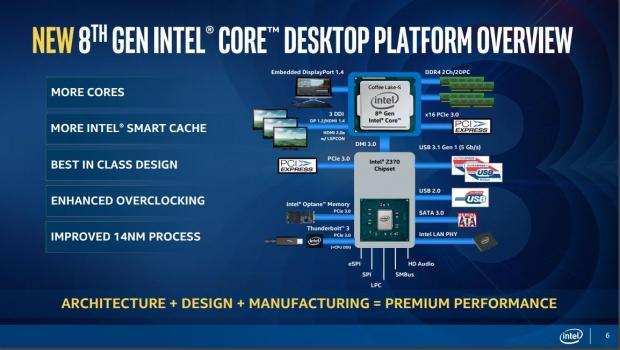 The new CPUs will only work in new 300-series chipset motherboards with the LGA1151 socket, and Intel says this is due to the increased power delivery requirements of the 6-core part. Recently, some leaks have shown that the pads of the CPU have changed, indicating that many reserved pins have now been activated for power delivery, so there is some merit to Intel changing the socket. Although the socket has changed, the chipset in the motherboard is pretty much a refresh of the Z270 chipset. At the moment, you will need a Z370 chipset motherboard to take full advantage of Intel's K-SKUs such as the 8700K and overclock them.
The motherboards support Intel's Optane Memory technology as well. Intel has also added more cache into the CPU and is using the 14nm++ process, which is how they are clocking up the 8700K to a 4.7GHz Turbo Boost.
Specifications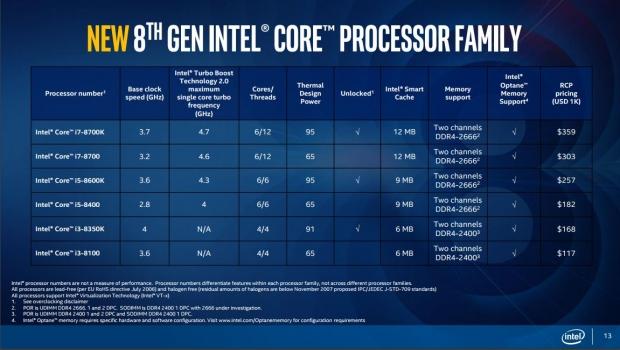 The i7-8700K has a base clock speed of 3.7GHz, so with all cores fully loaded it will run 3.7GHz. It also features a 4.7GHz single-core boost frequency, so a single core can boost all the way up to 4.7GHz. The i7 CPUs will feature 6 cores and 12 threads while the i5 CPUs will feature 6 cores and 6 threads. The i3 processors will feature four cores and four threads, and we don't see a 4-core 8-thread processor. The i7-8700K has a 95W TDP while the i5-8400 has a 65W TDP.
Smart Cache is now at 12MB for the i7, 9MB for the i5, and 6MB for the i3. DRAM speed is set at 2666MHz, although you will need to go into the UEFI and increase the memory multiplier to get that speed. The 8700K can overclock while the i5-8400 won't. It seems that the 8700K runs at 4.7GHz with a single core load, 4.6GHz with a double core load, 4.5GHz with a triple-core load, and 4.4GHz with a 4-5 core load, but it does run 4.3Ghz with a six-core load. Intel hasn't officially announced the clocking table though, so those are just from independent testing.
Pricing
The Core i7-8700K is priced at $359 while the i5-8400 is priced at $182.
The CPU and Test Setup
The CPU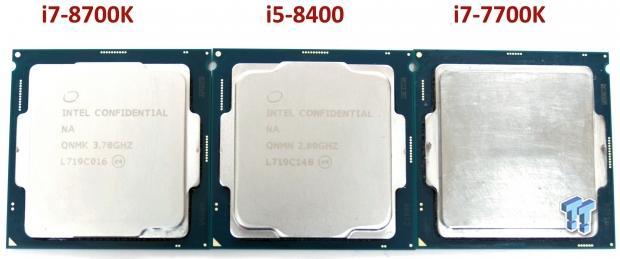 The CPUs look identical to their predecessor, and they both fit in each other's motherboards. There will probably be some confusion with users buying 100 and 200 series LGA1151 motherboards and tossing in an 8th Generation core processor, so hopefully, retailers will step up and raise awareness. We are told that there is TIM under the CPU's integrated heat spreader, which means that many people will decide to delid their CPUs to gain a few hundred extraMHz when overclocking.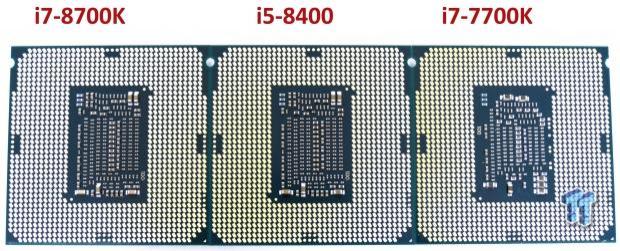 The bottoms of the CPUs are also very similar, and there doesn't seem to be any extra pads on the 8th generation CPUs compared to the 7th generation CPUs.
Test Setup
When we run out of the box, that literally means out of the box, as the majority of consumers run their systems. We aren't optimizing RAM or anything else unless otherwise specified.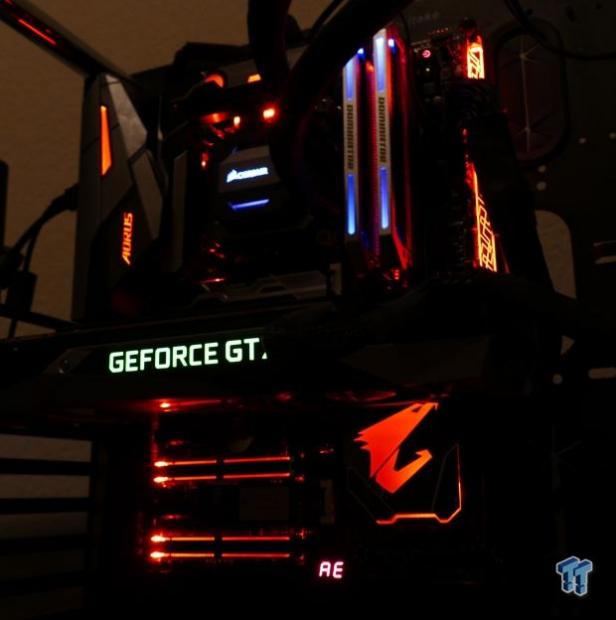 I used GIGABYTE's new Z370 AORUS Gaming 7 motherboard, which is GIGABYTE's top of the line Z370 model at launch. It features a ton of features, but most importantly, it has a very powerful VRM for overclocking. Featuring Intersil's new digital PWM controllers and Smart Power Stages, the VRM on this motherboard is extremely powerful.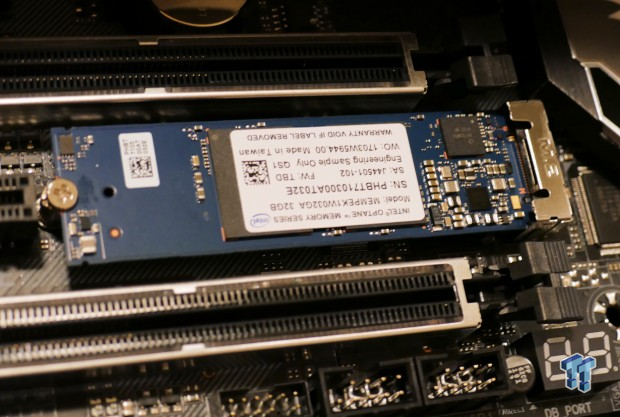 We also received a 32GB Optane Memory Module to play around with, and we will experiment more with the module later. With Optane you can match a 16GB or 32GB module with a SATA HDD or SATA SSD, and it acts as a super responsive cache that bridges the speed gap between system storage and system RAM.
Out of the Box Performance: CINEBENCH, wPrime, and AIDA64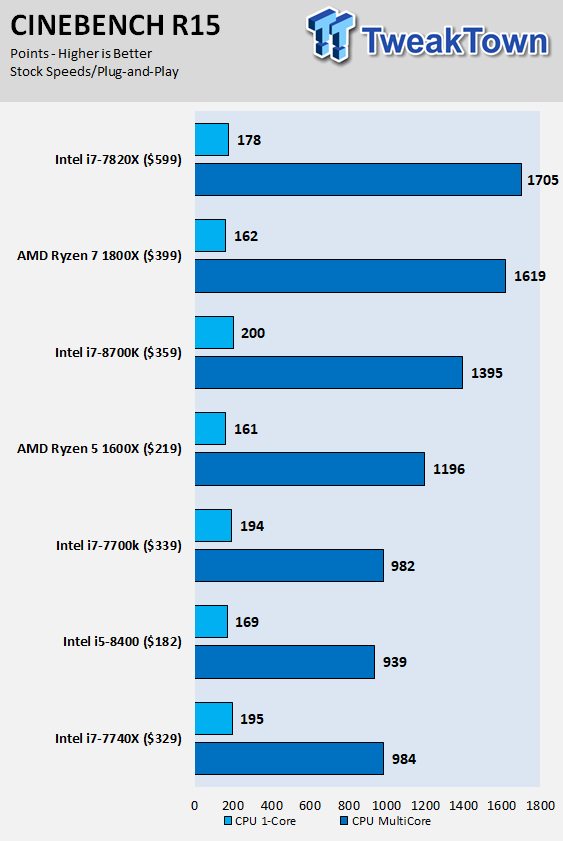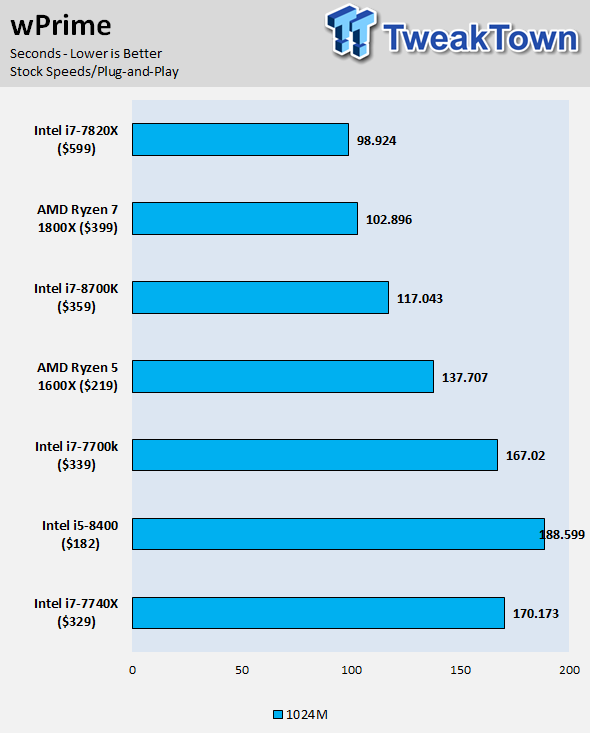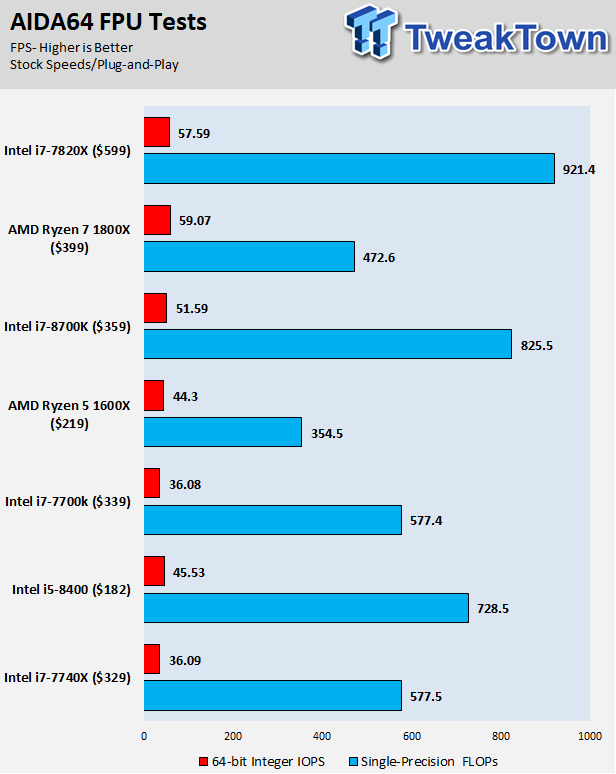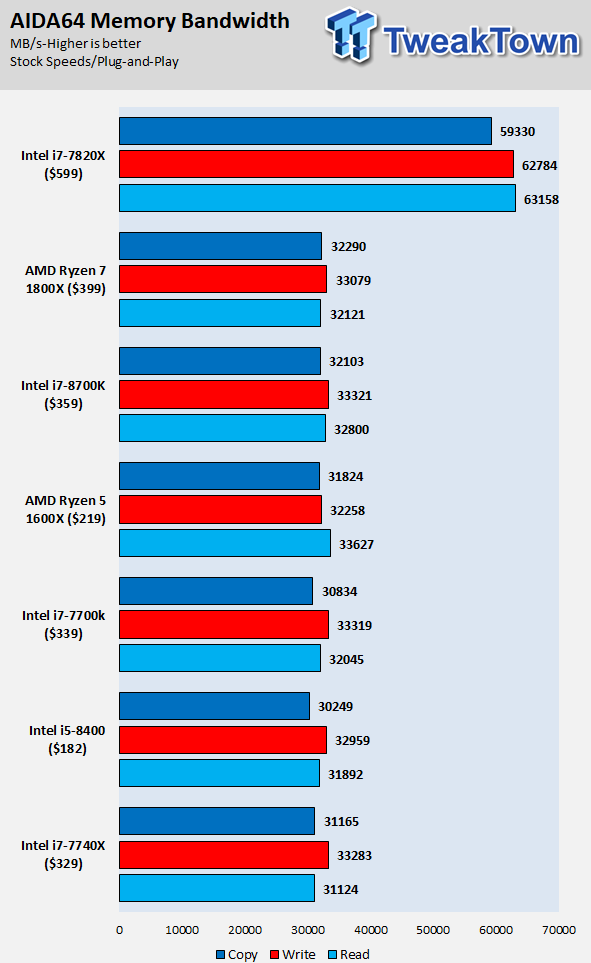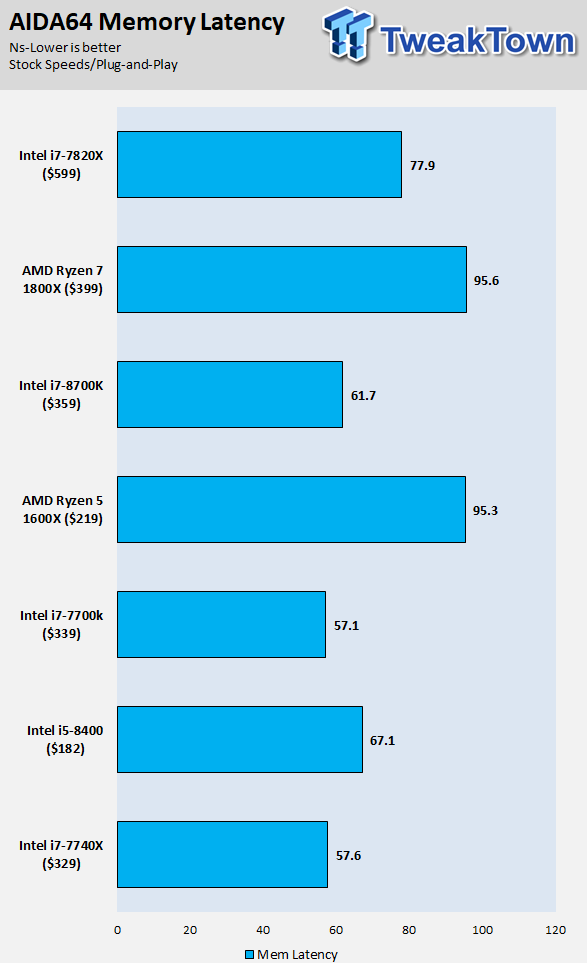 Check out those CINEBENCH and wPrime scores. Since Coffee Lake is Kaby Lake on core and frequency steroids, we expected to find linear scaling between the Intel parts. We also find out that the 8700K's 4.7GHz single-core Turbo makes it the fastest single core processor in our charts, a title previously held by the 7700K. We can also see that without the mesh and with Intel's Skaylake/Kaby Lake/ Coffee Lake Core microarchitecture (they are all pretty much similar) on a ring bus, Intel is fighting the competition on the performance side while the competition hits back with price/performance.
AIDA64 FPU results reveal Intel's floating point strength, but also highlight AMD's strong IOPS performance. That i5-8400 is also a bit of a surprise, and we will see it surprise a bit more in the following pages. Memory bandwidth and latency haven't really changed going from 7th to 8th generation.
Out of the Box Performance: Handbrake Video Transcoding, ScienceMark, and SuperPI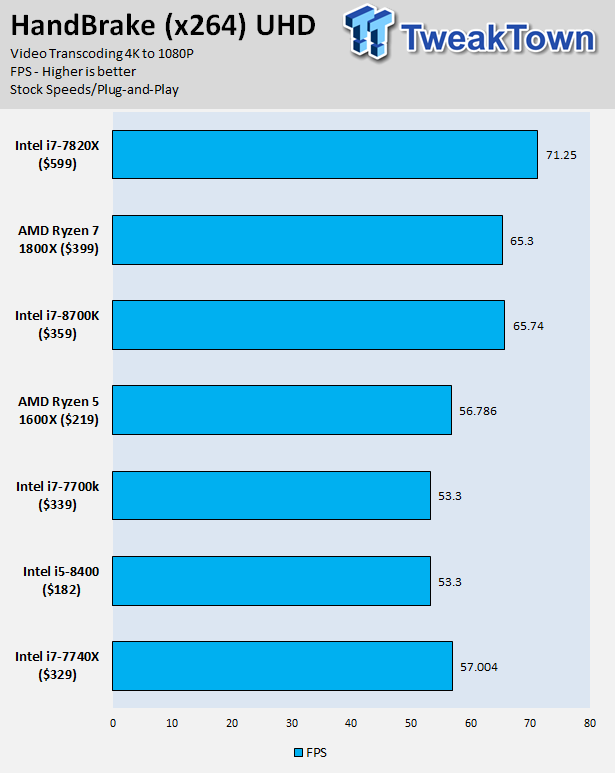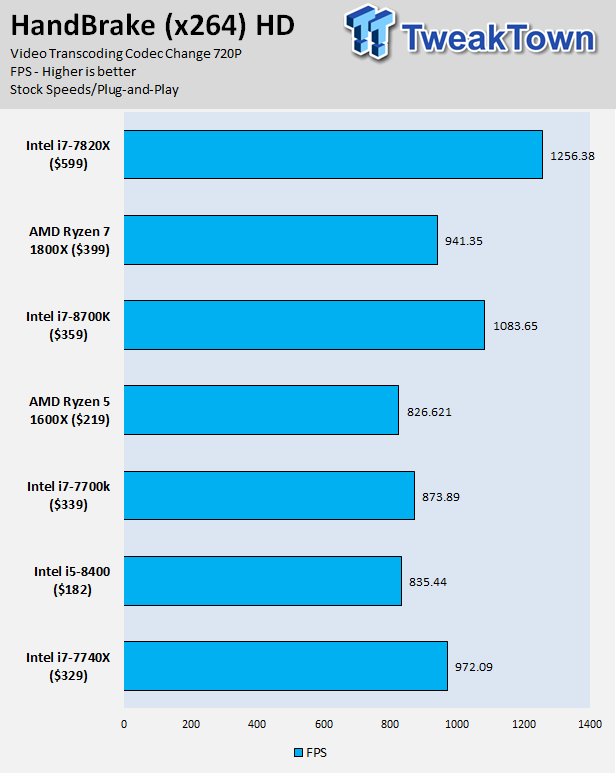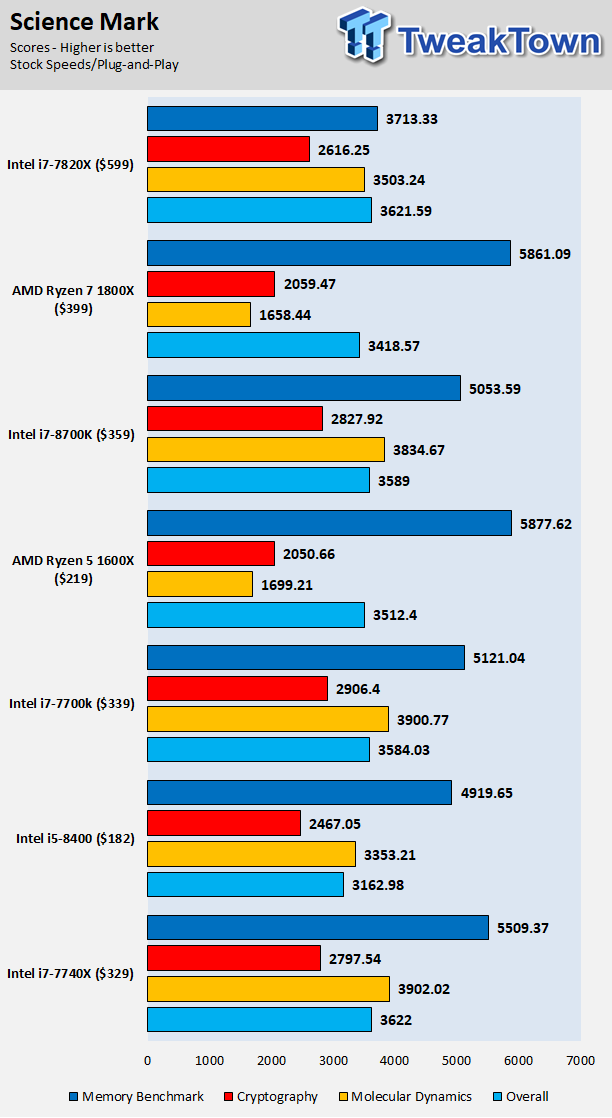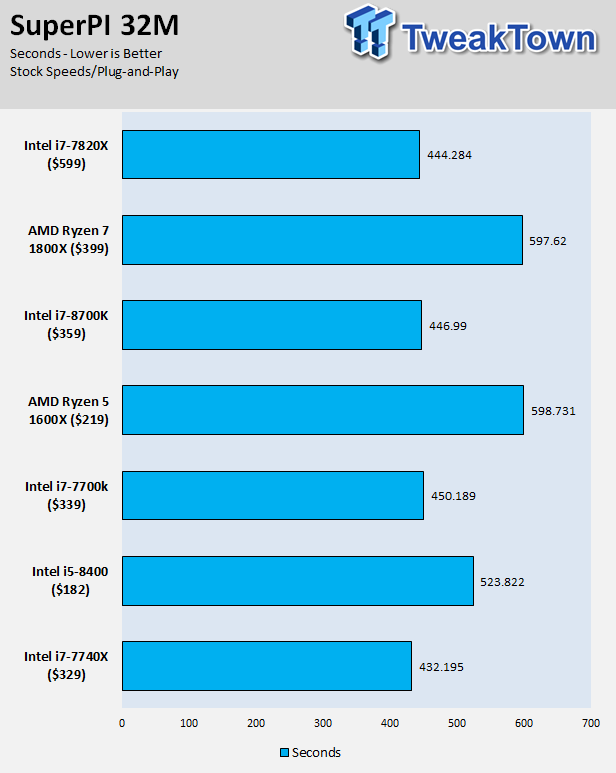 HandBrake shows us that Intel's new 6-core processors are very strong with Hyper-Threading, but we should also remember that while the i5-8400 has six real cores, the 7700K has eight virtual cores with a higher frequency.
ScienceMark really likes AMD's memory controller, and it also likes the 8700K versus the 7700K and its clone, the 7740X. While the 8700K has the highest single core turbo boost of all the processors in the charts, it doesn't steal SuperPI away.
While SuperPI is single threaded, I don't peg the benchmark to the highest core, so it can jump around depending on what else is running.
Out of the Box Synthetic Gaming Performance: UNIGINE and 3DMark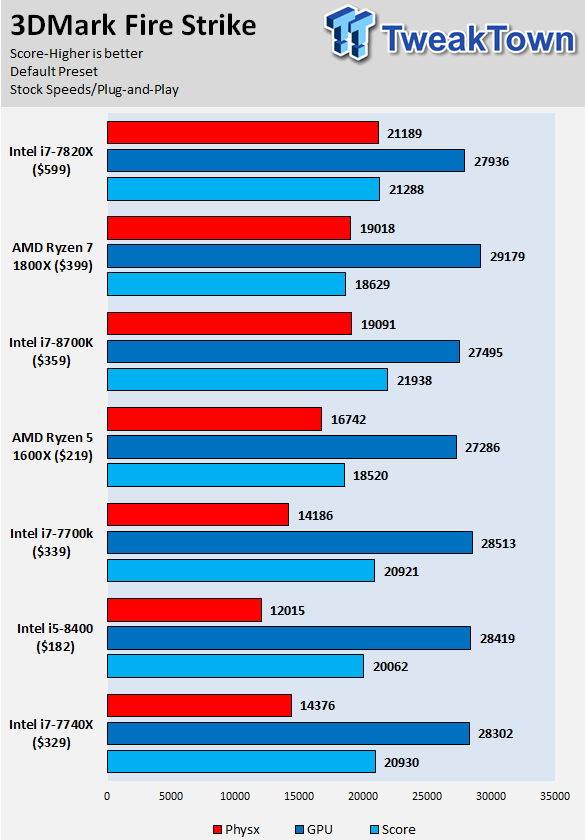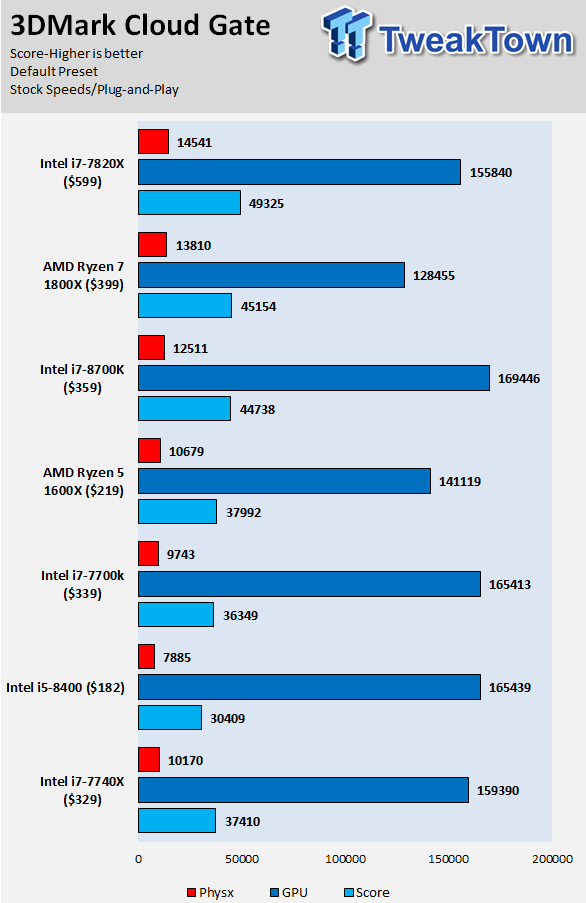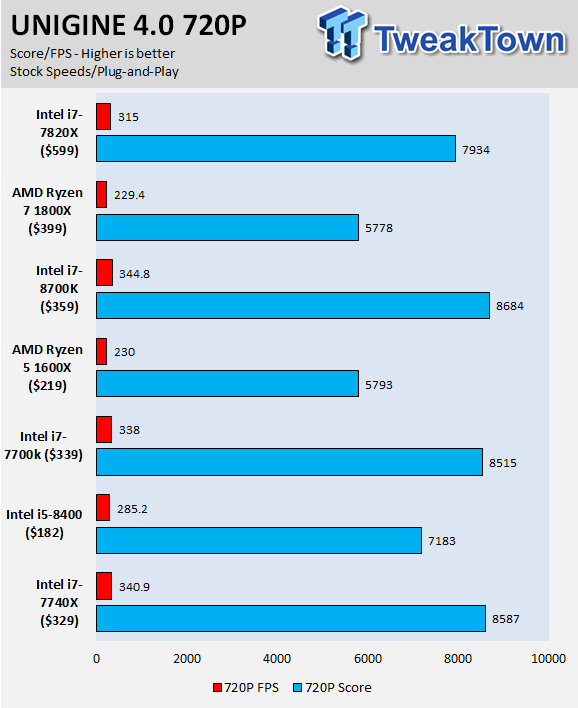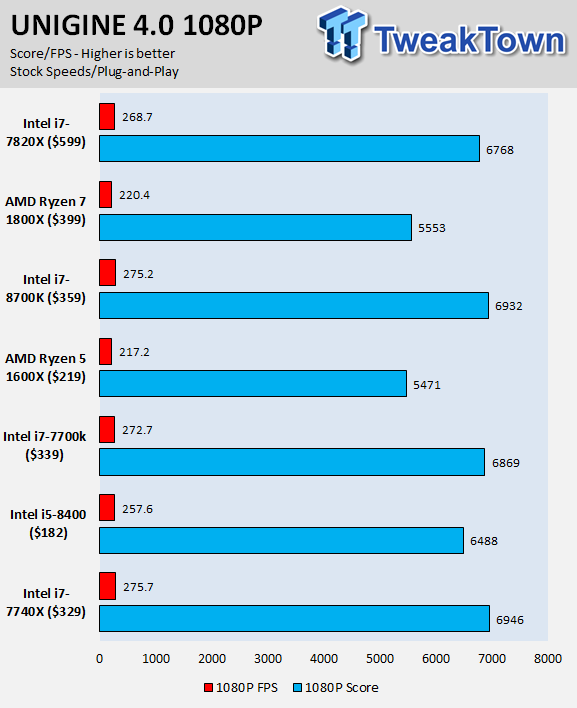 Intel calls the 8700K, its best gaming CPU, and FireStrike, as well as CloudGate, reflect that. Cloud Gate shows the 1800X beating out the 8700K, so cores do count when needed, and the 1800X has more cores and threads.
UNIGINE Heaven 4.0 shows us that Intel's claim is once again substantiated at 720P, with the 8700K taking the crown at 720P. Synthetic gaming performance shows us varied results, and that is because all games are different.
Out of the Box Gaming Performance: Resident Evil, Tomb Raider, GTA:V, Ashes of the Singularity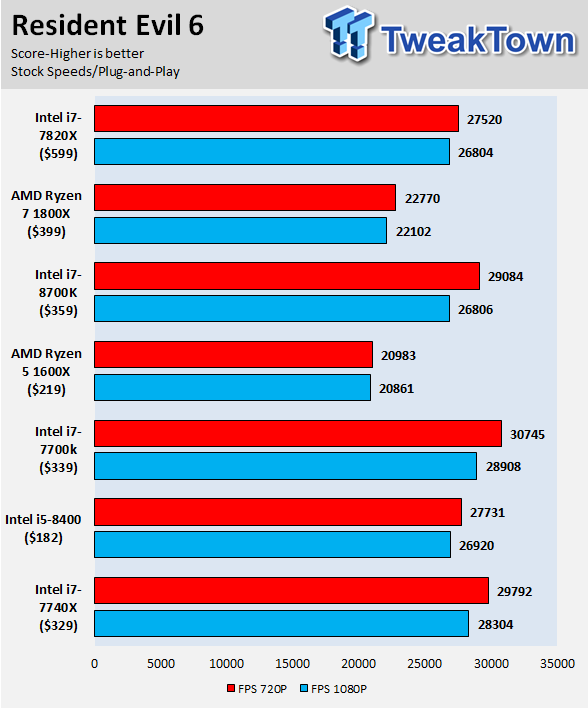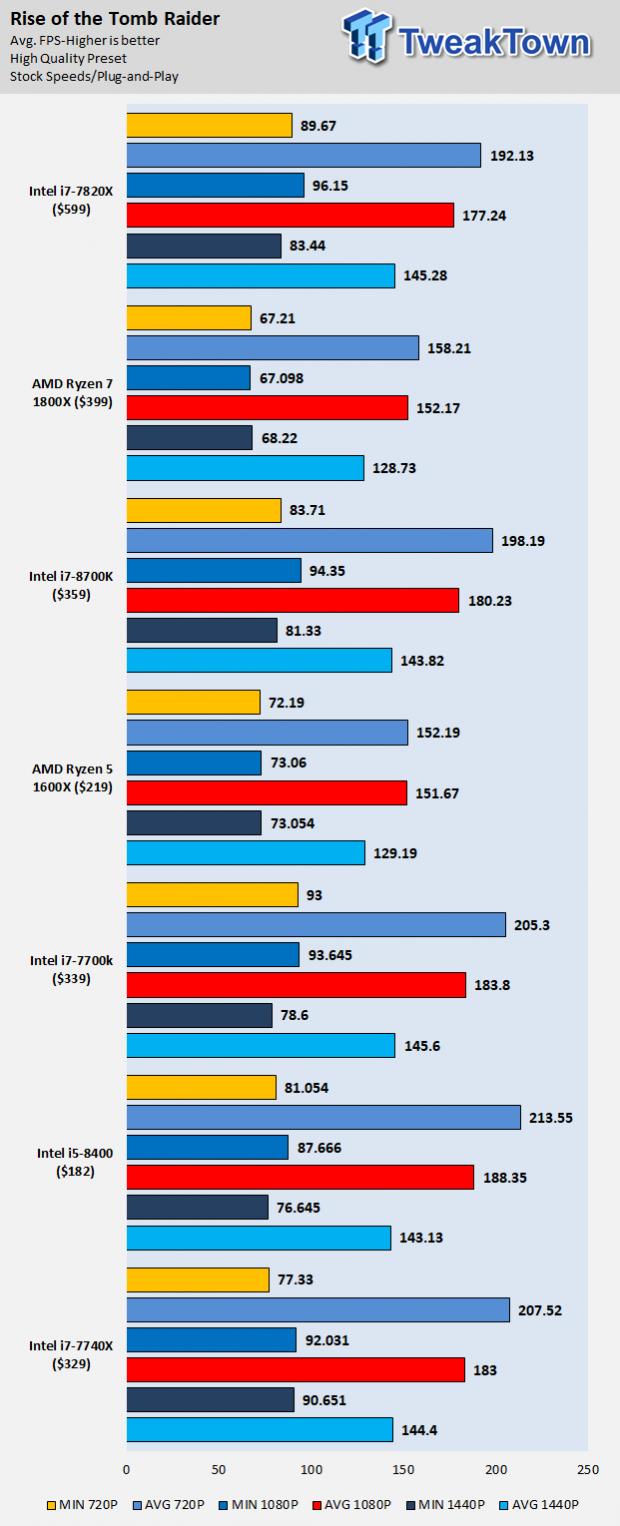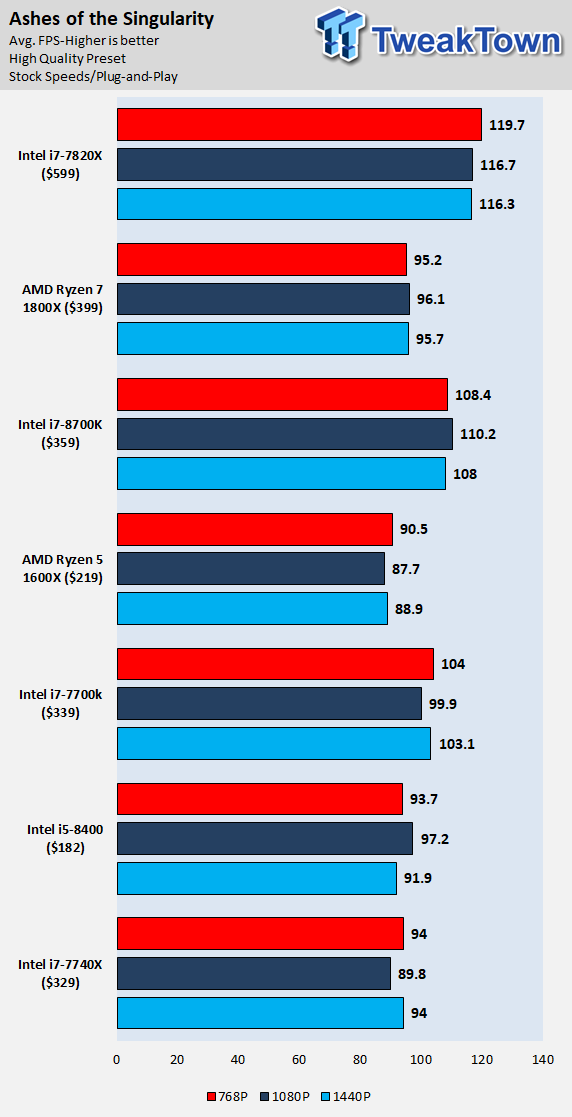 Some games like single core performance, some like more cores, some like more frequency, some are optimized for four cores, and some are just a mixed bag of goodies. These gaming results are very interesting, as they show us how well the ecosystem is optimized for Intel's 4-core CPUs. In Resident Evil 6, the 8700K does quite well. However, the 7700K and 7740X still have higher core boost frequencies when using 4 or more cores.
An anomaly can be found within GTA:V and Rise of the Tomb Raider, where the i5-8400 matches or beats the i7-8700K. The only explanation we have for that is that these games aren't optimized for high core counts (many games are optimized for four cores as that has been the standard for a while). The games might not appreciate Hyper-Threading either.
It was found that turning off Hyper-Threading/SMT can help in some titles, especially if that title doesn't take advantage of all threads available. Sometimes it's better to dedicate one thread to one core instead of one thread to one core in a mode to accept two threads. Ashes of the Singularity brings things back into the realm of easy logic, with the 8700K doing exceptionally well.
Overclocking and Power Consumption
CPU Overclocking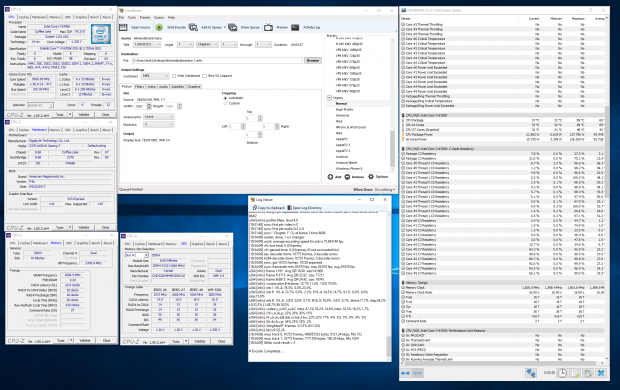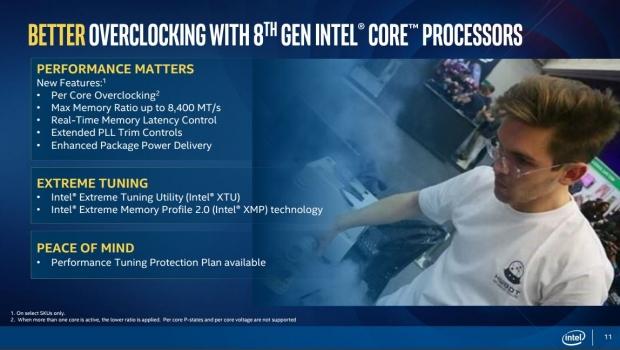 The 6-core 8700K uses Intel's 14nm++ transistors that offer much higher overclocking margins. While increasing core count typically hinders the overclockability of a CPU, here we find that we could hit 5GHz just like on a 7700K with roughly the same voltage, and that is due to the 14nm++ process. That is huge; 6-core and 12-threads running at 5GHz is an intense thing, and with AVX nonetheless, as HandBrake uses AVX and we didn't use an AVX offset.
We used 1.32v set with Turbo level LLC and set our memory to XMP enable. Intel also made some improvements to platform overclocking. They added back the ability to change memory timings in Windows (something they removed a few generations back), added in some PPL trim voltages for the extreme guys, and ensured the platform's power delivery was up to the job by requiring better VRMs and activating more power contacts in the socket.
Power Consumption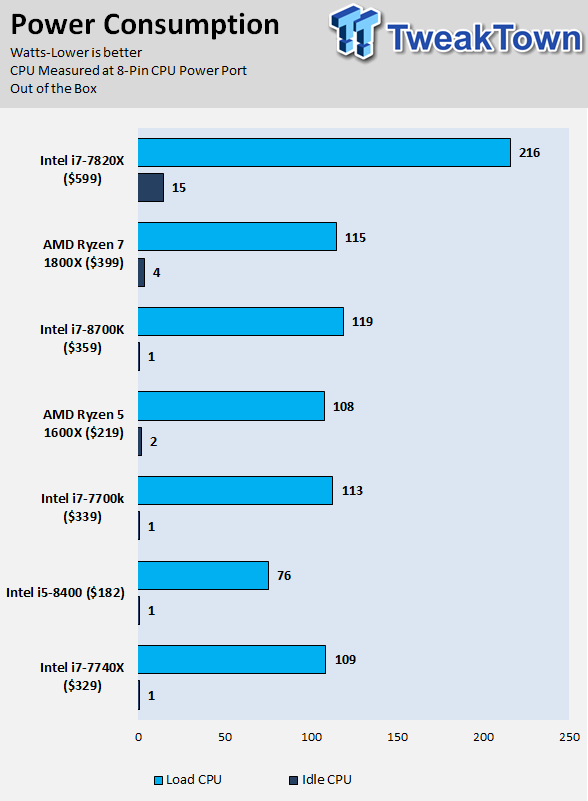 The 8700K draws only 6W more from the 8-pin power connector than the 7700K, which isn't a crazy increase for having two extra cores. They basically packed in two extra cores with a tiny bit more power consumption, but they have also dropped frequency to stay within TDP limits.
When you overclock, expect to see a much larger delta, as all your cores will be pegged up to a higher frequency, and you will have two extra cores to deal with.
What's Hot, What's Not & Final Thoughts
This is where you can fast forward to the final section of the review, and get a quick recap and points on the Core i7-8700K and i5-8400.
What's Hot
50% More Cores: Intel's 7700K was one of the best gaming CPUs because it showed off Intel's leading per core performance and high-frequency turbo bins, which many games take full advantage of. The 8700K takes those two things and adds in two more cores, which is a big deal for anyone who is core strapped but needs the high-frequency turbo and per core performance. With two extra cores, it should now be easier to multitask while gaming on Intel CPUs. We also see that Intel's 6-core CPU is obviously very strong against the 6-core CPU of their competitor, but there is a big price difference between the two.
Strong Overclocking: We didn't expect to reach 5.0Ghz with 6 cores, without an AVX offset, and without delidding. However, we were able to hit that mark, and it was quite easy to do. The CPU uses Intel's refined 14nm++ process, so we have to give credit where it's due.
4.7GHz Single Core: A 4.7GHz Turbo is one of the highest we have ever seen from Intel. It makes the 8700K the performance king when it comes to single core performance, beating out the 7700K and 7740X in CINEBENCH R15 at stock. The high single core Turbo also makes the 8700K very versatile; more multi-threaded and single-threaded performance than its predecessor.
Minimal Price Increase: A few months ago, before preliminary price leaks, people thought Intel would increase the price of the 8700K closer to the $400 or $500 mark. No one really expected Intel to launch the 8700K so close to the price of the 7700K, but they did.
What's Not
Need to Buy a New Motherboard: You are going to have to buy a Z370 motherboard at launch if you want to play with the new 8th generation chips. For many people who have 7700Ks or other 6th or 7th generation core processors, this is frustrating since the CPU fits, and it's the same socket.
Thermal Interface Material: We don't really know the real reason Intel isn't using solder based thermal interface material between the CPU die and the integrated heat spreader. It could be one of many reasons; cost, Intel trying to use conflict-free materials, die size, etc. However, the fact of the matter is that it doesn't use solder based TIM, and we are going to see a lot of people delid their CPUs.
Final Thoughts
The i7-8700K and i5-8400 are a step in the right direction. That direction is the move towards more cores, and what the industry needed was for both sides to release mainstream 6-core parts. While 6-core parts have existed for many generations, they have typically been priced quite high, but now you can buy affordable 6-core CPUs from both Intel and AMD. That means we will see more optimizations in software for higher core count CPUs, as more people will have them. I would think that in the coming months and years, games will be updated to utilize more cores. The 8700K is a solid CPU, and a great replacement for the 7700K, as 4-core and 8-threads have become a bit outdated since AMD's Ryzen launch.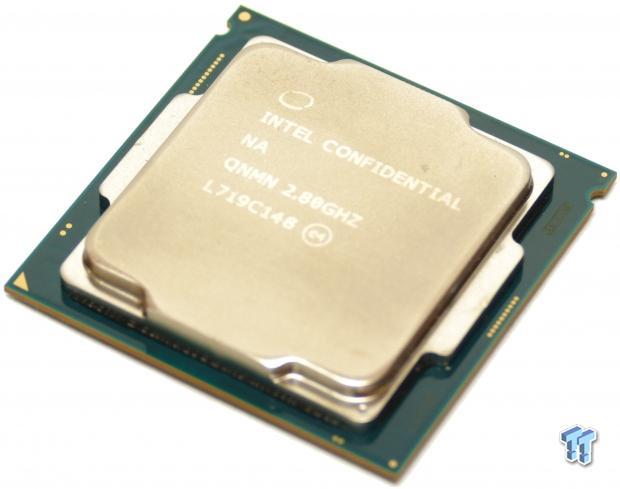 Intel was able to not only increase single threaded performance, which was what kept the 7700K above water for a long time, but they also increased core count by 50% without increasing power consumption more than 10%. That's a solid accomplishment. We shouldn't turn a blind eye to the $182 i5-8400 either, its performance is solid, and it's currently the least expensive 6-core CPU on the market.
While we haven't seen much regarding microarchitecture changes to the CPU or iGPU, we have seen frequency increases, and core count boosts (core IA), and we welcome these enhancements to Intel's mainstream lineup. The 7700K isn't the king of the hill anymore, so let's make way for the more robust 8700K.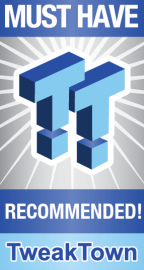 | | |
| --- | --- |
| Performance | 96% |
| Quality | 90% |
| Features | 92% |
| Value | 92% |
The Bottom Line: Taking the crown from the 7700K in both multi-threaded and single-core performance, the 8700K is an excellent replacement for a very popular CPU. On the flip side, the i5-8400 is positioned as the least expensive way to get six real cores into your home computer.
PRICING: You can find products similar to this one for sale below.

United States: Find other tech and computer products like this over at Amazon.com

United Kingdom: Find other tech and computer products like this over at Amazon.co.uk

Australia: Find other tech and computer products like this over at Amazon.com.au

Canada: Find other tech and computer products like this over at Amazon.ca

Deutschland: Finde andere Technik- und Computerprodukte wie dieses auf Amazon.de