GIGABYTE BRIX BKi5A-7200 (Kaby Lake) Mini PC Review
GIGABYTE's BRIX BKi5A-7200 (Intel Kaby Lake) mini PC could be the perfect little device for your Netflix 4K PC streaming. Come take a look.
Published Mon, Dec 19 2016 4:29 PM CST
|
Updated Tue, Nov 3 2020 6:58 PM CST
Introduction, Specifications, and Pricing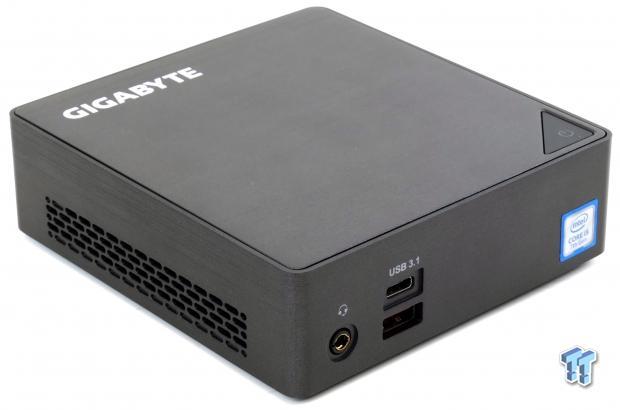 The BKi5A-7200 is possibly the first "desktop" to use the Kaby Lake microarchitecture since it utilizes a Kaby Lake-U mobile processor. The BRIX lineup of mini PCs is GIGABYTE's custom iteration of Intel's Next Unit of Computing form factor, which is basically a laptop in desktop form. I have reviewed many generations of BRIX mini PCs, and they have proven to be quite formidable desktop replacements.
With the recent proliferation of NGFF M.2 x4 PCI-E 3.0 SSDs, the bottleneck that once was storage speed has been alleviated. These days you can find thin ultrabooks that are just as snappy as powerful desktops because of newer SSD technologies, and the BRIX takes full advantage of this technology. Some of you may have heard the news that you will need to use a Kaby Lake CPU to stream Netflix in 4K on the PC, and the BKi5A-7200 has an i5-7200U Kaby Lake CPU.
So, what's in Kaby Lake that would make it a requirement for 4K Netflix Streaming? Well, there are both performance improvements as well as security improvements inside the integrated graphics processor, but the security improvements are what I think Netflix really cares about. Kaby Lake does have new dedicated fixed function media engines that are designed to significantly improve 4K (UHD) playback and but it also supports HDCP 2.2, PlayReady 3, and Widevine, which are designed to protect 4K content from pirates.
Specifications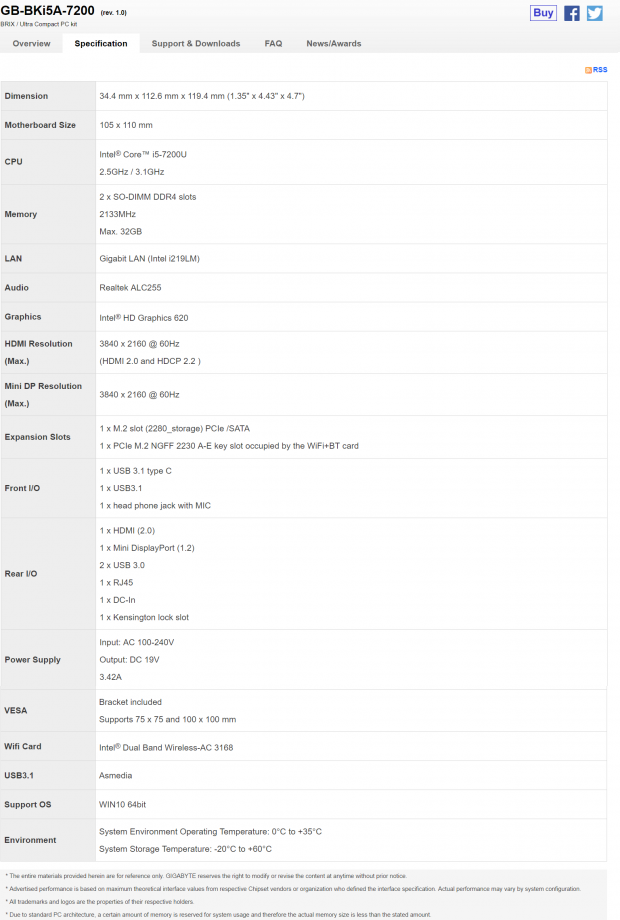 The BKi5A-7200 uses an Intel i5-7200U, which is a little faster than the i5-6200U with a base clock of 2.5GHz (200MHz higher) and Turbo of 3.1GHz (300MHz higher). The i5-7200U has two cores and four threads, a 15W TDP, and the new Intel HD Graphics 620.
The device also supports USB 3.1 type-C and type-A, HDMI 2.0, mini DisplayPort 1.2, 1Gbit NIC, and Intel Dual Band Wireless-AC 3168.
Pricing
GIGABYTE informed us that the MSRP is roughly $390.
Packaging and System
Packaging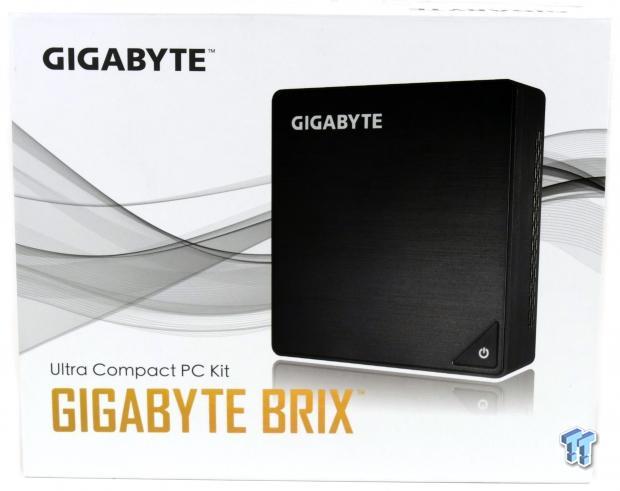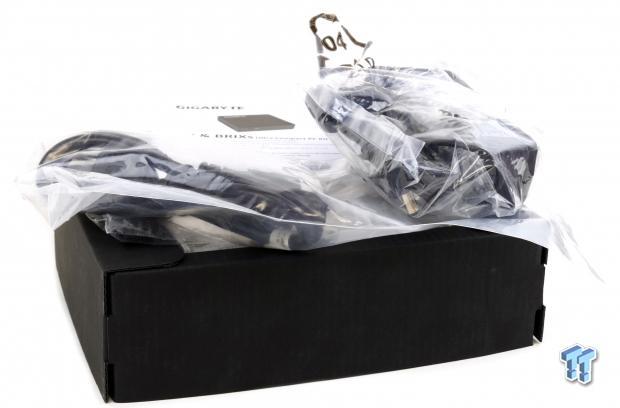 The box is a bit bigger than the device but does a good job of securing it. Packaging is light, but the product is well protected by foam inserts.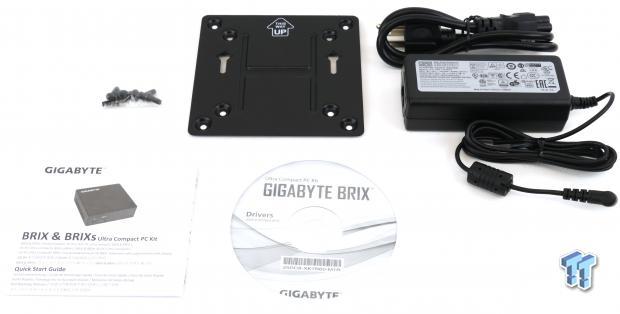 Accessories include an AC/DC power brick, VESA mounting bracket and screws, and a driver DVD and manual. The power brick is rated for 19V @ 3.42A for roughly 65W of power.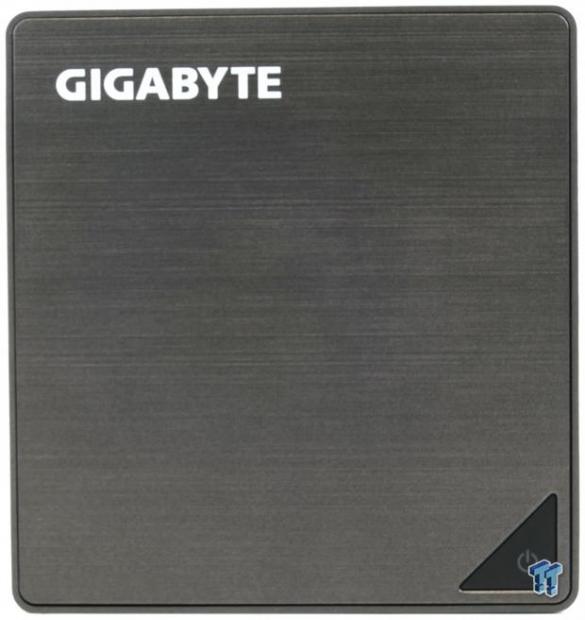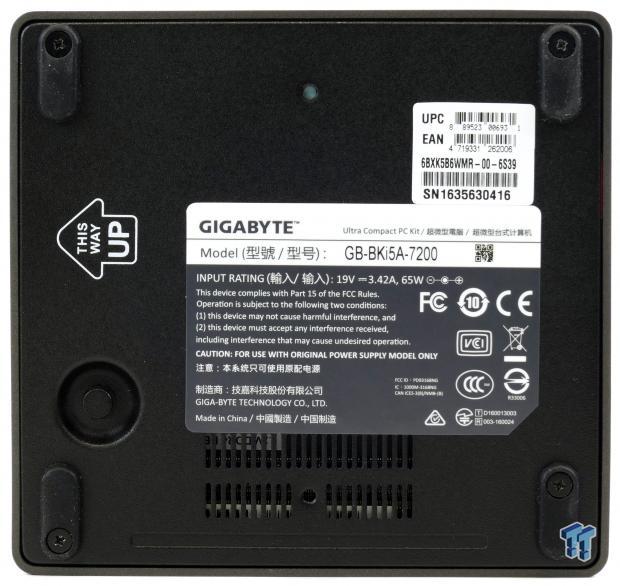 The top of the unit is made out of plastic with a brushed aluminum-like finish, it's smooth to the touch, and provides an elegant look. The bottom of the device has four rubber legs, air input vent, and a little handle to lift up the cover when you install storage and RAM.


The front of the BRIX features both USB 3.1 type-A and USB 3.1 type-C ports and a headphone/mic jack. The rear of the BRIX features two USB 3.0 ports, RJ-45 LAN, mini-DisplayPort 1.2, HDMI 2.0, Kensington lock slot, and DC power jack.


Both sides of the device feature air vents for cooling.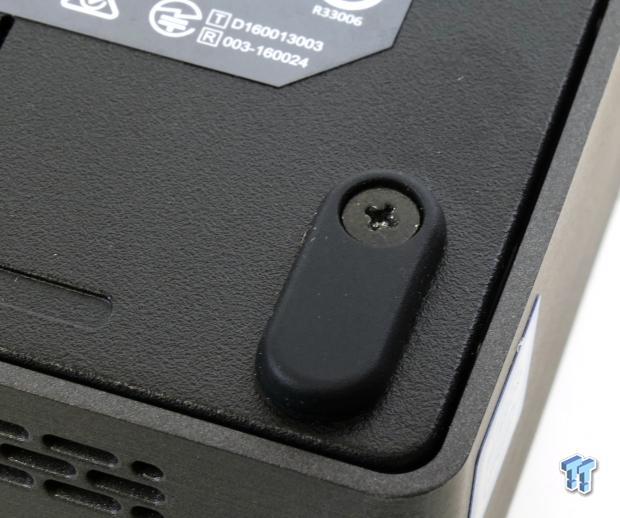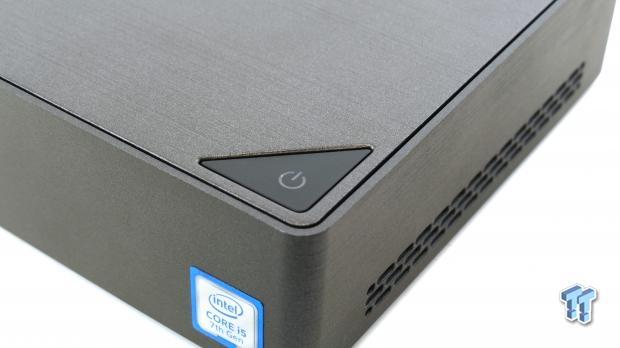 Each rubber leg has a screw, and you need to remove all four to open the device. The power button looks like a triangle and lights up indicating device power status.
Teardown of the BKi5A-7200
The Teardown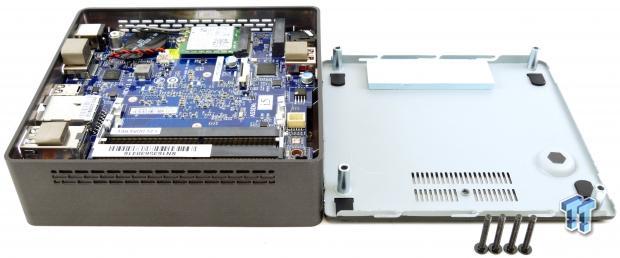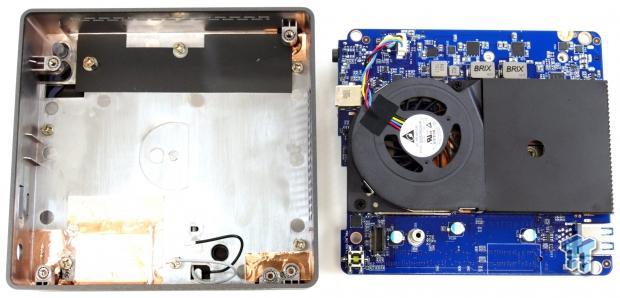 The bottom of the device is easy to remove, and you will see that GIGABYTE includes a big heat pad to cool down your M.2 drive. Taking the PCB out of the base isn't that easy, but you don't need to remove the PCB.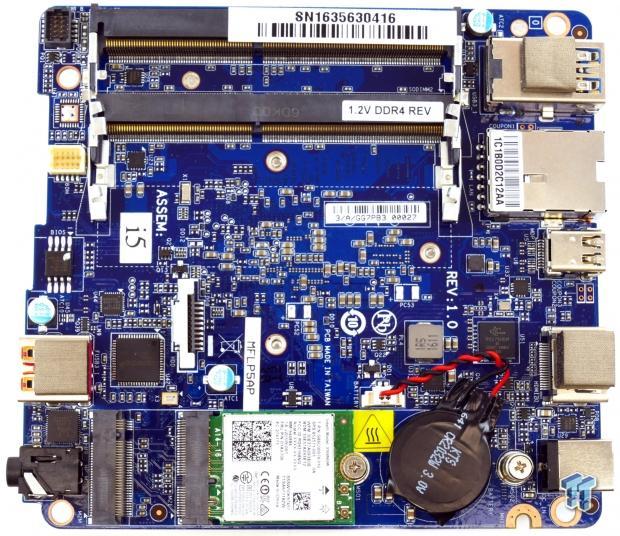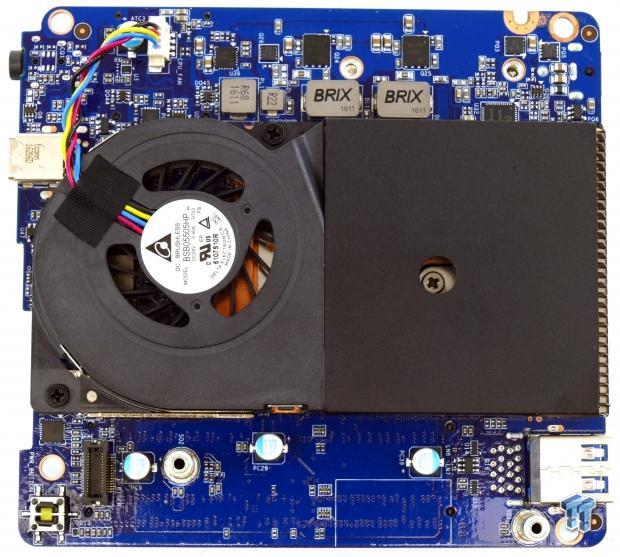 Up close shots of the front and back of the PCB reveal how GIGABYTE stuffed all the desktop level features into one tiny device.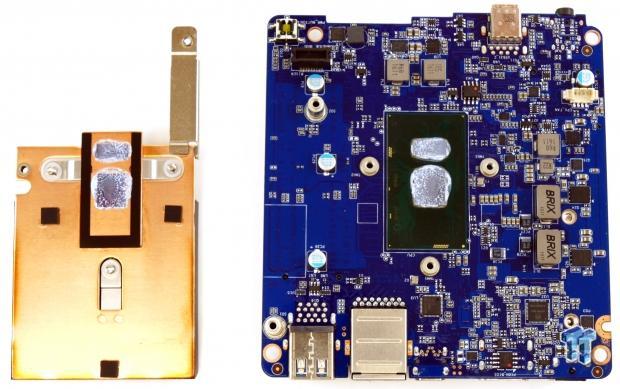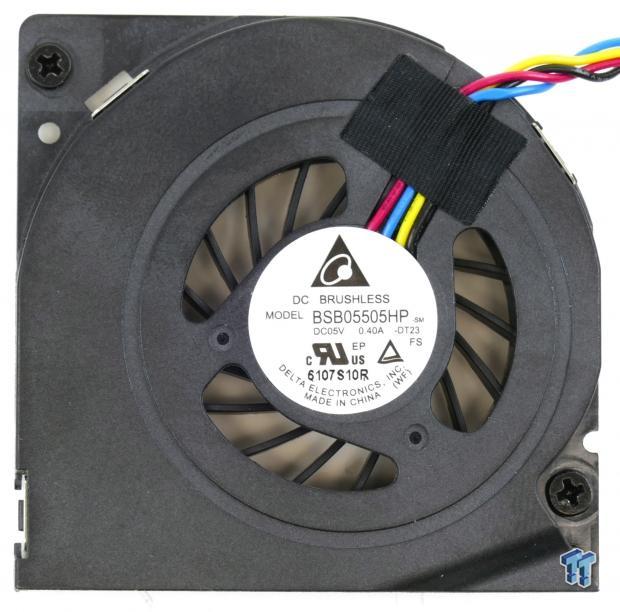 The heat sink makes excellent contact with the Kaby Lake SoC. The blower fan is a Delta model BSB05505HP.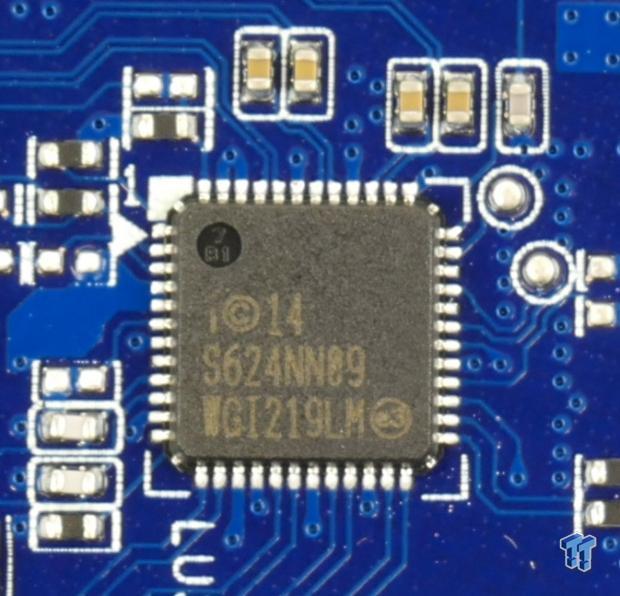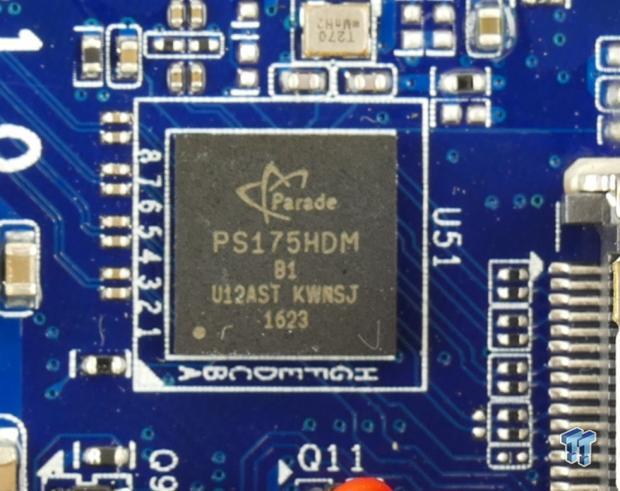 An Intel i219LM is used for the 1GBit NIC, and a Parade PS175HDM is used to provide HDMI 2.0 with HDCP 2.2.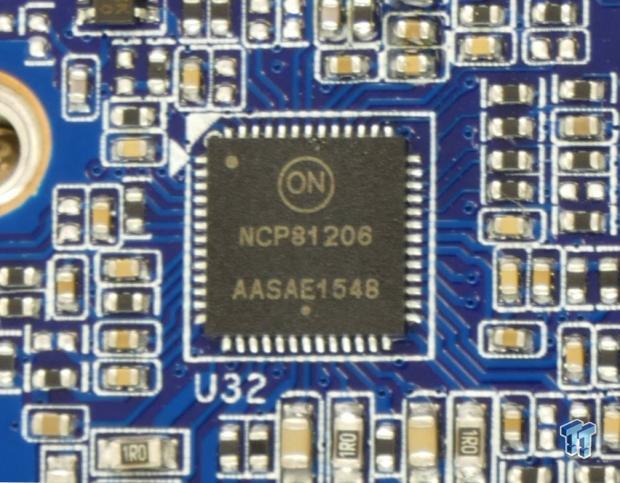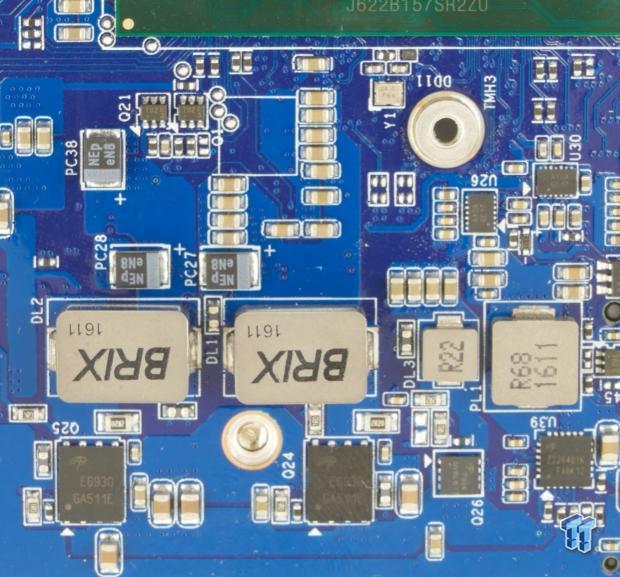 An ON Semiconductor NCP81206 is the PWM controller used to power the SoC. I couldn't identify the MOSFET's brand, but they are dual N-Channel FETs in a single package, and the inductors are custom labeled BRIX.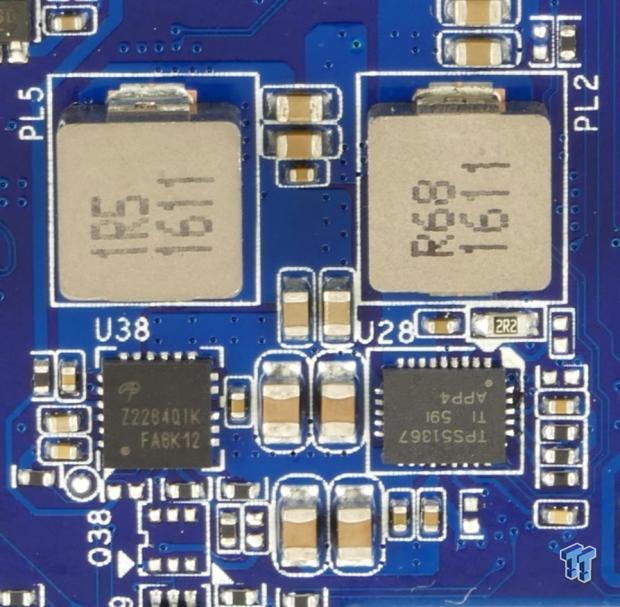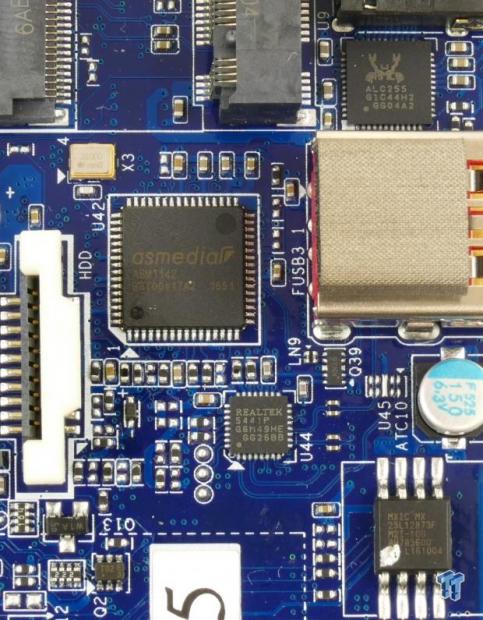 Other power sources use fully integrated POLs from Texas Instruments. The ASMedia ASM1142 supplies the two USB 3.1 ports at the front of the device, and a Realtek ALC255 is the audio codec.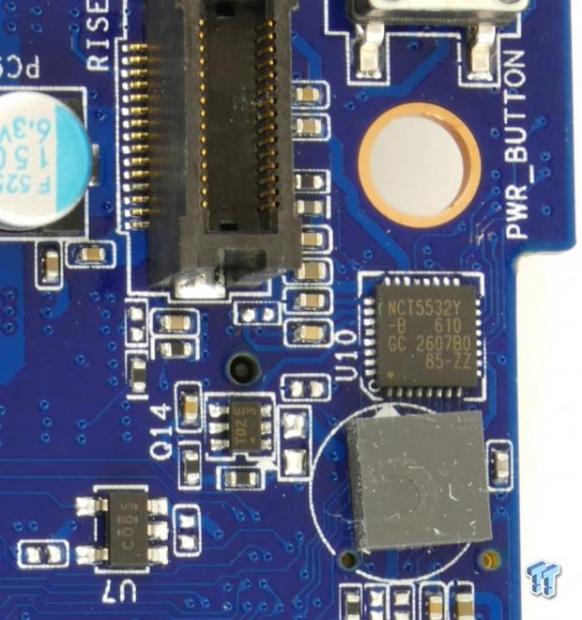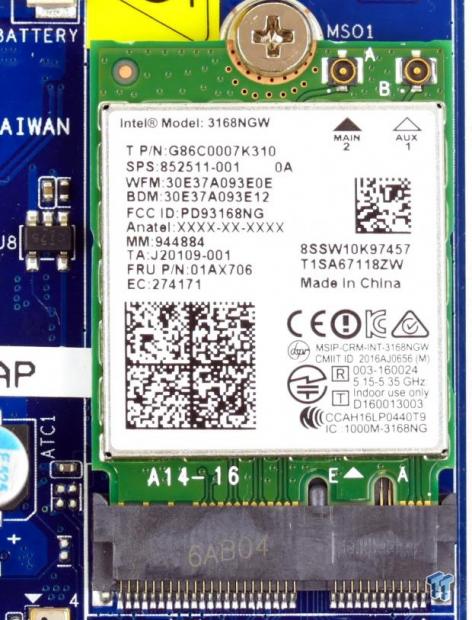 An NCT5532 is probably the SuperIO. Wireless AC is from an Intel 3168NGW.
BIOS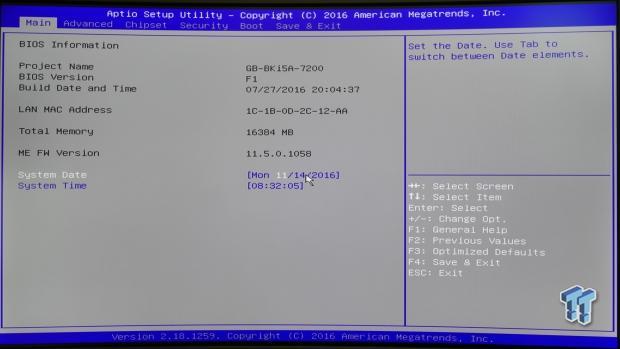 The BKi5A-7200 has a very basic UEFI.
You can configure your storage device, change boot order, alter CSM settings, but beyond that, there isn't much to tinker with.
The BRIX BKi5A-7200 also fully supports VMX and Intel Virtualization Technology.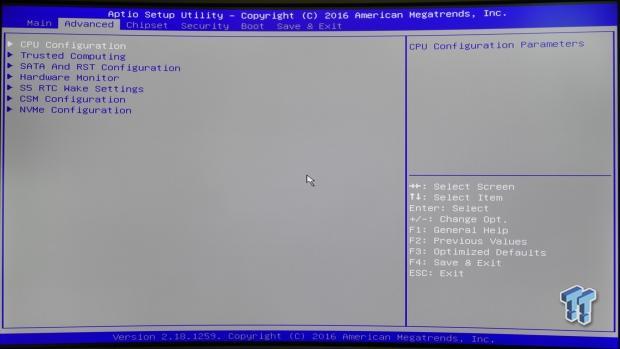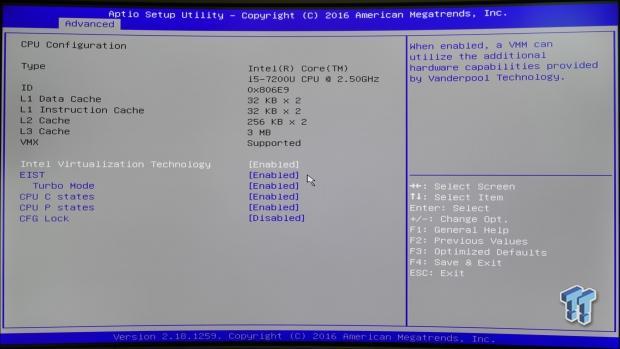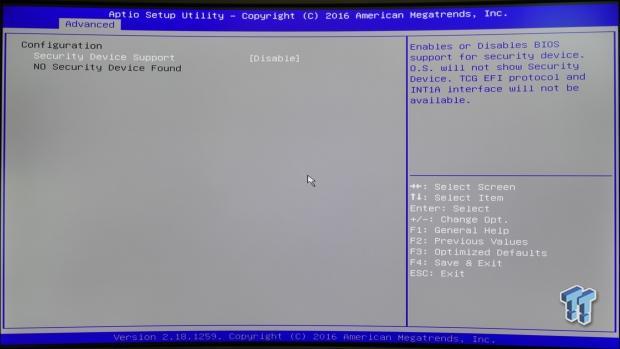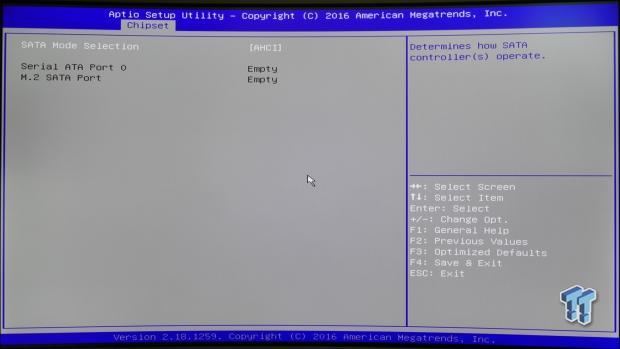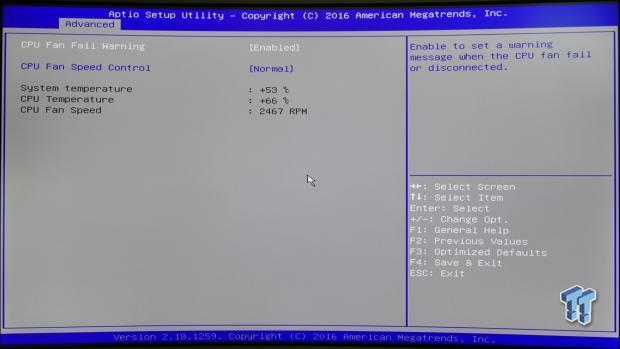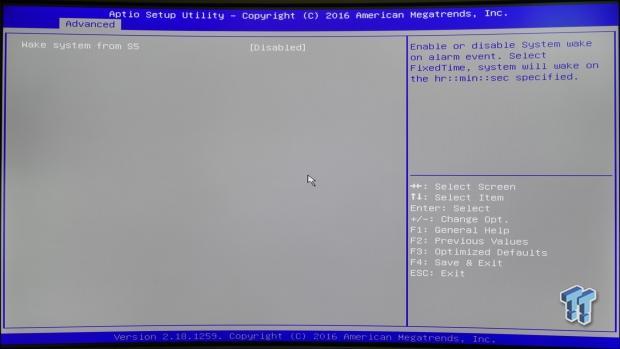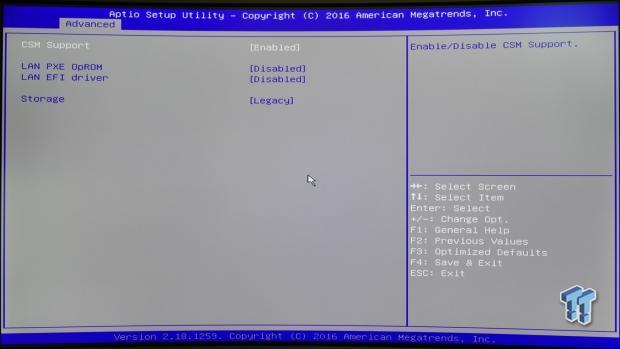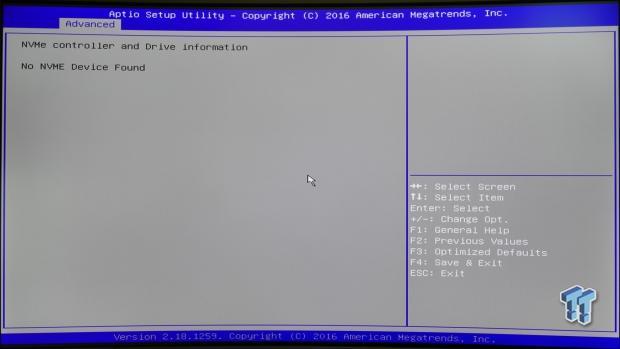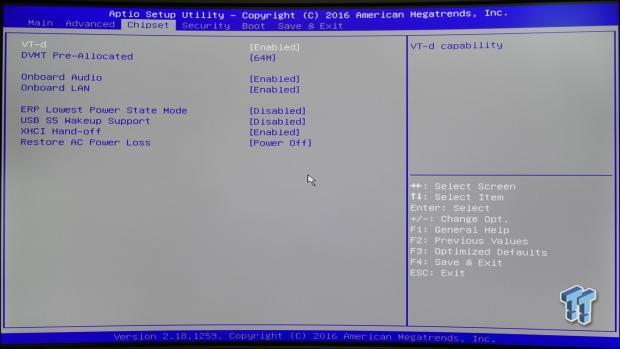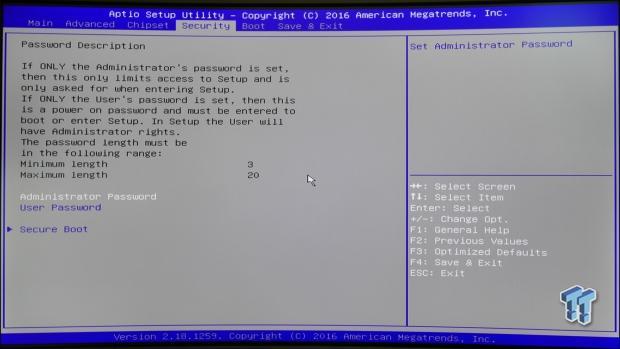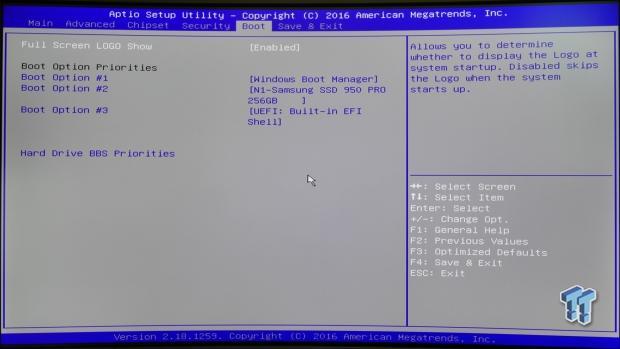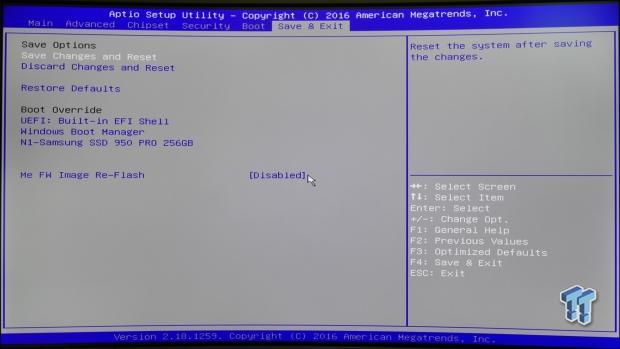 Test Setup and Benchmarks
Test Setup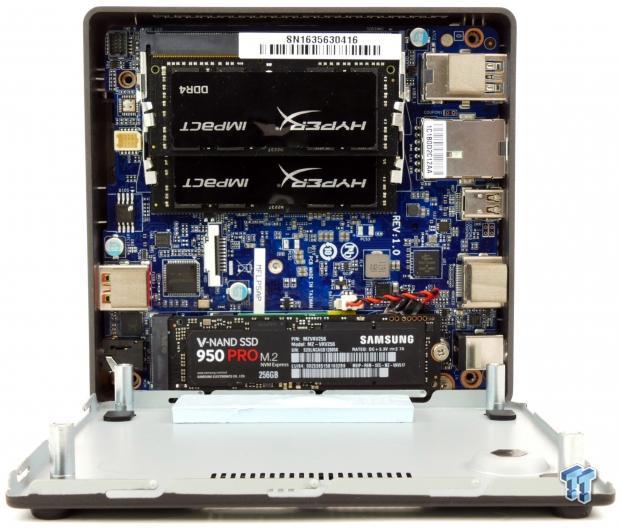 I used the same Kingston HyperX Impact (HX421S13IBK2/16) DDR4 2133MHz SO-DIMM kit I used in my ASRock BeeBox-S review along with a Samsung 950 Pro NVMe based PCI-E 3.0 x4 SSD. GIGABYTE made sure to include an oversized thermal pad to cool down the M.2 drive you use.
CPU, Memory, System, and Graphics Benchmarks
CINEBENCH 11.5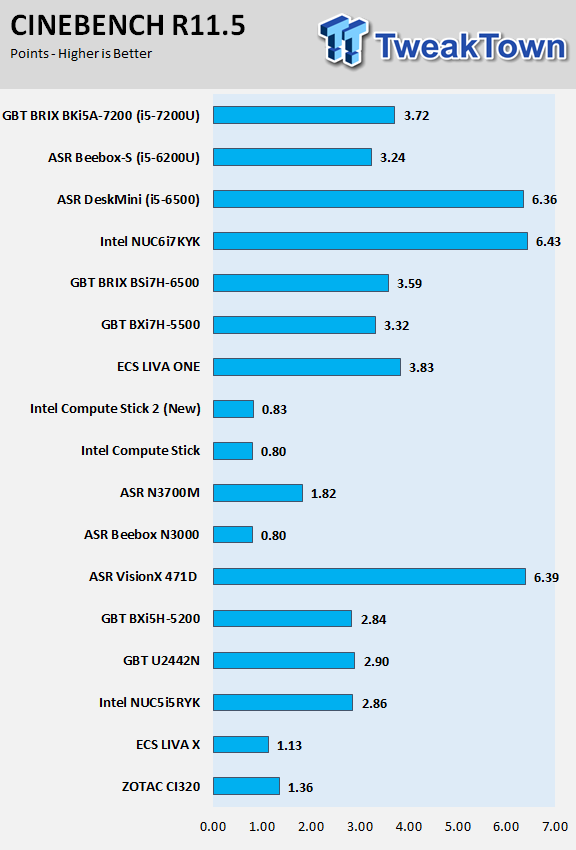 wPrime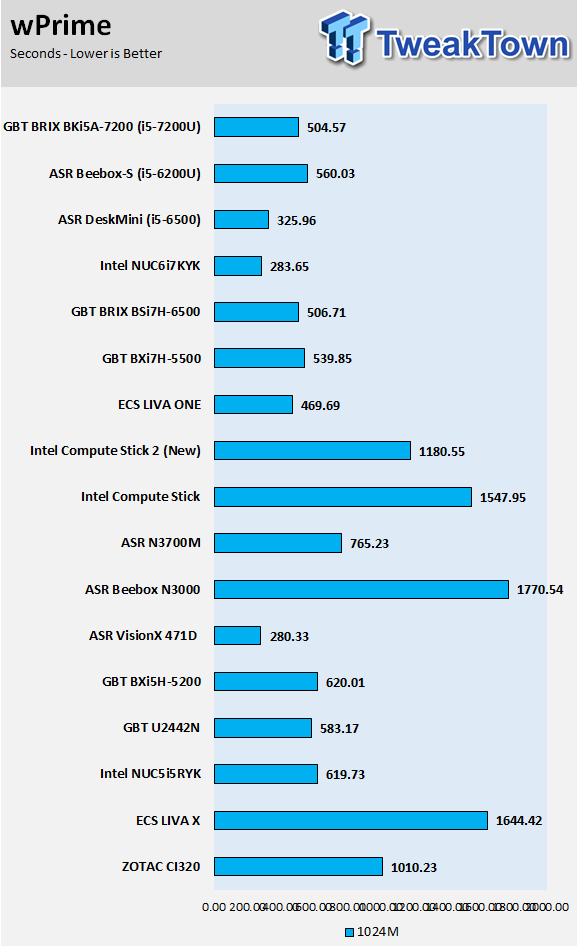 AIDA64 AES and HASH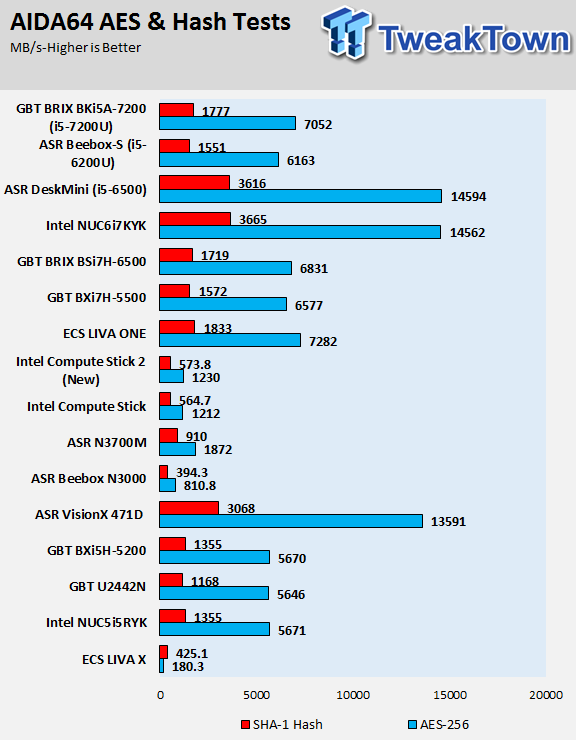 AIDA64 Memory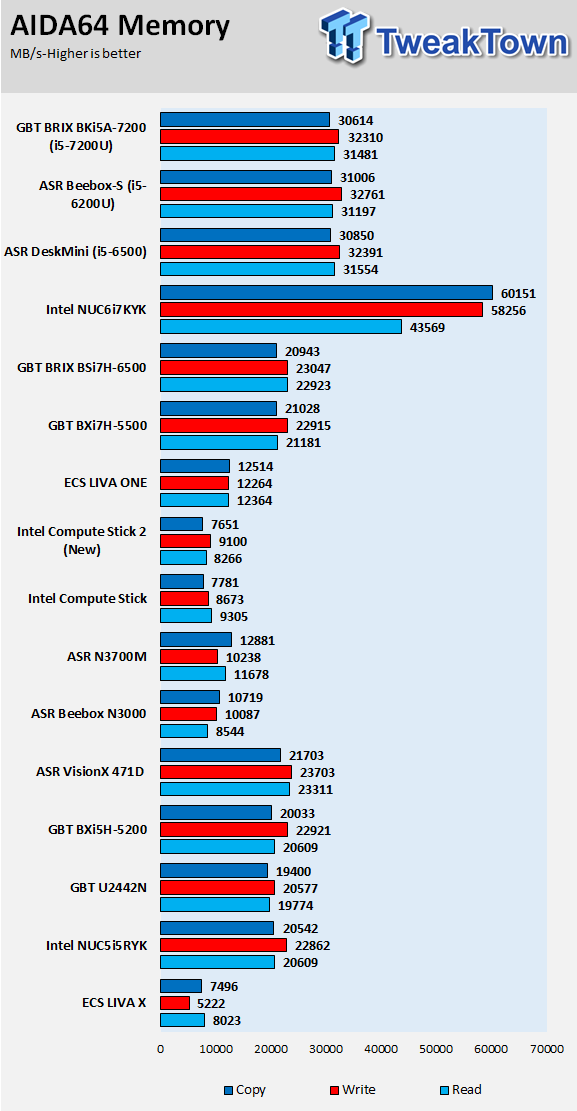 HandBrake Video Encoding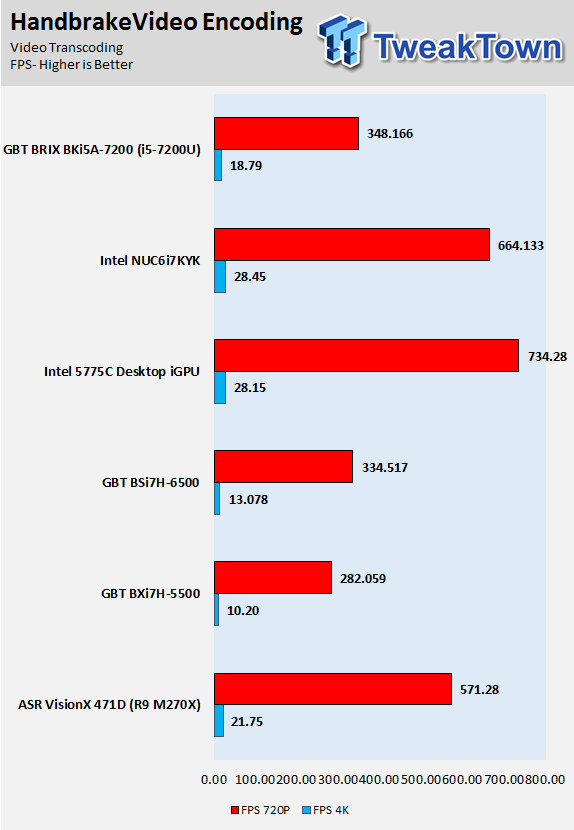 PCMark8 Home Test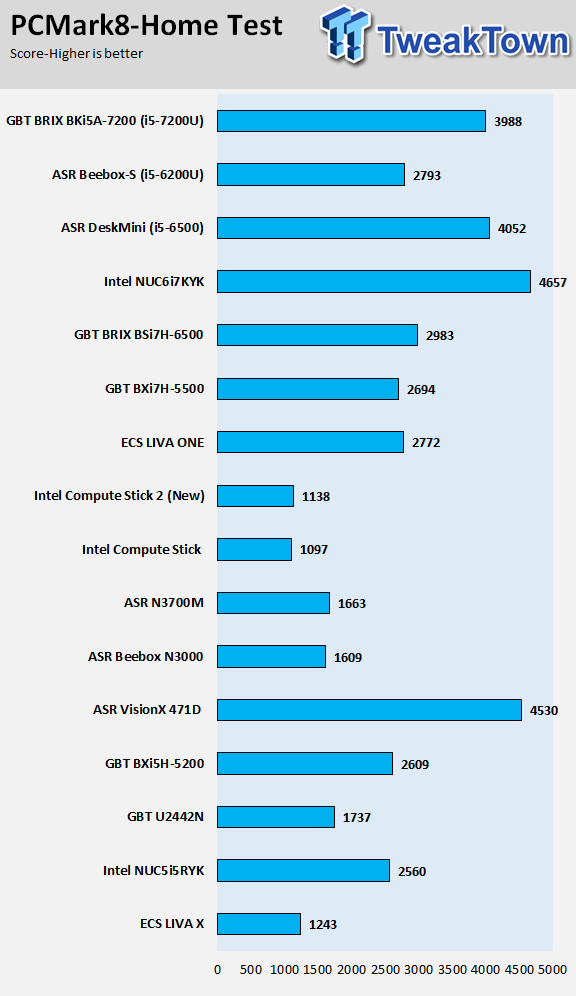 PCMark8 Work Test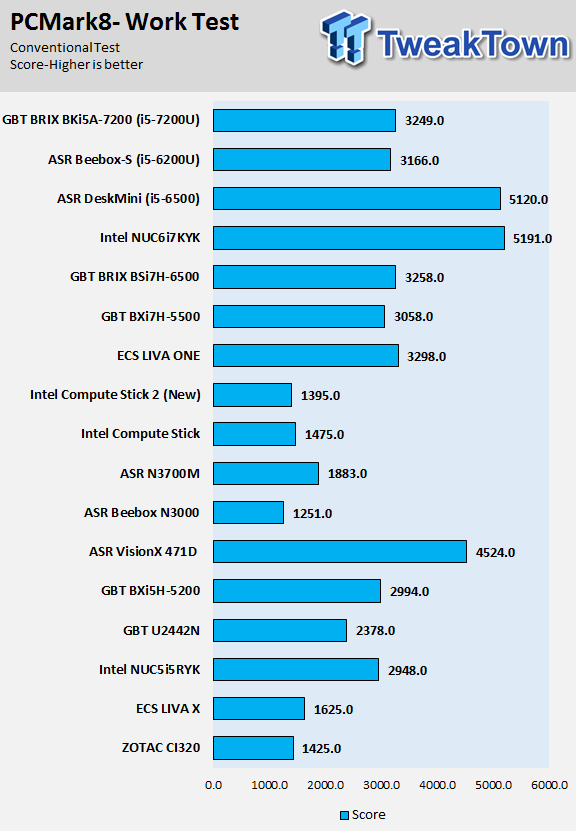 WebXPRT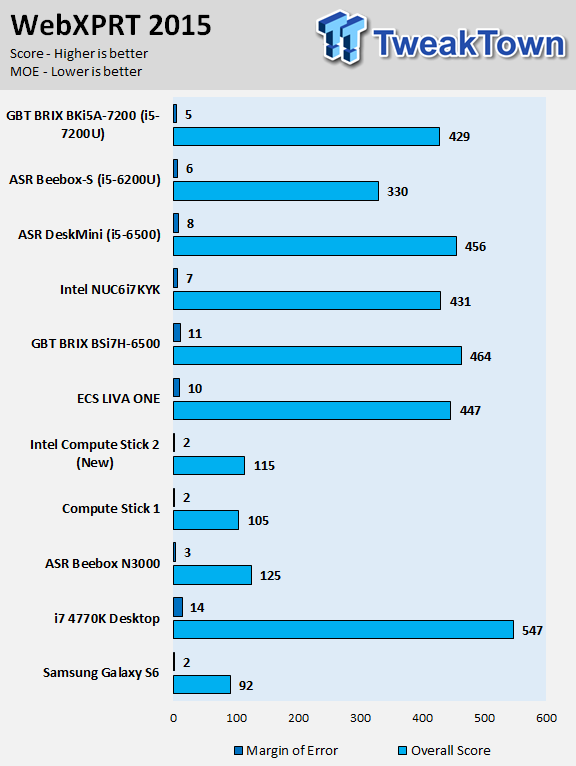 3DMark11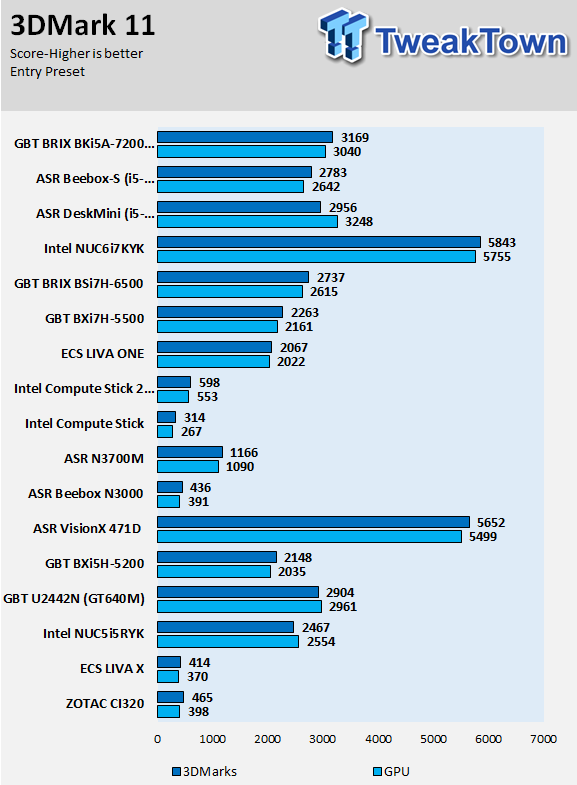 UNIGINE Heaven 4.0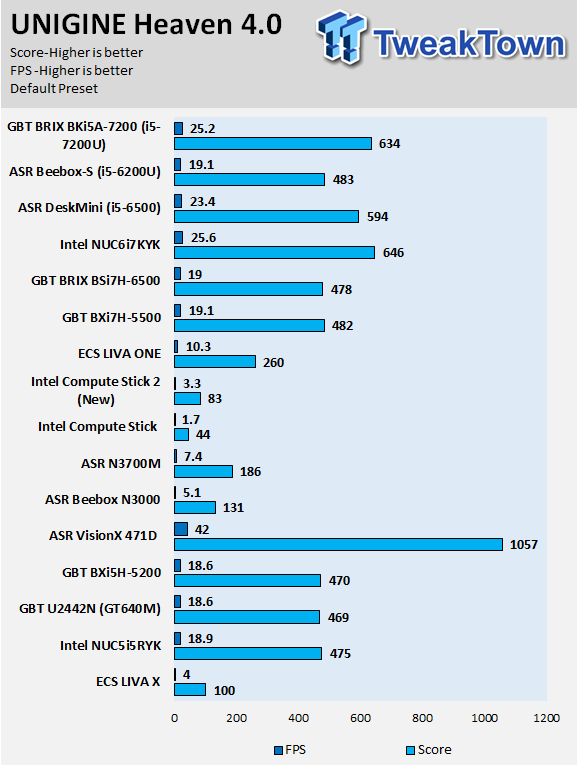 Resident Evil 6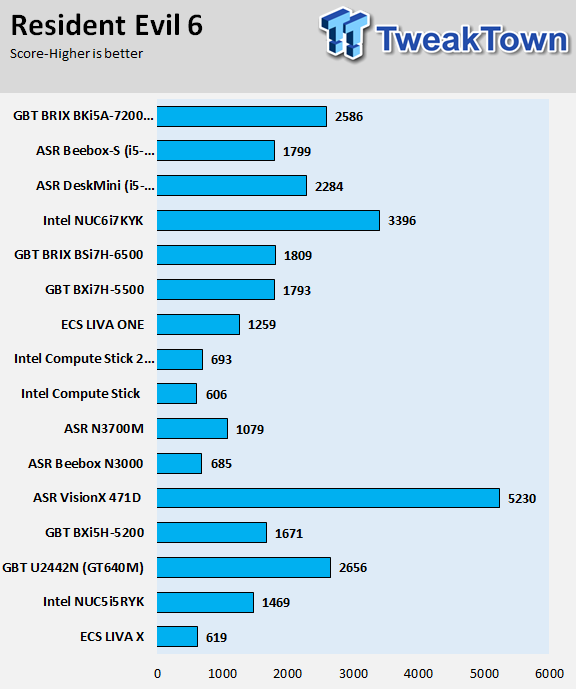 Since the BRIX BKi5A-7200 uses an i5-7200U and ASRock's BeeBox-S uses the i5-6200U, we can see the improvements that Intel has brought to the table with Kaby Lake. Both CPUs have the same TDP, but the i5-7200U is clocked 200-300MHz higher.
Regardless of clocks, Intel was able to get more performance out of the 14nm node. While higher clocks are nice, Kaby Lake also has a much nicer integrated GPU and scores better in gaming benchmarks.
Storage and Network Performance
CrystalDiskBench-Read: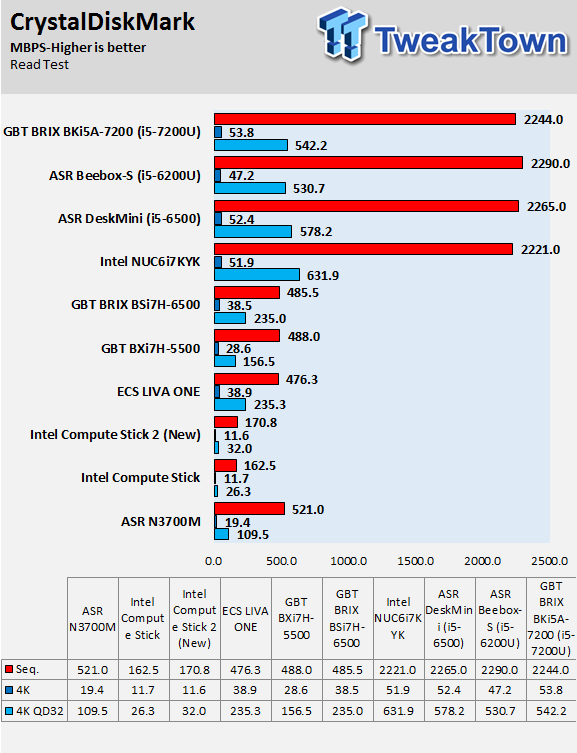 CrystalDiskBench-Write: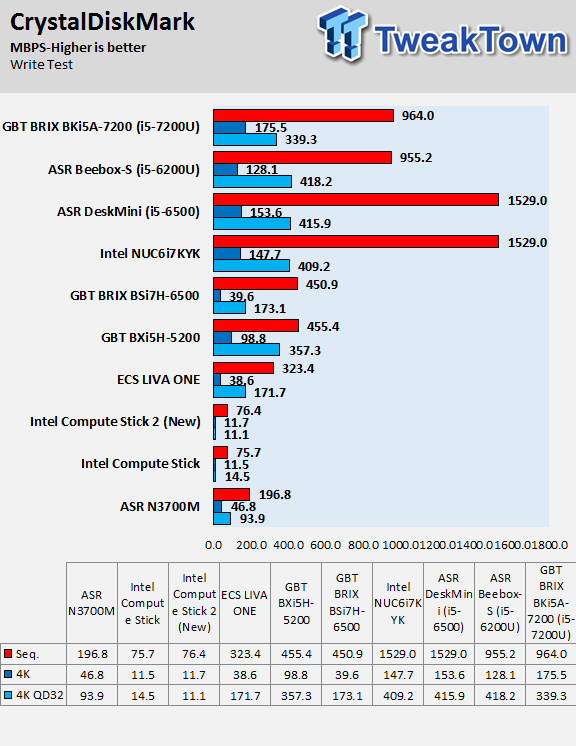 ixChariot Network Throughput: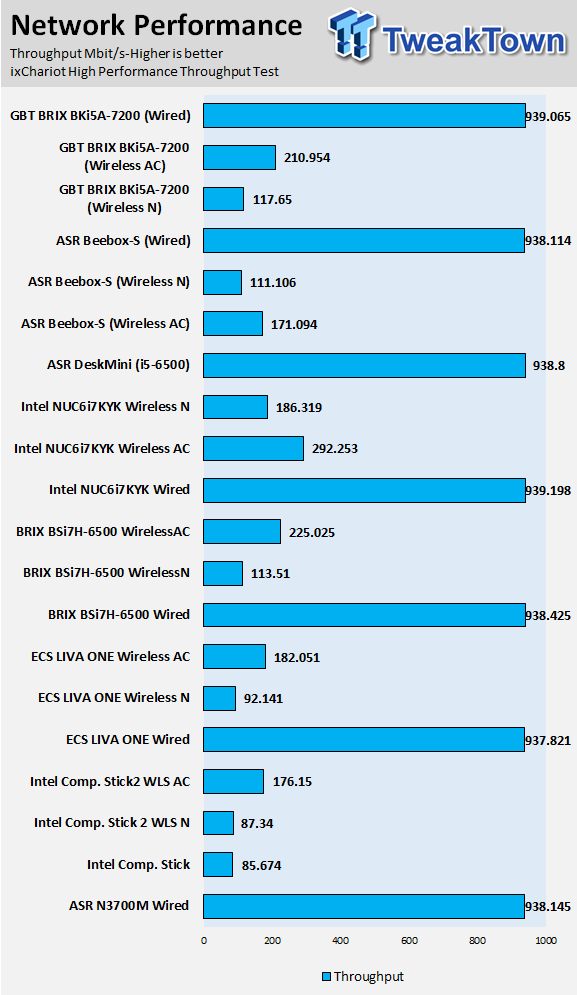 Storage and network performance are also very strong. The BRIX BKi5A-7200 provides the same storage performance as a full-blown desktop.
Temperature and Power Consumption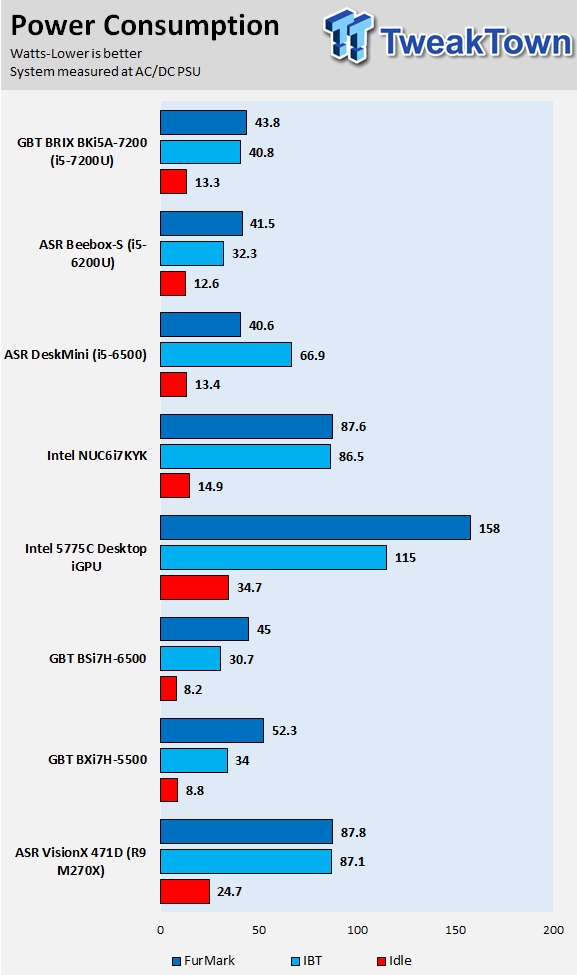 The power consumption of the BKi5A-7200 is a bit higher than the BeeBox-S, but that could be due to other onboard features.
Thermal Testing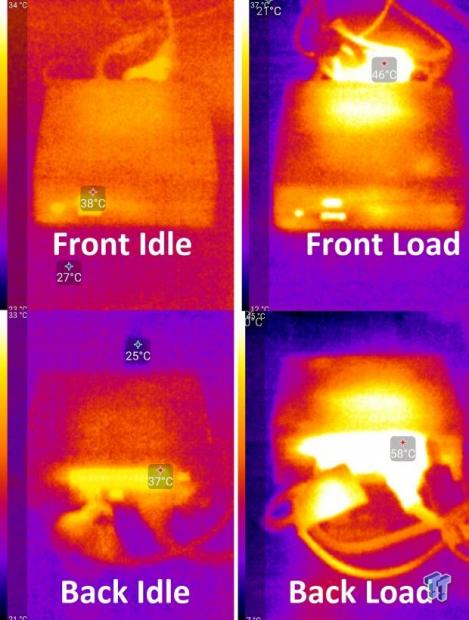 At idle the front and rear of the device hover around the same temperature, the hottest parts are around 38 degrees. At full load with IBT and FurMark running, the hottest parts go up to 58C at the rear exhaust vent, but the cooling hardware does a decent job of moving the heat out the back.
What's Hot, What's Not & Final Thoughts
Here are key points about the BKi5A-7200.
What's Hot
Excellent 4K Support: If you haven't heard, Netflix 4K streaming requires a Kaby Lake CPU, Windows 10, and the Edge browser. The BRIX BKi5A-7200 has all the right hardware regarding the Kaby Lake CPU and Windows 10 support, but it also has HDMI 2.0 which might also be a requirement to stream 4K content.
Content creators wanted to lock down their content from the hardware side, along with all connections and pathways, and HDCP 2.2 is what they use. HDMI 2.0 fully supports HDCP 2.2 as does the Kaby Lake CPU, and the BRIX fully supports it. The BKi5A-7200 might be the first PC on the market with the ability to stream 4K Netflix, and the new HEVC 10b decoder in the iGPU doesn't hurt things.
Solid Performance: Intel's 7200U might seem like a low-powered CPU, and it is, but that doesn't mean it can't still be fast. With a fast storage solution like the 950 Pro matched with the 7200U, performance in most tasks is very similar to that of a desktop PC. Another editor had asked about a small NUC device for his father, and I recommended a Skylake-based BRIX I had just reviewed. He had his doubts about the performance of such small devices until he actually got it in his hands. Needless to say, most people won't notice the difference between a device like the BKi5A-7200 and a desktop PC.
USB 3.1: The BKi5A-7200 is fully loaded with USB 3.1 type-A and type-C. The latest in USB storage technology is double the speed of its predecessor, and the type-C port is very convenient.
Small and Sleek: I am a big fan of GIGABYTE's new BRIX casing. While it is plastic, it looks like brushed aluminum and feels like it too. The best part is that it doesn't easily pick up fingerprints, something a lot of glossy mini PCs do.
What's Not
Low on USB: The device has a total of three USB type-A ports. For most people, the two in the rear will go to a keyboard and mouse, and that just leaves the front USB type-A port for other devices, like a wireless headphone transmitter. While the device also has a type-C port, support is still not as widespread as most had thought.
Final Thoughts
At just under $400 without storage or RAM, the BKi5A-7200 is not cheap, but you do get a nice desktop replacement. For almost all business usage, the BRIX BKi5A-7200 will get the job done quickly and quietly. It will also take care of almost all home usage except for gaming. While content creation, like editing a video, might be much faster on a full-blown desktop with a fast CPU, the BRIX BKi5A-7200 can handle it but slower.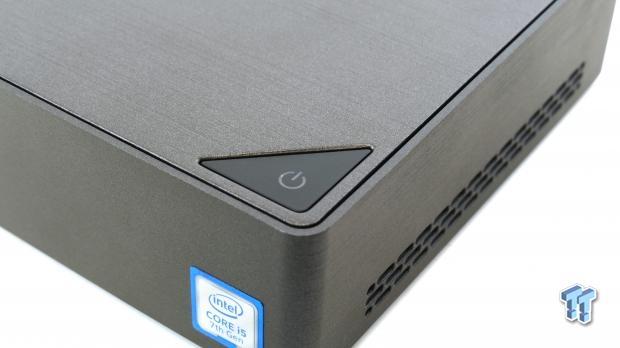 With the Kaby Lake CPU and HDMI 2.0, you will be able to use the BRIX BKi5A-7200 well into the future as a streaming device. If you are looking for a desktop replacement and you don't game or produce content, and are looking for a mini PC to replace an aging desktop, the BRIX BKi5A-7200 is an excellent choice.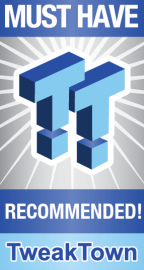 | | |
| --- | --- |
| Performance | 92% |
| Quality including Design and Build | 93% |
| General Features | 90% |
| Bundle and Packaging | 89% |
| Value for Money | 93% |
The Bottom Line: With a fast Intel Kaby Lake CPU, HDMI 2.0, and USB 3.1, the BRIX BKi5A-7200 is a fast and capable little machine that can replace most desktops.
PRICING: You can find products similar to this one for sale below.

United States: Find other tech and computer products like this over at Amazon.com

United Kingdom: Find other tech and computer products like this over at Amazon.co.uk

Australia: Find other tech and computer products like this over at Amazon.com.au

Canada: Find other tech and computer products like this over at Amazon.ca

Deutschland: Finde andere Technik- und Computerprodukte wie dieses auf Amazon.de