TweakTown's Rating: 93%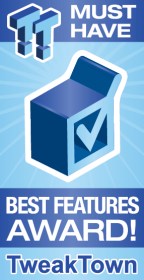 The Bottom Line
While the Intel Core i7-6820HK and NVIDIA GeForce GTX 980M will seal the deal for many, those looking for more will be pleased with the Lenovo Ideapad Y900's mechanical keyboard, RGB lighting zones, and Turbo button that are sure to impress many gamers.
Introduction, Specifications, and Pricing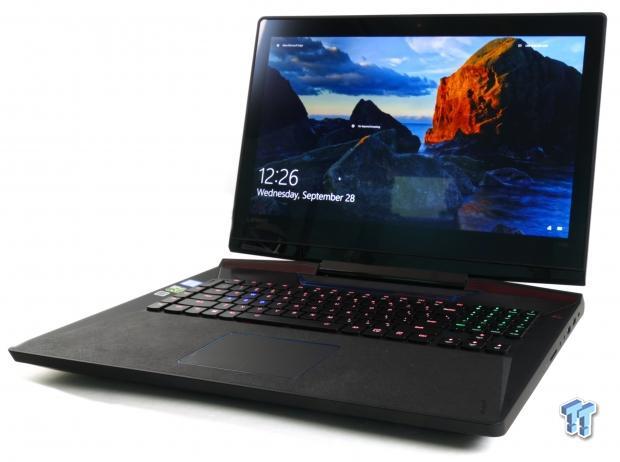 Loaded with an overclockable Intel Skylake microprocessor, NVIDIA GeForce GTX 980M mobile graphics card, and some killer aesthetics, the Ideapad Y900 isn't what you typically think of when you think of Lenovo. The Ideapad Y900 is an attempt by one of the most successful notebook vendors to venture into the high-end mobile gaming market, and I have to say, at first glance, they have done a nice job. The Ideapad Y900 doesn't only have very nice specifications, but it also carries many other technologies to compete with competitors with the same specifications.
A Turbo slider-button brings back memories of the old days when you would hit the turbo button on your desktop to gain a few megahertz. G-Sync ensures solid graphics output to the 17" panel, and Killer's DoubtShot Duo allows you to team your wireless and wired connections for extra network bandwidth.
The keyboard also uses mechanical keys, which is unique for a notebook, but something gamers will appreciate. Speaker placement has also been optimized to provide a solid experience without headphones. Venture with me as I take a close look at the Lenovo Ideapad Y900.
Specifications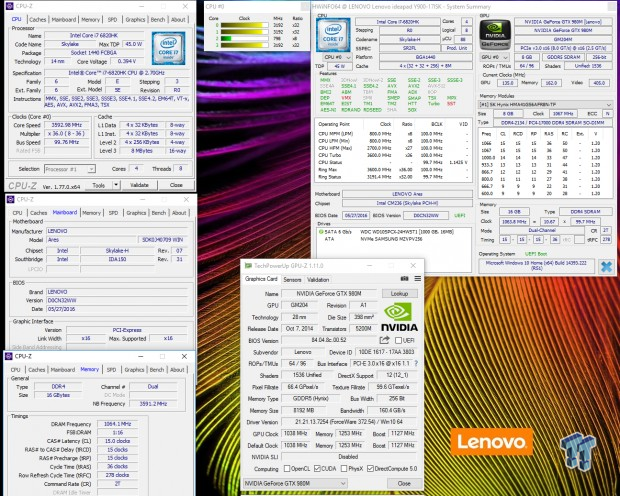 The Ideapad Y900 uses an Intel i7-6820HK quad-core / eight-thread CPU with a base speed of 2.8GHz and a Turbo up to 3.6GHz. Using Lenovo's built-in Turbo button, you can increase that to 4.1GHz. The notebook comes with a 17.3" FHD (1920x1080) IPS Anti-Glare LED panel that supports NVIDIA G-Sync. A NVIDIA GeForce GTX 980M 8GB variant powers the panel. The unit I got comes with 16GB of DDR4 at 2133MHz, a 1TB HDD, and a 256GB M.2 SSD.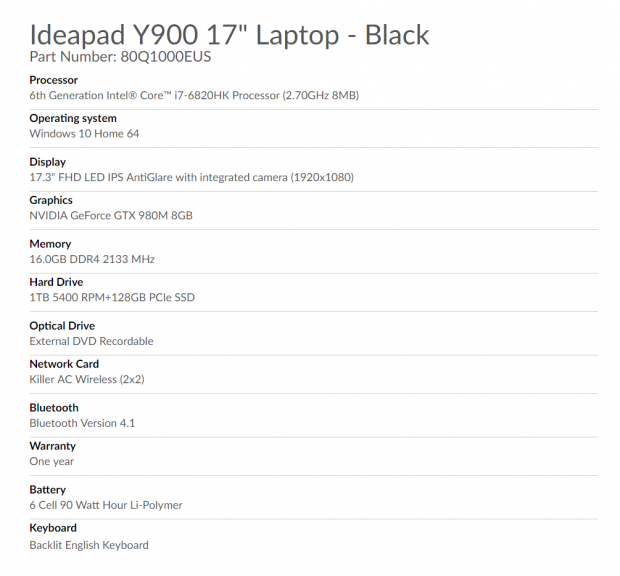 The Ideapad Y900 uses a 230W adapter. You get a 6-cell 90Wh battery that should last up to five hours. The notebook uses two JBL speakers and a 3W subwoofer, comes with a 720p HD web camera, and uses a Killer Wireless AC NIC. Dimensions are 425x315x36(WxDxH), and it weighs in around 4.6KG. It's not light nor small, but it packs some very nice gaming hardware.
Pricing
The Ideapad Y900 comes in different configurations, with the base costing $2500.
Physical Overview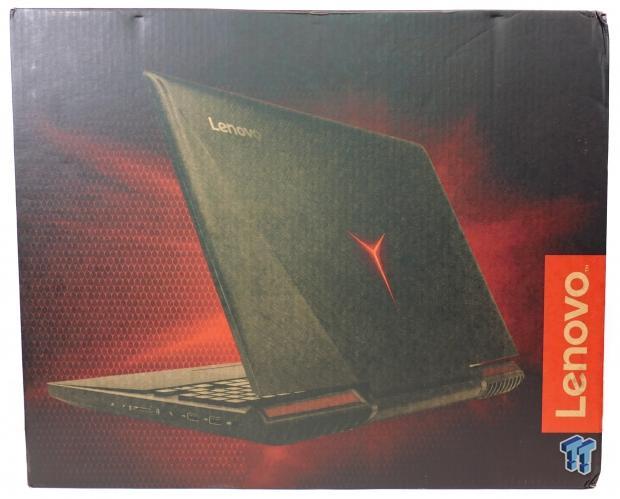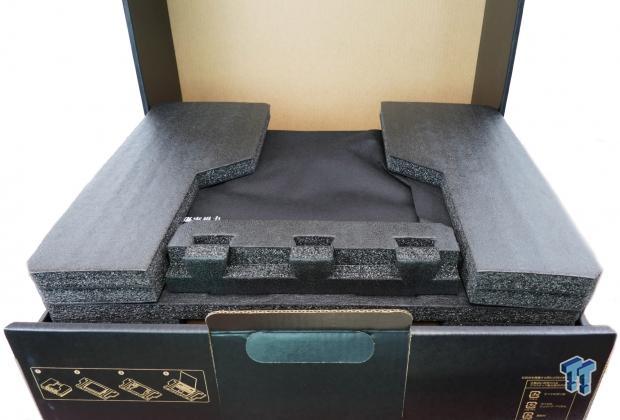 The box has a large picture of the notebook with red highlights since the product's color theme is red and black. Packaging is very well done, and the product is very safe inside thick foam that is custom designed for a snug fit.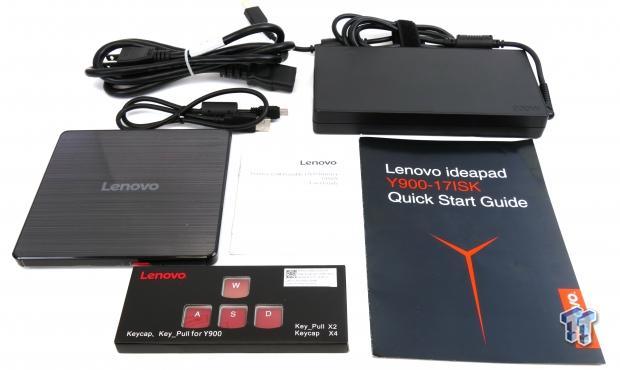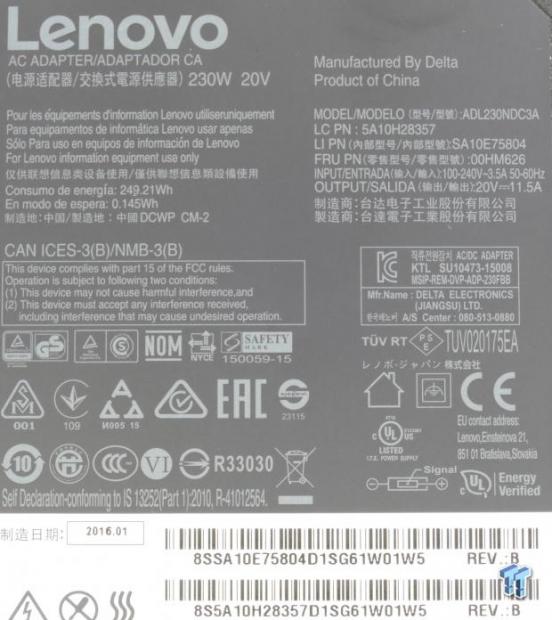 There are a few accessories including an AC/DC power supply, external DVD drive, WASD key replacement caps, and some manuals. The power supply is rated at 230W (20V @ 11.5A).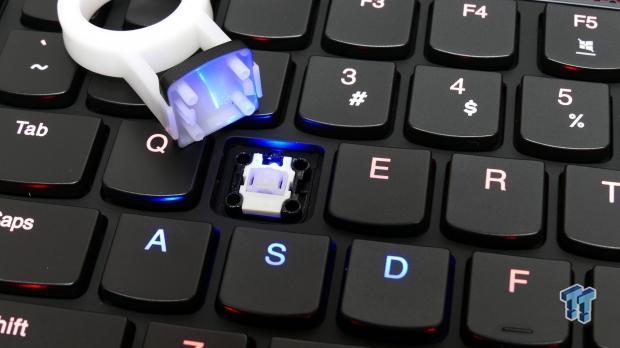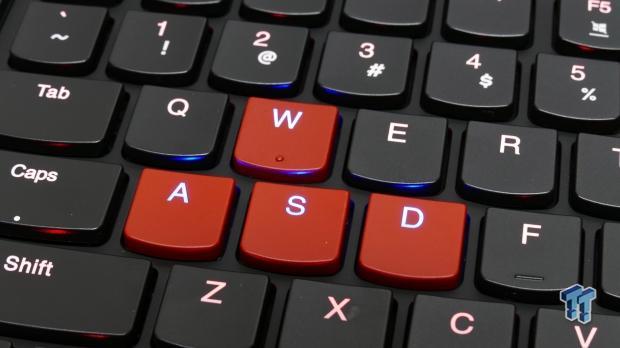 The keyboard is mechanical, and you can hear the tiny click from each key as you press it down. The WASD key replacement kit comes with a tool to remove the stock black keys and replace them with red, as I did.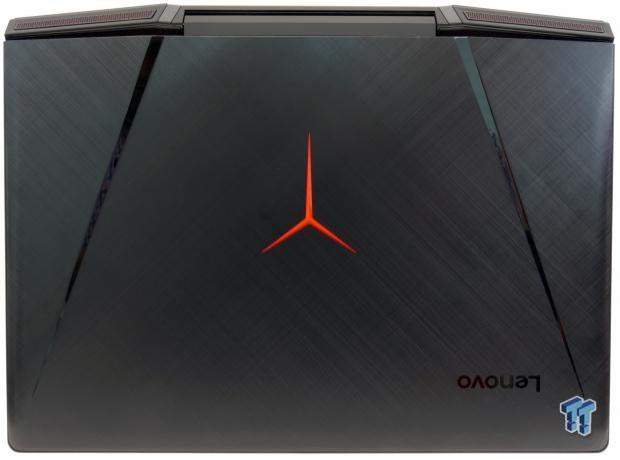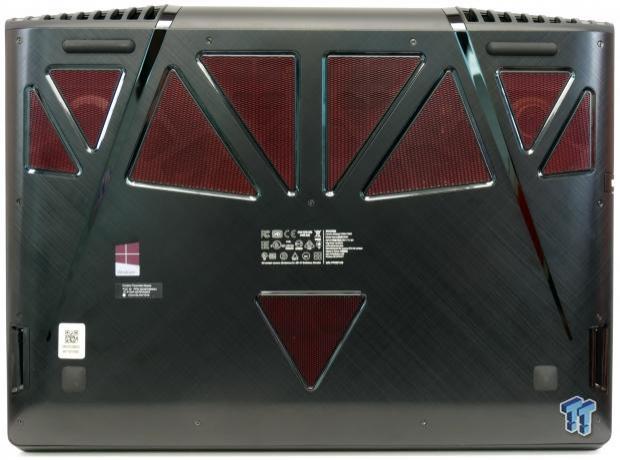 The top and bottom of the unit both use a brushed metal material, which uses an interesting cross pattern. There is a big "Y" in the center of the top of the unit, which is made of plastic but is illuminated. The bottom of the unit features big red air intake vents and a triangular subwoofer vent. There are four big rubber feet to keep the unit steady on a slippery surface. On either side are vents that house antenna.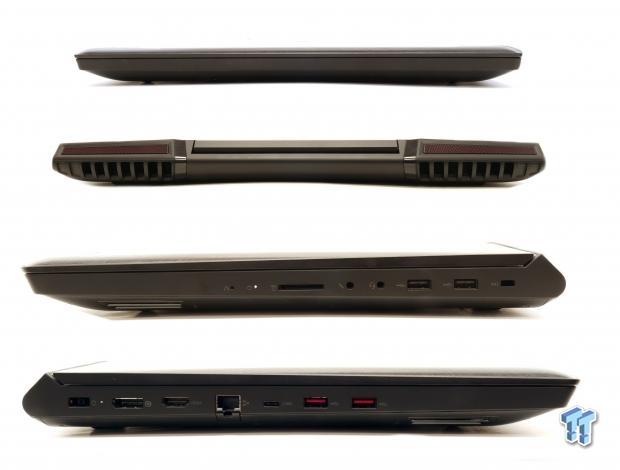 There are no ports at the front of the unit, but the rear features two very large exhaust vents. The right side of the unit has two USB 2.0 ports, a Kensington lock slot, headphone jack, microphone jack, SD card slot, and indicator LEDs. The left side of the unit features two USB 3.0 ports, a USB 3.0 type-C port, HDMI, DisplayPort, charging port, and RJ-45 LAN.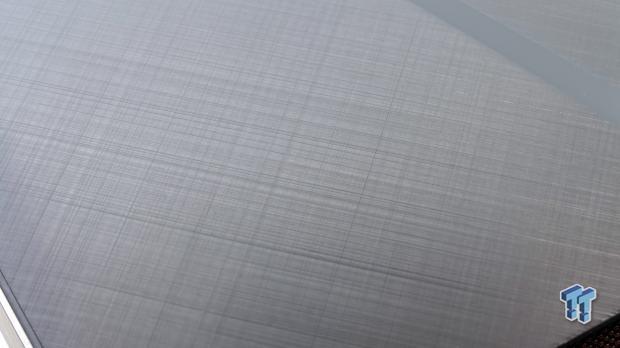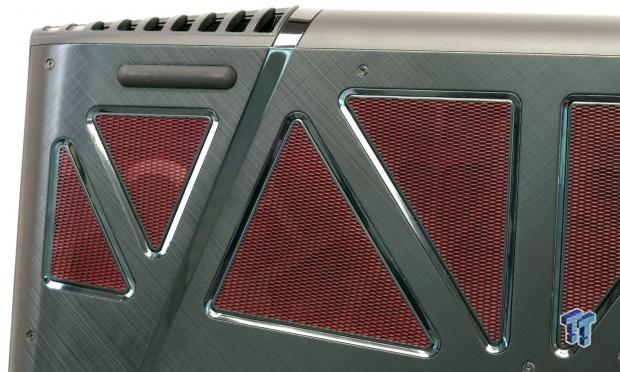 An up-close of the top of the unit reveals the texture of the brushed aluminum. The bottom of the unit has many vents, and Lenovo paid attention to detail and lined them with silver plastic.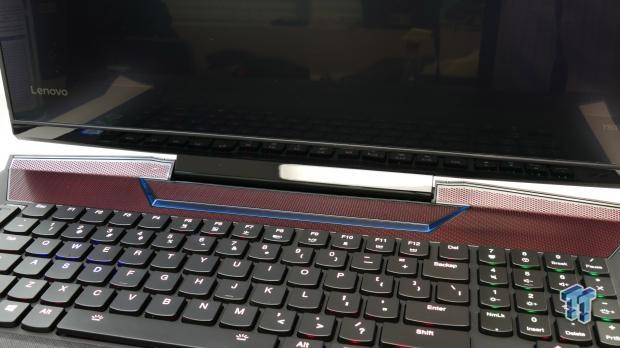 The speakers are hidden beneath red vents at the top side of the unit. The speakers are angled towards the user, and towards the center of the notebook is a customizable light bar.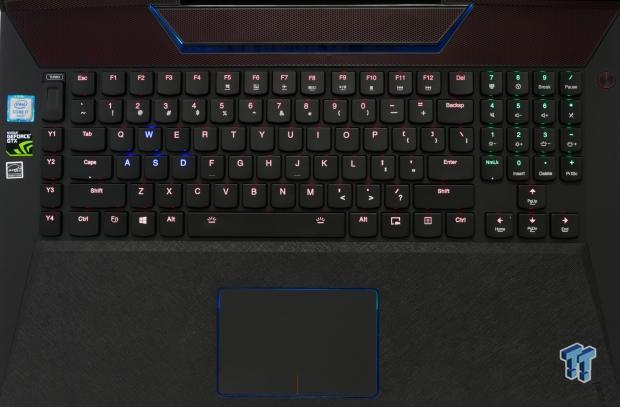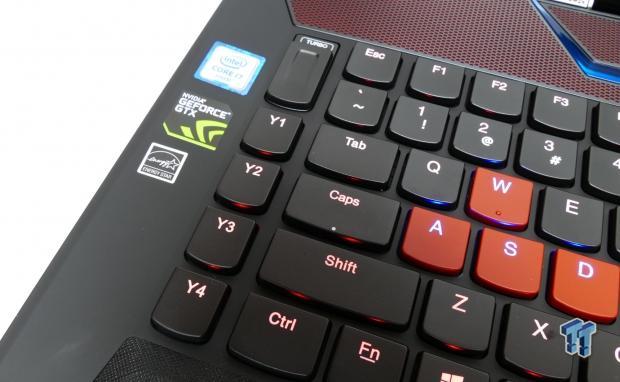 The keyboard is full sized, and even with larger fingers, you will not have problems. On the left side of the keyboard are macro keys, and in the upper right is a Turbo slider. You can individually select zone colors, which is a nice addition to an already loaded product. There are four Macro keys you can set up the keyboard with and customize many more keys with macro functions.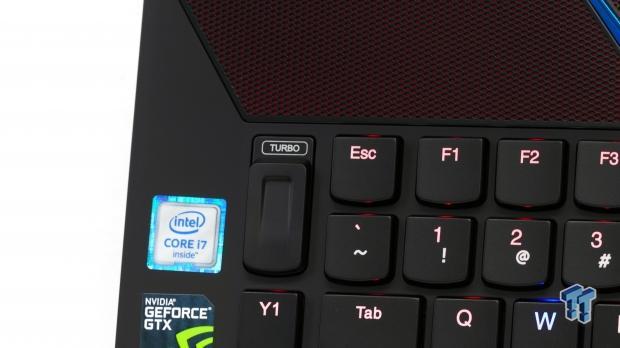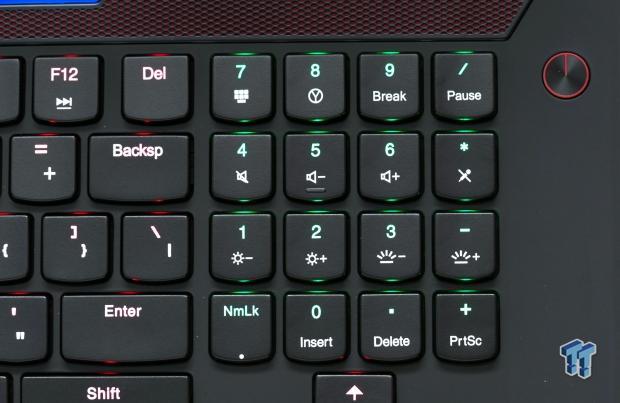 A dedicated Turbo slider button is a very nice touch. Function keys also double as special function keys, and the number pad has the remaining special function keys. The power button is in the upper right-hand corner of the unit.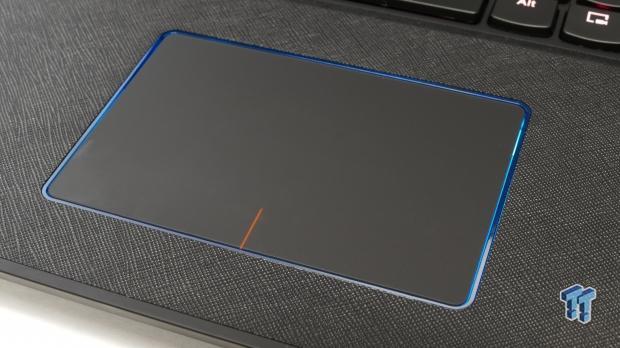 The touchpad has a customizable ring that will light up one of many colors. The touchpad works well but does need better accuracy for click and move operations.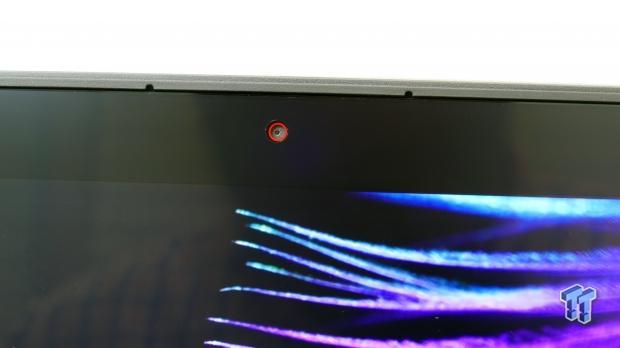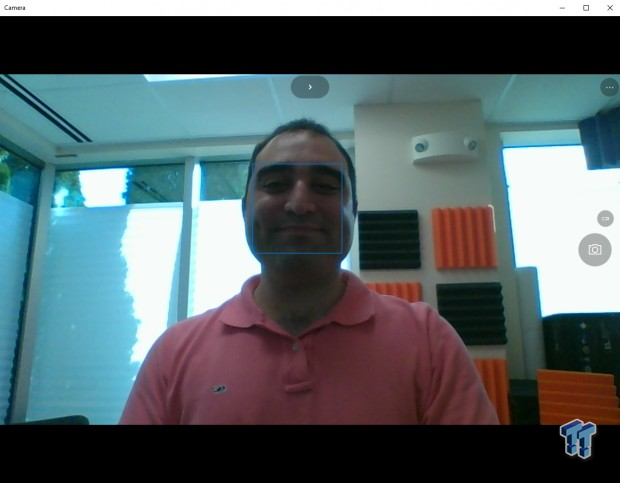 A 720p camera sits in the center of the top of the panel, and an array mic will pick up audio. Picture quality is decent.
Physical Overview Continued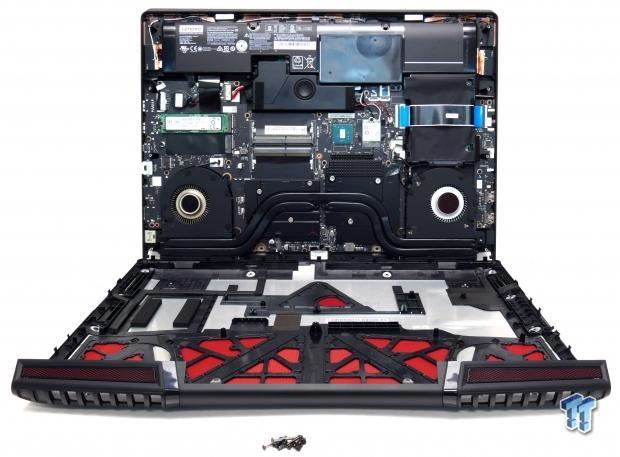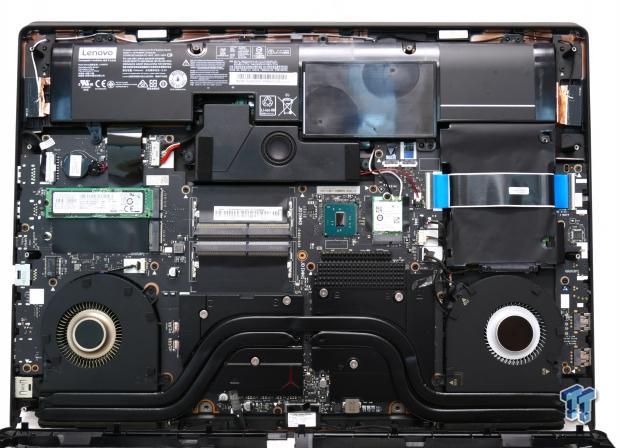 Opening the unit up reveals some very hefty cooling and two large blower fans, and a neat and orderly configuration of hardware and cooling.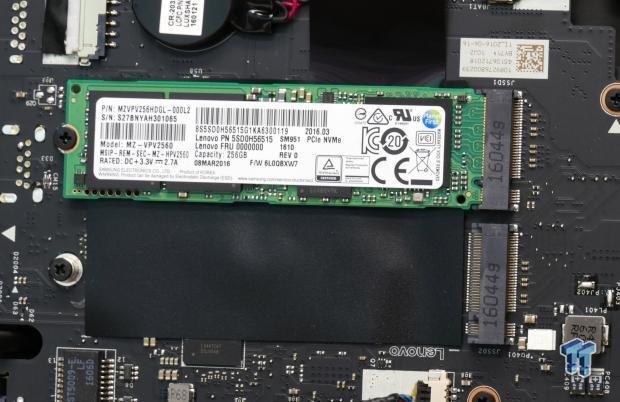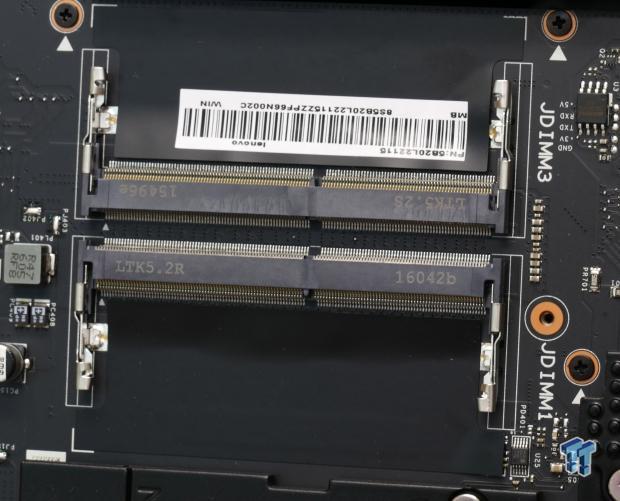 My unit came with a single Samsung SM951 M.2 PCI-E 3.0 x4 NVMe 256GB SSD. There is a slot for a second, and I assume you can RAID them. There are also two empty DDR4 SO-DIMMs so that you can fill up the unit with much more memory.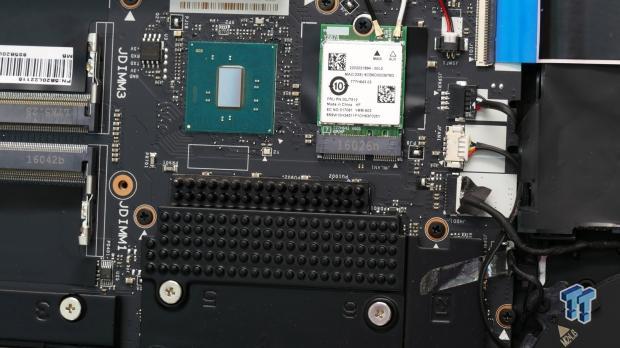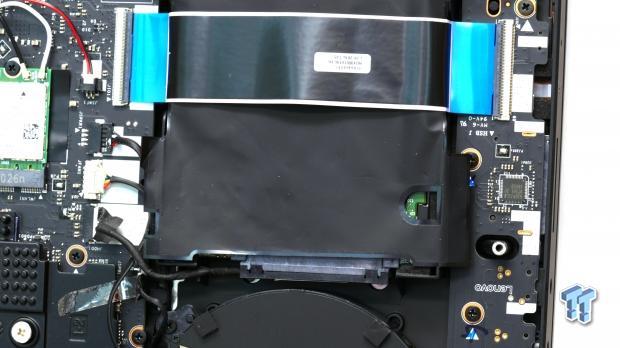 A killer Wireless-AC 1535 M.2 card is installed and provides the 2x2 WIFI capabilities. The PCH doesn't use a heat sink, but the VRMs for the CPU and GPU are cooled by heat sinks. A single 2.5" HDD sits in between the motherboard and a daughterboard to provide storage for all your games.
Software and BIOS
Software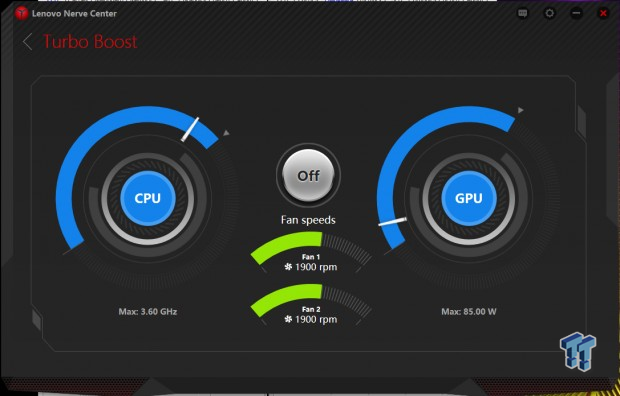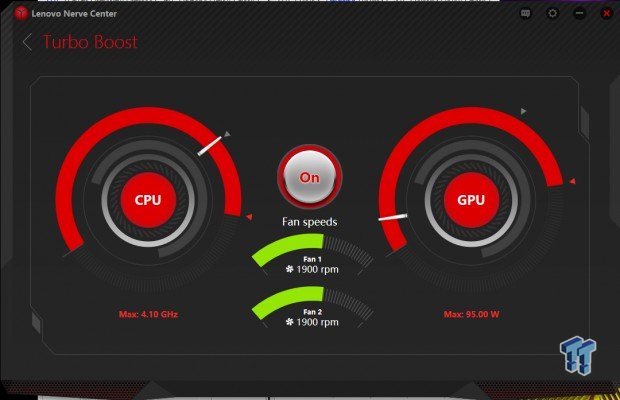 Lenovo's Nerve Center is where most of the Y900's unique gaming features are located. The Turbo Boost menu can be used to active overclocks for the CPU and GPU, but you can alternatively use the Turbo button as well. Overclocking the system will result in a 10W increase in GPU power limits and a 4.1GHz overclock on the CPU.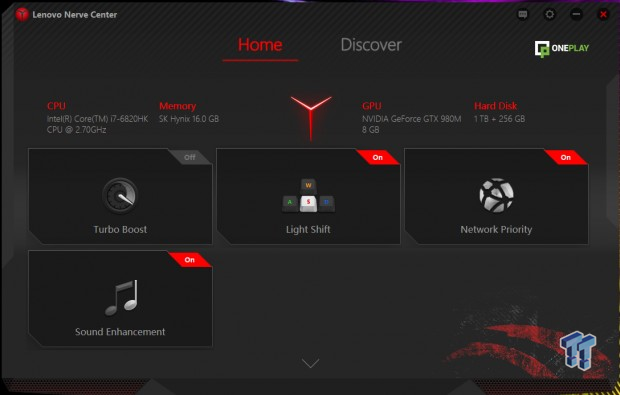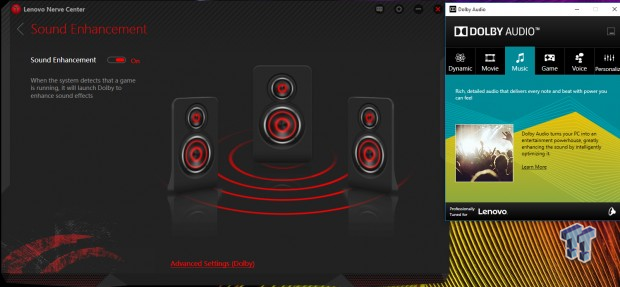 The Nerve Center also provides the ability to control network priority, light shift, and sound enhancement. Sound Enhancement utilizes Dolby Audio software to improve surround sound.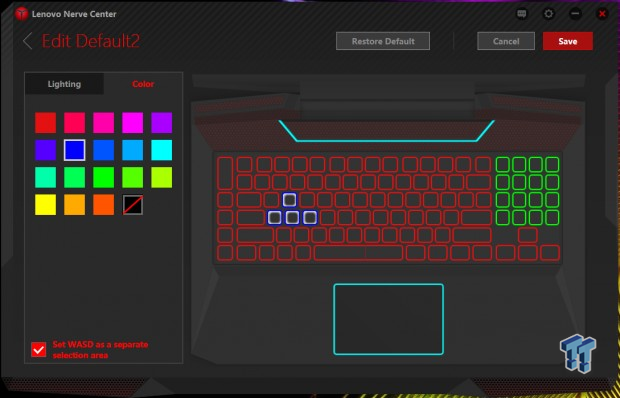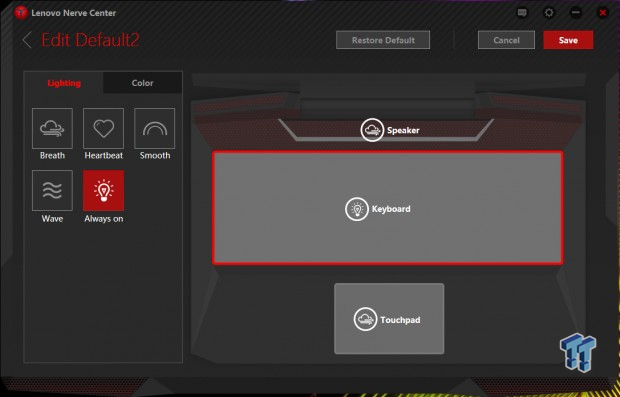 The Light Shift menu allows you to change the color of different regions; WASD, Keyboard, NumPad, and the Speaker/TouchPad colors can be controlled independently of each other. You can also setup different lighting schemes such as breathing, heartbeat, smooth, wave, or always on.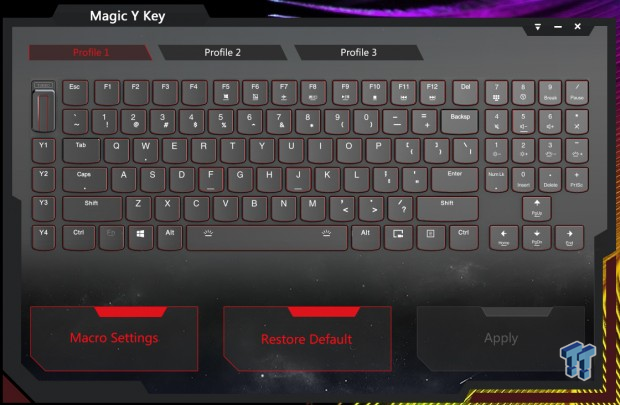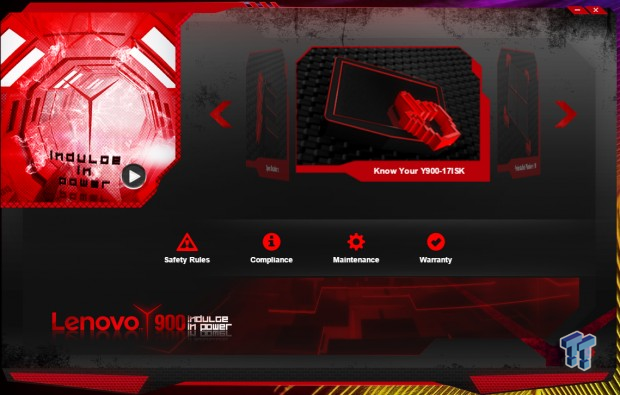 The Magic Y Key program allows you to setup Macro key functions. There is also a tour program that walks you through all the unique features of the Ideapad Y900.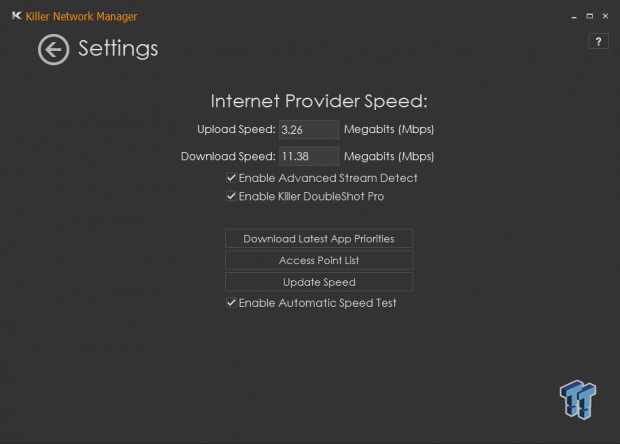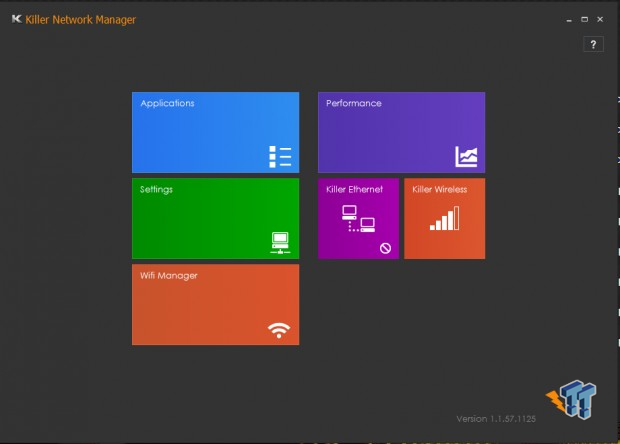 The Killer Network Manager can be used to enable the teaming of the WIFI and Wired LAN. It can also be used to control network packet prioritization, so you can allow games to take precedent over other network bandwidth.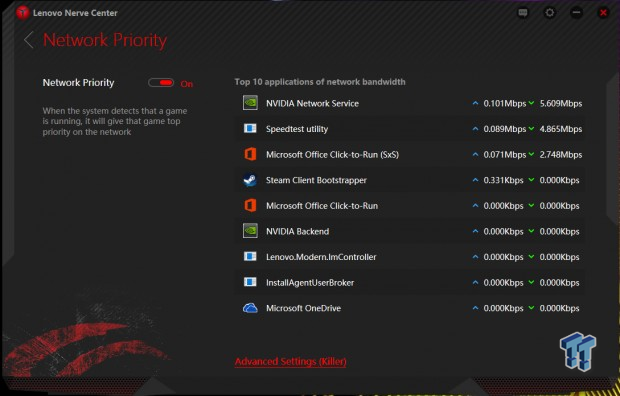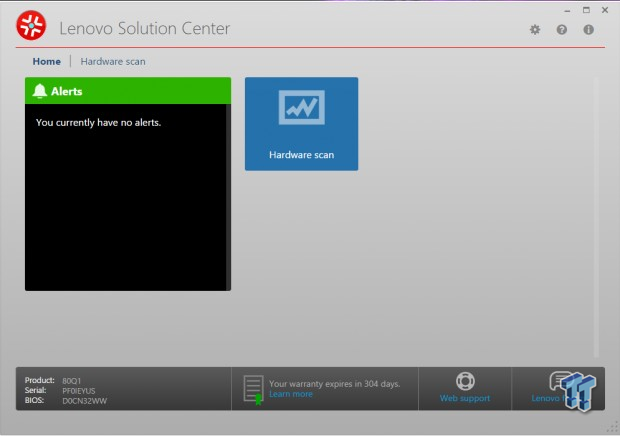 You don't have to use Killer's Network Manager for network priority. Instead, you can use the simpler Lenovo Nerve Center. Lenovo's Solution Center is also included.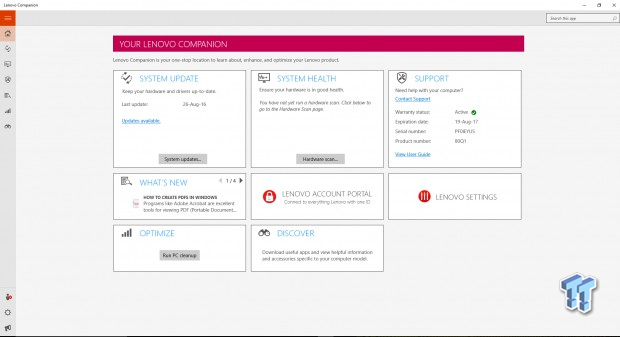 Lenovo Companion is used to provide easy to use configuration of control panel items, and it is included in the Ideapad Y900.
BIOS
The Lenovo Ideapad Y900 has a very basic BIOS, and it only carries the bare minimum regarding configuration options. There are no BIOS overclocking options, and if you never change out the hardware, you will probably never have to enter the BIOS.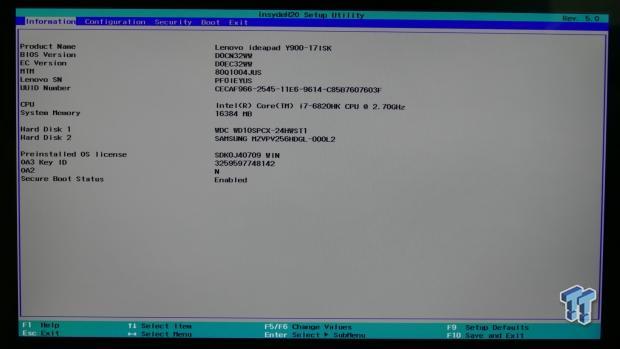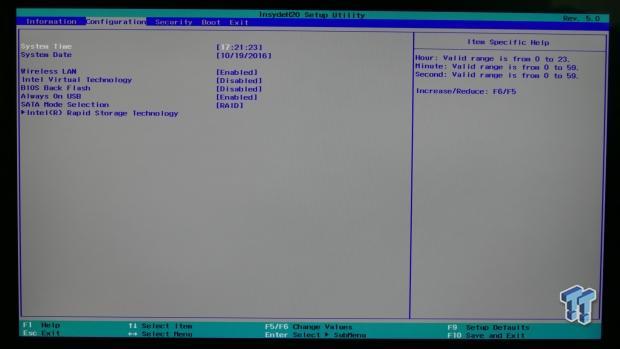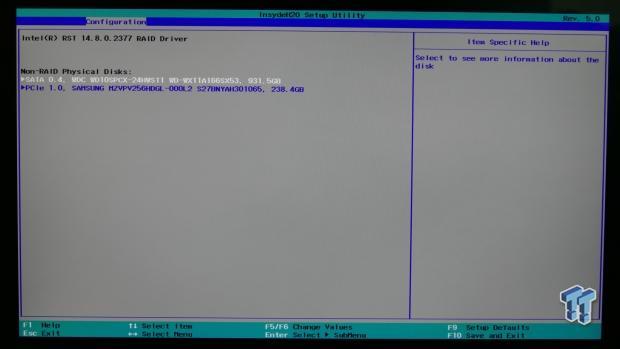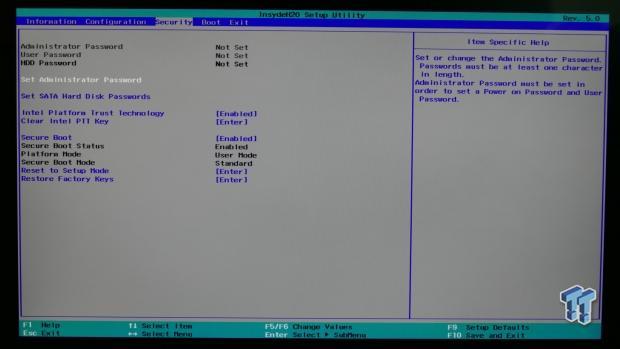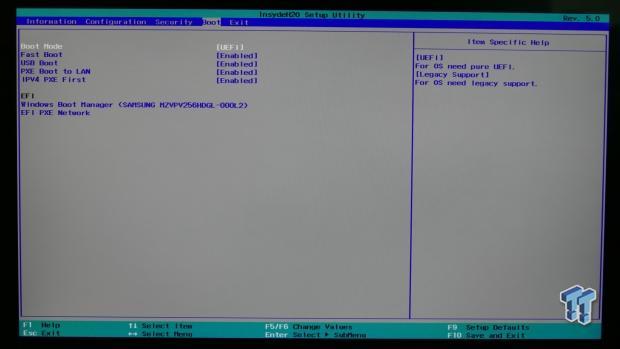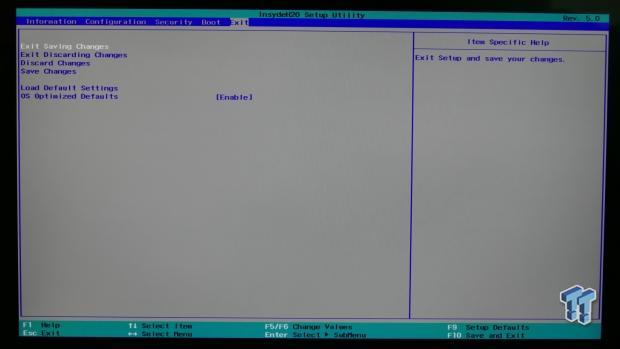 System Performance Benchmarks
CPU, Memory, and System Benchmarks
These benchmarks are run using default settings and configuration.
CINEBENCH 11.5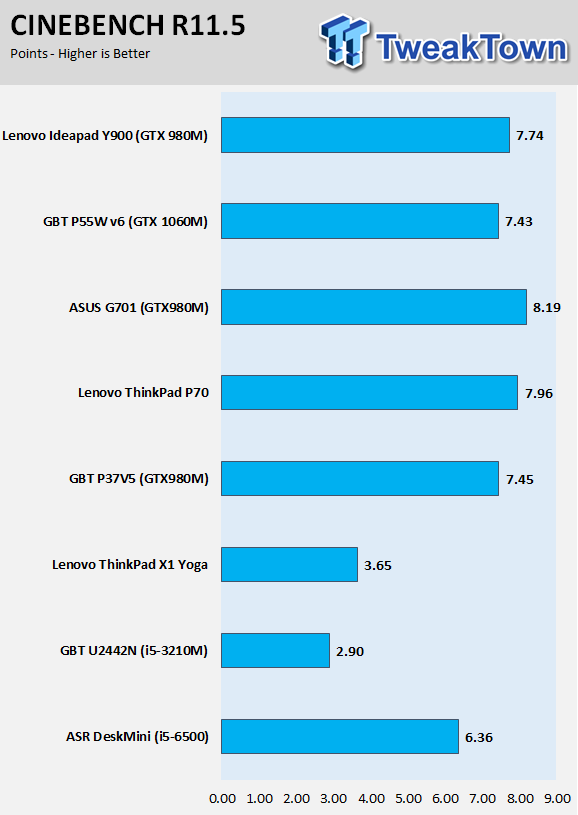 wPrime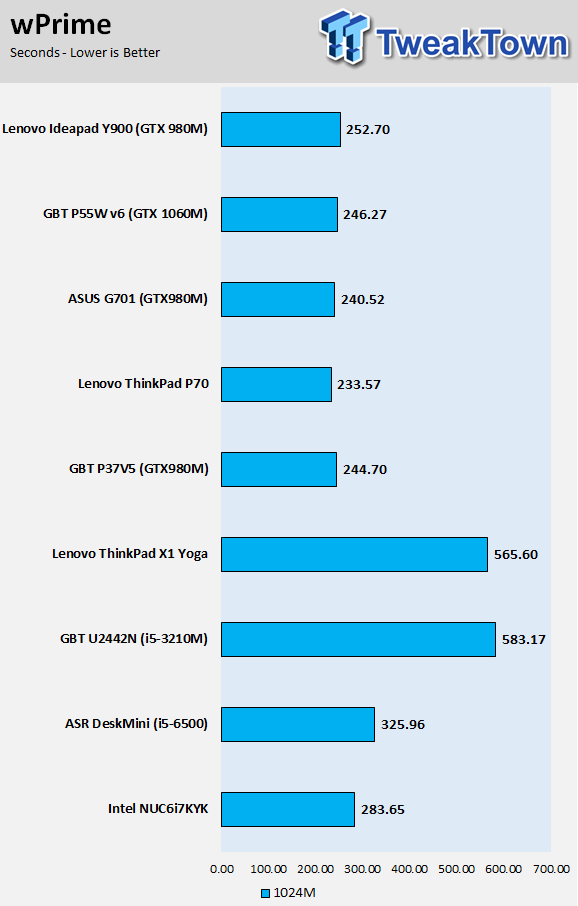 AIDA64 AES and HASH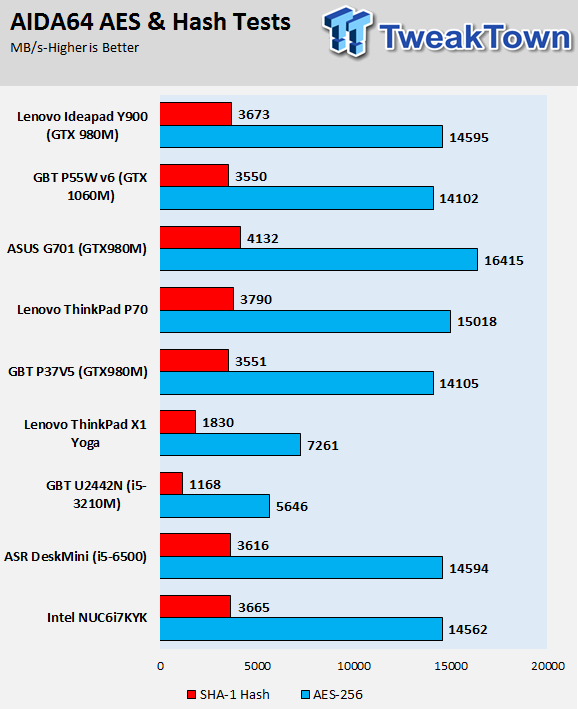 AIDA64 Memory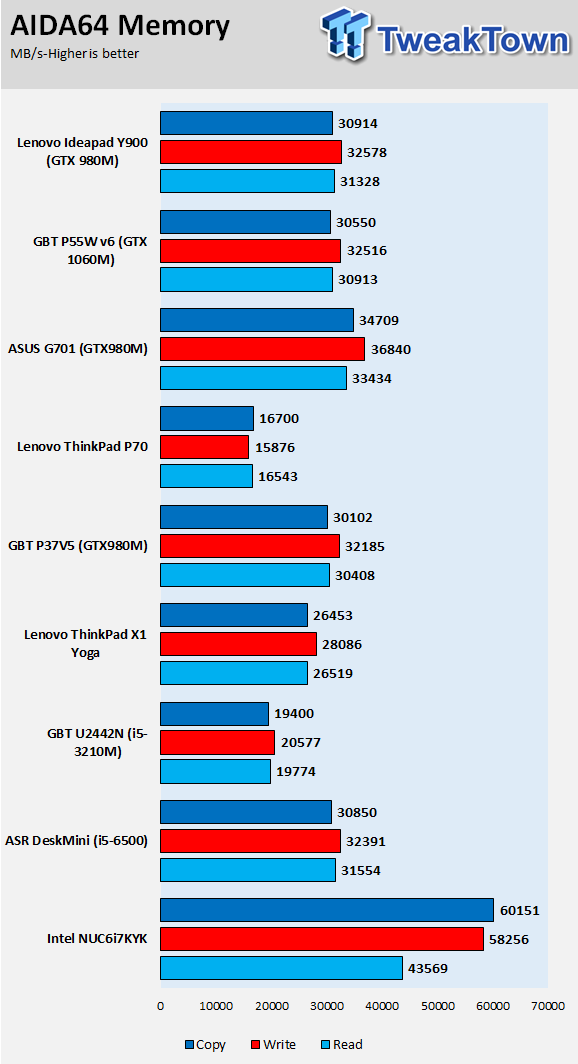 PCMark8 Home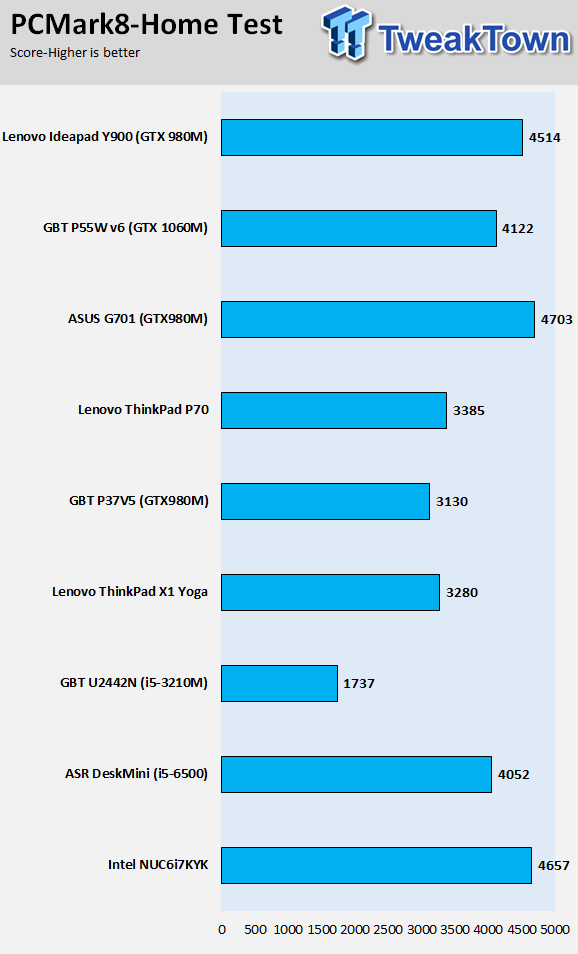 Handbrake 4K and 720P Transcoding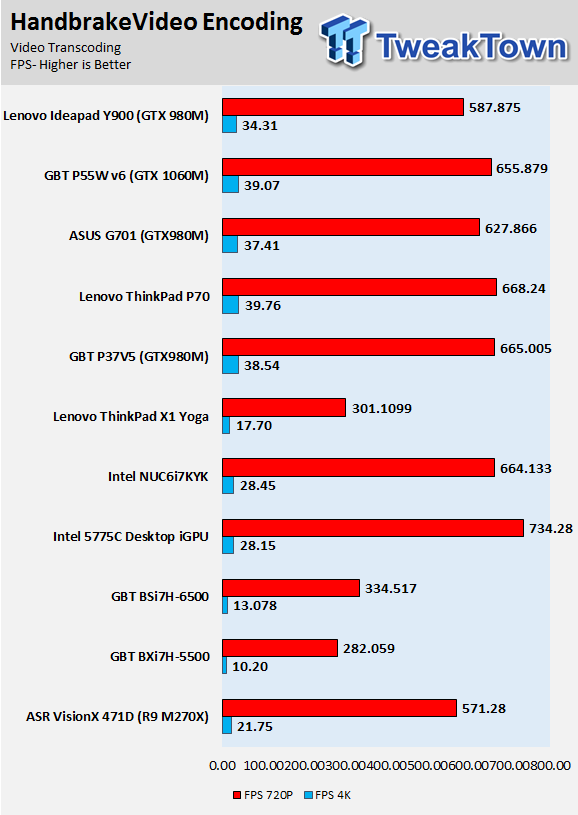 WebXPRT 2015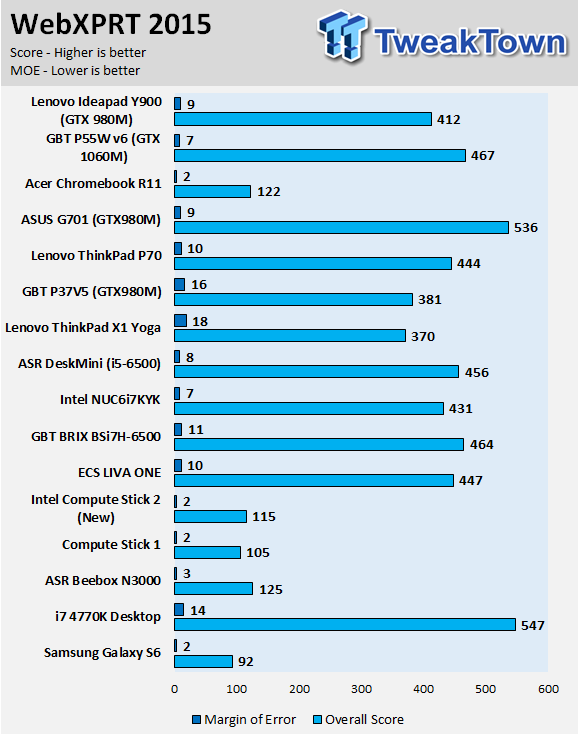 Intel's 6820HK is a powerful CPU and does quite well in many of the benchmarks. Different notebook vendors configure the maximum power usage and other parameters of the CPU and system, so you won't always get the same performance from different brands.
Overall performance is solid.
Gaming Performance Benchmarks
3DMark11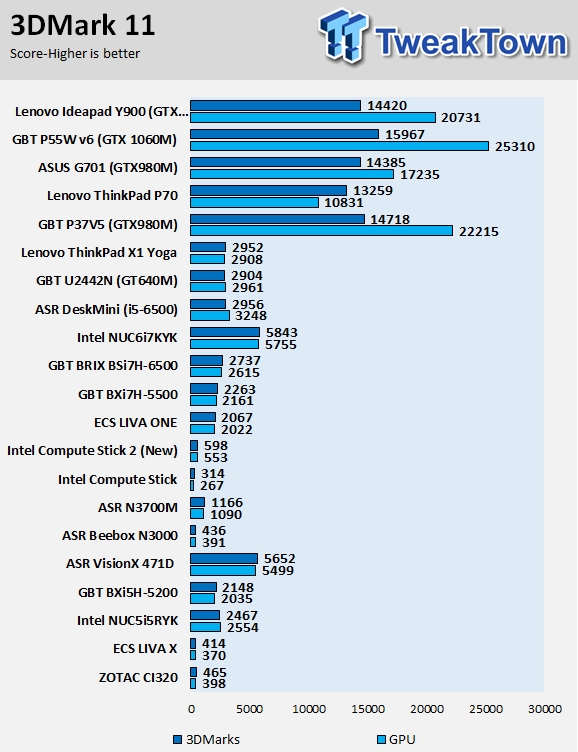 UNIGINE Heaven 4.0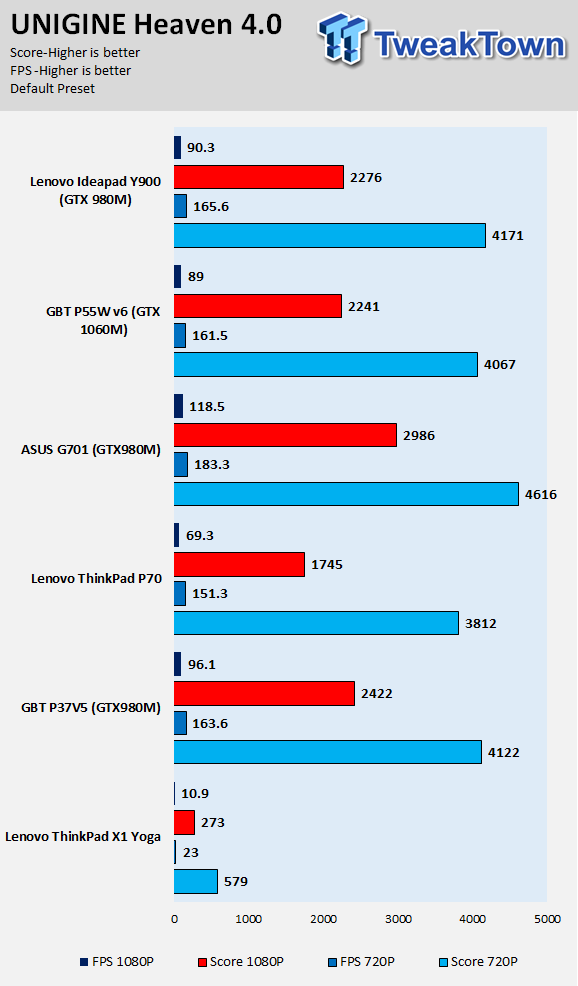 ResidentEvil 6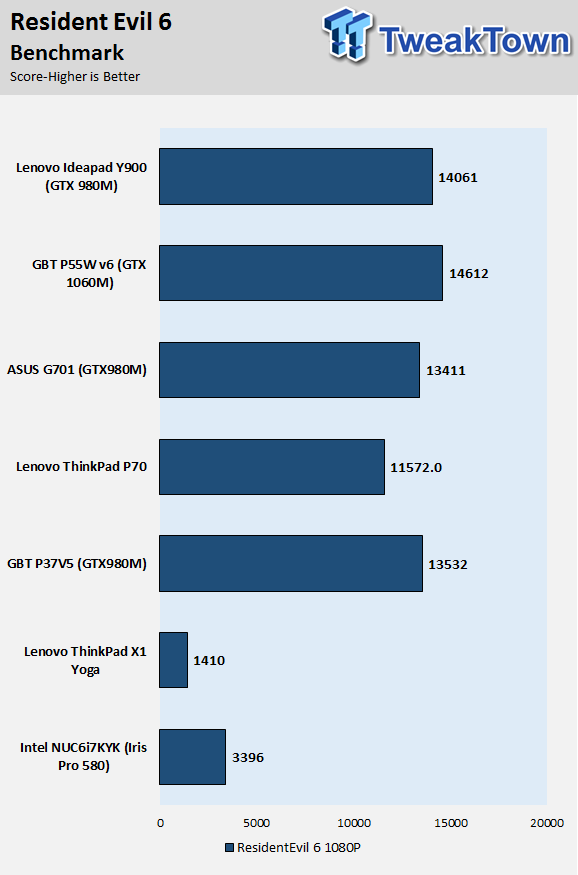 3DMark FireStrike
3DMark Cloudgate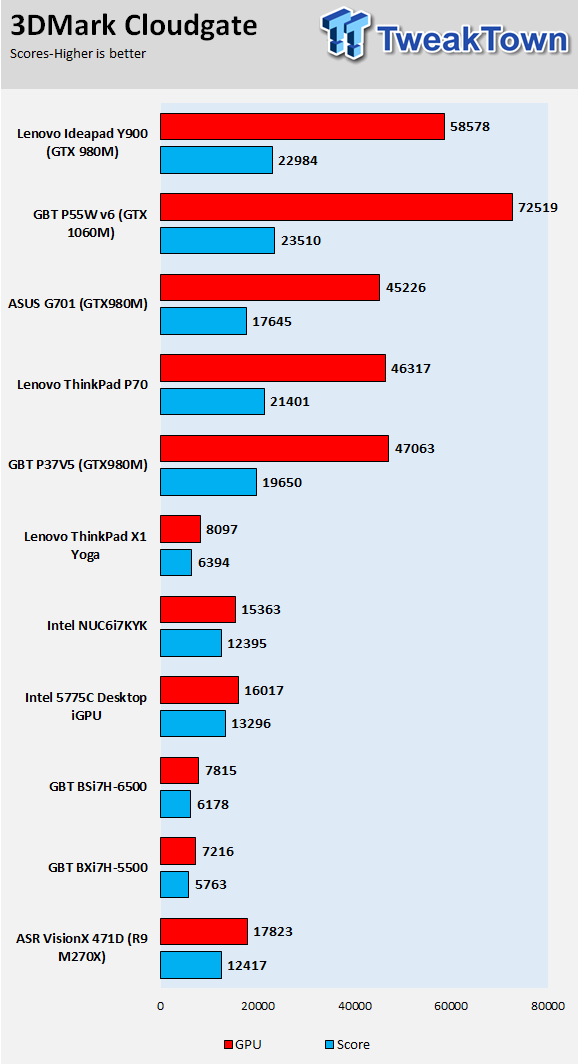 Ashes of Singularity
GTA:V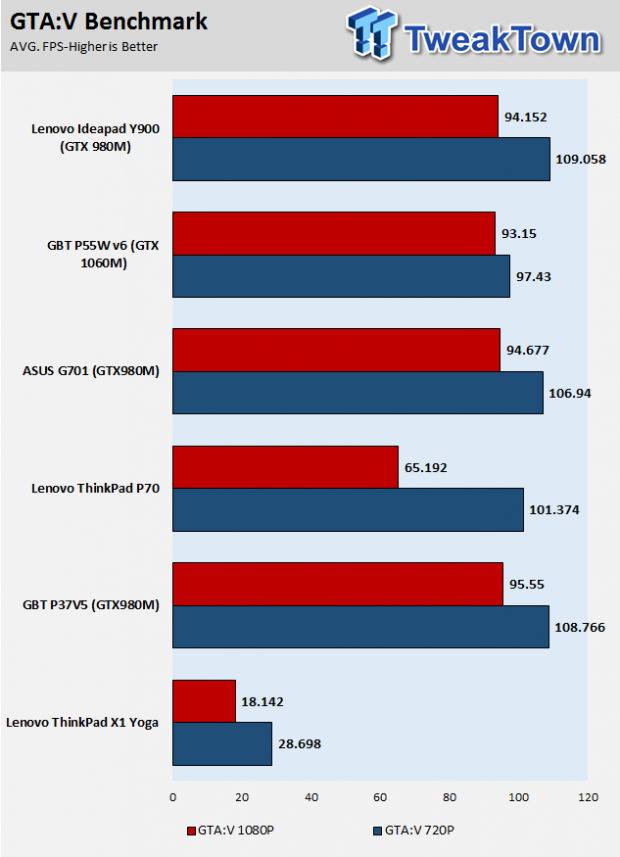 Final Fantasy XIV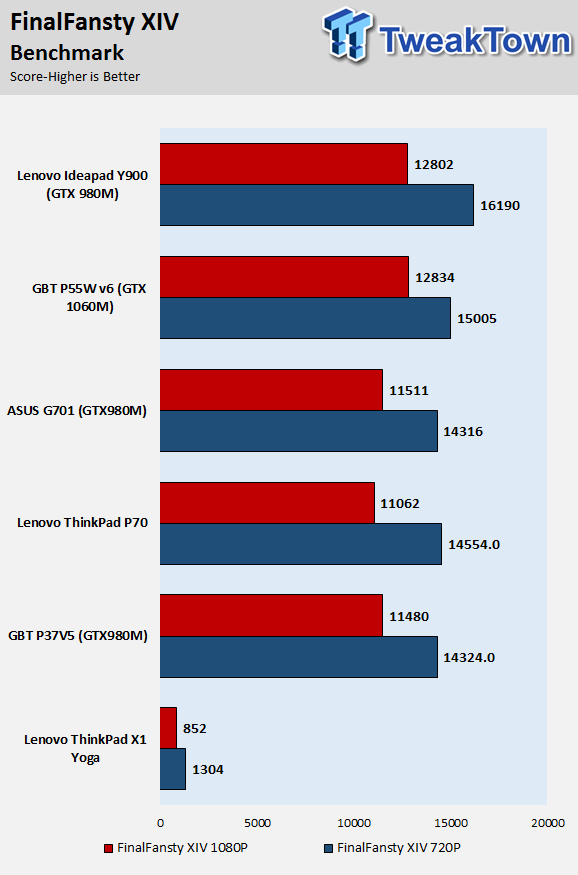 While the GTX 980M is very powerful, the latest generation of NVIDIA GTX 1000 series GPUs does provide superior performance in many synthetic benchmarks.
When it comes to real games like GTA:V, the GTX 980M is still very hard to beat, and the configuration used in the Ideapad Y900 is top notch and uses 8GB of VRAM.
System IO and Battery Performance
System IO Benchmarks
Internal Storage Read Test: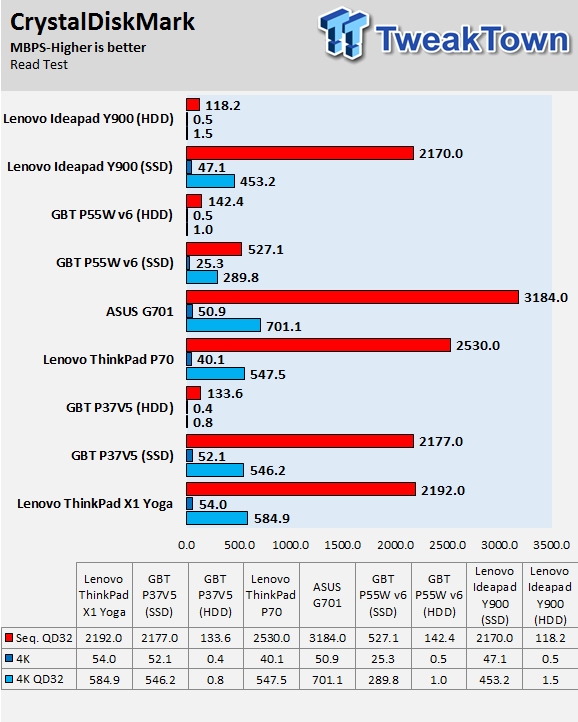 Internal Storage Write Test: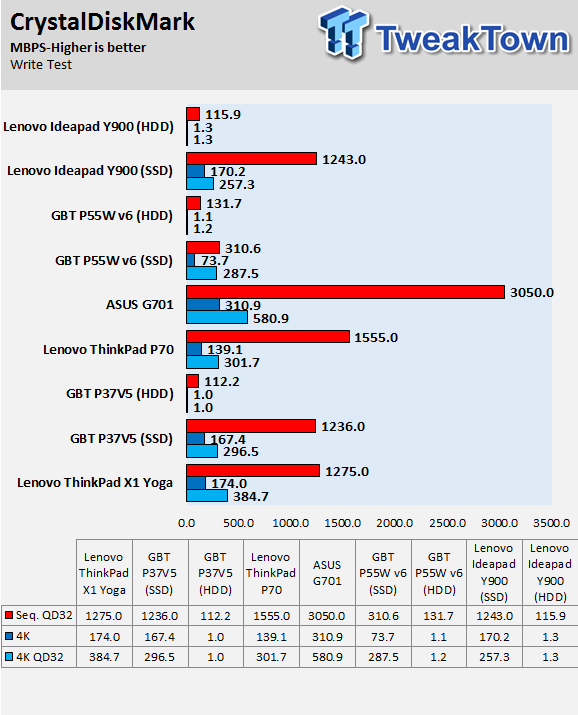 ixChariot Network Throughput: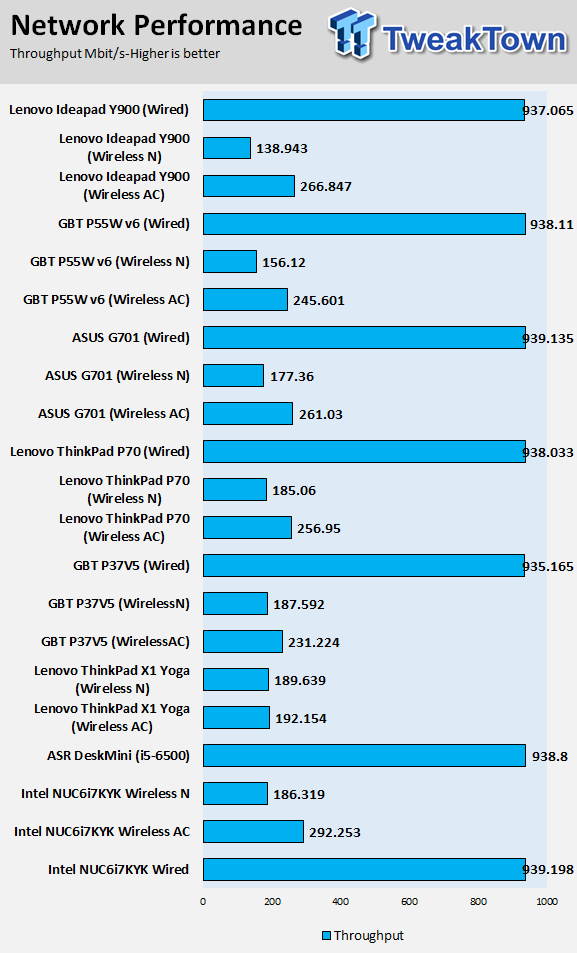 The Ideapad Y900's M.2 SSD is performing as it should, and its HDD is doing better than some competitor products.
Battery Tests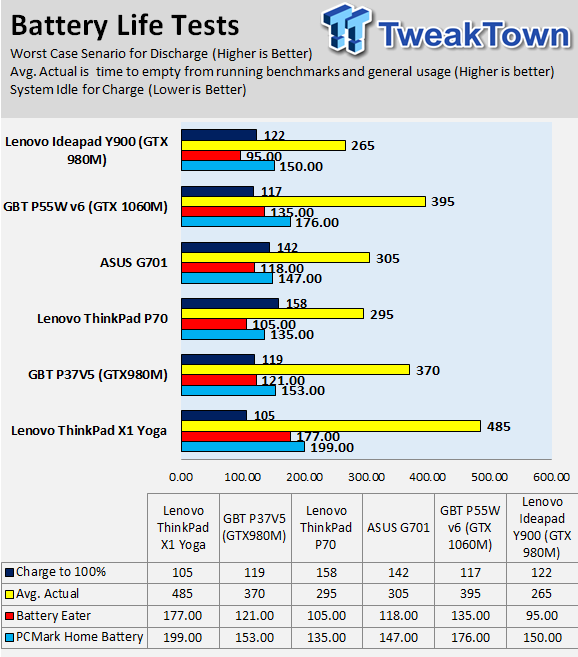 One issue with the Ideapad Y900 is that it doesn't disable the GTX 980M and use the CPU's integrated graphics in non-gaming scenarios. Its battery life isn't the best, but it's designed to be a portable gaming machine and features such as overclocking are only available when plugged in.
Thermal Performance
Thermal Imaging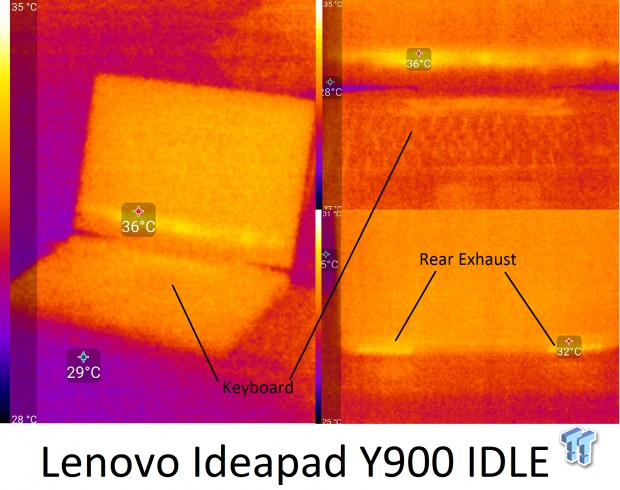 The Ideapad Y900 runs very cool at idle - even the screen runs at a relatively low temperature. The exhaust temperature also stays low, and there is no thermal bleeding into other sections of the notebook.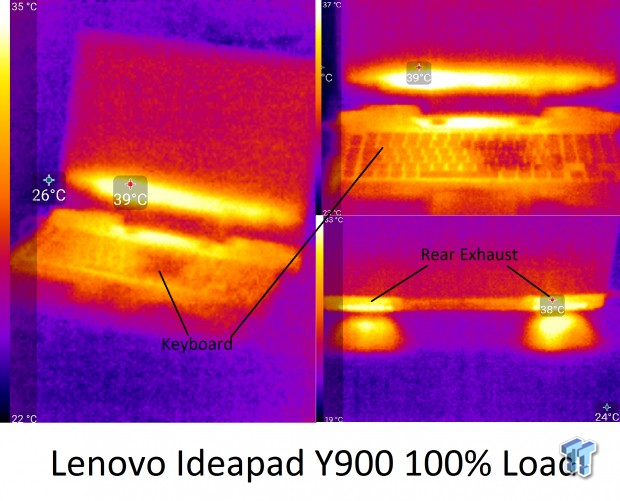 After 30 minutes of continuous load on the CPU, GPU, memory, and storage units, the device starts the warm up. You can see where the screen gets warm and the exhaust vent temperature goes up.
However, the unit doesn't get loud since the cooling is quite beefy and the blowers are of substantial size. The keyboard doesn't get too warm either.
Overall the cooling performance of this notebook is top notch.
What's Hot, What's Not & Final Thoughts
Here are key points about the Ideapad Y900.
What's Hot
Turbo for CPU and GPU: I miss the old Turbo button that resided on the case of the first ever desktop PC I interacted with when I was five years old. I remember seeing the megahertz increase when I pressed the button, and I am glad that Lenovo has brought that back. While I have reviewed other notebooks with the overclockable i7-6820HK, Lenovo goes a step further and overclocks the graphics card too by increasing its thermal limit. While you can only take advantage of this feature when plugged in for obvious reasons, it's a great feature worth noting.
Killer Aesthetics: I have reviewed a fair amount of gaming notebooks, but Lenovo's is by far the most decorated and well designed to please gamers. From the finish on the brushed metal chassis to the rubberized palm rest area and RGB LED segments, Lenovo took things to the maximum in the looks and style departments.
Mechanical Keys: The Ideapad Y900 is the first notebook I have reviewed with a mechanical keyboard. Instead of using the typical rubber dome keys, Lenovo's use of mechanical keys gives the Ideapad Y900 something to brag about. Many gamers want mechanical keys for the feeling and the click to let them know the key was pressed, and the Y900 delivers.
Solid Networking: Killer's Wireless AC cards are quite fast and do an excellent job. While there is some controversy if Killer's wired NICs are better than their Intel equivalents, they still get the job done at the 1Gbit level. What's nice about having both Killer wireless and wired NICs is that you can team them through something called Double Shot Duo, and the Ideapad Y900 has this feature.
Great Thermal and Acoustic Performance: With its array of heat sinks, heat pipes, and two large blower fans, the Ideapad Y900 is properly equipped to cool down the overclocked CPU and GPU, without burning its surroundings and without howling like a wolf on a moonlit evening. I was impressed with its thermal performance under the thermal camera, and the noise from the blower fans is quite acceptable.
Excellent Upgrade Potential: The notebook was easy enough to open, and when I got inside, I found two open slots for extra DRAM and an extra slot for another M.2 drive. Most notebooks make it hard to upgrade, but the Ideapad Y900 makes it quite simple.
NVIDIA G-Sync: The 1080p panel matched with the GTX 980M should provide some very high FPS, but with so many frames comes the problem of syncing the display panel and GPU. G-Sync does this syncing for you and provides a brilliant gaming experience.
What's Not
Very Heavy: The Ideapad Y900 is not a daily luger. Like many other notebooks in this class, it is designed to be portable when needed but otherwise will sit comfortably on a desk. Its size and weight are more in line with a thousand-page calculus textbook rather than an ultrabook.
No Pascal: After reviewing a notebook with a mobile Pascal graphics card (GTX 1000 series), I have to say Lenovo should have put one into the Ideapad Y900. Pascal uses a lot less power while maintaining good performance, allowing for a thinner and more portable notebook. However, the GTX 980M is still able to push those crazy FPS with a 1080p panel.
Battery Life: Battery life isn't the best, and when I looked in the device manager, I couldn't find the Intel integrated graphics, so I assume the GTX 980M is always on, which would contribute to the short battery life.
Final Thoughts
The Lenovo Ideapad Y900 is one loaded gaming notebook with some killer features. Lenovo has always been one of the leaders in the notebook industry, and this attempt to enter the high-end gaming segment is quite impressive. While there are other notebooks out there with GTX 980M graphics and Intel's i7-6820HK, the Ideapad Y900's implementation of the two along with unique features is what makes this product stand out.
The Turbo button is an excellent example of Lenovo taking a platform feature and making it their own. The mechanical keyboard with the included red WASD key replacement hits the gaming part of the product on the head, and the RGB color zones add a little bit of fun into a powerhouse of a notebook.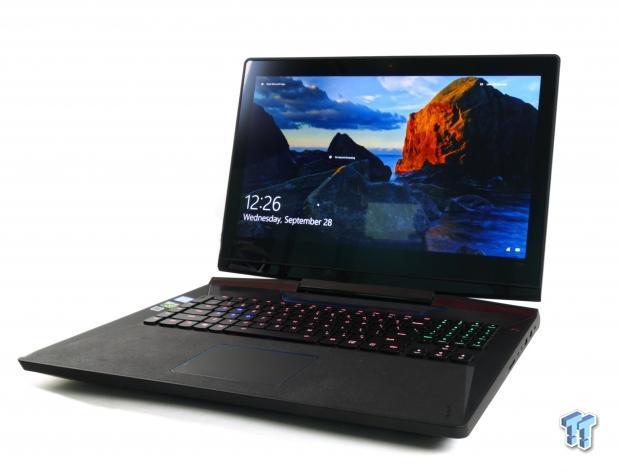 The use of a smaller M.2 drive for the OS and an HDD for all your games, further shows that Lenovo thought this product through and considered that games these days are quite huge for M.2-only systems to handle.
However, with the introduction of NVIDIA's Pascal GPU microarchitecture, the Ideapad Y900 is not using the latest and greatest hardware. The performance differences are not so big that you will regret your purchase, especially if you can get this for less now that newer hardware is out.
If you want a high-end gaming notebook designed for gaming, with top notch hardware, and a slew of well executed unique features, the Ideapad Y900 is worth a close look.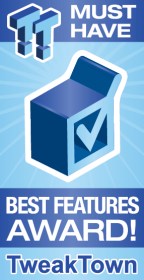 | | |
| --- | --- |
| Performance | 93% |
| Quality including Design and Build | 96% |
| General Features | 96% |
| Bundle and Packaging | 90% |
| Value for Money | 88% |
The Bottom Line: While the Intel Core i7-6820HK and NVIDIA GeForce GTX 980M will seal the deal for many, those looking for more will be pleased with the Lenovo Ideapad Y900's mechanical keyboard, RGB lighting zones, and Turbo button that are sure to impress many gamers.
PRICING: You can find products similar to this one for sale below.

United States: Find other tech and computer products like this over at Amazon.com

United Kingdom: Find other tech and computer products like this over at Amazon.co.uk

Australia: Find other tech and computer products like this over at Amazon.com.au

Canada: Find other tech and computer products like this over at Amazon.ca

Deutschland: Finde andere Technik- und Computerprodukte wie dieses auf Amazon.de
We openly invite the companies who provide us with review samples / who are mentioned or discussed to express their opinion. If any company representative wishes to respond, we will publish the response here. Please contact us if you wish to respond.