TweakTown's Rating: 75%
The Bottom Line
A weak attempt to revive a once promising sci-fi franchise, Independence Day Resurgence fails to re-deliver the thrills of the original.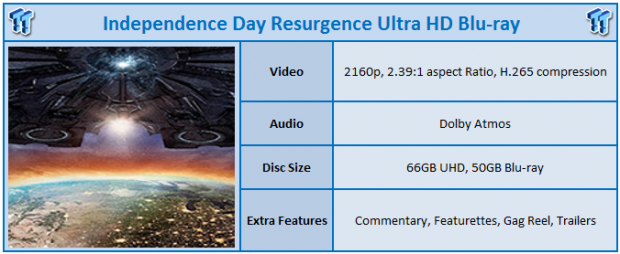 Independence Day Resurgence 4K Ultra HD Blu-ray
For a film that made such an impact on pop culture (the White House exploding into flame ranks up there with the most iconic movie images of all time) and racked in mega bucks back in 1996, it's somewhat curious that it's taken the studio two decades to mount a sequel. Nonetheless, here we are in 2016 with almost limitless narrative possibilities and huge advances in visual effects technology, which means that Independence Day Mark II should be infinitely more impressive than the first, right? Well...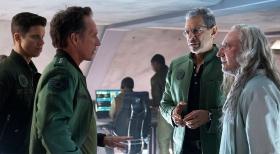 Set 20 years from the events of the first film (dubbed 'the War of 1996'), the world has rebuilt with a fusion of alien technology, which has allowed humanity to colonize the moon and weaponize space to defend from a potential future return of alien attackers. But when the aliens answer the previous invader's distress signal and return (on July 4, no less), we're once again no match for their technological prowess and will need to deploy an advanced strategy to counter their advanced weaponry.
The Independence Day franchise has never been a film about subtlety, but even by the standard set by its forebear, Resurgence is often bigger and occasionally bolder, but is ultimately a poor carbon copy retread which contributes precious little to the established story. So, where does it all go wrong?
I've literally never said this before, but this film suffers hugely from the absence of Will Smith. While his on-screen son is supposed to take the mantle, newcomer Jessie Usher comes up woefully short in the charm stakes, especially compared to his on-screen father. Worse, the emphasis on a huge ensemble cast of new and returning characters means there's no central anchor character, and that's to the film's detriment. The closest we get is Jeff Goldblum's character David Levinson who reacts to the film's dubious script by playing it off in a jovial, self-aware manner.
The remaining cast is seemingly unaware that the script is a turkey and gives it their earnest best, but subsequently, come off as a little bit sad. The film's jarring lack of heart becomes ever clearer, culminating in the climactic, self-sacrificing battle which carries absolutely none of the same emotional weight as the original. Resurgence also suffers from a woeful lack of focus, with numerous subplots that go nowhere, have no pay-off, and serve as a distraction from the main plots.
All that said, the real reason we go to see these types of films is for some amazing visual effects, right? There's no doubt that Director Roland Emmerich can indeed do spectacle, but even with $200 million at his disposal, here he seems to have lost his touch, with visual effects sequences that are both disappointingly brief and which fail to excite. Maybe we've just become so desensitized to the limitlessness of CG graphics in blockbusters like The Avengers and Transformers, but there just doesn't seem to have been any real attempt to present something we haven't seen before, or with a new style.
As a huge fan of the original (it still holds up very well, mind you), I've genuinely wanted to see a follow-up to Independence Day for a very long time. Well, be careful what you wish for. After so long Emmerich could have and should have come up with something a hell of a lot better than this. And even if he does have the confidence to lay the groundwork for a third film, the mediocre critical and financial response to the movie means that the franchise is all but dead, again. What a shame that is.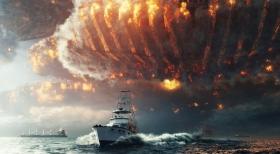 Video
Independence Day Resurgence is presented in its original widescreen aspect ratio of 2.39:1, mastered to a 66GB dual-layered Ultra HD disc.
Lensed digitally at 6K resolution, with visual effects sequences rendered out at 2K and compiled into a 4K digital intermediate, Independence Day Resurgence is, on paper at least, the very essence of digital perfection, however the added resolution further highlights the inadequacies of some of the less compelling visual effects sequences, with some egregious examples blue screen compositing now even more obvious than they were in the cinema.
While the 4K disc generally fails to provide a marked increase in resolution over the 1080p disc, the disc gets a huge tick thanks to a superb HDR pass and noticeably widened color gamut which pops with intensity throughout.
Film grain haters will also be pleased that the image is clean and free of the old-school look that permeates the 4K restoration of the original Independence Day - although personally this only serves to drive home the inconsequential video game nature of the picture just that little bit more.
Independence Day Resurgence is a good early title for the format and a pleasing sign a 20th Century Fox's on-going commitment to releasing titles day-and-date with Blu-ray and DVD. But a resolution bump, however pleasing, can't serve to improve the film.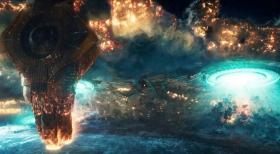 Audio
Independence Day Resurgence is presented in Dolby Atmos, with an embedded Dolby TrueHD 7.1 'core' for older audio receivers.
If there's one word to describe the audio experience here, it's 'bombastic,' with an aggressive and multi-layered mix throughout. Dialogue is clear and intelligible, with good front support. The mid and back rear surround channels are constantly active, and the subwoofer rumbles throughout.
While the included Blu-ray disc features a DTS-HD Master Audio track in a 7.1 configuration, the 4K disc includes an upgraded Dolby Atmos presentation, so if you're equipped for new immersive audio formats via ceiling mounted or upward firing speakers, you're going to get a more overwhelming experience.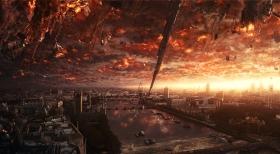 Extras
To maximize the available space for the best 4K presentation, the Ultra HD disc only includes the alternate audio commentary track, with the rest of the features housed on the 1080p Blu-ray disc. Let's jump in.
Roland Emmerich provides a Director's Audio Commentary, without his ID4 co-creator Dean Devlin, which serves to suggest how little input his old producing partner had in the sequel. Despite that, Emmerich's commentary is solid, although only the dedicated will make it through to the end credits.
The 55-minute Another Day: The Making of Independence Day Resurgence documentary is a reasonable making of, but far from the best warts and all documentaries we've seen from other features. It's also a little too self-congratulatory, with the crew perhaps a little more confident in their finished product than they should be. Still, it's a good summation of how the project came to be which sheds some light on the technical advances since 1996.
The collection of eight Deleted Scenes (with optional Emmerich commentary tracks) are a good insight into a cut that could have been, but I'm firmly in the camp that these were wisely excised. SPOILER ALERT: The additional scene depicting the on-screen death of President Lanford is particularly embarrassing, as would have been the destruction of the White House yet again.
The War of 1996 and It's Early, ABQ! featurettes are deliberately corny, in-universe TV specials, although the former is at least notable for the explanation of why Will Smith is absent this time around. SPOILER ALERT: He died. Heroically.
The Concept Art section is interesting for those who like such things. The 'Original Presentational Images' section hints at a much more entertaining film than we got.
Finally, the Gag Reel show a bit of on-set levity, and the three Theatrical Trailers preserve the somewhat limp marketing campaign, which failed to live up to the gob-smacking awe of the original campaign.
| | |
| --- | --- |
| The Movie | 62% |
| Video Quality | 87% |
| Audio Quality | 92% |
| Extras | 69% |
| Value for Money | 65% |
The Bottom Line: A weak attempt to revive a once promising sci-fi franchise, Independence Day Resurgence fails to re-deliver the thrills of the original.
PRICING: You can find products similar to this one for sale below.

United States: Find other tech and computer products like this over at Amazon.com

United Kingdom: Find other tech and computer products like this over at Amazon.co.uk

Australia: Find other tech and computer products like this over at Amazon.com.au

Canada: Find other tech and computer products like this over at Amazon.ca

Deutschland: Finde andere Technik- und Computerprodukte wie dieses auf Amazon.de
We openly invite the companies who provide us with review samples / who are mentioned or discussed to express their opinion. If any company representative wishes to respond, we will publish the response here. Please contact us if you wish to respond.