Lenovo ThinkPad X1 Yoga Laptop Review
Steven starts off his role at TweakTown looking at systems and laptops with the Lenovo ThinkPad X1 Yoga, a very capable mobile device given its size.
Published Jul 7, 2016 8:15 AM CDT
|
Updated Tue, Nov 3 2020 6:58 PM CST
14 minute read time
TweakTown's Rating: 91%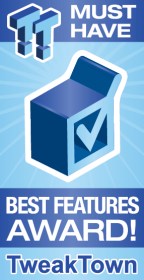 The Bottom Line
Lenovo's ThinkPad X1 Yoga might be a super slim power house, but it's also loaded to the brim with an exceedingly high amount of features designed to impress.
Introduction, Specifications, and Pricing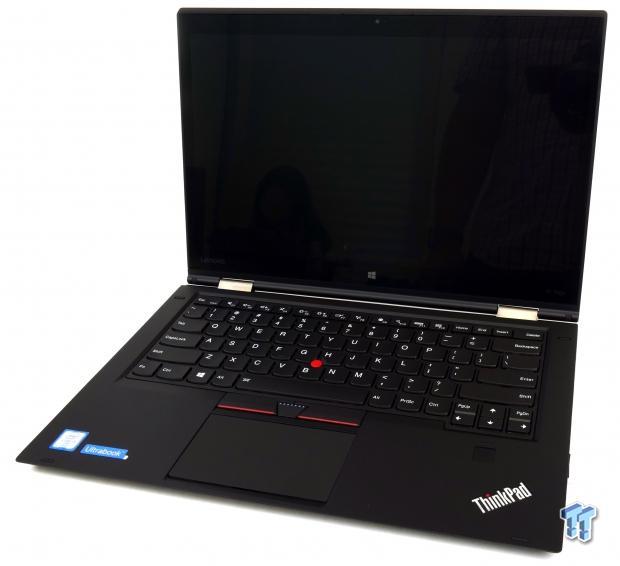 Many of you know me for my CPU, motherboard, and SFF PC reviews, but as of today, I am officially taking over systems and notebooks. I am happy to report that many manufacturers have already sent in their notebooks and gaming systems, and my first notebook review is of Lenovo's highly acclaimed ThinkPad X1 Yoga. Now, reviews of this notebook have been out for many months, but I am hoping that it will provide insight into certain aspects not covered by other articles.
The ThinkPad X1 Yoga, which Lenovo sent us, is using the Intel i7 6600U, a 15W 2 core/4 thread CPU, based on Intel's Skylake-U microarchitecture. While this is not the first time I have looked at systems equipped with Skylake-U CPUs, it is the first time I am looking at a mobile system that uses one. One of the most impressive aspects of Intel's 6th Generation CPUs is not only the higher performance per watt but also the addition of more SKUs below the 35W mark.
The proliferation of low power yet relatively high-performance CPUs has enabled manufacturers to kick things up a notch with even thinner mobile devices that use less battery power. The ThinkPad X1 Yoga is a 2-in-1, it merges the traditional Ultrabook form factor with the ability to flip into a tablet mode. With Windows 10's seamless support for both operation modes, its usability as either device is no longer just a novelty, but something useful. Let's take a look!
Specifications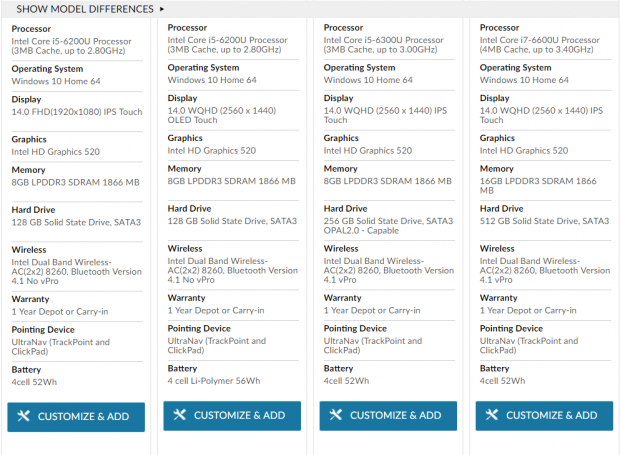 Our configuration is one of the most expensive. After I had configured it on Lenovo's site, I reached the $2100 mark. However, our version uses a 256GB Samsung NVMe based M.2 SSD, while the smallest offered on their i7-6600U version is 512GB, so our exact configuration should be a little cheaper. I would suggest sticking with what Lenovo suggests, as it is not easy to expand the internal storage of this device.
To make the X1 Yoga as slim as it is (only 17mm/0.67"), Lenovo has integrated many things onboard, and this reduces the ability to upgrade things later down the road. The i7-6600U version we have is the only version that supports 16GB of memory, and you won't be able to upgrade memory capacity after purchase. Lenovo is using LPDDR3 instead of DDR4, running at 1866MHz. I have found that with lower memory frequencies such as those found in mobile devices and SFF PCs, DDR3 is preferable because of its lower latencies. It is only when we can run at very high speeds (>2666MHz) or require higher density (>16GB) when DDR4 becomes advantageous.
Our version also carries the beautiful 14" 300 nits WQHD (2560 x 1440) OLED with touch support. The dimensions are exactly 333 x 229 x 17mm or 13.11" x 9.01" x 0.67". The device weights only 1.27kg (2.8lbs).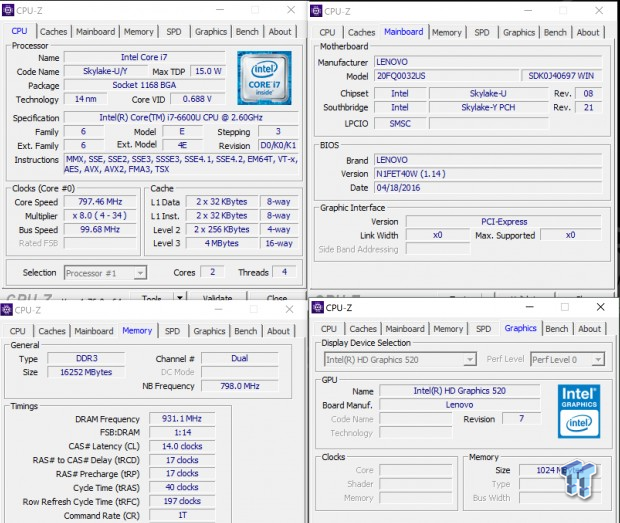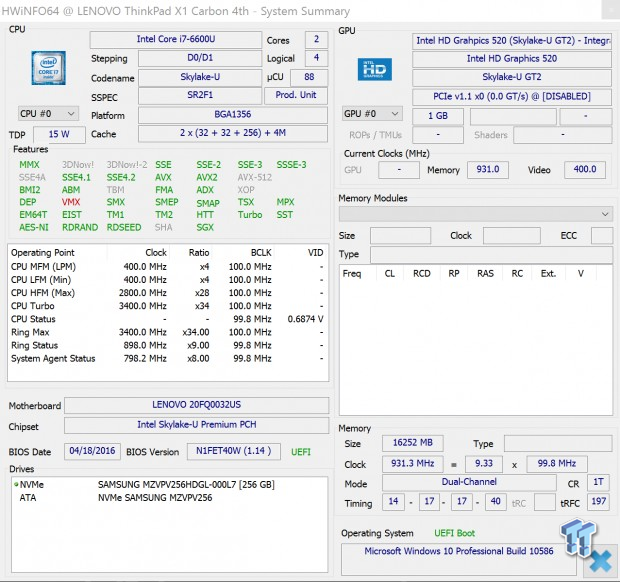 The ThinkPad X1 Yoga is for both business and home users. It comes with built-in TPM 2.0 support, so you should have no problem with Windows 10 BitLocker volume encryption. It also fully supports vPro and AMT. Physical security is present as well through a Kensington lock slot and back-panel/storage removal detection capabilities. Our version didn't have the WWAN Qualcomm Snapdragon X7 LTE-A modem, but with the modem, you would be able to access the internet without Wi-Fi and Intel's Anti-Theft Technology could be utilized to its fullest potential through Intel's out of band 3G remote security technology.
The size of the device limits it to Intel's integrated graphics, but that is more than enough for most users. An M.2 based Samsung 256GB NVMe drive was used in our configuration.
Pricing
The configuration of our ThinkPad X1 Yoga is around the $2000 mark.
Physical Overview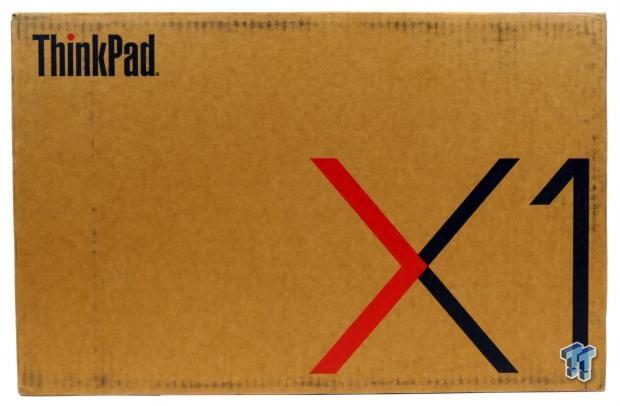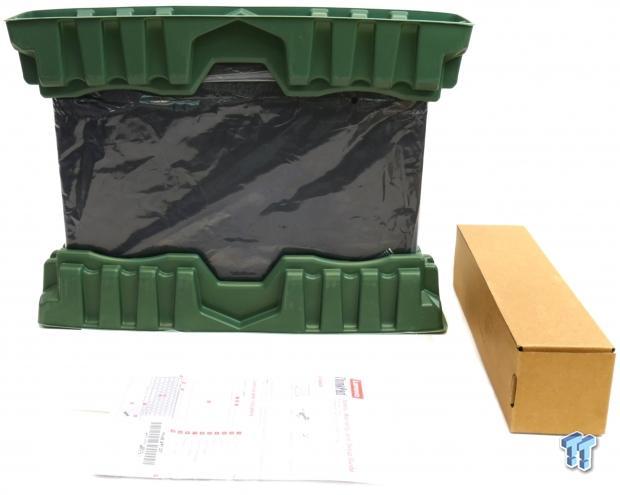 The box is very simple, and none of your money is wasted on overly impressive packaging you will only use once and then store in a closet for as long as the warranty lasts. However, internal packaging ensures the notebook is secure and undamaged upon arrival.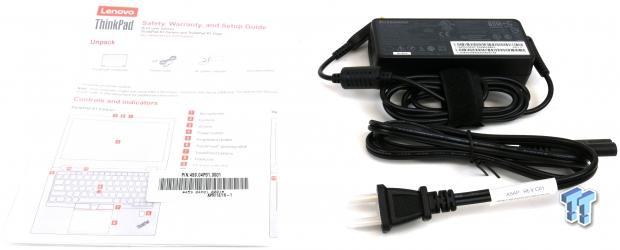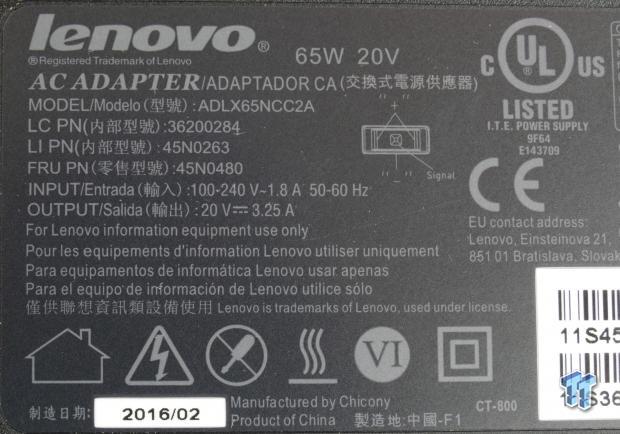 Accessories are limited to a 65W AC/DC power brick and a warranty/setup guide. The power brick is rated at 20v/3.25A. The cord is long, and the notebook uses a proprietary two-contact solution, which looks like a USB header.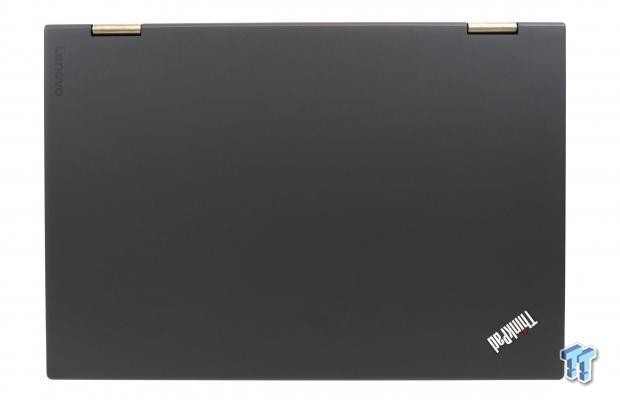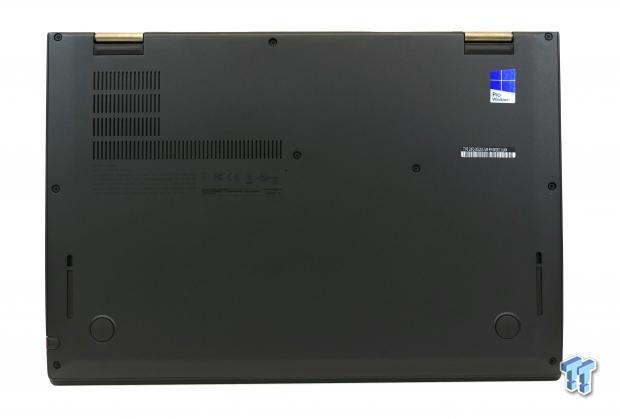 The top of the X1 Yoga has a smooth black finish. The top is also flat; I was not able to detect a curve. The letter "I" in ThinkPad lights up red to indicate operating state. The bottom of the device has two slits on either side for speakers, air intake vents, and four rubber feet to ensure the device does not slide around. The bottom is held to the body by nine black Phillips head screws.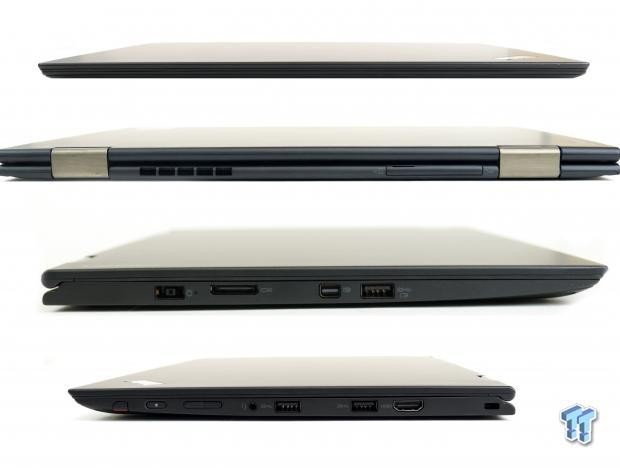 The device is remarkably thin for such a powerful device. The monitor is attached to the body by two very strong metal hinges that offer almost 360-degree rotation for tablet mode operation. There are small fan vents at the rear of the device used for exhaust. There is also a flap that hides the microSD card reader and a SIM card slot in case your model has the WWAN modem.
On the left side, we have a charging port, Lenovo's OneLink+ dock port, Mini DisplayPort, and a USB 3.0 port with charging support. On the right is a bay for the battery powered stylus, power button, volume, headset, two USB 3.0 ports, HDMI, and a Kensington Lock slot.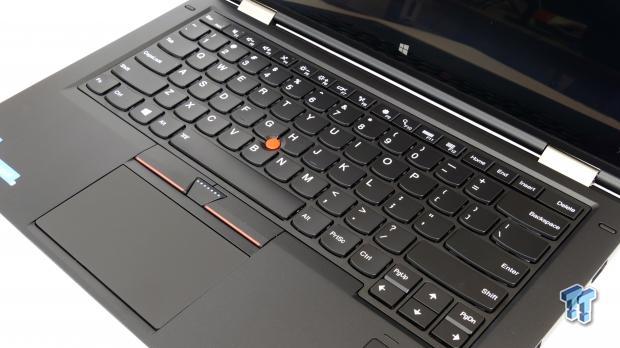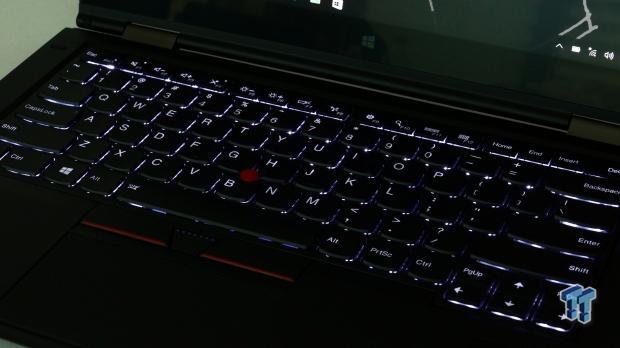 The QWERTY keyboard is large enough to be useful and not hamper productivity, and all keys are backlit. My only stipulation was the order of the Ctrl and Fn buttons, I prefer the Ctrl to be furthest out, but there is an option in the BIOS to switch these two keys as many others must feel the same way I do. The backlit keyboard is useful in the dark, but don't expect to see the keys lit up in a bright room.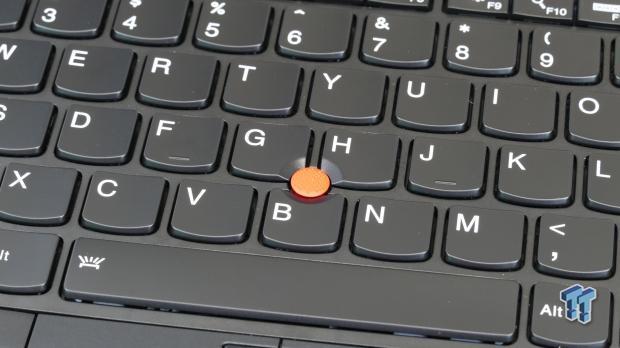 An isometric pointing stick "nub" is centered above the B-key for those who prefer this method of mouse control. Special keys are enabled by default, so it is easier to mute volume than it is to press F1. I found keyboard layout to be intuitive, and the keyboard was comfortable to type on.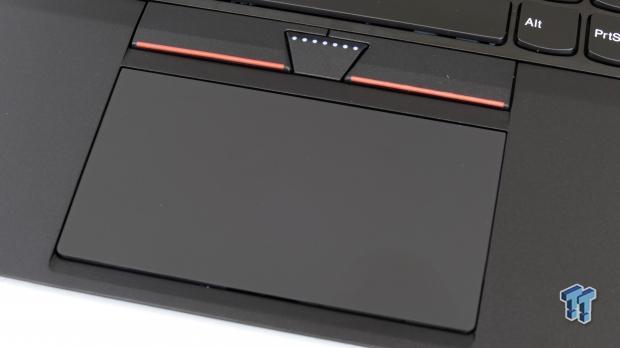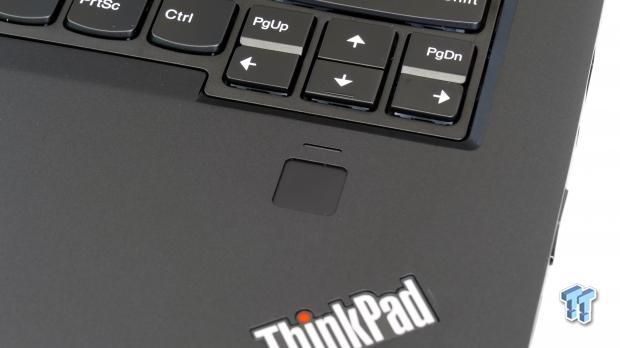 The trackpad has a smooth finish, and you can use either the physical buttons or lower zones on the pad for mouse clicks. I ran into trouble when using the trackpad for simultaneous pointer movement and clicking. It was much easier to use the physical buttons for click and drag. I was very impressed with default palm rejection on both the trackpad and touchscreen monitor. The fingerprint sensor works quickly and effectively. Coupled with the Windows 10 built-in fingerprint login feature, and you won't ever have to enter your Windows password again.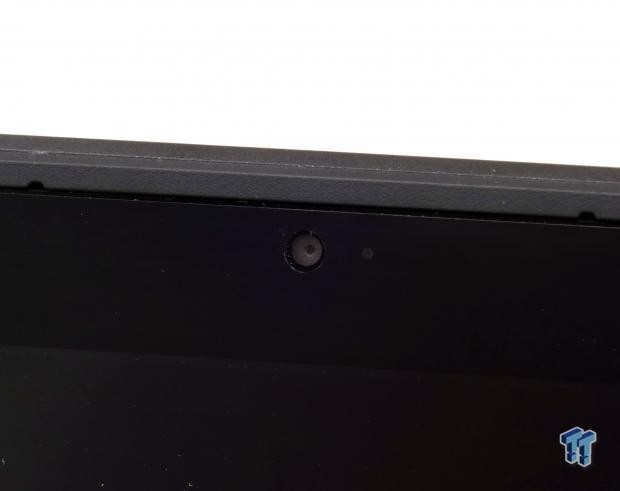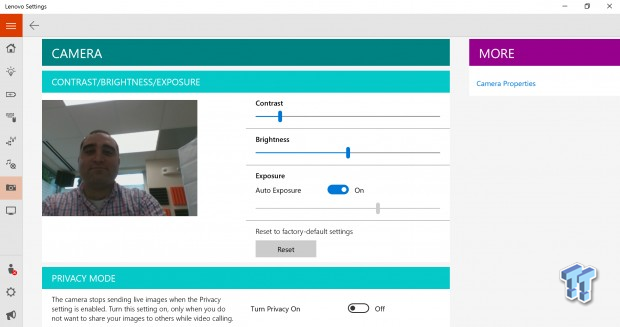 Lenovo has equipped with X1 Yoga with a 720p camera and a dual array microphone. I found camera quality to be decent enough for the web.
Physical Overview Continued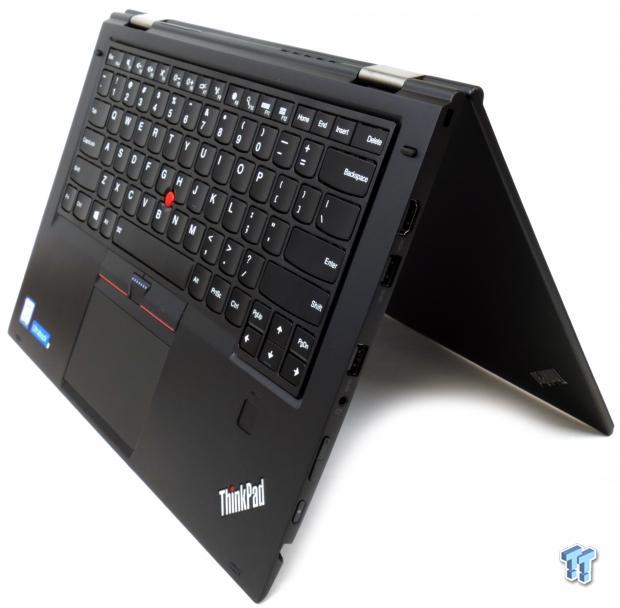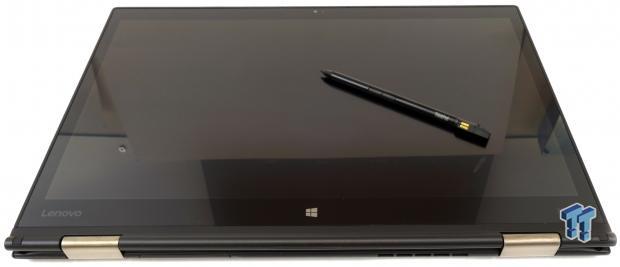 The monitor can be rotated backward 360 degrees, and Windows 10 will prompt you about changing into tablet mode. In tablet mode, the keyboard is disabled, and a simplified start menu is available. Our screen is the brand new 300 nits 14" WQHD (2560 x 1440) OLED with full Touch capabilities. The screen is not matte finish and is not anti-glare; glare is visible in certain conditions. However, the color and brightness of the display combats glare at a straightforward viewing angle, and I had no issues with glare.
I did not go outside with the device, but I was in my office from 10 to 6 and didn't encounter any issues. The colors and detail are extremely vibrant, and the Intel HD Graphics 520 graphics were more than enough to handle the higher resolution. Touch capabilities are not limited to tablet mode. I found myself using touch in many cases in normal notebook mode instead of the mouse since it was just quicker and easier.

The ThinkPad X1 Yoga's stylus is battery powered and sits within a bay when not in use. The notebook will charge the pen when needed. It only takes 15 seconds to charge to 80% and five minutes to charge to 100%. I never encountered a scenario where I was forced to recharge the pen in the middle of using it.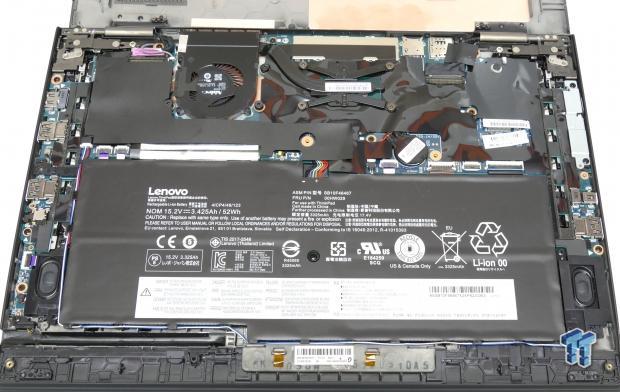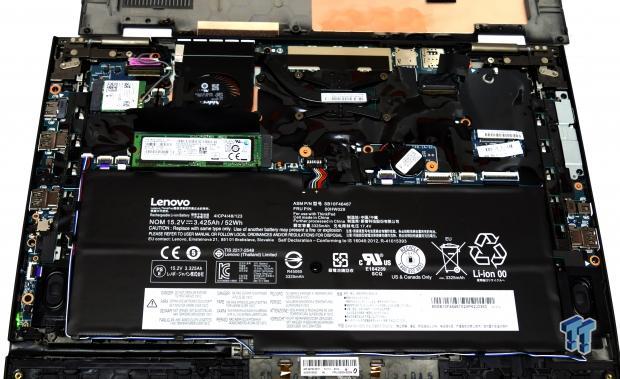 I did remove the rear cover of the device to see what was going on inside. The only thing I saw that could be upgradeable is the M.2 drive, WIFI, and WWAN cards. The slot for WWAN was unoccupied in my version. The M.2 drive is wrapped in some foil that acts as a heat spreader, and I assume it's no coincidence that the M.2 drive is located right below the air intake vents. I have seen this same technique used very successfully in SFF PCs by Intel to cool the latest NVMe based M.2 drives passively through the airflow vacuum created by the CPU fan.
I should mention that the unit was pretty much silent in the majority of scenarios, only in very CPU or iGPU intensive tasks did the fan turn audible, and most of those were synthetic (benchmarks). I will say that if you watch a movie for an extended period or play a game, the fan will become slightly audible. It will only hamper your experience if you mute what you are watching.
Software and BIOS
Software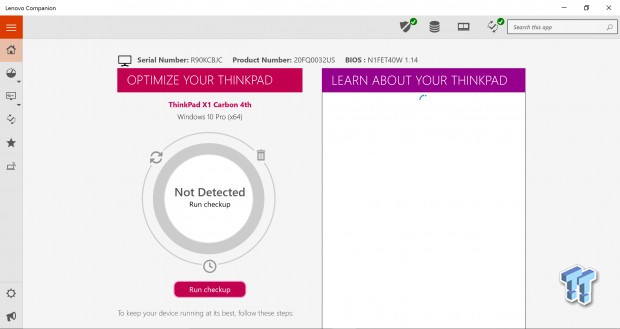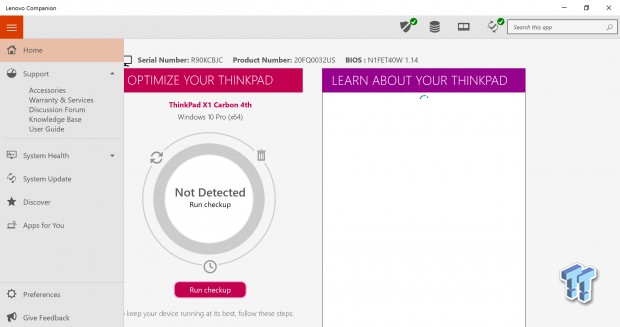 If you read my content, you know I love to poke into the circuits of anything I have. It is an addiction, and I have to admit I felt some withdrawal when I decided not to fully tear down the PCB. When it comes to notebook reviews, most of what I get are review samples that are on loan, and without permission from the vendor, I won't dig into the units too much. I will say that I found some chips that were custom-labeled embedded controllers, and they control many Lenovo-specific features. Many of those features are found in the Lenovo Companion application. The application allows the system to scan itself and provide tips and settings not always found in Window's Control Panel.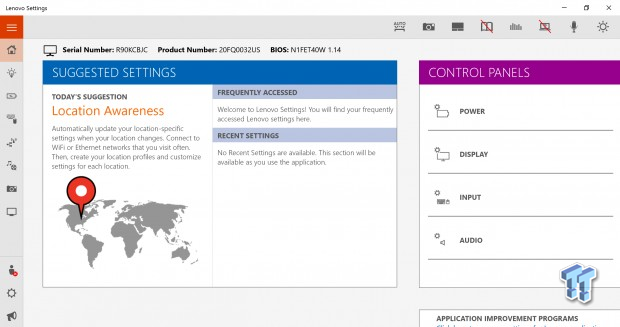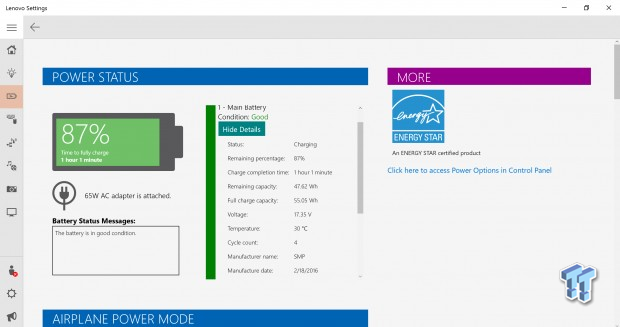 You have the ability to use your location to improve the user experience. At different WIFI/Global locations, you can set the device to behave differently, just like you can set your phone to stay unlocked when you are at home. Apart from Window's built-in battery monitoring, the application offers more in-depth battery health indicators.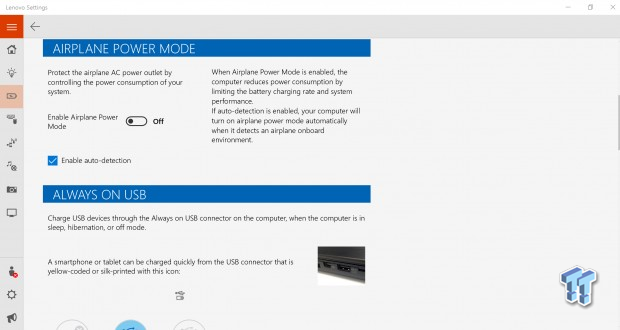 One feature I could have used on my recent flight to Taiwan for Computex is the Airplane Power Mode. On my flight to Taiwan, I had my old Ultrabook with its 120W adapter. When I plugged it into United's AC power jack, all the AC power jacks in my row went out. The flight attendant told me that the power rotates between rows, and the row behind me offered to plug it into an empty jack they had, low and behold it also went out. All of this happened on United's 787-9 Dreamliner, where the windows have electronically controlled tint, and the power jacks do not support most notebooks.
I went online through my phone and found that this is a common occurrence. Lenovo has their own solution to make sure your productivity is not hampered by the lack of power generation technology on modern planes; their airplane power mode will ensure your device can be charged by the plane, so your productivity isn't zero during your 14-hour flight. Easy to use TrackPoint and touchpad settings are also included.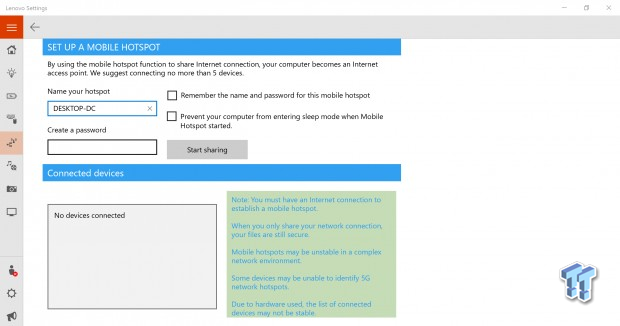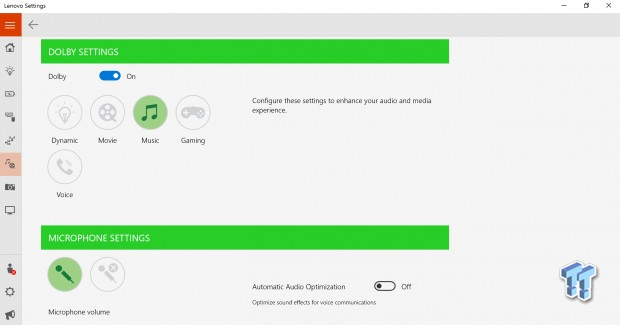 I didn't expect to find the ability to change the WIFI into a mobile hotspot, but it is present. Audio settings are also available.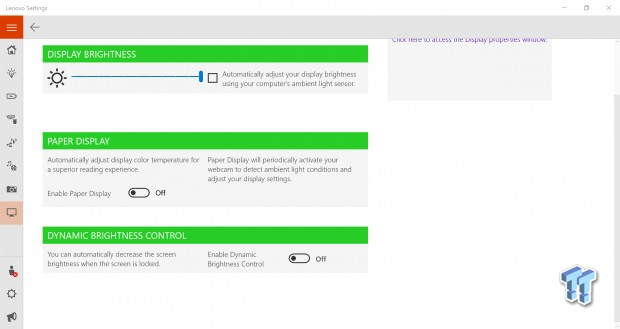 Display settings, including the ability to enable a "Paper mode" for reading, are also present.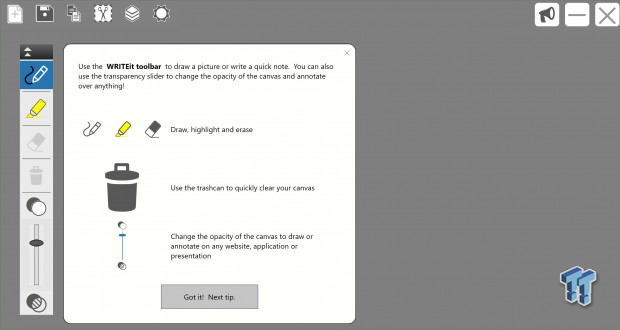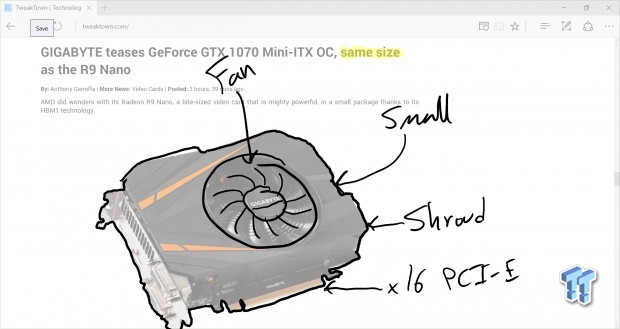 One of the features of the Touch OLED panel is the ability to take notes directly on already existing digital content. You can write on anything from PowerPoint presentations to web pages with the stylus.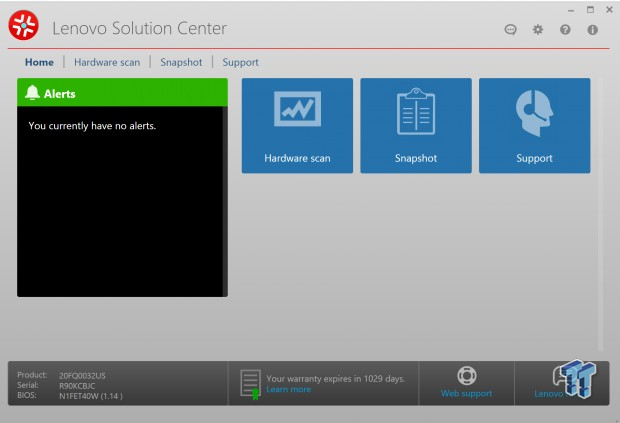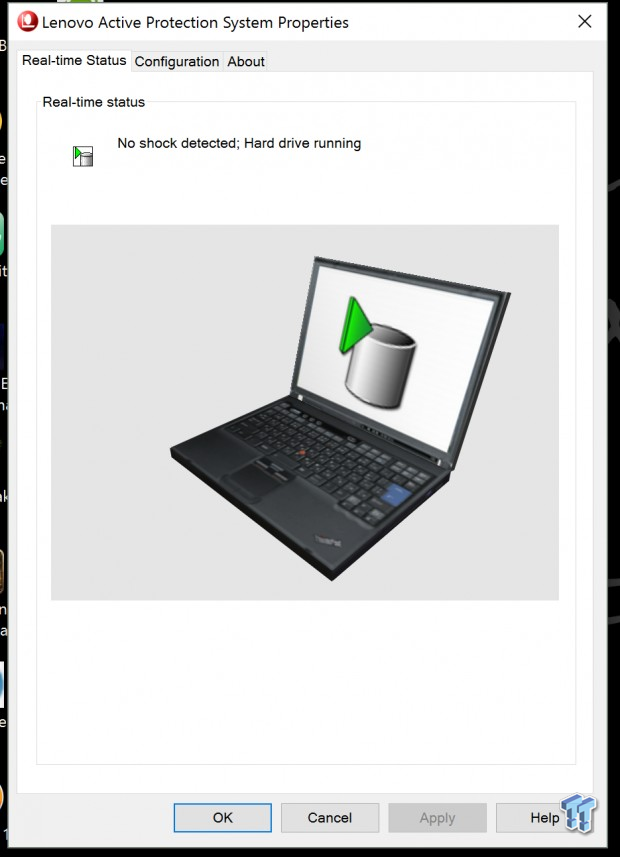 Lenovo Solution Center is included for troubleshooting. I also found an Active Protection System in the control panel that will detect shocks and protect the hard drive; the only caveat is that there is no hard drive or any ability to install a hard drive in the system.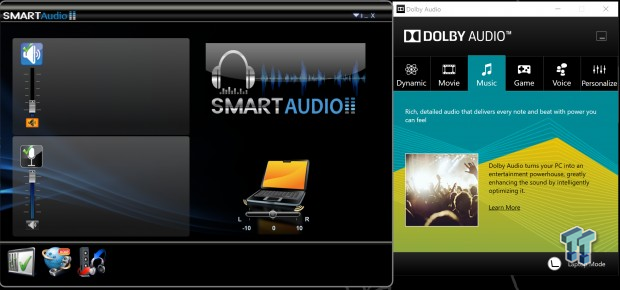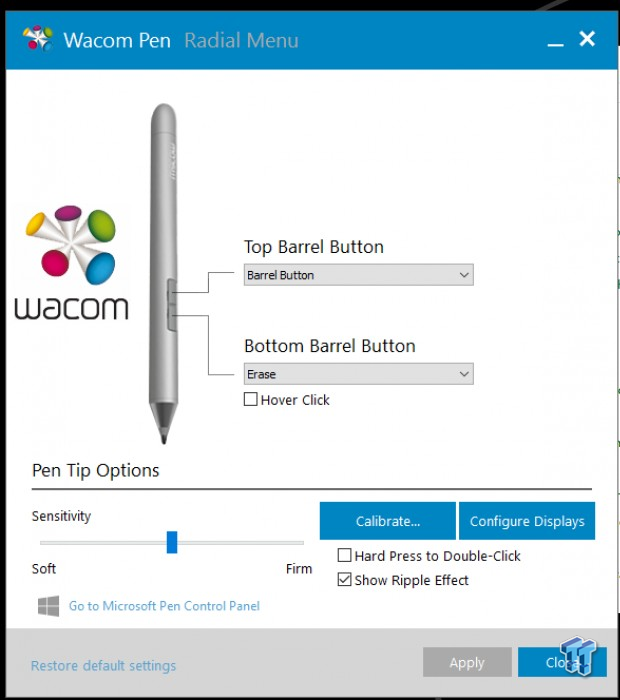 Smart Audio and Dolby Audio are included to control the output from the Conexant codec. You also have the ability to customize the capabilities of the Wacom Pen.
BIOS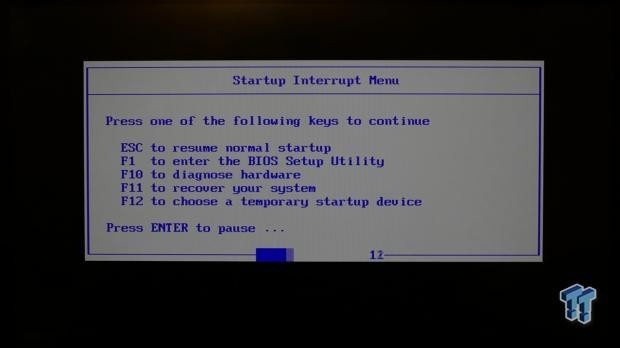 At startup, you can press "Enter" to interrupt startup to either enter the BIOS, diagnose an issue, recover the system, or override the boot order.
While the BIOS might look old fashioned, it is loaded with configuration settings. Business users will rejoice with all the security options and hardware level lockouts. I know these notebooks are used by many organizations (both public and private) that deal with very sensitive information.
If you want your "Ctrl" key to switch places with the "Fn" key, that option can be toggled in the BIOS. What I found interesting is the ability to not only just disable AMT (anti-theft), but also permanently disable AMT, so I guess those with tinfoil hats can rejoice.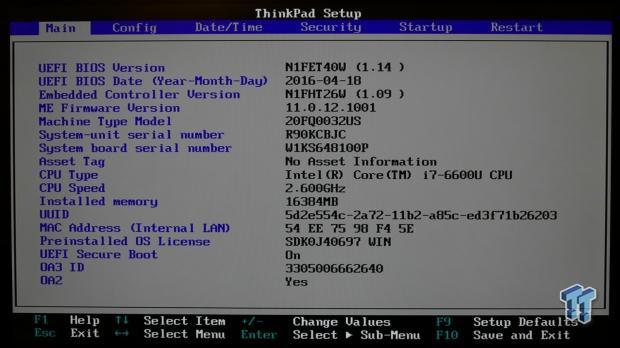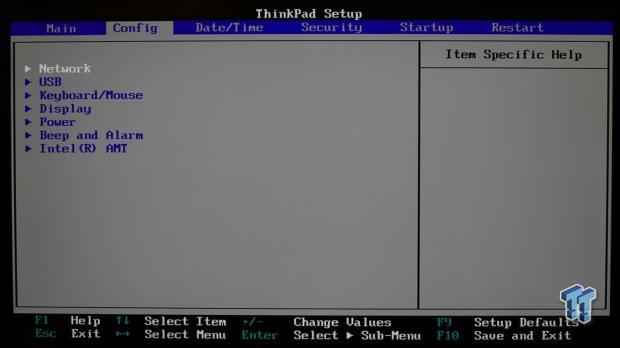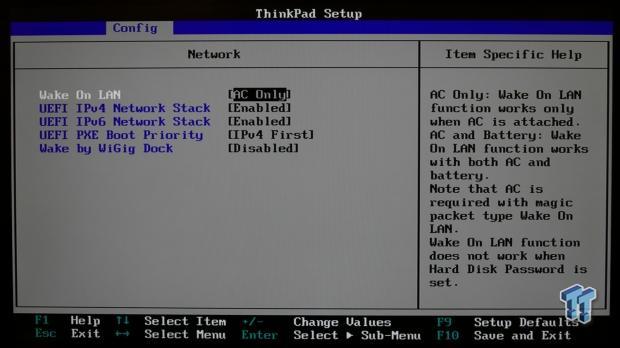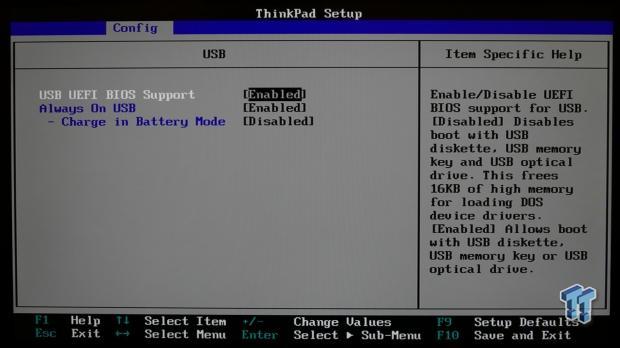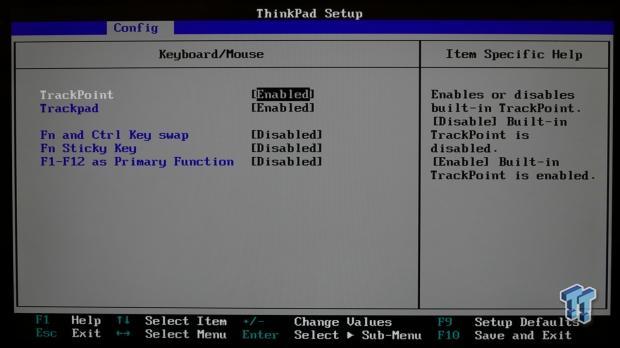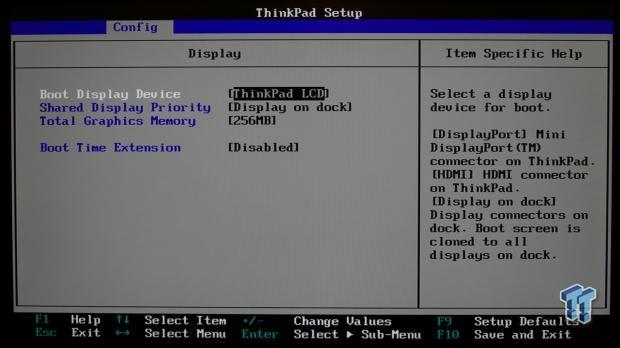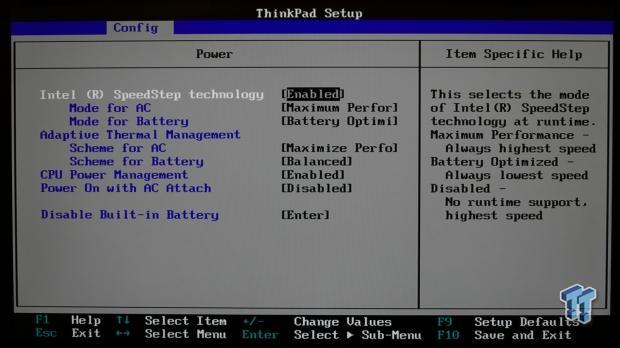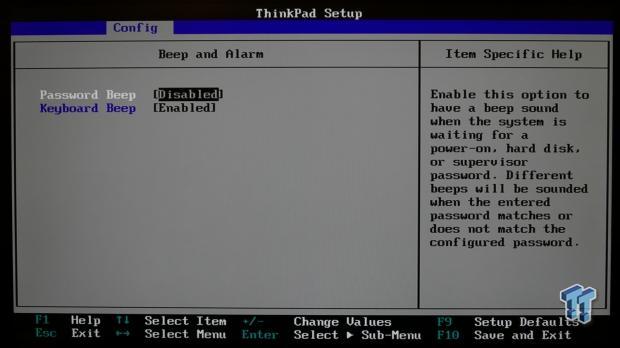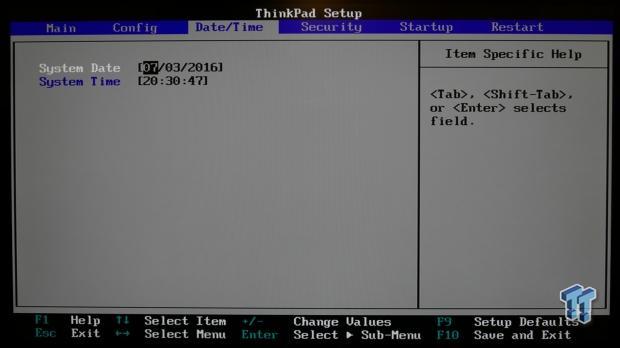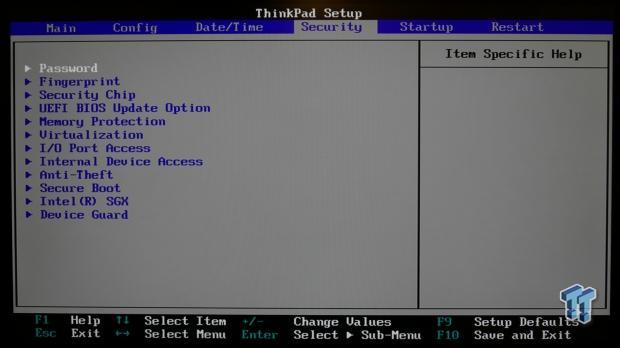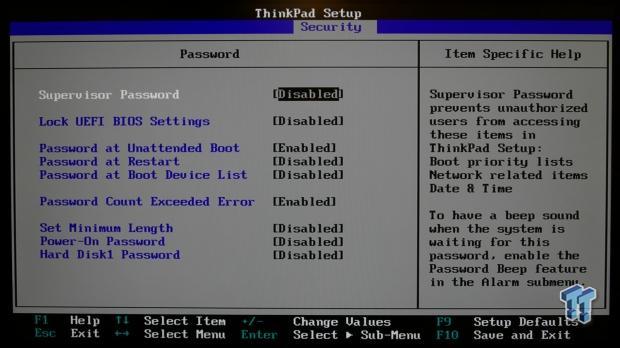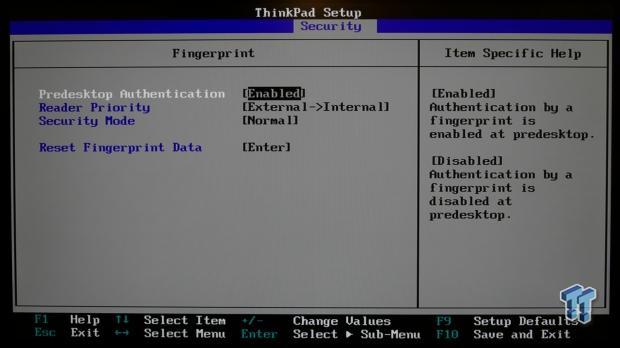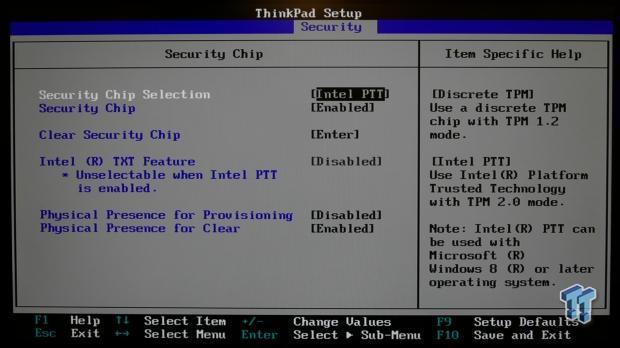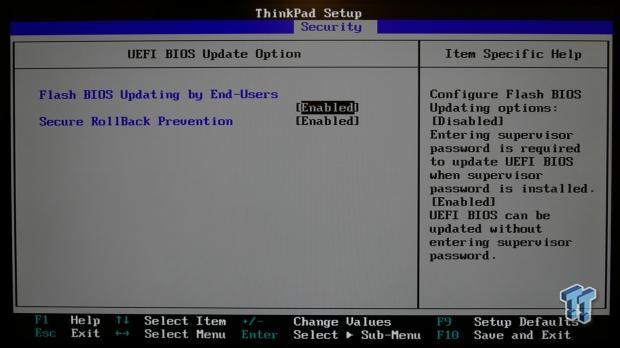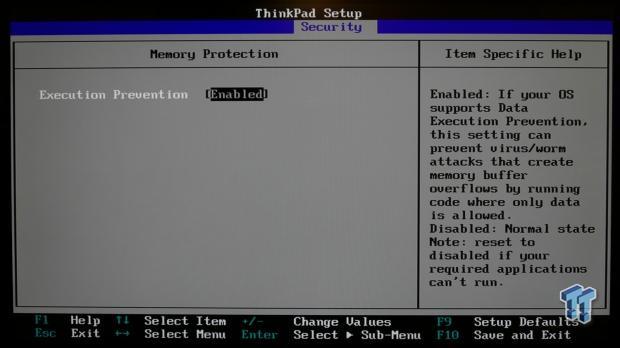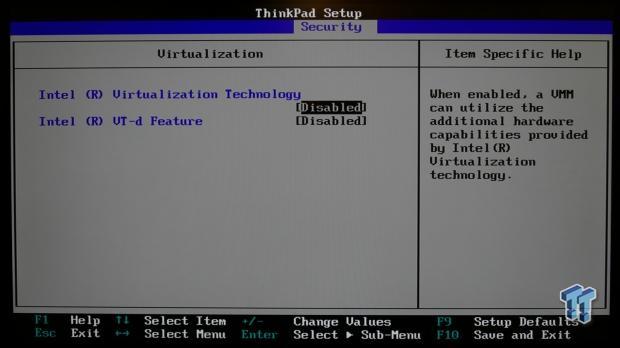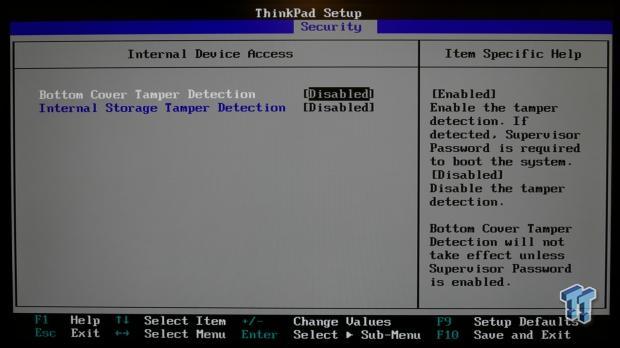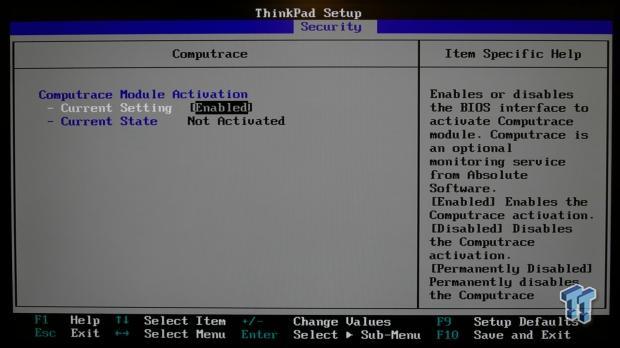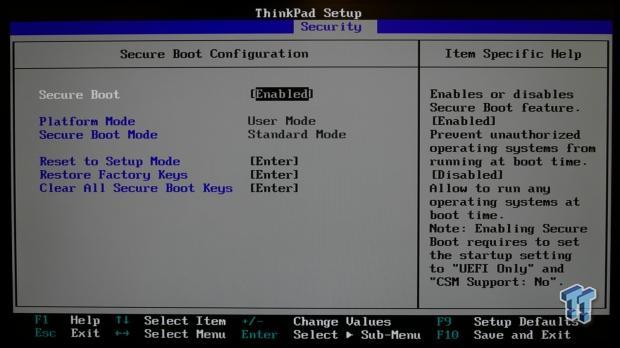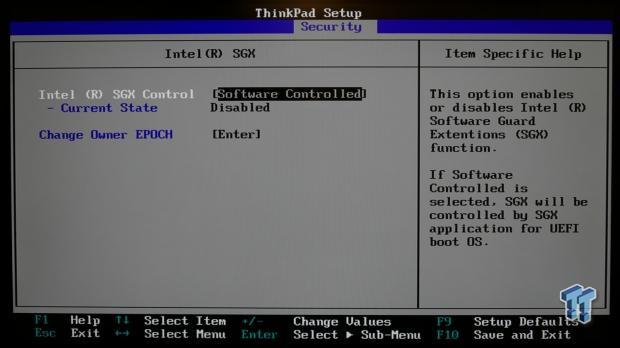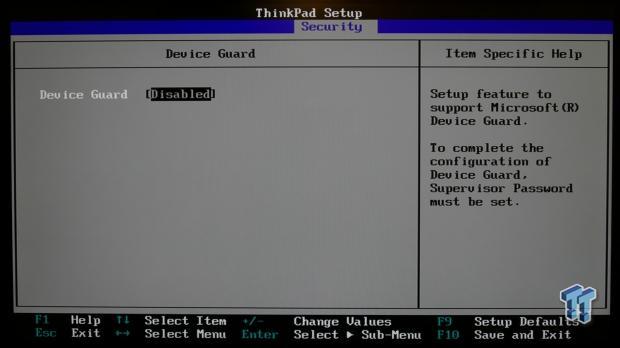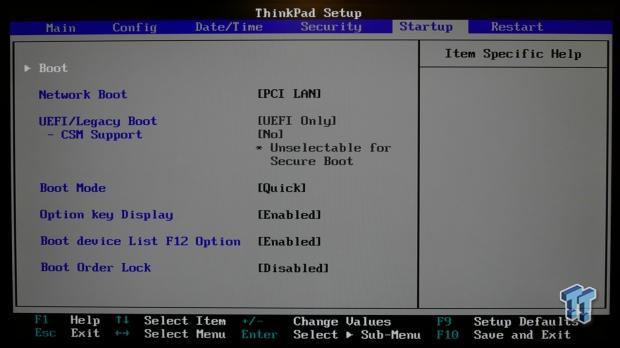 Performance Benchmarks
CPU, Memory, Graphics, and System Benchmarks
For the time being, I have combined the scores of notebooks and SFF PCs since I don't have that many notebook data points and both types of systems tend to use the same mobile processors and configurations.
CINEBENCH 11.5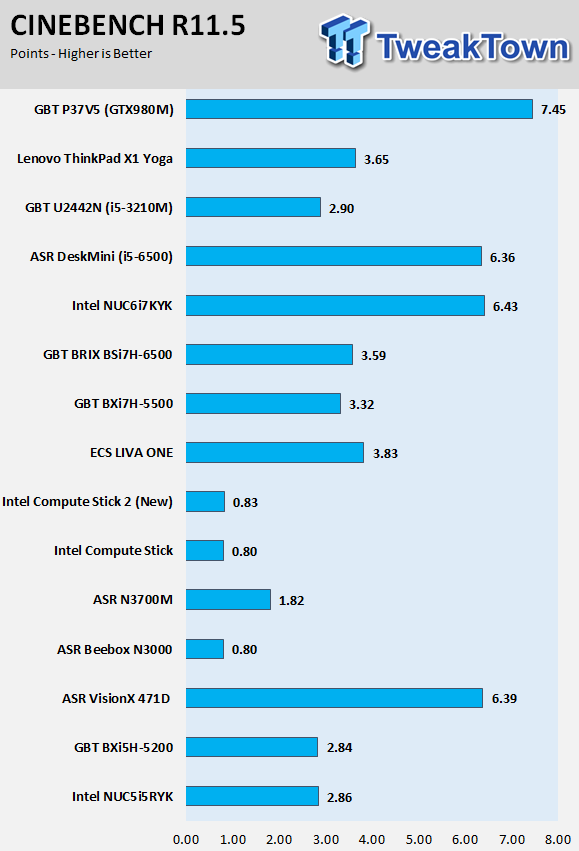 wPrime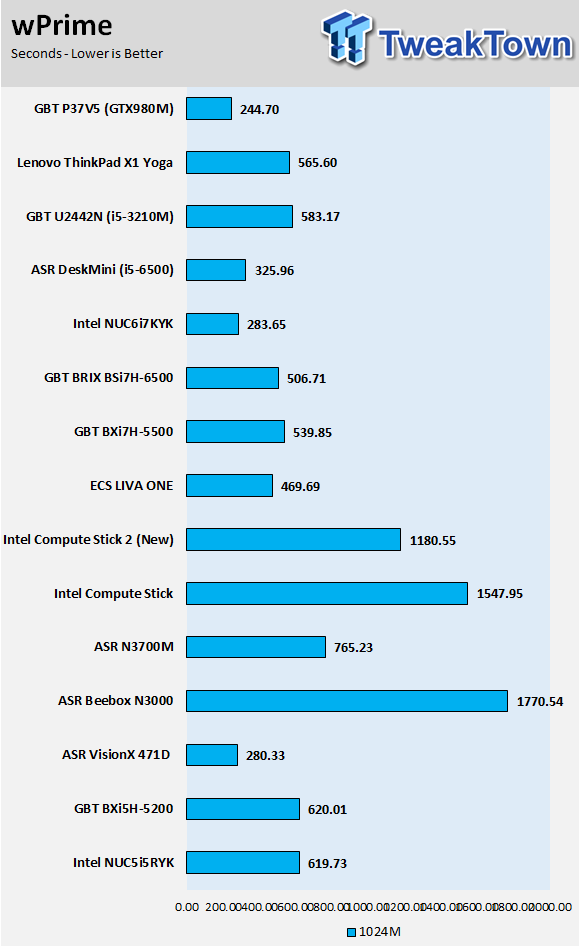 AIDA64 AES and HASH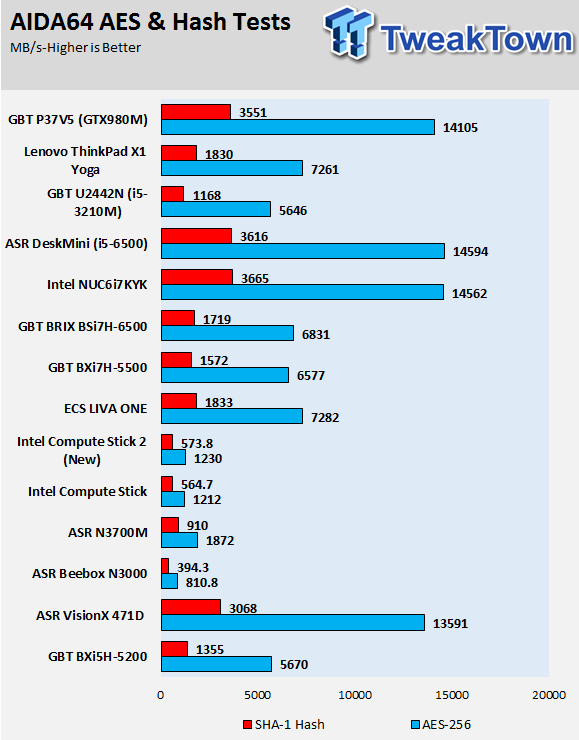 AIDA64 Memory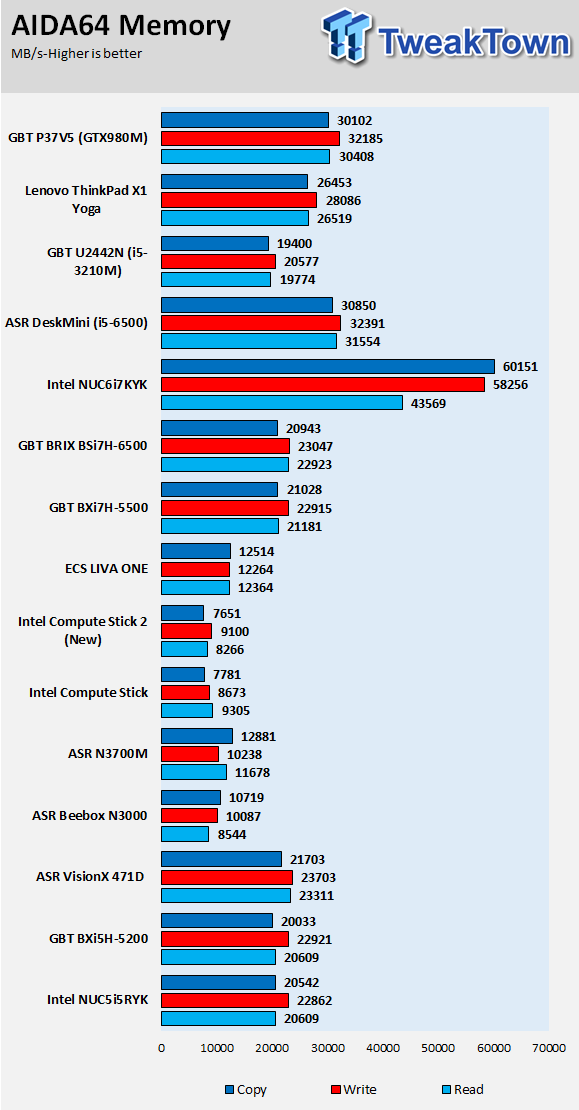 PCMark8 Home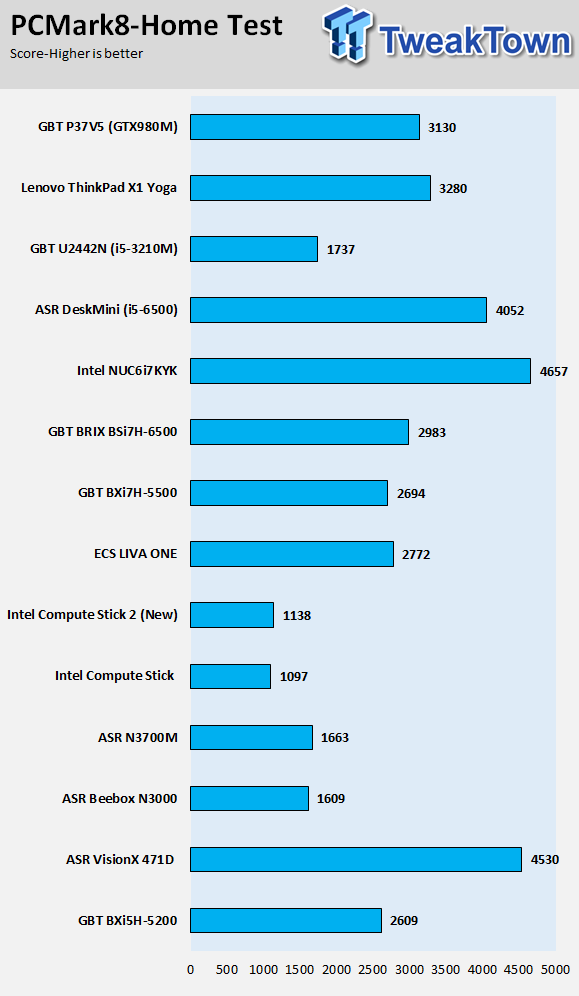 Handbrake 4K and 720P Transcoding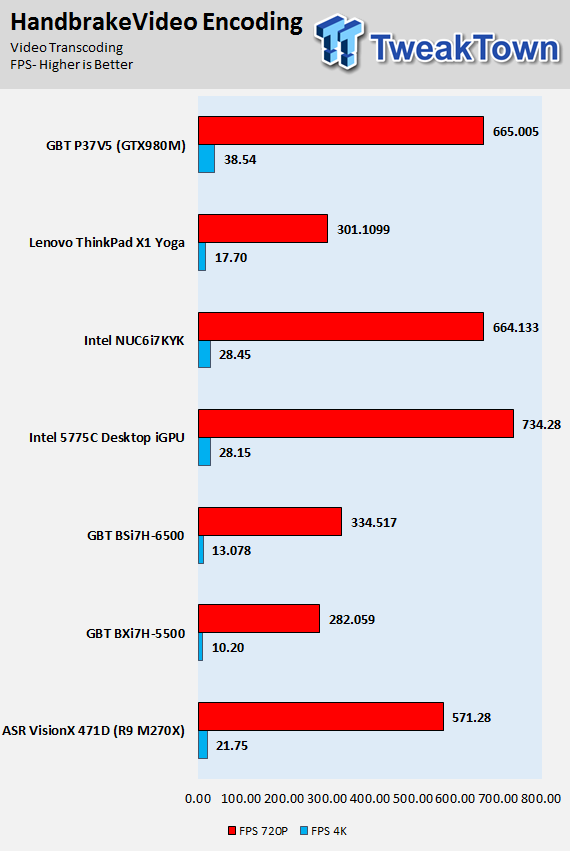 WebXPRT 2015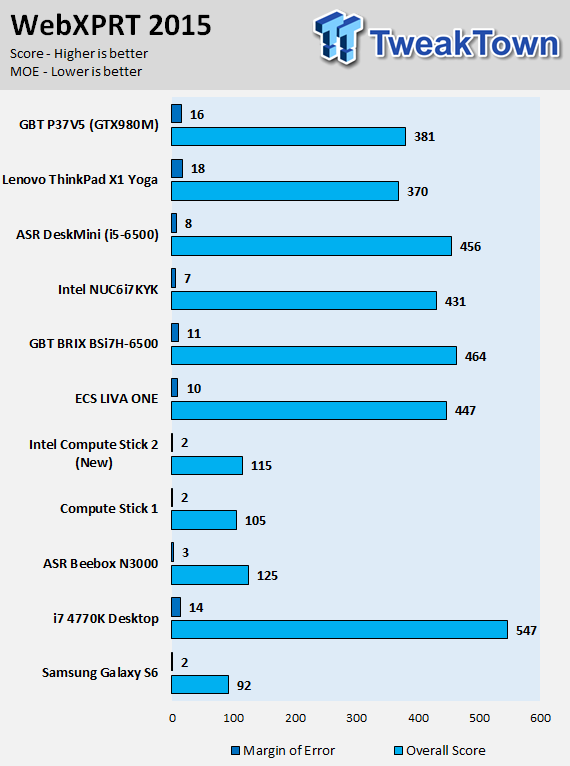 3DMark11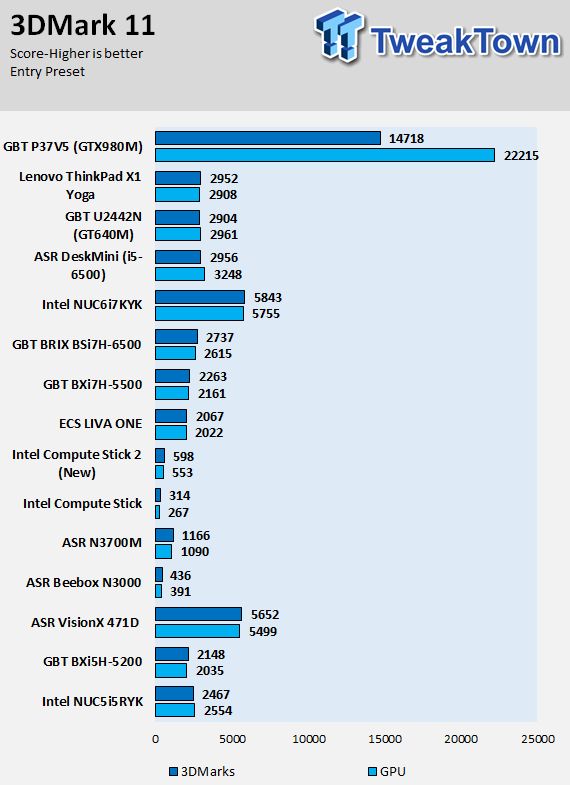 UNIGINE Heaven 4.0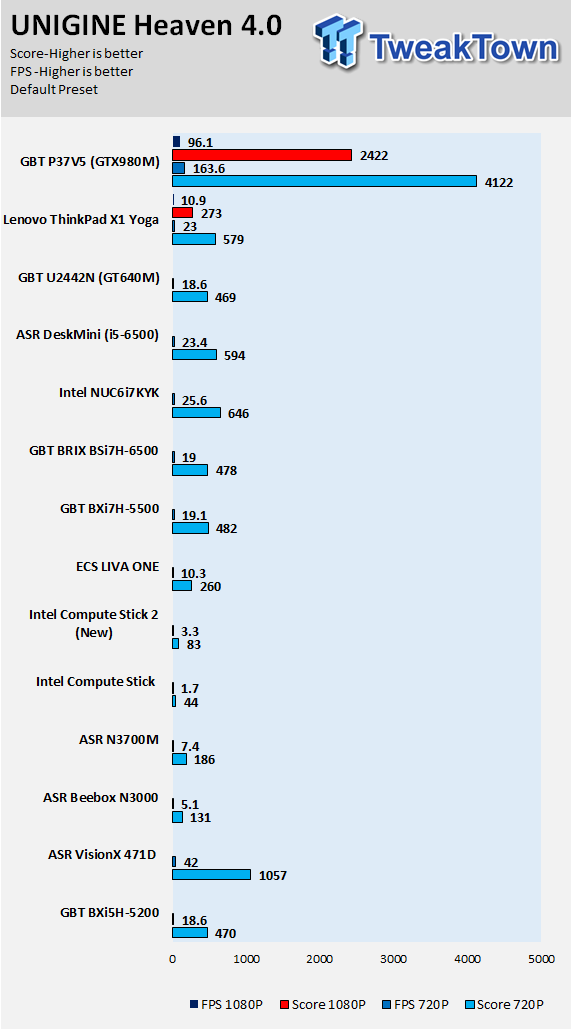 ResidentEvil 6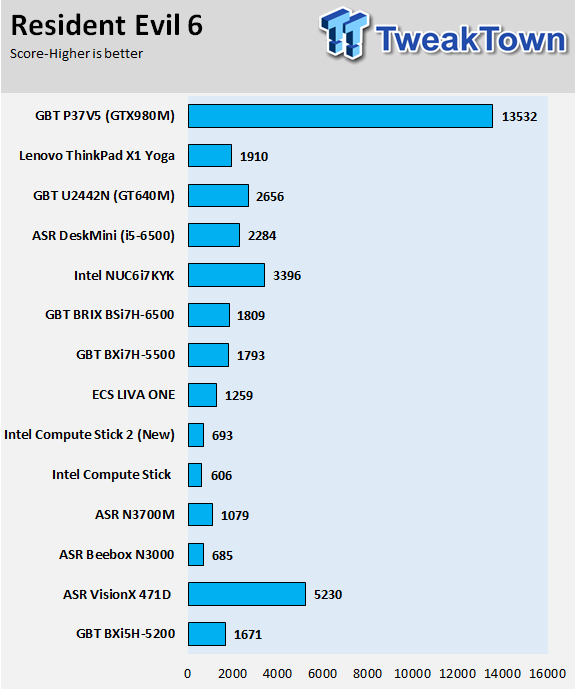 Performance is where it should be for a system based on the i7-6600. We can see that it consistently scores right above where the i7-6500U scores in both CPU and graphics benchmarks.
Other competitors such as the systems based on the i7-6700HQ (P37V5) and 6770HQ (NUC6i7KYK) do score higher, but they also carry double the core and thread counts along with higher power consumption figures.
Overall, for the size and weight of this device, performance is exceptional.
System IO and Battery Performance
System IO Benchmarks
Internal Storage Read Test: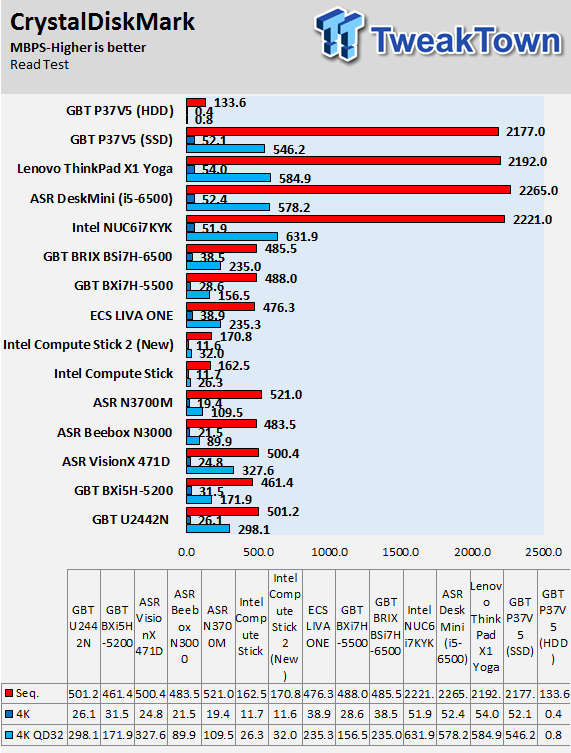 Internal Storage Write Test: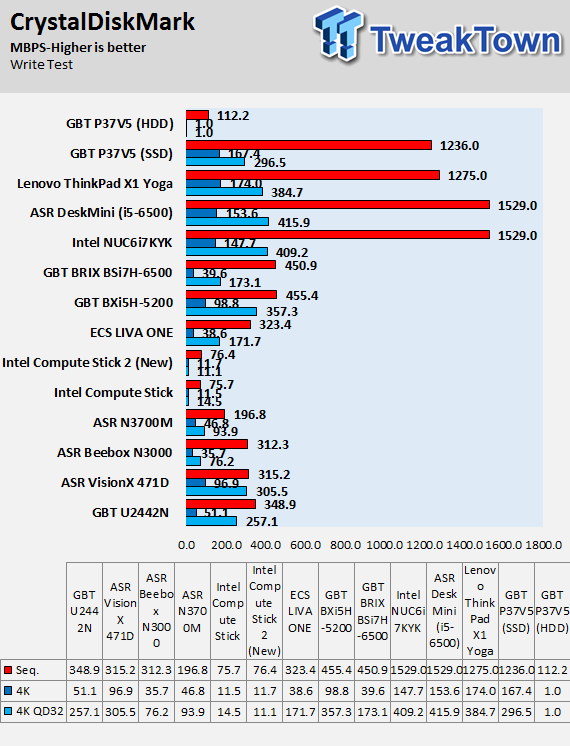 ixChariot Network Throughput:
The ThinkPad X1 Yoga we have uses a 256GB Samsung NVMe M.2 SSD, more specifically the Samsung MZVPV256HDGL. It is using a client version of the SM951 that supports sequential read/write speeds of 2150/1260 MB/s. Two of the SFF PCs (the DeskMini and NUC6i6KYK) are using the 950 Pro 512GB which is supposed to be faster than the SM951, that being said you won't be able to notice the difference between the two.
The super-fast storage speeds also help improve overall system responsiveness of the 2 in 1. Network speeds are what I expected. It's not the fastest Wireless AC implementation, but Wireless N is quite good.
Battery Tests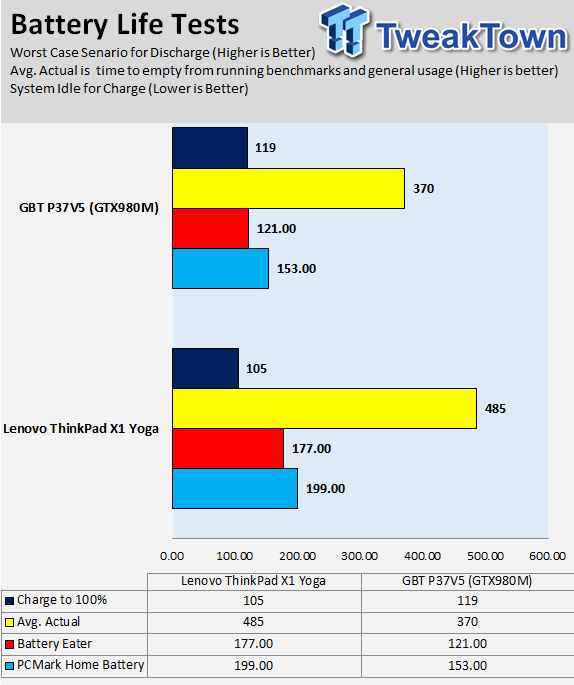 The battery in the ThinkPad X1 Yoga is a 4cell 52Wh Lithium Ion that Lenovo claims can last up to 9 hours on our OLED model, but 11 hours on non-OLED models. I believe that number to be close to realistic performance if you only lightly use the product. I was able to get the battery to last eight hours when running some benchmarks and using the device for web browsing with the screen on automatic brightness.
In worst-case scenarios through the Battery Eater benchmark or PCMark Home Battery Test, it lasted less than half that amount of time. I can say that the battery life is better than I expected, and should last most of the day without charging - it will probably last longer than your phone.
What impressed me was how quickly the unit charged up. Lenovo does provide a quick charge capability that allows 50% charge in 30 minutes, but it only took an hour and 45 minutes to charge to 100% from 5%.
Thermal Performance
Thermal Imaging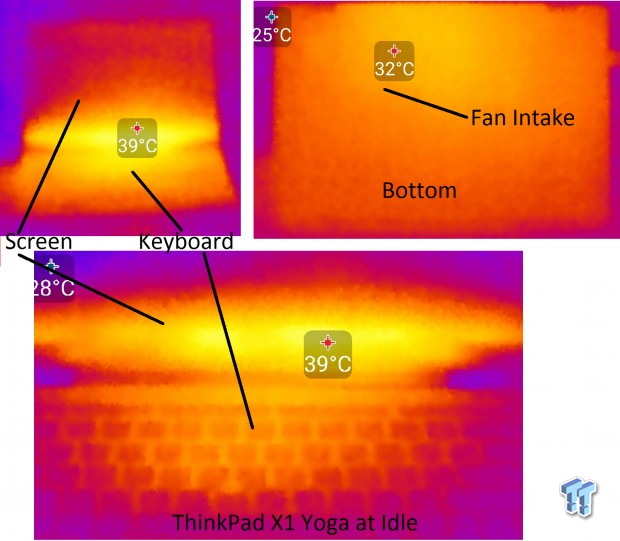 Thermal imaging at idle shows that the main source of heat is the monitor itself, which is normal since it is on and consumes a significant portion of the power budget of the system at idle.
Temperatures were not too hot to touch, and the keyboard just felt normal and not warm to the touch. The rear of the notebook shows that there isn't much active airflow since we can't see a large temperature gradient across the intake vent and exhaust areas.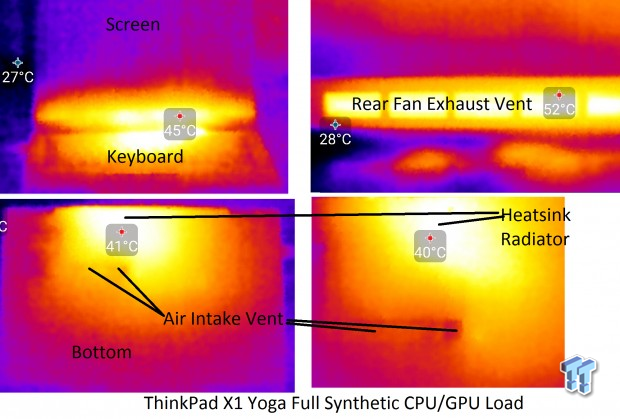 At full load, things do become warm, and heat spreads more than it peaks. The keyboard got a little warm, but not enough to cause discomfort. The air intake vents start to show and the heat sink where the heat pipes from the CPU direct heat becomes the hotspot on the rear of the device.
The rear fan exhaust shows maximum temperatures at 52C, roughly 7-10C higher than surface temperatures. Overall things weren't too bad, but the device can get hot with full synthetic loading.
What's Hot, What's Not & Final Thoughts
Here are key points about the ThinkPad X1 Yoga.
What's Hot
Huge Performance in a Small Package: Super thin and light, yet exceptionally fast. The ThinkPad X1 Yoga's i7-6600U, 16GB RAM, and 256GB M.2 SSD offer high-performance computing in a low-power package. Intel's latest CPUs offer high-performance at TDPs not imaginable just a few years ago, and M.2 offers blazing fast storage speeds in the slimmest form factor. The combination of speed and size is now possible because of those two advancements, and Lenovo has executed them to their fullest in the ThinkPad X1 Yoga.
Beautiful Screen: The brand new 14" 300 nits WQHD (2560 x 1440) OLED screen with touch capabilities offers excellent detail, vivid color, and surprising utility. In many cases I found myself touching the screen instead of using the mouse, which increased my productivity.
Tablet Mode and Stylus: The first time I turned the monitor 360 degrees on a 2 in 1, I cringed, and to this day I still hesitate when attempting to turn a 2 in 1 into a tablet. However, I did find instances where the tablet mode was more useful than the notebook mode. When I was on the move or trying to take notes, I found that the tablet mode was a useful addition. I also really liked the features of the stylus and the palm rejection on the screen was impressive.
Great for Travel: The long battery life is a huge plus for anyone who needs a notebook that will last longer than a few hours. I also was very happy to see the Airplane mode for charging, since I have had bad experiences with the protection built into airline AC outlets. The ability to use the different input devices is also a great benefit when space is at a premium.
Solid Security: Lenovo's ThinkPad lineup is well known in the business world as the go to for secure and reliable computing, and it's nice to have all the security features you can get these days, even as a consumer. The device is ready for Bitlocker encryption and with the WWAN card you could get the most out of Intel's Anti-Theft Technology. I also found the fingerprint reader to be useful.
What's Not
Not Much Storage Expansion: Apart from replacing the included M.2 drive with a higher density model, you won't be able to add extra internal storage.
High Cost: While our configuration cost roughly $2000, the ThinkPad X1 Yoga can be had for much less. Even so, the high price tag will be prohibitive for some.
Final Thoughts
Honestly, I found the ThinkPad X1 Yoga to be a refreshing Windows-based notebook experience. If anything, the notebook itself gives Windows 10 a good reputation. The two worked together seamlessly to provide an easy to use, yet fully equipped experience. Where Windows 10 did not have an easy to use solution, Lenovo offered support through their super simple configuration application. I have to be honest; I am not a tablet guy. I actually gave away my last tablet, but I found myself using the tablet mode just because it was there and I required a more compact device. At first, the idea of a 2 in 1 seems like a gimmick, but there are situations where the design is warranted, and Lenovo has done an excellent job with the form factor.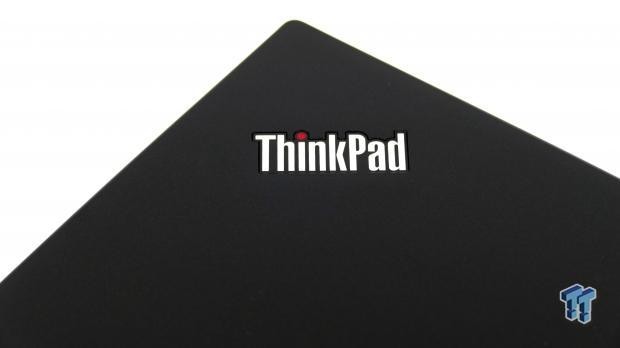 As someone who uses Windows shortcuts a lot (copy and paste), there was one thing that really bugged me at first about the ThinkPad X1 Yoga; the "Ctrl" key was not the leftmost key on the bottom row. After a few days I figured I would retrain myself, but then I entered the BIOS. In the BIOS I found a setting I didn't expect, "Fn and Ctrl Key swap", and then the notebook became almost perfect.
Lenovo has used their experience and feedback to build an all-around winner. The device is designed to increase productivity. The high-resolution display allows you to put two windows side by side on a 14-inch monitor and still read the data, and the touch capabilities increase mouse efficiency to that of a desktop.
I have to say I am very impressed by the Lenovo ThinkPad X1 Yoga, and I would definitely recommend it to anyone who is looking for a lightweight, high-performance machine.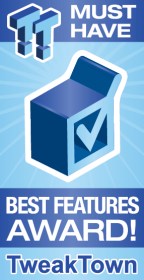 | | |
| --- | --- |
| Performance | 92% |
| Quality including Design and Build | 94% |
| General Features | 96% |
| Bundle and Packaging | 85% |
| Value for Money | 89% |
The Bottom Line: Lenovo's ThinkPad X1 Yoga might be a super slim power house, but it's also loaded to the brim with an exceedingly high amount of features designed to impress.
PRICING: You can find products similar to this one for sale below.

United States: Find other tech and computer products like this over at Amazon.com

United Kingdom: Find other tech and computer products like this over at Amazon.co.uk

Australia: Find other tech and computer products like this over at Amazon.com.au

Canada: Find other tech and computer products like this over at Amazon.ca

Deutschland: Finde andere Technik- und Computerprodukte wie dieses auf Amazon.de
We openly invite the companies who provide us with review samples / who are mentioned or discussed to express their opinion. If any company representative wishes to respond, we will publish the response here. Please contact us if you wish to respond.