IN WIN 805 ATX Mid-Tower Chassis Review
Long gone are the days of boring computer cases as IN WIN shows us how design should be done with its impressive 805 mid-tower chassis.

Published
13 minute read time
TweakTown's Rating: 96%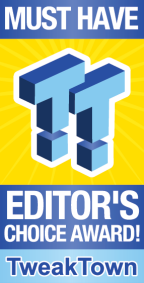 The Bottom Line
IN WIN's 805 raises the bar on all other mid-tower cases. With the use of exotic materials, a classy and sleek aesthetic, and a finished product that anyone would have to love to have next to their monitor, even at $170, the 805 delivers in every aspect.
Introduction, Specifications, and Pricing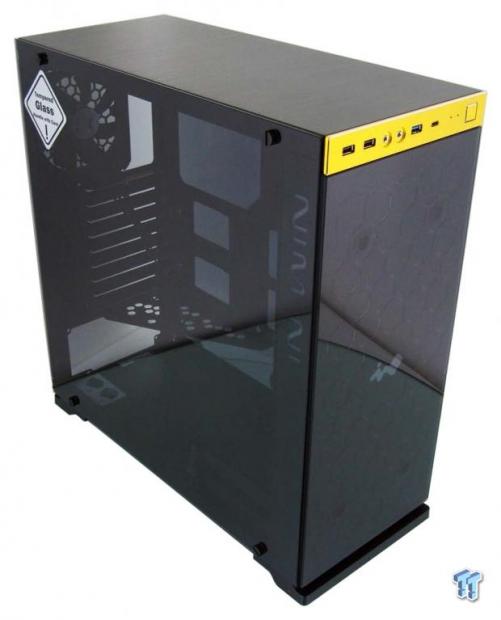 Ever since IN WIN released the X-Frame a few years back, they found a new path to standing out in the chassis market. It was a year or two later that we found out that IN WIN was no longer looking into designing and making the typical steel cases like they used to offer. They have found that by designing premium cases, they are doing much better as a business. Now this does not mean that only extreme designs like the X-Frame, H-Frame, or the D-Frame style offers are all we are going to see, they will still offer normal cases, just that things are turned up a few notches.
By this, we simply mean one thing. While you can get a chassis that looks standard as far as the layout and orientation are concerned, gone is the use of steel, and there will always be lots and lots of glass panels. There is more cost involved in using high-grade materials, and extensive testing of components to be sure everything ships as a solid and cohesive design, but damn, do these type of cases look good. While the chassis we will soon be seeing is a mid-tower, we will guarantee that no other company on the planet is attempting something this revolutionary.
Today we bring forth the IN WIN 805 mid-tower chassis. With a sexiness that cannot be denied, this chassis flips the case market on its head. For years, we have had very few options, steel, aluminum, or Plexiglas, but that day has passed. What we have for you now is the culmination of years of case designs that were very extreme, and taking that technology and those features and putting it into the typical orientation of case design. Honestly, we cannot stop gushing about this IN WIN 805, so we may as well get right to it and show you what you get in this amazing chassis.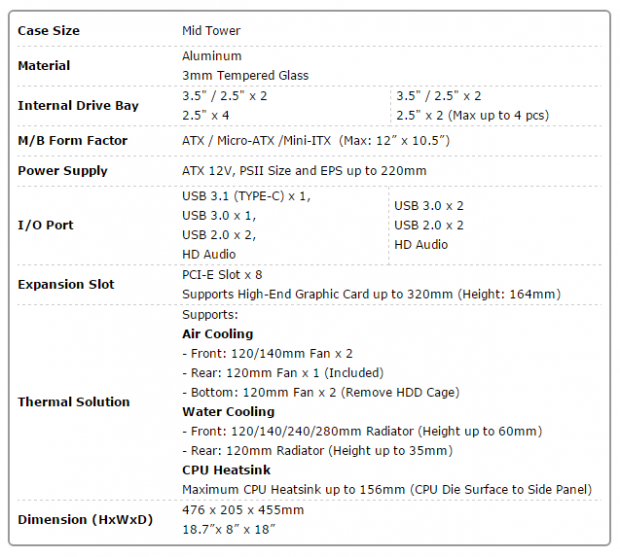 IN WIN has built the 805 as a mid-tower chassis, but all of the metal, in this case, is made of thick aluminum, some of it brushed, and some of it with a texture to it. On both sides, as well as on the front of the 805, we find tempered glass panels that are 3mm thick. This is not heat-tempered glass, however, this time, they went with chemically tempered glass to add strength to the thin panels. There is nothing to break up the front of the chassis, as it is made of one solid glass panel, but there are three optional versions of the 805, and that difference is seen on the front.
One version of the chassis ships with a black I/O panel at the top, one version ships with that aluminum strip anodized red, and the third version, and the one we have now, is anodized gold. We have to check the bottom of the chart for this, but we do see that this chassis stands 18.7" tall, it is 8" wide, and from front to back, the 805 is 18" deep.
This chassis offers us two bays that can be filled with either 3.5" or 2.5" storage drives, but there are also four dedicated trays for just 2.5" drives. This mid-tower can accommodate an ATX, M-ATX, or a Mini-ITX motherboard, and below it, there is room for a PSU up to 220mm in length. The front I/O panel, where the color option is found, offers USB 3.0 and USB3.1 ports, one each. It then also delivers a pair of USB 2.0 ports, and HD Audio jacks. At the other end of the chassis, this IN WIN 805 offers eight expansion slots, and cards used in these slots can be up to 320mm long, and 164mm wide.
Even though it would seem that glass panels may restrict fan options, this is not the case. The front of the 805 offers a pair of locations for 120mm or 140mm fans. The rear of the chassis offers a single spot for a 120mm fan, which they include in the case. The bottom of the chassis also offers a fan location, but the HDD cage needs to be removed to have access to the 120mm location there. We are then shown the water cooling options. Here we see that a 240mm or 280mm radiator can be placed in the front, and can be up to 60mm thick. The rear of the chassis is the other option to place a radiator, this time, a 120mm, and is restricted to 35mm of thickness. It is also here where we find that there is 156mm of room for an air cooler behind the glass if that is how you choose to cool your CPU.
Finding the IN WIN 805 for sale is easy enough. We found all three versions at Newegg, but pricing is dependent on the color option. Gold and red are the most affordable options at $169.99, and if you want black on the front I/O panel, be prepared to spend $179.99 on it. All of these three offerings at Newegg do come with free shipping. Considering what this chassis is made from, the thickness of said parts, and the sleek look you get, we feel that the pricing is reasonable. In all honesty, we expected them to charge more for this 805 mid-tower chassis.
Chad's Chassis Test System Specifications
Packaging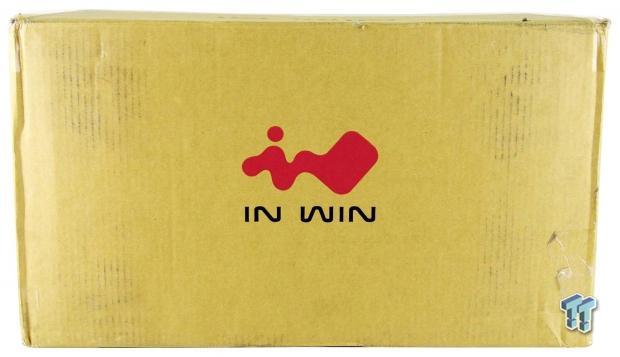 Unlike most mid-tower cases, the IN WIN 805 is shipped lying on its side. As far as the packaging is concerned, they opted to use plain cardboard with red and black screen printing used to display things. In this instance, it happens to be an IN WIN logo and the company name; that is all.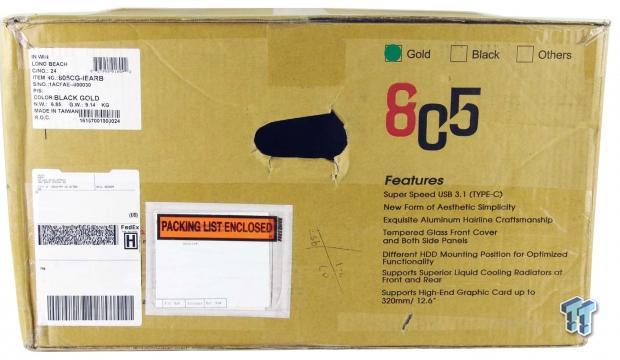 This side offers a handle to make it easy to carry, but at the top right corner we see which of the three versions we were sent, and they also offer the 805 name. FedEx blocked us from seeing what is in the lower left corner, but to the right, we are offered a list of features.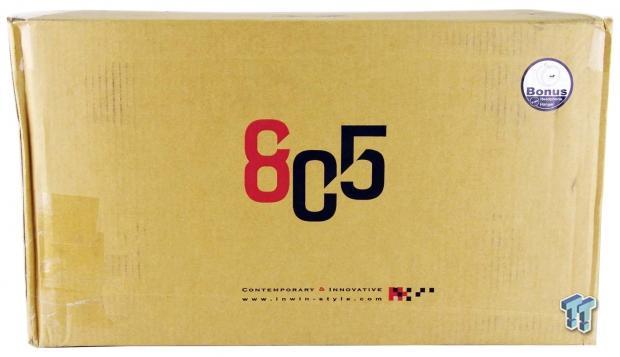 This panel offers the 805 naming right in the middle. Below that we see the Contemporary & Innovative tagline and IN WIN's web address. There is also a sticker on the top which denotes that IN WIN included a bonus item, which happens to be a headphone hanger for the side of this chassis.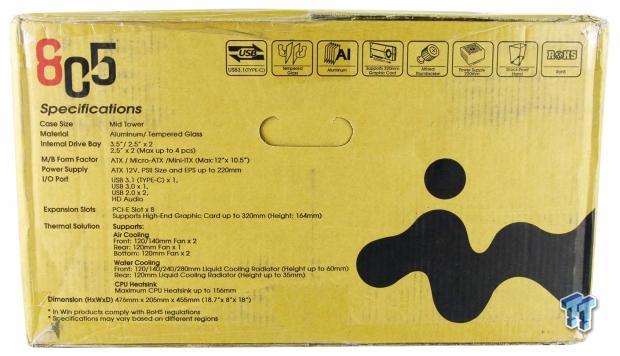 The last panel offers the most information. There is the 805 name to the left followed with the full specifications below it. Eight features are shown across the top with iconography, and below that is a large logo that is cut off a bit on the right.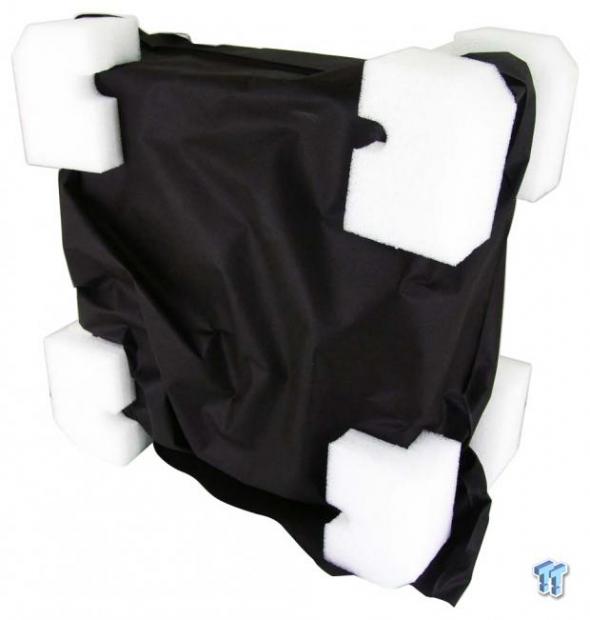 Inside of the box, we find that each corner, top, and bottom, has a thick, dense foam support to keep the glass and aluminum safe during transit. Wrapping the entire chassis is a cloth liner, and this is to ensure the glass and brushed aluminum are not scratched from vibrations.
Our IN WIN 805 under this packaging arrived in excellent condition, with not a single sign that the packaging did not do exactly what it is supposed to.
IN WIN 805 Mid-Tower Chassis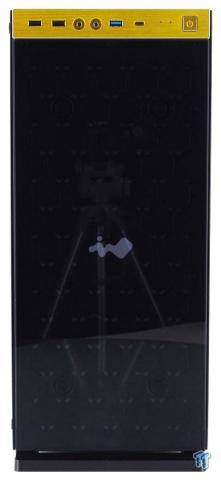 At the top of the bezel we see the gold anodized front I/O panel, but that is all the metal found on the front. On top of a plastic frame with hexagonal holes cut from it, a 3mm thick, tinted, glass panel runs down the rest of the panel, with just the white IN WIN logo showing through from behind. With small gaps along the sides, and the gap at the bottom, above the foot, these are where air gets in the front.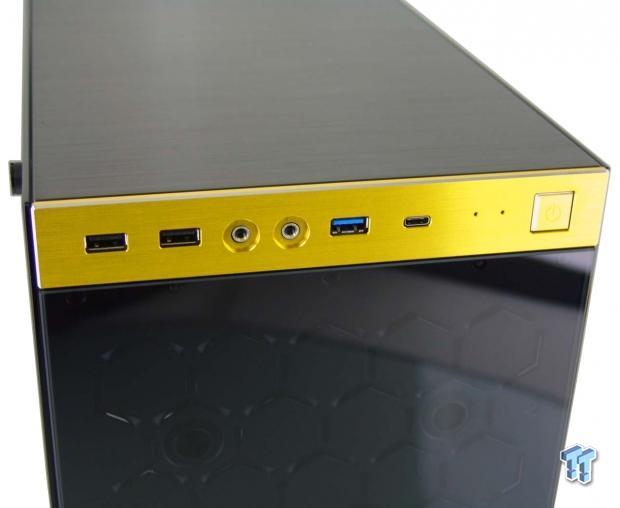 The gold panel across the front is where the color option is contained. This can be red or black too, but they all offer the USB 2.0 ports, 3.5mm jacks, USB 3.0 ports, USB3.1 ports, an HDD LED, Power LED, and a square power button.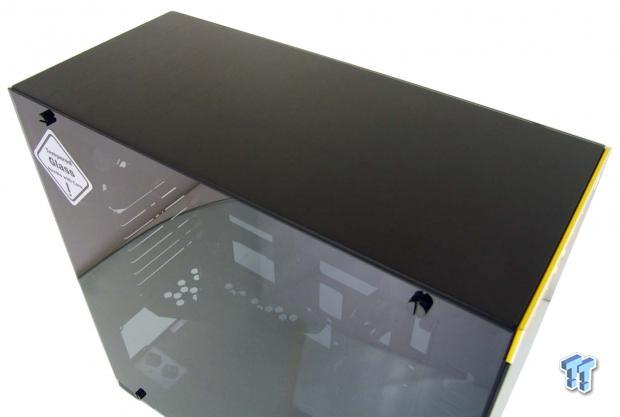 The top of the 805 is made of one solid sheet of black anodized aluminum. Not only is it black, but it is also brushed from side to side to add a bit of drama to it.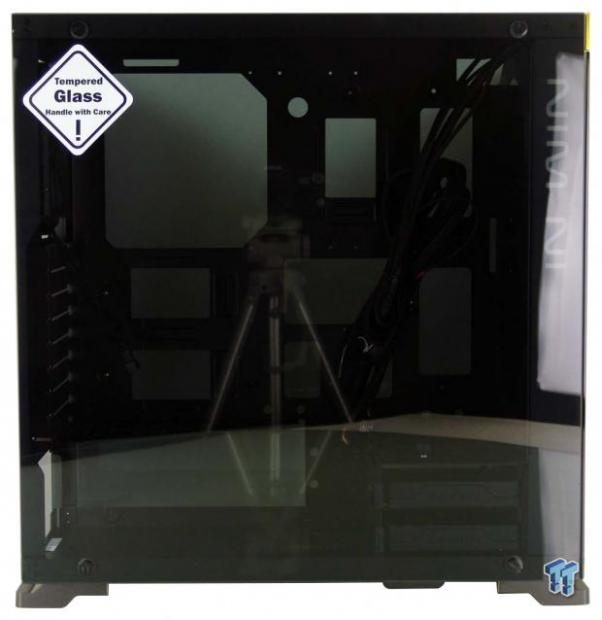 The left side of the chassis is one large, tinted, glass panel. It is held in place with rubber grommets around thumbscrews to grip the glass and hold it in place. We also see that there is the same Tempered Glass sticker we saw on the D-Frame. This time is it done chemically to add strength to the 3mm thick panels.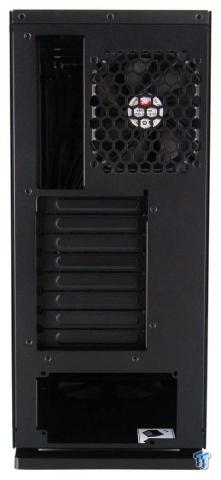 Without top air flow, the rear I/O and exhaust fan are set right near the top of the chassis. Eight recessed expansion slots follow, with the PSU mounting location just below that. The rest of this panel is solid aluminum with no passive venting or grommets.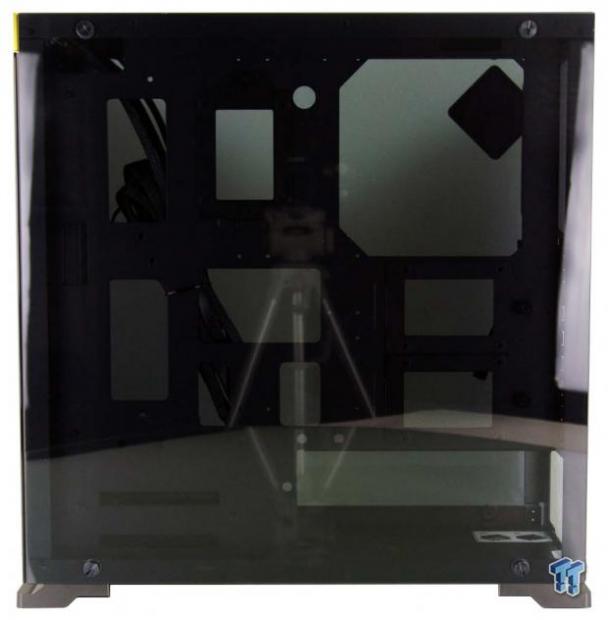 The right side of the chassis is another large sheet of that tinted glass. It is also held in place by thumbscrews, and of not for the orientation of the motherboard tray, from the side, it is tough to tell the front from the back.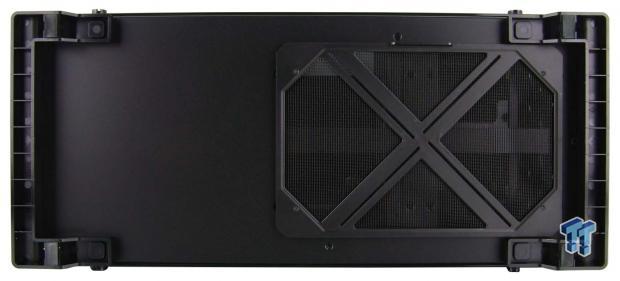 No, we do not have the chassis upside down, and no that is not a PSU dust filter. The filter is under the front of the chassis, remember we mentioned removing the HDD rack offered a fan location here. As for the support of the 805, it uses on piece legs that go from side to side, and they also added small rubber feet so that it did not slide around on the plastic.
Inside the 805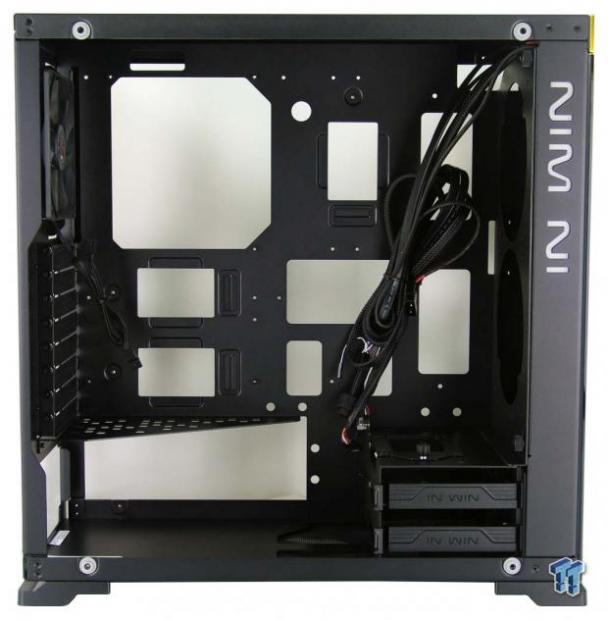 There is a box of hardware, but that is shipped outside the chassis. As to what is inside, we find quite a large and open cavity that needs to be filled with parts. We also see that the wiring has been bundled and strapped to a bit of the motherboard tray. This makes sure that there is no damage to the inside of the glass panels.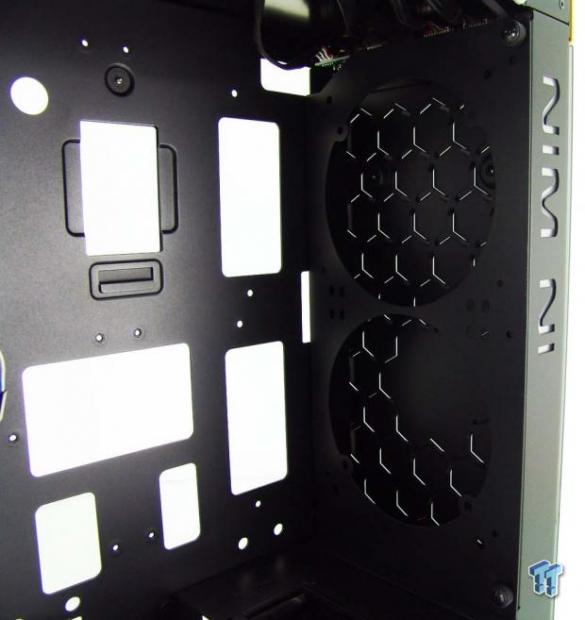 Inside of the front bezel, since the glass does not come off the front, we found this removable panel. Taking out a pair of thumbscrews allows this panel to come out of the chassis and have cooling mounted on it. When done, align tabs at the back, and then secure the thumbscrews to hold the panel.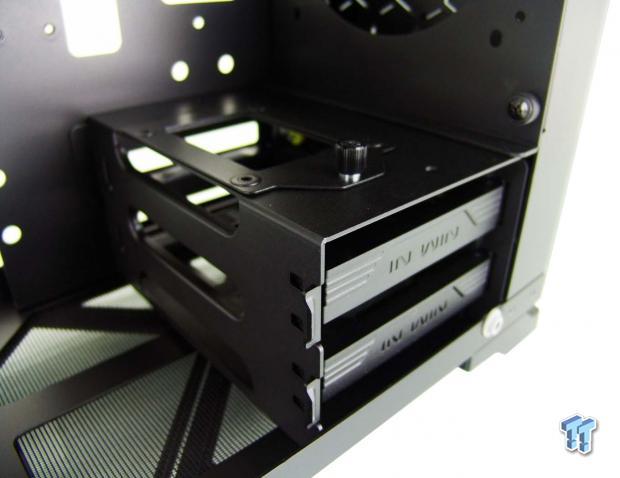 At the floor of the chassis, still at the front, we found the HDD rack. This offers two trays that fit either 2.5" or 3.5" drives. On top of the rack is one of the four trays that are specific to 2.5" drives only. Removing a few screws from the motherboard tray allows this cage to come out completely as well.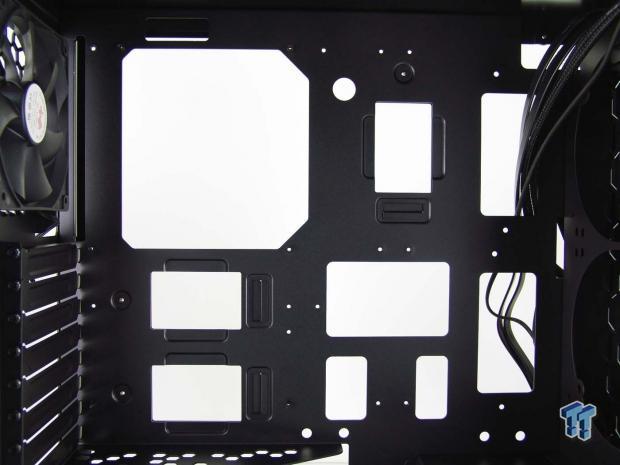 The motherboard tray offers ten various sized holes to run wiring through, and that does not include the large CPU cooler access hole at the top. There are no tie points for wire management, although you could use some of the smaller holes not used for standoffs, IN WIN has you covered for this anyways.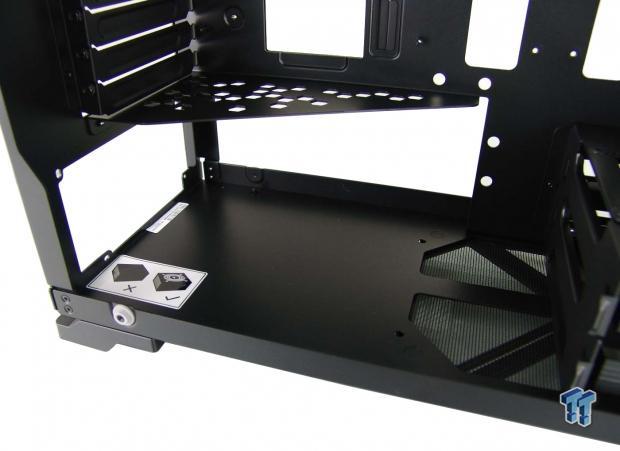 At the rear of the chassis on the floor, this is where the power supply goes. Be mindful of the sticker there, noting to users that the fan must be on the top of the PSU when it is installed. Above the PSU is a structural support, but IN WIN added a bit of style with the same shapes popped out of it that the front bezel offered.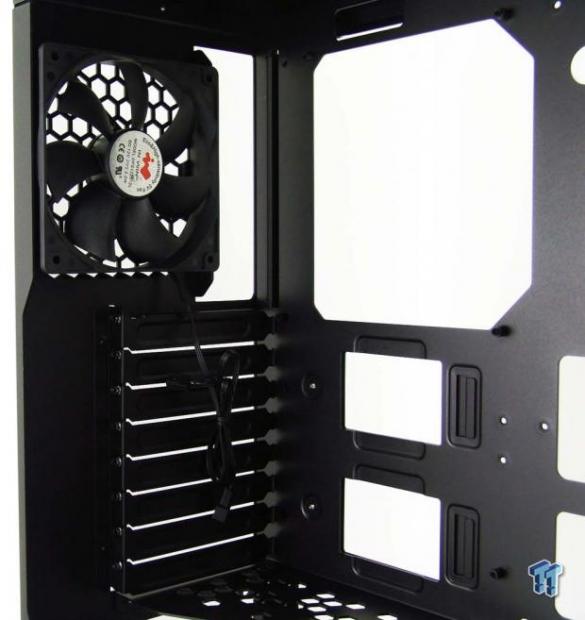 This is the only fan shipped inside of the chassis. It is a 120mm fan, is black, has seven blades, and can power via the 3-pin connection. The expansion slot covers are solid, but we would have appreciated vented ones as well. Securing them to the chassis are eight hex-head screws, and is what you use to secure cards here.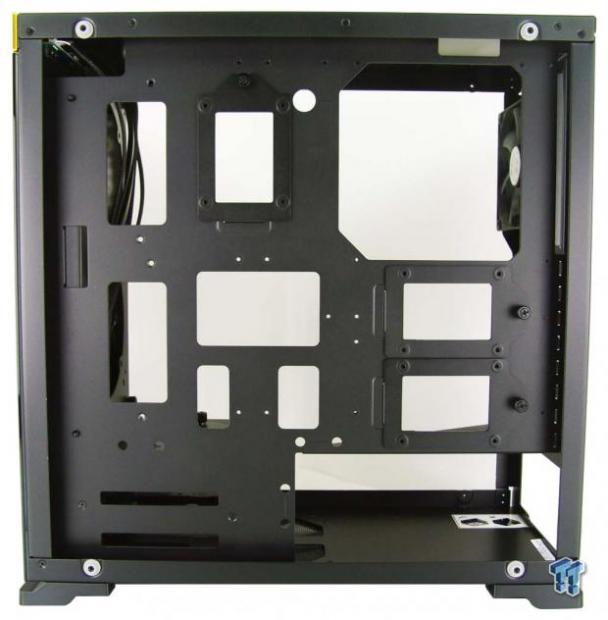 In the 805, the motherboard tray is all one level, which leaves the same amount of room for wiring across the entire section. Also, notice that there are three 2.5" drive trays screwed on this side as well. This way, if you do have to remove the HDD cage, you still have valid options left.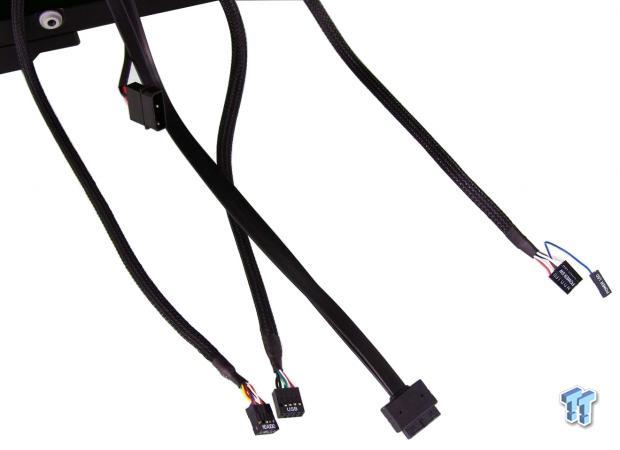 We were waiting for later images to show this feature, but discussing the 4-pin Molex lead, we have to say it is for the IN WIN name on the left side, and powering this illuminates that name. Lower in this image, we find an HD Audio connection, a standard USB 2.0 connection, native USB 3.0/3.1 connection, and a few wires for the switch and LEDs. All of the cabling is black so that combined with the tinted glass; you will hardly see anything.
Hardware & Documentation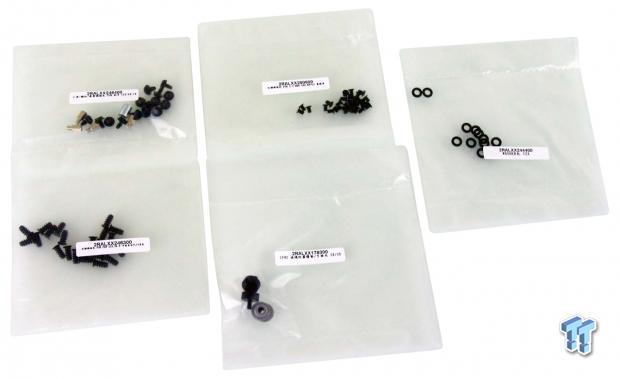 In the hardware box, we found five bags of screws and such. There is one bag for the standoffs, socket, and motherboard screws. There is another with 2.5" drive screws, and one full of metal washers to use where needed. The other two bags offer fan screws, and another pair of thumbscrews and grommets for the side panels, just in case.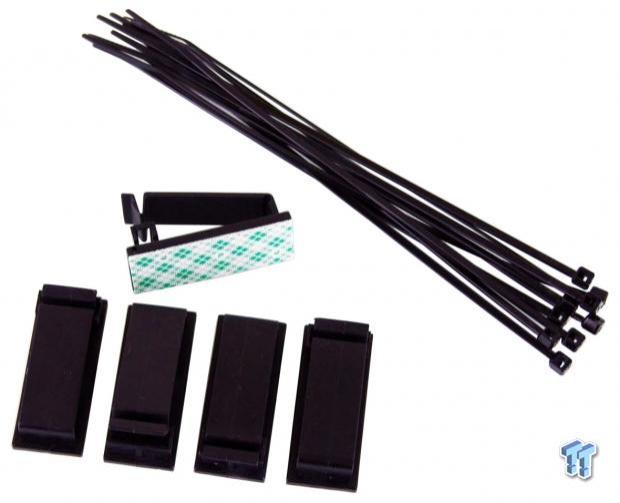 IN WIN includes five wire loom clips that are backed with 3M foam tape. Place these where you need to, run thinner wiring through them, or stick them on and use the nine zip ties and tie wiring to the clips that way.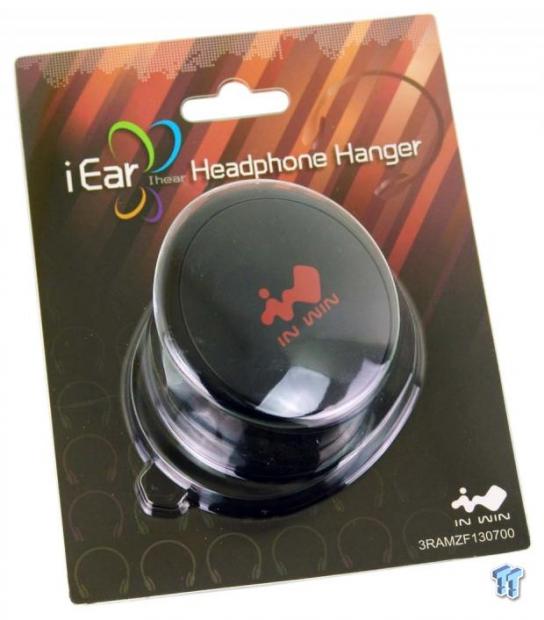 IN WIN has also added this bonus gift. They send along the iEar headphone hanger with their name and logo on the top of it. This is held to the chassis via a suction cup. Since this is a chassis made of aluminum and glass, magnets would be of no use.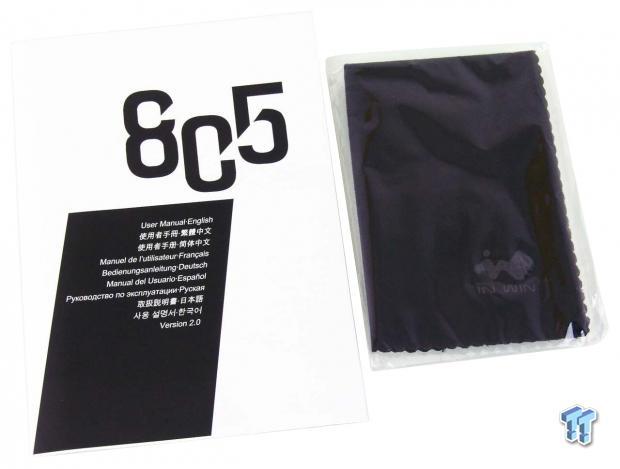 For as thick as the manual is, what is offered is brief. They do get you through how to install the major components well enough, and they do not leave you to figure out how everything works, or how certain parts are removed. It is all right there in front of you. We do however like the fact that we were given a large cloth to keep the glass and brushed aluminum free of fingerprints.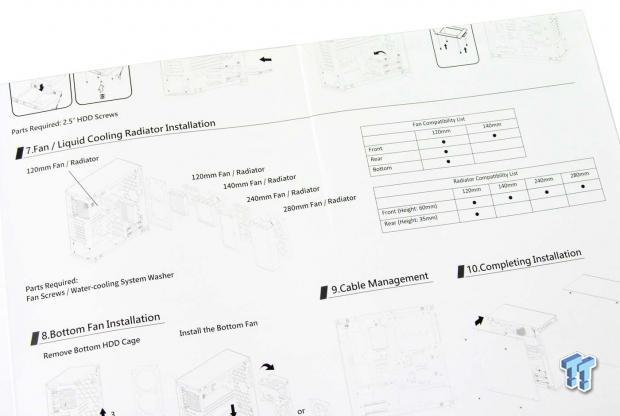 In case the water cooling options have slipped your mind after reading this review, or maybe you already tossed the box out, the manual covers this as well. Not only does it show where fans can be placed, but it shows with images and a chart as to what water cooling can go in here, and at what thickness.
Case Build & Finished Product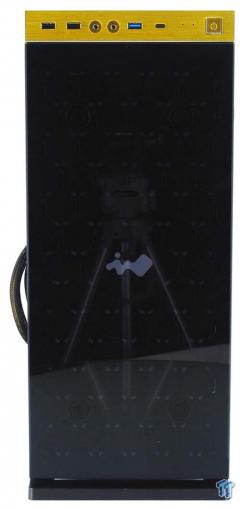 Even though we took the rear fan and put it in the front, through the glass, not one thing has changed. The IN WIN 805 is just as sleek and sexy as it was fresh out of the box.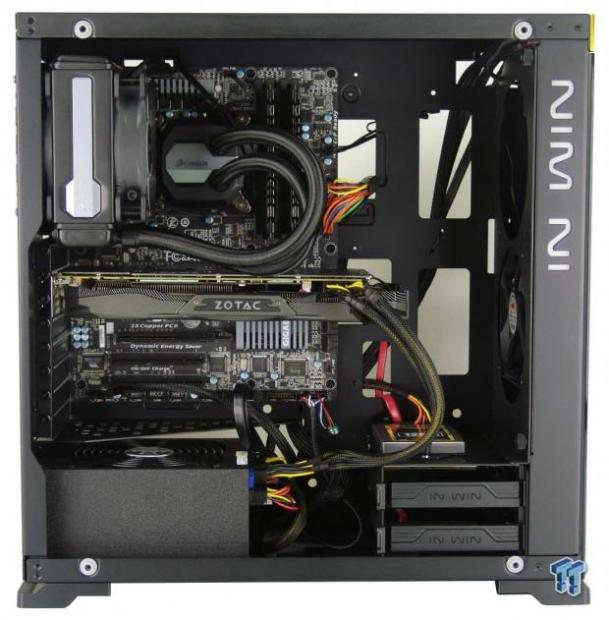 We obviously had no issue fitting water cooling in the back of the 805, but you can also see plenty of room at the front as well. As for the rest of the gear being installed, we have no irregularities to report here.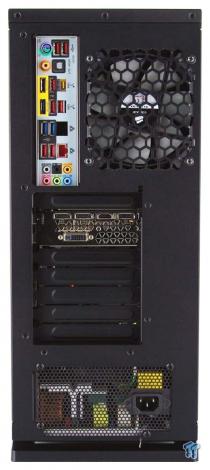 The same goes for the back of the chassis. The dust shield, the video card, and even the PSU slide right into place, and can easily be secured into place, in the case of the latter two.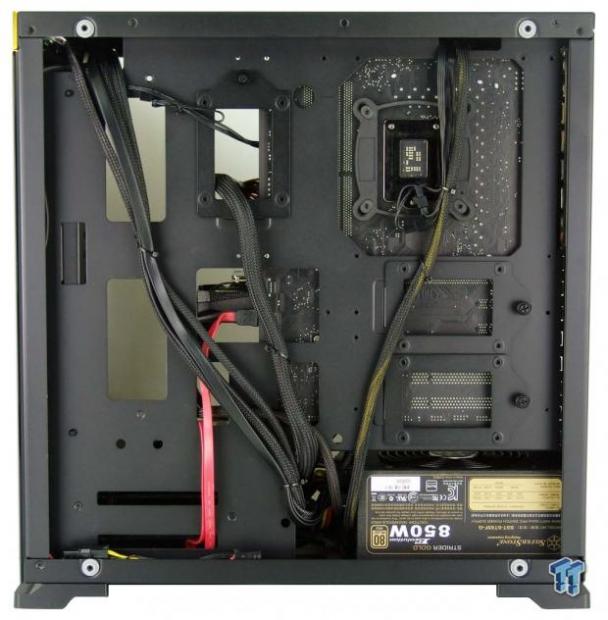 We got along with wiring pretty well for not even using a single clip stuck to the panel. Of course, we could have used them and cleaned things up more, but the tinted glass makes it all disappear anyways. We also found no issue with the cable lengths, they all got where they need to be.
We did have a mishap when trying to put on the right side panel. Do not try to install the glass with the chassis standing up. Our panel slipped from the grommet to the table top and cracked straight away. We then, in a bit of shock, quickly let our grip go, and the panel broke into many large shards. This is also where we were informed of the use of chemically tempered glass, as it did not break into tiny bits of glass.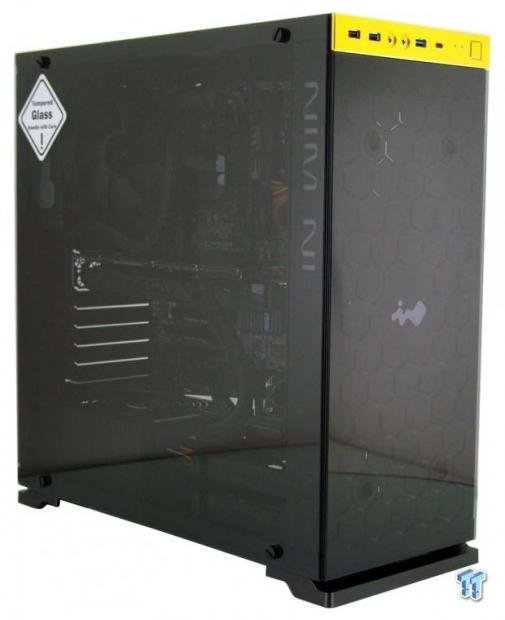 Continuing, we did manage to get the left side panel on successfully. There is a bit more of a view through the tint that we had initially expected, and we are really digging the finished product.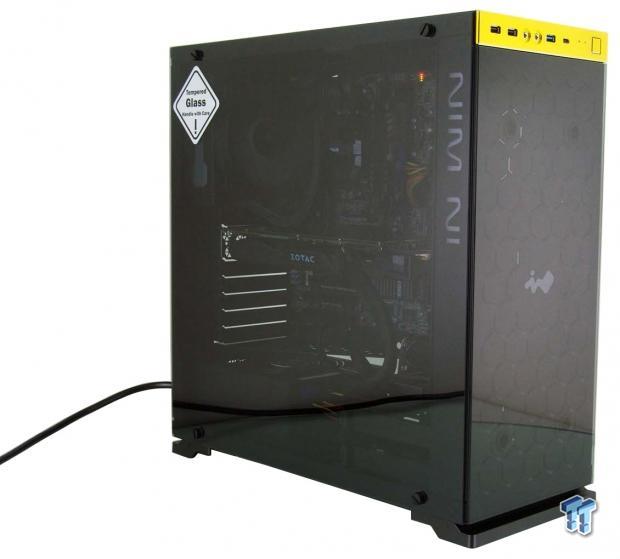 When we powered up the IN WIN 805, noise from the included fan is kept to 35dB. What made is jubilant, was when we saw the Corsair, Zotac, and the IN WIN names all glowing in white, as if they were all made for this chassis.
Final Thoughts
IN WIN has delivered a mid-tower chassis that changes the way everyone should look at more mundane solutions out there. This case is sleek to look at, has terrific finishes and touches that make it fell high-end, and does all of this without taking up a ton of room, like some of IN WIN's other offerings of this caliber. There are plenty of storage options, some hidden, some could be in the way, and are removable to solve that possibility. There is plenty of room for water cooling to suit a CPU and single GPU, maybe even two if you go with two loops. From all angles, the inside, the outside, even the gold anodized aluminum across the top, there is nothing to complain about in build quality or looks.
The one issue we do have, and we took directly to IN WIN before writing this, is that they do not stress the type of tempering that is used in this design. Consider us naive if you must, but when we see a Tempered Glass sticker, we assume it to be heat treated. This would mean that if the glass were to break, say if your child or pet pulled on it, there would be some safety with the way the glass breaks into tiny cubes.
While chemically treated glass has its place, in this instance to strengthen a 3mm panel instead of having to go to 5mm for the same strength, we also feel that a non-specific sticker almost adds a false sense of security. At least, we did slip up and break the glass to find out for ourselves what it was, that way customers do not find out the hard way. Outside of this incident, we are in love. The IN WIN 805 is a chassis that will not soon leave our memories; we just wish we had a build to put inside of it long term, as it is well deserving of a home along with the other great cases kept from years gone by.
With the only issues to battle long-term being dust and fingerprints, we have no reasoning to divert you from making this chassis yours. We do however not like the way that the color makes a determination on pricing. We cannot imagine that anodizing a strip of aluminum cost much more depending on the color used. If you have the cash handy, love high-end cases, but are limited to room, or just don't have a use for a huge chassis, this sleek and sexy IN WIN 805 is one of our top three favorite mid-tower cases ever. That pretty much sums it all up right there.
Chad's Chassis Test System Specifications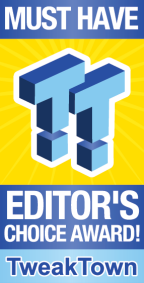 | | |
| --- | --- |
| Performance | 93% |
| Quality including Design and Build | 98% |
| General Features | 96% |
| Bundle and Packaging | 100% |
| Value for Money | 94% |
The Bottom Line: IN WIN's 805 raises the bar on all other mid-tower cases. With the use of exotic materials, a classy and sleek aesthetic, and a finished product that anyone would have to love to have next to their monitor, even at $170, the 805 delivers in every aspect.
PRICING: You can find products similar to this one for sale below.

United States: Find other tech and computer products like this over at Amazon.com

United Kingdom: Find other tech and computer products like this over at Amazon.co.uk

Australia: Find other tech and computer products like this over at Amazon.com.au

Canada: Find other tech and computer products like this over at Amazon.ca

Deutschland: Finde andere Technik- und Computerprodukte wie dieses auf Amazon.de
We openly invite the companies who provide us with review samples / who are mentioned or discussed to express their opinion. If any company representative wishes to respond, we will publish the response here. Please contact us if you wish to respond.