The Hunger Games: Mockingjay Part 2 (2015) Cinema Movie Review
'Tonight, turn your weapons to the Capitol. Turn your weapons ... to Snow!'

Published
2 minutes & 16 seconds read time

The Hunger Games: Mockingjay Part 2 (2015)
Three and a half years is a long time, especially in today's blink and you'll miss it pop culture terms. But finally we come to the penultimate Hunger Games - Mockingjay Part II - the conclusion of the saga which began in 2012 with a then relatively unknown young actress named Jennifer Lawrence who's go on to become a superstar, whilst other cast members such as Philip Seymour Hoffman have since sadly passed away. So, are audiences eager to discover the conclusion to the dystopian series, or some kind of duty to see it through to the end?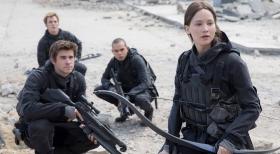 Coerced and manipulated into taking up the mantle of the Mockingjay by former District 13 president and leader of the rebellion Alma Coin (Julianne Moore), but denied the opportunity to officially join the boots on the ground campaign to liberate Panem, Katniss Everdeen (Jennifer Lawrence) takes it upon herself to assassinate President Snow (Donald Sutherland).
From the booby-trapped weapons that populate every corner of the Capital for blocks ahead and a damaged Peta (Josh Hutcherson) unable to distinguish friend from foe, Katniss will have to call on all skills of self-preservation to complete her mission and free the remaining citizens of the dystopian Districts.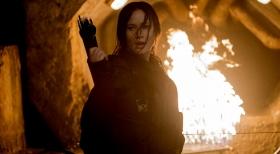 Taking the Matrix Revolutions-style of sequels, Mockingjay Part II won't cut audiences any slack for a lapse in memory of the events that have previously transpired, without even the slightest hint of explanatory dialogue to bring audiences back up to speed. After a year, that's a pretty tall ask for more casual fans and a bad start to a film that desperately wants you to root for the plight of the main characters.
Naturally, more dedicated fans will, of course, have no problem keeping up - especially those invested in the original novel. With many plot threads to be tied up from the previous three films, the film does a good job of providing conclusions to these.
One of the more thrilling sequences; the sewer escape was tonally quite different and seemed somewhat out of place, with a noticeable nod to director Francis Lawrence's previous film I am Legend - albeit with much better visual effects here. That said, I rarely found them satisfying, most notably the film's climactic finale, which should have played out as an epic, heart-stopping moment, which was so protracted and telegraphed in advance that it's hard to care. And with more endings than Return of the King, it leaves audiences with a feeling that it was all just a bit of a letdown, which also cheapens what came before it.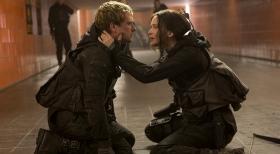 For the most part, the cast can't be faulted. Jennifer Lawrence gives a solid performance as the figurehead of the resistance, although other roles since have proved she's grown significantly as an actress and is capable of much more range than what's on display here. Perhaps the biggest disappointment is the conclusion to Plutarch Heavensbee, which is provided by letter in absentia, necessitated by the death of actor Philip Seymour Hoffman mid-production.
Now that we can finally view The Hunger Games saga as one long saga and judged appropriately, it's pretty clear that it doesn't stack up alongside the most loved feature franchises of all time. It's clearly competent, mostly well directed and edited and aided by some compelling visual effects, but doesn't have much of a beating heart behind the socialist ideals and glossy veneer.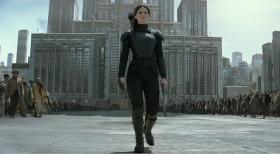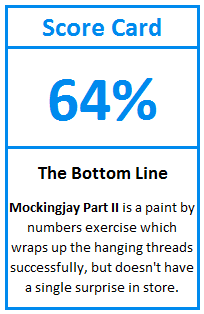 PRICING: You can find products similar to this one for sale below.

United States: Find other tech and computer products like this over at Amazon.com

United Kingdom: Find other tech and computer products like this over at Amazon.co.uk

Australia: Find other tech and computer products like this over at Amazon.com.au

Canada: Find other tech and computer products like this over at Amazon.ca

Deutschland: Finde andere Technik- und Computerprodukte wie dieses auf Amazon.de
We openly invite the companies who provide us with review samples / who are mentioned or discussed to express their opinion. If any company representative wishes to respond, we will publish the response here. Please contact us if you wish to respond.