TweakTown's Rating: 88%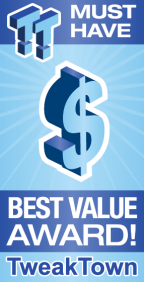 The Bottom Line
If you're looking for a cheap headset with a little flare, features on or off, the Patriot Viper V360 should be your first choice.
Introduction
With the Patriot Viper V360 placed at a very competitive price of $59.99, we're instantly going to question the build and sound quality on offer. If Patriot delivers a decent virtual 7.1 channel headset at this low price point, we might have a budget winner on our hands.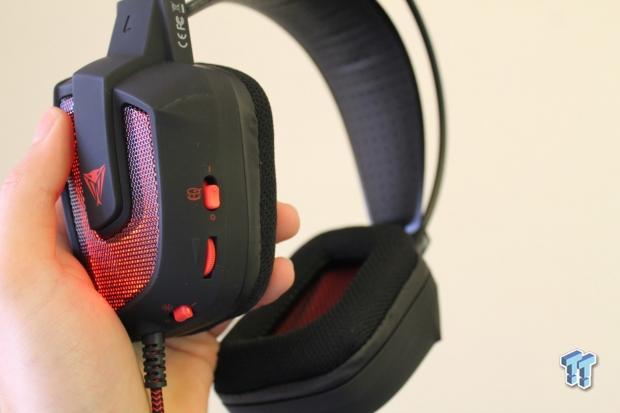 Packed with red LEDs and a gimmicky headset vibration feature, we will be putting this product to the test heavily in numerous gaming and music applications. After all, what's the point in a budget headset if it can't handle all applications reasonably?
Specifications
Connecting to your device through a single USB plug, Patriot's Viper V360 offers two 40mm neodymium drivers that provide a frequency response of 20Hz - 20KHz, a sensitivity of 97dB +/- 3dB and an impedance of 32 Ohms at 1kHz.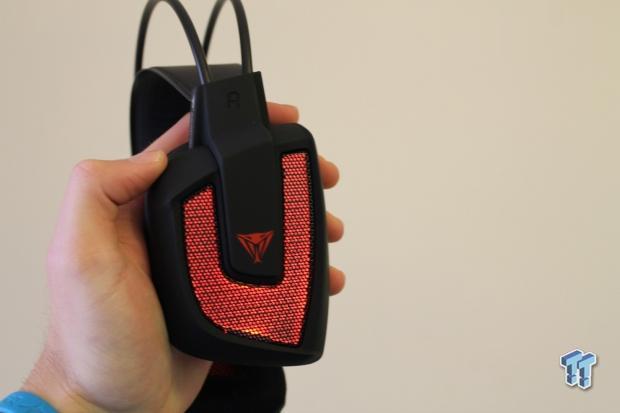 Weighing in at 385g, this headset tends towards the lighter end, further offering a lengthy 2.2-meter cable and requires an input power of 100mW through the braided cable on offer. The microphone further offers a response of 100Hz - 10KHz, a signal-to-noise ratio of 93dB, a sensitivity of 44dB +/- 3dB and picks up sound in an omnidirectional pattern. Other features include red LED illumination for the exterior side of the earcups and an 'Ultra Bass Response' system. This UBR system means that the headset will shake with bass, but is something you can thankfully turn off.
Pricing & Availability
Priced very competitively at Amazon for $60 at the time of writing, the V360 comes with the features and looks to gather a good rating. It's all up to the comfort and sound quality to determine what it rates as in the end.
What's in the box?
"YES!" I exclaimed as I pulled the package contents out. Patriot has instantly scored themselves some brownie points thanks to including a carry pouch. As it marketed towards gaming, you're going to expect some travel and LAN usage. A carry pouch or bag will cost the manufacturer next-to-nothing to throw in, and offers some great insurance against scratches, scuffs and damage.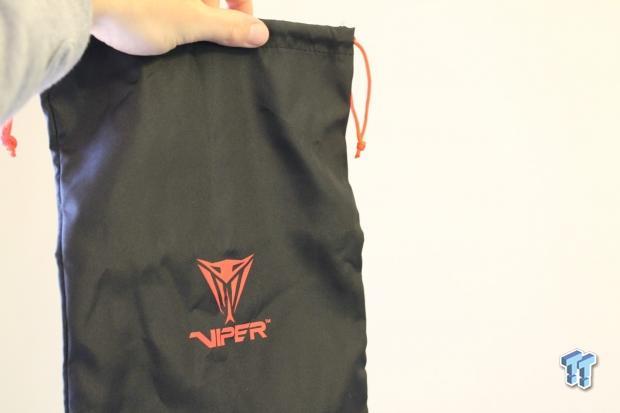 Also included are some stickers, if you are that way inclined, along with some manuals, all wrapped up in this cool folded envelope. Last up is a little plastic cover for the USB connection (I always lose these) and a handy Velcro strap to keep cables tidy.
Let's dig deeper
As this headset provides 'scratchy' cloth earcups, the comfort completely blew me away in comparison. It's not the best I've ever placed on my head, but for under $80, it feels great. The lightweight design and expanding bridge headband sell the product here. As always, expanding bridge headbands win me over, being able to disguise any headset, no matter the weight, and keep you gaming for hours on end. On another note, the lighting is a little cool but annoying at night. It's brighter than my monitor! See below for a real life example. There must be some downfall, though, and that comes with the overall look and build quality. The cups and exterior design are akin to the Tt eSPORTS of old, having awkwardly-shaped rectangle-ish cloth earcups and a chunky design.
The vibration feature was a little cool at first. I stopped my music and cranked up the volume for some alien domination in Crysis 2, alas, it became only what I could explain as 'overwhelming' and quite annoying in the end. When the sound is pumping, and your headset is jumping all over the place, it's a weird experience and not one I enjoy. Sensory overload, maybe? This headset also features plug-and-play because drivers are quite annoying. I'm a big fan of driverless operation if I can get away with it, if not I would have the following installed: Patriot headset drivers, Razer Synapse, Tt eSPORTS Controls, and the Sound Blaster X7 Control Panel. I much prefer fewer updates, fewer start-up programs, and less hassle.
How does it compare?
Loading up Crysis 2 and switching off the bass rumble this time saw a pleasant experience. You're not going to get the full soundstage that most $100+ headsets provide, but the Patriot V360 does what it claims and does it well.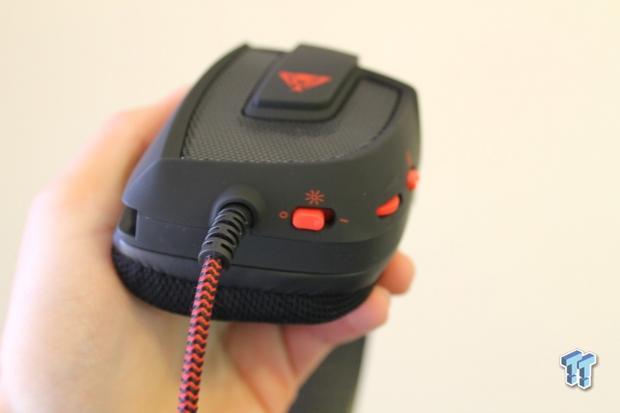 There is a distinct punch with each grenade explosion, and the character voices don't sound like they were routed through a tin can. Sure, the LEDs and vibration can be annoying, but you can turn them off (thankfully). The headset controls, as usual, are awkward and hard to get your head around. But, I'm (almost) a fan of them on this headset. Why? There isn't a massive-sized in-line control unit to worry about tangling in your pants and the buttons on the headset are out of the way.
Quiet tracks are where this product suffers, seeing the mid and high range of Twenty One Pilots' 'Ode To Sleep' report a little muddy and unclear.
Some chilled out rap music from Nas helps introduce a little punchy bass into the mix. This song brought the Viper V360 closer to its prime, handing the song well.
Moving onto Warcry by Audiofreq is the ultimate bass test, smashing your ears with some incredible reverse bass at numerous times throughout. This onslaught proved a little too much for the poor V360, but I wouldn't count it out completely. It's certainly the best sub-$100 headset I have tried to date.
What's Hot
Features on, features off: You're able to turn every flashy feature on or off making it great for all kinds of users.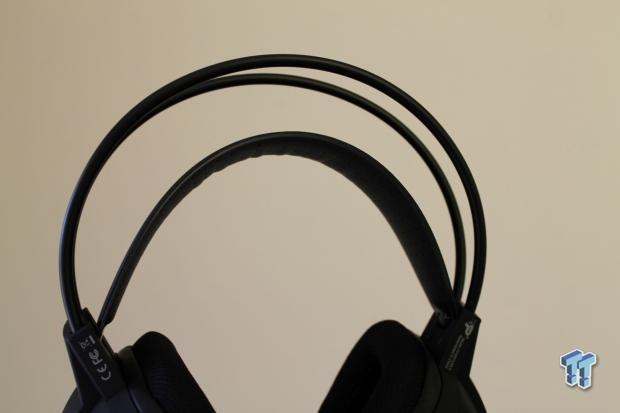 Great comfort for under $100: This headset, while having scratchy cloth attached, feels great on your head for hours, thanks to the expanding bridge headband and light design.
The best sound for under $100: No more to say.
What's Not
Feels cheap: It feels cheap, but it is cheap - go figure!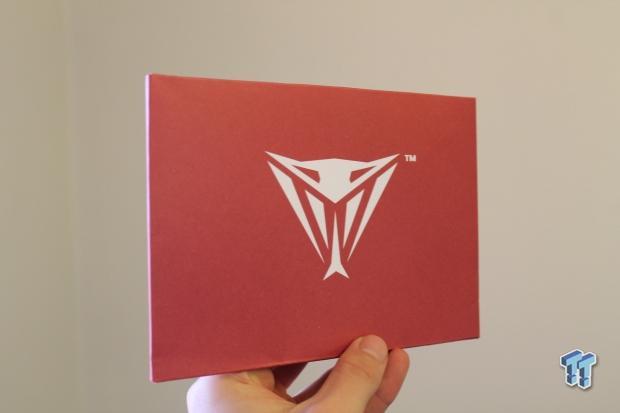 Final Thoughts
While I did claim this to be the best sub-$100 headset, I must admit that I haven't been totally honest with you. Kingston's HyperX Cloud and Cloud Core are both amazing headsets under $100 that offer good sound quality and leather comfort, but, they offer nothing 'flashy'. No USB connection, no LEDs, and no cool accessories.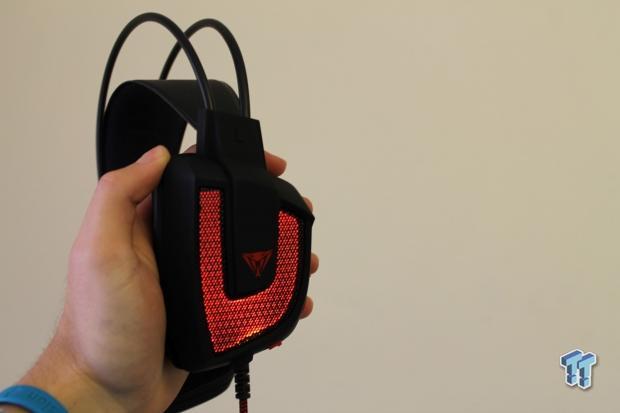 So, if you're looking for a cheap headset with a little flare, features on or off, the Patriot Viper V360 is a good choice for the price.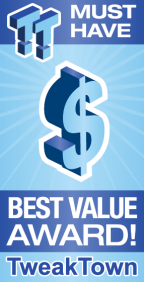 | | |
| --- | --- |
| Performance | 90% |
| Quality including Design and Build | 80% |
| General Features | 85% |
| Bundle and Packaging | 85% |
| Value for Money | 99% |
The Bottom Line: If you're looking for a cheap headset with a little flare, features on or off, the Patriot Viper V360 should be your first choice.
PRICING: You can find products similar to this one for sale below.

United States: Find other tech and computer products like this over at Amazon.com

United Kingdom: Find other tech and computer products like this over at Amazon.co.uk

Australia: Find other tech and computer products like this over at Amazon.com.au

Canada: Find other tech and computer products like this over at Amazon.ca

Deutschland: Finde andere Technik- und Computerprodukte wie dieses auf Amazon.de
We openly invite the companies who provide us with review samples / who are mentioned or discussed to express their opinion. If any company representative wishes to respond, we will publish the response here. Please contact us if you wish to respond.