GIGABYTE X99-Gaming G1 WIFI (Intel X99) Motherboard Review
GIGABYTE's X99-Gaming G1 WIFI motherboard is packed out with loads of features and offers solid performance at a good price. Here's our full review.
Published Apr 14, 2015 9:12 AM CDT
|
Updated Tue, Nov 3 2020 6:59 PM CST
14 minute read time
TweakTown's Rating: 93%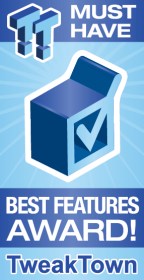 The Bottom Line
GIGABYTE's X99-Gaming G1 WIFI packs a plethora of features into a package that doesn't compromise speed for bandwidth, leading to solid performance at a reasonable price.
Introduction, Specifications, and Pricing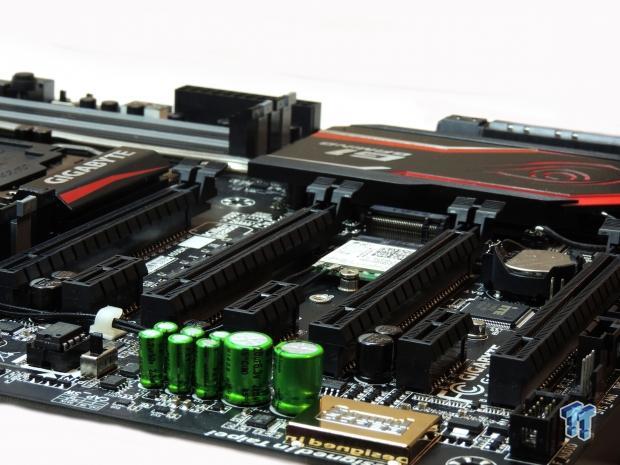 GIGABYTE has one of the largest X99 motherboard fleets in the retail market. Instead of leaving just a few models to satisfy their customers, they tend to tailor their segments to better target their end users' needs. GIGABYTE has come out with G1 Gaming, SOC Overclocking, and Ultra Durable lines. While each type of board is specifically targeted towards gamers, overclockers, or power users, all the boards cross over into each other's domains.
Their overclocking boards carry upgraded audio and their gaming boards carry overclocking feature, while their main series carries both. However, as you get deeper into their product structure, certain products offer features that don't exist on other lines, and the X99-Gaming G1 WIFI is a perfect example of this.
GIGABYTE has been keen on consistently improving the audio on their motherboards, and the AMP-UP section of the X99-Gaming G1 WIFI is a perfect example of continuing innovation. Not only does the X99-Gaming G1 WIFI come with gaming features, but it also boasts a few overclocking features, because after all gamers can also be overclockers. Follow me as I put the X99 Gaming G1 WIFI through the grueling tests and analysis only found here at TweakTown.
Specifications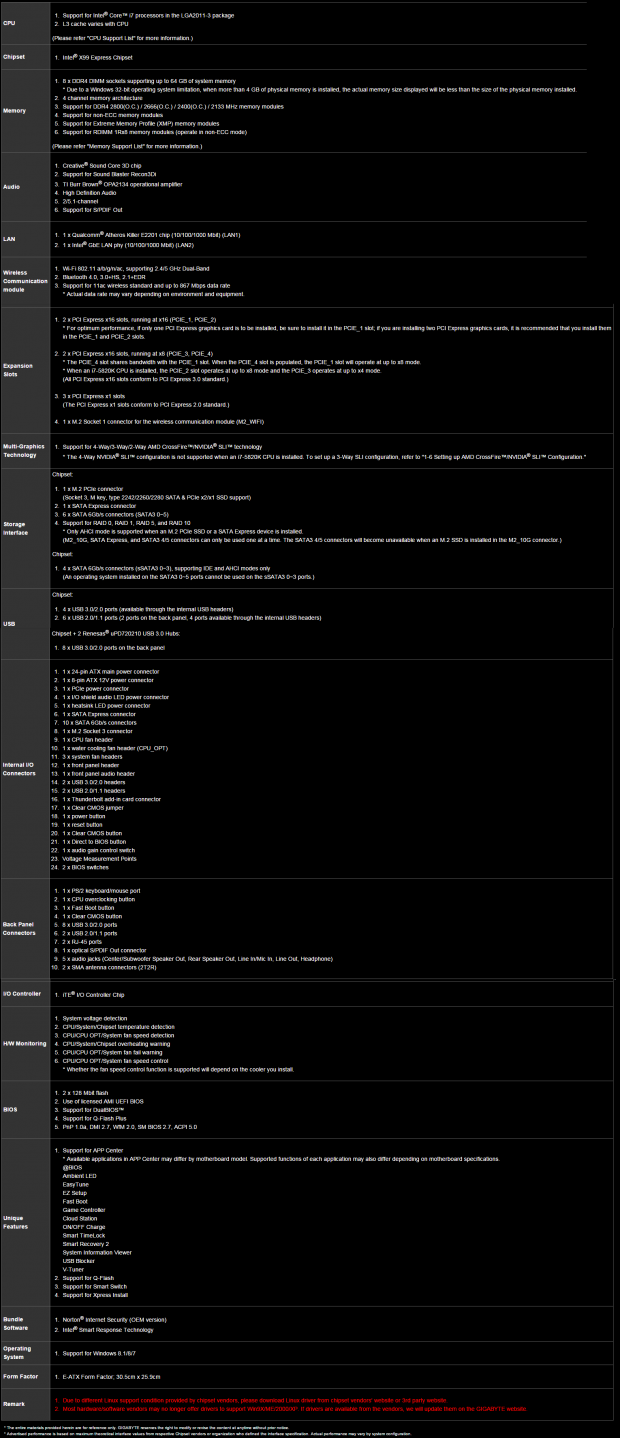 Here are the manufacturer specifications. The board is packed with features for gaming, overclocking, and productivity. Dual NICs, AC WIFI, OC buttons, endless ways to recover from a bad BIOS flash, 4-Way multi GPU support are a few of the plethora of features the X99-Gaming G1 WIFI provides.
Pricing
The X99-Gaming G1 WIFI is $324.87 on Amazon at the time of this review, which is a bit on the higher side for X99 motherboards. The board does provide a wide array of features, so it is a tradeoff of features for price.
PRICING: You can find the GIGABYTE X99-Gaming G1 WIFI (Intel X99) Motherboard for sale below. The prices listed are valid at the time of writing, but can change at any time. Click the link to see the very latest pricing for the best deal.
United States: The GIGABYTE X99-Gaming G1 WIFI (Intel X99) Motherboard retails for $324.87 at Amazon.
Australia: The GIGABYTE X99-Gaming G1 WIFI (Intel X99) Motherboard retails for $509 at PLE Computers.
Canada: The GIGABYTE X99-Gaming G1 WIFI (Intel X99) Motherboard retails for CDN$698.47 at Amazon Canada.
Packaging and the X99-Gaming G1 WIFI
Packaging and the Board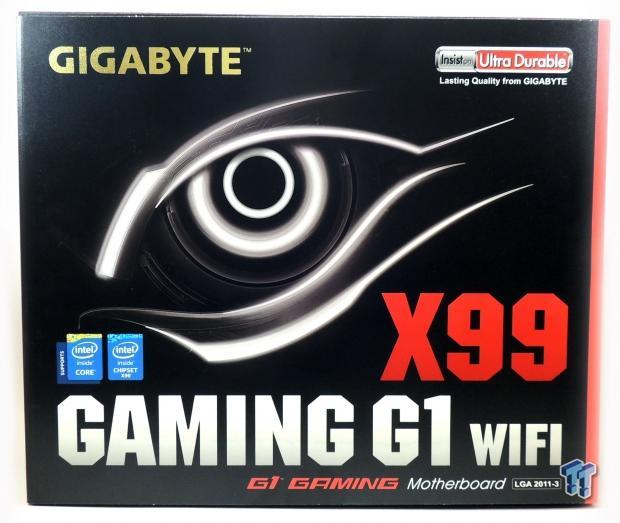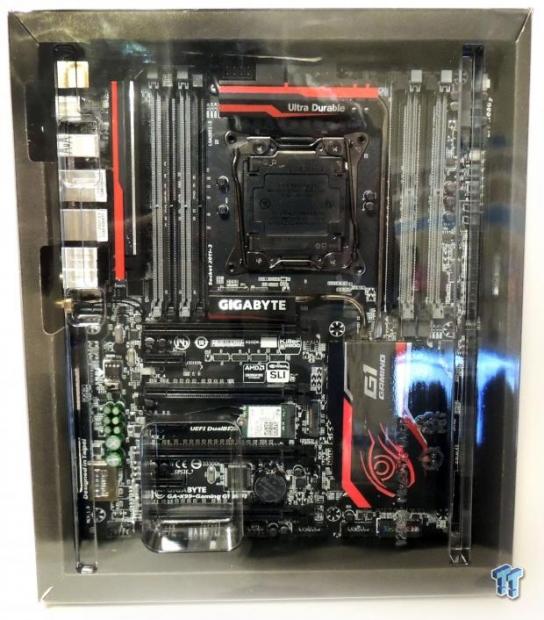 The box opens up so you can actually see the board through a window. Inside, the board is securely packaged in a box.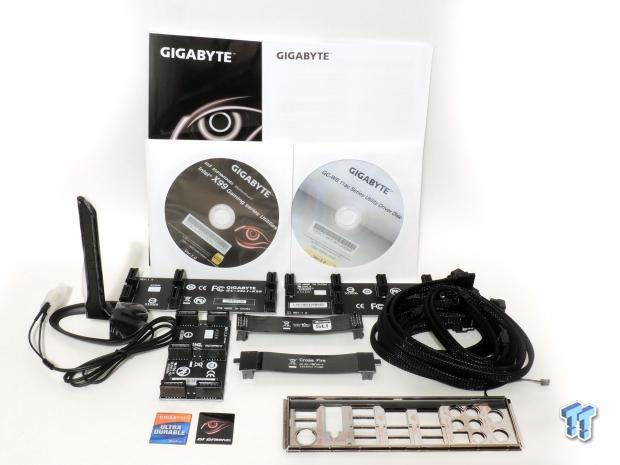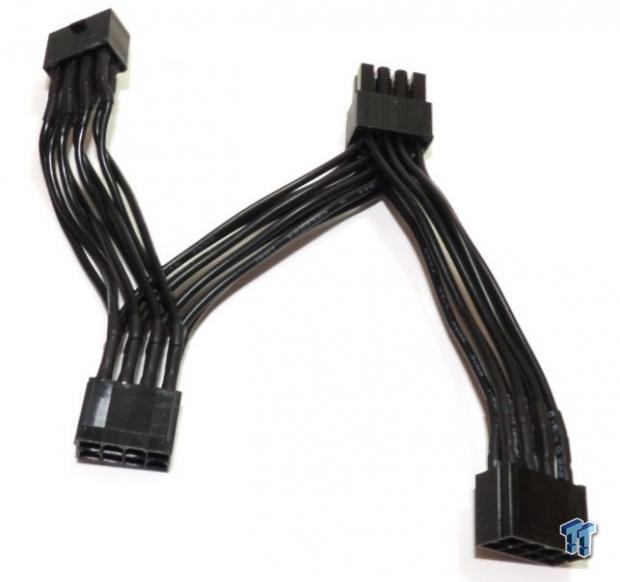 Included accessories include; 6x SATA6G cables, 2-Way SLI and CrossFireX Bridges, two different 3-Way SLI Bridges, a 4-Way SLI bridge, 1x lighted IO shield, 1x WIFI/BT Antenna, 1x driver DVD, manuals, and case stickers. GIGABYTE also provides a cable which gives you the ability to combine multiple 8-pin CPU power connectors so that you can avoid OCP on many PSUs.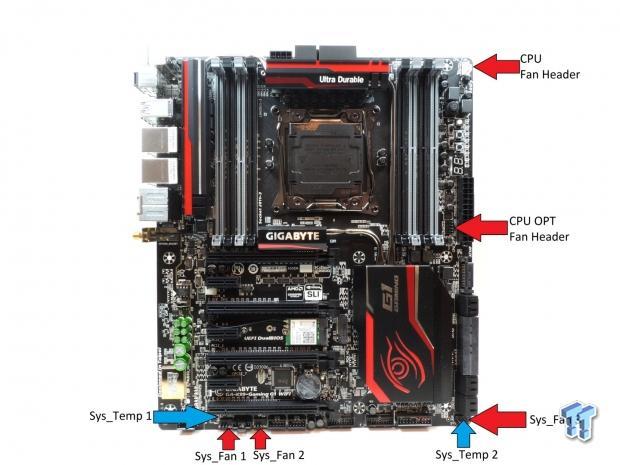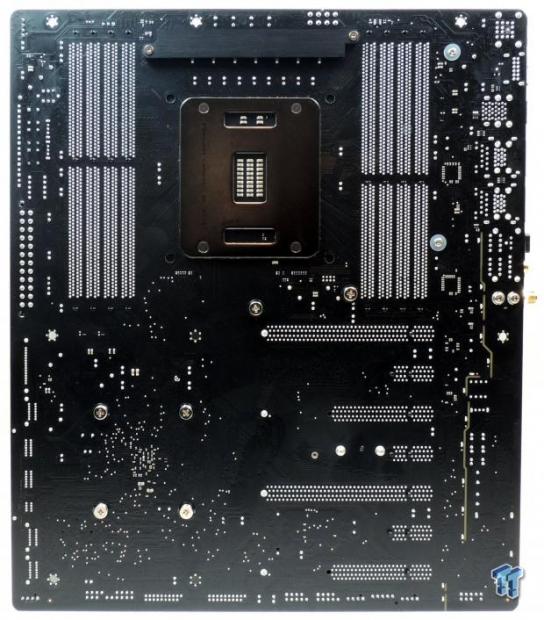 I have highlighted the fan headers and system temperature sensors on the board. The red themed X99-Gaming G1 WIFI has a nice design and pleasing aesthetics, especially if you fancy red. Out of all the circuitry, the part that pops out the most is the audio section which I will cover more in depth later. The back of the board doesn't have much more than some LEDs for the PCB divide for the audio, and a piece of metal that helps support the heat sink (it is kind of useless).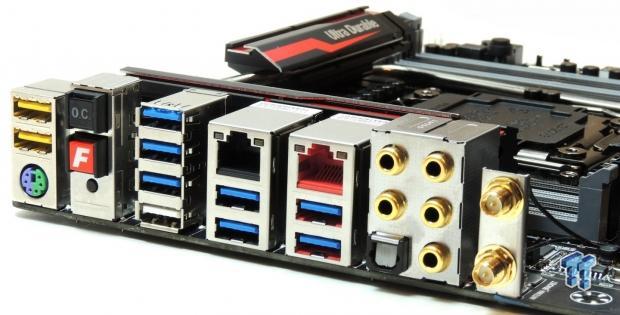 The back panel IO features a 2x 1GBit NICs, 8x USB 3.0 ports, 2x USB 2.0 ports DAC-UP, PS/2 keyboard and mouse, OC button, fast boot button, clear CMOS button, WIFI and BT4 antenna connectors, and a 7.1 TOSLINK for audio with S/PDIF out.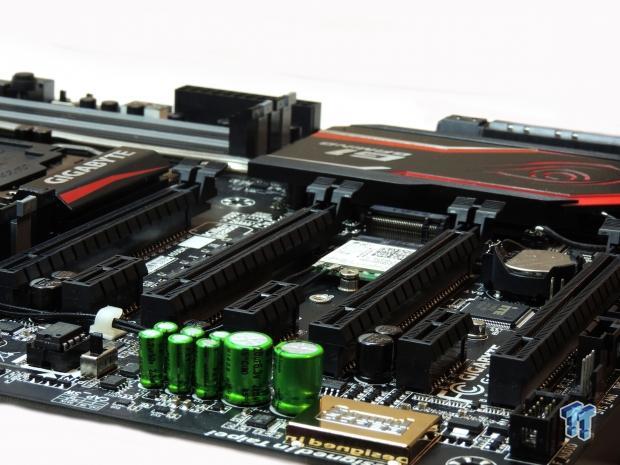 The PCI-E layout on this motherboard is optimized for multi-GPU configurations. All the PCI-E bandwidth from the CPU reaches the slots, and does so almost without delay. The third and fourth slots are hard wired 16X/8X. The first slot has its first 8X hard wired to the CPU, and the second 8X can be shared with the second PCI-E slot if needed. You can run 3-Way in multiple configurations, especially when you have a 28-lane CPU installed, and that is why GIGABYTE provides two 3-way SLI bridge offering different slot spacing.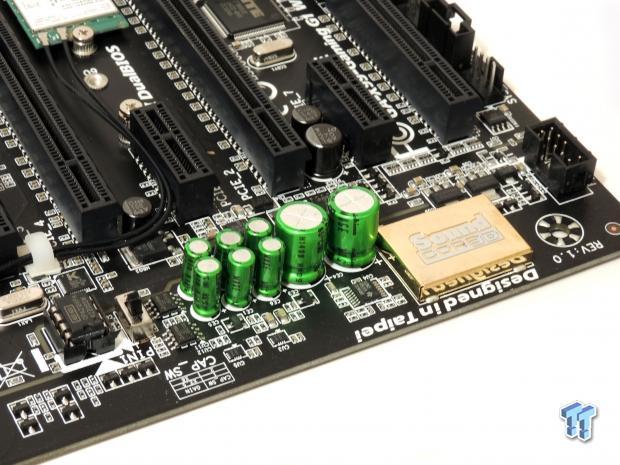 The audio setup on this board is one of the most customizable I have seen. The ability to replace the amplifier is a really cool feature, and while most won't utilize it, it still provides upgradability. The gold cover on the Creative Core3Di is also a nice touch, and actually contrasts well with the green Nichicon audio capacitors.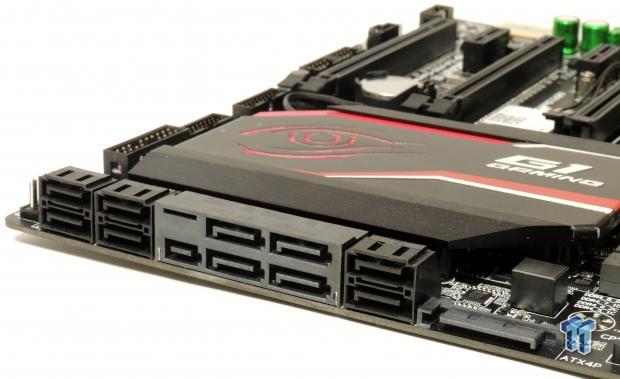 GIGABYTE equipped the X99-Gaming G1 WIFI with 10 SATA ports, two of which are shared with the SATA Express and M.2 ports. You will also notice an extra SATA power receptacle which is for extra PCI-E power for 4-way multi-GPU setups.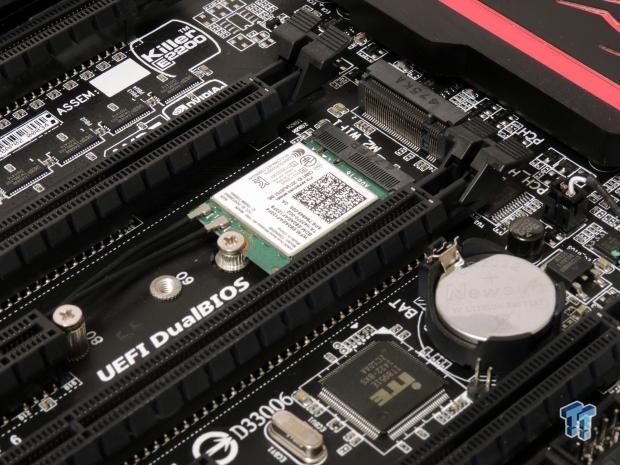 The WIFI/BT module is already installed on the motherboard and sits in a M.2 slot. Above the included wireless card is a slot for much larger M.2 drives.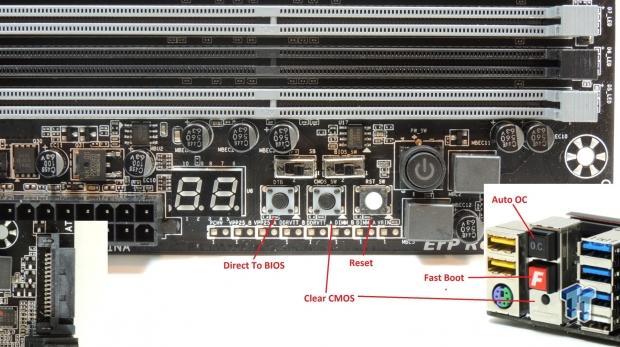 These are the OC features the X99-Gaming G1 WIFI carries, I was very happy to see these and the POST code display, as I feel the POST code display is a requirement for any board over $300.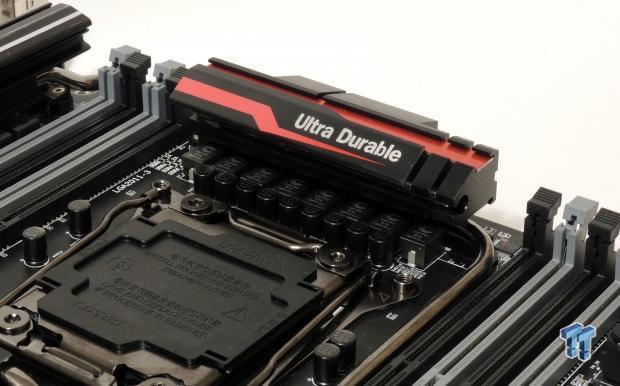 The VRM is made up of 8 phases, and it's actually the same as the VRM on the X99-SOC Force and X99-SOC Champion. I will cover this in detail in the next section.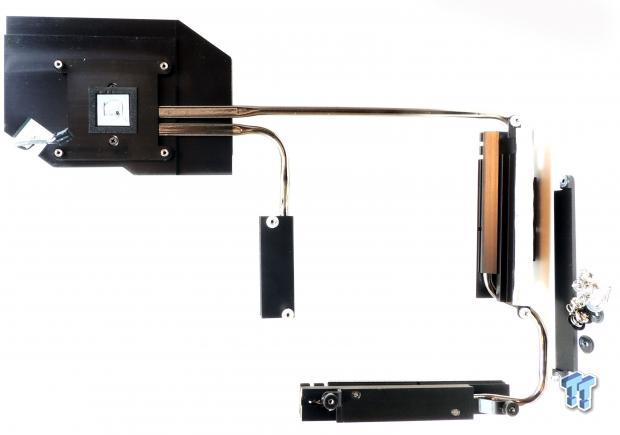 The heat sink is one solid piece and most of it is extra metal to hold heat from the PCH or VRM. The heat sink uses screws and makes good contact with components.
X99-Gaming G1 WIFI Analysis
Circuit Analysis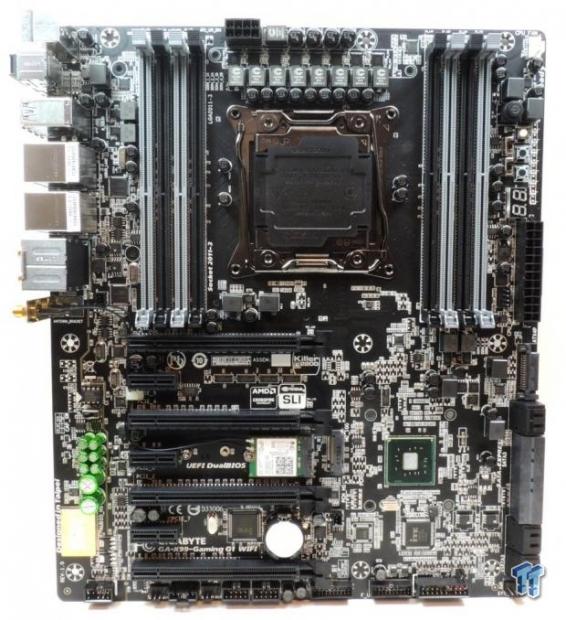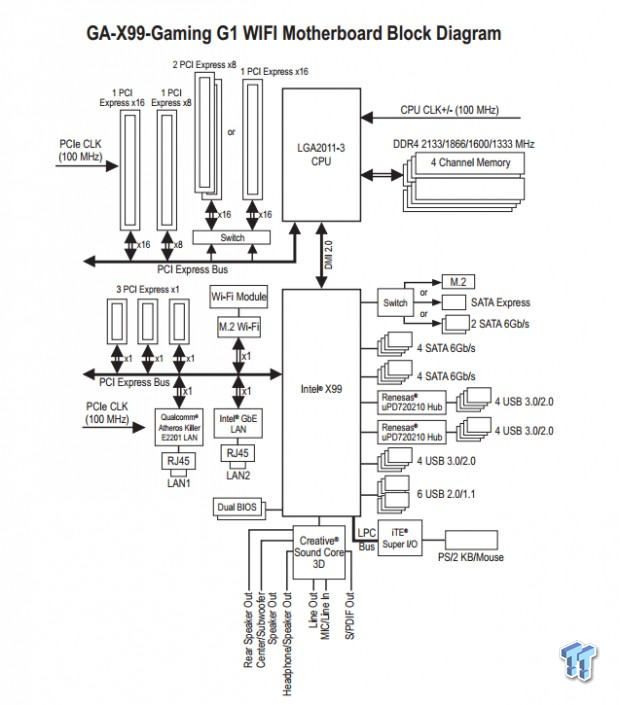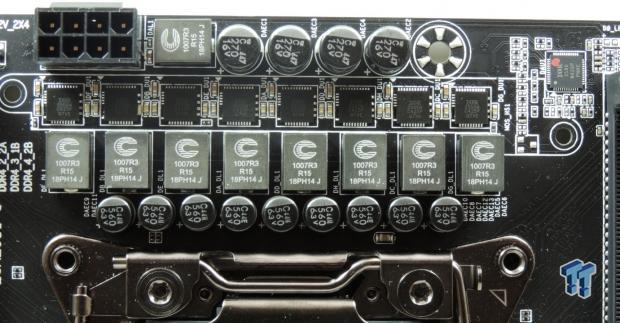 The CPU VRM features a total of 8 phases; each is powered by an integrated power stage, the well-known International Rectifier PowIRstages. There are eight high capacity server grade inductors made by Cooper Bussmann. The FP1007R3-R15-R are 0.15uH Flat-Pac series power inductors, they feature 76A saturation current at 25C; this is an extremely high current rating, and will help reduce overall heat around the VRM area. The X99-Gaming G1 WIFI uses 9x Nippon Chemicon 10K can-type polymer capacitors each rated at 560uF for a total of 5040uF.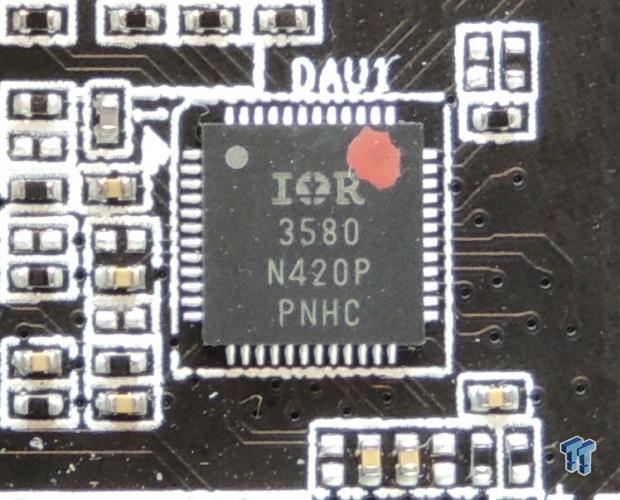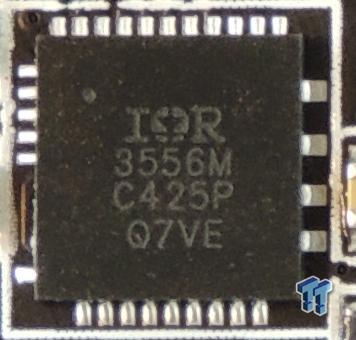 The X99-Gaming G1 WIFI is using the International Rectifier IR3580, an 8 phase digital PWM, the latest one that is offered by International Rectifier. GIGABYTE has used the IR3556 for the power stages, each one can output 50A at about 10W and 90% efficiency. The IR3556 is a brand new PowIRstage, it replaces the IR3551.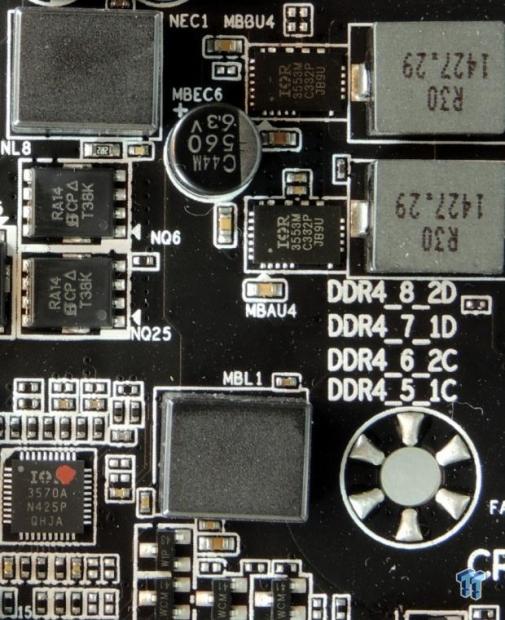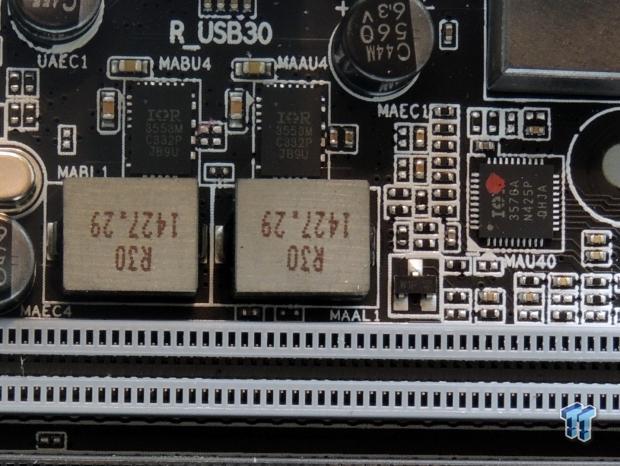 There are two sets of everything for the DDR4 power on X99, because there are two sets of DIMMs on every X99 motherboard. GIGABYTE chose to stay with digital PWM control for all four DDR4 VRMs; the International Rectifier IR3570 is a 3+2 phase digital PWM perfect for this. Two of these PWMs are in use, one on each side of the board. There are four DDR4 VRMs because each set of DIMMs requires a DRAM voltage of 1.2v and a DRAM VPP voltage of 2.5v. The 1.2v rail is the most important, and on this board each set of DIMMs get two phases, each a 40A International Rectifier IR3553.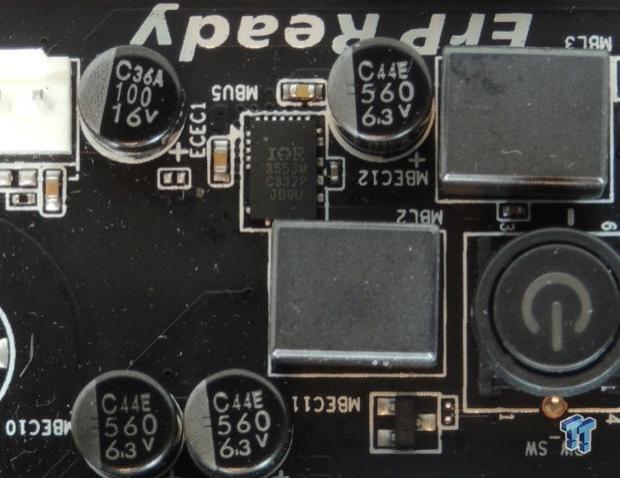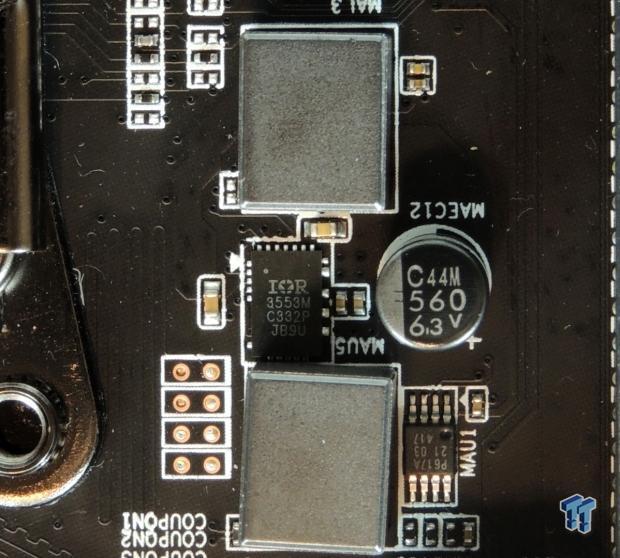 These are the VRMs that provide the 2.5v VPP supply for each set of DIMMs. They consist of a single phase made up of IR3553 40A PowIRstages which are controlled by the same IR3570 PWMs that are used for the main rail since the IR3570 has two separate sets of PWM outputs.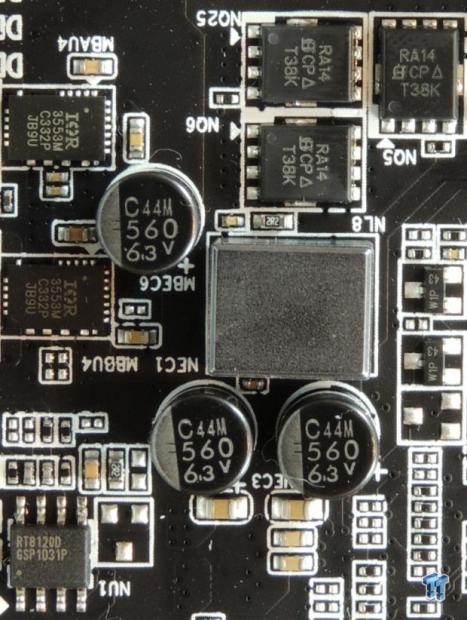 A single RT8120 is a single phase PWM and it powers a single phase VRM using two Vishay SiRA14MOSFETs that control the PCH voltage rail.

The main chip for the audio on the X99 Gaming G1 WIFI is the Core3Di chip from creative, the CA0132. It resides under the gold plated EMI shield. The entire audio section is separated from the main PCB where the analog and digital signals are mixed. This makes higher quality analog signals on the audio side easier to attain.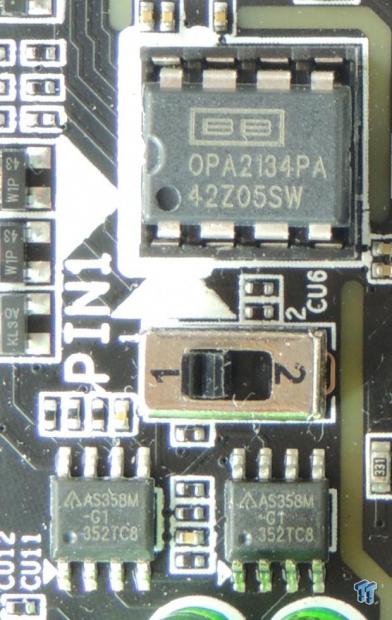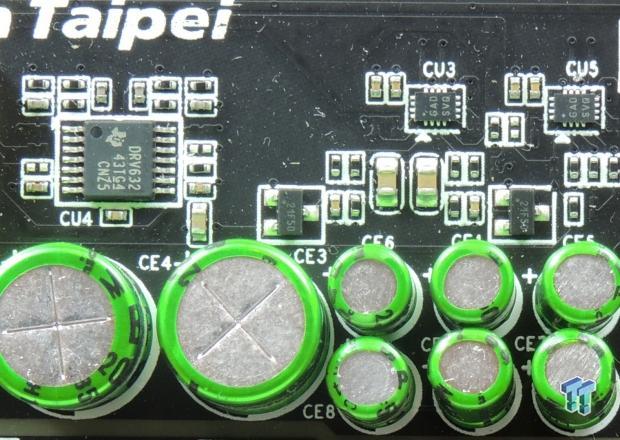 GIGABYTE provides a replaceable operational amplifier; they call this system OP-AMP. The board comes with a Burr Brown (Texas Instruments audio subdivision) OPA2134, the CAP switch next to it reduces gain from 6x to 2.5x for both channels. Dual ASM comparators help with the LED lighting modes. The X99 Gaming G1 WIFI also provides an amplifier for the front panel audio, the DRV632 from Texas Instruments provides that functionality.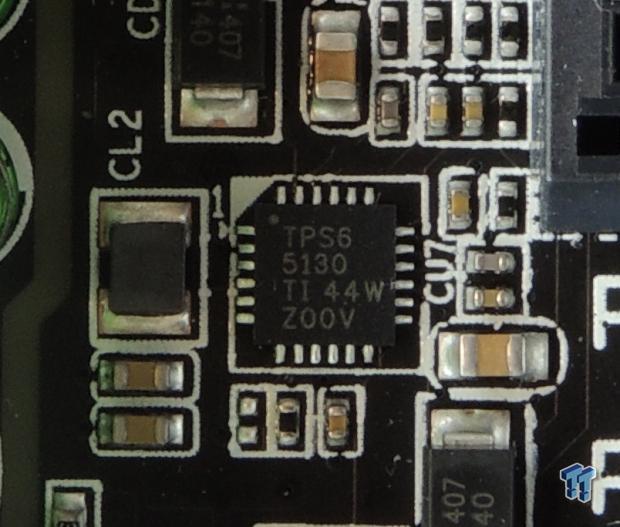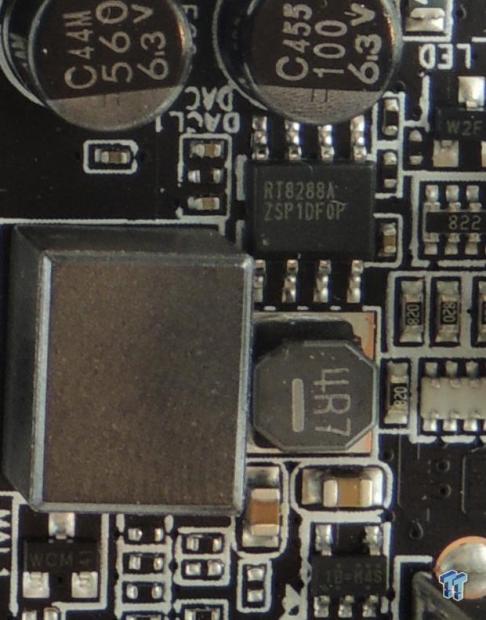 A Texas Instruments TPS65130 provides up to +/- 15v for the OP-AMP socket. While we are on the topic of audio power, I decided to also tie in the RT8288A which provides clean 5v power to the USB DAC-UP ports, which are yellow on the back panel. These ports have the ability to work without any power or with clean 5v power. Some USB DACs don't need USB power, just data, and with this system you can cut the power without cutting the data so it doesn't cause unneeded input noise.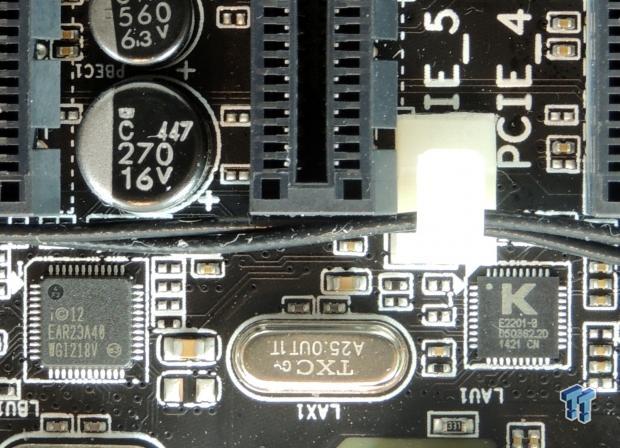 This board also has dual NICs. Some people have a preference for either Intel or Killer for their gaming network controller - the X99 Gaming G1 WIFI provides both.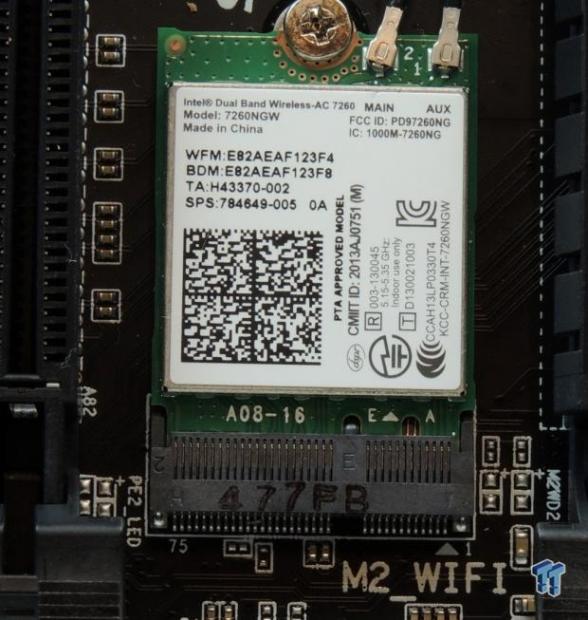 The Intel 7260NGW is the built in AC WIFI/BT M.2 card that is provided with the board. It provides dual band AC WIFI.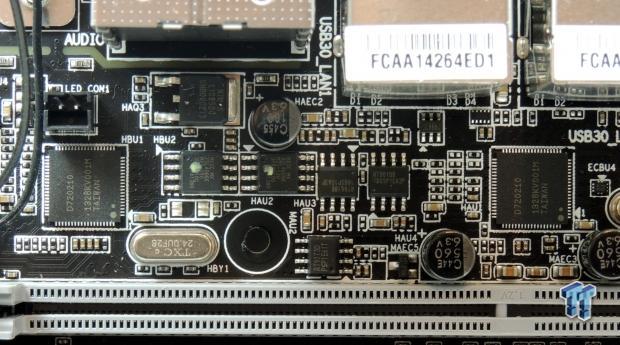 Dual Renesas(NEC) D720210 are used to expand 2x USB 3.0 ports from the PCH to 8x USB 3.0 ports for the backpanel.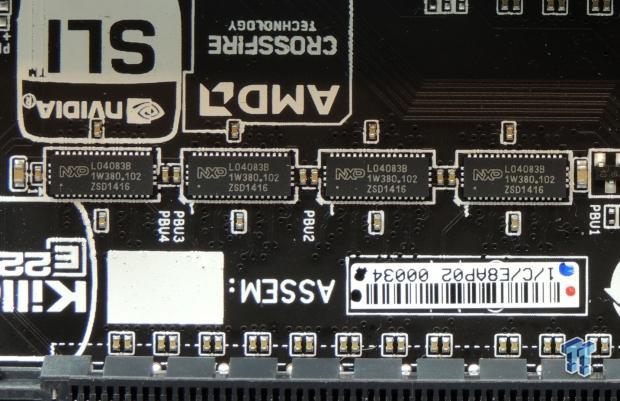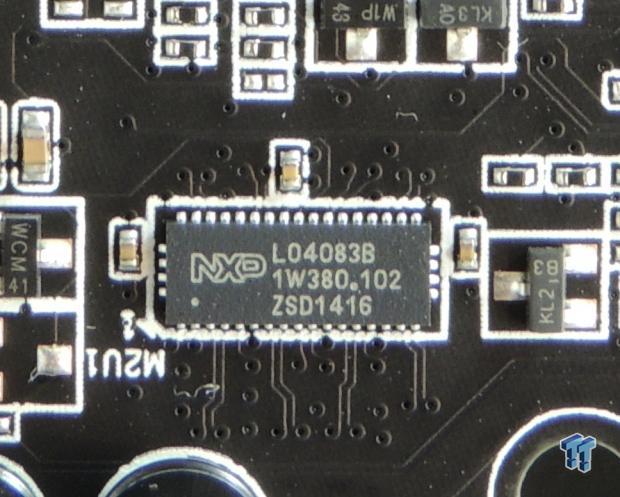 Four NXP L04083B switch 8x PCI-E 3.0 from the first 16x slot to the second 16x slot. GIGABYTE decided not to allocate CPU PCI-E 3.0 bandwidth to the M.2 slot as some other vendors have done, so they are using SATA6GB/s and SATA Express bandwidth to do it. A single NXP L04083B allows 2x SATA6GB/s to give up their bandwidth (2x PCI-E 2.0) to the M.2 slot.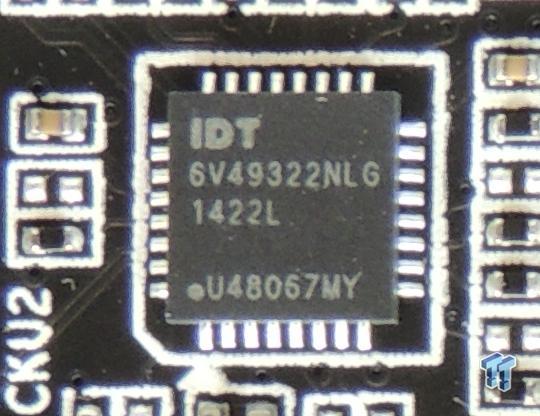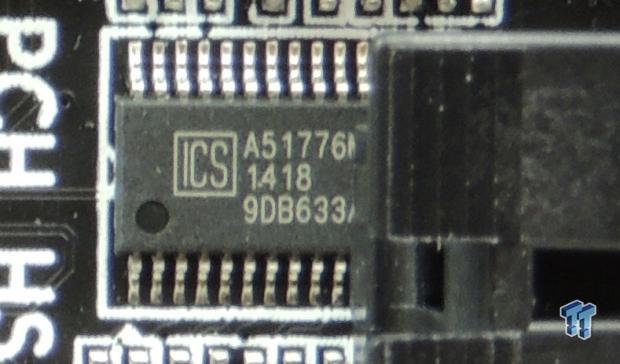 The board features two clock generators. The first is an IDT6V49332, which basically helps out with BCLK overclocking. The second is a common ICS clock gen used to generate the PCI-E signals.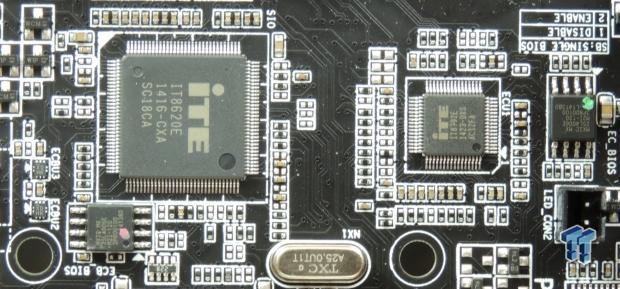 GIGABYTE is using a plethora of ITE branded ICs to control everything from SuperIOs to BIOS control mechanisms. First off, we have the ITE8620E, which is a super IO in charge of CPU fan control and PS/2, four NCT3941S are also used to expand fan control to the four fan headers. IT8792E is the first embedded controller (EC) we find on this board, its purpose is to expand OC features and fan control.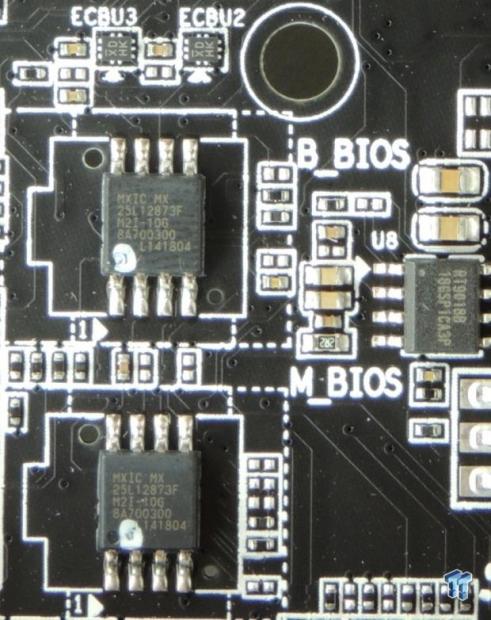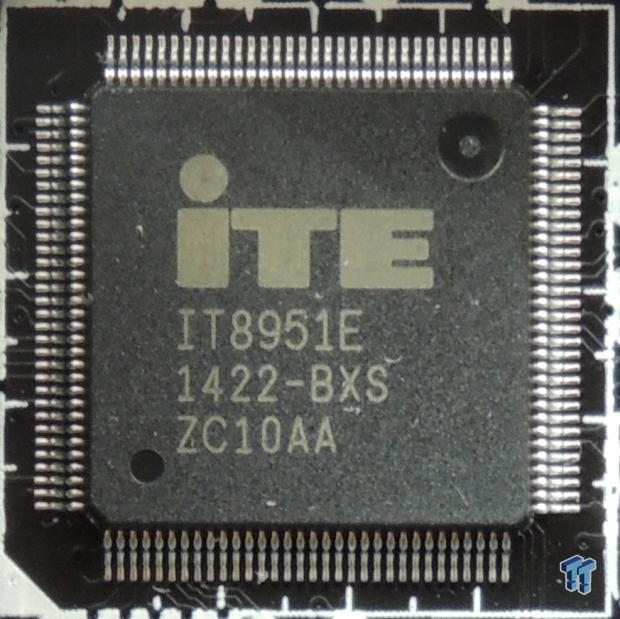 Dual 128Mbit BOS ROMs are used on this motherboard, for the traditional GIGABYTE dual BIOS, however, GIGABYTE thought that users might like a way to update the BIOS ROM without needing to boot the system, so they added a feature they call QFlash+.
It is similar to other USB BIOS recovery tools, in that all you need is a USB drive with the BIOS in a specific USB port, and then BIOS flashing is triggered. To provide this type of offline BIOS flashing, GIGABYTE uses an ITE8951E, along with a bunch of other ICs.
BIOS and Software
BIOS
With these X99 GIGABYTE boards, you should really only use the classic mode (gray BIOS) by pressing F2 when you are greeted by the very basic mode upon entrance into the UEFI. From the classic mode, you can access all the settings, including overclocking.
GIGABYTE provides too many BIOS modes, they should really get rid of the orange overclocking-only mode, as it just proves to be a bit laggy, and unknowingly someone might use it instead of the classic mode (the gray BIOS). I don't even think GIGABYTE improves upon the orange overclocking-only mode, but I have seen improvements in the gray mode.
With BIOS update F9, GIGABYTE fixed the issue where some USB drives would cause the system to fail to finish POST, something that drove a lot of people crazy. However, with that fix, there aren't really any major bugs left, and overall the BIOS does a pretty good job of providing overclocking profiles for novice overclockers and settings for more experienced overclockers.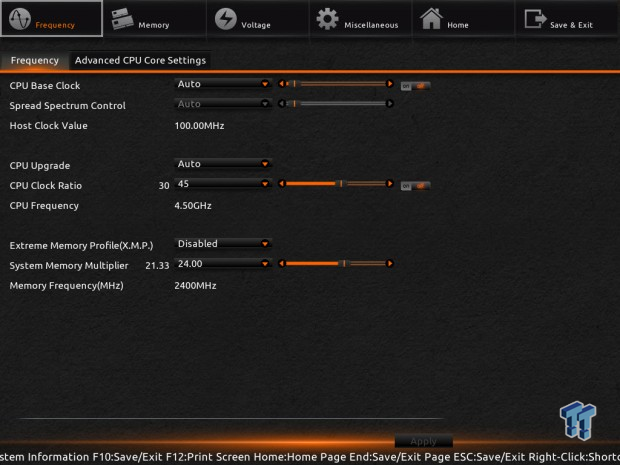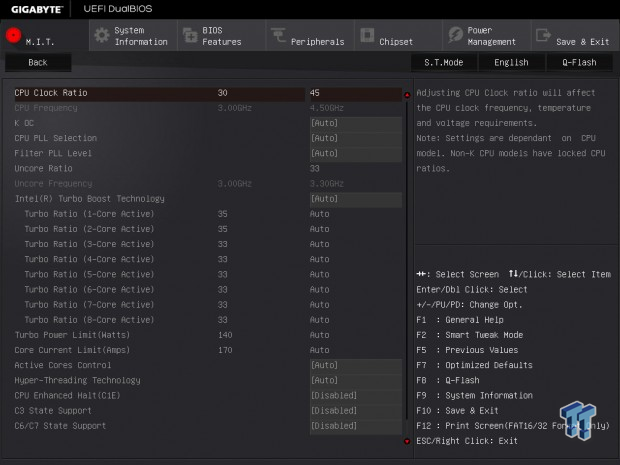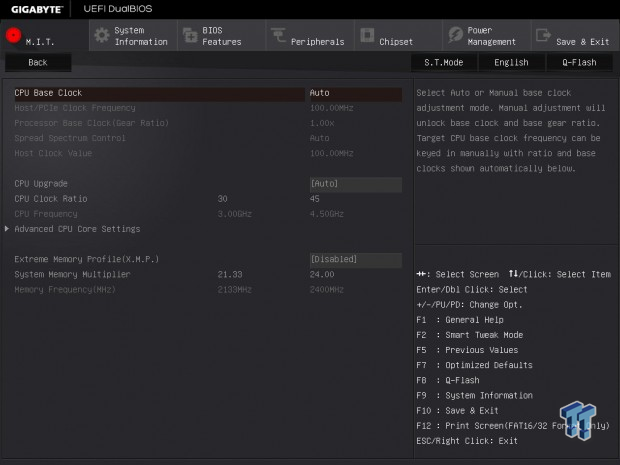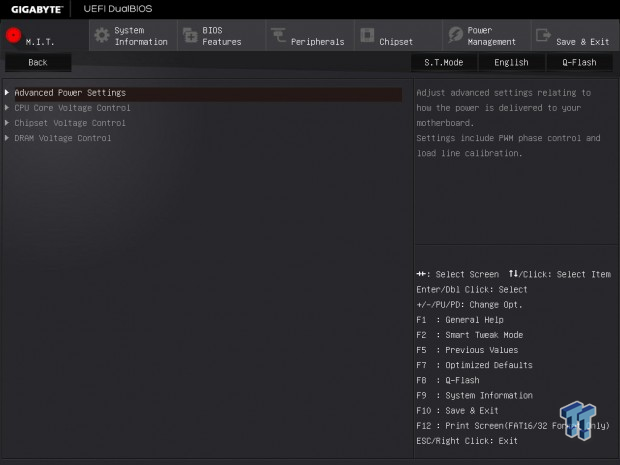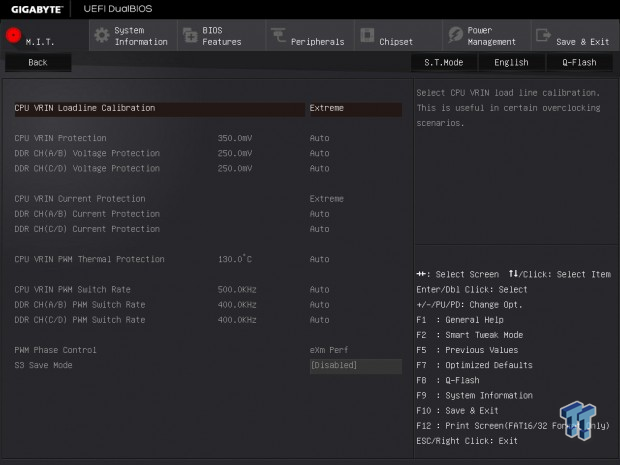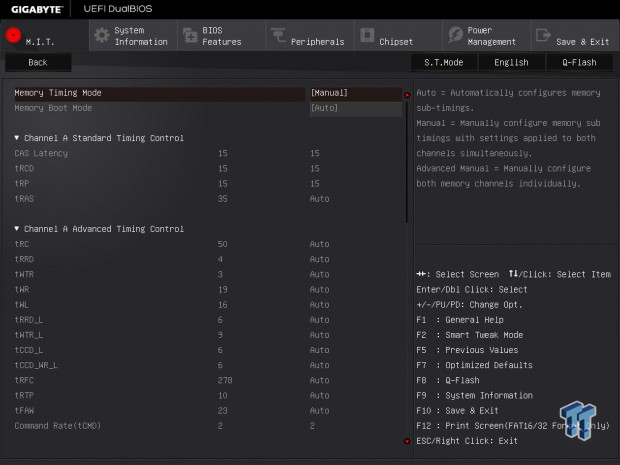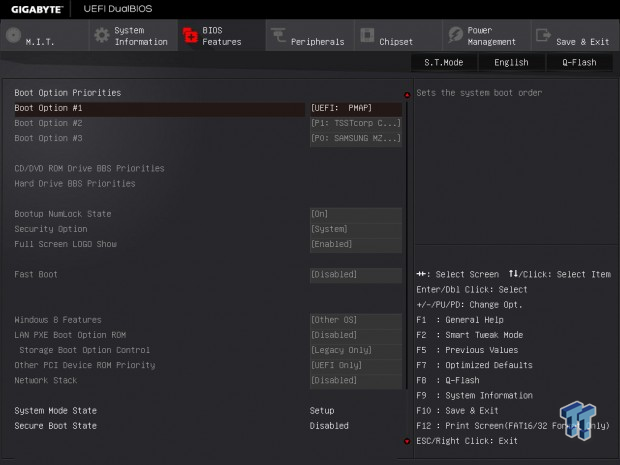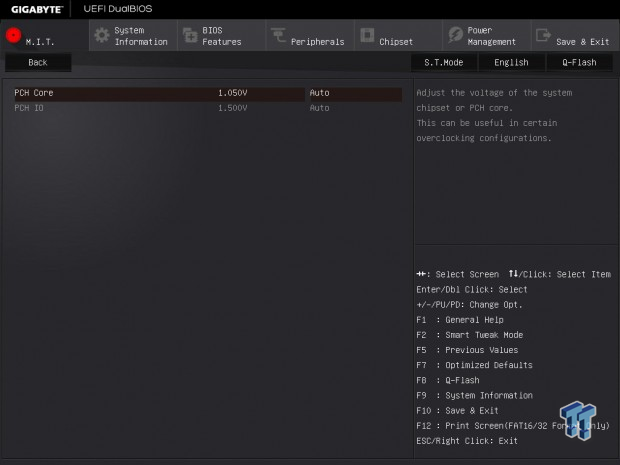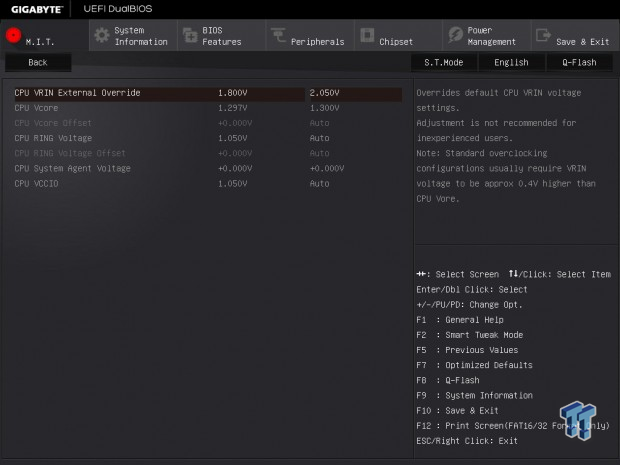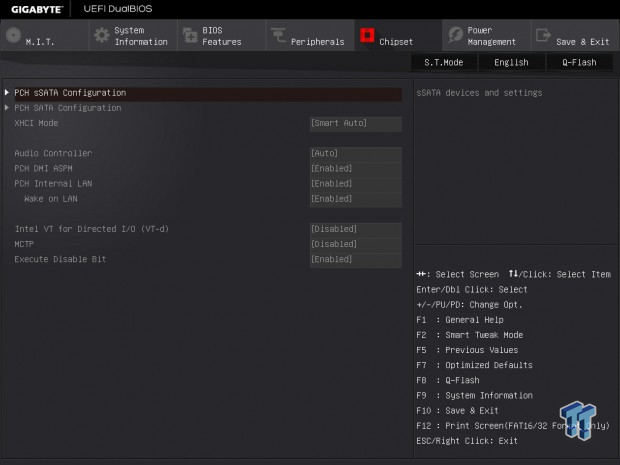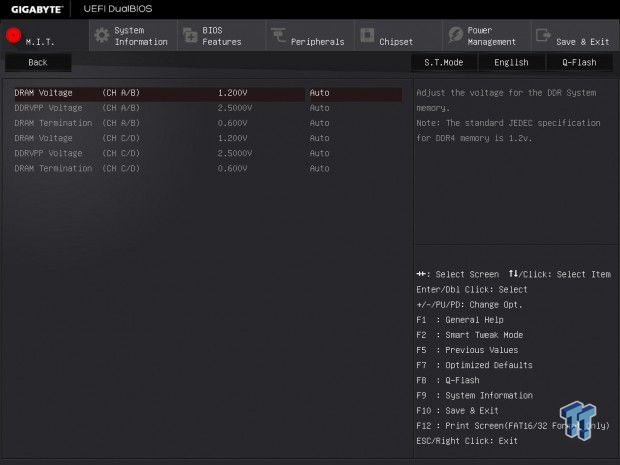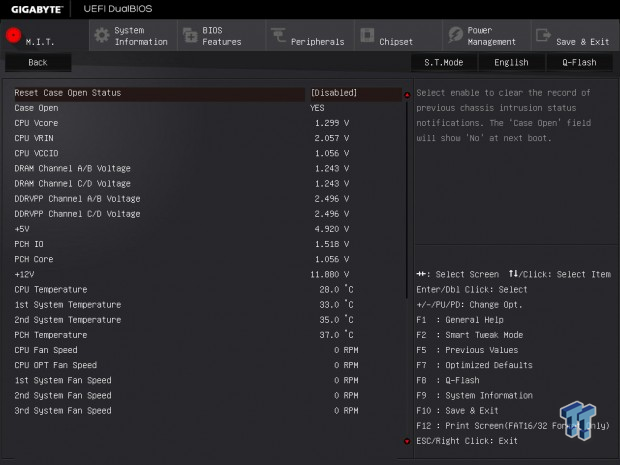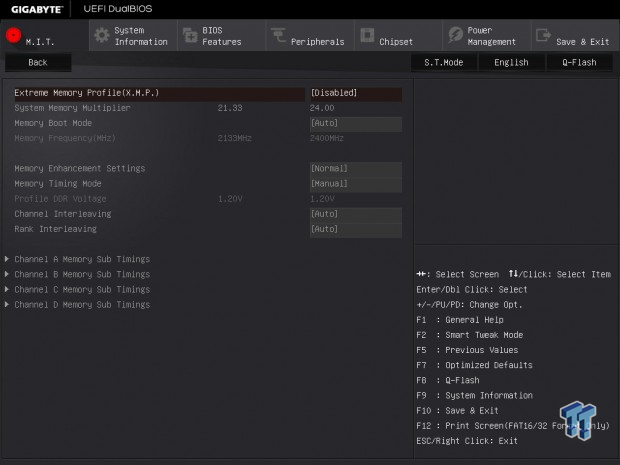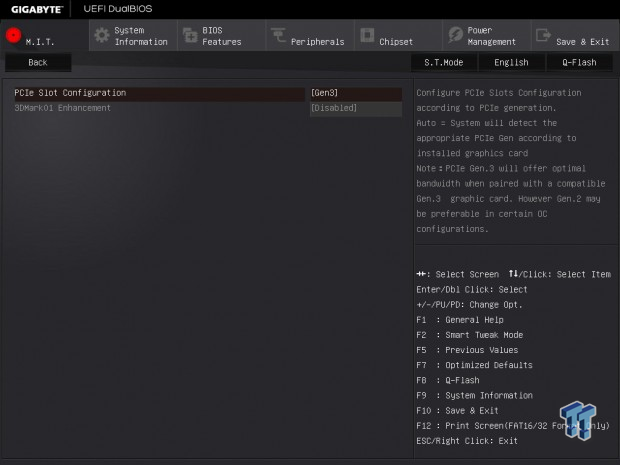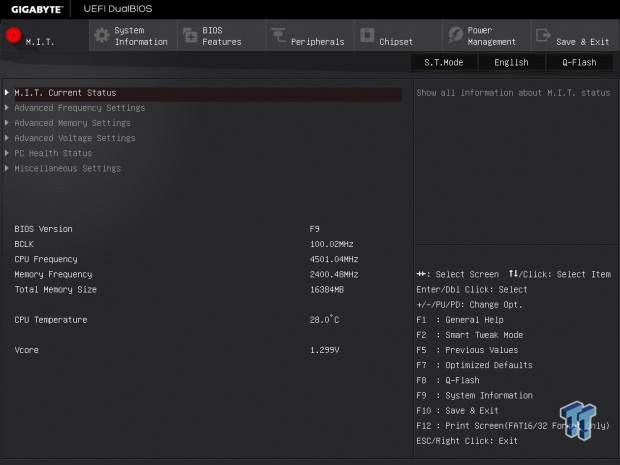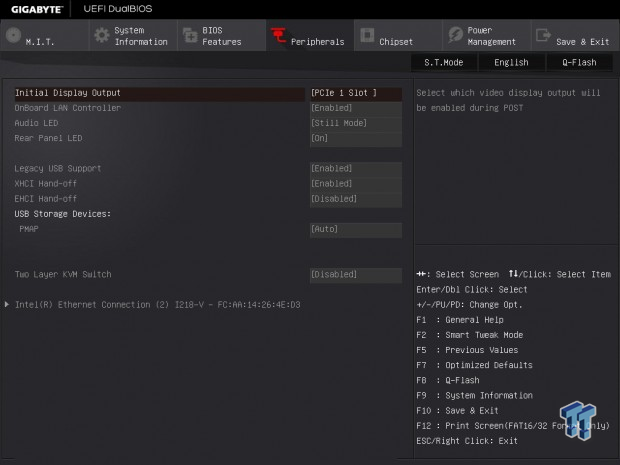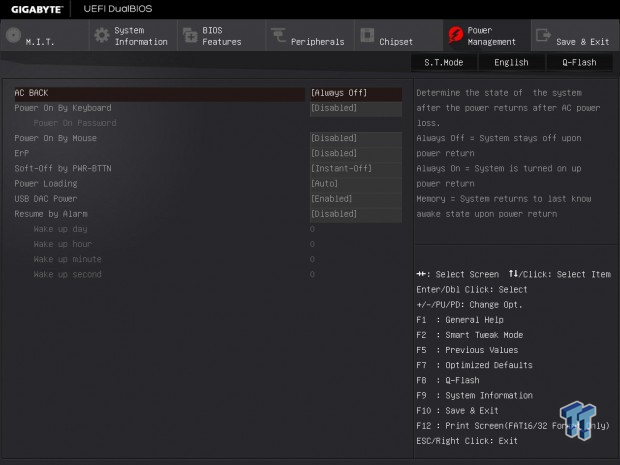 Software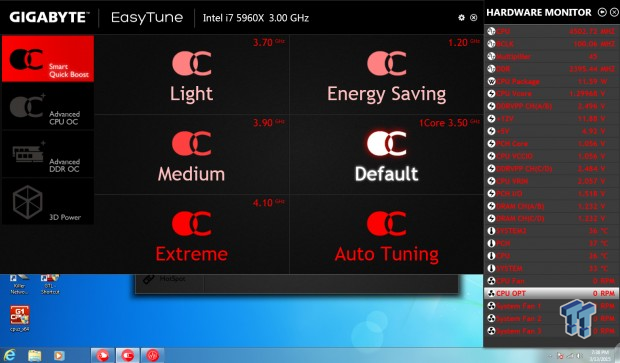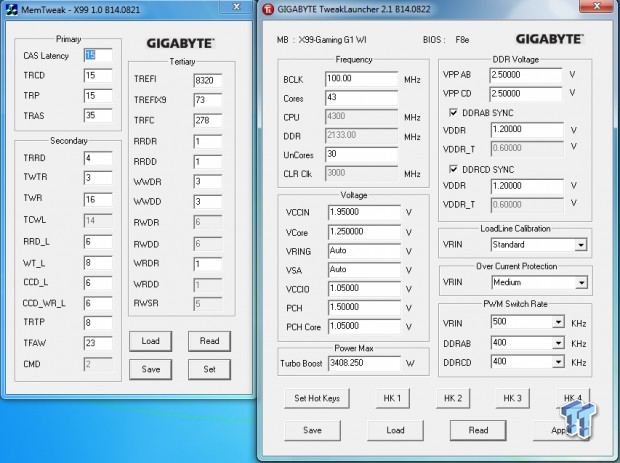 EasyTune is the go to program for most novice overclockers and it presents a decent amount of tuning options and monitoring. For more advanced overclockers, GIGABYTE Tweak Launcher (GTL) is much simpler and better.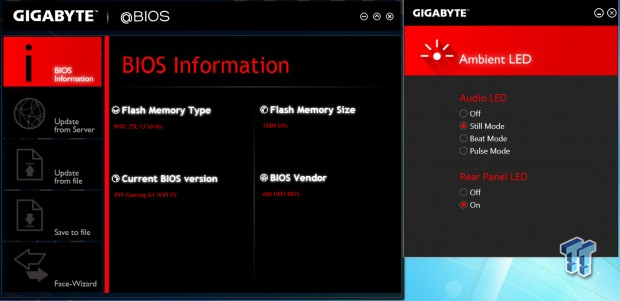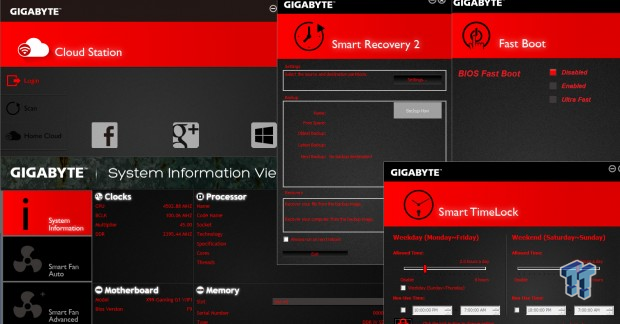 GIGABYTE also provides other programs through the APP center such as @BIOS, Ambient LED, Cloud Station, Smart Recovery 2, Fast Boot, Smart TimeLock, and SIV.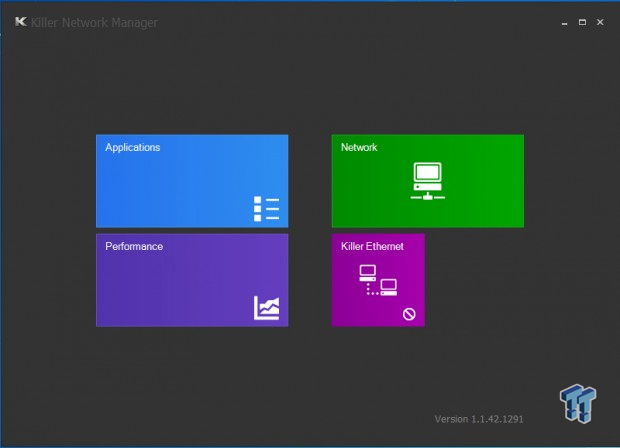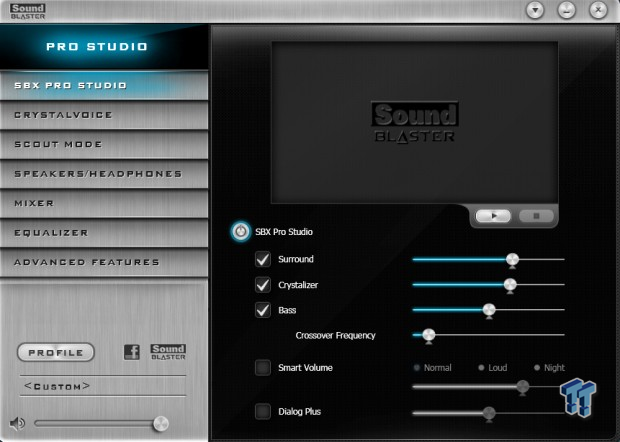 Killer Network Manager and Creative's Sound Blaster suite are also provided.
Test Setup and Overclocking
Test Setup
A big thanks to Corsair for sponsoring the case, fans, SSD, USB drive, and PSU!
A big thanks to Seek for sponsoring the Thermal Camera. You can find my review of the camera here.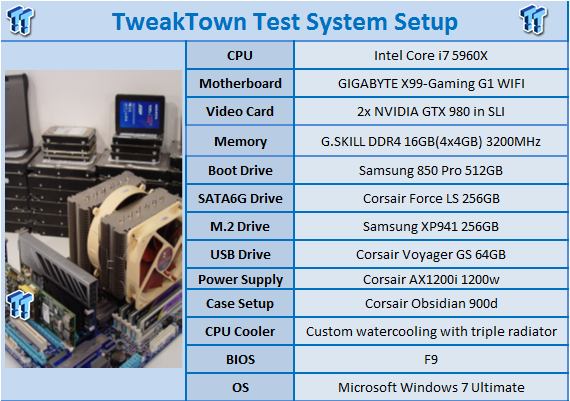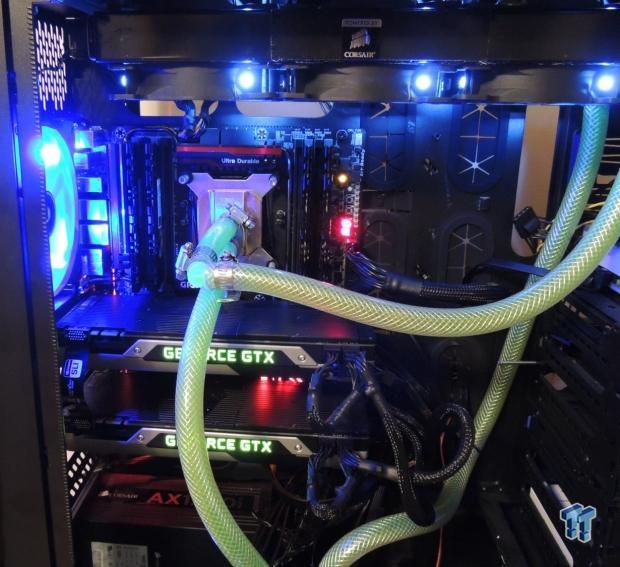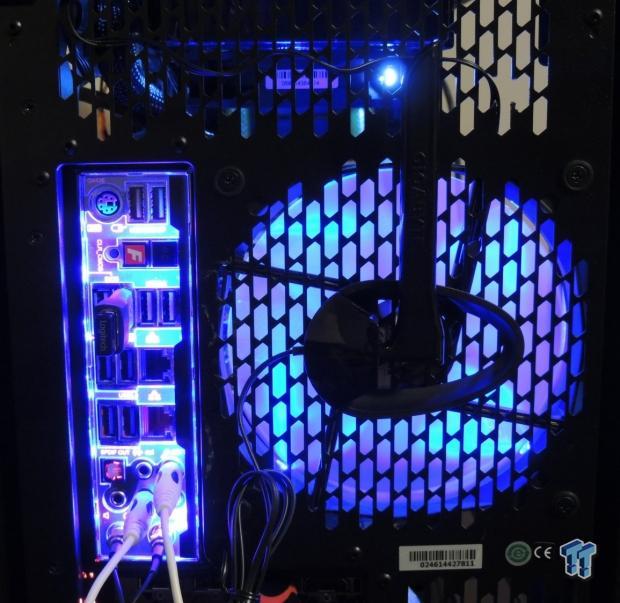 This is the new test bench, and it is designed to test every aspect of the motherboard and IO. I have designed it so that the motherboard sits in a case and is cooled by fans always on at a constant rate to keep the conditions similar for all tests. I have cut out part of the case behind the motherboard so I can get thermal images of the back of the PCB where the VRM heat spreads. System and CPU power measurements are now digitally logged.
I am also using a Netgear Nighthawk X4 AC2350 for our network (including wireless AC) tests. The latest M.2, SSD, and USB technologies are also being utilized to test the maximum potential of the motherboards that are being tested.
Overclocking Results
In this section, I will go through overclocking this board.
CPU Overclocking
Max CPU Overclock is found by setting the VCore to 1.5v, Input voltage to 2.1v, cache voltage to 1.15v, booting with a CPU multiplier of 45x and disabling any features that would result in CPU frequency fluctuation. I then proceed into Windows and use software to increase the multiplier; in this case I opted to use GTL.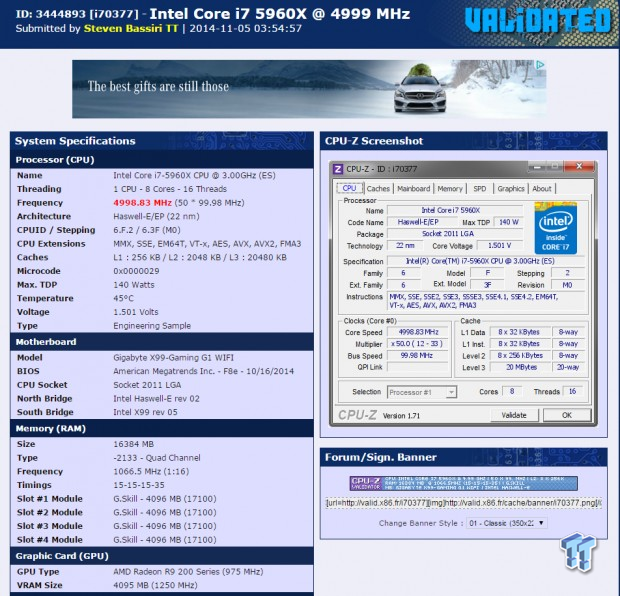 5.0GHz is the maximum of our CPU on this board and other X99 Motherboards. It is clear that CPU overclocking is pretty good for high frequency.
Maximum AIDA64 Stable Overclock (BIOS settings below for this):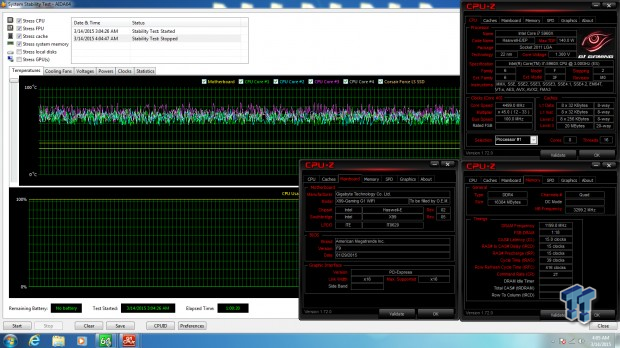 I was easily able to pull off 4.5GHz on the CPU with 3.2GHz cache and a 2400MHz overclock on my memory manually tuning the UEFI.
CPU, Memory, and System Benchmarks
CINEBENCH 11.5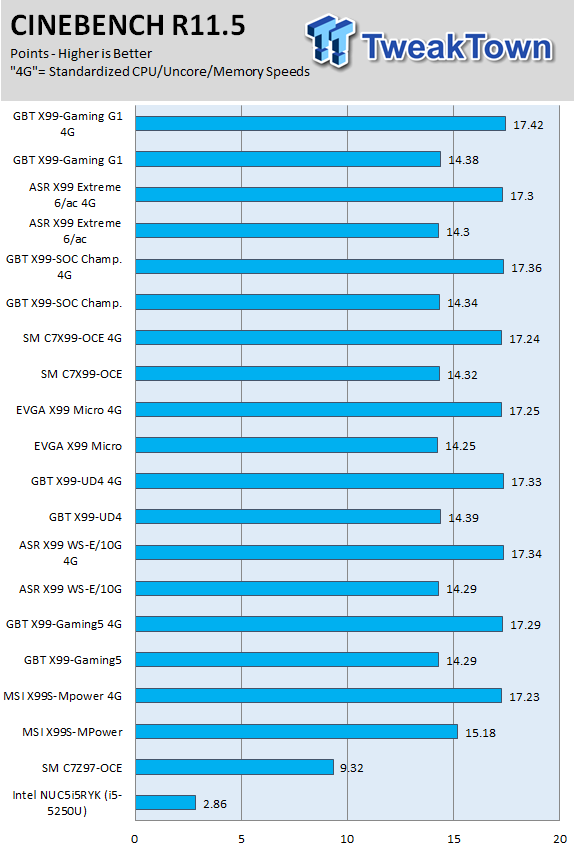 wPrime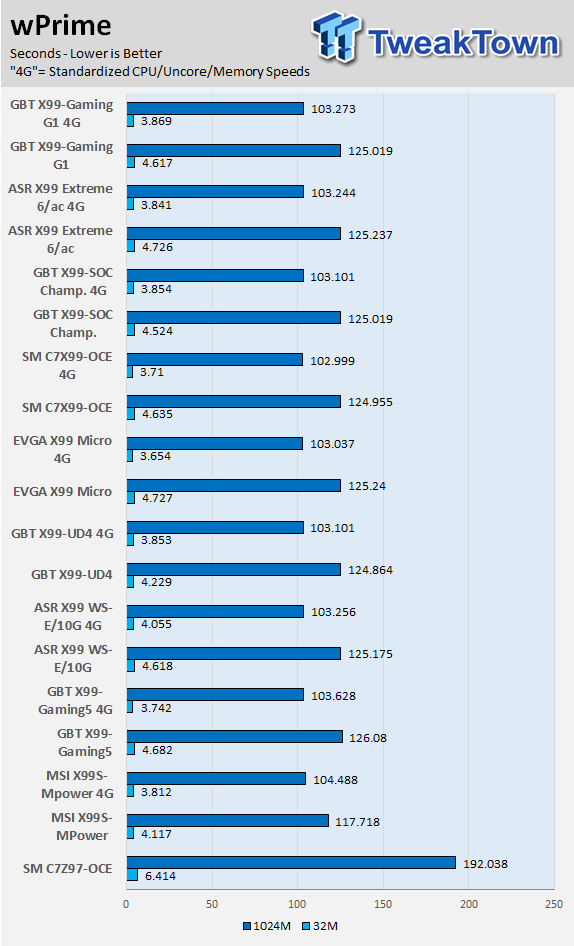 AIDA64 AES and HASH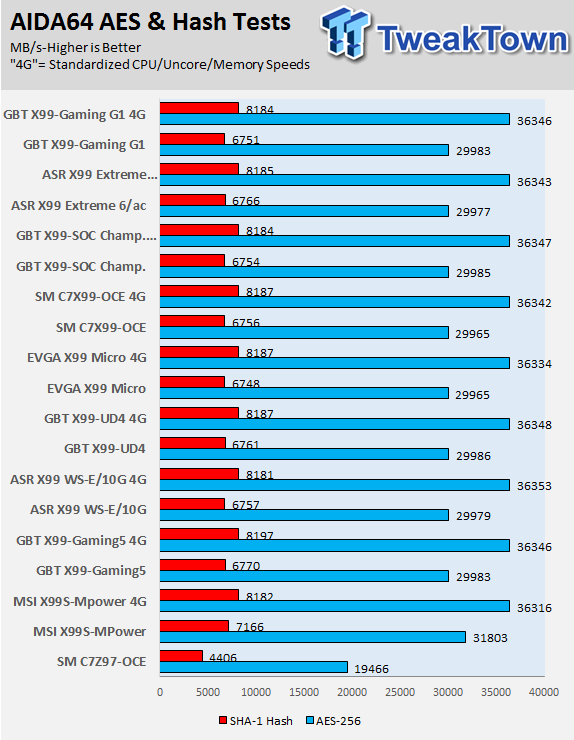 AIDA64 FPU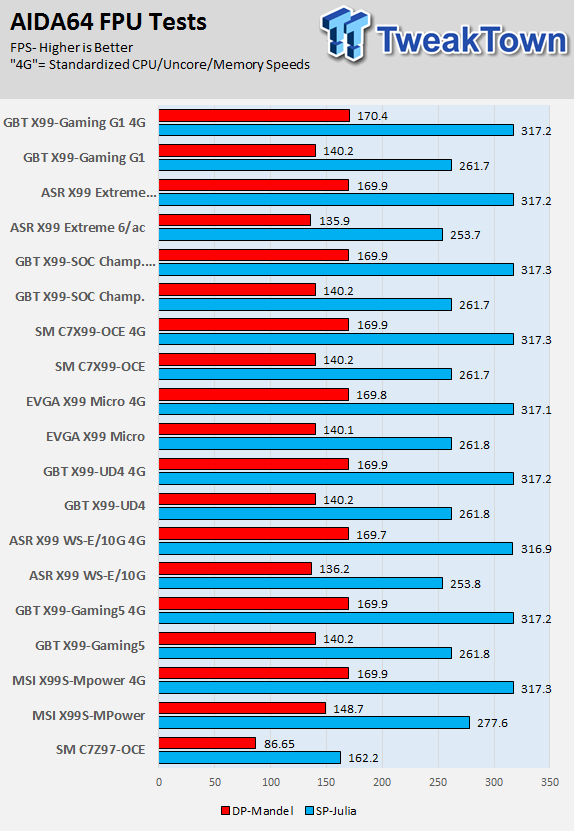 AIDA64 Memory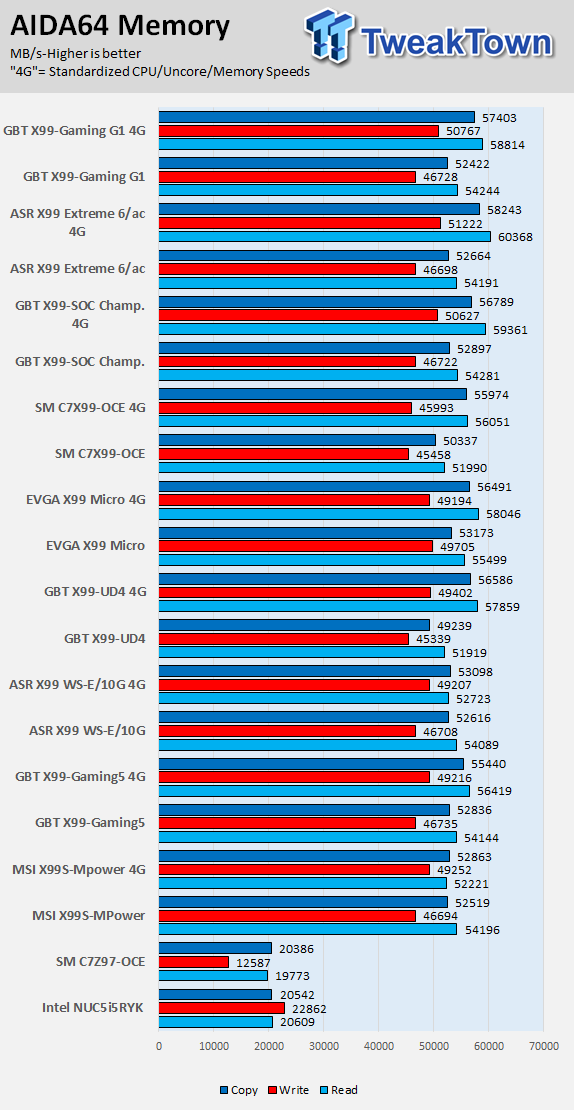 PCMark8 Home Test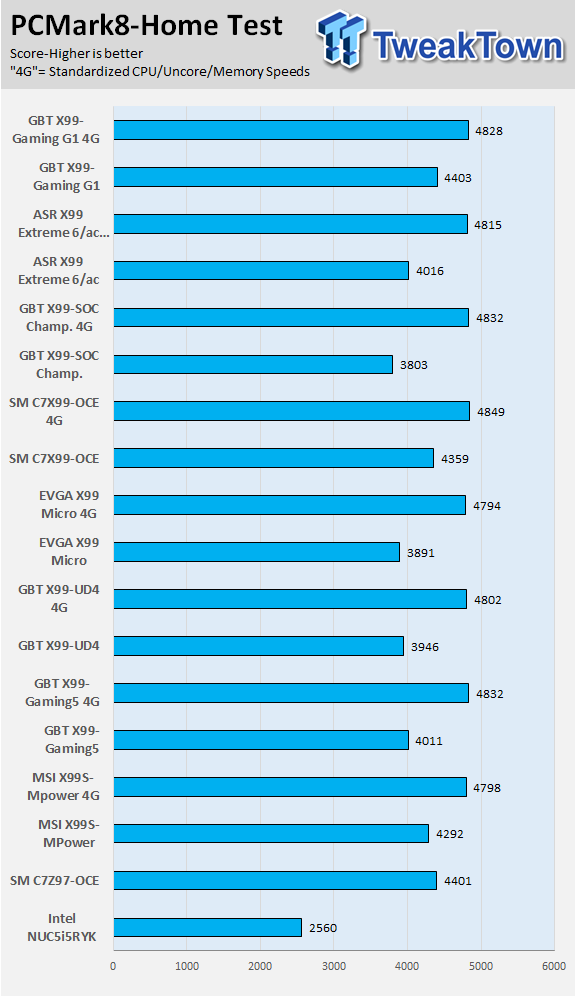 3DMark: Cloud Gate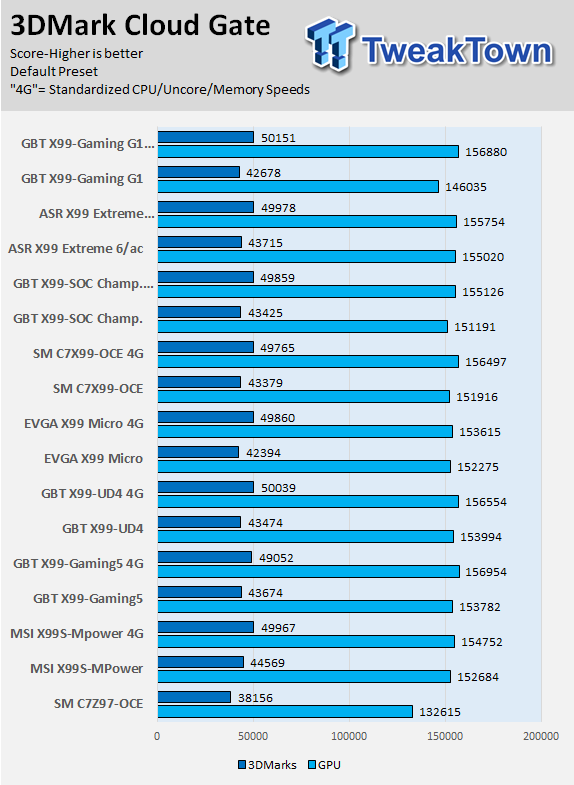 3DMark: Fire Strike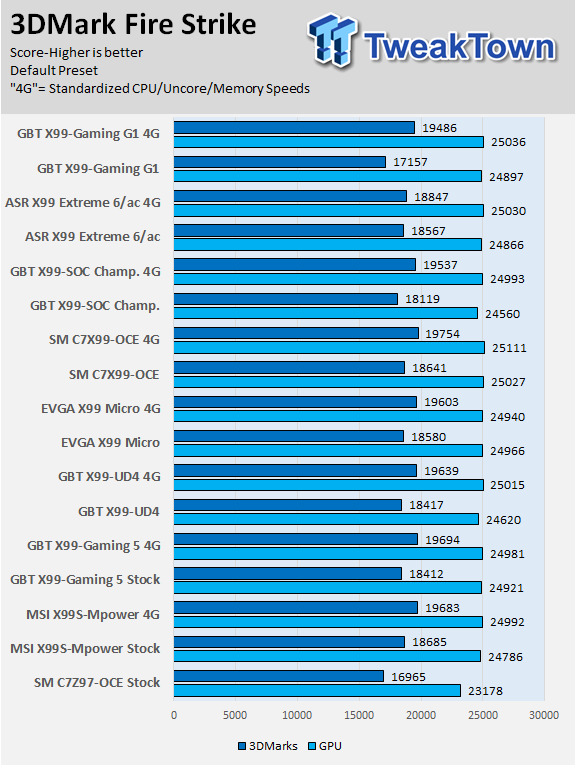 Resident Evil 6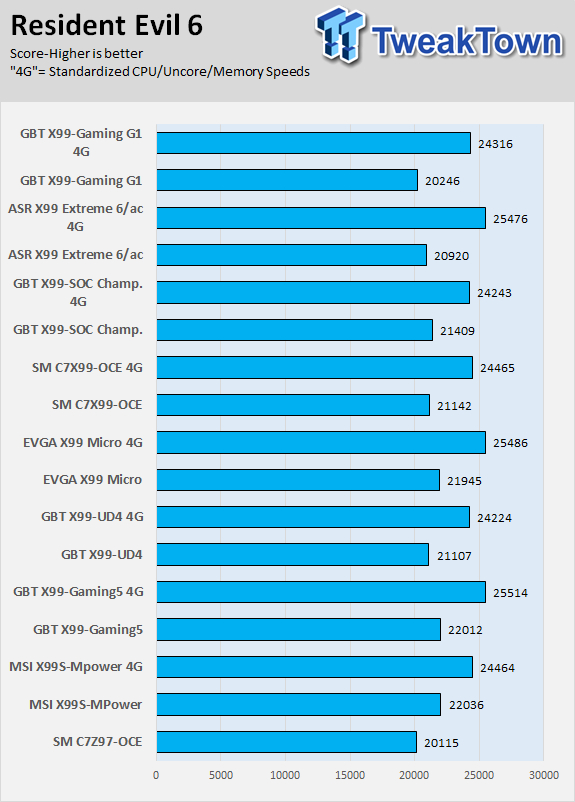 The X99-Gaming G1 WIFI has solid performance across the board, with strong 3D and CPU performance. It performed at the top of the charts in CINEBENCH and does quite well in PCMark8 and 3DMark benchmarks.
System IO Benchmarks
Anvil SATA6G: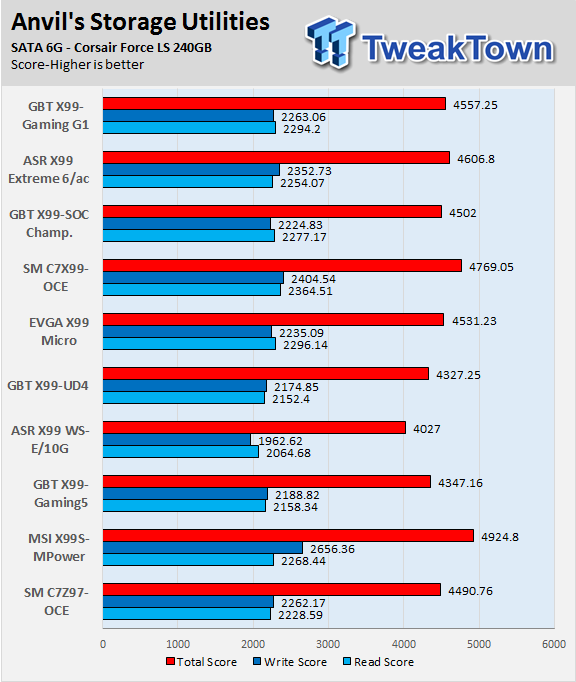 Anvil M.2: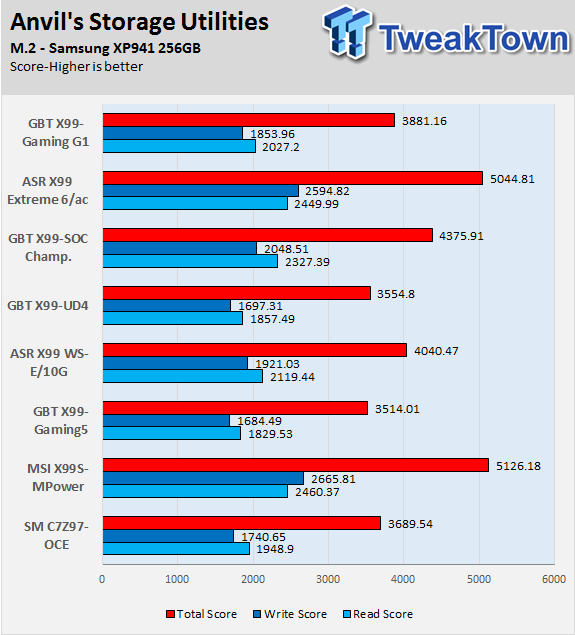 Diskbench USB 3.0: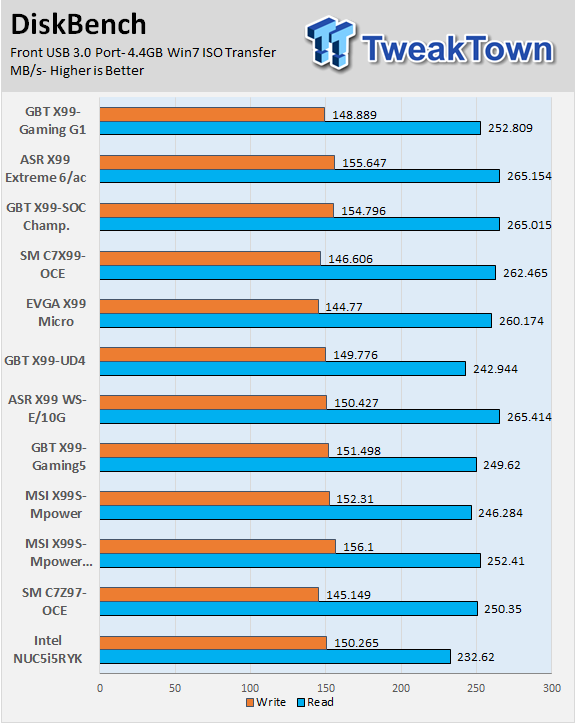 ixChariot Network Throughput: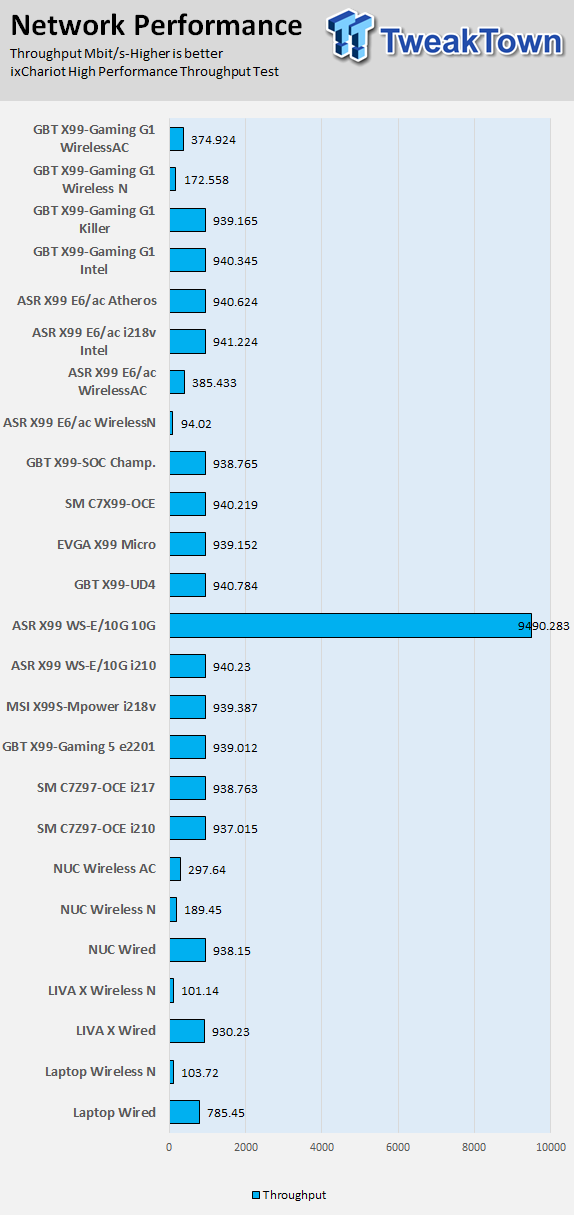 IO performance is where I expected it to be, it's a good performer, but not the best. Storage performance is solid, I expected these scores because of the 2x PCI-E for the M.2 drive, and USB performance is good as well. While its wired NICs performed as expected, its wireless N and wireless AC performance is towards the faster side of the spectrum.
Audio RMAA 5.5:
I disable all audio features, set the correct bitrates, and then test the audio with a loopback test.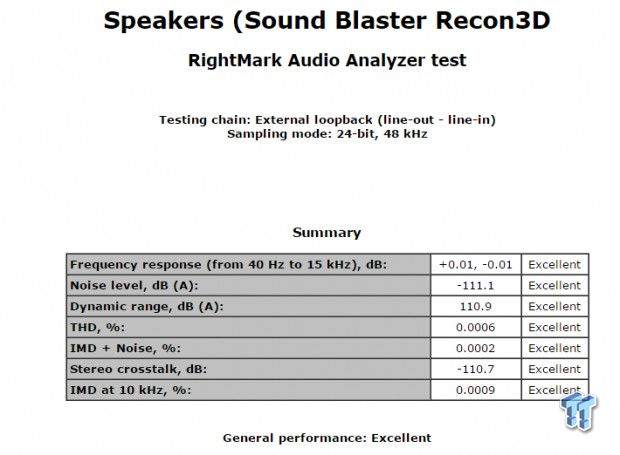 Sound Judgment by Ear: Excellent, really quite good, and the extra volume from the AMP is pretty noticeable.
There are 5 ratings for audio: 1. Problems, 2. Okay, 3. Acceptable, 4. Very good, 5. Excellent
Temperature and Power Consumption
System power usage is measured at the AC/DC PSU (the Corsair AX1200i) which I have connected to another system to measure the test system and as a backup I have a wall meter to verify. The CPU power is measured through the 8-pin connect which is hooked up to a hall effect IC which measures current and puts out a voltage in proportion to the current. That voltage is logged by a National Instruments ADC which logs the DC voltage level, which I then convert into current.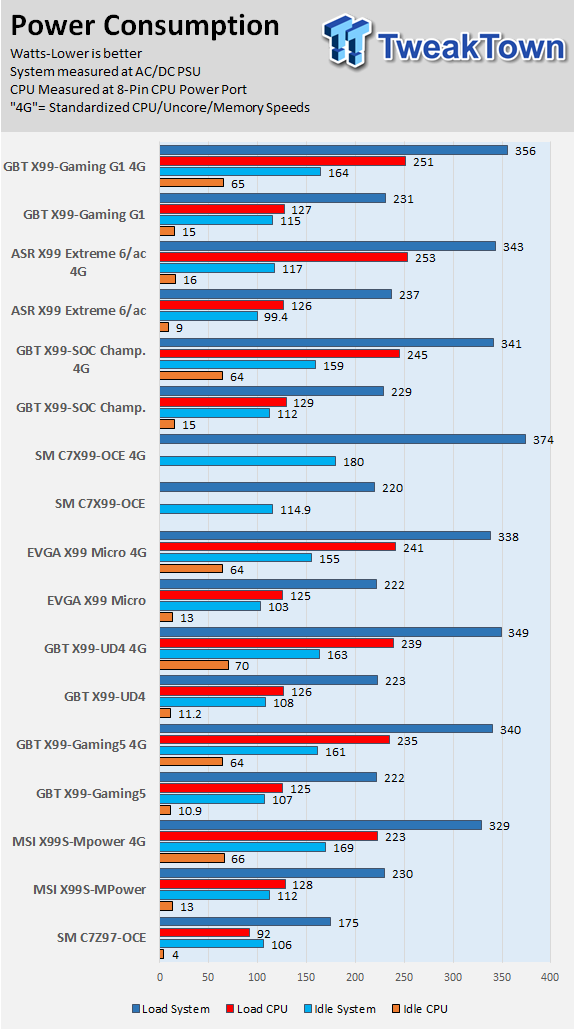 Note on Thermal Images: In the temperature section, we use our Seek thermal imaging camera to capture the surface temperatures of major components on the board; I look at the VRM and then all other things that light up the screen. If there is something to worry about then I will state it, otherwise I will just show the hotter running parts of the board for fun. Unless some component is over 80-90C then there really isn't anything to worry about.
All systems will act differently, so I will look for commonalities, such as how far from the VRM the heat spreads through the PCB and the difference in temperature between the frontside and backside of the PCB. Keep in mind that the majority of the heat from the VRM goes into the PCB as it is a giant soldered on copper heat sink. A smaller difference in temperature between the back and front of the PCB points towards a more effective heat sink.
Thermal Testing at Stock Speeds:
The image on the left is always at idle and the image on the right is at load.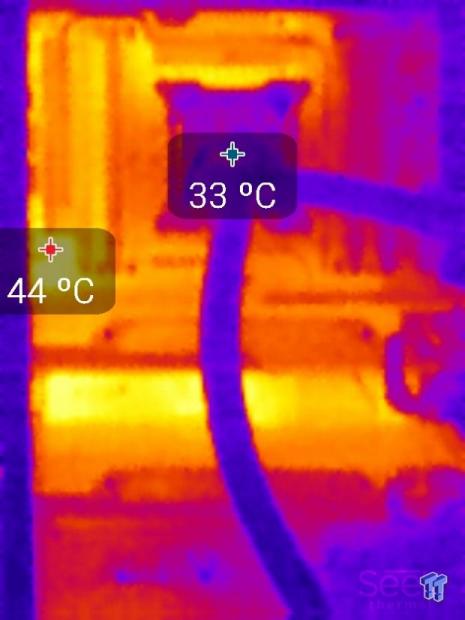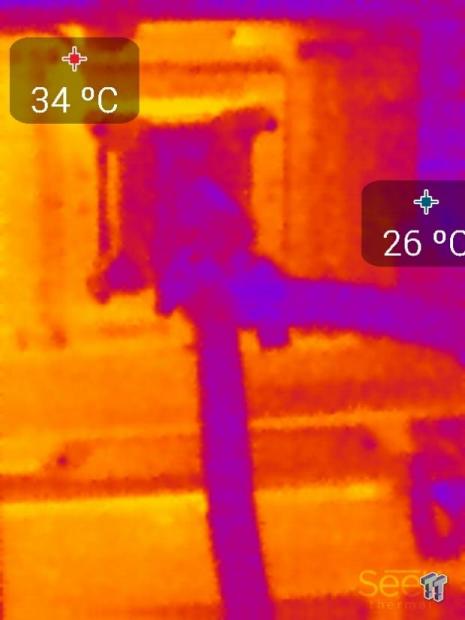 Full frontal.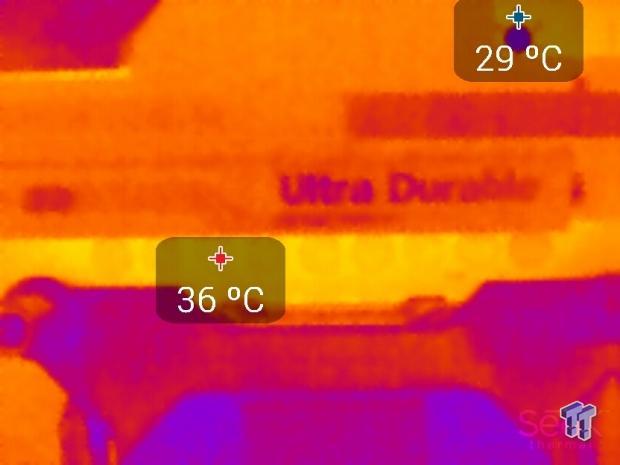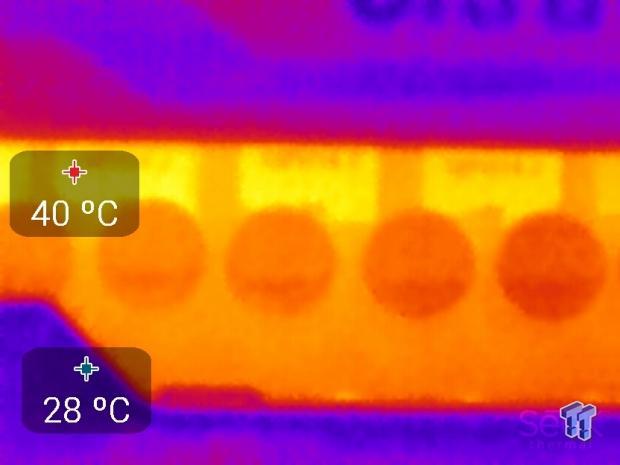 Up close of the front of the VRM.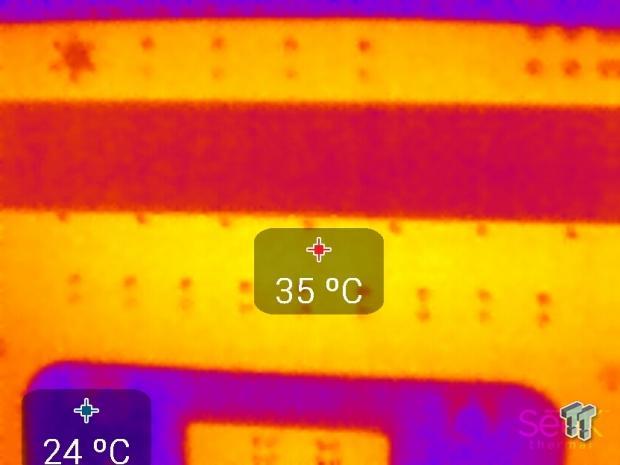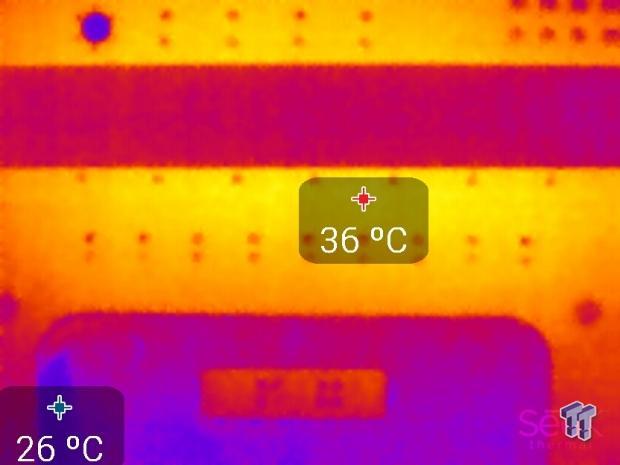 Up close of the back of the VRM.
Thermal Testing at 4.5GHz Overclocked Speeds: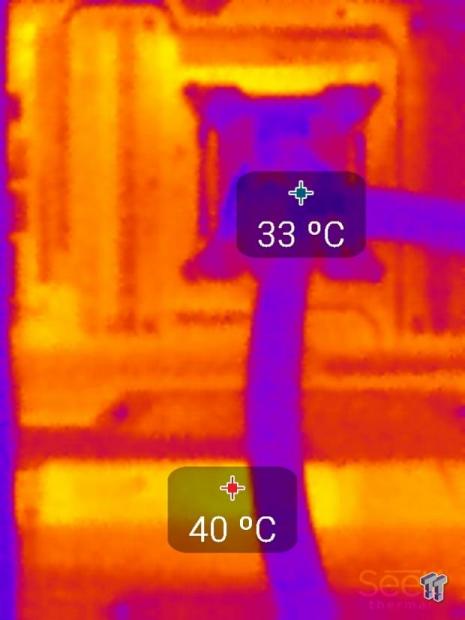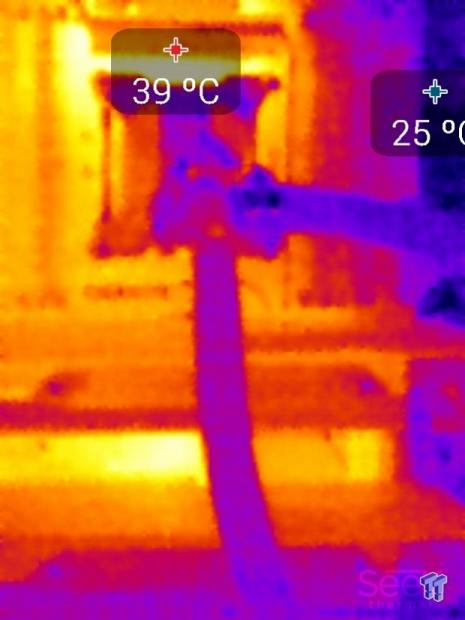 Full frontal.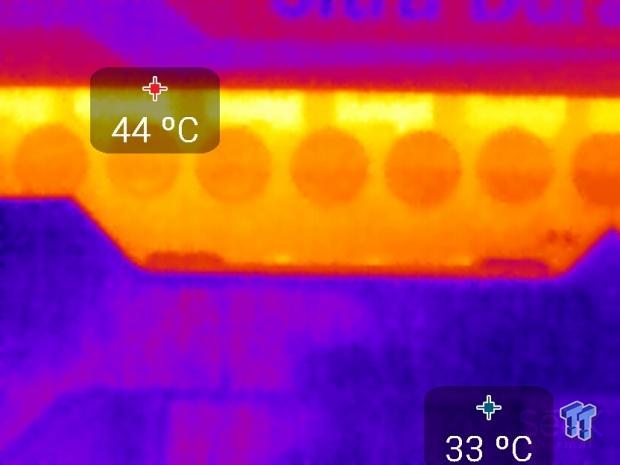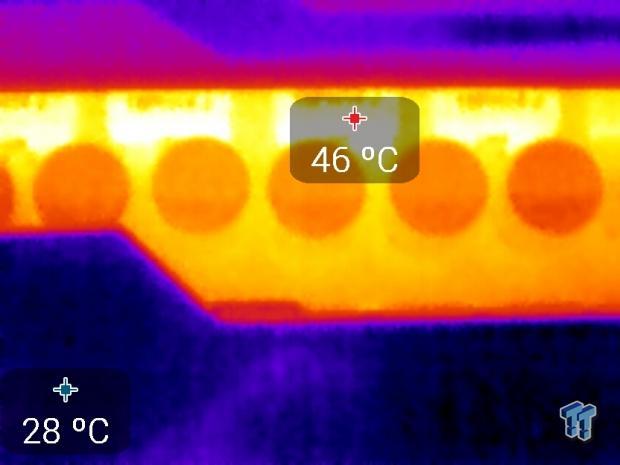 Up close of the front of the VRM.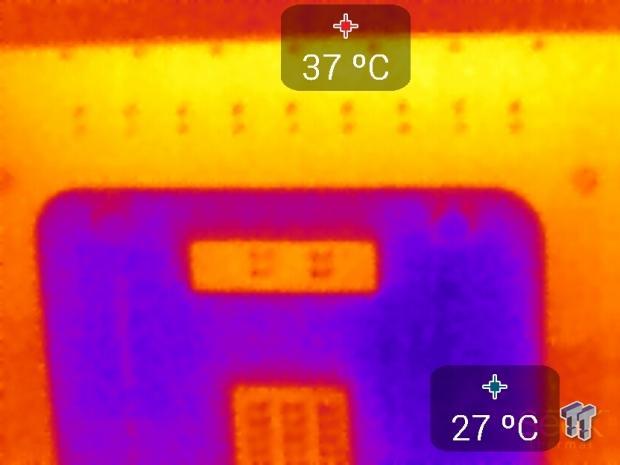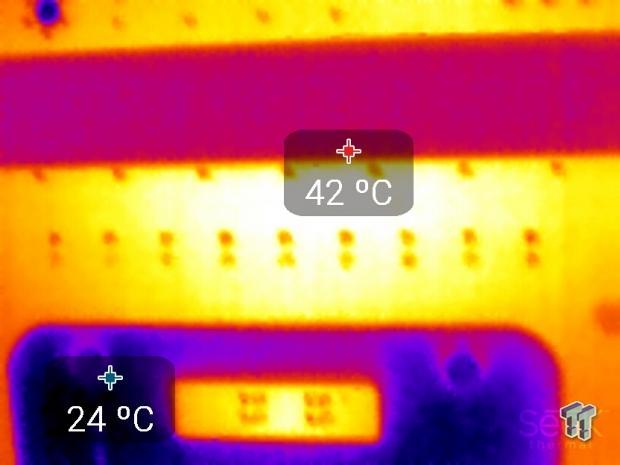 Up close of the back of the VRM.
The VRM on this board is the same one that GIGABYTE uses on its top of the line overclocking motherboards. That means that the VRM is built for overclocking, and the thermals show this. There are only very slight increases from idle to load at stock speeds, and the temperature on the front is always much higher than on the back of the PCB, indicating that the heat sink and the PCB are doing their job in dissipating heat before it can spread to the back of the PCB.
At 4.5GHz, the temperatures on the VRM don't go above 50C, which means the VRM is performing within what I consider totally acceptable ranges. Anything under 60C is excellent, 60-80C is acceptable, and anything above 80C is a bit worrisome (if at stock).
Final Thoughts
The X99-Gaming G1 WIFI is packed with features to brim, many of them are unique to GIGABYTE as well. The first is their audio section, which not only uses high quality components, but is also customizable; something I haven't seen on any other board. The aesthetics of the X99-Gaming G1 WIFI are also pretty impressive, especially if you like red. You have LEDs on the underside of the PCB lighting up the PCB divide, LEDs in the PCH heat sink, an IO panel that lights up, and to top it all off, you can change the lighting mode, which is really cool.
While most of us might not benefit from any of these things, when I was first getting into building and overclocking, these types of things are what I looked for in a motherboard. Looking at the hardware, it is all pretty top notch; however, I would rather not see USB 3.0 hubs.
The latest BIOS update also fixed the USB drive booting issue for me, which provides me the ability to recommend the board to users, as the BIOS is now in working condition and provides some great features and customizability. If you are afraid of flashing the BIOS, you shouldn't be with this board, I would say it is basically impossible to brick the board from a BIOS flash with all the new recovery technology GIGABYTE has implemented.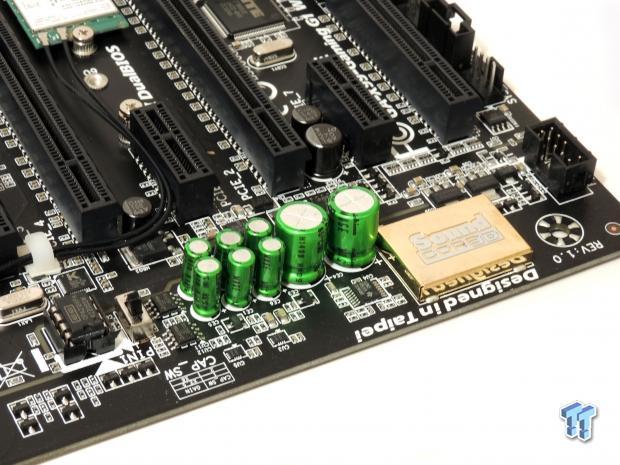 Overall, performance was solid, nothing groundbreaking, but solid. The addition of the wireless AC/BT4.0 card is great, and performance is pretty good. Thermals were outstanding, maybe even a tad better than the SOC series I have tested. The price of the board is on the high-side at $324.87; it is one of the more pricey X99 motherboards, but then again every feature packed motherboard carries the same price premium. The X99-Gaming G1 WIFI packs 4-way multi-GPU capability, M.2, SATA Express, OC features, crazy LED lighting, Core3Di customizable audio, dual NICs, up to 12x USB 3.0 ports, and AC WIFI into a package that doesn't utilize as much switching hardware as you might expect, leading to solid performance at a reasonable price.
If you want a feature packed board with some pretty unique abilities, check out the GIGABYTE X99-Gaming G1 WIFI.
PRICING: You can find the GIGABYTE X99-Gaming G1 WIFI (Intel X99) Motherboard for sale below. The prices listed are valid at the time of writing, but can change at any time. Click the link to see the very latest pricing for the best deal.
United States: The GIGABYTE X99-Gaming G1 WIFI (Intel X99) Motherboard retails for $324.87 at Amazon.
Australia: The GIGABYTE X99-Gaming G1 WIFI (Intel X99) Motherboard retails for $509 at PLE Computers.
Canada: The GIGABYTE X99-Gaming G1 WIFI (Intel X99) Motherboard retails for CDN$698.47 at Amazon Canada.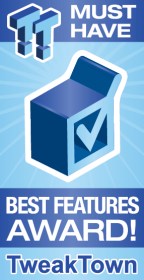 | | |
| --- | --- |
| Performance (including Overclocking) | 90% |
| Quality including Design and Build | 95% |
| General Features | 96% |
| Bundle and Packaging | 92% |
| Value for Money | 90% |
The Bottom Line: GIGABYTE's X99-Gaming G1 WIFI packs a plethora of features into a package that doesn't compromise speed for bandwidth, leading to solid performance at a reasonable price.
PRICING: You can find products similar to this one for sale below.

United States: Find other tech and computer products like this over at Amazon.com

United Kingdom: Find other tech and computer products like this over at Amazon.co.uk

Australia: Find other tech and computer products like this over at Amazon.com.au

Canada: Find other tech and computer products like this over at Amazon.ca

Deutschland: Finde andere Technik- und Computerprodukte wie dieses auf Amazon.de
We openly invite the companies who provide us with review samples / who are mentioned or discussed to express their opinion. If any company representative wishes to respond, we will publish the response here. Please contact us if you wish to respond.