Apacer Thunderbird PT910 256GB PCIe SSD Review
Apacer launches a new All-in-One RAID drive in 256GB and 512GB capacities for gamers and power users. Here's our Thunderbird PT910 PCIe SSD verdict.
Published Mar 18, 2015 8:06 AM CDT
|
Updated Tue, Nov 3 2020 6:59 PM CST
12 minute read time
TweakTown's Rating: 76%
The Bottom Line
These products are already on the way out as native PCIe SSDs come to market. The PT910 uses a low-cost SSD controller so it started out as a dud and can't even compare to high performance SATA SSDs on the market today.
Introduction & Specifications, Pricing, and Availability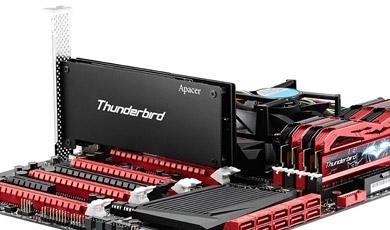 All-in-One RAID SSDs come and go through our lab several times a year. These products promise high-performance storage in easy-to-install form factors, all while removing complicated RAID configurations from the installation process.
The performance increases come from using RAID 0 to pairing multiple SSDs together to share the workload. RAID 0 has a long history with enthusiast users. The first onboard RAID for client systems appeared when Intel released the Pentium III processor, back when Abit, ASUS, and Epox all released client motherboards with Promise ATA software RAID.
Eventually, Intel added RAID 0 to the chipset, and to this day Intel has the highest performing SATA RAID 0 controller, and it's built a large number of chipsets that most of us already own. It's very likely that you already have a motherboard that supports RAID 0. Next, you will need a matching pair of SSDs. Some work better than others, and you need at least two.
After that, you need to configure the BIOS, then the software, and finally, you need to install the special driver before you install Windows. Not everyone wants to jump through those hoops though, and for those people who do not want to, the All-in-One RAID SSD products are a better option.
Specifications, Pricing, and Availability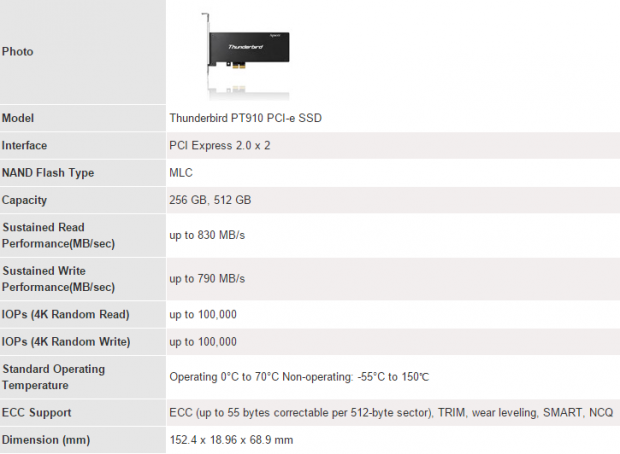 I would call the Apacer Thunderbird PT910 an entry-level All-in-One RAID SSD. The drive ships in two capacities, 256GB and 512GB. This drive uses a Marvell 88SS9220 software RAID controller that connects to the host system via PCIe 2.0 x2; on the other end, we found two 128GB client SSDs with SandForce SF-2241 controllers and Intel ONFi NAND flash.
Apacer claims sequential read performance at up to 830 MB/s, and sequential write performance to 790 MB/s. Random performance is rated at up to 100K IOPS for both random reads and writes.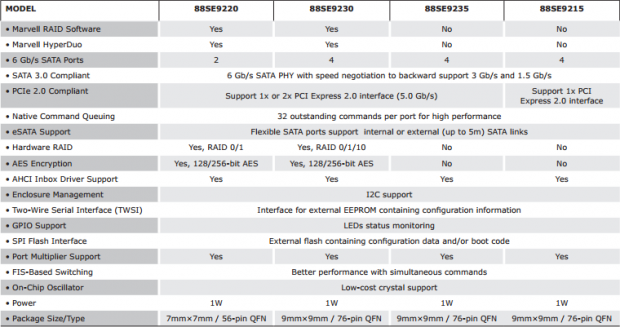 A closer look at Marvell's controller specifications shows us this is the entry-level model that supports both RAID 0 and RAID 1. AES Encryption is supported for those using the security functions. Also, this controller uses a Windows inbox driver, so you don't need to install software or a driver to get it working.
Before writing this article, we searched for a Thunderbird PT910 listed for sale online, and we came up empty-handed. This is Apacer's newest SSD, and it should hit the channel soon.
Right now, Apacer's warranty terms leave us scratching our heads. This is what the warranty page states:
Limited Three-year Warranty **:

Apacer SSD*** are covered by this warranty for a period of two years.

Discontinued products not listed in the warranty are no longer covered as their warranty has expired.

*: Product life has indicated the life cycle of product. When Apacer product is End-Of-Life in the market, Apacer will announce the discontinued product on Apacer website as the termination of product lifetime.

**: All bundled accessories of SSD are under DOA 7 days warranty.

***:Limited two-year Warranty in Europe.

Apacer have direct service center in Thailand. Thailand User can have direct warranty service in Thailand direct service center.

*:CF2 SSD: with its original CF cards, and all bundled accessories of SSD are under DOA 7 days warranty, and must be returned/ repaired with its kits.

This warranty covers only repair or replacement of defective Apacer products, as provided above. Apacer is not liable for, and does not cover under warranty, any costs associated with servicing and/or the installation of Apacer products. Apacer will not discontinue support of its products, nor obsolete its products, as long as there are component materials available in the marketplace and reasonable customer demand for the products. In case to have above condition, Customer agrees that Apacer delivers a similar product in return.
It appears you get a two-year warranty in Europe, but you may get a three-year warranty elsewhere.
Apacer Thunderbird PT910 PCIe 256GB SSD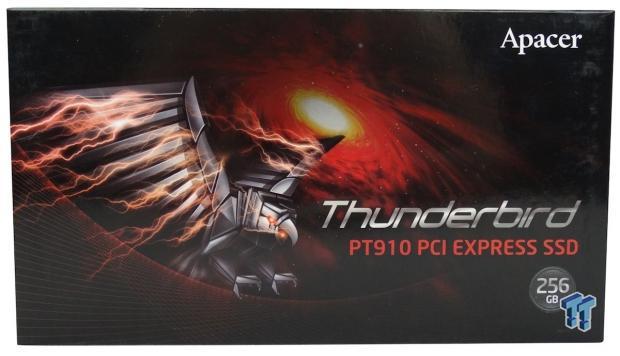 Apacer put together an attractive package for the Thunderbird PT910 PCIe SSD.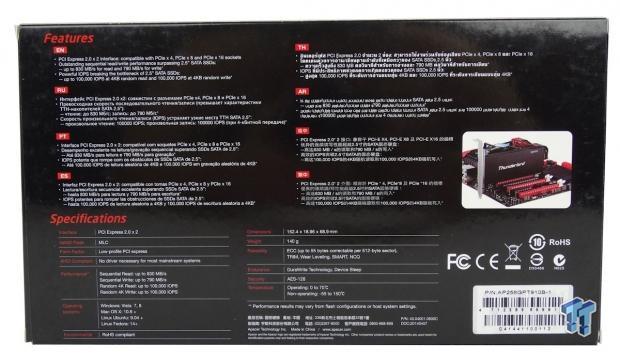 The back of the package gives us some performance and feature information.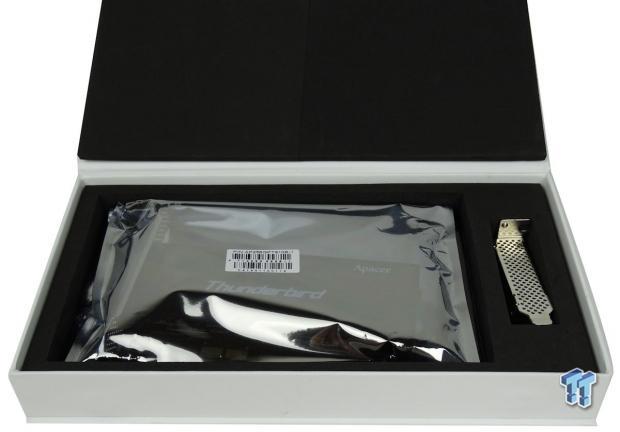 Inside of the package, we found the drive secured well with dense foam surrounding the SSD.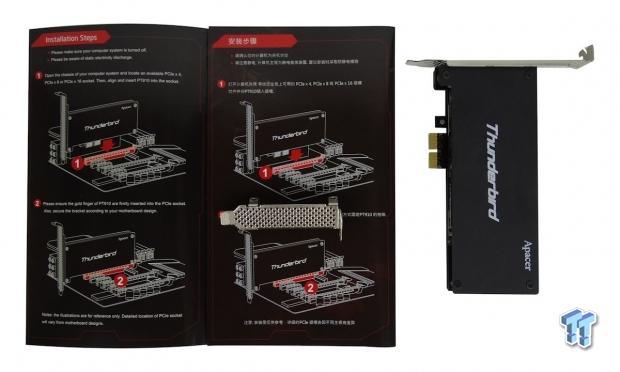 Users receive an installation guide as well as a half-height bracket.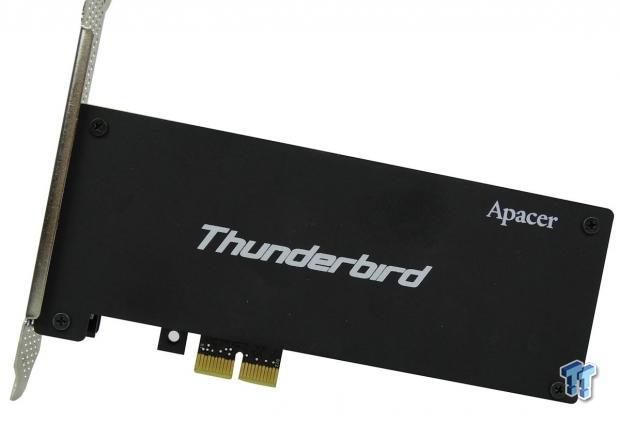 The card looks nice, and it is fully surrounded by aluminum plates on each side that covers the PCBs.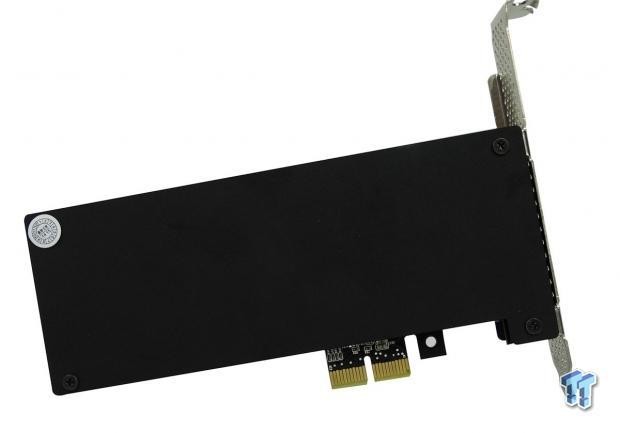 The back plate is perforated, so air can pass over the Thunderbird SSD and exit from the rear of the system.

The PCIe 2.0 x2 bus is good to around 1000 MB/s. Apacer claims the Thunderbird series can deliver up to 830 MB/s, but doesn't specify the performance differences between the 256GB model that we're testing today and the 512GB mode that is also available.
Here we can see the three-layer PCB stack that starts with the base card that holds two SATA SSDs. The SSDs look a little longer than the units we find in 2.5" enclosures.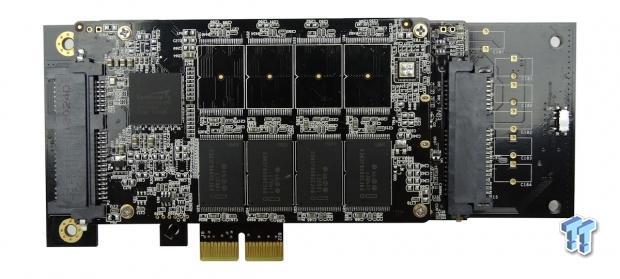 Each of the two drives uses a SandForce SF-2241 controller and four Intel NAND flash packages. The PCBs can hold as many as 16 packages, but Apacer choose to use higher density flash rather than spread the die across several packages.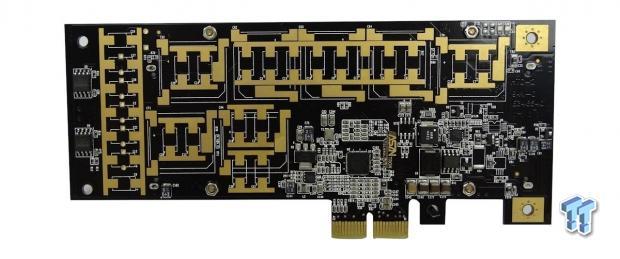 ASAN Tron Technologies made the main PCN. This company makes several All-in-One RAID type products, as well as DDR3 form factor SSDs that fit in RAM slots but use a SATA cable to transfer data.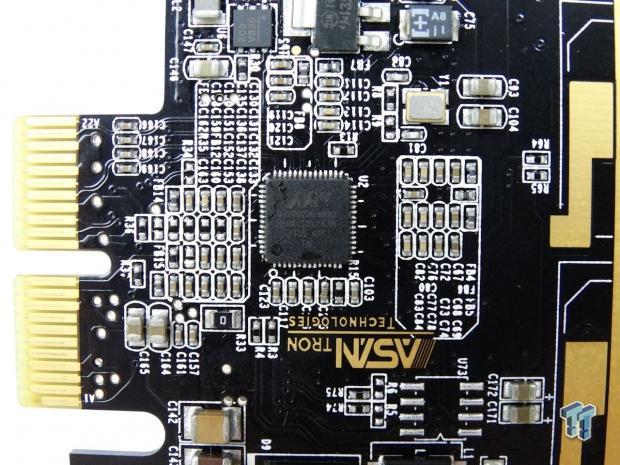 The main PCB holds the Marvell 88SS9220 RAID controller.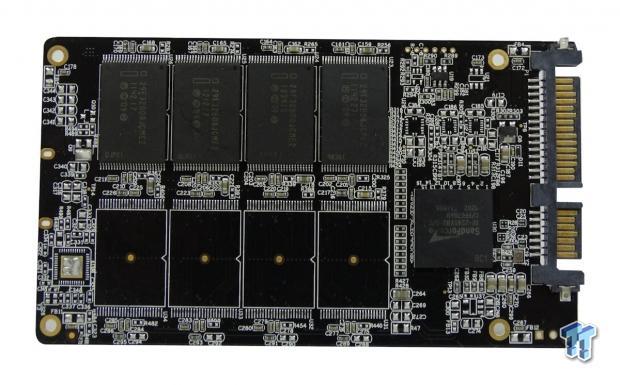 Here we get a closer look at the actual SSD that uses regular SATA power and data connectors. We often see these products with SandForce SF-2281 eight-channel controllers, but this product uses SandForce's four-channel controller, the SF-2241.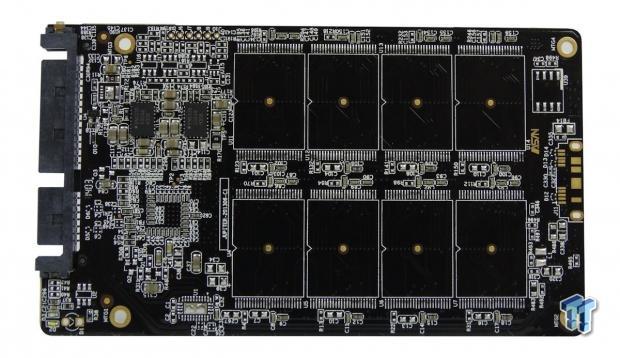 Each SSD also has onboard power circuits. On the back of the PCB, we also found tabs that could be used for USB 3.0 on other products. That explains the extra length of this card over what we normally see in 2.5" enclosures. After looking on the ASAN Tron Technologies website, we found a few USB 3.0 SSDs that also use this form factor, but with the USB 3.0 header installed.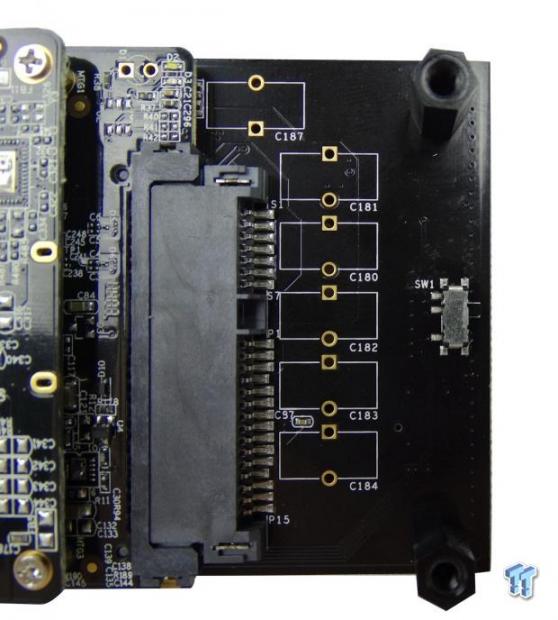 While the drive was apart, we found an undocumented switch on the back side of the Apacer Thunderbird PT910. Apacer's documentation doesn't list the switch, but we later learned from the ASAN website that this is to move the card to UEFI mode for faster boot times.
Test System Setup and ATTO Baseline Performance
Desktop Test System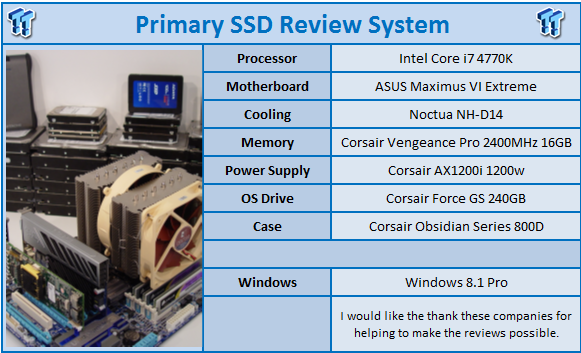 Today we're using a standard desktop to test the Apacer Thunderbird PT910 client SSD. This drive is marketed to gamers and enthusiast users.
ATTO - Baseline Performance
Version and / or Patch Used: 2.34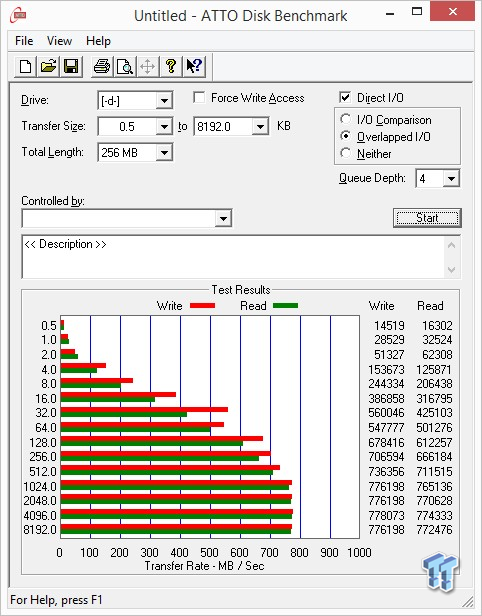 As expected, the 256GB model doesn't deliver the same claimed performance as quoted by Apacer in the official product specifications. The 256GB model uses less flash per internal SSD. We've shown for several years now that the 128GB SandForce driven SSDs are slower than the 256GB models.
We did manage just over 772 MB/s sequential read and 776 MB/s sequential write performance with this drive at queue depth 4 (QD4).
Benchmarks - Sequential Performance
HD Tune Pro - Sequential Performance
Version and / or Patch Used: 5.50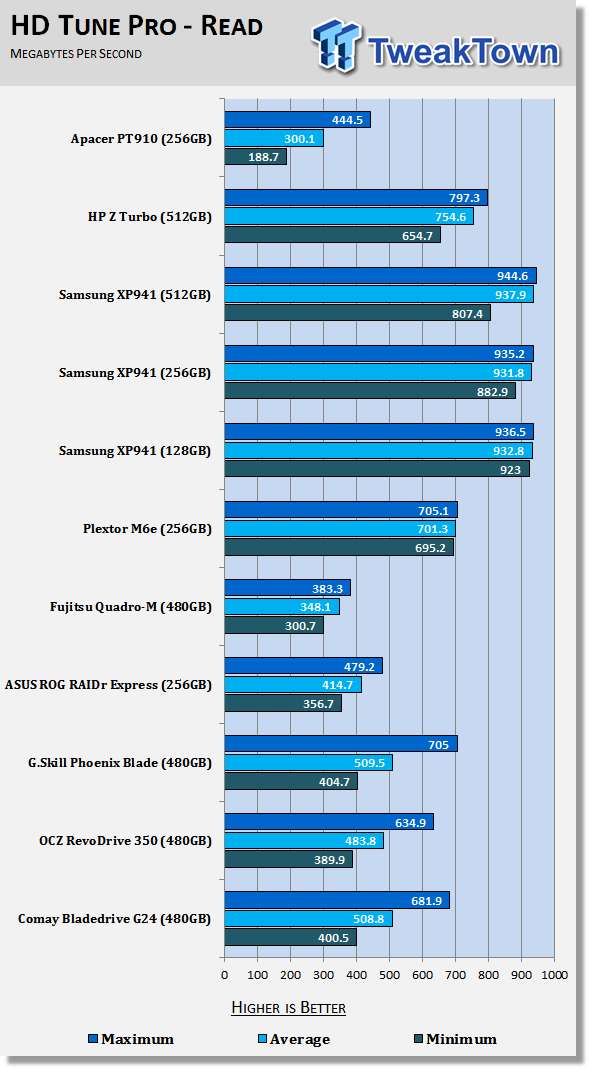 To get the most out of All-in-One RAID products, you need to ramp up the queue depths. In this chart, we see the sequential read performance with 64KB blocks at QD1. On the bottom of the chart is a number of similar products, and at the top are the native PCIe-based products. The HP Z-Turbo is also listed, but it's just a variant of the Samsung XP941 that was tuned by HP.
At QD1, the All-in-One RAID products are all outperformed by the native PCIe SSDs. For several years, products like the Apacer PT910 dominated the workstation market, but the newer, low-cost PCIe-based SSDs are already on the market, and they deliver better user experiences at lower power and with higher performance.
The Apacer SSD musters enough performance to compete with standard 2.5" SATA drives at low queue depths in the sequential read test.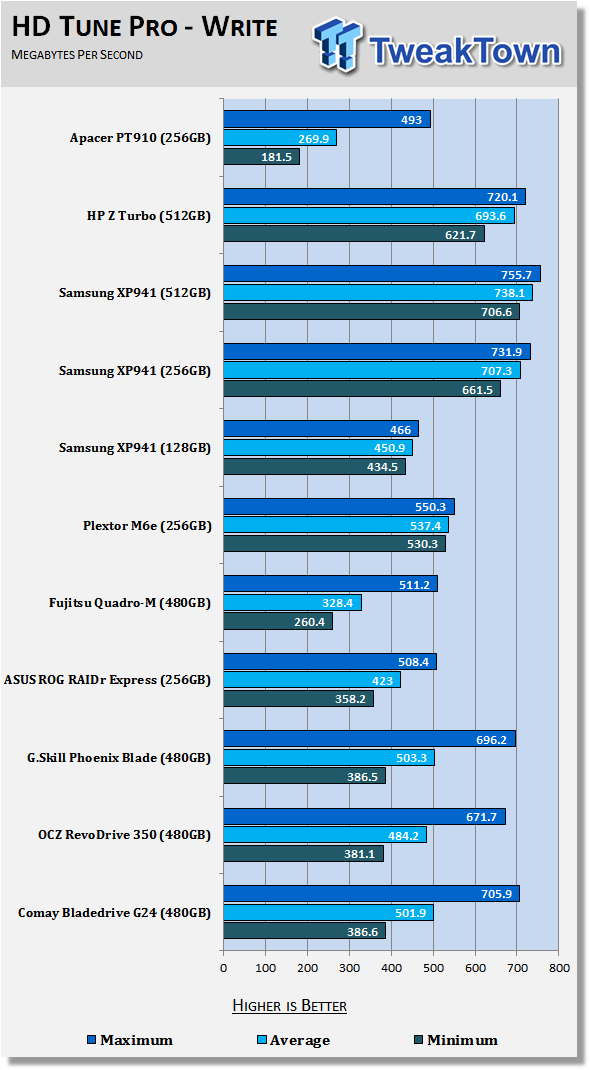 I'm sure some will find this analysis harsh, but the PT910 has to deal with latency from two entry-level SandForce SSDs when reading and writing data. Until users push a lot of data to the device, enough to break the SATA III barrier, the PT910 will perform slower than nearly all modern 2.5" SSDs.
Here we see the PT910 256GB peaking higher than what normal 2.5" drives do in this test, but the drive is slower on average than even many value-based SSDs on the market today.
HD Tach - Sequential Write Performance after Random Writes
Version and / or Patch Used: 3.0.4.0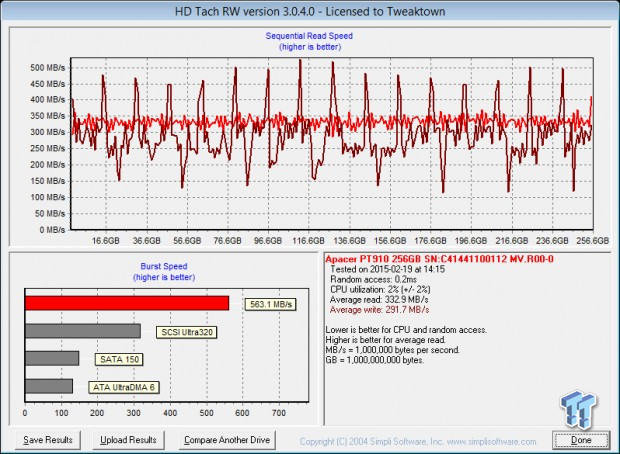 After a number of sequential and random writes to the Apacer Thunderbird PT910, we tested the drive with HD Tach. This test uses 128KB blocks to measure sequential data. The drive doesn't suffer from large write dips like we often see with low-cost SSDs, but the average performance isn't as high as we'd hoped to see.
Benchmarks - Anvil Storage Utilities
Anvil Storage Utilities
Version and / or Patch Used: RC6
So, what is Anvil Storage Utilities? Anvil Storage Utilities is a storage benchmark for SSDs and HDDs where you can check and monitor your performance. The Standard Storage Benchmark performs a series of tests; you can run a full test, or just the read or the write test, or you can run a single test, i.e. 4k QD16.
Anvil Storage Utilities is not officially available yet, but we've been playing with the beta for several months now. The author, Anvil, has been updating the software steadily on several international forums, and is adding new features every couple of months.
We can use Anvil several different ways to show different aspects for each drive. We've chosen to use this software to show the performance of a drive with two different data sets. The first is with compressible data, and the second data set is incompressible data. Several users have requested this data in our SSD reviews.
0-Fill Compressible Data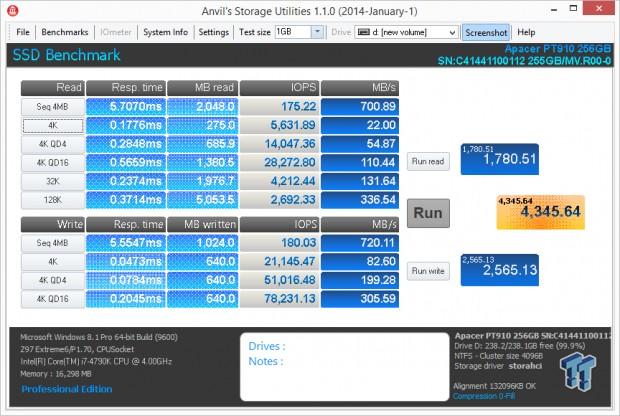 Incompressible Data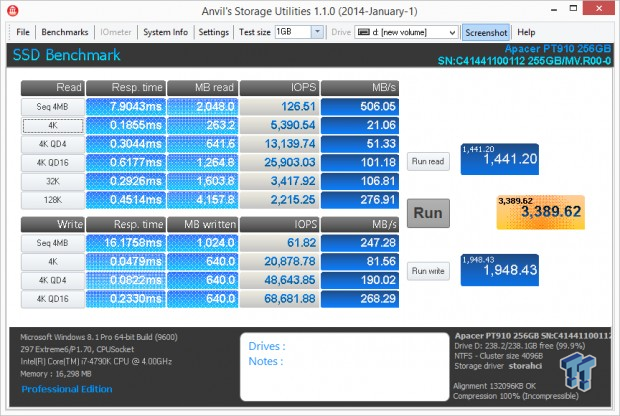 The SandForce SS-2241 controller uses compression technologies to reduce NAND flash wear. The side effect is the drive writes already compressed data slower than it writes data that has not been compressed.
The overall performance in Anvil is lower than many of the value drives on the market today.
Low Queue Depth Read IOPS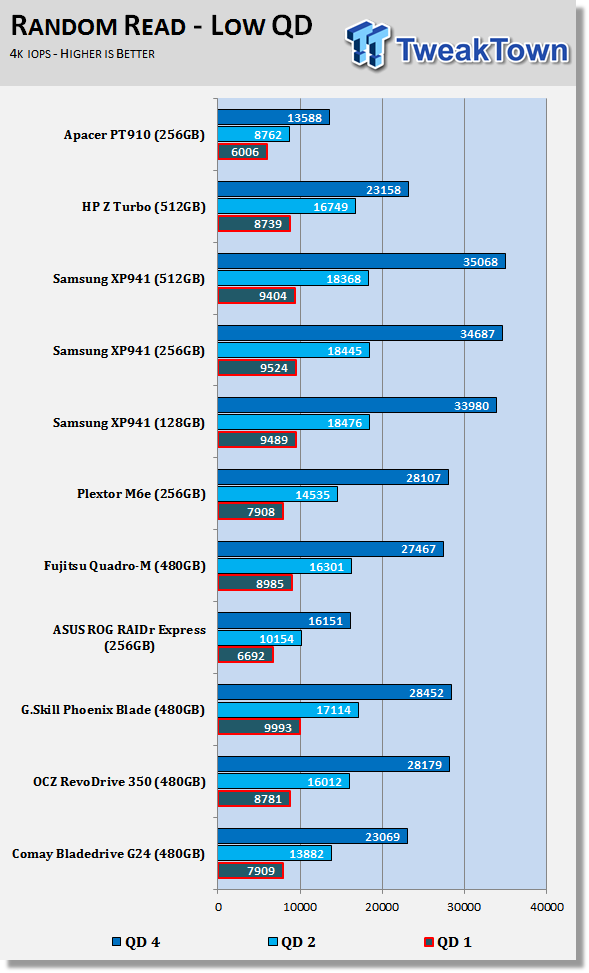 In a consumer computer, we want to pay closer attention to the low queue depth random read performance. High queue depth numbers look nice on product boxes, but most of us will never get into the high queue depth range under normal use.
The best 2.5" SATA products deliver just over 10K random read IOPS at QD1 and scale up from there. The fastest consumer SSD available today is the Samsung SM951, and it delivers just over 12K random read IOPS. The Apacer Thunderbird PT910 delivers half the random read IOPS of the SM951 512GB native PCIe SSD. The PT910 doesn't manage to deliver the same SM951 QD1 performance until it gets to QD4.
High Queue Depth Read IOPS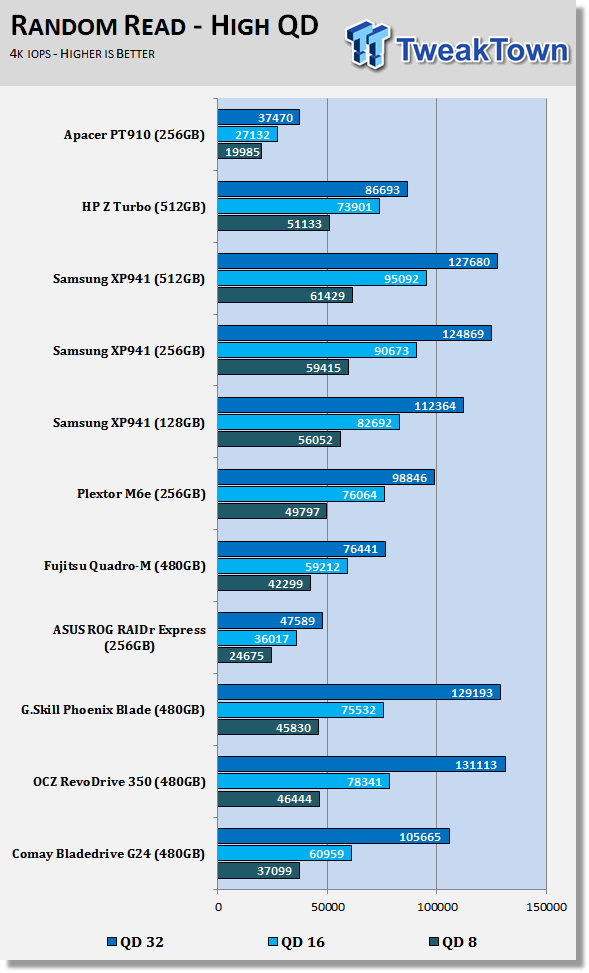 The PT910 256GB doesn't scale well, even in the high queue depth range. These tests use 46% compression, so that is why we didn't achieve the 100K random read IOPS that Apacer quotes on the specifications. With 100% compressible data, we did manage to achieve higher performance, but with 100% incompressible data, the random read performance was even lower.
Low Queue Depth Write IOPS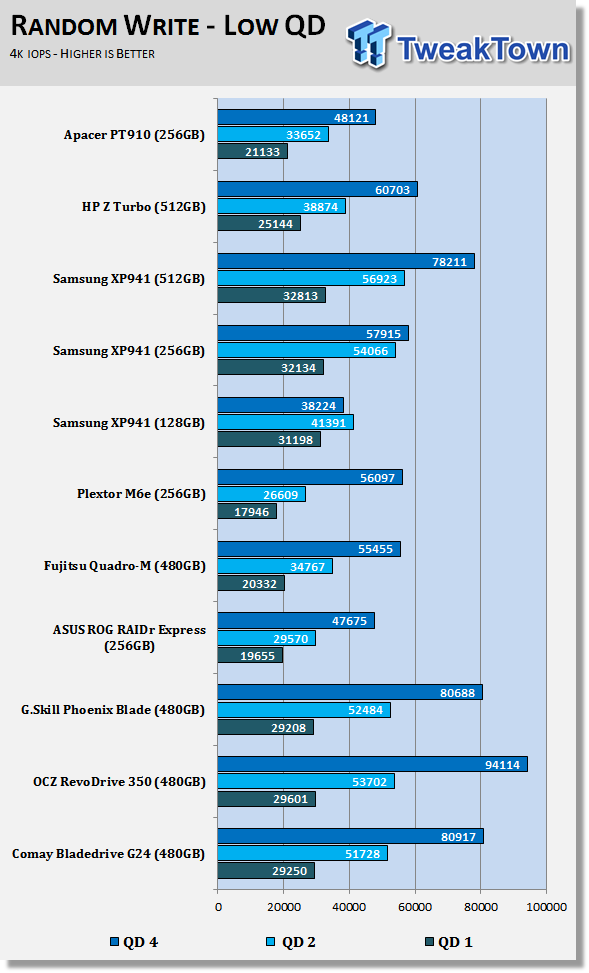 The PT910 256GB does a little better with random writes at low queue depths, but still falls behind nearly every other drive in this chart.
High Queue Depth Write IOPS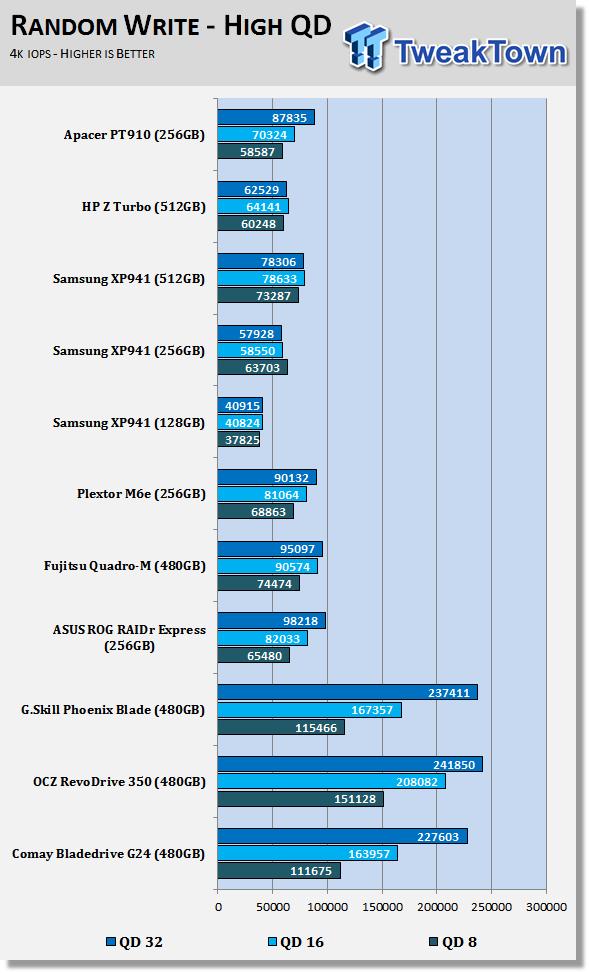 The high queue depth random read performance fell in line with several other products on the market, but well short of the G.Skill Phoenix Blade and OCZ RevoDrive 350, two of the most well-known All-in-One RAID products.
Benchmarks - Mixed Read / Write Workloads
Sequential Mixed Read / Write Workloads
In this series of tests, we measure mixed workload performance. We start with 100% read and then add data writes to the mix in 10% increments until we get to 100% writes. We believe this will be the next major area SSD manufacturers will address, after performance consistency.
Sequential Mixed Workload Bandwidth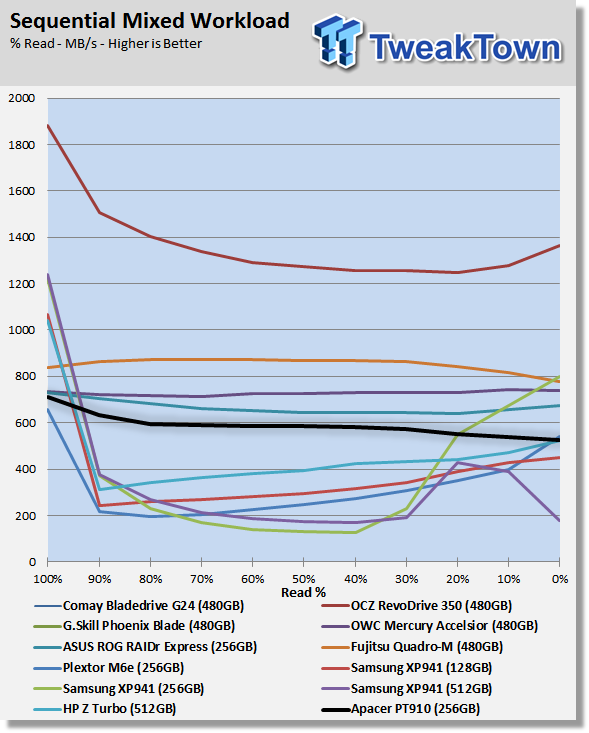 SandForce based SSDs do very well in our mixed workload sequential test with incompressible data in steady state. This test shows us performance under heavy use with multimedia files, like when editing high-resolution video.
Sequential 80% Read / 20% Write Bandwidth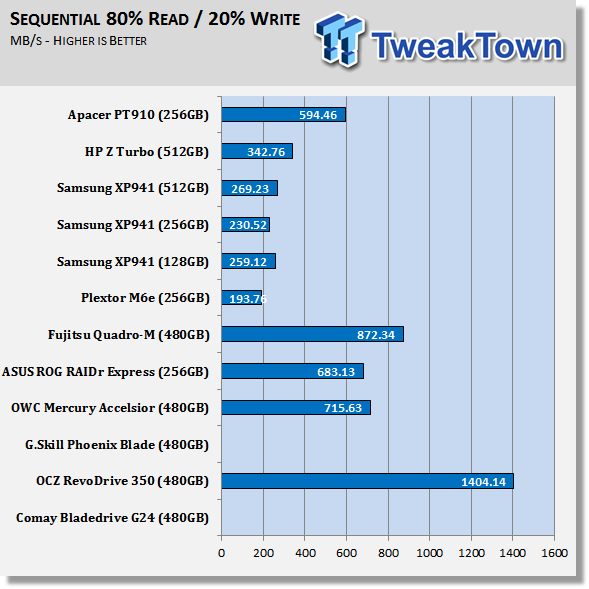 The first thing you will notice is that two drives are not listed on the performance side. Those drives fail this test due to an issue with the custom RAID controller. Aside from the M.2 based products from HP, Samsung, and Plextor, the other drives use SandForce controllers. Apacer's choice to use the lower-cost four-channel controller led to the drive delivering the slowest performance in this test when compared to just the SandForce based SSDs.
Random Mixed Workload Response Time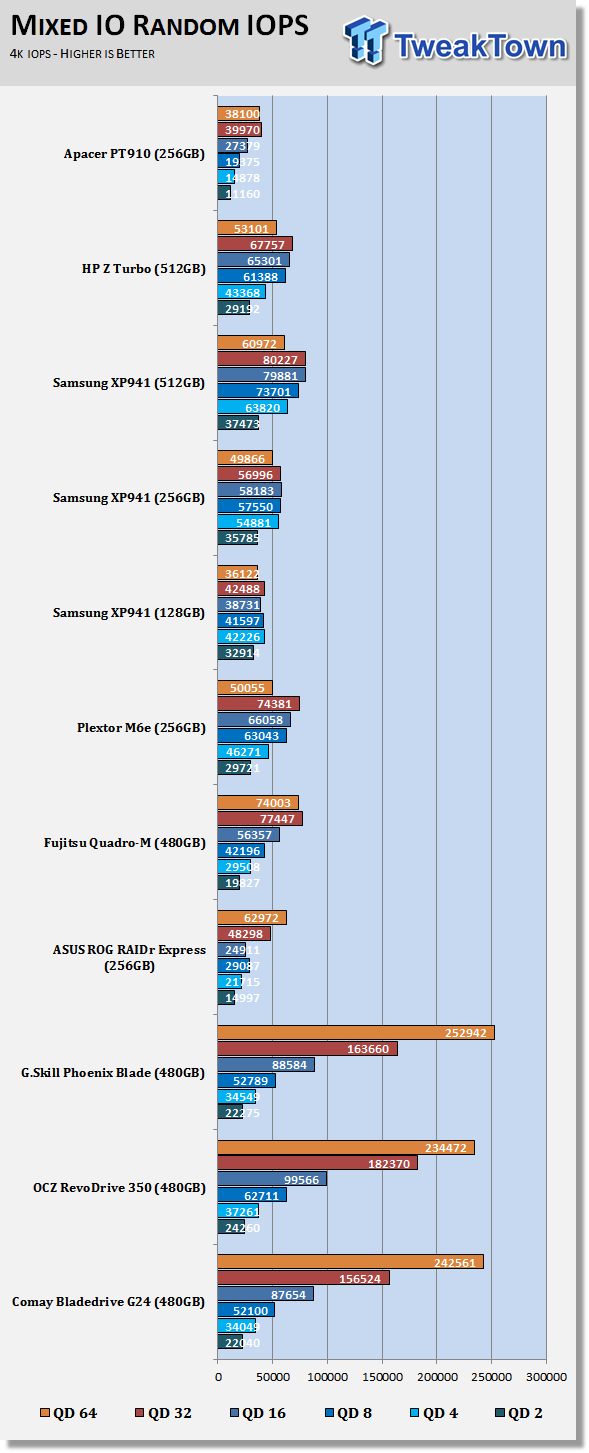 The low random read performance really hurt the PT910 in the mixed read/write random IOPS test.
PCMark 8 Consistency Test
Futuremark PCMark 8 Extended - Consistency Test
Version and / or Patch Used: 2.0.228
Heavy Usage Model:
Futuremark's PCMark 8 allows us to wear the test drive down to a reasonable consumer steady state, and then watch the drive recover on its own through garbage collection. To do that, the drive gets pushed down to steady state with random writes, and then idle time between a number of tests allows the drive to recover.
Precondition Phase:
1. Write to the drive sequentially through up to the reported capacity with random data.
2. Write the drive through a second time (to take care of overprovisioning).
Degradation Phase:
1. Run writes of random size between 8*512 and 2048*512 bytes on random offsets for ten minutes.
2. Run performance test (one pass only).
3. Repeat one and two, eight times, and on each pass, increase the duration of random writes by five minutes.
Steady state Phase:
1. Run writes of random size between 8*512 and 2048*512 bytes on random offsets for 50 minutes.
2. Run performance test (one pass only).
3. Repeat one and two, five times.
Recovery Phase:
1. Idle for five minutes.
2. Run performance test (one pass only).
3. Repeat one and two, five times.
Storage Bandwidth All Tests
PCMark 8's Consistency test provides a ton of data output that we use to judge a drive's performance. Here we see the three states of performance for the select SSDs, light use, consumer steady state, and worst case.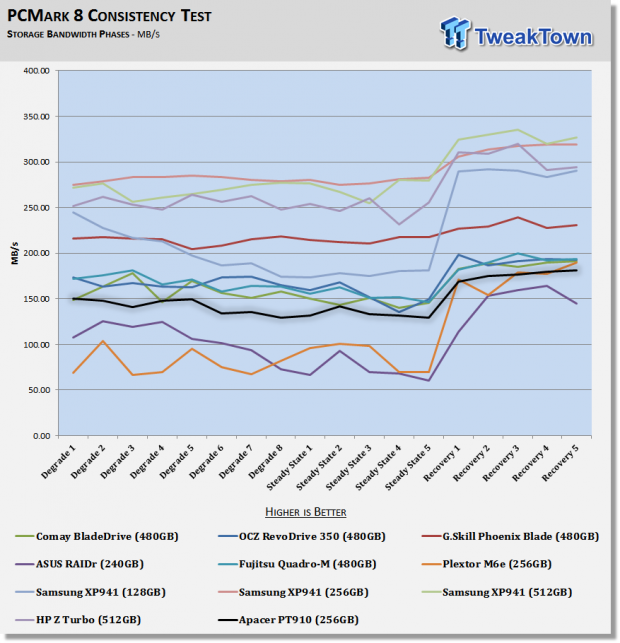 When it comes to throughput, we've already determined that the Apacer Thunderbird PT910 doesn't muster the high performance of many of the other products on the market.
Prosumer / Heavy Workloads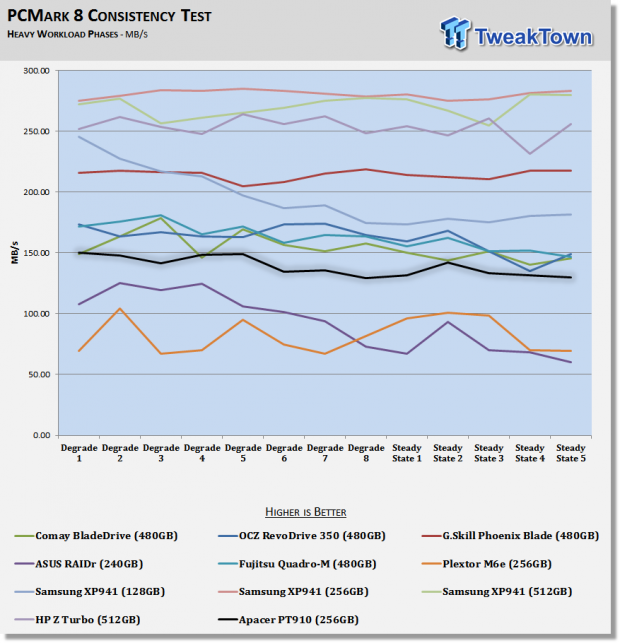 Under heavy workloads in daily use software, the same holds true. This is our first set of tests with real software, and as you can see, this product runs much lower than several others. The performance is even under the mid-tier 2.5" products.
Typical Consumer Workloads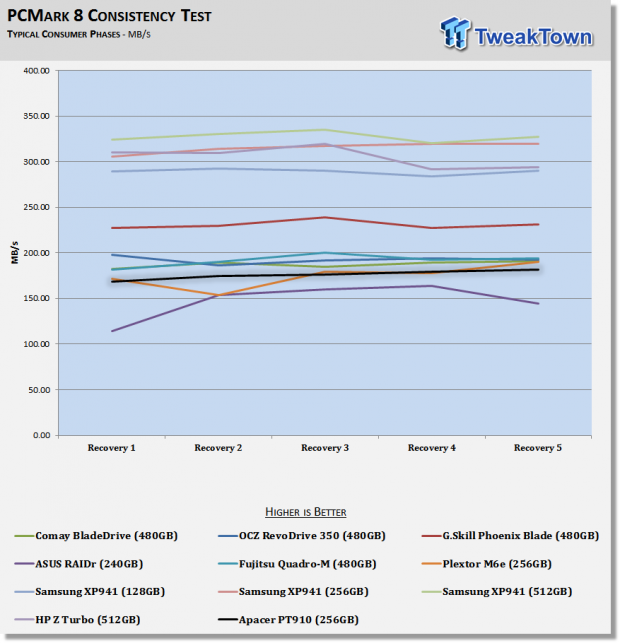 The SF-2241 controller wasn't used in a lot of aftermarket products, nowhere near as much as the eight-channel SF-2281. This controller did have some OEM success with some companies, but for the most part, it was a ghost.
PCMark 8 Consistency Test - Continued
Total Access Time All Tests
The access time test measures the total latency across all 18 tests. This is one of, if not the most important of all tests that we run at this time for consumer SSDs. When your latency is low, your computer feels fast; it's just that simple.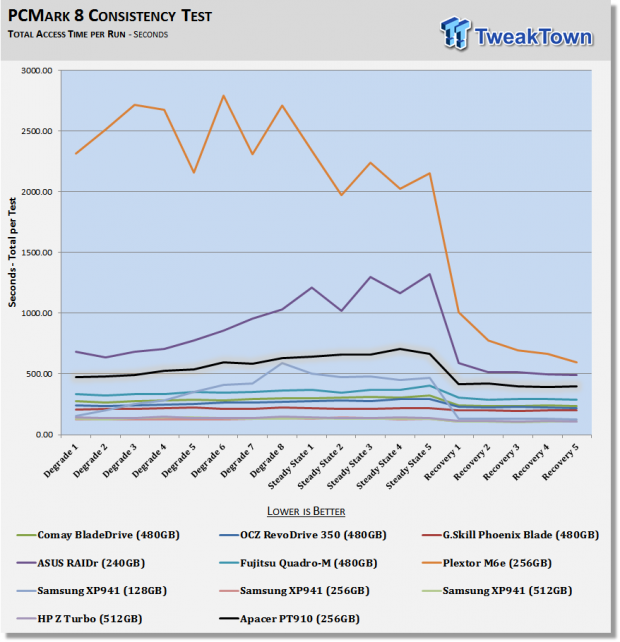 Here we look at the most important test in this review, latency with real-world daily use applications.
Prosumer / Heavy Latency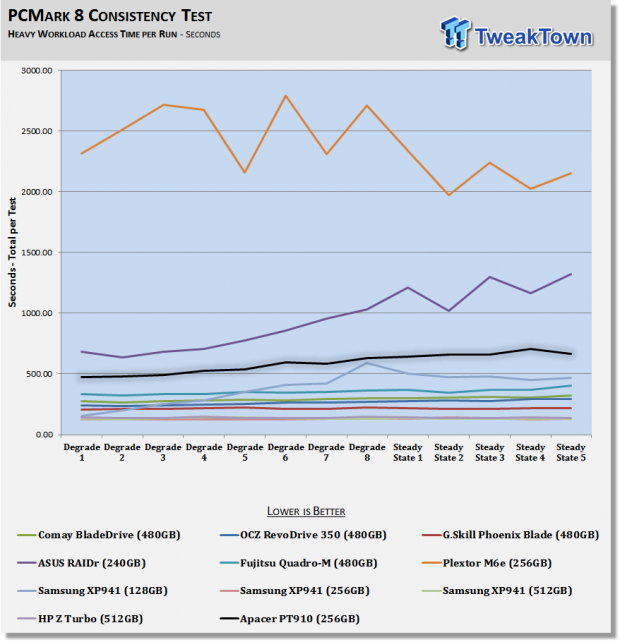 Under heavy workloads, the PT910 suffers from high latency when compared to most other All-in-One RAID products we've tested.
Typical Consumer Latency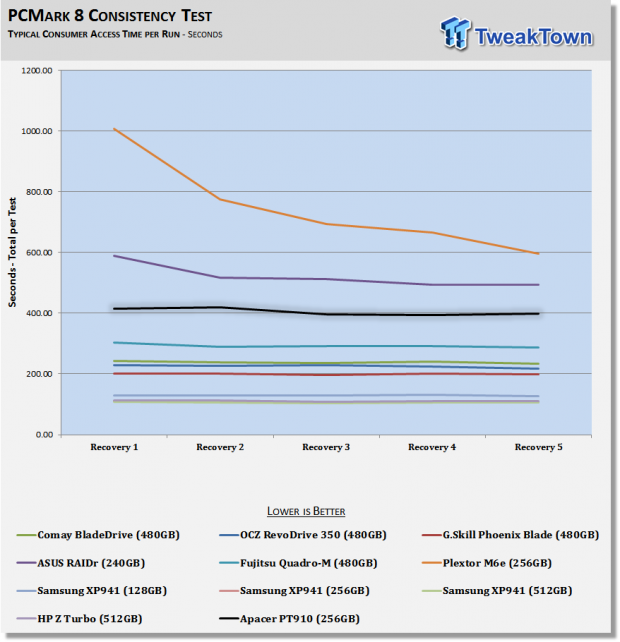 Under workloads that better represent desktop and notebook users, the PT910 still fails to tame the high latency.
Final Thoughts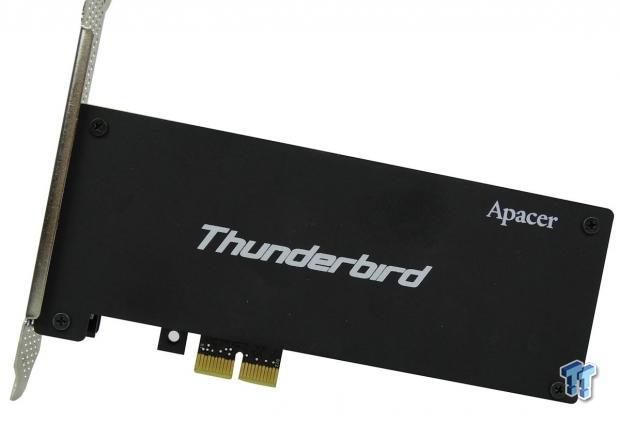 We would have loved to talk about how well the Apacer Thunderbird PT910 performed in our tests today, but the performance didn't back up that line of thinking. Performance wise, this product is a dud right out of the box. Several companies have built better performing All-in-One RAID SSDs, and Apacer had an opportunity to deliver a product of equal performance, but chose the cheap way rather than the right way to piece this product together.
The company started off with four-channel controllers that are already several generations old. The SF-2241 wasn't even designed for high-performance use to begin with. The controller was meant for OEM customers needing a low-power controller to extend notebook battery life performance while delivering HDD replacement performance. That is hardly the start for a product designed for gamers and enthusiasts.
The Marvell 88SS9220 RAID controller follows the same line of thought: low cost with substandard performance. All of the All-in-One RAID products are at a disadvantage on the RAID controller side. The Intel RAID built into the PCH is one of the best available for up to four drives, but the array has to share bandwidth with other PCH devices like USB ports. If a company wants to make a product with just two drives, then it's already awash compared to onboard RAID that everyone already has. Apacer would have been much better off slamming four SSDs with a higher-spec Marvell controller. Other companies have already released that product with mixed success for this unique product category.
Putting the nail in the product packaging is the fact that M.2 PCIe-based products are faster than the Apacer Thunderbird PT910 in many workloads and real-world software tests. The only real way Apacer can compete with these products is on price. With three PCBs, two SandForce controllers, and a Marvell RAID controller, I don't see that happening. We couldn't find this model listed for sale online yet, so we don't know what the price will be.
There is something to be said about the ease of installation. This product doesn't require additional drivers if you run a modern operating system. With that said, neither does the Samsung XP941 256GB that costs just under $1 per GB at the time of writing. The numbers today show which product is faster, so it shouldn't be difficult to pick a winner.
| | |
| --- | --- |
| Performance (including Overclocking w/a) | 64% |
| Quality including Design and Build | 83% |
| General Features | 65% |
| Bundle and Packaging | 90% |
| Value for Money | N/A |
The Bottom Line: These products are already on the way out as native PCIe SSDs come to market. The PT910 uses a low-cost SSD controller so it started out as a dud and can't even compare to high performance SATA SSDs on the market today.
PRICING: You can find products similar to this one for sale below.

United States: Find other tech and computer products like this over at Amazon.com

United Kingdom: Find other tech and computer products like this over at Amazon.co.uk

Australia: Find other tech and computer products like this over at Amazon.com.au

Canada: Find other tech and computer products like this over at Amazon.ca

Deutschland: Finde andere Technik- und Computerprodukte wie dieses auf Amazon.de
We openly invite the companies who provide us with review samples / who are mentioned or discussed to express their opinion. If any company representative wishes to respond, we will publish the response here. Please contact us if you wish to respond.