Braven BRV-X Outdoor Water Resistant Bluetooth Portable Speaker Review
If you're a fan of music and the outdoors, we've got a great speaker to present to you featuring a water resistant casing and far-ranging sound.
Published Thu, Mar 12 2015 9:10 AM CDT
|
Updated Tue, Nov 3 2020 6:59 PM CST
Rating:

89%
Manufacturer: Braven
Introduction, Specifications, Pricing & Availability
If you're into 'Braven' the weather (pun intended), this rubber coated portable Bluetooth speaker might be the one for you. Rated as IPX5 water resistant, featuring a genius cover for its sensitive internals and touch-buttons that can even be used in the rain, you must be wondering how exactly this product sounds?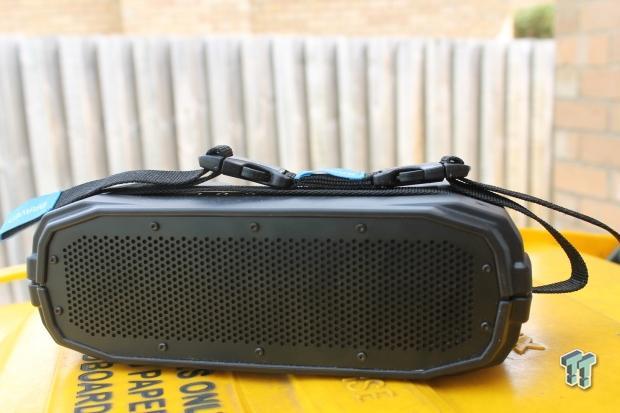 Music everywhere in this day and age, I can barely bring myself to leave the house without some kind of beat pumping in the background. Working on my computer sees Spotify cranking all day, there's a decent sound system installed in my car, and when I go to have a good old BBQ with my mates - something needs to fill the gap. In comes the Braven BRV-X portable speaker to the rescue... or maybe two of? If you're wondering what I mean, read on to find out.
Specifications
As I said previously, this product is basically fully rubber coated (attracts dust), helping it gain an IPX5 water resistance rating. This number means that the product can resist a 6.3mm nozzle projecting water against the device with no harmful side effects.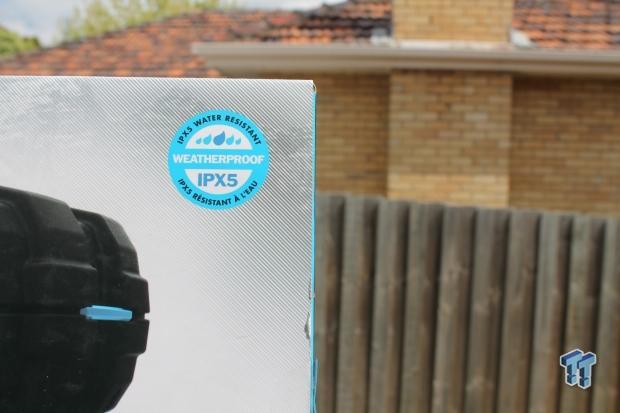 You can connect this speaker to your device through two separate options - Bluetooth or a 3.5mm jack. The latter of these two means you have to pop off the back cap to access the internals, resulting in the water resistance part of the product being basically nullified.
The BRV-X features a 5200 mAh battery held within and is unfortunately charged via the provided DC power pack only. There's a handy outlet USB port in order to service your smartphone or tablet. However, only running at 1A and connected to the 5200 mAh battery means you're unlikely to find much use for it and once again, to use these features means removing the waterproof featuring of the product.
There's an awesome battery indicator on the back which contains five bright LED lights displaying exactly how much is left in the tank, alongside the AUX in and a special switch labeled as 'Outdoor/Indoor', and as according to the packaging, this switch should be changed depending on your location. The indoor setting will provide you with a slightly quieter, but more full and deep sound, whereas the outdoor mode will pump the speakers at full volume and help project your tunes against nature. This is certainly something I haven't seen before and an awesome inclusion as noise is often simply carried away outdoors.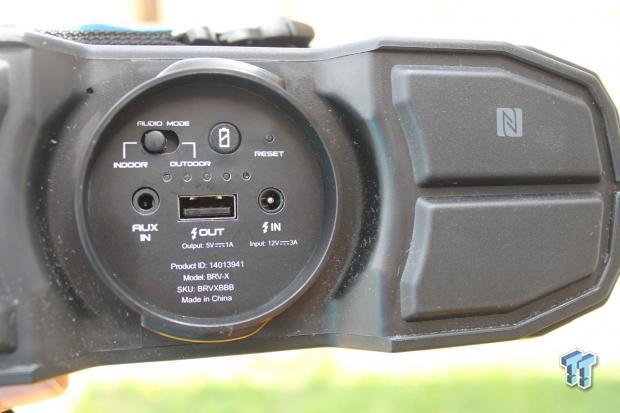 Another cool inclusion is the ability to pair two devices together. Similar as what's seen in the LUXA2 Groovy Duo, you can simply connect one device to your smartphone and use this as somewhat of a relay - sending the signal to a second BRV-X and it will project the same sound, at the same time, from the same Bluetooth product. This means that if you're outside at a family BBQ or running a house party, you can have adequate sound in different parts of your house running off one playing device.
Pricing & Availability
We were able to find the Braven BRV-X listed on Amazon at the time of writing for $141. Is that a bit expensive for a portable speaker? Read on and we'll do our best to cover that.
What's in the box?
Now this product does not come with a carry case, but there's a reason for this. The product IS the carry case. Because of the "rubber overmolding combined with high-impact plastic" structure, Braven provided a carry strap located within the packaging. A quick setup of this strap will look like as seen in the image below.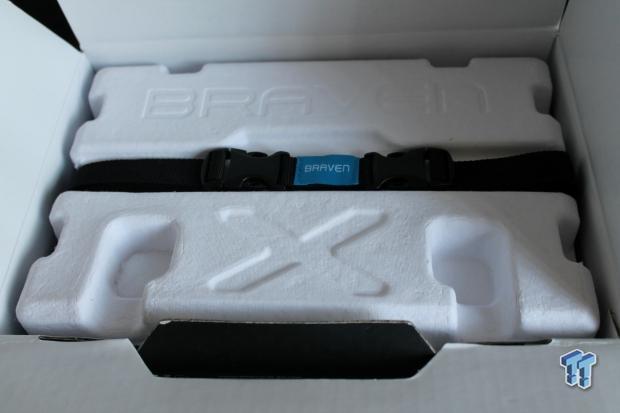 According to their documentation, this strap can be used either as a carry handle or a way to tie down the product to objects. This is extremely useful if you're looking to secure it on the outside of a trailer or especially some supporting beam on your boat for fishing or other leisure. Also included is a lanyard, the quick start manual, an A/C adaptor with plenty of different country adaptors (US/EU/UK/AU), and a short 3.5mm male-to-male auxiliary cable.
PRICING: You can find the Braven BRV-X Portable Wireless Speaker for sale below. The prices listed are valid at the time of writing but can change at any time. Click the link to see the very latest pricing for the best deal.
United States: The Braven BRV-X Portable Wireless Speaker retails for $141.00 at Amazon.
Canada: The Braven BRV-X Portable Wireless Speaker retails for CDN$231.41 at Amazon Canada.
A Closer Look and Listening Experience
Let's dig deeper
It's obviously not the cheapest offering on the market, but it's water resistant and it has something else special going for it. You'll find with a lot of portable speakers, not only do they often suggest you don't play them outdoors, but they're also trying to squeeze every last decibel out of the poor little drivers. This often results in various issues like the speaker cone vibrating too violently and hitting the covering (yes, it's happened before), or the sound being distorted, washed out and all you end up hearing is 80% bass, 10% crackle - and 10% you swearing.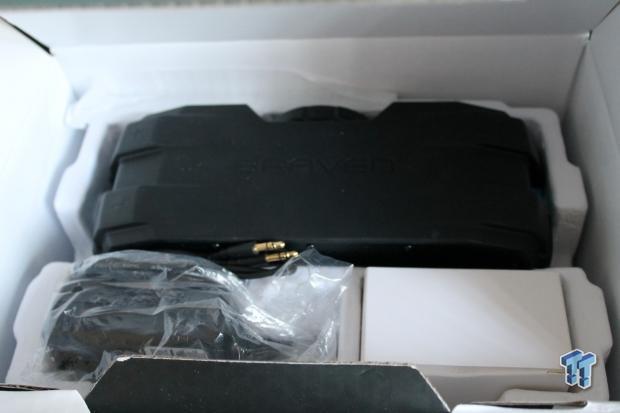 When switched to outdoor mode and cranked to 100%, the Braven BRV-X rivals the sound output of my A/C powered Kogan iPod dock and internet radio, alongside providing reasonable sound throughout the range. Switched back to indoor mode means the sound is a little quieter, but more full and rich in nature, having the perfect ability to tackle bands ranging from Pink Floyd to The Amity Affliction and genres from country to deep house with little to no effort.
Although a little heavy at 1.5 lbs and a little large at 9.06 x 3.63 x 2.94 inches, you shouldn't be buying this product with maximum portability in mind. It's going to fit into a travel backpack quite well or carried along in your car on the way to the picnic, just don't expect to be stowing it away in your handbag or pocket.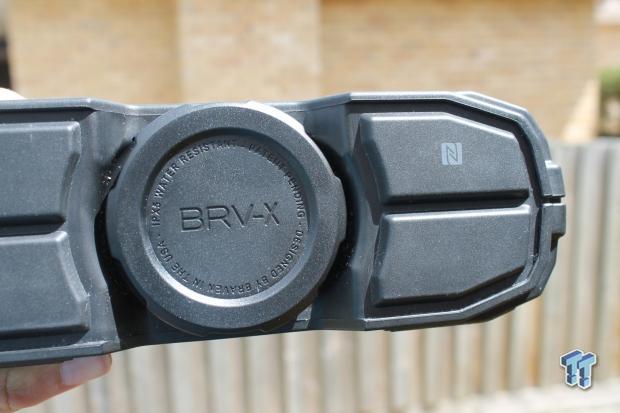 Overall, the device feels extremely sturdy as is expected, alongside the rubberized coating being well produced and not prone to peeling or disintegration. The cap which hides the internal controls has a solid plastic-on-plastic connection and will seemingly survive a few falls onto hard surfaces.
Braven the wind and rain
It's not going to provide you with a completely full-sound experience like you come to expect with headphones or a home theatre system, but this comparatively small speaker sure does pack a massive punch. It sounds better than other products I have here on hand including the Andromedia Curve Mini, LUXA2 Groovy Duo, and the Arctic S113BT - granted it is slightly more expensive and bigger in stature.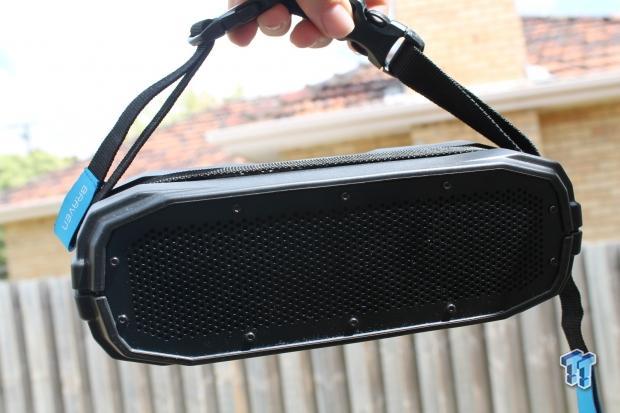 The weight and size is what I think helps add to the appeal and sound of this product. Most speakers are constructed of lighter and cheaper materials, meaning that any substantial bass will rattle not only the speakers, but also their structure. Listening to songs that require utmost clarity will leave you slightly disappointed, with Such Great Heights by The Postal Service sounding a little flat as a whole.
However, songs that pack a little more punch ranging from The Bounce by JayZ to You & Me Flume Remix by Disclosure and Eliza Doolittle shows exactly what this speaker is made for - outside entertainment.
Further Analysis
The included carry strap is solid and provides a handy way to connect your speaker to a pole on your boat or caravan, hence showing that there has been some thought put into the total package of this design.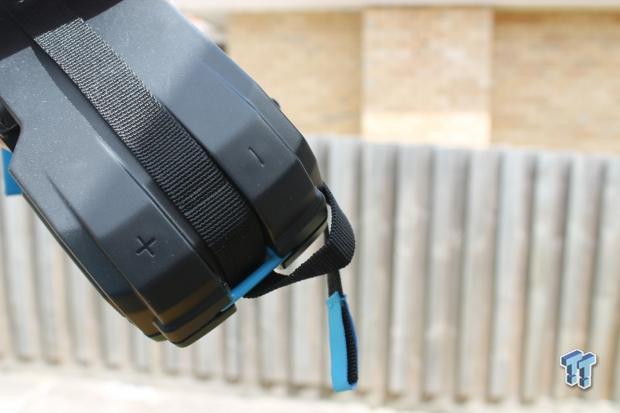 Your general 'top 40' music is going to sound great even when pumped up to full volume, however, this model misses out a little on more specific listening experiences, as seen with every Bluetooth speaker I have tested thus far. Further listening to some hardstyle and heavy metal songs reports back satisfactory listening experiences, alongside the reach in outdoor mode being fantastic.
What's Hot, What's Not & Final Thoughts
What's Hot
Sturdy and water resistant: You'll have no issue dropping it a few times or taking it through the sea spray on your boat.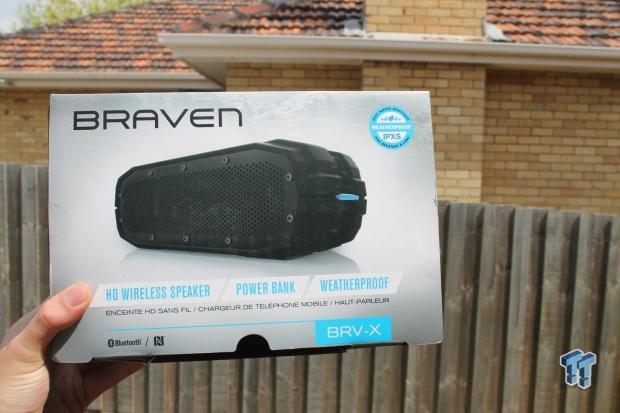 Sound projection: Outdoor mode will see you spread the tunes around to all who wish to listen in and probably a few who don't.
Pairing options: If one simply isn't enough, you can pair another speaker for double the sound.
What's Not
1A USB output: Don't expect to gather much charge out of the 1A USB output and the 5200 mAh internal battery.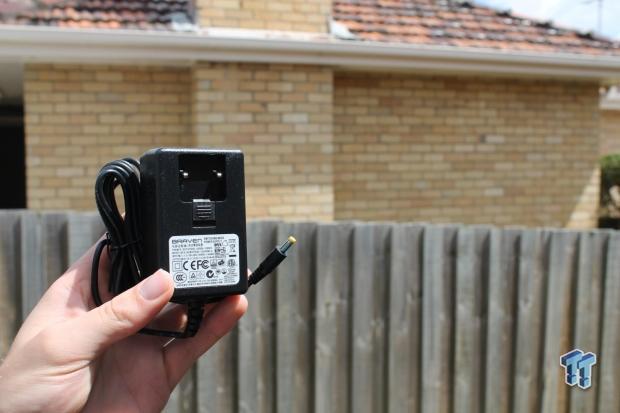 Lack of clarity: An issue that plagues every speaker, the indoor mode may be satisfactory for your listening experience.
No USB charge options: The battery is only 5200 mAh, I see no reason why you shouldn't be able to charge this product through micro-USB.
Final Thoughts
This speaker is solid, water resistant, Bluetooth, loud and a little expensive. The good features certainly outweigh the bad and I would definitely suggest picking up a couple if you've got the money spare to spend, and either way, it's still going to be cheaper than most big-brand commercial offerings in electronic stores.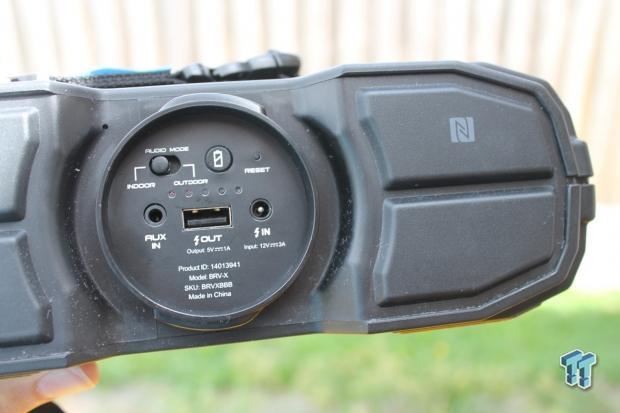 Charging only through a wall-supplied source is a certain downside, however, with 5200 mAh in the tank, you should have no issues listening to a day filled with music whilst outside having a BBQ, boat trip or house party.
PRICING: You can find the Braven BRV-X Portable Wireless Speaker for sale below. The prices listed are valid at the time of writing but can change at any time. Click the link to see the very latest pricing for the best deal.
United States: The Braven BRV-X Portable Wireless Speaker retails for $141.00 at Amazon.
Canada: The Braven BRV-X Portable Wireless Speaker retails for CDN$231.41 at Amazon Canada.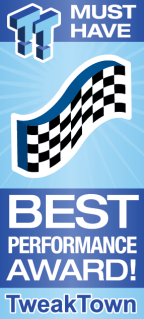 | | |
| --- | --- |
| Performance (audio quality) | 90% |
| Quality including Design and Build | 95% |
| General Features | 90% |
| Bundle and Packaging | 95% |
| Value for Money | 75% |
The Bottom Line: Although a little expensive, you really get what you pay for. Great projected sound and a water resistant design makes this a great product.
PRICING: You can find products similar to this one for sale below.

United States: Find other tech and computer products like this over at Amazon.com

United Kingdom: Find other tech and computer products like this over at Amazon.co.uk

Australia: Find other tech and computer products like this over at Amazon.com.au

Canada: Find other tech and computer products like this over at Amazon.ca

Deutschland: Finde andere Technik- und Computerprodukte wie dieses auf Amazon.de