ASRock X99 WS-E/10G (Intel X99) Motherboard Review
ASRock's X99 WS-E/10G is the most expensive Intel X99 motherboard on the market. But for good reason, it comes packed with loads of features.
Published Thu, Feb 26 2015 9:06 AM CST
|
Updated Tue, Nov 3 2020 6:59 PM CST
Rating:

94%
Manufacturer: ASRock
Introduction, Specifications, and Pricing
ASRock is a well-known company who specializes in motherboard design and manufacturing, bringing to market some of the most insane motherboard designs ever seen usually designated with "Extreme11".
Today, I have one of those crazy-awesome motherboards, the X99 WS-E/10G. This thing is a monster; it carries more silicon than three other motherboards combined, it has four NICs (including two at 10Gbit speeds), twelve SATA ports, and seven PCI-E 16x slots.
This has to be the most feature packed motherboards in existence, and today I will explore the X99 WS-E/10G. Let's get started!
Specifications
This is one of the longest specification lists I have ever seen for a motherboard. While you skim it for all the good stuff like dual PLX bridges and the Intel X540 10G controller, notice the little asterisks pointing out where bandwidth is shared.
On many loaded boards everything is shared, but not on this board. Surprisingly these asterisks are not as common as you would think, only a few SATA ports share bandwidth, and that is a chipset limitation which ASRock deals with very well.
Pricing
At $670 on Newegg, the X99 WS-E/10G is possibly the most expensive X99 motherboard, yet it also has more features than any X99 motherboard.
Packaging and the X99 WS-E/10G
Packaging and the Board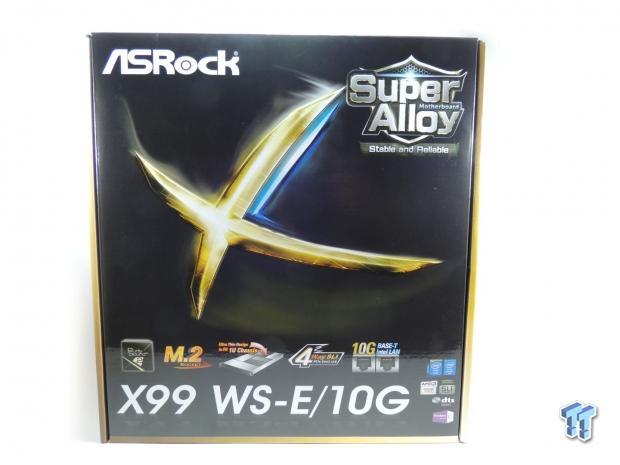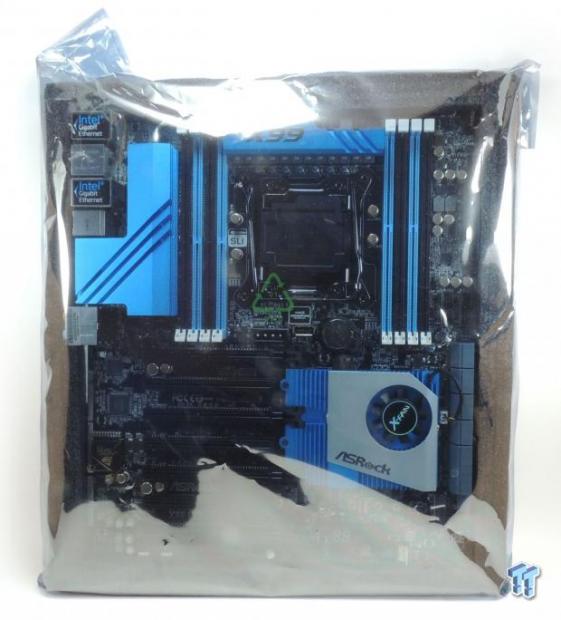 The box is inconspicuous, yet the packaging and the box together provide excellent protection from damage. The board is zip tied into its foam carriage and an anti-static bag is secured.
When it comes to accessories, ASRock typically gives you what you need. Here they provide six SATA 6G cables, an IO shield, an extended 2-way SLI bridge, a 3-way SLI bridge, a 4-way SLI bridge, a nice sticker, a screw for the M.2 slot, and of course a very handy user's manual and driver DVD. It's a good idea to keep that user's manual close while doing a build with this motherboard, as there are just so many ports, its best to make sure you are using the right one.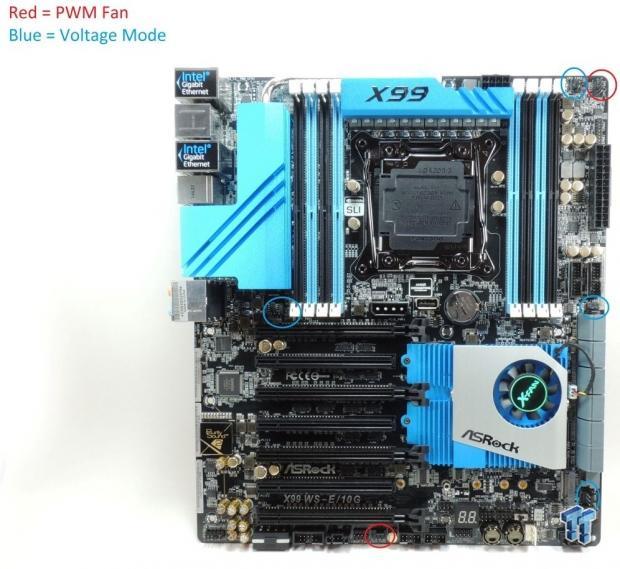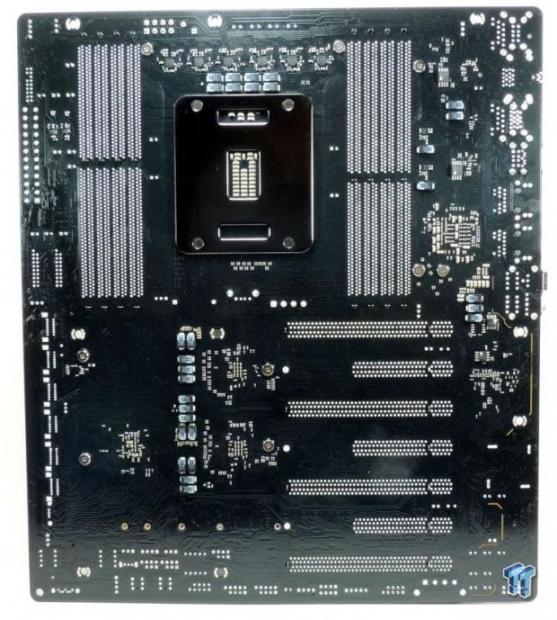 I have circled the fan headers on the board. There are two PWM header and four voltage mode headers, all of them can be controlled through the UEFI or Windows software. The design of this board is very elegant, and the blue works. The board looks better in person; these pictures don't do it justice. The little fan on the heat sink doesn't make too much noise, but it is pretty much needed to cool those two PEX8747 chips (each at 8W). The back of the board does have some components, mostly power regulation stuff, but nothing to worry about.
This back panel is what this board is all about. It features dual Intel 1Gbit NICs, dual Intel 10Gbit NICs, four USB 3.0 ports, four USB 2.0 ports, an eSATA port, a clear CMOS button, and a TOSLINK with S/PDIF optical.
While the PCI-E layout might seem complicated, it really isn't. Basically, you can think of it as four slots (starting from the first and skipping every other slot), each of which gets a full 16x of bandwidth. The first three slots can share 8x of their bandwidth with the slot directly below them. So slot 1 can share 8x with slot 2 and both become 8x. Slot 3 can share 8x with slot 4 can both become 8x. The last slot seems to be hardwired for 16x. If you are wondering where I got 64x lanes of PCI-E 3.0 that is simple as well. 32x PCI-E 3.0 lanes from the CPU go to two PEX8747, each chip is capable of turning 16x into 32x, so 32x becomes 64x.
There are a total of 12 SATA ports visible from this angle, some of them are shared some aren't, it's important to look up in the manual what is shared with what, especially if you use SATA Express or an M.2 drive.
ASRock also included some features that could be considered debugging features. The dual BIOS ROMs (with their switch) and the POST Code display can help reduce debugging time in half.
Workstation users don't really have room for a sound card, so ASRock is providing their Purity Sound 2 with Nichicon fine gold capacitors and dual TI amplifiers as well as full PCB isolation.
The VRM is made up of 12 phases, the heat sink is pretty hefty and seems to secure tightly to the phases.
Removing the heat sink reveals excellent contact between the heat sinks and their target heat sources.
X99 WS-E/10G Circuit Analysis
Circuit Analysis
This section will start off with a look at power regulation and then shift into general circuit selection and implementation.
At first glance, this board is pretty intimidating to analyze, however, it's simpler than it looks. I want to mention that this board uses either POSCAPs or 12K solid capacitors which is higher than what any other manufacturer uses at this moment.
CPU Regulator Analysis
This VRM is made up of 12 phases (6 from the PWM doubled to 12), and it is a very high quality and high energy density VRM. Each of those chokes is rated for 60A and ASRock is going all out with POSCAPs for the output capacitors for all the high-end electronics on this board. There are a total of 14x 330uF tantalum based POSCAPs for 4620uF of total output capacitance.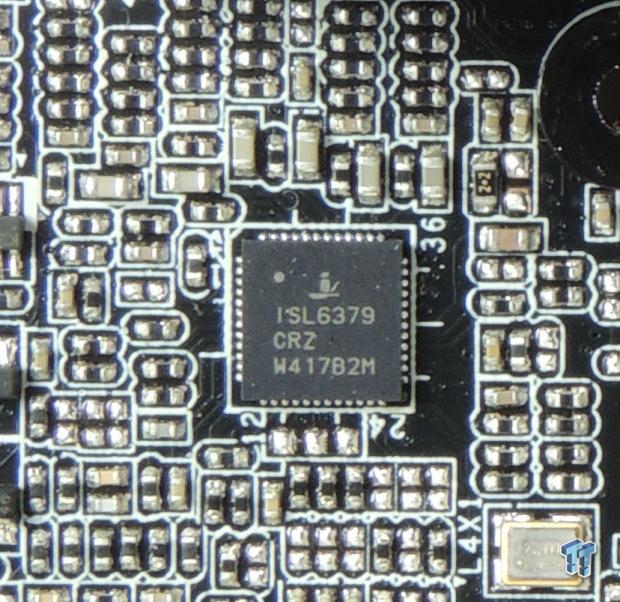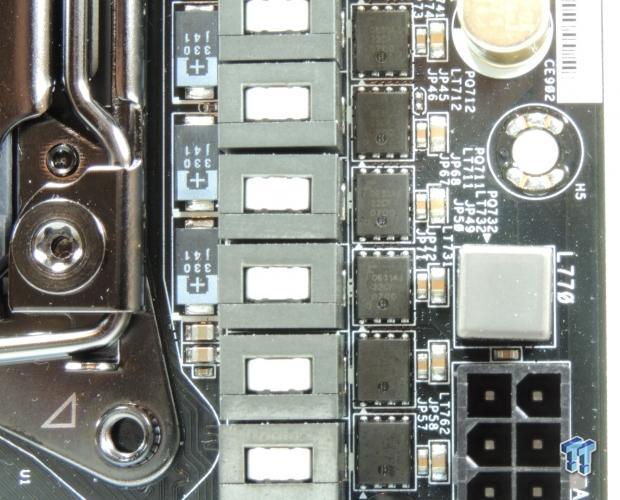 An Intersil ISL6379 PWM is being used, it supplies 6 phases. This is one of Intersil's latest PWMs, and should prove to perform well. Each phase consists of one dual-pack MOSFET, a Fairchild FDMS3668S which consists of one high-side and one low-side MOSFET. They should be able to output around 40-60A each depending on conditions, however, I doubt you will ever see 12 phases pushing that much current, not even a 5960X uses that much power.
On the backside there are six ISL6611A's which are doublers with dual drivers.
Memory Regulator Analysis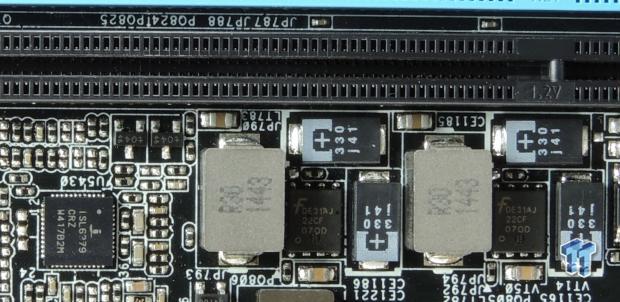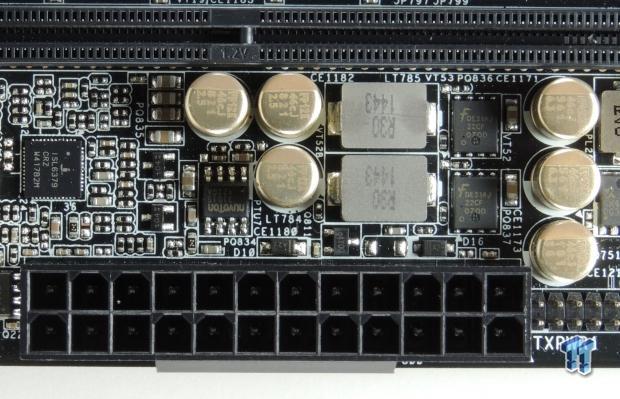 The X99 WS-E/10G uses two ISL6379, one for each set of DIMMs. The DRAM voltage rail is provided by the same power MOSFETs as the CPU VRM, with two phases for each set of DIMMs.
General Circuit Analysis
This is the Intel X540 dual 10Gbit NIC. ASRock provides it 8x PCI-E 3.0 from the CPU and routes the remaining 32x to the dual PEX8747. A chip like this needs power and its power comes from that little VRM below it which uses a Richtek PWM with Sinopower and Fairchild MOSFETs.
Next up are a pair of PEX8747 each with a TDP of 8W, they are hot running chips. Each of these has its own VRM consisting of all those MOSFETs and inductors right below the pair of PEX8747 in this picture. Extra clock generators are also needed and you can spot them in the left-hand side of the image.
Dual Intel WGI210AT provide two 1Gbit NICs, I would usually be impressed to see these, but they can't steal the limelight from the dual 10G X540.
ASRock's Purity Sound 2 uses an ALC1150 with two Texas Instruments N5532 amplifiers. One amplifier is for the back panel IO the other for the front. The Nichicon fine gold capacitors are also a nice touch. The PCB isolation is very important as there is probably a ton of digital noise form all those extra NICs and PLX chips.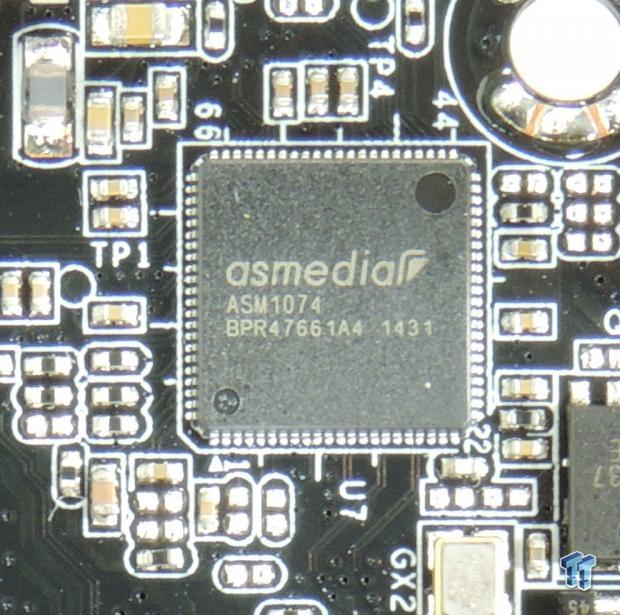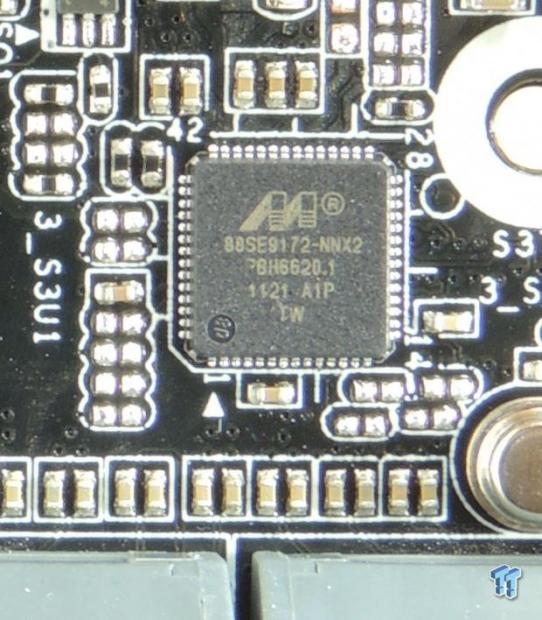 The ASMedia ASM1074 is a 4 port USB 3.0 hub that provides all the backpanel USB 3.0. The Marvell SE9172 provides two SATA 6G ports located at the top of the SATA port stack.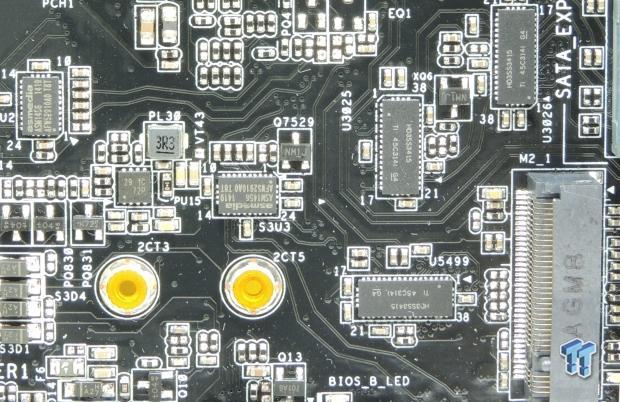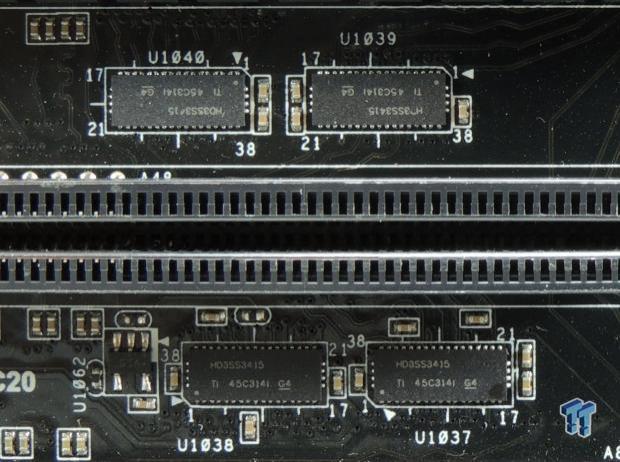 These ASMedia ASM1456 are SATA 6G switches to switch around SATA bandwidth and the PCI-E switches are used to switch around M.2 bandwidth or PCI-E bandwidth. This is possibly one of the only X99 ASRock boards not to feature 4x PCI-E 3.0, instead it offers 4x PCI-E 2.0, which isn't bad either.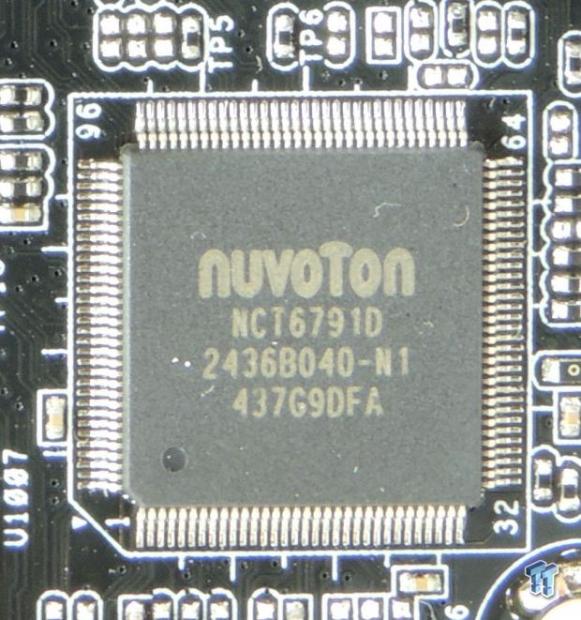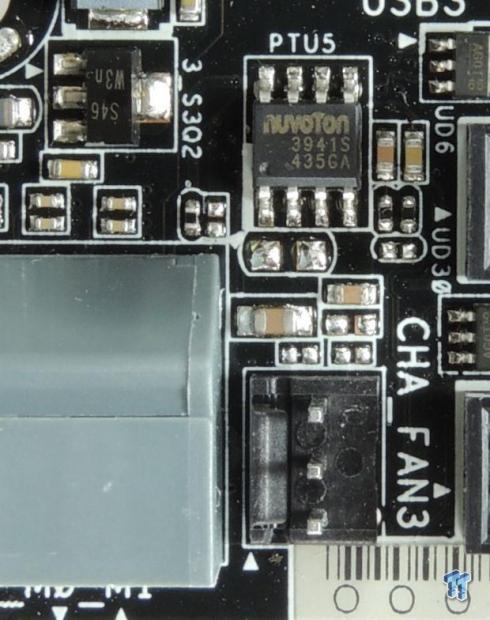 The nuvoTon NCT6791D is the SuperIO used on this board, it is in charge of all fan, voltage, and temperature monitoring. Extra nuvoTon 3941S chips can be found all over the board near fan headers to provide voltage mode fan control (which is actually harder than PWM mode to implement).
The BIOS and Software
BIOS
ASRock's UEFI was simple enough to use. Once you figure out where all the settings are, you can begin to overclock the machine. There are presets in case you want to use them, and I do recommend using them at first if you need help. The BIOS was solid and I didn't find any major bugs.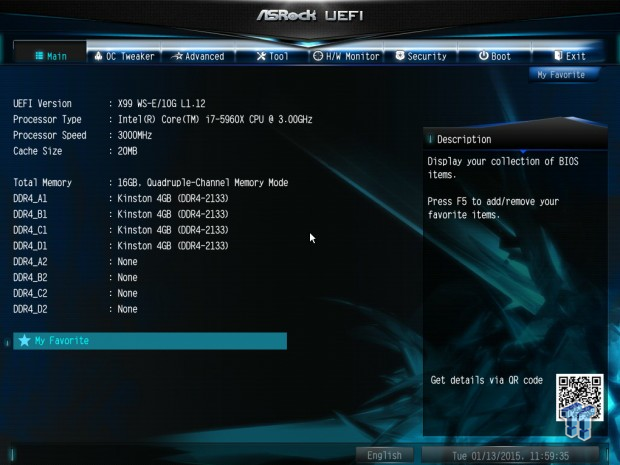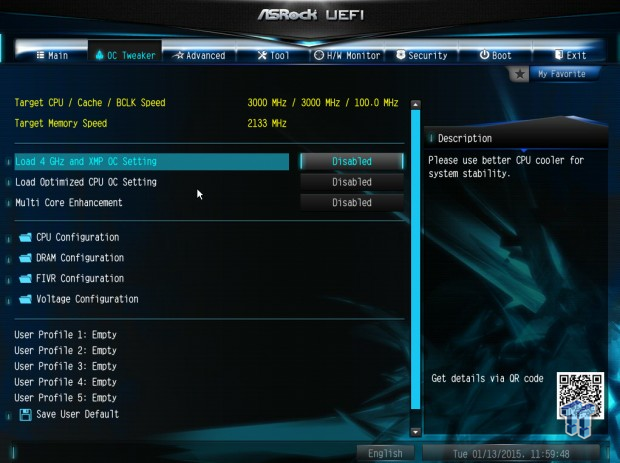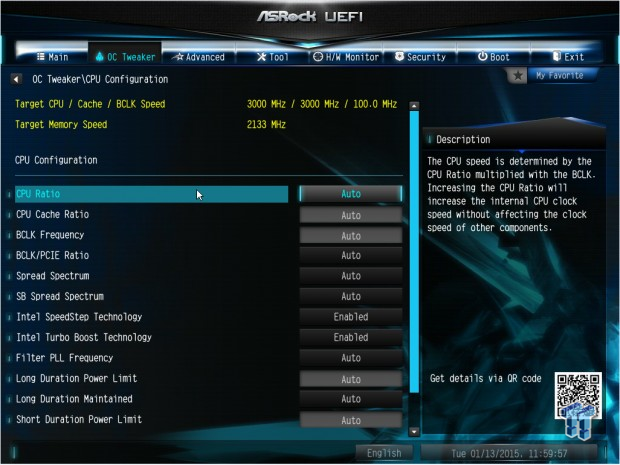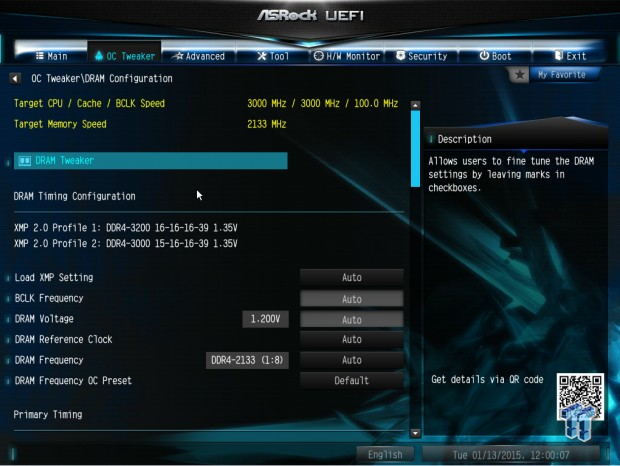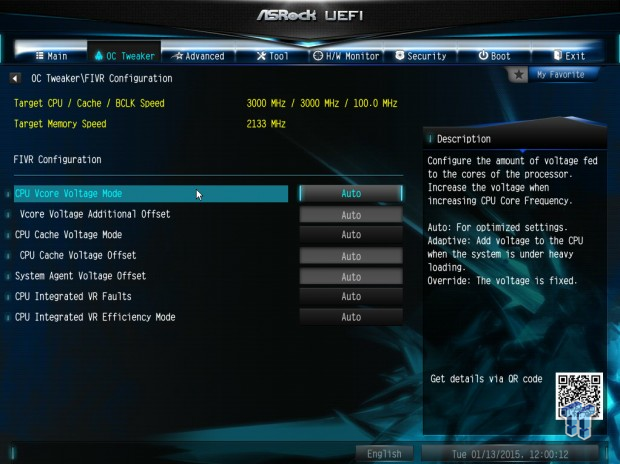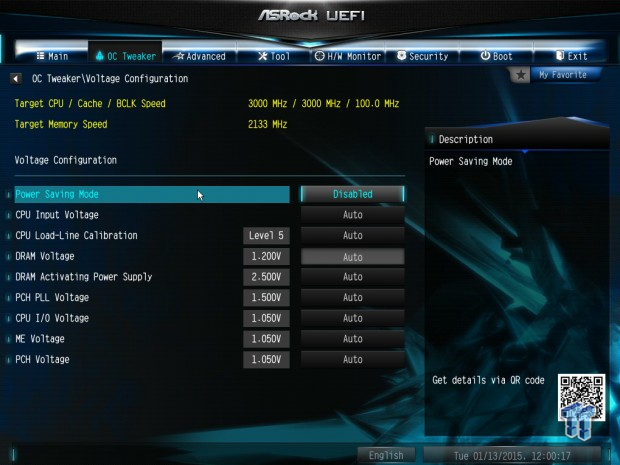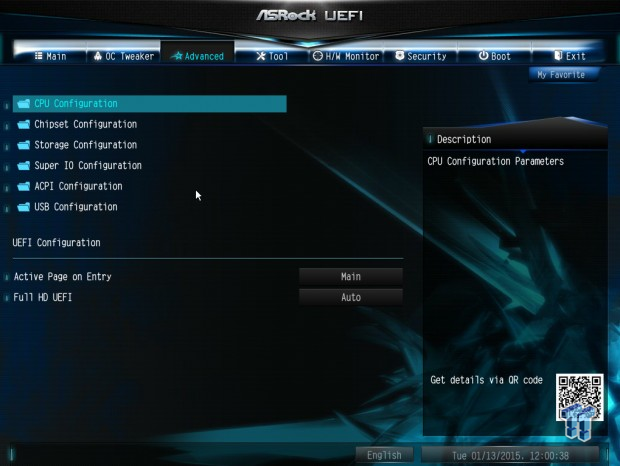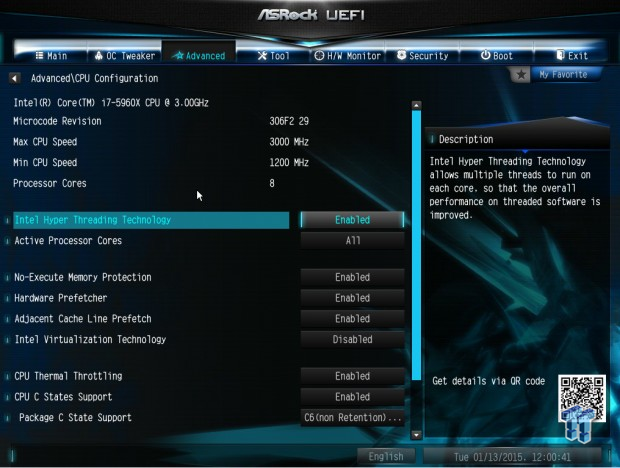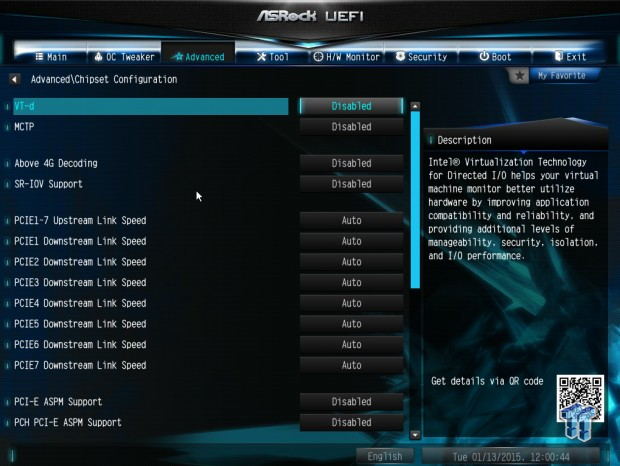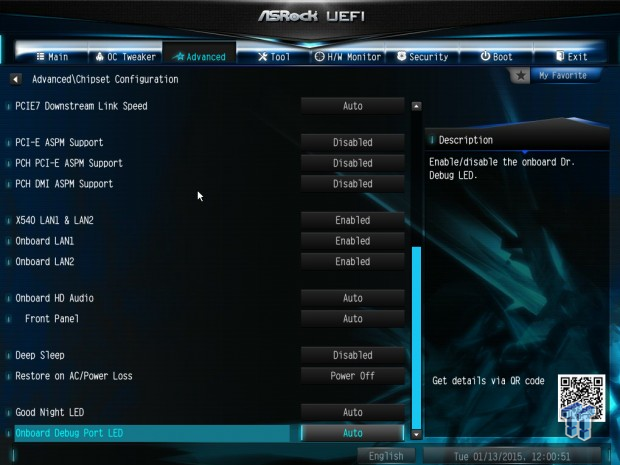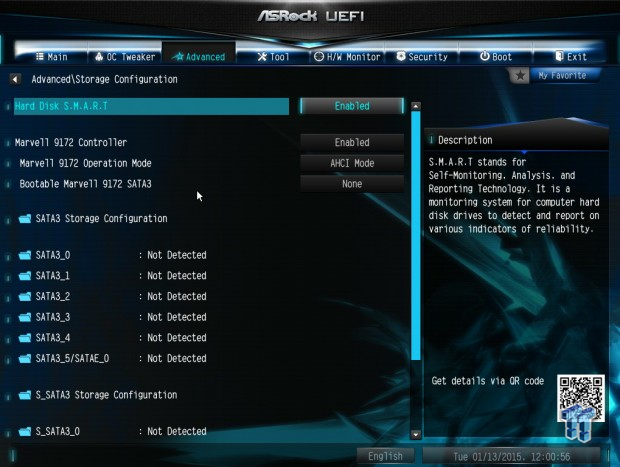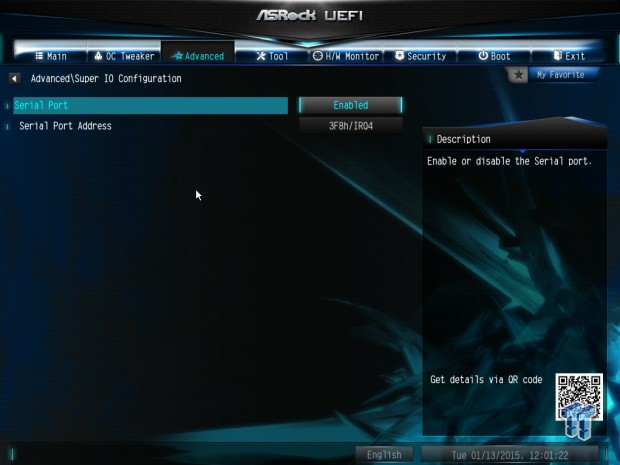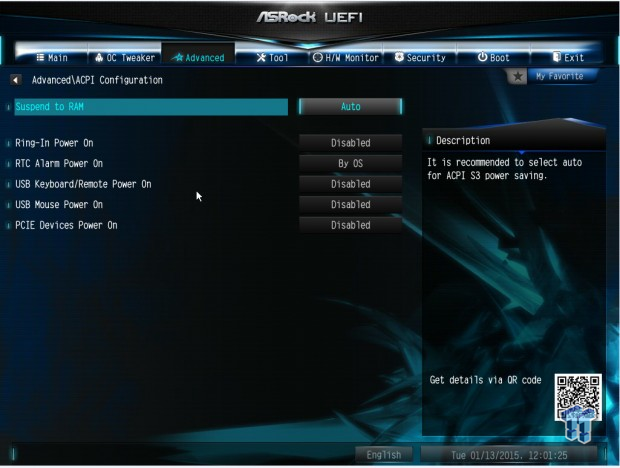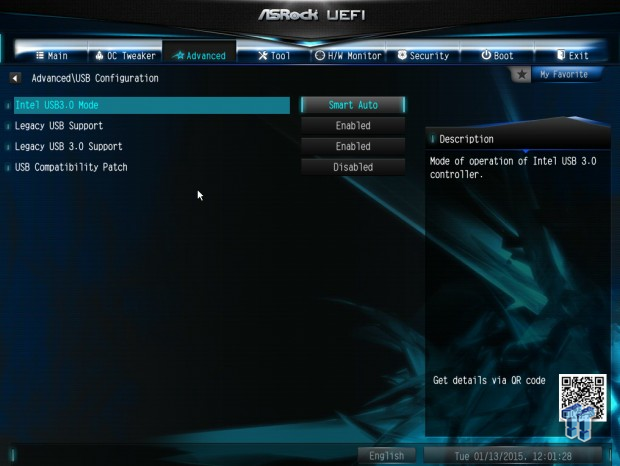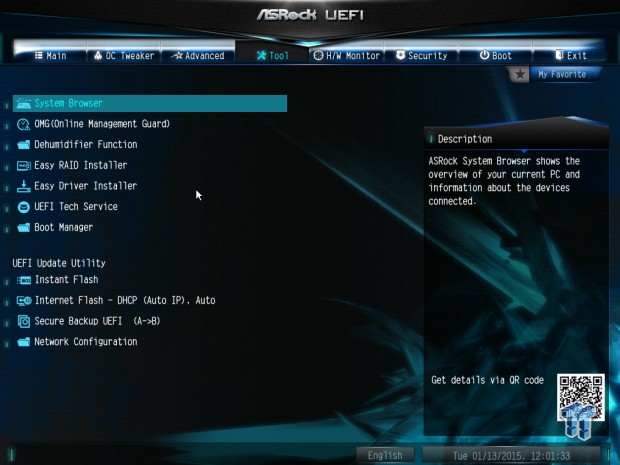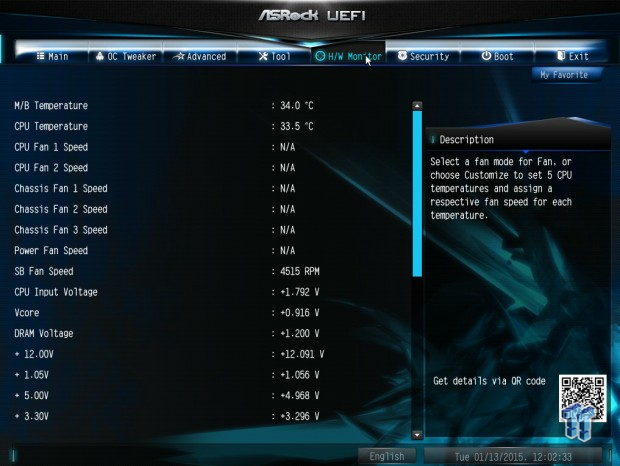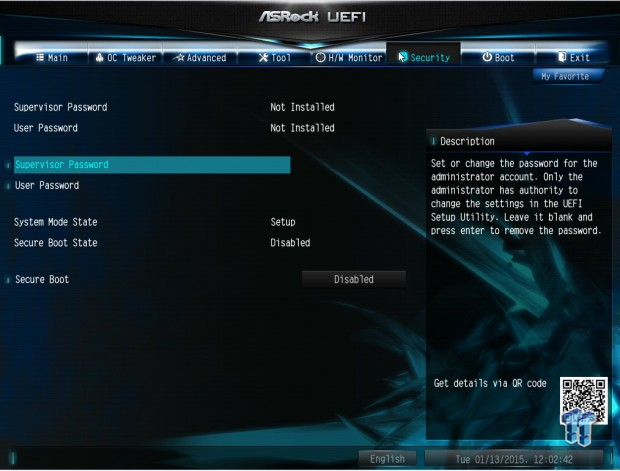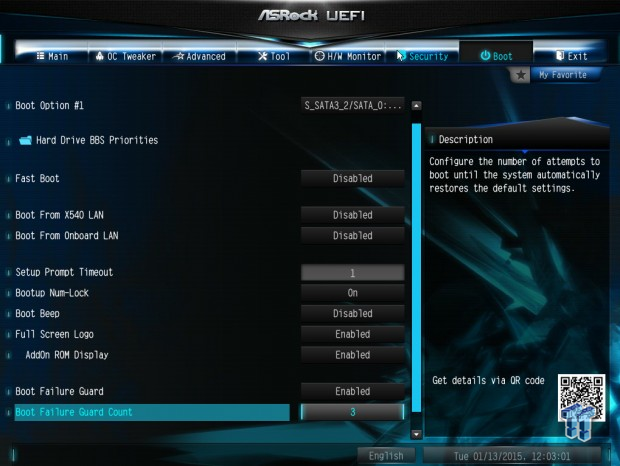 Software
ASRock offers A-Tuning for in-Windows OC and Fan tuning. ASRock's timing configurator can be used to change timings on-the-fly. While this is a workstation board, it overclocks just like a normal motherboard.
ASRock provides an APP store which is a cool little idea. Of course most of the apps are free, but it allows you to pick and choose from offers and free utilities.
xFast LAN is also provided.
Test Setup and Overclocking
Test Setup
A big thanks to Corsair for sponsoring the case, fans, SSD, USB drive, and PSU!
A big thanks to Seek for sponsoring the Thermal Camera. You can find my review of the camera here.
This is the new test bench, and it is designed to test every aspect of the motherboard and IO. I have designed it so that the motherboard sits in a case and is cooled by fans always on at a constant rate to keep the conditions similar for all tests. I have cut out part of the case behind the motherboard so I can get thermal images of the back of the PCB where the VRM heat spreads.
System and CPU power measurements are now digitally logged. We are also using a Netgear Nighthawk X4 AC2350 for our Wireless AC tests. The latest M.2, SSD, and USB technologies are also being utilized to test the maximum potential of the motherboards that are being tested.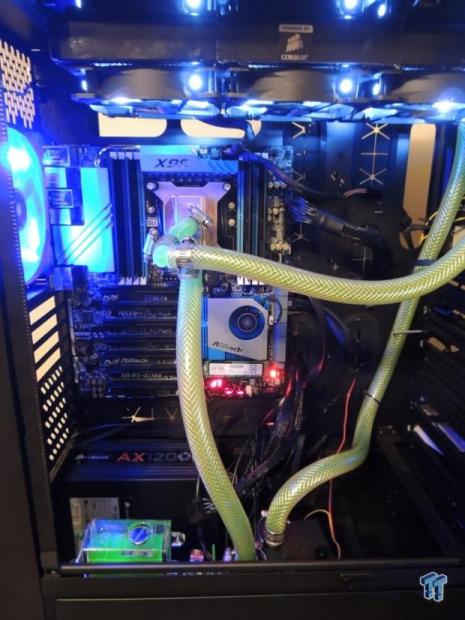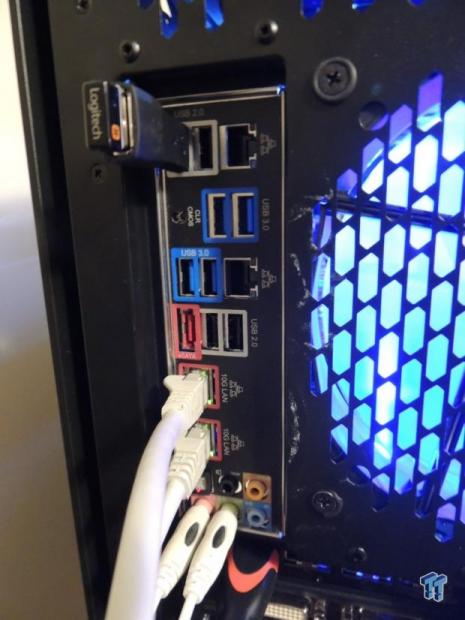 So many looped cabled on my back panel IO! For the 10G tests, I used a CAT6 cable looped from one 10G port to the other.
Overclocking Results
CPU Overclocking
Max CPU Overclock is found by setting the VCore to 1.5v, Input voltage to 2.1v, cache voltage to 1.2v, CPU multiplier to 45x, memory and cache multipliers to 12x, and disable any features that would result in CPU frequency fluctuation. I then proceed into Windows and use software to increase the multiplier.
4.9GHz is the maximum of our CPU on this board.
Maximum AIDA64 Stable Overclock (BIOS settings below for this):
I was easily able to pull off 4.5GHz on the CPU with 3.2GHz Cache and a 2400MHz overclock on my memory manually tuning the UEFI.
CPU, Memory, and System Benchmarks
CINEBENCH 11.5
HyperPI
wPrime
AIDA64 AES and HASH
AIDA64 FPU
AIDA64 Memory
PCMark8 Home Test
3DMark: Fire Strike
3DMark: Cloud Gate
Resident Evil 6
The X99 WS-E/10G is very strong in CPU dependent benchmarks. However, in GPU benchmarks, it seems to lag behind the others. This could be due to the PCI-E lane expansion, and as I have seen in the past, the PEX8747 seems to add a bit of latency and reduce the GPU scores, but you do get more PCI-E lane expansion.
System IO Benchmarks
Anvil SATA6G:
Anvil M.2:
Diskbench USB 3.0:
The M.2 slot on the X99 WS-E/10G is a 4x PCI-E 2.0 based one and the results highlight this hardware difference between the X99 WS-E/10G and the boards with less bandwidth. Performance through both front USB 3.0 headers was very similar so I averaged their results and the resulting score makes this the fastest USB 3.0 score I have seen so far.
ixChariot Network Throughput:
It is quite awesome to see close to 10,000 Mbit/s (10Gbits), the X540 controller is very nice and should be able to handle high throughput well.
Audio RMAA 5.5:
I disable all audio features set the correct bitrates and then test the audio with a loopback test.
Sound Judgment by Ear: Very Good.
There are 5 ratings for audio: 1. Problems, 2. Okay, 3. Acceptable, 4. Very good, 5. Excellent
Temperature and Power Consumption
System power usage is measured at the AC/DC PSU (the Corsair AX1200i) which I have connected to another system to measure the test system and as a backup I have a wall meter to verify. The CPU power is measured through the 8-pin connect which is hooked up to a hall effect IC which measures current and puts out a voltage in proportion to the current. That voltage is logged by a National Instruments ADC which logs the DC voltage level, which I then convert into current.
Note on Thermal Images: In the temperature section, we use our Seek thermal imaging camera to capture the surface temperatures of major components on the board; I look at the VRM and then all other things that light up the screen. If there is something to worry about then I will state it, otherwise I will just show the hotter running parts of the board for fun. Unless some component is over 80-90C then there really isn't anything to worry about.
All systems will act differently, so I will look for commonalities, such as how far from the VRM the heat spreads through the PCB and the difference in temperature between the PCB and the chokes. Keep in mind that the majority of the heat from the VRM goes into the PCB as it is a giant soldered on copper heat sink.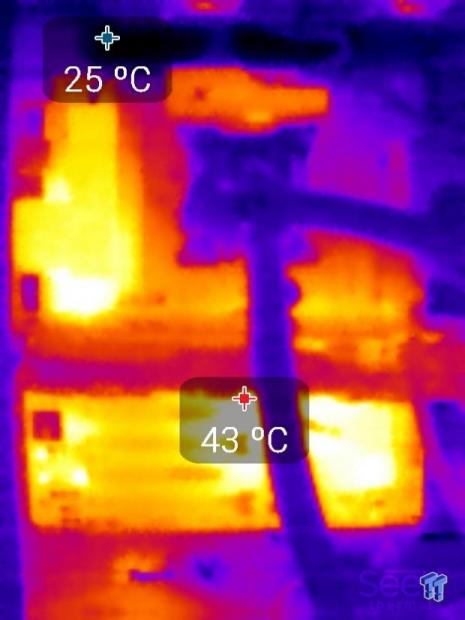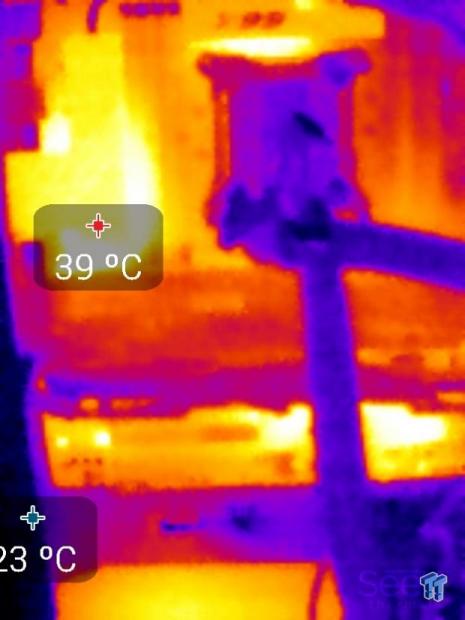 These were taken at stock speeds, on the left while idle and on the right while loaded. Notice how warm the X540 makes the heat sink.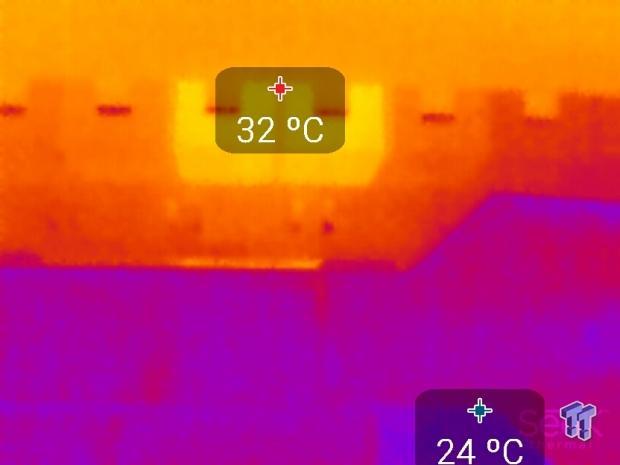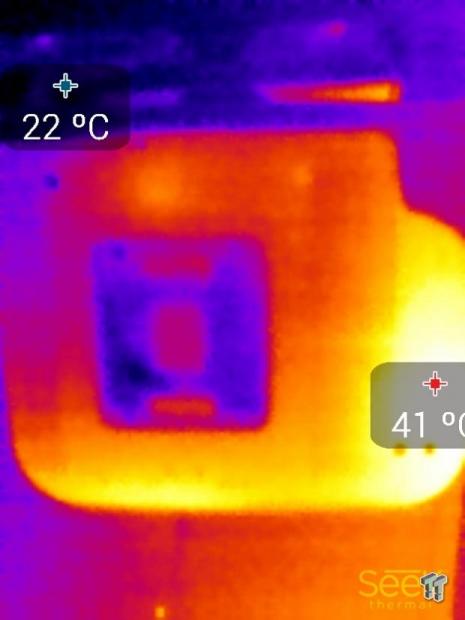 These are the images of the VRM up close in idle conditions at stock, notice only 2 phases are lit! That is great power saving technology in action. The picture on the right is of the back of the board, notice the warm spots are from the right side of the image, near the rear IO, this is where the X540 is.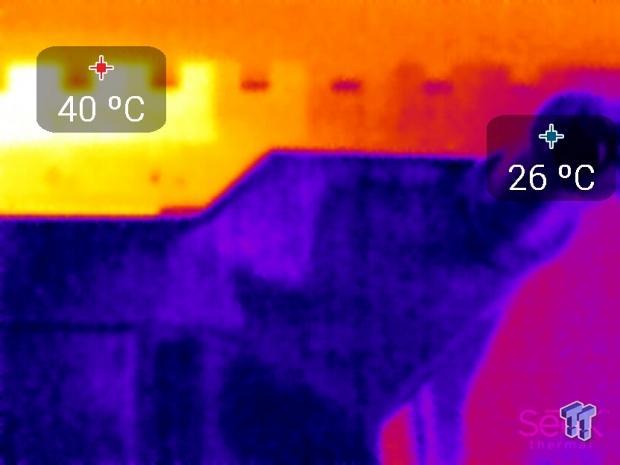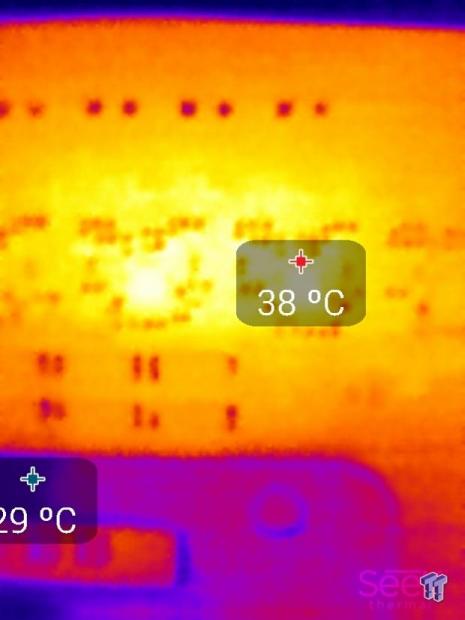 These images are during full load at stock clocks. While there are more phases on, either the heat hasn't spread to the rest of the phases or the PWM has decided that it only needs to use 6 phases instead of 12, the center 6 seem to be activated and 3 of the doublers/dual drivers in the back seem to be activated. This is very interesting, as the VRM isn't being stressed enough to activate all phases yet.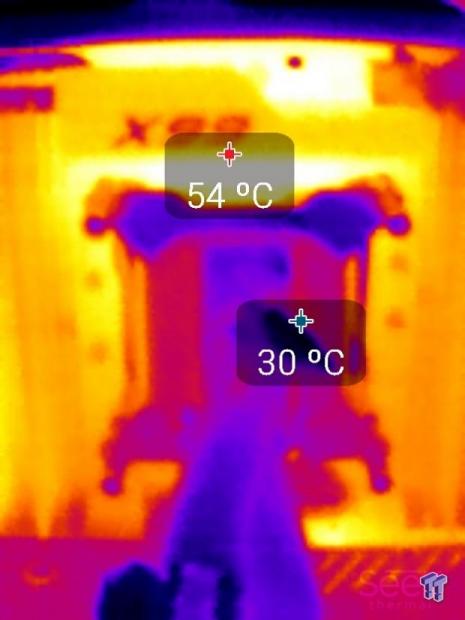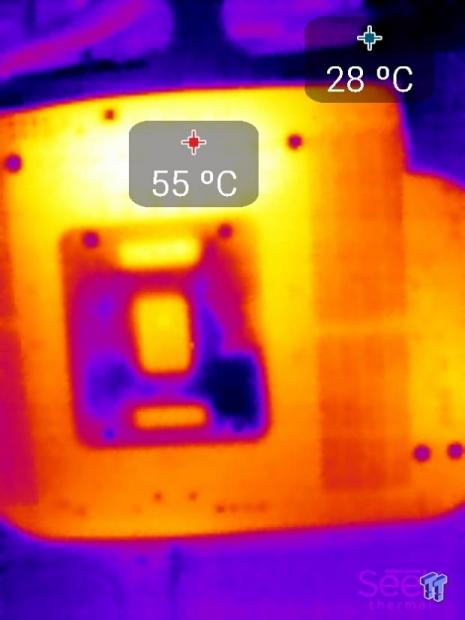 These pictures were taken at 4.5GHz full load. These temperatures are in the mid-50s which is on the cool side for VRM temperatures at this type of load. The fact is that the X540 is adding heat to the VRM heat sink, and this VRM is looking to be very strong.
Final Thoughts
The ASRock X99 WS-E/10G is a stunner. Not only does it perform as described, it does so with grace.
Not once did I have any weird issue, even with all the complex circuitry on the board, everything worked as it should. BIOS had no major issues, and overclocking was very easy through the UEFI.
The 10G NIC actually performed at 10G speeds which is something I have never seen a consumer board do, let alone one that can overclock! The X540 and the pair of PEX8747s don't come without added cost, both of them heat the system and use more power. However, that is expected, and ASRock has designed this board so that the system can still be overclocked, just as if it was a normal X99 motherboard.
The one huge downside to this board is its cost. At $670, this is the most expensive X99 motherboard. However, with that price comes features you cannot get in one package from any other board. The 10G NIC alone will cost you anywhere from $300-$500. A motherboard with dual PEX8747 and the same quality will cost you around $400-$500. Having the 10G NIC not take up any PCI-E slots so you can use 4-GPUs is priceless.
While the X99 WS-E/10G is one of the most expensive X99 motherboards, I don't think there is another motherboard with as many features so perfectly implemented. As long as price is no issue, I highly recommend the X99 WS-E/10G to anyone looking for a workstation motherboard with overclocking capabilities, 10Gbit LAN, and 4-way GPU capabilities in an easy to use and dependable package.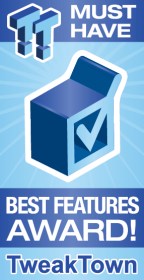 | | |
| --- | --- |
| Performance (including Overclocking) | 95% |
| Quality including Design and Build | 95% |
| General Features | 98% |
| Bundle and Packaging | 91% |
| Value for Money | 89% |
The Bottom Line: As long as price is no issue, I highly recommend the ASRock X99 WS-E/10G to anyone looking for a solid workstation motherboard with overclocking capabilities, 10Gbit LAN, and 4-way GPU capabilities in an easy to use and dependable package.
PRICING: You can find products similar to this one for sale below.

United States: Find other tech and computer products like this over at Amazon.com

United Kingdom: Find other tech and computer products like this over at Amazon.co.uk

Australia: Find other tech and computer products like this over at Amazon.com.au

Canada: Find other tech and computer products like this over at Amazon.ca

Deutschland: Finde andere Technik- und Computerprodukte wie dieses auf Amazon.de