AMD Radeon R7 240GB Gaming SSD Review
AMD sent the specifications and OCZ applied the expertise. Now AMD has a high-quality "gaming" SSD to bundle with systems for a vertical approach.
Published Aug 18, 2014 11:00 PM CDT
|
Updated Tue, Nov 3 2020 6:59 PM CST
13 minute read time
Introduction & Specifications, Pricing and Availability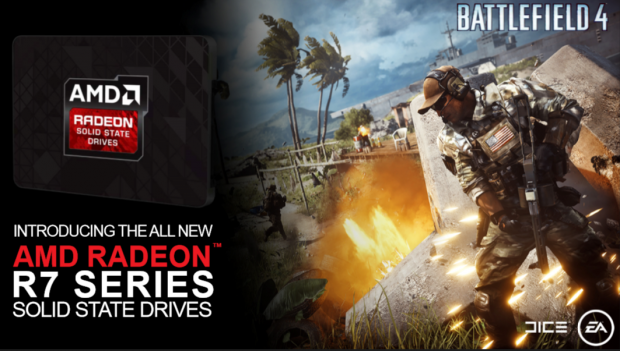 The rumors of AMD's entrance to the SSD market have swirled for a year or so now. Two weeks ago an official press deck was leaked by media, the first real confirmation that this project was close to bearing fruit. Today, we have hardware in hand, and can officially say that AMD has an SSD and talk about the offerings.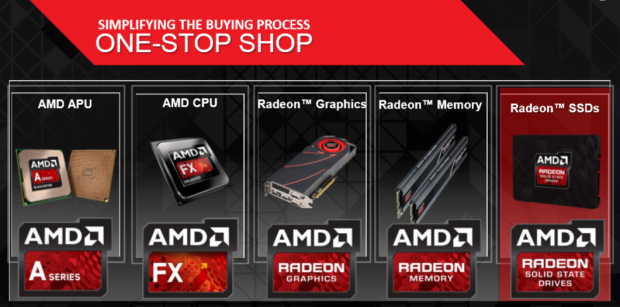 Before we get focused on the new Radeon R7 SSD, let's first look at why AMD would make an SSD to begin with. AMD makes a number of products from processors to chipsets to video cards. A few years ago, AMD brought in third-party manufacturers to make Radeon branded memory that was optimized for AMD platforms. This allowed system builders, as well as you and me, to buy DRAM that works flawlessly with other AMD hardware. At the same time, AMD can bundle packages for system builders, a processor, motherboard, GPU and DRAM, all at a reduced price, and all from one location. Adding a primary storage device is just the natural progression to the bundle packages.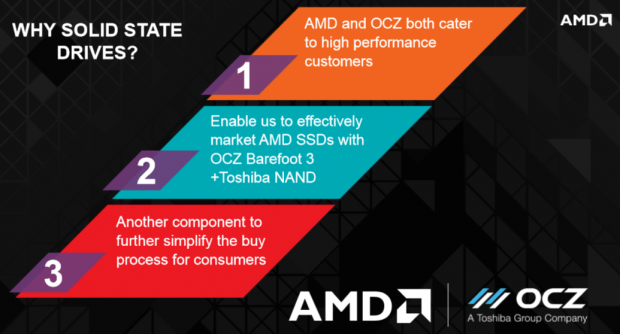 Since AMD doesn't have NAND flash expertise, or a controller, it made sense for the company to reach out to a company with the total package. AMD's focus in recent years has been to gamers, an old stomping ground for OCZ. The AMD Radeon R7 isn't the only SSD that OCZ produces for another company. Panasonic offers an OCZ based SSD in Japan that is a reworked OCZ product.
Even though OCZ has the controller, the flash and the manufacturing, AMD still build the requirements for the Radeon R7. You can think of it like ordering a cake. As a customer, I want vanilla cake, with chocolate icing and some writing on top. That's where the Radeon R7 gets interesting.
Specifications, Pricing and Availability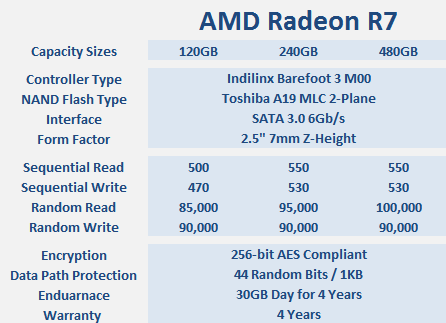 The Radeon R7 uses the Barefoot 3 M00 controller, the same found on OCZ's own flagship Vector 150 SSD. When the rumor mill was turning, some speculated that the Radeon R7 used the same components as the recently introduced OCZ ARC 100 Series, which is not the case. The Barefoot M00 has a higher clock speed than the M10 found on the Vertex 460 and ARC 100. The Radeon R7 does share the same flash as the new ARC 100, though. Both drives use Toshiba's new A19 19nm 2-plane flash.
The AMD Radeon R7 SSD ships in three capacity sizes - 120GB, 240GB and 480GB. The performance increases as the density increases. The 480GB model reaches 100,000 random read IOPS and 90,000 random write IOPS. Today, we're testing the Radeon R7 240GB with slightly lower random read performance, 95,000.
AMD covers the Radeon R7 SSD with a 4-year warranty that includes 30GB of writes per day. The MTBF is 2.5 million hours, a half million more than Vertex 460. AMD also included a nice accessory kit with the Radeon R7. Inside the package, we found a key for Acronis so users can easily clone data to the SSD from an existing drive, a desktop adapter bracket and mounting screws.
We tried the Radeon R7 with the OCZ SSD Toolbox on OCZ's website, but it doesn't see the drive. After speaking with OCZ, we learned a special Radeon Edition of the software would be available for download when the drives go on sale. This adds to the overall value of the Radeon R7, since it gives uses an easy way to TRIM, secure erase and even update the firmware on the drive should it need an update.
We received the MSRP list for the new Radeon R7 and the prices are a bit higher on the lower capacity models than what we expected. To be fair, MSRPs are always higher than what we expect and the prices already shrink within a few weeks of a new product hitting the market. The 480GB model has an MSRP of $289.99, and at that price, it's a smoking deal.
At this time, the Vector 150 480GB comes in at $334.91 (all pricing from Newegg), so the Radeon R7 is good value. The Radeon R7 240GB that we're testing today has an MSRP of $163.99. Again this drive comes in at a low price than Vector 150 240GB ($189.99), but this capacity size market is filled with several really good SSDs. The Extreme II 240GB ($141.70) is one of the best and on currently heavily discounted since the Extreme PRO launched. The Radeon R7 120GB has an MSRP of just $99.99. On its own, it's good value, but we hope to see the final price $10 less to compete with the budget priced SSDs since most users buying a small capacity drive are looking for a super deal.
That doesn't mean at $99.99 the Radeon R7 isn't great value, it's actually a smoking deal compared to budget drives like the MX100 and the large number of Silicon Motion drive currently flooding the market.
AMD Radeon R7 240GB SSD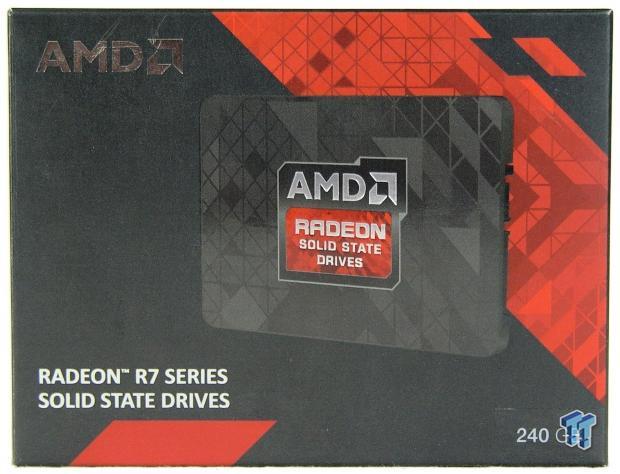 AMD used the same physical box type that OCZ used on the ARC 100 Series. The graphics are different though since this is a different product.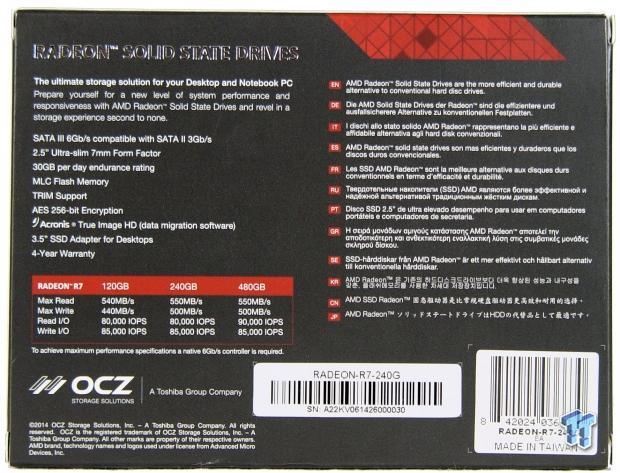 The back of the package shows some performance data as well as a list of features. Here you will also find an OCZ logo so AMD and OCZ are not hiding their partnership.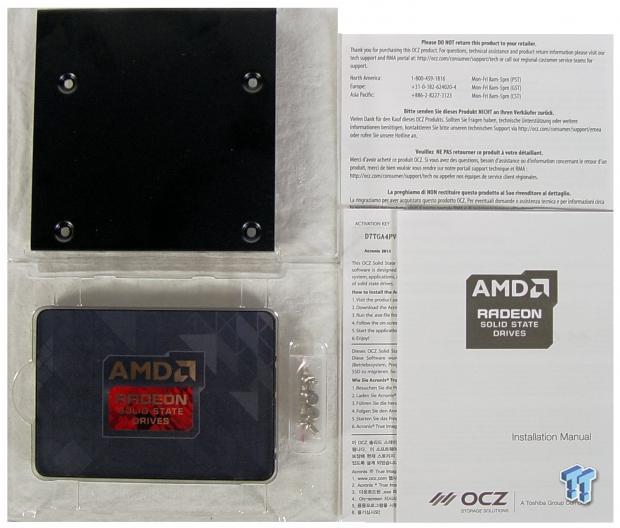 Inside the package, we found three paper manuals, one specifically for Acronis. We also found a desktop adapter bracket and mounting screws.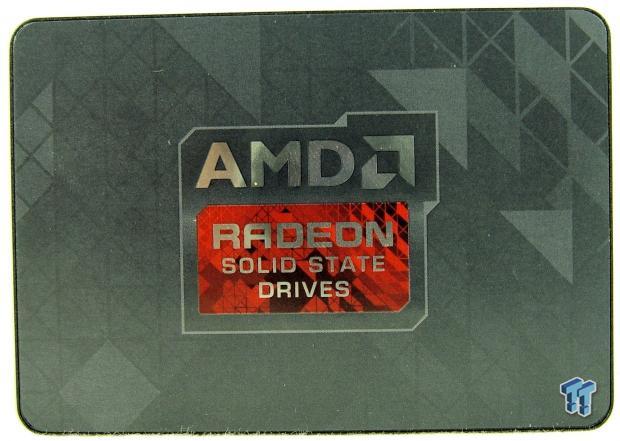 Here we get our first look at the drive. AMD used a 7mm z-height case for the Radeon R7, and like other OCZ SSDs, the case is made from an aluminum alloy. It's a very strong and sturdy design that also doubles as a heat sink for the controller.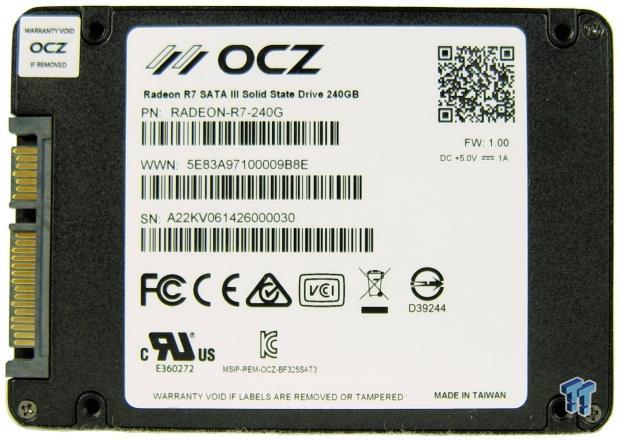 The part number, model number, and serial number are located on the back of the drive.

As mentioned previously, this is a 7mm design so the Radeon R7 will work in nearly all desktops, notebooks and Ultrabooks.

Unlike the ARC 100, this SSD ships with a desktop adapter bracket.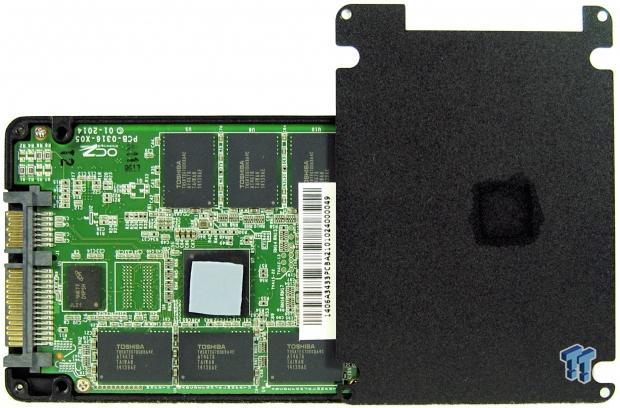 The controller faces the cover so the cover acts as a heat sink for the controller.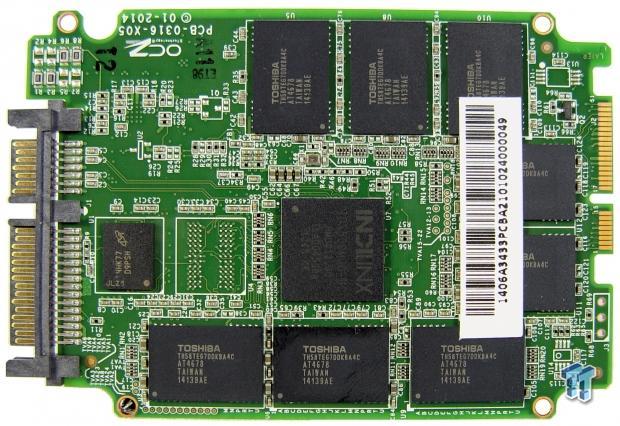 Inside, we found the Indilinx Barefoot 3 M00 controller paired with two Micron DRAM packages and sixteen A19 flash packages.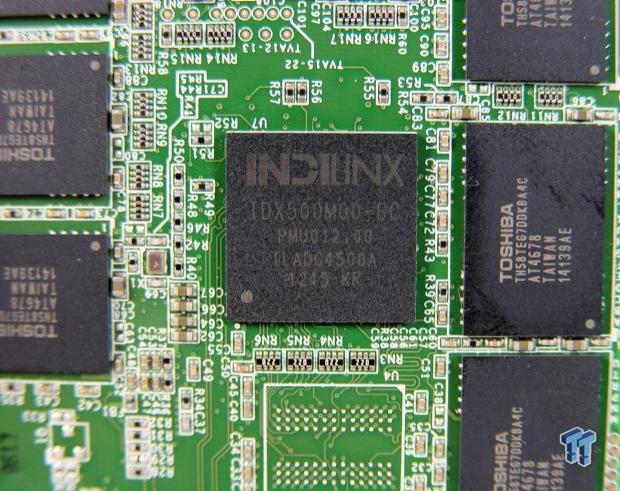 The Barefoot 3 M00 is OCZ's current flagship flash controller. This is the same controller found on OCZ's Vector 150 SSD and uses a higher clock speed than the M10 found in Vertex 460 and ARC 100.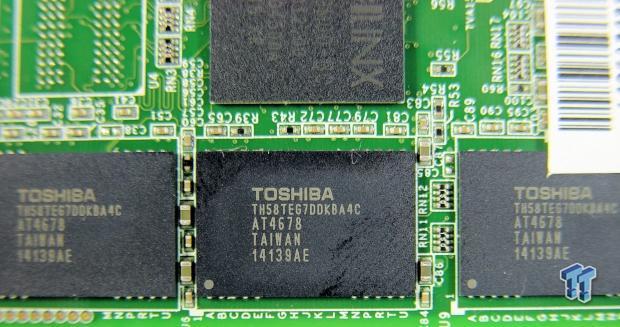 The flash is Toshiba's new A19 that uses a die size of 19mm x 19.5mm. This is Toshiba's second generation 19nm flash - the first generation had a die size of 19mm x 27mm.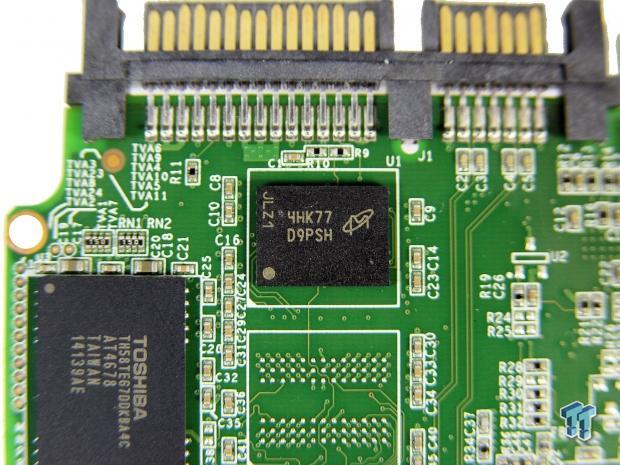 The 240GB model we're looking at today has two Micron DDR3-1600 DRAM packages. Together, both packages provide 512mb of buffering capacity.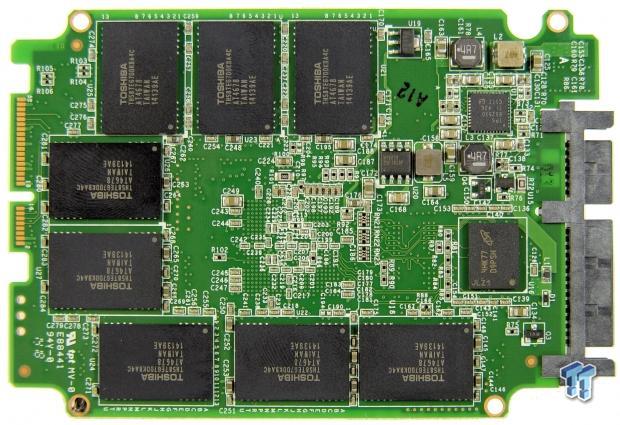 Test System Setup and ATTO Baseline Performance
Desktop Test System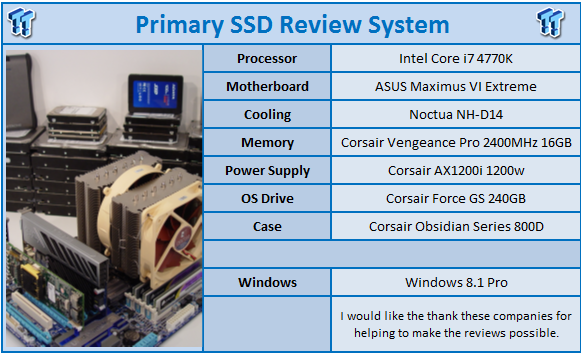 Lenovo T440 - Notebook Power Testing with DEVSLP and Windows 8.1 Pro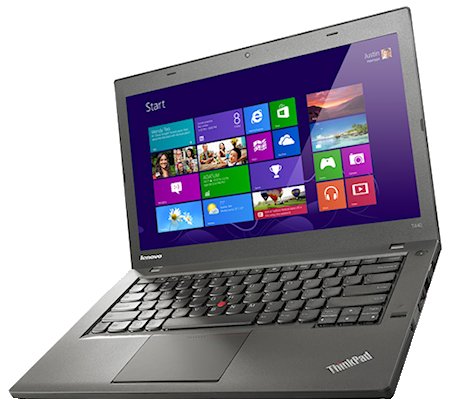 Nearly all of the performance tests run on the desktop system but we use a Lenovo T440 to run the power tests. The T440 is the latest addition to our client SSD test lab and allows us to test the notebook battery life offered by an SSD with advanced features like DEVSLP enabled.
ATTO - Baseline Performance
Version and / or Patch Used: 2.34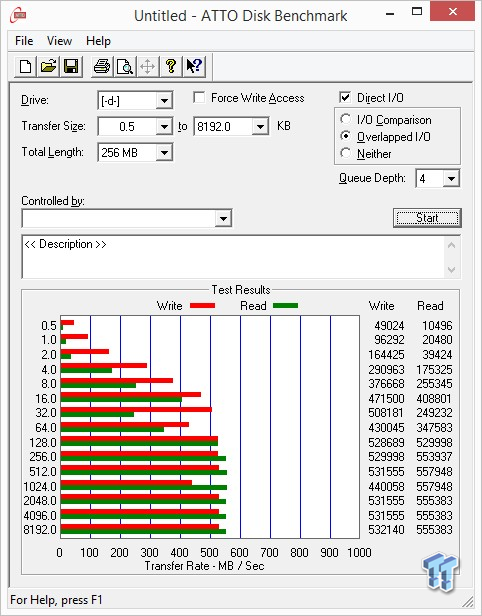 In our initial test with ATTO, we scored the AMD Radeon R7 240GB at just over 557 MB/s sequential read and 532 MB/s sequential write speed.
The numbers are solid in both directions, but as we've shown in the past, sequential performance doesn't always lead to a high speed SSD.
Benchmarks - Sequential Performance
HD Tune Pro - Sequential Performance
Version and / or Patch Used: 4.55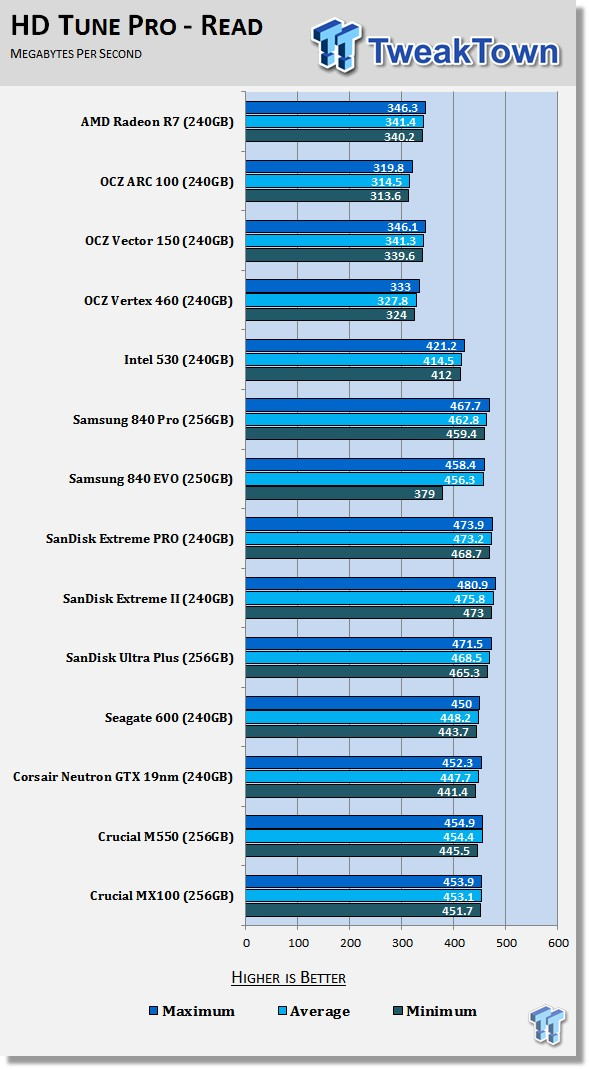 OCZ takes a different approach when it comes to QD1 64KB block sequential reads and writes. The architecture limits QD1 performance to increase multitasking performance. At QD1, we recorded an average sequential read of 341.4 MB/s. This is in line with OCZ's flagship Vector 150 SSD.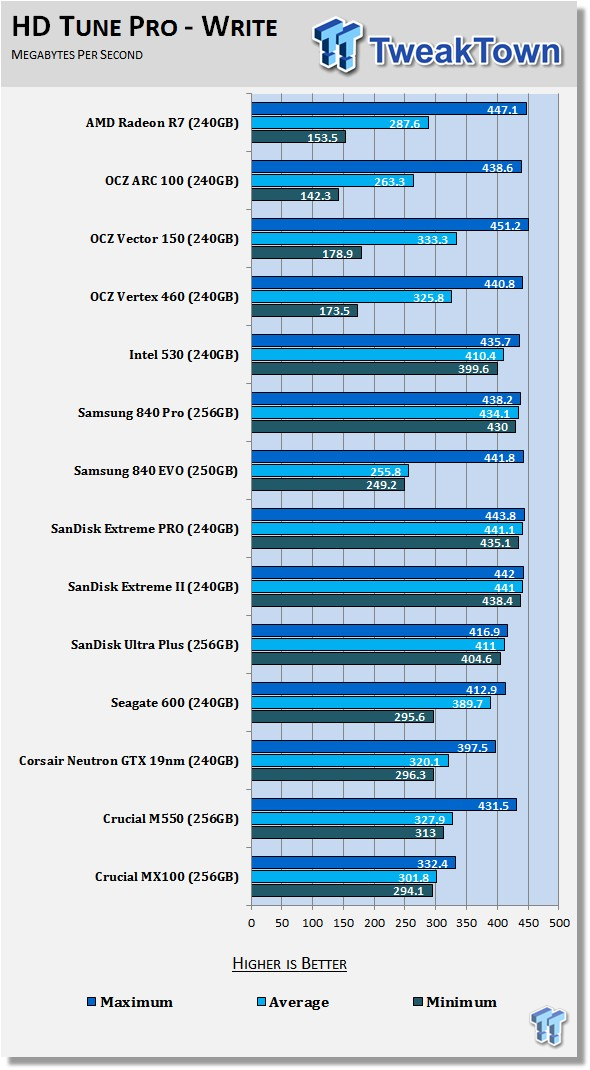 OCZ uses a different scheme for the sequential writes when writing to the full user LBA span of the drive. The results are misleading in this test. We do get a chance to see the difference in writes between Toshiba's first gen 19nm found on Vector 150 and the second gen A19 used on the AMD Radeon R7.
It appears the first generation flash is a bit faster. This would be due to the first generation 19nm flash using 64K page sizes and the new A19 using 128K page sizes.
HD Tach - Sequential Write Performance after Random Writes
Version and / or Patch Used: 3.0.4.0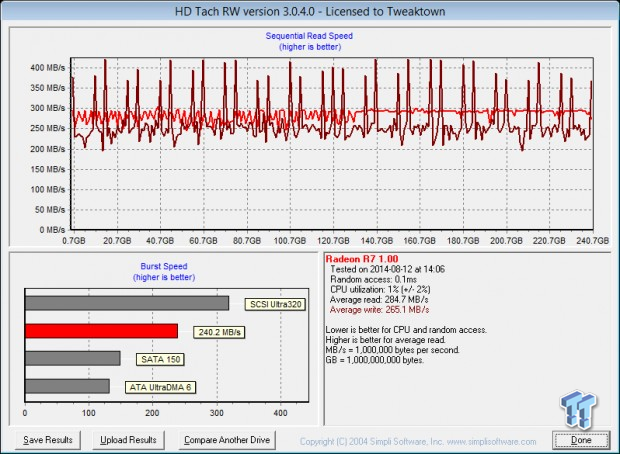 After a reasonable number of sequential and random writes, we test the drive in HD Tach to see the real sequential performance in a consumer steady state and with 128KB block sizes.
Crystal Disk Mark
Version and / or Patch Used: 3.0 TP1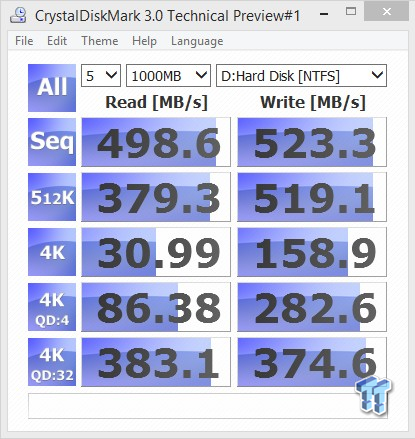 Using CDM, we get to see the maximum potential of the two sequential tests for this drive. The AMD Radeon R7 can read at just below 500 MB/s and write at just over 520 MB/s.
Benchmarks - Anvil Storage Utilities
Anvil Storage Utilities
Version and / or Patch Used: RC6
So what is Anvil Storage Utilities? First of all, it's a storage benchmark for SSDs and HDDs where you can check and monitor your performance. The Standard Storage Benchmark performs a series of tests; you can run a full test or just the read or the write test, or you can run a single test, i.e. 4k QD16.
Anvil Storage Utilities is not officially available yet, but we've been playing with the beta for several months now. The author, Anvil on several international forums, has been updating the software steadily and is adding new features every couple of months.
We can use Anvil several different ways to show different aspects for each drive. We've chosen to use this software to show the performance of a drive with two different data sets. The first is with compressible data and the second data set is incompressible data. Several users have requested this data in our SSD reviews.
0-Fill Compressible Data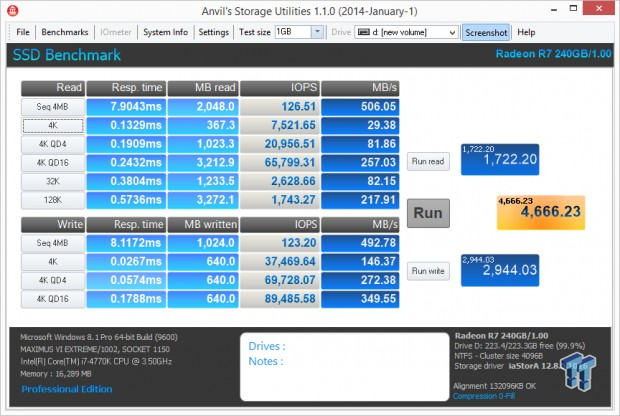 Incompressible Data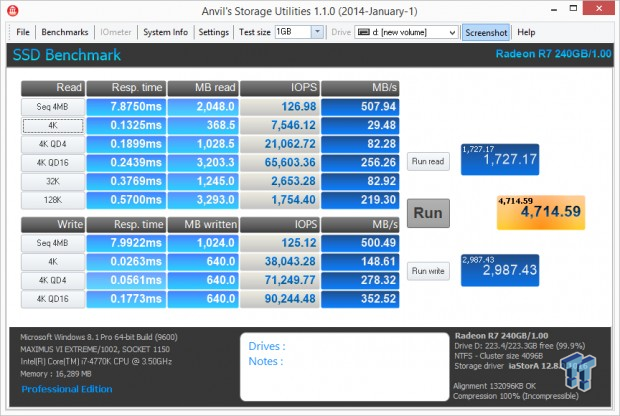 The performance with compressible data and incompressible data is the same, so you don't have to worry about performance loss while editing audio and video files.
Low Queue Depth Read IOPS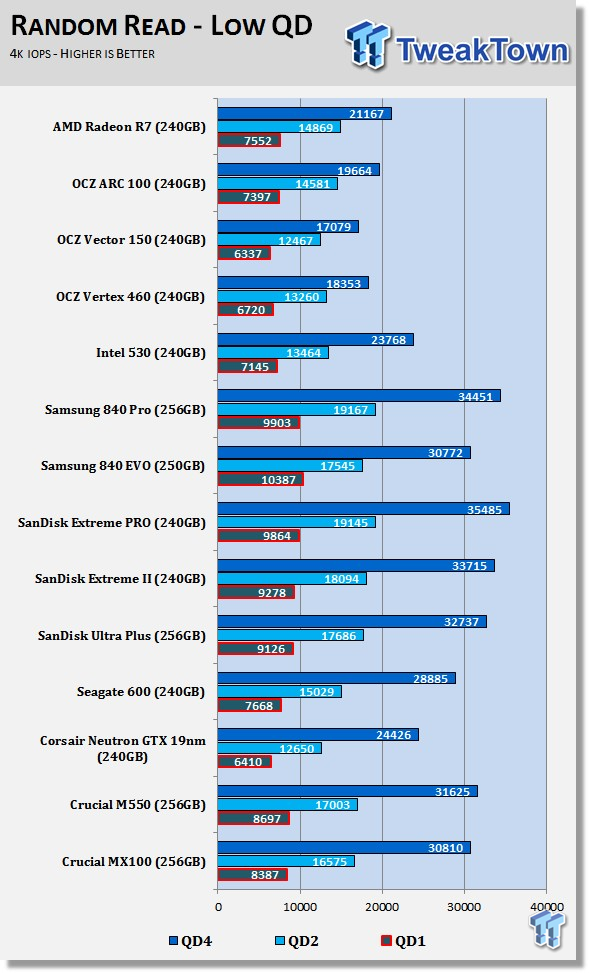 The QD1 random read with 4K data is faster with the Radeon R7 240GB than it is on the Vector 150 240GB. We haven't updated the firmware on our Vertex 460 or Vector 150 products since the release, but we suspect the latest firmware would increase the performance slightly.
Still, the AMD Radeon R7 is faster at this time than the other OCZ products, but still lags behind newer SSDs that deliver over 10K random read IOPS at QD1.
High Queue Depth Read IOPS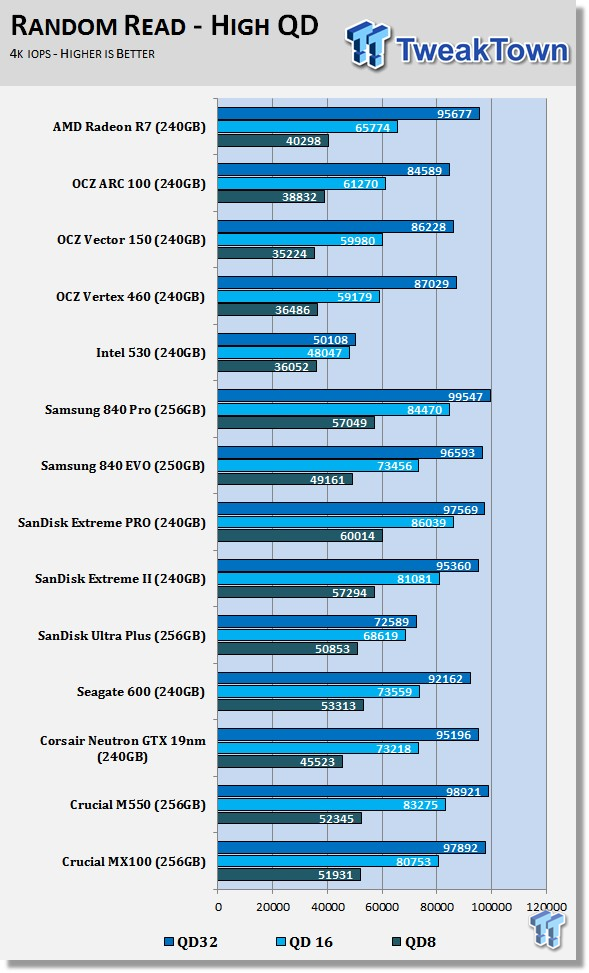 It's difficult to reach high random read queue depths with consumer SSDs in typical consumer workloads. The drives are too fast for the commands to stack up. The Radeon R7 still manages to reach over 95K random IOPS at QD32 in our test.
Low Queue Depth Write IOPS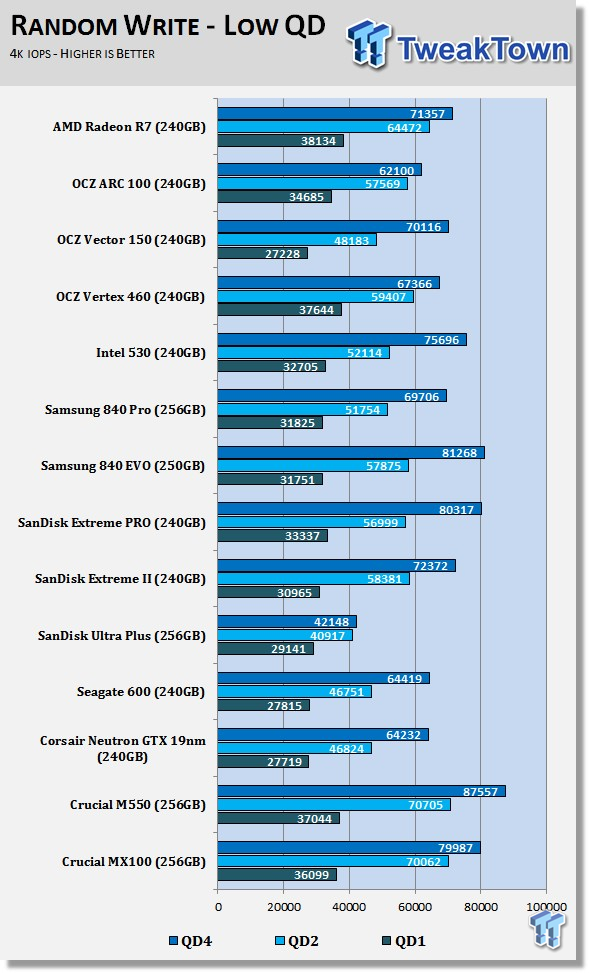 OCZ's Barefoot 3 architecture delivers the best QD1 random writes. The random writes are so good OCZ even publicly lists the steady state random write specifications. The AMD Radeon R7 240GB delivered the highest QD1 4K random write performance of any other drive on the chart.
High Queue Depth Write IOPS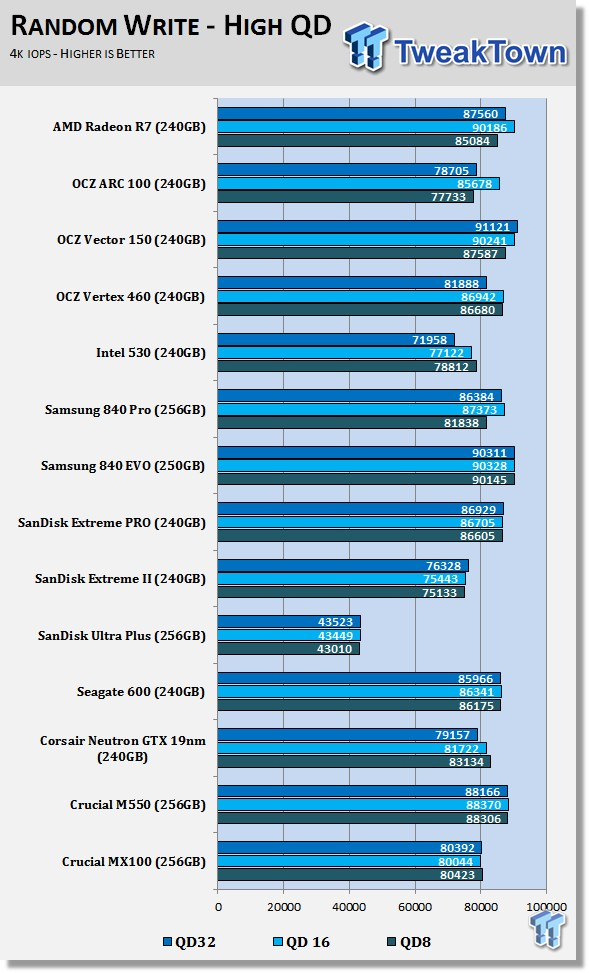 Looking at the high queue depths, the Radeon R7 hit peak IOPS at QD16 with just over 90K IOPS in our test.
Benchmarks - Mixed Read / Write Workloads
Mixed Read / Write Workloads
In this series of tests, we measure mixed workload performance. We start with 100% read and then add data writes to the mix until we get to 100% writes, in 10% increments. We believe this will be the next major area SSD manufactures will address after performance consistency.
Mixed Workload Bandwidth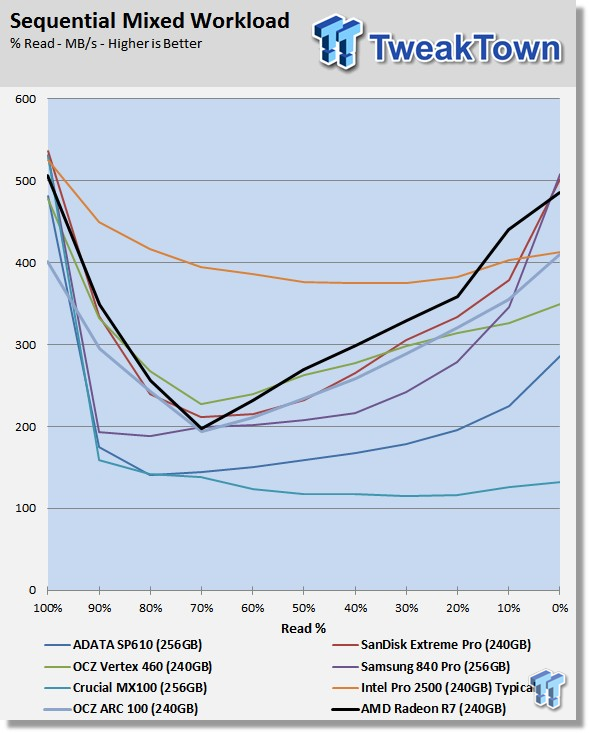 Our mixed workload test shows the Radeon R7 with a heavy bathtub curve as writes are added to the reads.
80% Read / 20% Write Bandwidth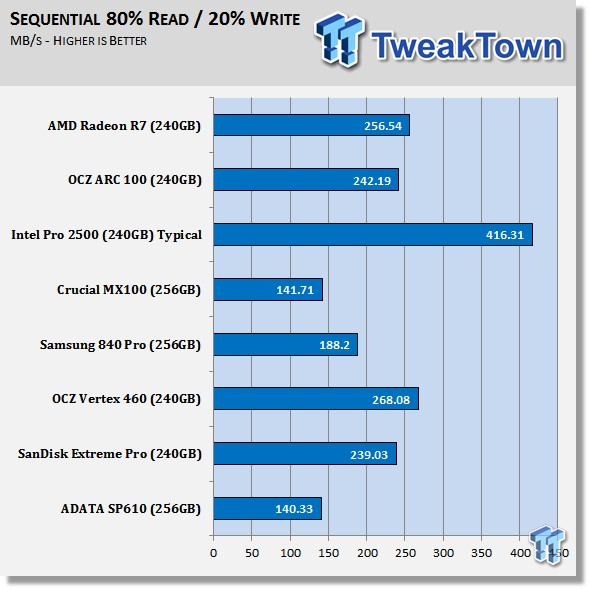 Using a mix of 80% reads and 20% writes to simulate a typical consumer workload, the Radeon R7 does well when compared to the lower priced products on the market, but still lags behind the LSI SandForce architecture found on the Intel Pro 2500.
Mixed Workload Response Time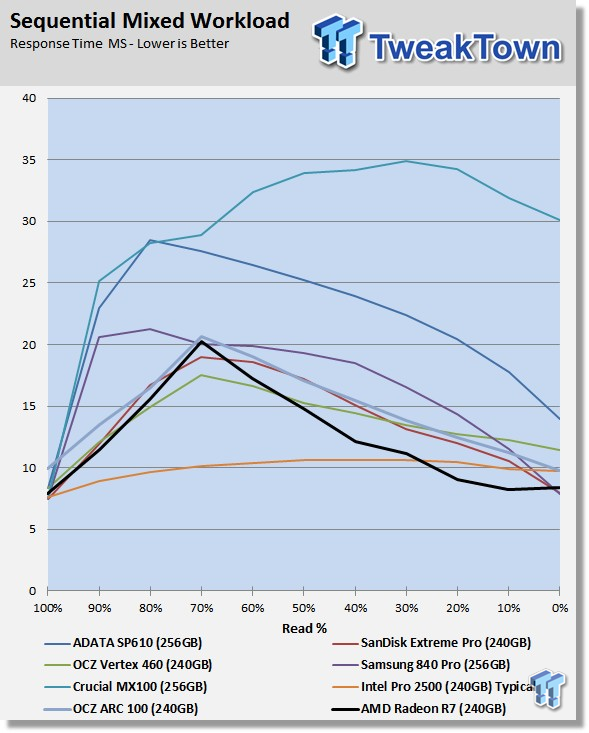 Here is a look at the response time associated with each sequential test. These tests are important since none of us strictly read or write.
PCMark 8 Consistency Test
Futuremark PCMark 8 Extended - Consistency Test
Version and / or Patch Used: 2.0.228
Heavy Usage Model:
FutureMark's PCMark 8 allows us to wear the test drive down to a reasonable consumer steady state and then watch the drive recover on its own through garbage collection. To do that, the drive gets pushed down to steady state with random writes and then idle time between a number of tests allows the drive to recover.
Precondition Phase:
1. Write to the drive sequentially through up to the reported capacity with random data.
2. Write the drive through a second time (to take care of overprovisioning).
Degradation Phase:
1. Run writes of random size between 8*512 and 2048*512 bytes on random offsets for 10 minutes.
2. Run performance test (one pass only).
3. Repeat 1 and 2 for 8 times, and on each pass increase the duration of random writes by 5 minutes.
Steady state Phase:
1. Run writes of random size between 8*512 and 2048*512 bytes on random offsets for 50 minutes.
2. Run performance test (one pass only).
3. Repeat 1 and 2 for 5 times.
Recovery Phase:
1. Idle for 5 minutes.
2. Run performance test (one pass only).
3. Repeat 1 and 2 for 5 times.
Storage Bandwidth
PCMark 8's Consistency test provides a ton of data output that we use to judge a drive's performance. Here we see the three states of performance for the select SSDs, light use, consumer steady state and worst case.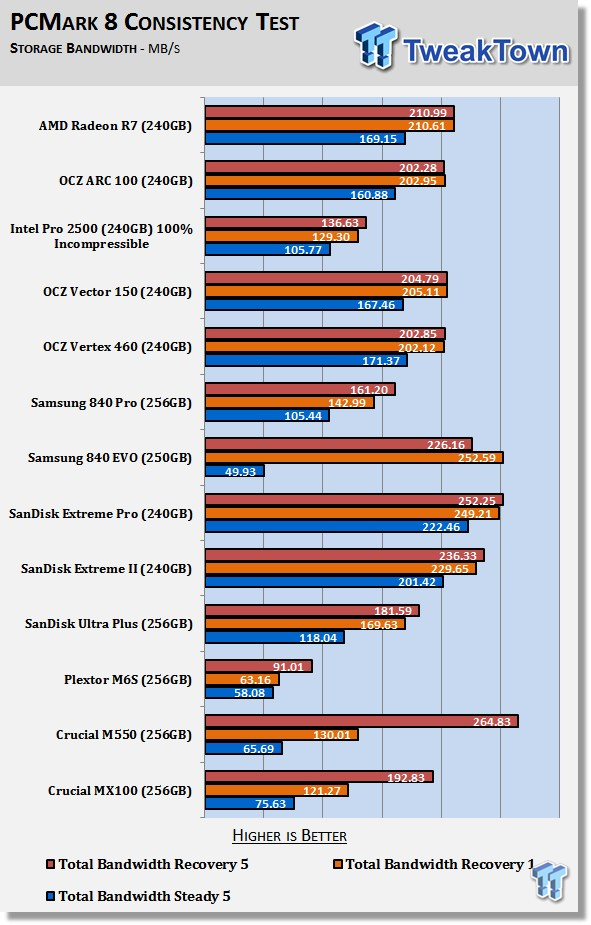 Under an intense workload, all of OCZ's current SSDs perform about the same. Even when the load is lightened, the OCZ (and new AMD) are very close to each other. There are faster drives on the market though.
Storage Bandwidth All Tests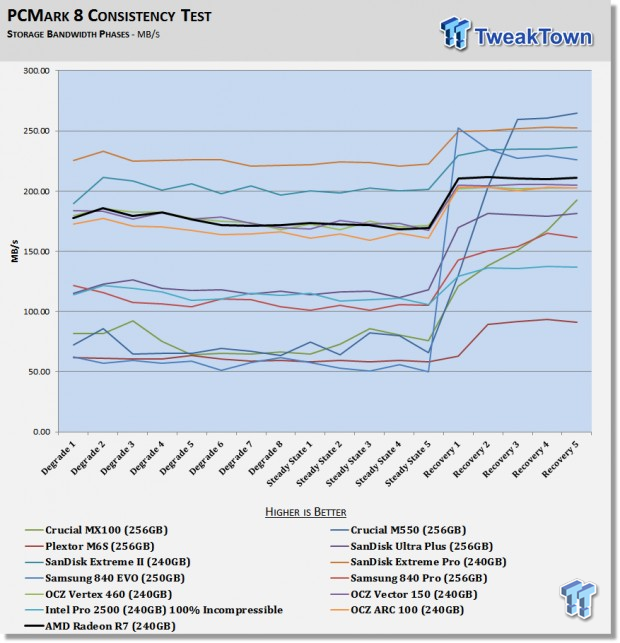 Here we see all of the tests with the drive worn down and with the performance coming back after five minute breaks in between each run.
There are clear distinctions as the results form groups of drives. The OCZ group is just under the SanDisk Extreme II and Extreme PRO. The Samsung 850 Pro would also be in the SanDisk Extreme group, but we haven't test the 256GB model yet.
PCMark 8 Consistency Test - Continued
Total Access Time
The access time test measures the total latency across all 18 tests. This is one of, if not the most important test we run at this time for consumer SSDs. When your latency is low your computer feels fast, it's just that simple.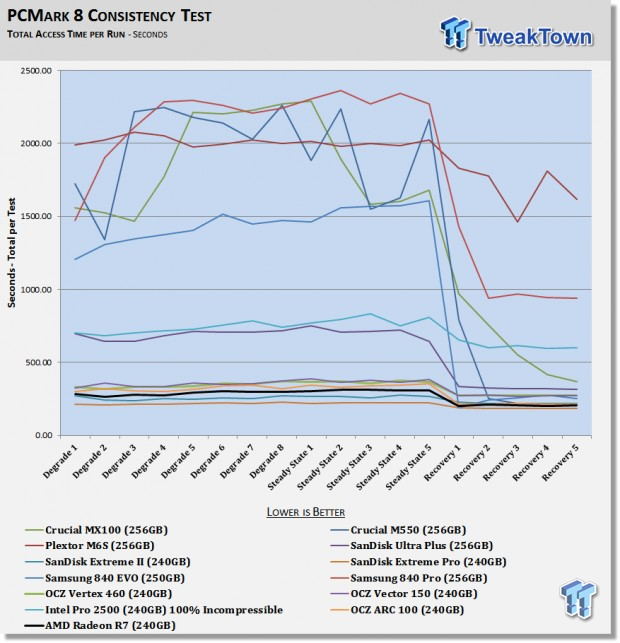 More important than the throughput results on the previous page, the latency tests give us a better understanding as to what each drive feels like in your system. In this test, we're looking for the lowest bar as it represents lower total latency.
This is an area where the OCZ drives do very well, and deliver latency numbers very close to the SanDisk Extreme products.
Disk Busy Time
In the final test, we measure the amount of time the drive worked to read and write the data to complete the test. When a drive is active, it uses more power so the faster it can complete the tasks the faster it can fall into a low power state.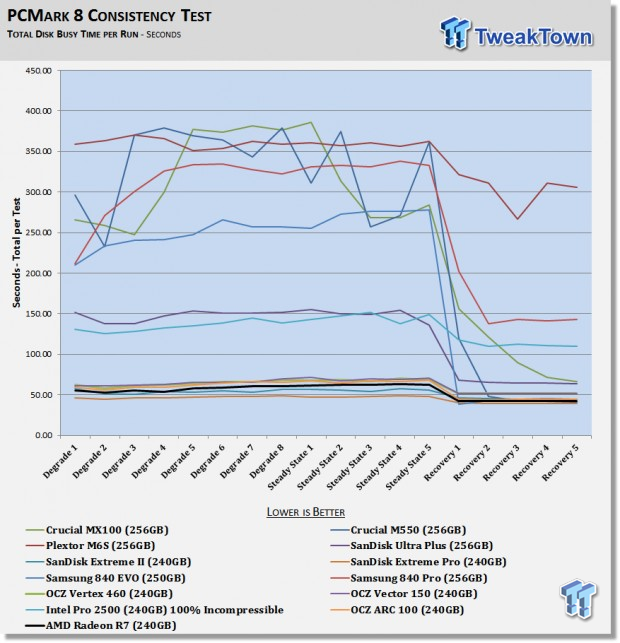 There are many factors that lead to a drive consuming power, but disk busy time is one of them. The longer a drive has to work to complete a task, the more power it consumes. We'll talk more about power consumption on the next page.
Benchmarks - Power Testing
Bapco MobileMark 2012 1.5
Version and / or Patch Used: 2012 1.5
Developer Homepage: http://www.bapco.com
Test Homepage: http://www.bapco.com
MobileMark 2012 1.5 is an application-based benchmark that reflects usage patterns of business users in the areas of office productivity, media creation and media consumption. Unlike benchmarks that only measure battery life, MobileMark 2012 measures battery life and performance simultaneously, showing how well a system design addresses the inherent tradeoffs between performance and power management.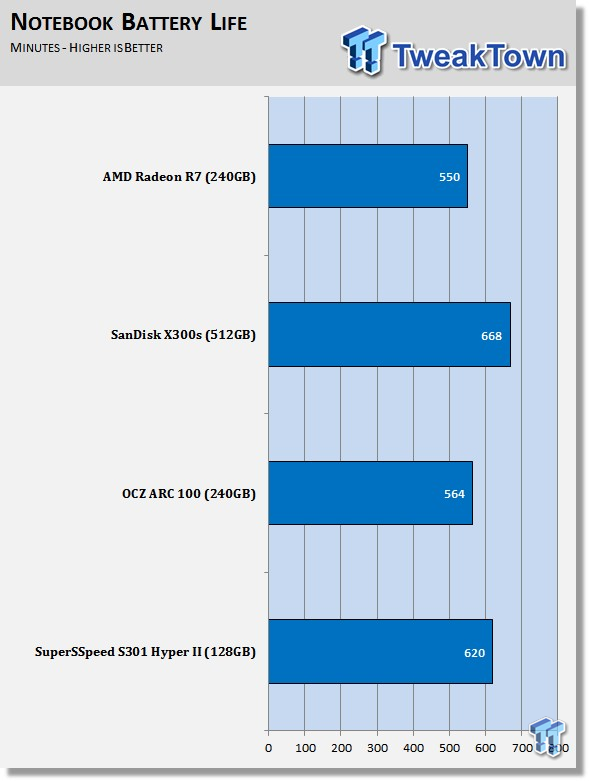 We've added two more SSDs to the chart since we published the OCZ ARC 100 product review earlier this month.
The AMD Radeon R7 doesn't support DEVSLP, just like the ARC 100. The other two drives on the chart do support DEVSLP, and you can clearly see how the feature affects notebook battery life performance.
I was surprised to see the Radeon R7 with a higher clocked version of the M00 controller deliver more battery life than the M10 controlled ARC 100.
Power Limited Performance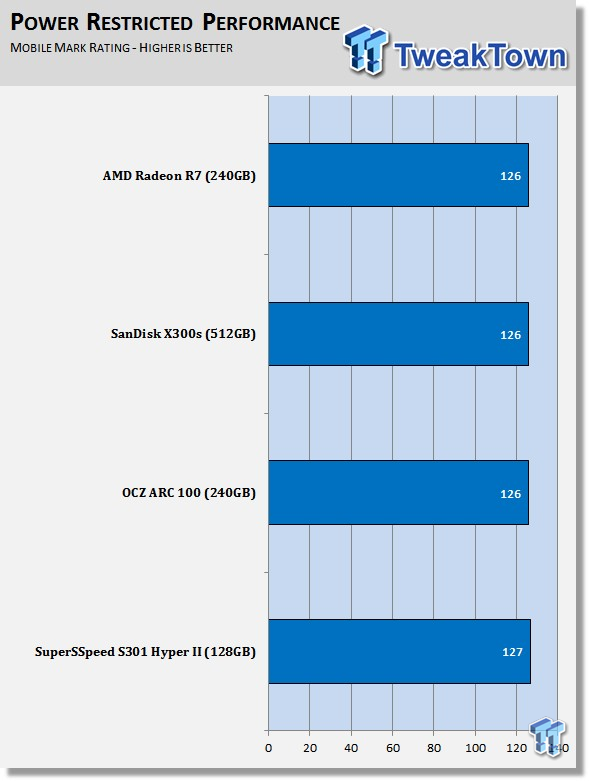 When your notebook has the PCIe, SATA and CPU busses locked down at low speeds to conserve power, we get to see the SSD performance efficiency in these restricted states. This is a performance rating from Bapco's MobileMark 2012 version 1.5.
The performance in the power restricted state is nearly identical for all of the drives on the chart.
Final Thoughts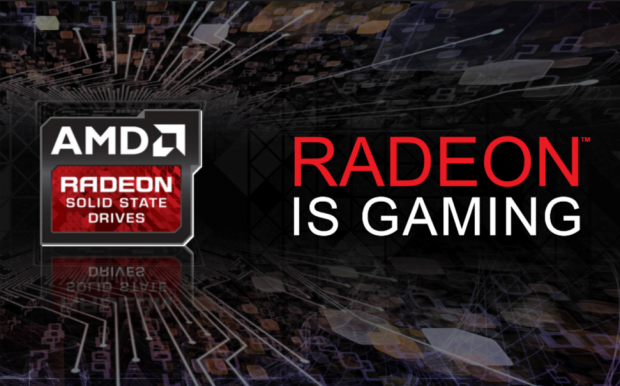 The Radeon brand is one of the strongest in the AMD portfolio, so it makes sense for AMD to leverage that to a new product category. The marriage between AMD's name, and design specifications with OCZ's expertise controllers, with Toshiba's flash, is a winner for consumers looking for an easy way to choose a new SSD. For years, we've talked about SSDs, but only a small percentage of the population was listening. If you've followed SSDs for even the last year, you are in a much better position to purchase a drive, but some people just need a beacon when choosing, and the Radeon name is familiar. It's a bright light for consumers that just want to buy without researching every angle possible before whipping out the credit card.
AMD's pricing scheme for launch is solid, as long as the lower capacity size models go down a bit after a few weeks. In this review, we mentioned the SanDisk Extreme II and it's current price, but that drive is EOL, and should be all sold out soon. Once E II is out of the way, the Radeon R7 240GB that we tested today will look even better at $163.99. Maybe by that time the R7 will drop a bit more in price, making it one of the best value drives on the market. Looking at the prices, the Radeon R7 480GB is already a good buy at $289.99. Again, there are a lot of drives in that capacity size, but only three or four drives are faster, and they all cost significantly more for a modest performance increase.

Performance wise, the new A19 flash paired with the Indilinx Barefoot 3 M00 controller is an excellent package. When it comes to core performance, sequential and random reads and writes, as well as performance under heavy loads, the architecture is solid. The Radeon R7 also has very low latency, and for gamers, this should matter more than any other metric. The sequential reads are also high, so your game loading levels will fly by in record time.
The Barefoot 3 controller is showing its age though, there are some areas where OCZ as a whole needs to make improvements. AMD doesn't have DEVSLP in the company's chipsets, but it's not like SATA is a proprietary interconnect that only AMD has access to. DEVSLP is a non issue for desktop users, and if you are gaming on a notebook, you don't expect long battery life while gaming anyhow, but it would have still been a nice feature to have. The feature has become standard and Haswell based notebooks with DEVSLP have become popular.
From a strictly gaming perspective though, the Radeon R7 has what you need where you need it.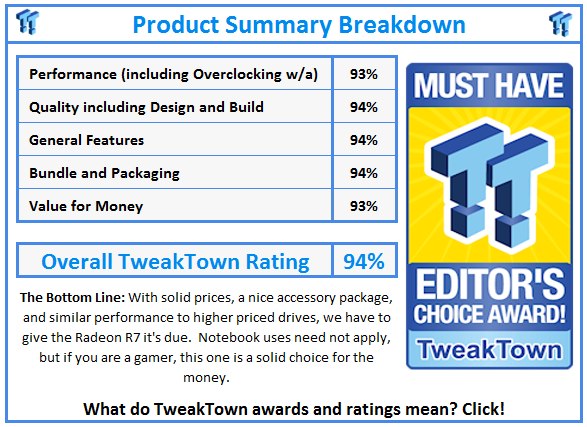 PRICING: You can find products similar to this one for sale below.

United States: Find other tech and computer products like this over at Amazon.com

United Kingdom: Find other tech and computer products like this over at Amazon.co.uk

Australia: Find other tech and computer products like this over at Amazon.com.au

Canada: Find other tech and computer products like this over at Amazon.ca

Deutschland: Finde andere Technik- und Computerprodukte wie dieses auf Amazon.de
We openly invite the companies who provide us with review samples / who are mentioned or discussed to express their opinion. If any company representative wishes to respond, we will publish the response here. Please contact us if you wish to respond.