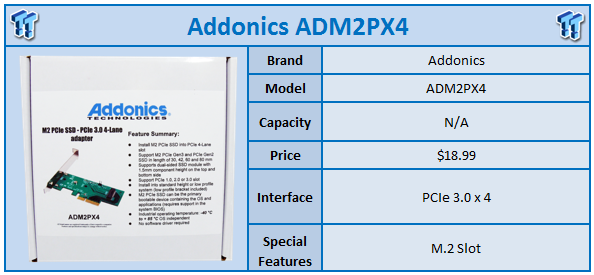 With the introduction of Intel's Z97 chipset, we are starting to see the inclusion of m.2 slots on a number of motherboards. While not every motherboard has this next generation form factor included, with help from Addonics, you can add the technology to your motherboard via their ADM2PX4 PCIe 3.0 to m.2 adapter.
The ADM2PX4 is a four lane PCI Express 3.0 to m.2 SSD adapter, which allows you to install 42, 60, or 80mm SSDs. With this adapter being PCIe 3.0 compliant, you can eliminate any and all bottlenecks to your storage, and if you happen to have a motherboard capable of booting from PCIe devices, you can use your m.2 SSD as your bootable operating system drive. Compatibility extends to all desktop and server computers, as the adapter needs no driver to operate.
MSRP for the Addonics ADM2PX4 is set at $18.99, with a one-year warranty.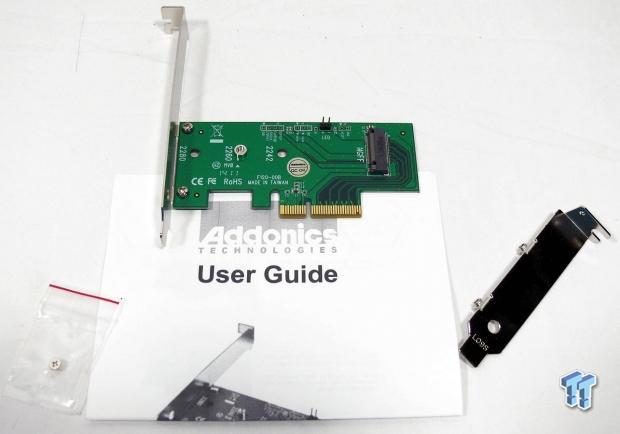 Scope of delivery for the ADM2PX4 includes reading materials, the card, and a low profile bracket.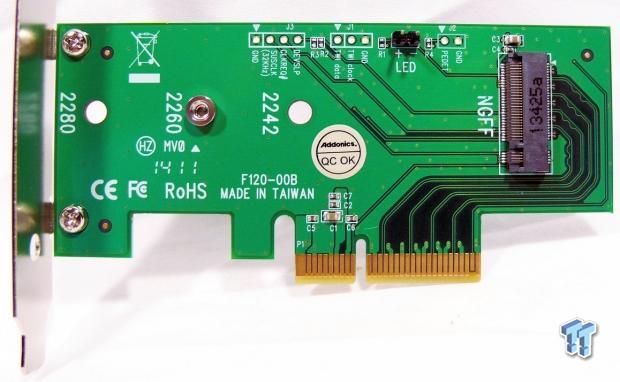 Looking over the card, we find the m.2 slot to the right, with a four lane PCIe connection at the bottom.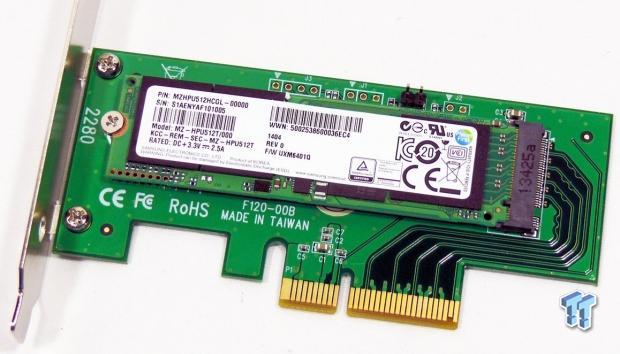 Here we have installed a Samsung XP941 512GB m.2 SSD.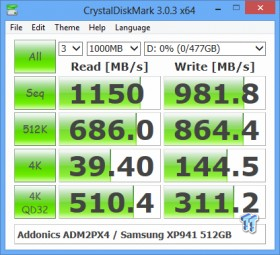 To test the capabilities of the XP941 on the Addonics adapter, we ran CDM. As you can see, we were able to reach 1150 MB/s read, and 981 MB/s write.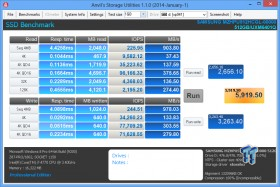 We then ran the 941 through Anvil with incompressible data. As you can see, we came up with a decent score of 5919.5. We were also able to achieve 96K random read IOPS at QD16.
The Addonics ADM2PX4 enjoys a great deal of build quality; all the solder points look good, while the PCB material is a good thickness. In addition to this, the ability to change the mounting point for the m.2 SSD allows this card to be a single solution for all your m.2 needs.
Performance of the card allowed our Samsung SSD to reach 1150 MB/s read, and 981 MB/s write. One feature I do like with the Addonics is the ability (with the right motherboard) to boot from the adapter and your m.2 SSD, install your operating system, and have the next generation in storage technology up and running.
MSRP of the Addonics ADM2PX4 is set at $18.99 with a one-year warranty. Current market pricing can be found below.
PRICING: You can find the ADDONICS PCIE 3.0 M.2 ADAPTER (ADM2PX4)for sale below. The prices listed are valid at the time of writing but can change at any time. Click the link to see the very latest pricing for the best deal.
United States: The ADDONICS PCIE 3.0 M.2 ADAPTER (ADM2PX4) retails for $23.38 at Amazon.