OCZ RevoDrive 350 480GB PCIe SSD Review
OCZ's move to all Toshiba flash has brought us a new Vector, Vertex and today, a new RevoDrive. Read on as Chris gives us the details on this new PCIe SSD.
Published
11 minute read time
Introduction & Specifications, Pricing and Availability

It's been quite a while since we've seen an update to the RevoDrive product family. The last all flash model we tested was the RevoDrive 3 X2 480GB. That drive shipped with four LSI SandForce SF-2281 controllers and 512GB of flash with an MSRP just north of $1,600. The new OCZ RevoDrive 350 480GB we're testing today cuts the price in half for the same capacity size and doubles the PCIe bus interface speed by increasing the number of PCIe lanes to the host. The RevoDrive 350 isn't the first RevoDrive branded product to use Toshiba Toggle flash, although the RevoDrive 3 Max IOPS was a fairly rare model.
The RevoDrive product family is for prosumers, power users, and enthusiasts who demand the highest levels of performance. RAID 0 based products perform remarkably well at high queue depths and under heavy loads. Sadly, some of the tasks we do every day, the consumer tasks, can actually run slower with these products than expected. The trick to achieving the highest performance is to run workloads that take advantage of high queue depths. Some of the tasks include batch photo editing, audio / video production, multitasking consumer workloads, and VM systems.
Specifications, Pricing and Availability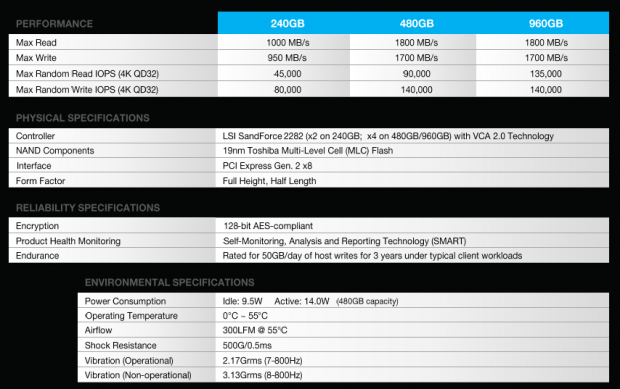 The new RevoDrive 350 ships in three capacity sizes, 240GB, 480GB, and 960GB of user available capacity. The 240GB model has two LSI SandForce SF-2281 controllers, while the 480GB and 960GB double the controller count to four. The controllers link back to OCZ's VCA 2.0 controller that bridges the SATA to PCIe bus. The RevoDrive 350 is the first RevoDrive product to use eight lanes back to the host system, twice as many as previous generations.
Today, we're testing the 480GB model with up to 1800 MB/s sequential read and 1700 MB/s sequential write speeds. Random performance for the 480GB model comes to 90k IOPS read and 140k IOPS write. OCZ rates endurance at 50GB per day for three years, the length of the warranty.
The RevoDrive 350 supports TRIM through SCSI unmap, so your idle time will help keep performance high when not hitting the drive with data writes.
The press deck included MSRPs for the new RevoDrive 350 family. The 240GB lists at $529.99, 480GB at $829.99, and the 960GB at $1,299.99. The prices are higher than purchasing two or four 128GB SSDs, but the RevoDrive is more than just a few SSDs slapped together. The drive has an onboard RAID controller that works with OCZ's Toolbox and simplifies installation. Intel's current prosumer / entry-level workstation chipset, X79, only has two native SATA 6Gb/s ports. The RevoDrive offers X79 systems the ability to run a high performance storage system without hassle.
OCZ RevoDrive 350 SSD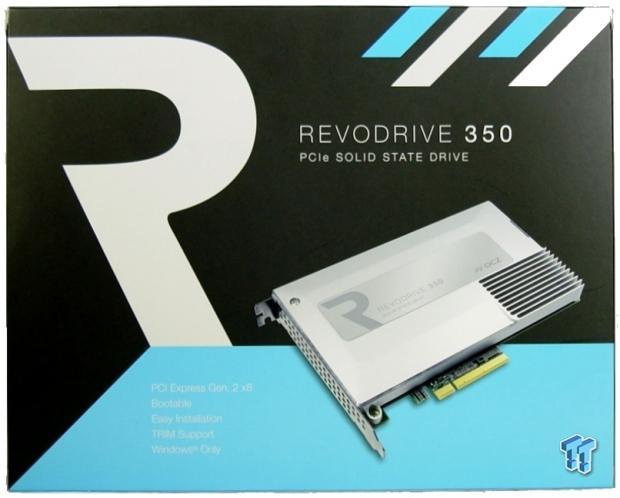 OCZ has moved all of the products over to new unified graphics with the turquoise, white, and black theme.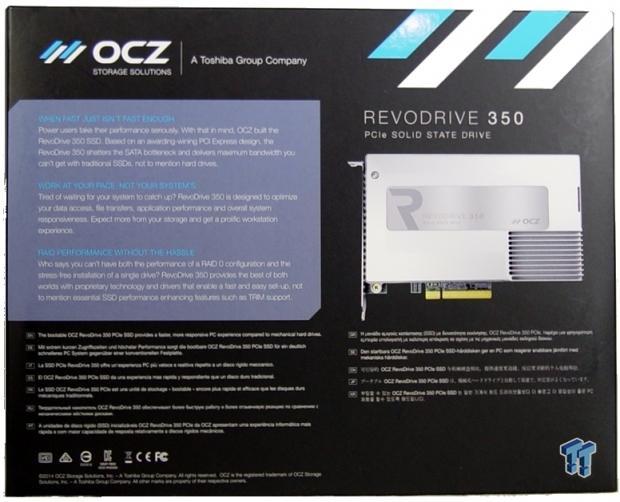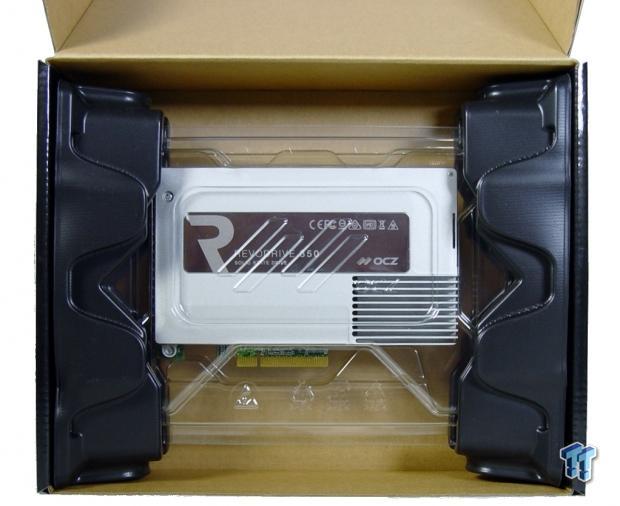 The packaging does a good job of securing the drive for shipping.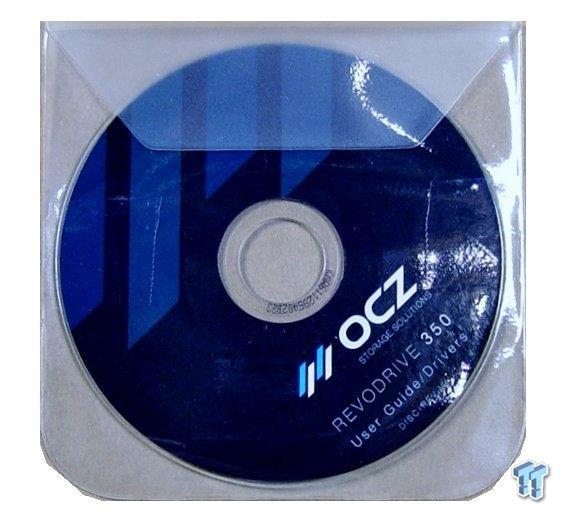 A software disk is included. On the disk, you'll find the drivers and software utilities.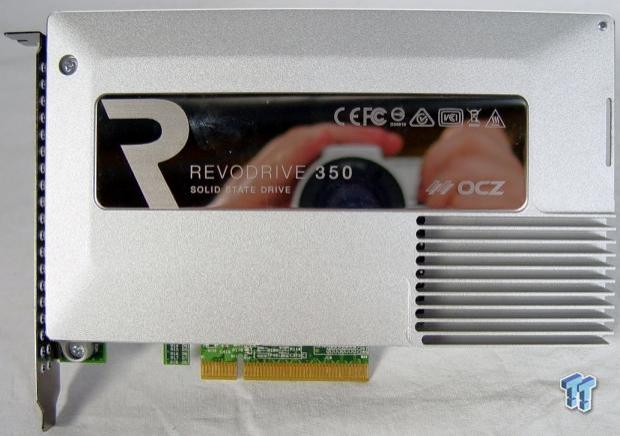 Here we get our first look at the actual RevoDrive 350. The cover is nearly identical to OCZ's Z-Drive 4500 and ZD-XL SQL Accelerator 1.5, both from the enterprise side. The lower right hand portion doubles as a heat sink for the VCA 2.0 controller. It's a full height, half depth card, but this size shouldn't be a problem for workstation users.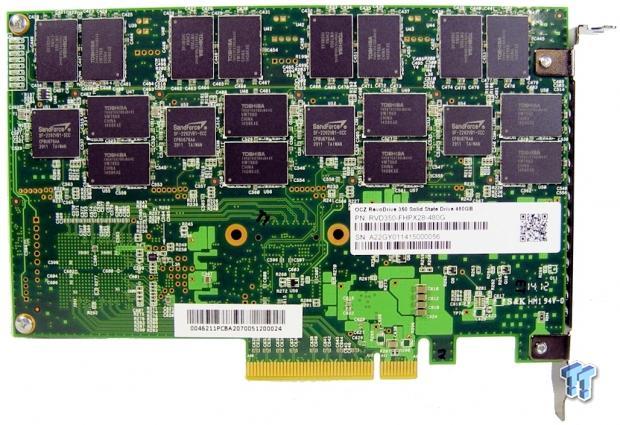 On the back, we see the four LSI SandForce SF-2281 controllers and half of the Toshiba 19nm flash.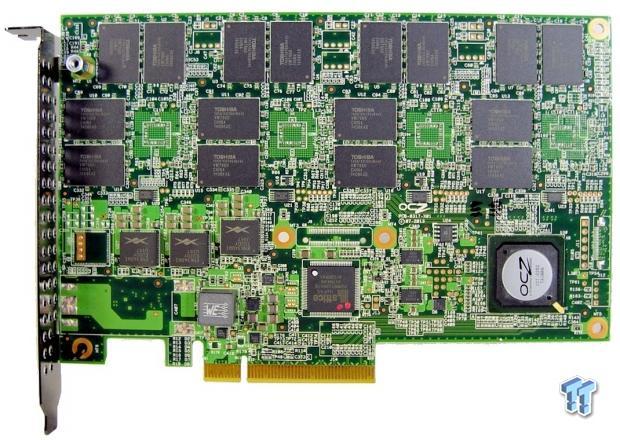 To simplify things, OCZ slapped four 120GB drives together with a RAID controller with all of the power on the same board. I can almost hear the designers and engineers screaming, but as said, this is the simplified version.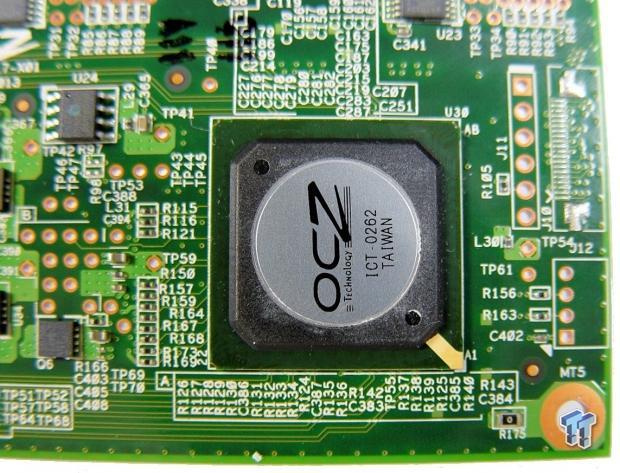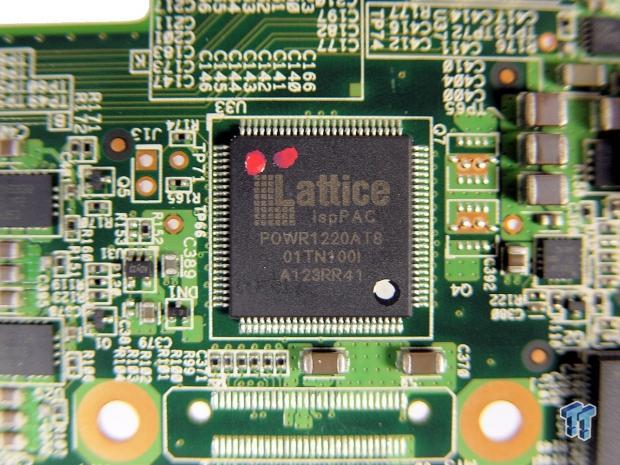 While researching some of the other components, we learned that OCZ put some logic behind the power distribution.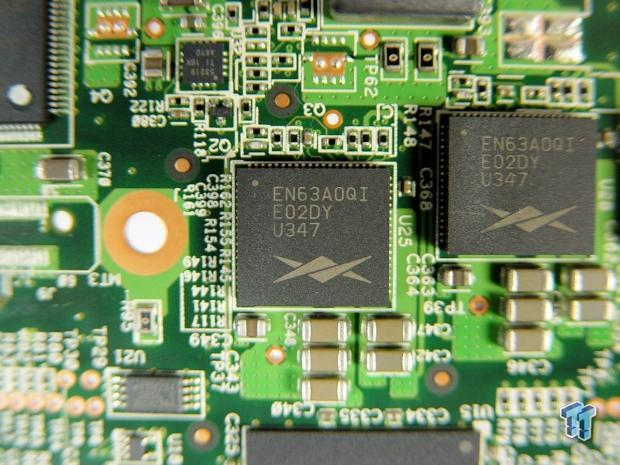 Unlike the RevoDrive products before it, the new 350 doubled the bandwidth to the system. The 350 uses a PCIe 2.0 8-lane connector to the host.
Test System Setup and ATTO Baseline Performance
Desktop Test System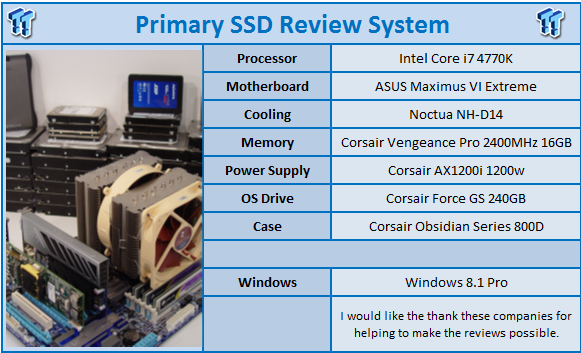 ATTO - Baseline Performance
Version and / or Patch Used: 2.34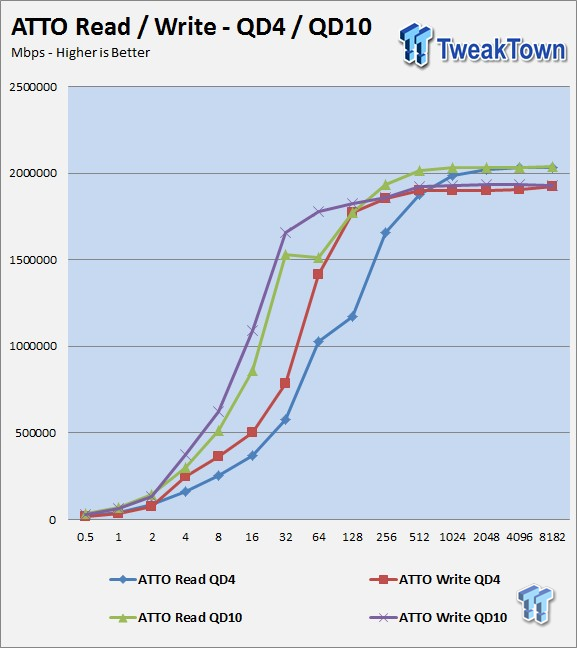 Here we see the sequential read and write speeds at both QD4 and QD10. The higher the queue depth, the faster the RevoDrive 350 ramps up performance. The sequential read performance for both tests is just over 2,000 MB/s, and the sequential write performance for both tests is roughly 1,900 MB/s.
This is a significant step up from the RevoDrive 3 X2 480GB that we reviewed in 2011. The RevoDrive 3 X2 480GB achieved just over 1,550 MB/s sequential read and 1,380 MB/s sequential write speeds.
Benchmarks - Sequential Performance
HD Tune Pro - Sequential Performance
Version and / or Patch Used: 4.00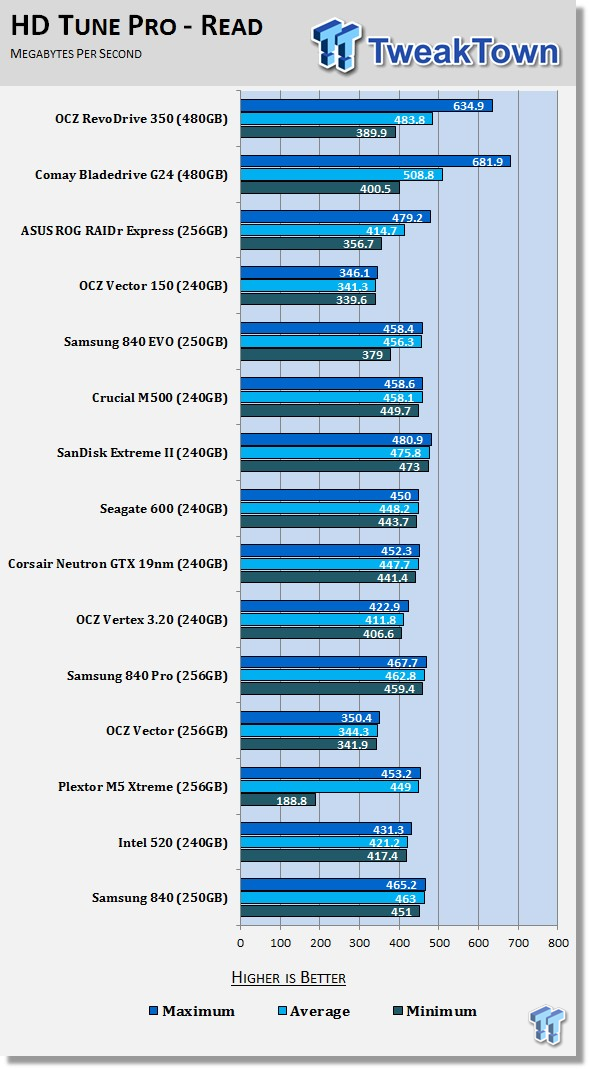 The top three drives in our chart today are all LSI SandForce SF-2281 based RAID products. I like to call these All-in-One (AIO) SSD RAID products because the RAID controller and SSDs are all on one card.
In this test, we read from the entire user LBA span of the drive at a queue depth of 1 (QD1). This isn't the ideal situation for AIO drives because it's a fairly light workload, but it's what you encounter with consumer type workloads.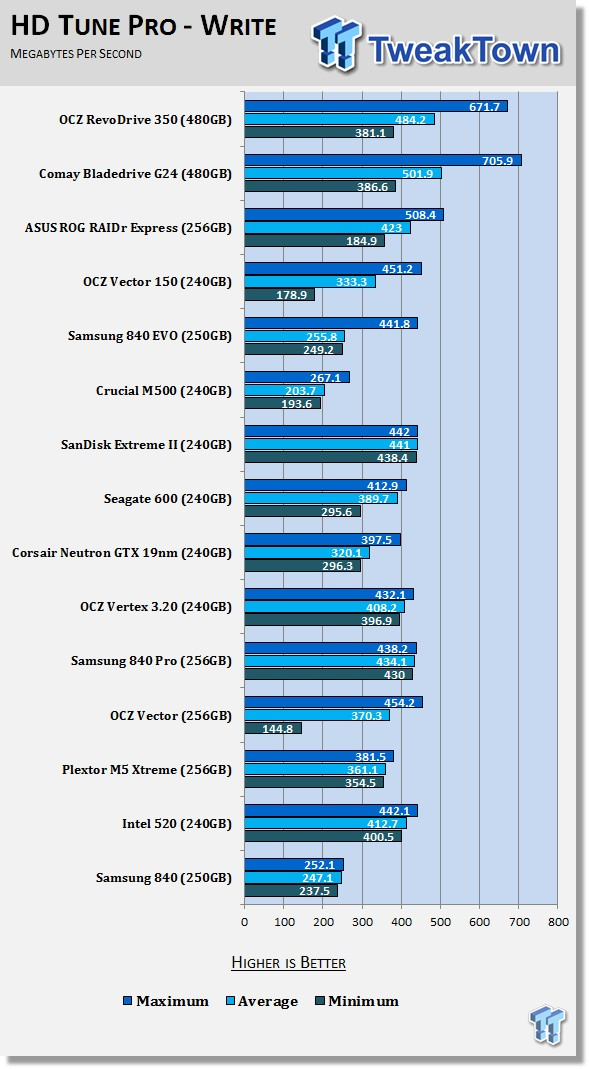 The sequential write test uses the same parameters, but here we see a large improvement in most cases over the list of consumer SSDs in the chart. That means even under a light write workload, the RevoDrive 350 outperforms run-of-the-mill 2.5-inch SSDs.
HD Tach - Sequential Write Performance after Random Writes
Version and / or Patch Used: 4.60
Again with QD1, we test sequential reads and writes, this time on the same graph. This test takes place after a limited number of random writes to the RevoDrive 350. With some products, we see the write performance drop to very low levels, but the RevoDrive 350 480GB does very well and delivers fairly consistent low queue depth performance.
Benchmarks - AIDA64 Random Access Time
AIDA64 - Random Access Time
Version and / or Patch Used: 1.60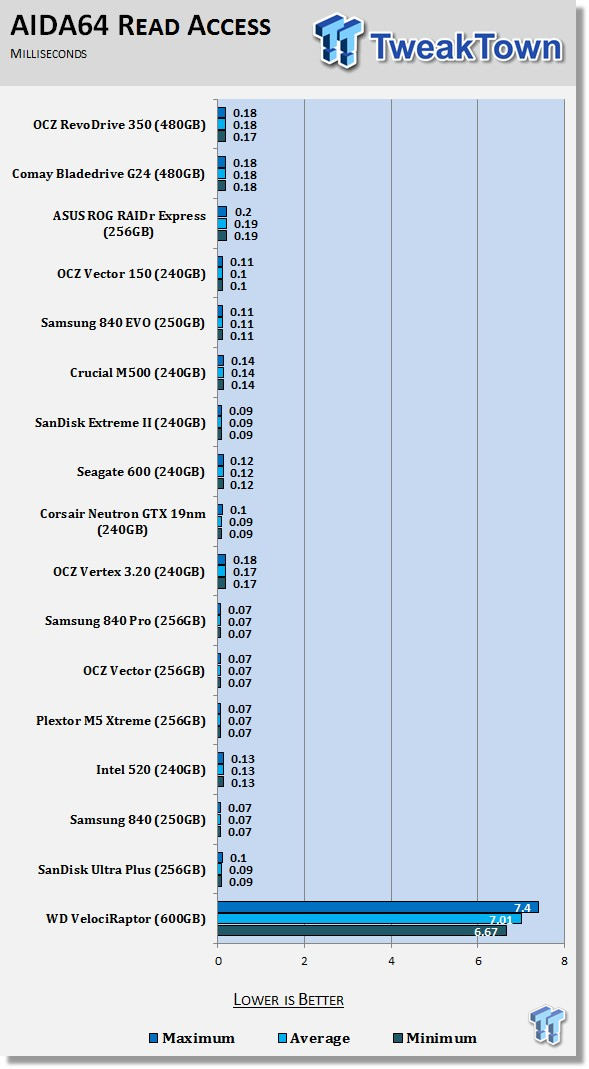 Latency, or lack thereof, is what makes computers feel fast. When you run storage products in RAID, you increase the potential latency. SSDs are so fast that the effect is very low, but any outstanding I/O can cause problems that are perceived as a slow computer. The RevoDrive 350 uses LSI SandForce controllers, and the result is a positive computing experience.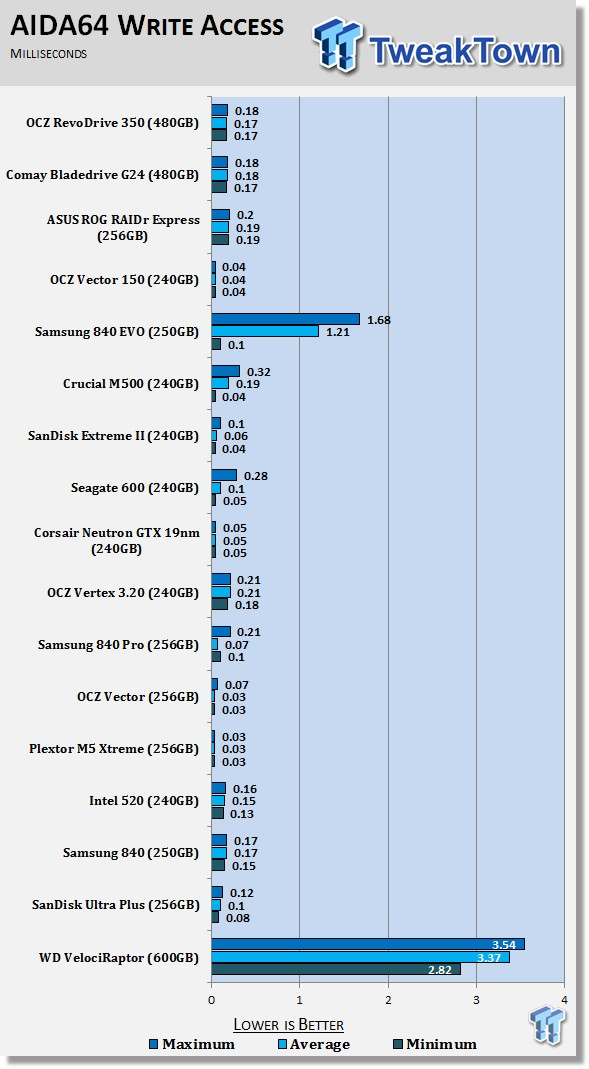 Even though write operations take longer than read operations on SSDs, the RevoDrive 350 keeps write latency down to near single SSD levels.
Benchmarks - Anvil Storage Utilities
Anvil Storage Utilities
Version and / or Patch Used: 1.1.0
So what is Anvil Storage Utilities? First of all, it's a storage benchmark for SSDs and HDDs where you can check and monitor your performance. The Standard Storage Benchmark performs a series of tests; you can run a full test or just the read or the write test, or you can run a single test, i.e. 4k QD16.
Anvil Storage Utilities is not officially available yet, but we've been playing with the beta for several months now. The author, Anvil on several international forums, has been updating the software steadily and is adding new features every couple of months.
The software is used several different ways to show different aspects for each drive. We've chosen to use this software to show the performance of a drive with two different data sets. The first is with compressible data, and the second data set is incompressible data. Several users have requested this data in our SSD reviews.
0-Fill Compressible Data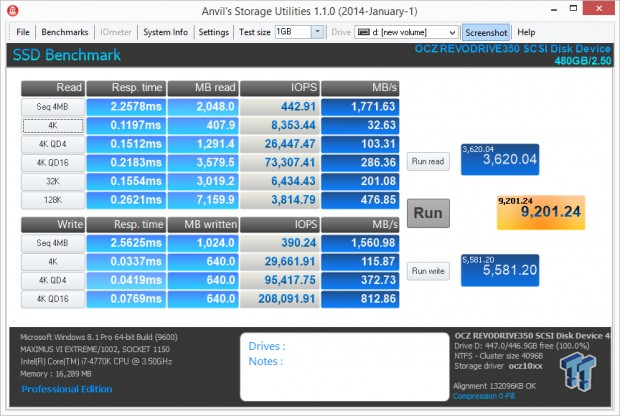 Incompressible Data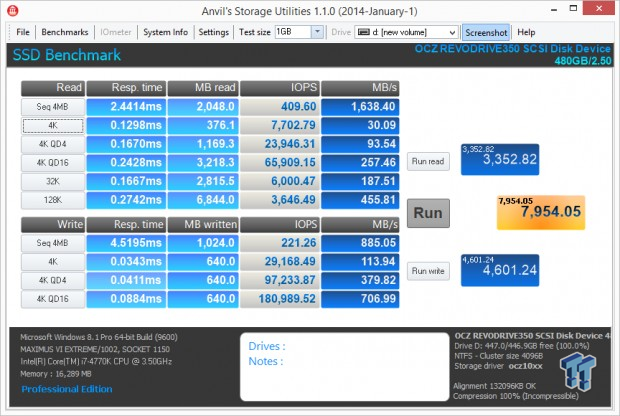 The LSI SandForce architecture means incompressible data writes are slower than compressible data writes. In the two charts above, we see the effect incompressible data has in a number of different tests. The most significant change comes in the sequential write category where incompressible data writes at around half of the speed as compressible data.
Read IOPS through Queue Depth Scale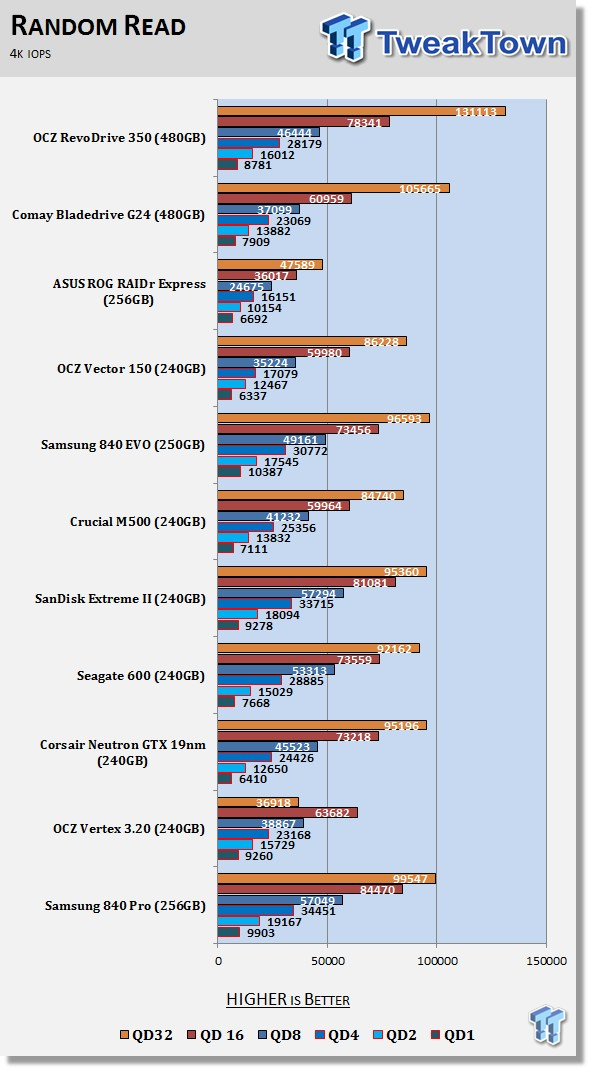 This test shows the way queue depth effects performance of 4k reads (above) and writes (below). The RevoDrive 350 scales very well as the queue depth increases. OCZ's spec sheet claims 90k read IOPS, but we achieved well over 130k in our test at QD32.
Scaling Write IOPS through Queue Scale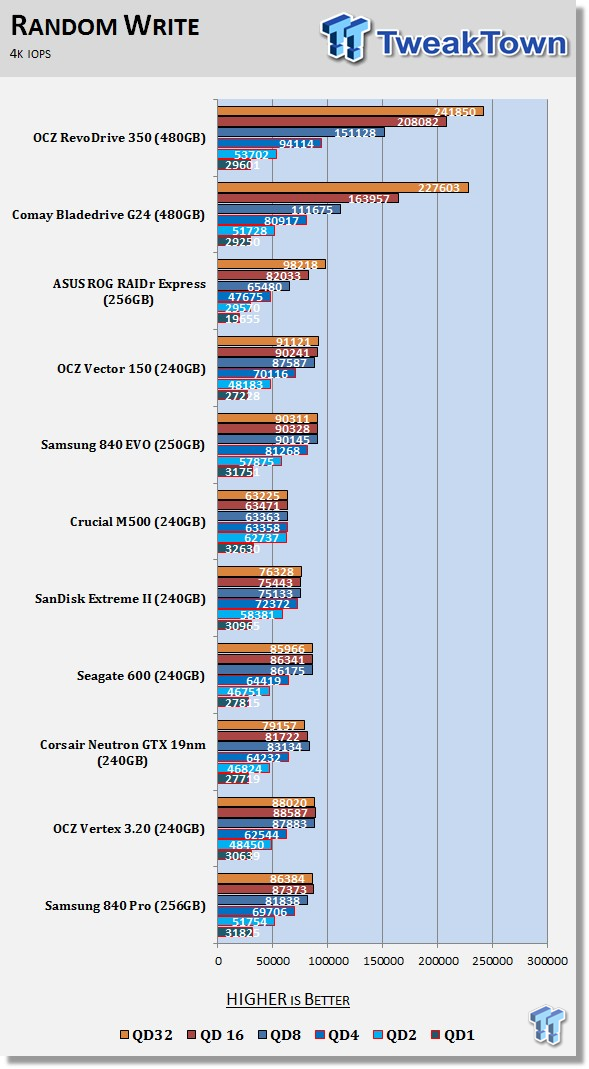 I had to go back and run the test again to verify what I was seeing. OCZ claimed 140k IOPS at QD32, but we hit 240k on a drive that was already worn from previous tests.
Benchmarks - CrystalDiskMark
CrystalDiskMark
Version and / or Patch Used: 3.0 Technical Preview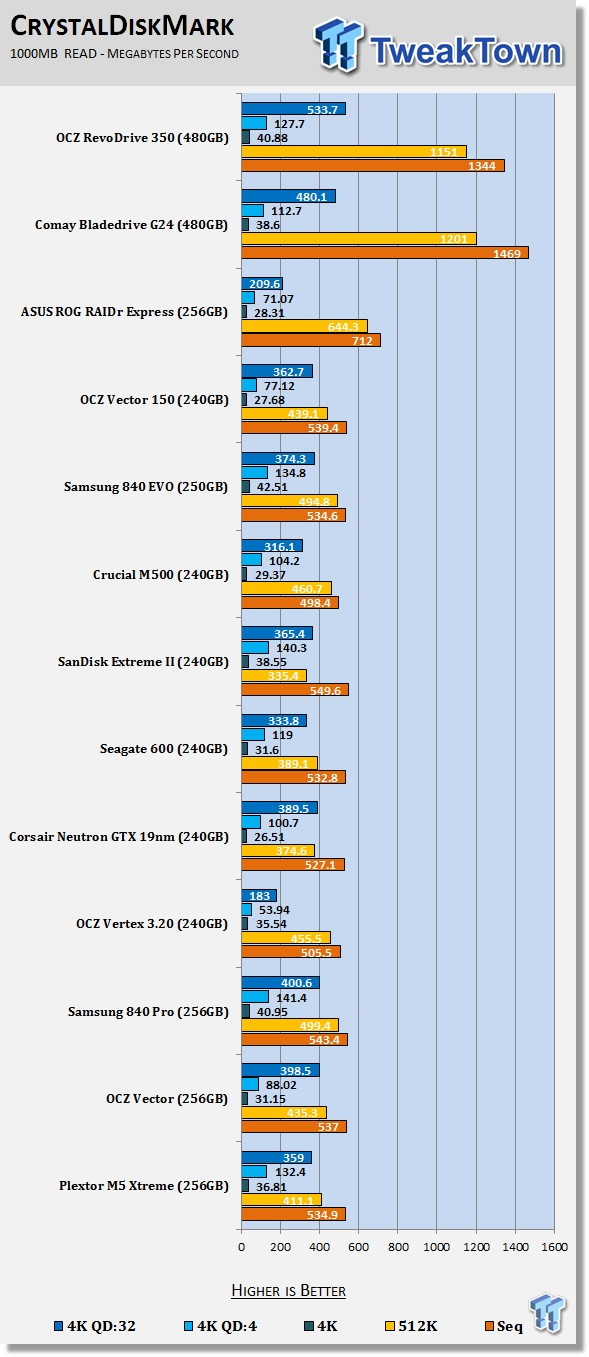 CDM shows the high sequential speed very well and how the RevoDrive 350 dominates consumer 2.5-inch SSD products. If you work with 4k video, a single SSD just isn't fast enough. The same can be said about high bit rate 1080P video with several audio channels.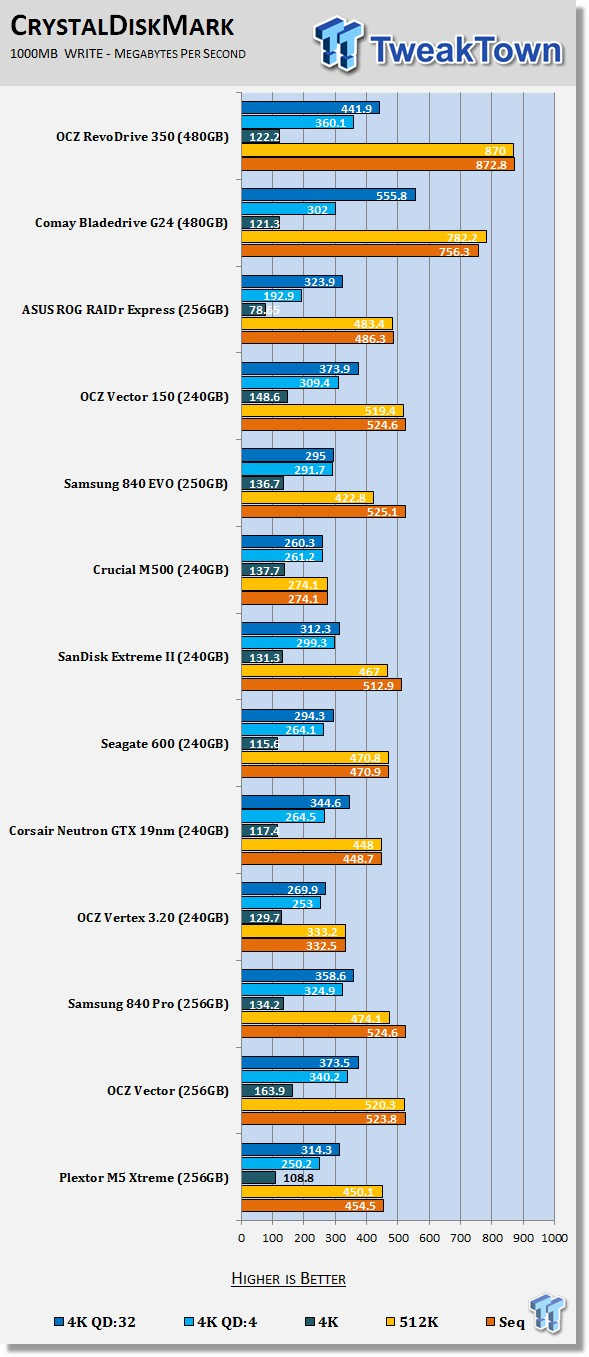 Even when writing incompressible data, the sequential speed of the RevoDrive 350 is nearly twice as high as the best 2.5-inch consumer SSD.
Benchmarks - PCMark Vantage (Data on Disk Testing)
PCMark Vantage - Drives with Data Testing
Version and / or Patch Used: 1.0.0
For a complete breakdown on the Drives with Data Testing, please read this article. You will be able to perform this test at home with the files provided in the article; full instructions are included.
Brief Methodology
SSDs perform differently when used for a period of time and when data is already present on the drive. The purpose of the Drives with Data testing is to show how a drive performs in these 'dirty' states. SSDs also need time to recover, either with TRIM or onboard garbage collection methods.
Drives with Data Testing - 25%, 50%, 75% Full States and Dirty / Empty Test
Files needed for 60 (64GB), 120 (128GB), 240 (256GB)
60GB Fill - 15GB, 30GB, 45GB
120GB Fill - 30GB, 60GB, 90GB
240GB Fill - 60GB, 120GB, 160GB
Empty but Dirty - a test run just after the fill tests and shows if a drive needs time to recover or if performance is instantly restored.

As we've stated before, regular consumer workloads are not that impressive on many RAID array systems. You need to be able to tune the array for low queue depth performance, but the RevoDrive 350 doesn't include any knobs to turn for the settings. The drive does offer enough performance to have a comfortable experience while doing regular day-to-day activities and has performance in reserve for demanding workloads.
Here we see that with half of the drive full and under a consumer workload, the RevoDrive 350 settles in with many of the 2.5-inch drives performance wise.
PCMark 8 Consistency Test
Futuremark PCMark 8 Extended - Consistency Test
Version and / or Patch Used: 2.0.228
Heavy Usage Model:
FutureMark's PCMark 8 allows us to wear the test drive down to a reasonable consumer steady state and then watch the drive recover on its own through garbage collection. To do that, the drive gets pushed down to steady state with random writes and then idle time between a number of tests allows the drive to recover.
Precondition Phase:
1. Write to the drive sequentially through up to the reported capacity with random data.
2. Write the drive through a second time (to take care of overprovisioning).
Degradation Phase:
1. Run writes of random size between 8*512 and 2048*512 bytes on random offsets for 10 minutes.
2. Run performance test (one pass only).
3. Repeat 1 and 2 for 8 times, and on each pass increase the duration of random writes by 5 minutes.
Steady state Phase:
1. Run writes of random size between 8*512 and 2048*512 bytes on random offsets for 50 minutes.
2. Run performance test (one pass only).
3. Repeat 1 and 2 for 5 times.
Recovery Phase:
1. Idle for 5 minutes.
2. Run performance test (one pass only).
3. Repeat 1 and 2 for 5 times.
Storage Bandwidth
PCMark 8's Consistency test provides a ton of data output that we use to judge a drive's performance.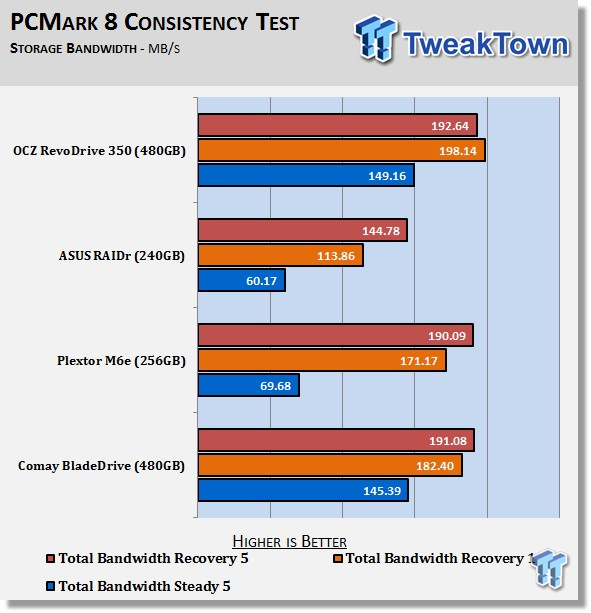 In this set of tests, we take the drives down to a worst case scenario for consumer performance and let the drives recover through a mixed idle and load sessions. Here, the RevoDrive 350 shows how well it performs after intense use. The drive only drops to 150 MB/s. All of the other drives on this chart are PCIe based, either with RAID, or in the case of the Plextor M6e, in an M.2 form factor. The orange and red bars show performance during and after recovery as the drive's internal garbage collection starts to clean blocks.
Storage Bandwidth All Tests
Here we see all of the tests plotted on the same chart. This shows the drive from worst case to steady and finally recovery performance.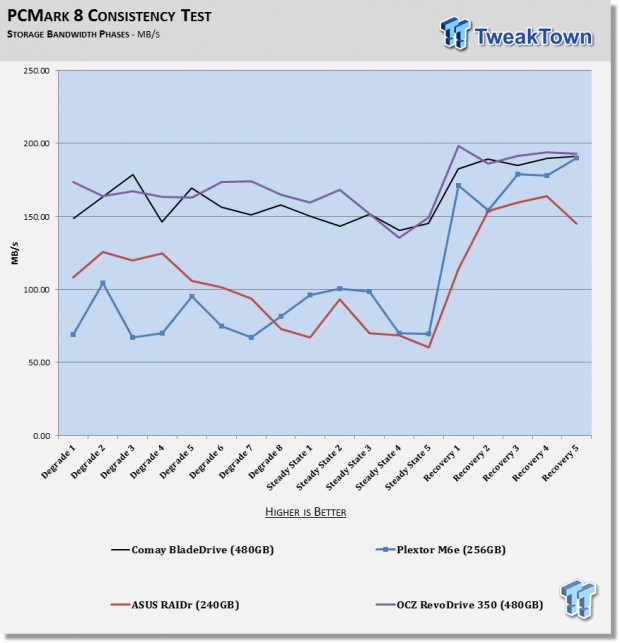 Here we see the progression from the drives in a degraded state to the final recovery. This test shows the average throughput from the many consumer tests in each run.
PCMark 8 Consistency Test - Continued
Total Access Time
The access time test measures the total latency across all 18 tests. This is one of the, if not the most, important tests we run at this time for consumer SSDs. When your latency is low, your computer feels fast; it's just that simple.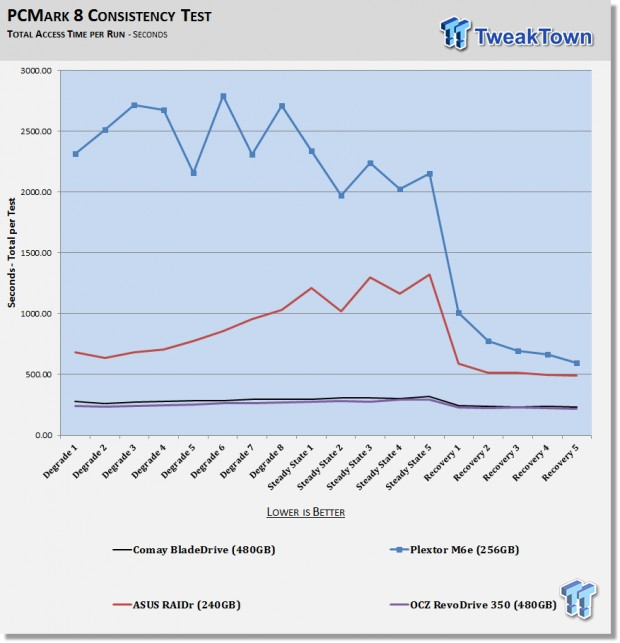 As we mentioned in the AIDA64 latency test, latency is what makes your computer feel fast while working. In this test, the total amount of latency is added and plotted to the chart for each phase of the test. The OCZ RevoDrive 350 delivers exceptional latency even when worn down by the degrade tests.
Disk Busy Time
Disk Busy Time shows us how long the drive has to work to the given tasks. The best scenario is high throughput performance with low busy time. The less the drive works, the less power it consumes. For the most part, this is an efficiency test.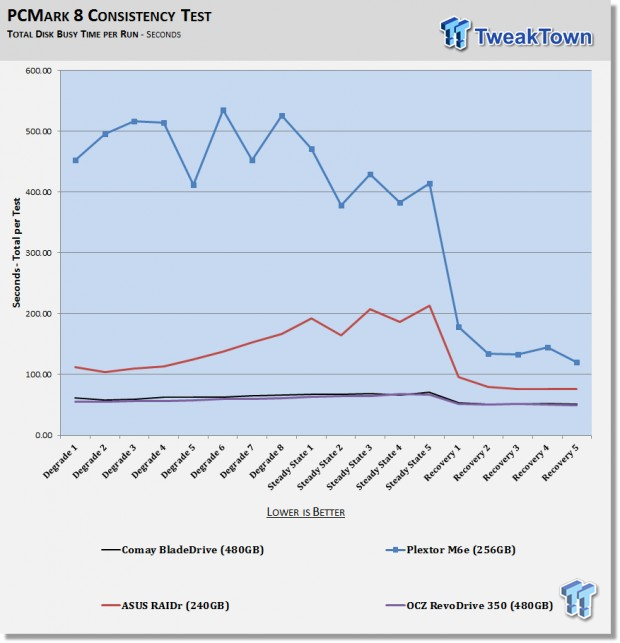 Disk busy time results often look similar to the access time results, but some drives produce different results.
Final Thoughts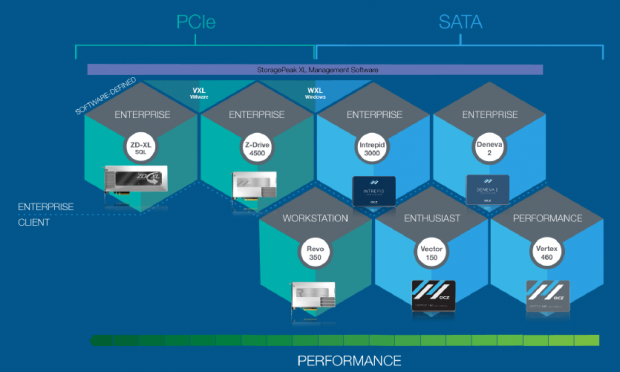 Looking over the current OCZ product line up above, we see that the company doesn't have a poor performing product anywhere in the mix. Both the consumer and enterprise lines are streamlined with solid leaps from one segment to the next. I was surprised by the introduction of the RevoDrive 350, though. OCZ has shown the AIO RAID product under the Vector PCIe name for over a year now at trade shows. There is still room on the map for one more consumer drive should OCZ decide to pull it out. LSI SandForce controllers still offer very good performance under consumer loads and scale very well when paired together in RAID. By this time, the controllers should be fairly low cost, so there was an incentive for OCZ to slap four of them together and use Toshiba Toggle flash to make an excellent workstation product.
We tested the RevoDrive 3 X2 in August of 2011, and the MSRP at the time was just over $1600. The new RevoDrive 350 is a continuation of that drive but with higher performance and half the cost. The fundamentals are still the same, though, and the RevoDrive series offers users very high performance without the hassle of building and configuring a RAID array. Given that most workstations are built on the Intel X79 platform, getting SATA III performance out of four drives means adding an expensive RAID controller already. OCZ just streamlined the process of adding a high performance storage subsystem to workstations.
Performance wise, the RevoDrive 350 delivers on OCZ's claims in full. We achieved higher than claimed performance in all of our benchmark tests. Getting the most out of this drive does require a heavy workload, though. SSDs have become so fast now that enthusiast and performance class drives meet the needs of demanding workloads. A few years ago, we would look at a RevoDrive 3 and use it in a gaming / video editing system, but that's no longer the case. Even OCZ's lowest end SKU, the Vertex 460, can handle those tasks with ease and still have performance to spare. The bar has been raised to a very high level, so when it comes to the RevoDrive 350, I'd suggest purchasing it only for the most demanding environments, like CAD / CAM or full time A/V production work.
When it comes to the workstation SSD market, there are very few products that fit the description. HP announced a new drive called Z-Turbo last week, but sadly our sample didn't arrive in time to compare it to the RevoDrive 350. We included the Comay BladeDrive in our performance charts, but Comay doesn't share the same distribution network that OCZ has; you can't really buy the BladeDrive anywhere that I know of.
After looking over the PCIe workstation offering at Newegg, the only other option is the Intel 910 PCIe drive, but 400GB of user capacity for $1999.99 isn't an attractive offering, especially considering it's tuned for enterprise workloads. What I did find is that the PCIe workstation market is currently, and has always been, dominated by OCZ. The RevoDrive series set the bar and continues to raise it with each progressive release.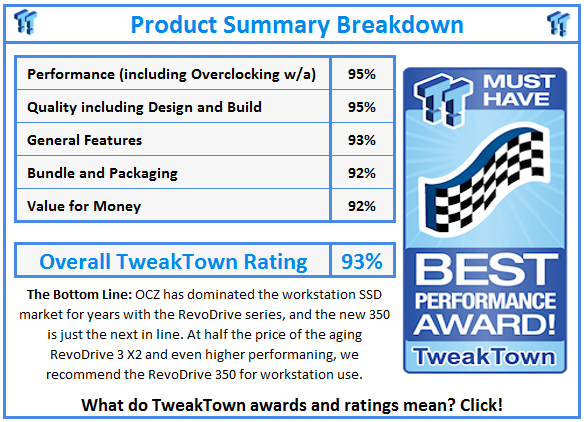 PRICING: You can find products similar to this one for sale below.

United States: Find other tech and computer products like this over at Amazon.com

United Kingdom: Find other tech and computer products like this over at Amazon.co.uk

Australia: Find other tech and computer products like this over at Amazon.com.au

Canada: Find other tech and computer products like this over at Amazon.ca

Deutschland: Finde andere Technik- und Computerprodukte wie dieses auf Amazon.de
We openly invite the companies who provide us with review samples / who are mentioned or discussed to express their opinion. If any company representative wishes to respond, we will publish the response here. Please contact us if you wish to respond.