ASRock Rack 2U12L6SC-2TS6 Barebones Server Kit Review
The list of server types is long, but if you are looking for a general purpose server for compute or storage, then the ASRock 2U12L6SC-2TS6 could be it.
Published
12 minute read time
Introduction and Packaging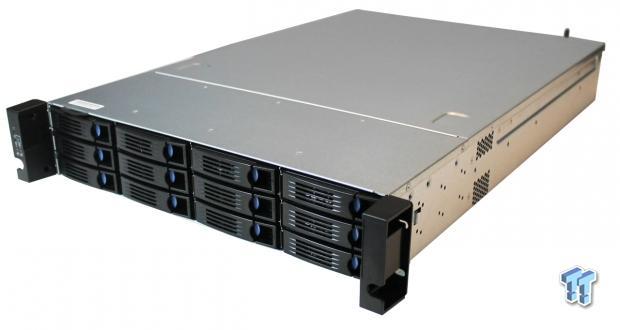 There are many ways that you can get your servers. You can buy them from OEMs that are pre-built, buy a barebones kits, or build the whole thing yourself.
One of the easiest ways to get started is to pick up a barebones kit and install your CPUs, RAM, and drives of choice.
Today, we will be looking at an ASRock Rack 2U12L6SC-2TS6 barebones server kit. The motherboard used in the ASRock 2U12L6SC-2TS6 is the EP2C602-2TS6/D16.
The ASRock 2U12L6SC-2TS6 is very close to the ASRock EP2C602-2T/D16 Server Motherboard (Intel C602) that we reviewed recently.
The main difference between these two motherboards is the storage options available on the two boards.
Packaging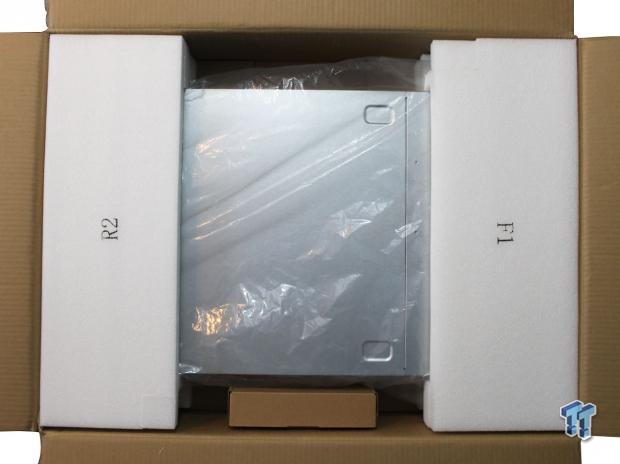 Here you can see what the server looks like after we opened the shipping box. The server comes shipped in protective foam inserts. Located on the side is a small accessory box.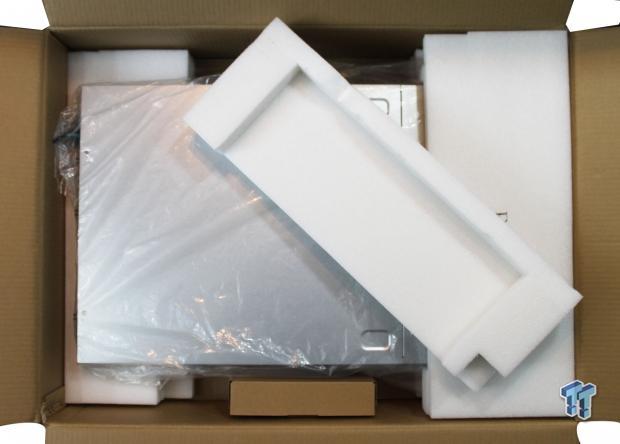 We really liked how the foam inserts came in two pieces. This allows us to remove the top piece at both ends and simply lift out the server. Many servers we receive come with an insert that slips over both ends; this means we have to pull the whole server out before we can remove the inserts.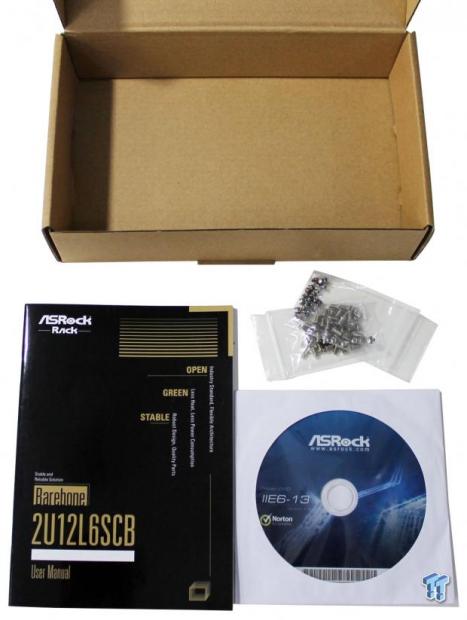 The server comes with a simple accessory list: just a manual, driver disk, and hard drive mounting screws. We like printed manuals a lot here because we don't have to find a PDF file and view that on a separate computer.
Specifications and Layout
Specifications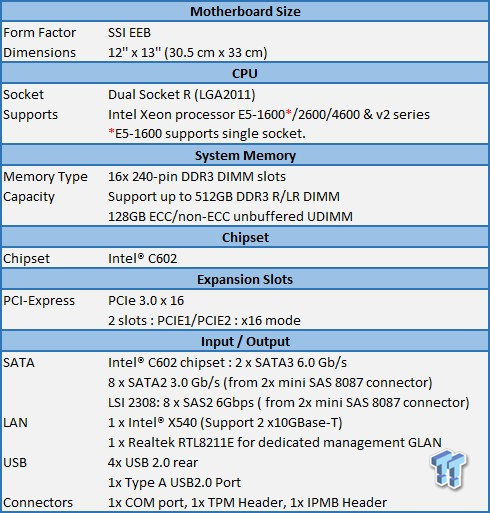 What stands out in the specification list is the number of storage options. You can install up to twelve hard drives in the front of the server and up to six hard drives/SSDs in the back.
Layout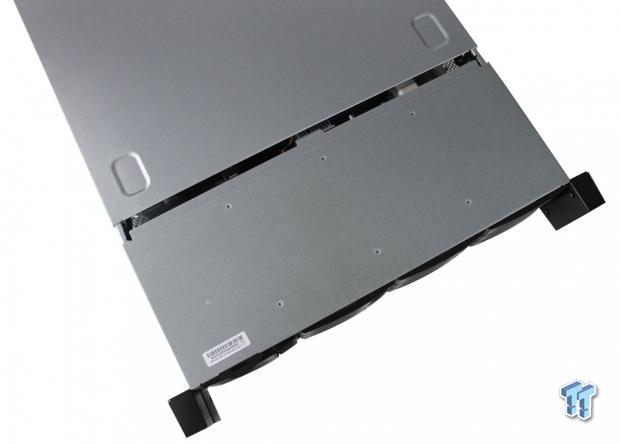 To take off the top panel, you simply remove two screws on the top and some on the back. Then you simply grip the sides so your thumbs are at the indentations and push. The top panel should slide back about half an inch.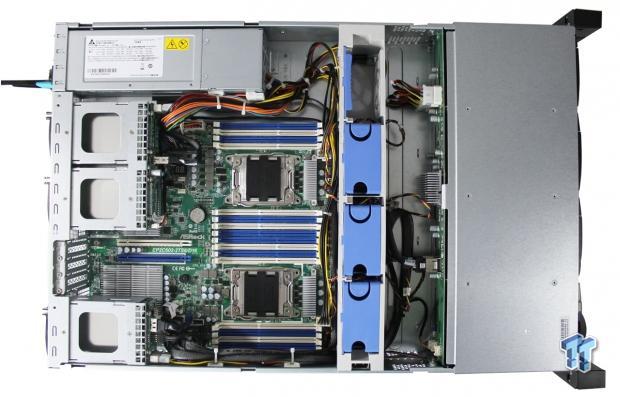 Here we have taken the top panel off so we can look at what the insides look like. All connections come pre-installed to the different hard drive bays, power, and fans.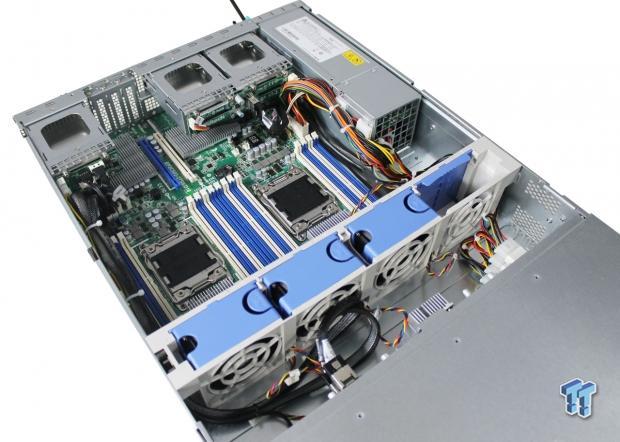 This picture is at a different angle to get a better look at the motherboard area.

Now let us look at the front of the server, which is where you can find the twelve 3.5-inch SAS/SATA HDD (6Gb/s) drive bays.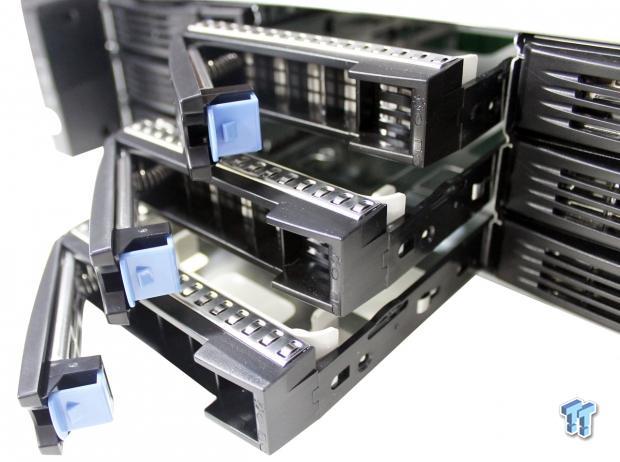 Each of the twelve hard drive bays come with a locking tray that slides out so you can install or remove drives easily. Each tray can fit a 3.5-inch SAS/SATA HDD.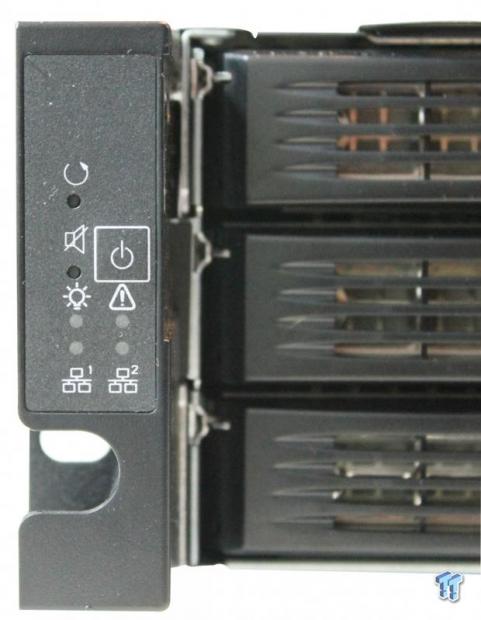 On the left side of the server, the status and power/reset button is built into the server handle. This status bar shows LAN activity, power status, and a caution LED.

Here we can see the general layout of the back of the server. The port used for IPMI is the first port on the left.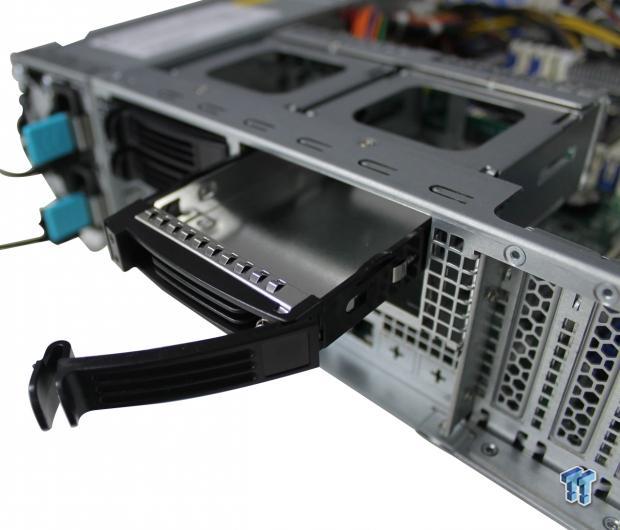 The back of the server comes with six 2.5-inch SATA HDD (6Gb/s) bays.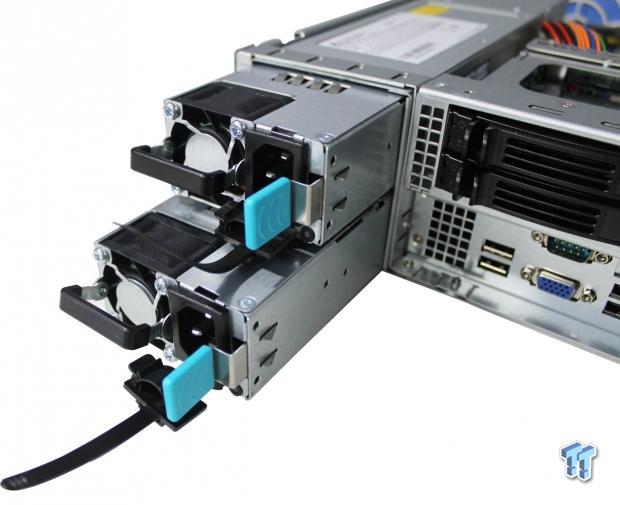 We can see the dual 800-watt 2U, 1+1 Redundant, Platinum Efficiency power supplies. These unlock by pressing the tab in and pulling the PSU out.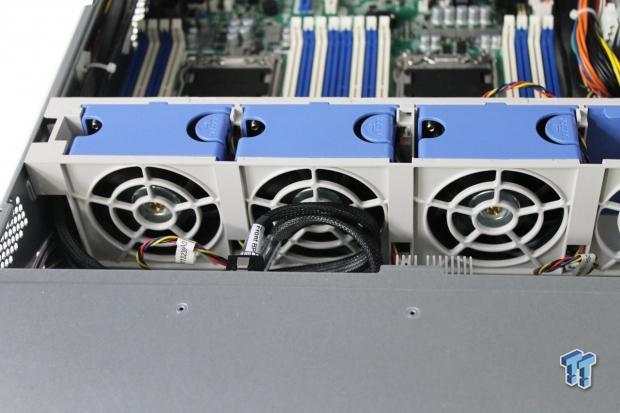 Now let us look at the middle fan bar. The server comes with three 80 x 38 mm PWM Hot-Swap Fans. These are not super high-speed fans and do not make a lot of noise.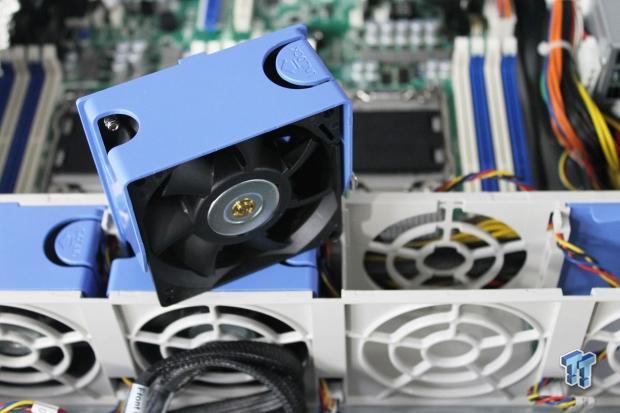 Each of the fans can be removed by pressing in the tab and pulling up.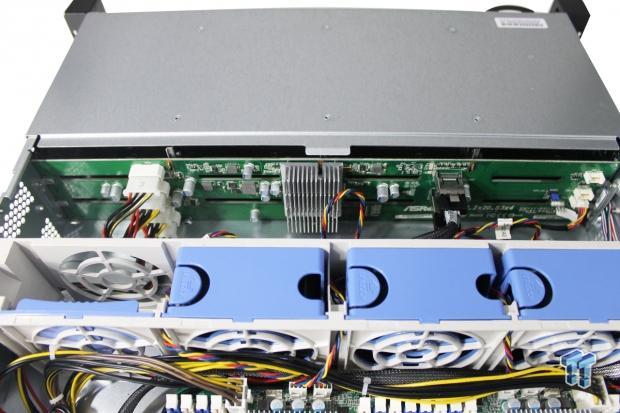 Now we are looking at the back plane for the front hard drive bays.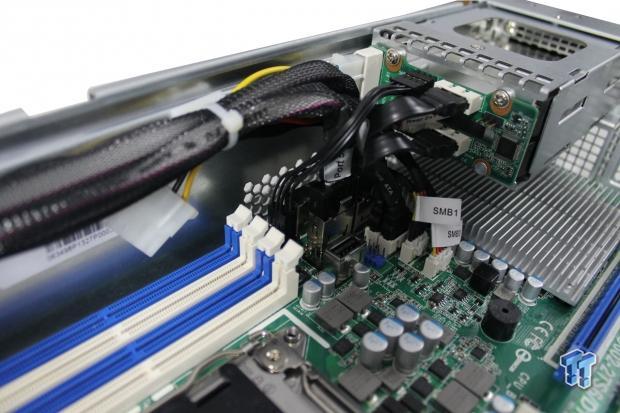 This is a close up of the rear left side of the 2.5-inch SATA HDD back plane. You can see how they connect to the motherboard.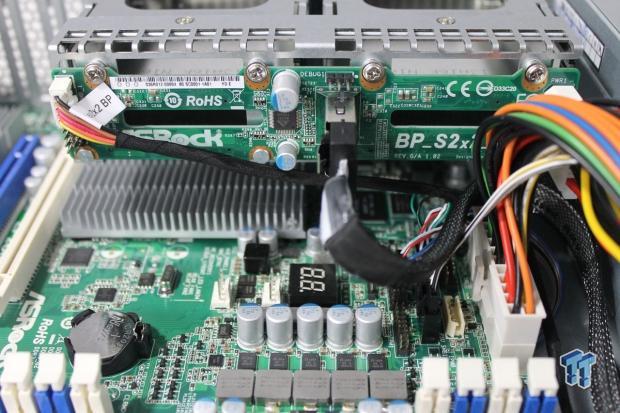 Here we are looking at the rear right side. You can see the back plane that houses four 2.5-inch SATA HDD bays. You can see how they connect to the motherboard.
Preparing for Use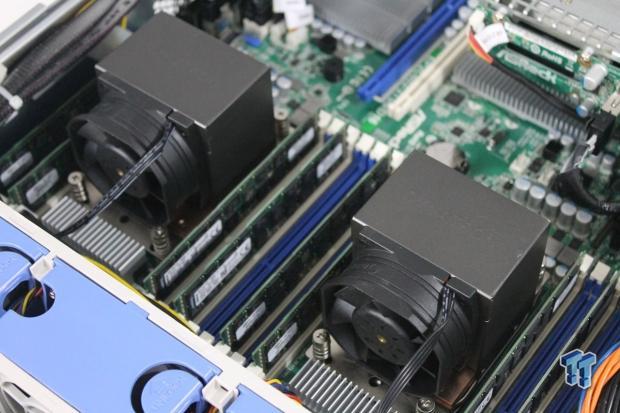 The ASRock 2U12L6SC-2TS6 came to us as a barebones kit. We installed a pair of Intel E5-2697 V2 CPUs with Dynatron R14 heat sinks and 64GB of Kingston CL11 RAM to bring this server alive.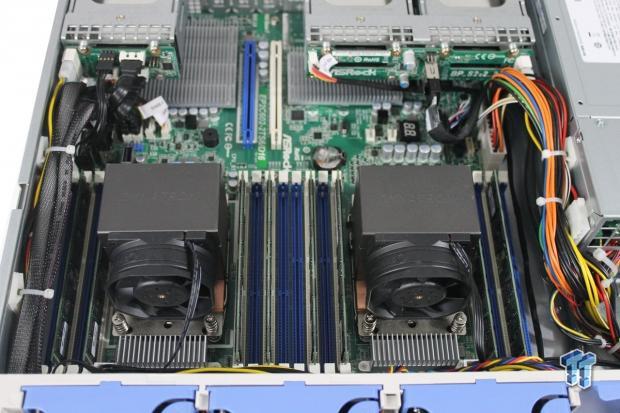 Another view of the CPUs, heat sinks and RAM installed.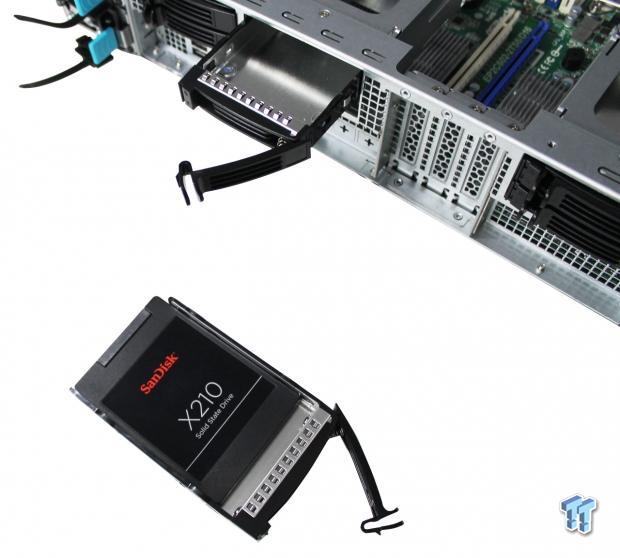 For the OS drive, we used a SanDisk X210 SSD and installed that into the rear left side drive bay.
BIOS
The BIOS for this motherboard is typical for these motherboards, so we will only show key BIOS screens.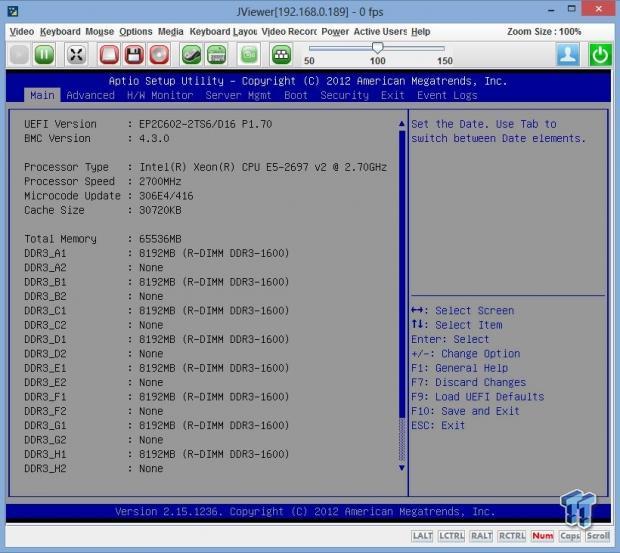 This is the main BIOS screen you see when you first enter the BIOS.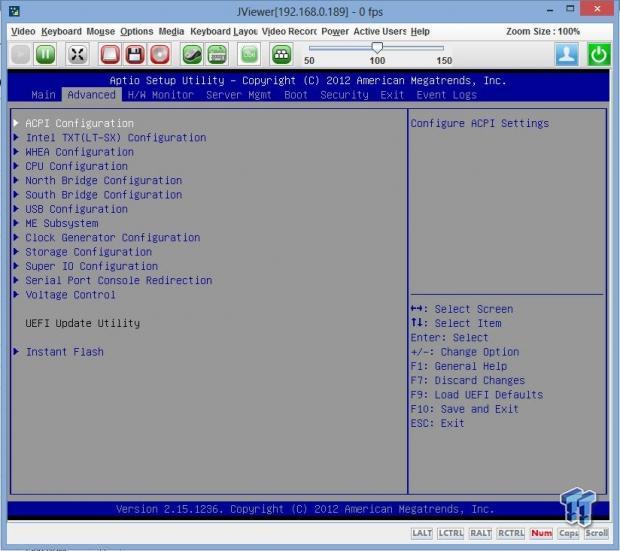 Here we see the advanced menu tab.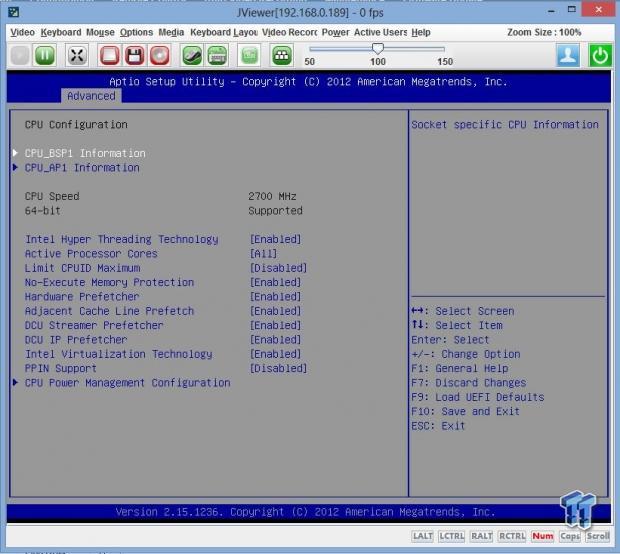 Now we see the advanced tab and CPU configuration.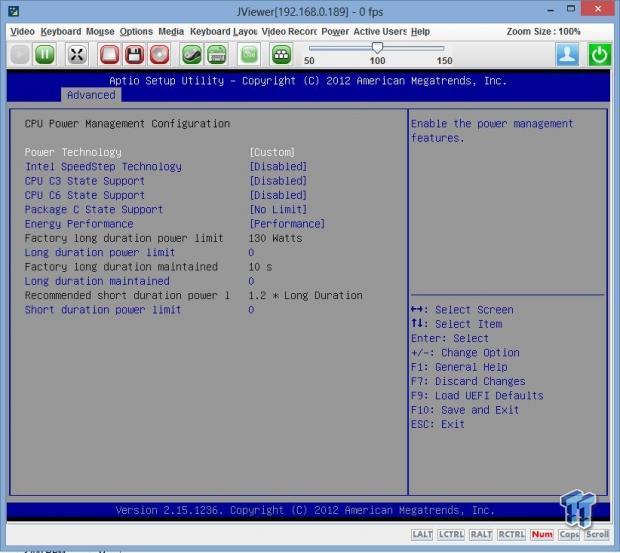 Next is the CPU power management configuration tab.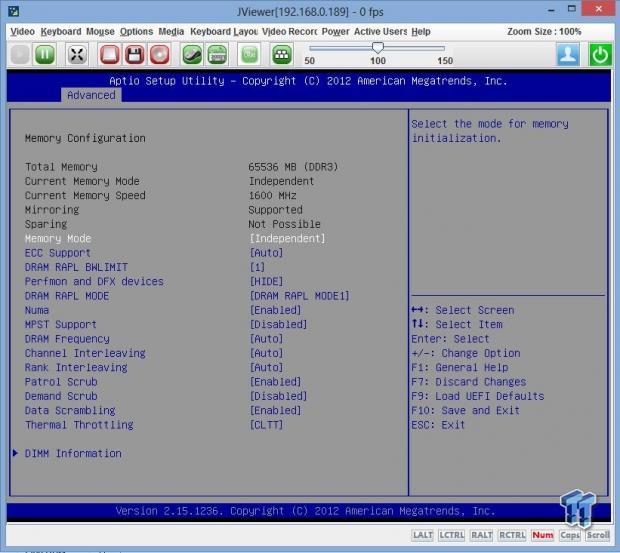 Here we see adjustments that can be made in the memory configuration tab.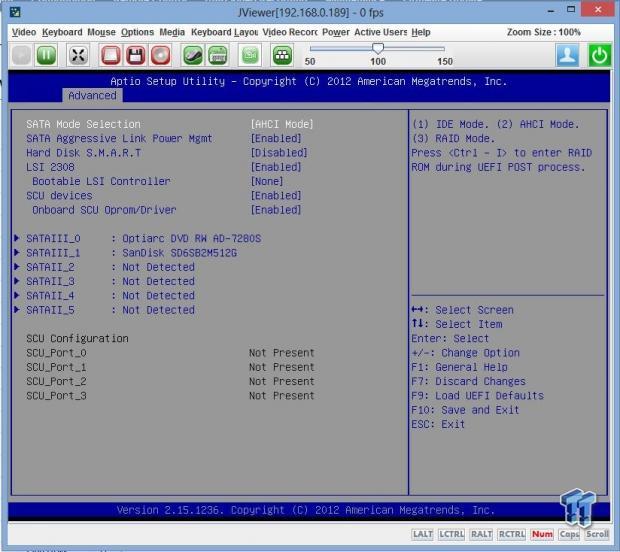 You can change these controls under the SATA configuration tab.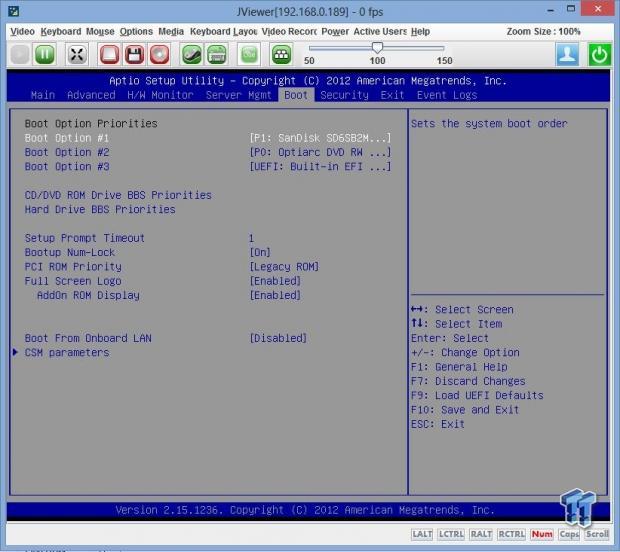 Here we see the options under the boot menu.
Software & Remote Management
Software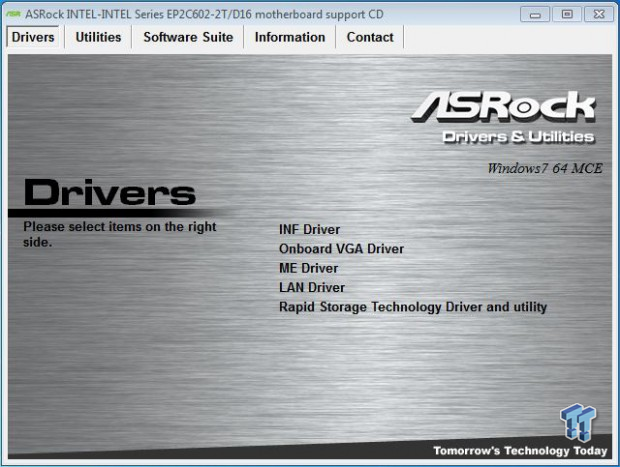 After inserting the driver disk, it will auto boot and bring you to the first screen. Selecting each of the options will install those drivers.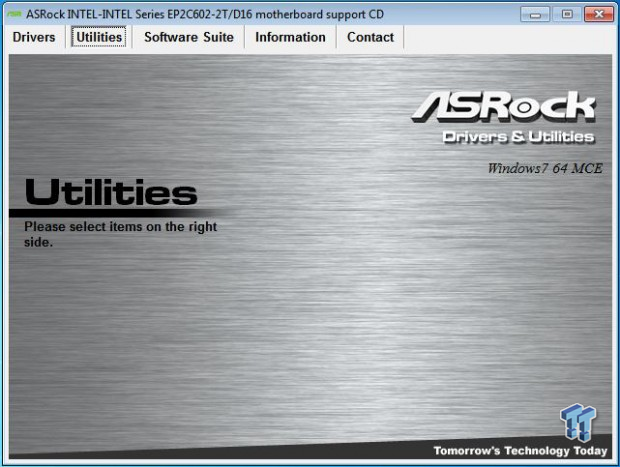 There are no utilities listed for this disk.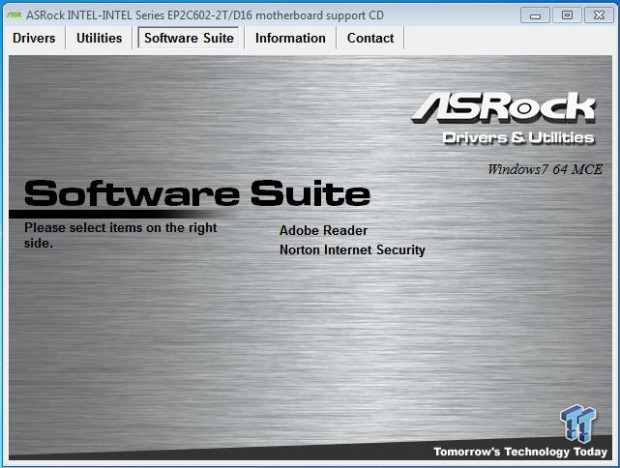 The software suite has Adobe Reader and Norton Internet Security for you to install if you decided to use these.
Remote Management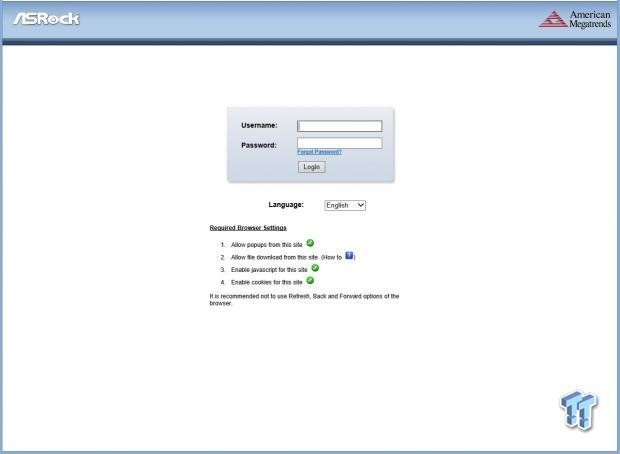 To access the remote management features of the ASRock 2U12L6SC-2TS6, boot into the BIOS and head over to the server management menu. Here you will find the IP address for the IPMI port on the back of the server. Make sure you have a network cable plugged into the correct port.
Enter the IP address into your browser and you will see the remote management login screen.
The login details for the server are:
Username: admin
Password: admin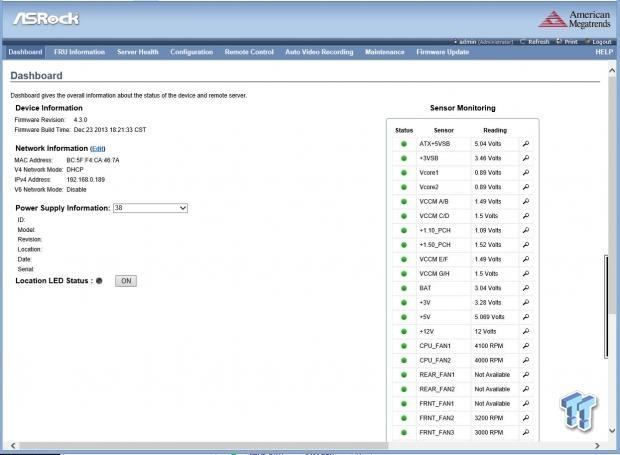 This is the main screen for remote management. It is a wide screen, so you might have to scroll to the right to see the whole screen.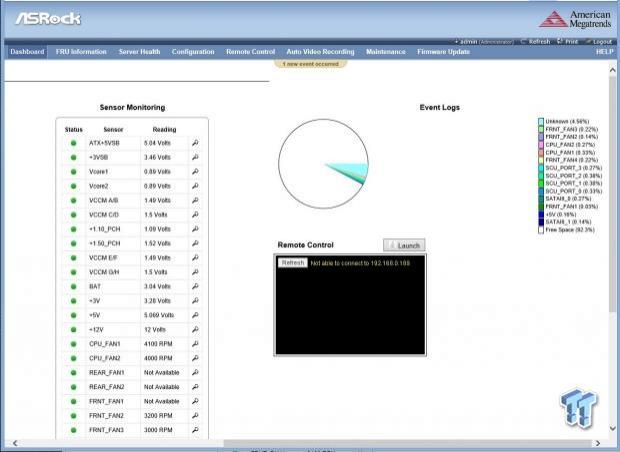 This is the right side of the main page. You can see the remote control screen with the launch button to enter remote access.
We did have some issues getting the remote access to work. On our workstation we use to manage this, we have Kaspersky Internet Security running, and it was blocking access. Once we disabled Kaspersky, remote access worked fine.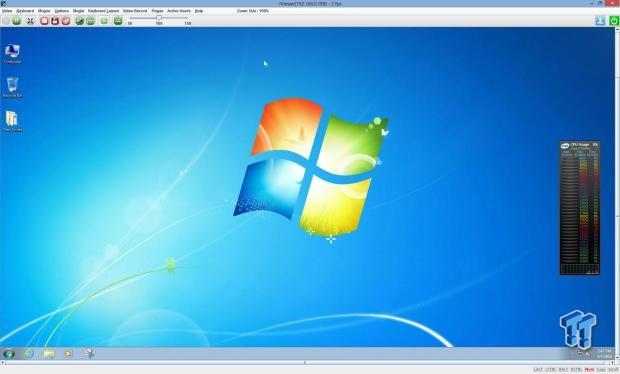 Here we see the remote access working on the server, and we have full control of the system.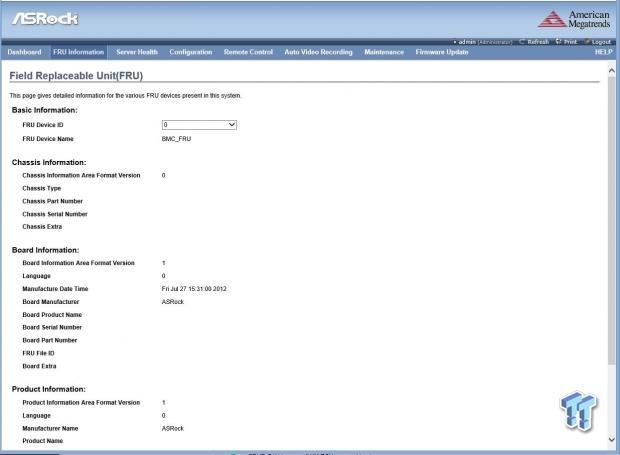 This is the field replaceable unit (FRU) screen.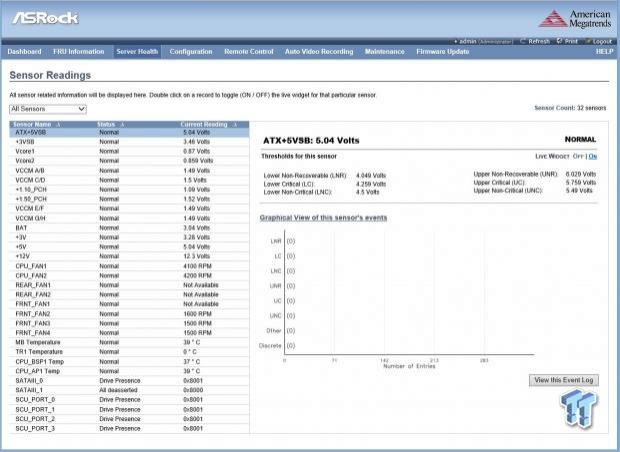 The next menu is the server health screen, which shows the status of different components in the server.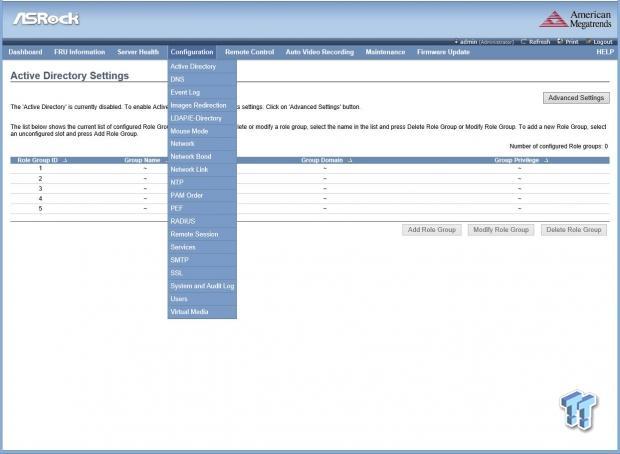 Here we see all the different options for the configuration menu.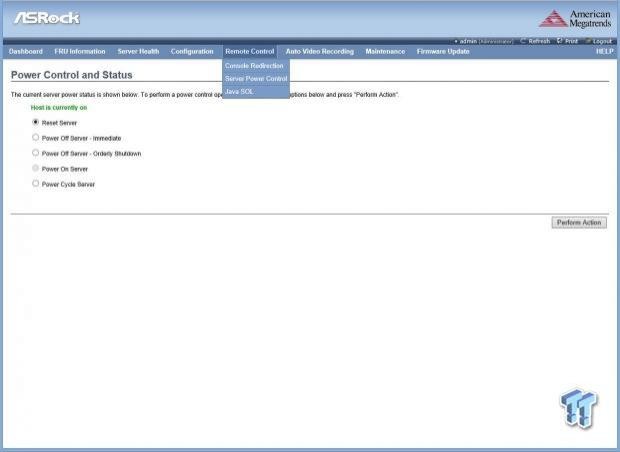 The remote control menu allows you to power on, shut down, or cycle the server.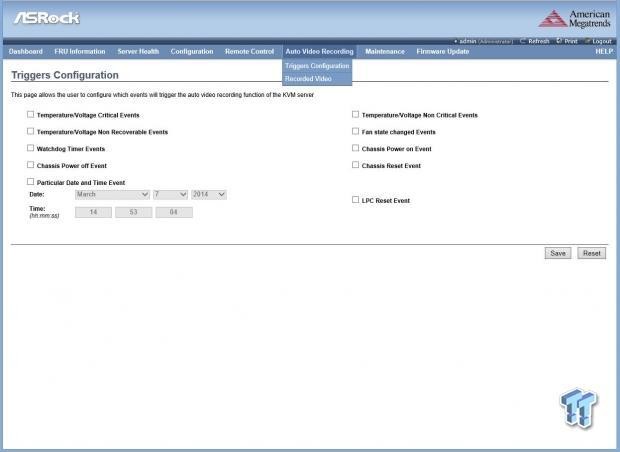 The triggers configuration menu allows you set event triggers and how to handle those.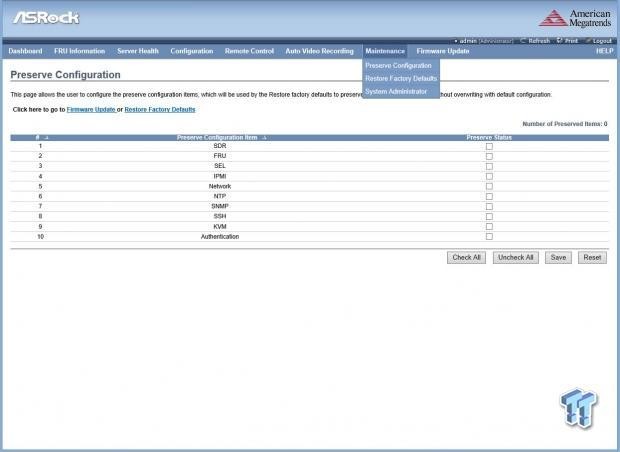 Here we can see the options for the maintenance menu.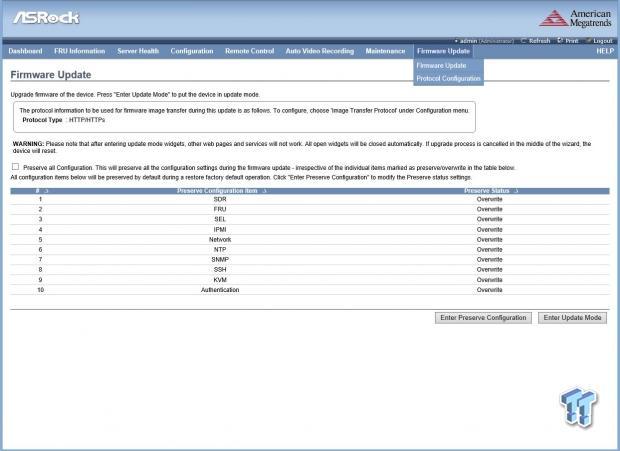 The last menu allows you to update firmware.
Test System Setup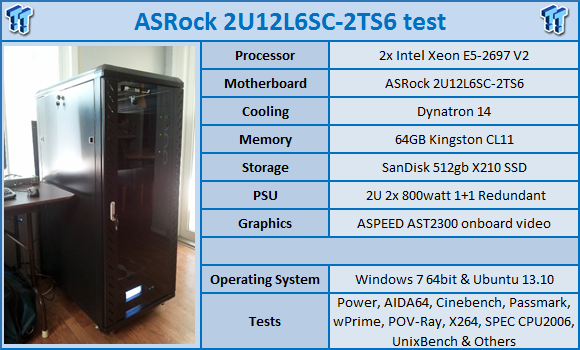 Special thanks to ASRock, SanDisk, and Kingston for their support!
The ASRock 2U12L6SC-2TS6 server came to us as a barebones kit. We installed a pair of Intel E5-2697 V2 CPUs, 64GB of Kingston CL11 RAM, Dynatron R14 heat sinks, and a SanDisk X210 SSD for our OS drive. To install OS and drivers, we just connected a DVD drive to a spare SATA port and removed it when that was finished. You can create a bootable USB drive and use the USB ports on the motherboard for this.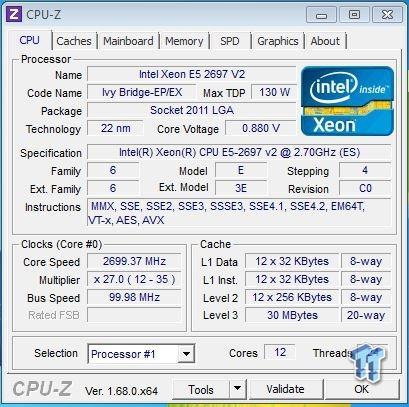 This is the CPUz screen showing the various stats of the Xeon E5-2697 V2 CPUs. These CPUs are 12 cores each, and with two CPUs, that gives us 24 cores and 48 threads on this server.
System and CPU Benchmarks
Passmark8
PassMark performance test runs 32 tests, including CPU, 2D and 3D graphics, disk, and memory tests, to come up with an overall system ranking that allows you to determine how fast your computer is in comparison with other systems.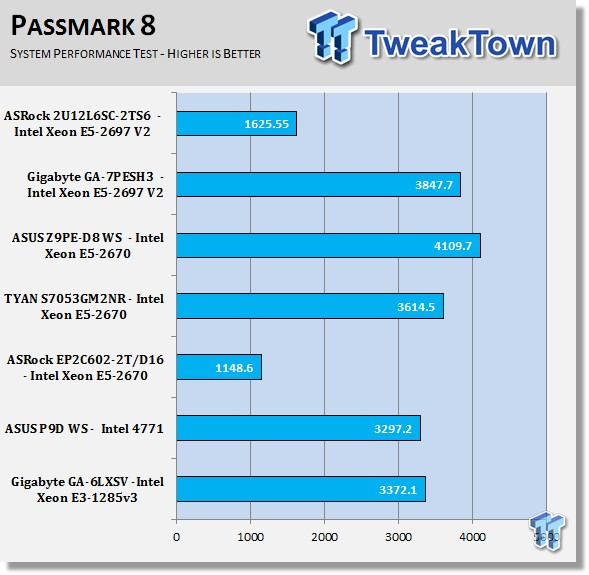 In the Passmark tests, we find that higher stock speeds and better graphics score better. The ASRock 2U12L6SC-2TS6 only has on-board video and that holds the scores back on this benchmark.
Cinebench 11.5
Cinebench is a real-world cross platform test suite that evaluates your computer's performance capabilities. The test scenario uses all of your system's processing power to render a photorealistic 3D scene. This scene makes use of various different algorithms to stress all available processor cores. You can also run this test with a single core mode to give a single core rating.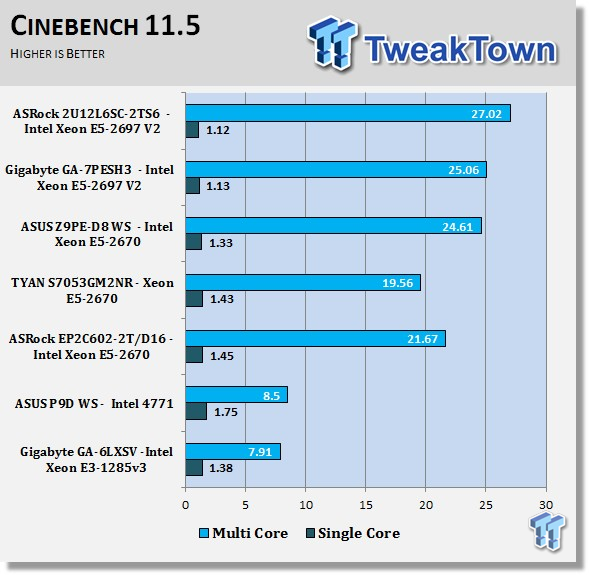 Again, we find the lower stock speed of the E5-2697 V2s hold this board back in these benchmarks, but it really takes off in the multi-threaded scores as we can see here. Having 48 threads is a real advantage here.
The ASRock 2U12L6SC-2TS6 claimed the number one spot in this test also.
Cinebench R15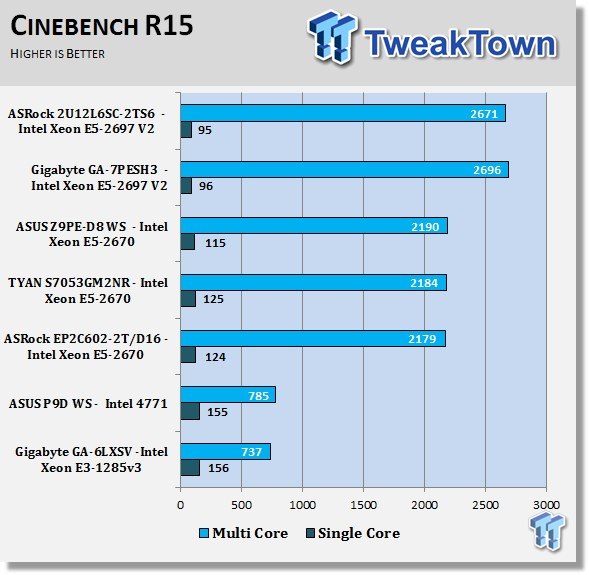 Just like in the Cinebench 11.5 results, we see a lower single-threaded score and a much higher multi-threaded score.
This test score is only lower by a small amount but still shows what a powerful system can do.
wPrime
wPrime is a leading multithreaded benchmark for x86 processors that tests your processor performance. This is a great test to use to rate the system speed; it also works as a stress test to see how well the system cooling is performing.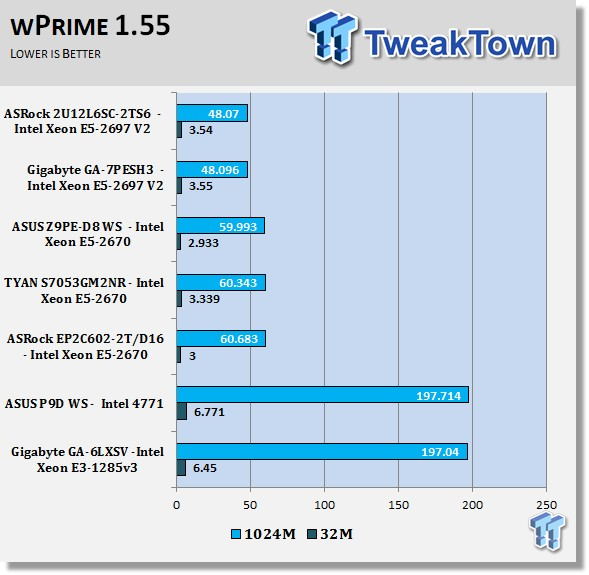 In this test, we see the ASRock 2U12L6SC-2TS6 is again slightly faster and takes the lead by a small amount.
POV-Ray
POV-Ray (Persistence of Vision Ray-Tracer) creates three-dimensional, photo-realistic images using a rendering technique called ray tracing. Ray tracing is not a fast process by any means, but it produces very high quality images with realistic reflections, shading, perspective, and other effects.
This is a very good test to stress CPU threads and check memory stability and overclocks to see if the system is stable. The latest version, 3.6, is a free download and has a benchmark utility that we have run for these tests. Results displayed show the average PPS (pixels per second) that the render took.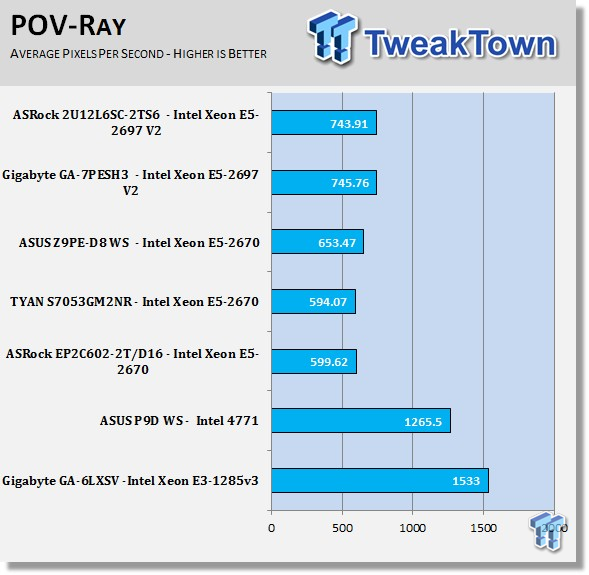 Higher clock speeds will generate higher scores with this bench, so a dual CPU system does not help this bench much.
This test score shows a very close score to the GIGABYTE GA-7PESH3.
x264 HD
x264 HD Benchmark measures how fast your computer can encode a 1080p video clip into a high quality x264 video file. This benchmark uses multi-core/threaded systems very efficiently and is a good memory stability test.
Results in this test are the average of each pass performed four times.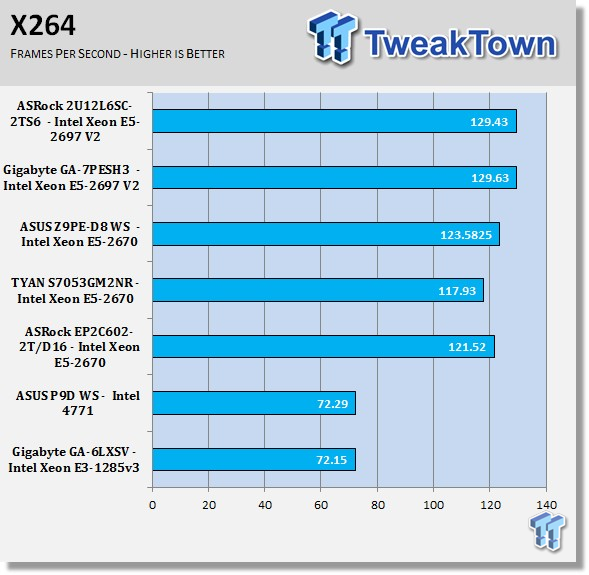 Again, we see a very close score to the GIGABYTE GA-7PESH3.
Memory Benchmarks
AIDA64
AIDA64 memory bandwidth benchmarks (Memory Read, Memory Write, and Memory Copy) measure the maximum achievable memory data transfer bandwidth.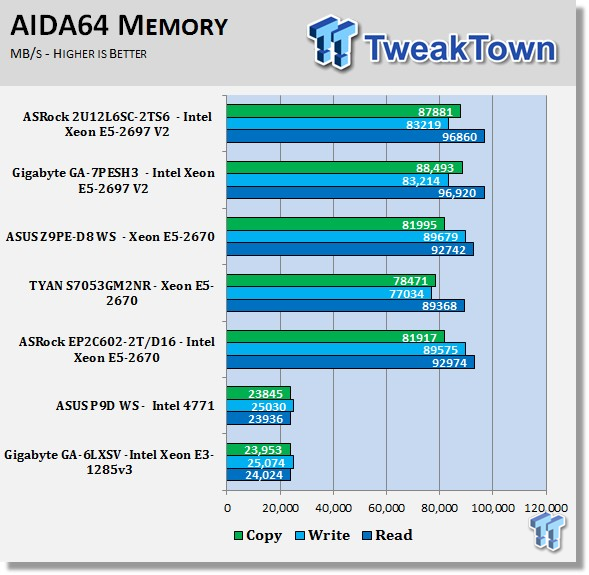 Again, we see a tie in the AIDA64 memory tests.
LinX
LinX 0.6.4 is a CPU benchmark that measures floating-point operations per second and is used to compare CPU performance; it is also a very good stress test to run.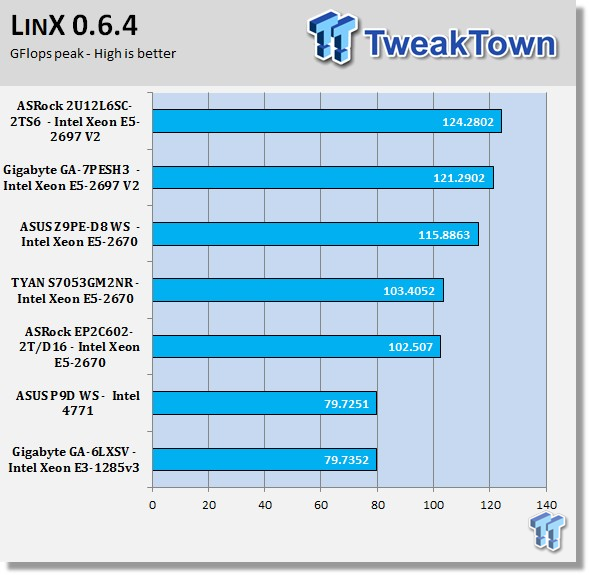 Here we can see that this server really is pushing memory fast.
UnixBench 5.1.3 and SPEC CPU2006v1.2
UnixBench
UnixBench has been around for a long time now, and it is a good general-purpose bench to test on Linux systems.
This is a system benchmark, and it shows the performance of single-threaded and multi-threaded tasks.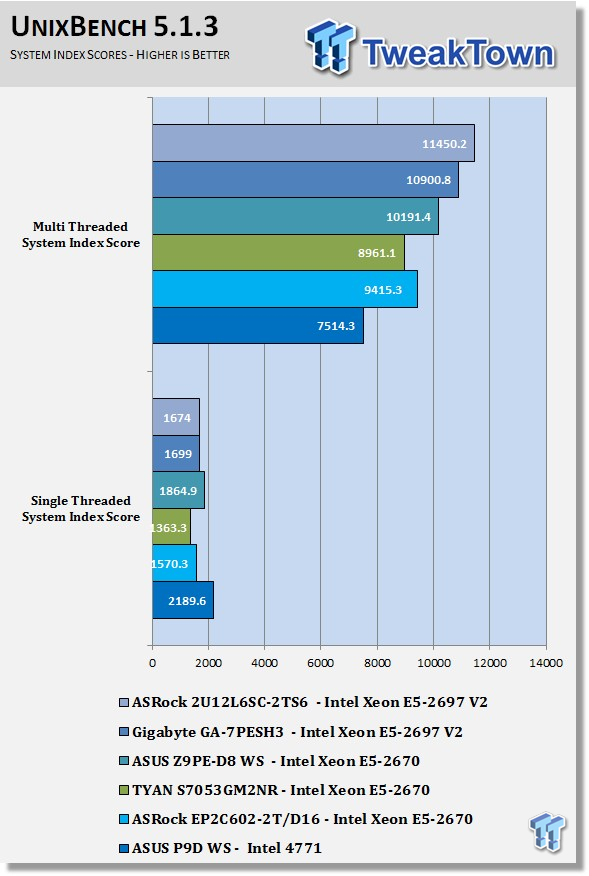 This shows the system indexes after a complete UnixBench run. Here, we get an idea of how much performance we gain using multi-threaded applications. However, many applications use single threads, so this number is really the base, and a higher clock speed will increase both indexes.
In UnixBench, we can see that the ASRock 2U12L6SC-2TS6 server is just a little faster than others.
SPEC CPU2006v1.2
SPEC CPU2006v1.2 measures compute intensive performance across the system using realistic benchmarks to rate real performance.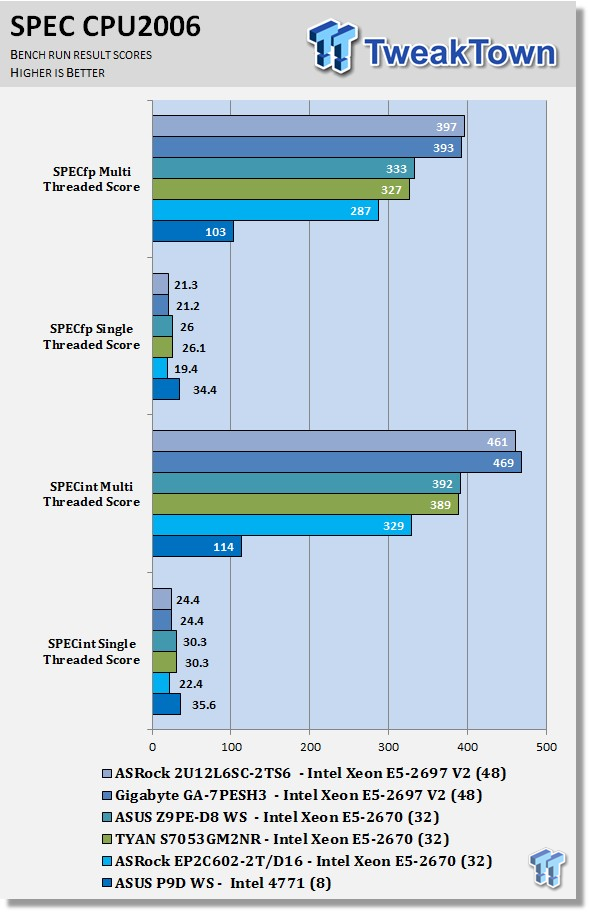 This benchmark has many different commands to use depending on what the user is looking for. For our tests, we used basic commands that run a full test.
Here, you can see the SPEC scores after full runs for Integer (int) and Floating Point (fp) tests.
Single core runs show how fast (speed) a CPU can perform a given task. In the multi-core runs, we set SPEC CPU2006v1.2 to use all threads, and this is a measure of the throughput of the system.
The additional cores/threads of this system has a huge impact on performance in these tests and really shows the amount of horsepower that a dual-socket system has over a single-socket board.
Single-threaded results are still very important, but when you need lots of those to run, moving to a dual-socket setup is the way to go.
The CPU2006 test is a long test taking up to two full days to run. We can see that the ASRock 2U12L6SC-2TS6 is able to go toe-to-toe with the server boards listed.
This test shows that the ASRock 2U12L6SC-2TS6 with a pair of E5-2697 V2 CPUs is a very powerful server.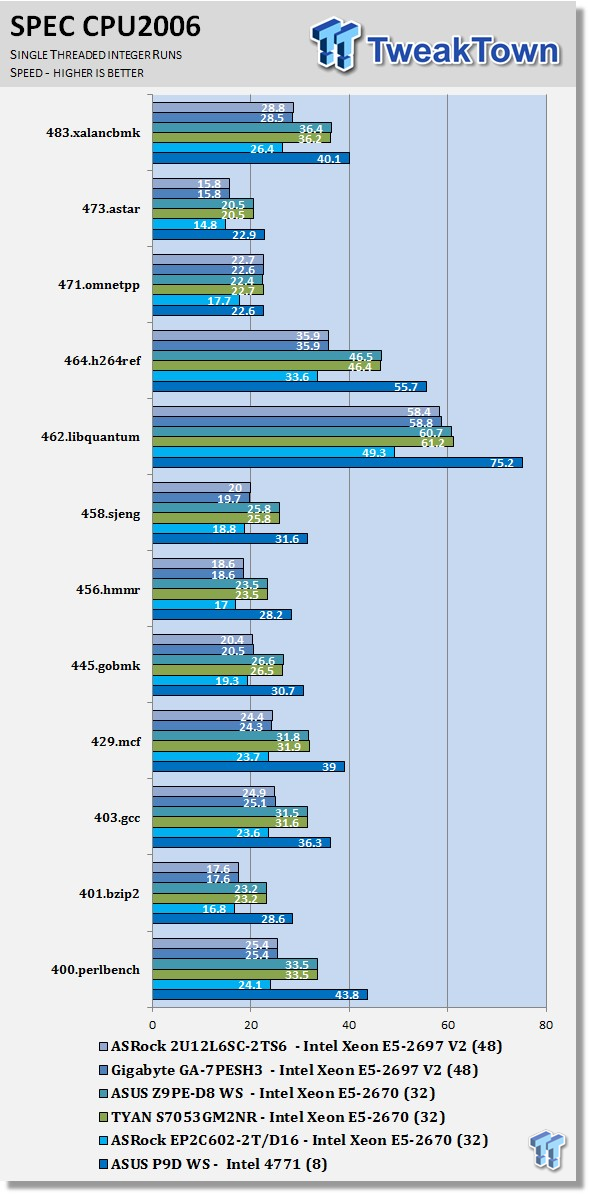 Looking at the results of single-threaded integer runs, we can get an idea of speed at which the Intel Xeon E5-2697 V2s can crunch through the different integer tests. Not all CPUs are equal here, and ones that have a higher speed will generally perform these tests faster. In this case, this is the stock speed of the Intel Xeon E5-2697 V2s. Naturally, using an overclocked system or CPUs with a higher stock speed will generate higher results.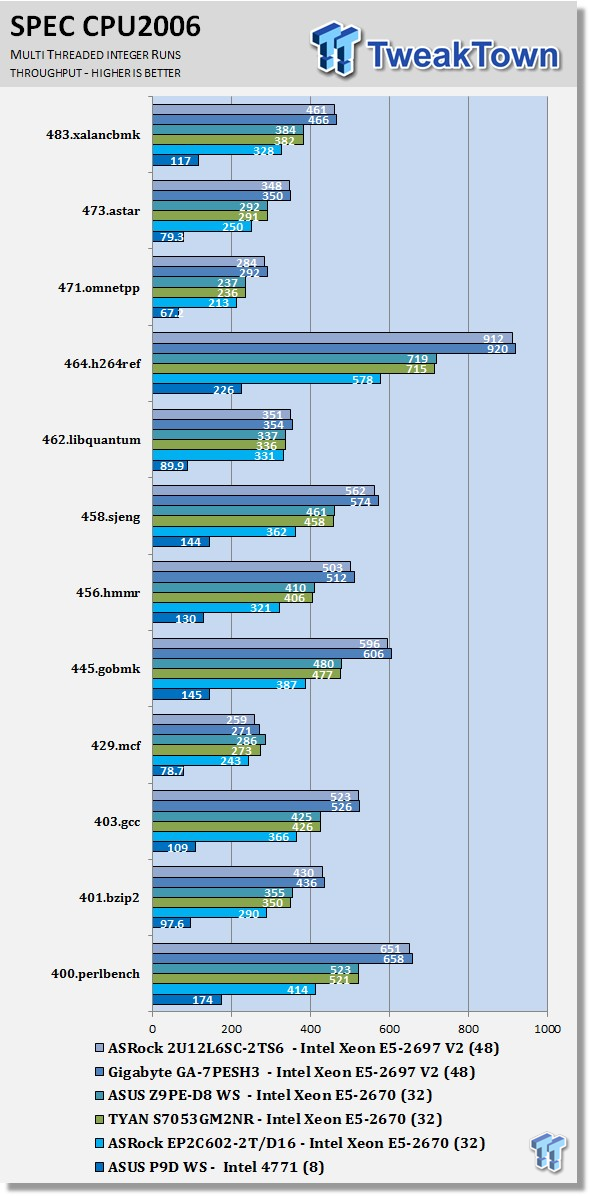 Now we run the test using all 48 threads of the dual-Intel Xeon E5-2697 V2 CPUs to measure the throughput of the system. In this test, more cores/threads will have a greater effect on the outcome.
We can see a big difference here using the dual-socket setup, with a three to four times performance boost being seen in many cases.

Just like the integer tests, we now run the floating-point tests in single (speed) mode. The lower clock speeds of the Intel Xeon E5-2697 V2s hold this bench back also.

Here, we see the results of the multi-threaded floating-point run that uses all 48 threads of the dual-Intel Xeon E5-2697 V2 CPUs. Like the multi-threaded integer test, more cores/threads will have a greater impact on the test.
Power Consumption
We used the WattsUp? Pro meter in these tests. This allowed us to measure power use directly from the wall. This meter also uses a USB cable to connect to a computer and Logger Pro software to graph the readings while we run our tests.
To test total system power use, we used AIDA64 Stability test to load the CPU, and then we recorded the results.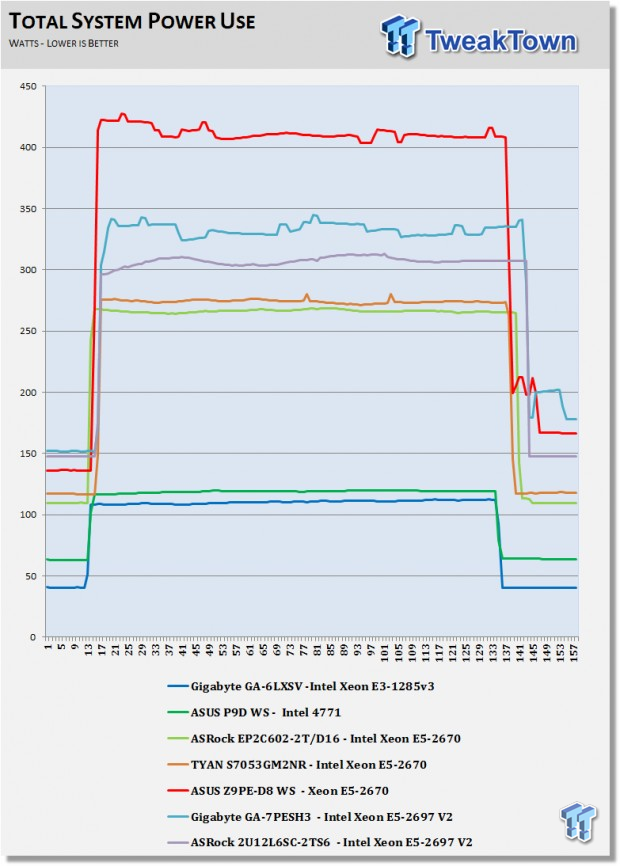 With dual-socket systems, power use can be rather high when fully loaded. The ASRock 2U12L6SC-2TS6 server did peak out at 310 watts, but keep in mind, we had the system set to max performance, and we did not have any extra drives attached to the system.
Final Thoughts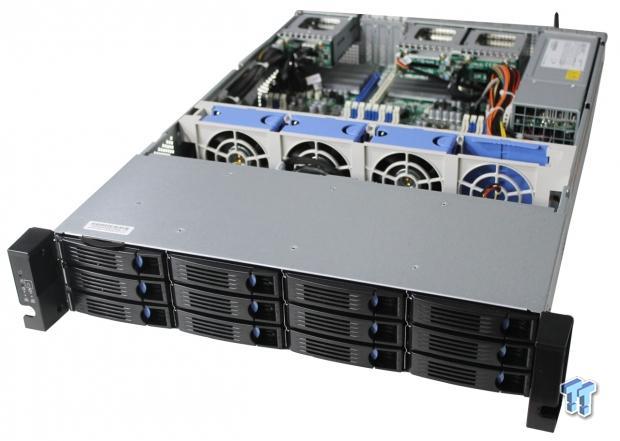 Out of the box, this is an impressive server; it is a very solid box. The quality of construction is also very high.
The hard drive trays are also very solid, and pulling out each tray is very smooth. Each tray will snap right back into locking position with ease.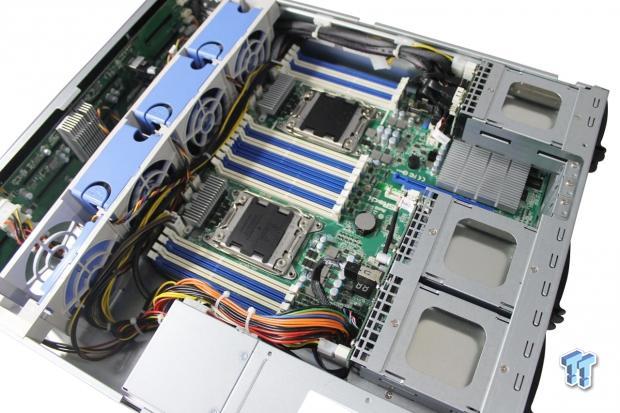 With barebones kits having all the connections done for you, it makes things really easy when assembling a server. As you can see, all cables secured into positions that allow for good airflow, and there is no need to mess with any cables with this kit.
We also really like that the kit comes with a printed manual. It is nice to have a printed hard copy when you are in the lab so that you do not have to keep going back and forth to your computer to check a PDF.
We would also recommend not using passive heat sinks because we do not think the fans on the middle bar are strong enough to provide adequate cooling. With that said, the Dynatron R14s handled the heat loads very well, and we had no issues with this box running hot.
With most 2U servers we have worked on, we found the fans used were screamers; these are not, and in fact, it does not make that much noise compared to others we have used. If you set the fans to auto in the BIOS, when the load drops down to idle, it makes very little noise. This is very nice if you plan to use these in an office environment. However, keep in mind that, under full load, it still makes a fair amount of noise, just not near as much as other servers we have used.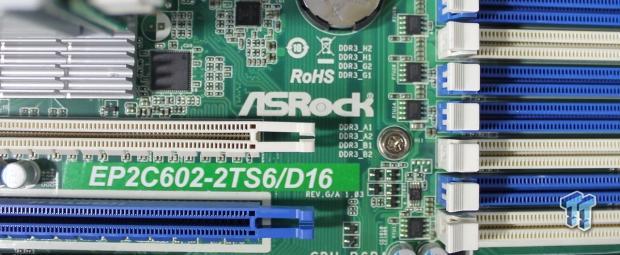 As you can see by the benchmark results, the 2U12L6SC-2TS6 comes out very well in the results we showed. Power consumption was also low, and this mean lower power costs.
One issue we had was removing the middle bar fans. The wires that connect to these can snag the fan when trying to pull them out. We had to use a screwdriver to hold the wires back, and then pull the fan out. This is only an issue if you ever have to remove a fan.
The last issue is the kit does not come with rails and you will need to purchase them separately. The manual states that the rails to use are In-WIN 3A68-660CP 2U rails.
We would also like to see push button locks that hold the top lid in place. If you install the server in a rack and you need to access the insides, it's simple to just pull the server out, push the locking buttons, and remove the top without having to get to the screws in the back.
Overall, we found the 2U12L6SC-2TS6 to be a well-built, powerful server that would make a fine addition to any server setup.
PRICING: You can find the ASRock Rack 2U12L6SC-2TS6 for sale below. The prices listed are valid at the time of writing but can change at any time. Click the link to see the very latest pricing for the best deal.
United States: The ASRock Rack 2U12L6SC-2TS6 retails for $2595.12 at Amazon.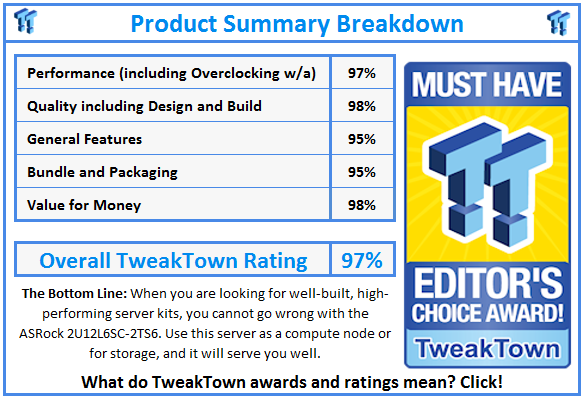 PRICING: You can find products similar to this one for sale below.

United States: Find other tech and computer products like this over at Amazon.com

United Kingdom: Find other tech and computer products like this over at Amazon.co.uk

Australia: Find other tech and computer products like this over at Amazon.com.au

Canada: Find other tech and computer products like this over at Amazon.ca

Deutschland: Finde andere Technik- und Computerprodukte wie dieses auf Amazon.de
We openly invite the companies who provide us with review samples / who are mentioned or discussed to express their opinion. If any company representative wishes to respond, we will publish the response here. Please contact us if you wish to respond.