ASRock EP2C602-2T/D16 Server Motherboard (Intel C602) Review
ASRock's EP2C602-2T/D16 is a fully loaded server motherboard that can be the centrepiece of your server system. Let's see just what it can do.
Published Feb 14, 2014 3:07 PM CST
|
Updated Tue, Nov 3 2020 7:00 PM CST
12 minute read time
Introduction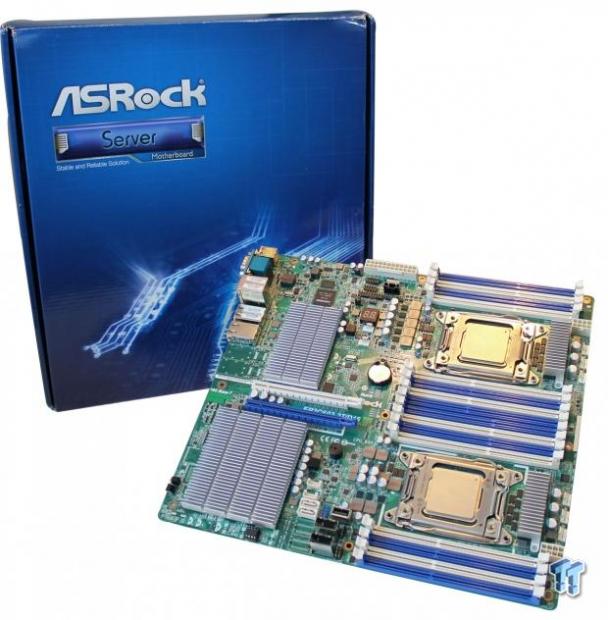 Server motherboards can come in all different configurations. The ASRock EP2C602-2T/D16 comes equipped with good network connectivity and storage options onboard, so few extra add-on cards will be required. This is very nice when deciding what motherboard to use for your server. You can pick a board that fits your needs and not have to worry about extra cards to support features that the motherboard does not.
Manufactures usually design their motherboards to fit certain cases, and the EP2C602-2T/D16 fits into ASRock 1U and 2U barebones kits. The CPU is placed at the front of the motherboard so that they are first in line for the cooling fans for maximum cooling effect. This setup works out great for these cases, which have limited space for cooling.
We did not receive a full barebones kit to do this review, only a motherboard, but this would be a typical 2U barebones kit from ASRock.
All you would need to do here is install CPUs, heat sinks, RAM, and drives to complete this server.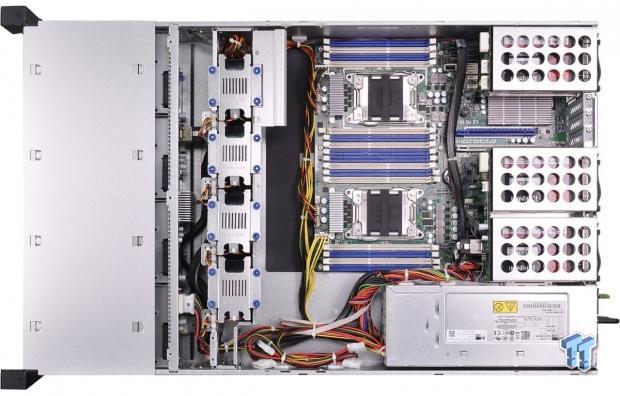 The first thing that pops right out to us when looking at the barebones kit using this motherboard is how clean the design is. You do not see wires crossing all over the place; they flow right along the edges because the connections on the motherboard provide easy access to cables. The only exception to this is the mini SAS 8087 cable and how it connects to the drives in the back of the case. This is a minor concern because it should not block airflow to any great degree.
To use the EP2C602-2T/D16 in other cases, be sure that you have the correct motherboard standoff pattern for an SSI EEB size motherboard and that the I/O plate on the back will fit the case you decided to use.
The EP2C206-2T/D16 is one of a series of motherboards that all share the same motherboard, but have different features. We have highlighted the main feature differences:
EP2C602-2T2OS6/D16
1x Intel 82599ES support 2x 10G fiber, SFP+, Intel X540 support 2x 10GBase-T
8x SAS2 (6Gb/s) from 2x mini SAS 8087 connector by LSI 2308
EP2C602-2L+20S6/D16
1x Intel 82599ES support 2x 10G fiber, SFP+, 1x Intel i350 support Dual GLAN
8x SAS2 (6Gb/s) from 2x mini SAS 8087 connector by LSI 2308
EP2C602-2L+OS6/D16
1x Intel 82599EN support 1x 10G fiber, SFP+, 1x Intel i350 support Dual GLAN
8x SAS2 (6Gb/s) from 2x mini SAS 8087 connector by LSI 2308
EP2C602-2TS6/D16
Intel X540 support 2x 10GBase-T
8x SAS2 (6Gb/s) from 2x mini SAS 8087 connector by LSI 2308
EP2C602-2T20/D16
1x Intel 82599ES support 2x 10G fiber, SFP+, Intel X540 support 2x 10GBase-T
EP2C602-2T/D16
Intel X540 support 2x 10GBase-T
EP2C602-2L+/D16
1x Intel i350 support Dual GLAN
EP2C602-S6/D16
1x Intel i350 support
8x SAS2 (6Gb/s) from 2x mini SAS 8087 connector by LSI 2308
Packaging & Specifications
Packaging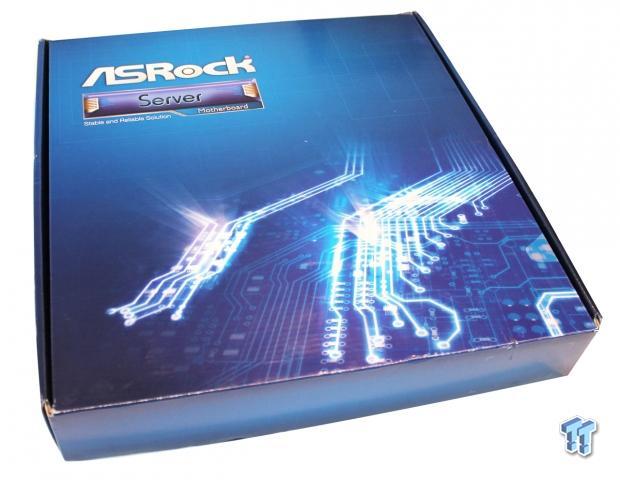 The ASRock EP2C602-2T/D16 comes in a nice large box, which is simple enough. Nothing fancy here.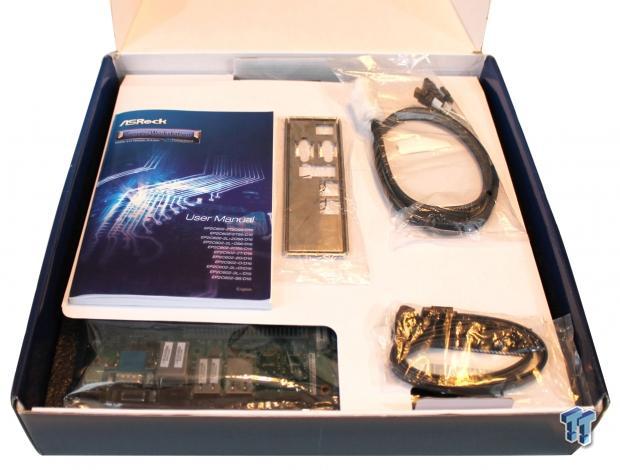 Opening the box, we find the accessories in the top section.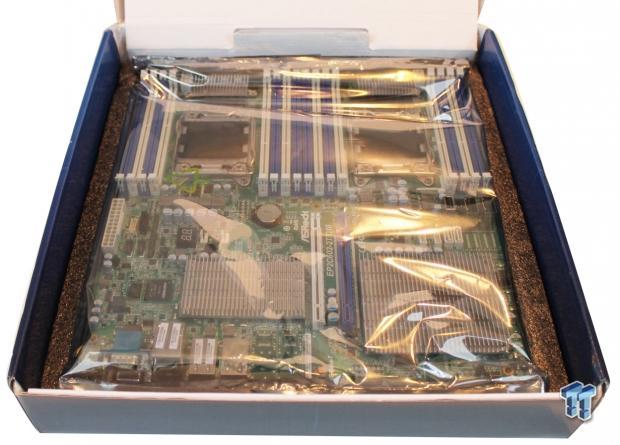 Removing the top insert, we get our first peek at the motherboard inside.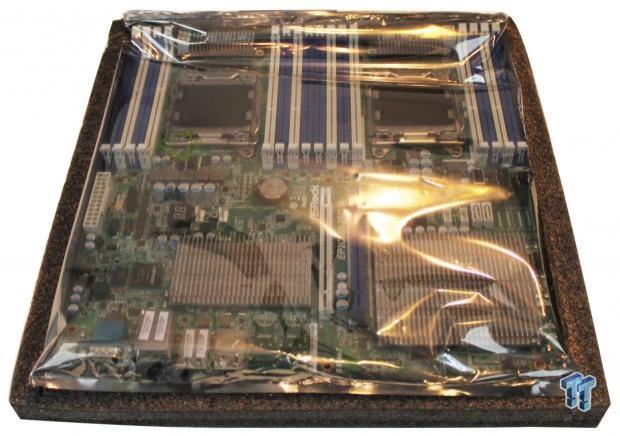 Taking out the motherboard package, we can see it comes in a nice, large anti-static bag. The motherboard has a nice foam insert to protect it during shipping.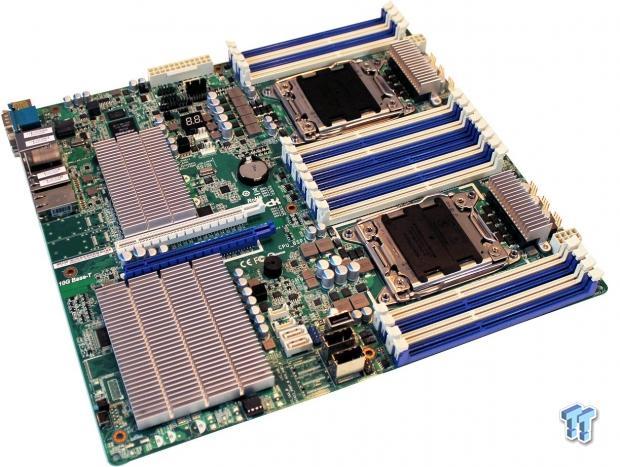 Taking the motherboard out of the shipping package, we look at the motherboard fresh out of the box.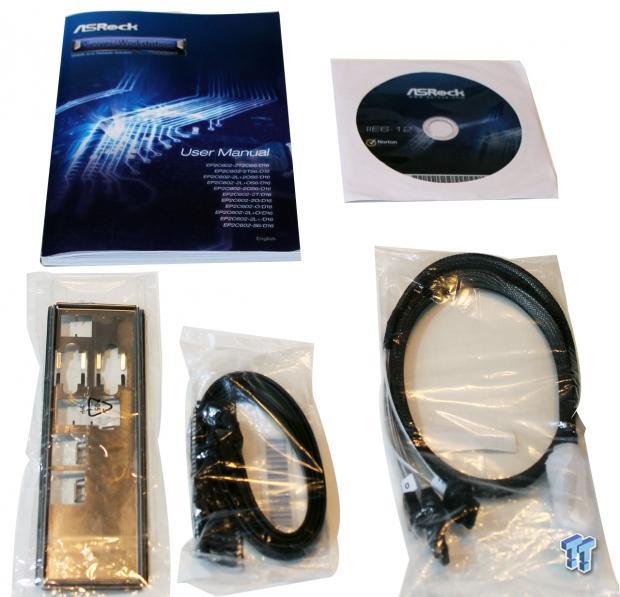 The accessories package that comes with this motherboard is minimal and has just the basic parts that you would need get the motherboard up and running.
The accessories included in the box are:
- Rear I/O Back Plate
- 1x bag with 2x SATA cables
- 1x mini SAS 8087 cable with 4x SATA connectors
- User Manual
- Driver Disk
Specifications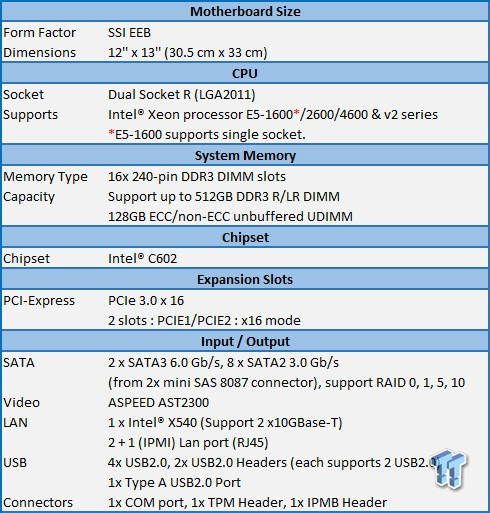 The main supporting features of this motherboard are its two mini SAS 8087 connectors, which give storage and RAID options right out of the box. The two 10GBase-T LAN connections also supply basic network connectivity and provide the option to install faster network cards into the PCIe busses.
Layout
The overall layout of the motherboard is nice and clean; all headers and connections are located in easy to access spots so that you do not have to have cables laying over the motherboard after you install everything. Two large chipset heat sinks at the rear of the motherboard supply ample cooling and make this board feel very solid.
Dr. Debug display is also included, which is very nice to have for watching postcodes.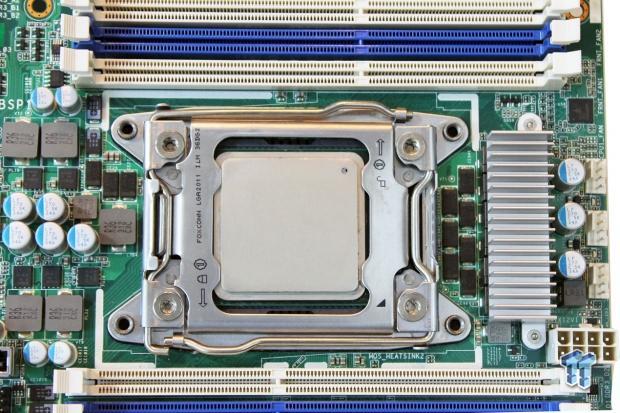 The CPU socket area is a little crowded, which is common for these types of motherboards. This board uses Socket R (LGA2011), which might have different mounting holes for your heat sinks. When looking at cooling for this, please take note of this fact.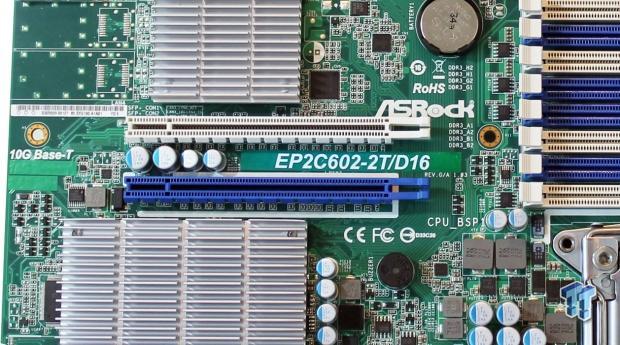 The two PCIe slots are right at the rear center of the board. These are noted as PCIE6 (Blue) and PCIE7 (White). If only one CPU is installed, then only PCIE6 (Blue) is available. If you install both CPUs, then both PCIE6 and PCIE7 are available.

Located at the rear of the motherboard, we find the I/O connections.
At the far left, we have two USB 2.0 ports. The next stack is a COM port at the top with D-Sub Port (VGA) at the bottom. A management LAN port is at the top of the third stack with two more USB 2.0 ports below that. The last two ports are the two 10G LAN ports.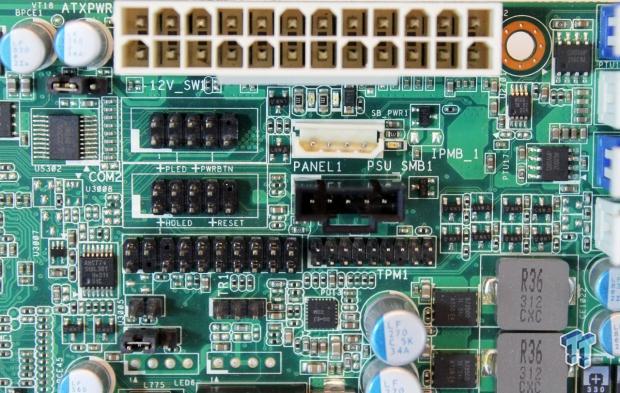 At the main header area at the top center of the motherboard, we find the ATX power connector.
Just to the left of the power connector is a -12V Switch jumper block. A COM port header and an Intelligent Platform Management Bus header are located below the power connector. The next row has the system panel header and a PSU SMBus connector. On the next row, we find the auxiliary panel header and the TPM header. The last three jumper blocks are a Non-Maskable Interrupt jumper, thermal sensor header, and ME Recovery Jumper.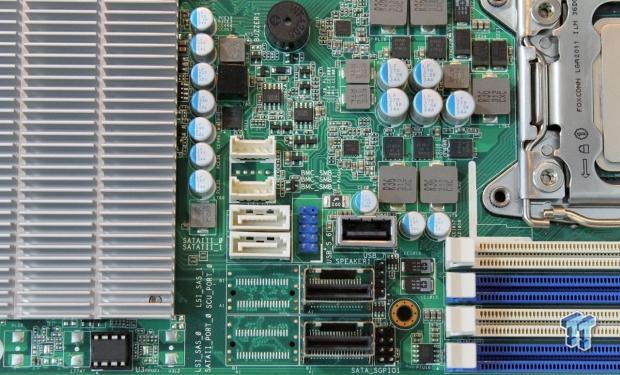 The two white connectors at the top are BMC SMB connections. Just below those, we have two SATA3 connectors, a blue USB 2.0 header block, and a USB 2.0 port. On the next row, the top connector is an SCU Connector, and a SATA2 connector is below that. Next to those, we have a speaker header and a SATA SGPIO connector.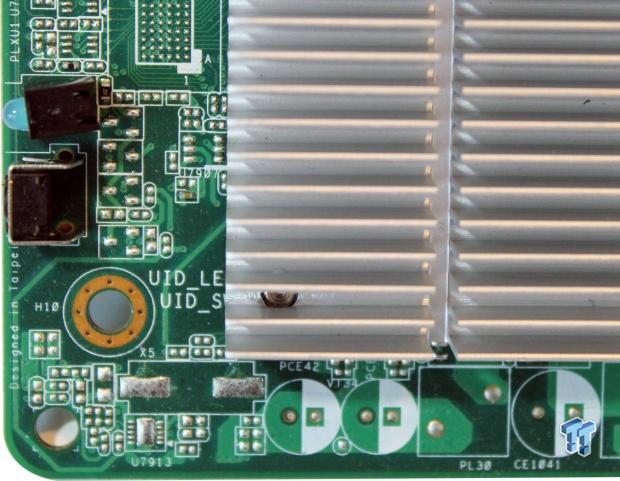 The bottom corner of the board has the UID LED and switch.
BIOS
The BIOS for this motherboard is standard for server motherboards, so we will only show a few BIOS screens.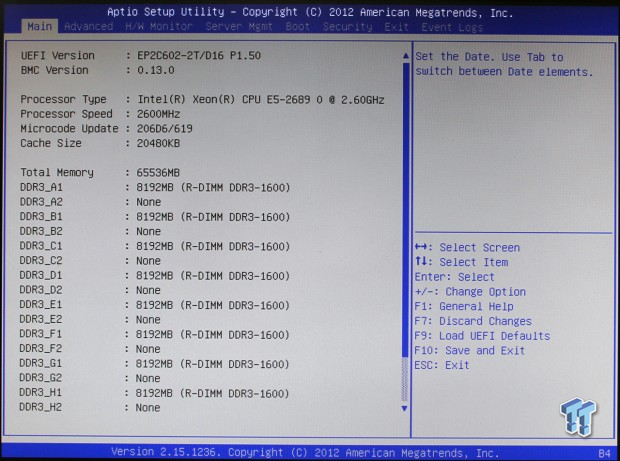 This is the main BIOS screen, which shows basic system information.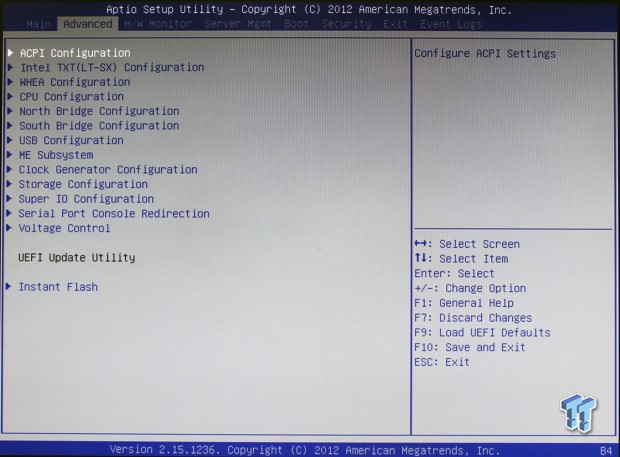 The advanced tab brings you to the main advanced screen.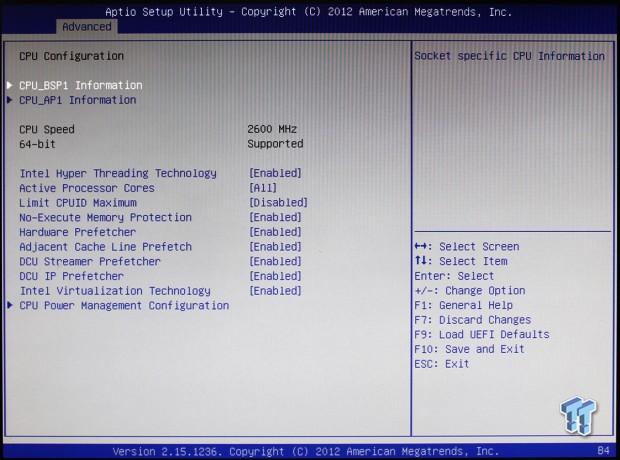 The advanced CPU tab shows the CPU options for this board.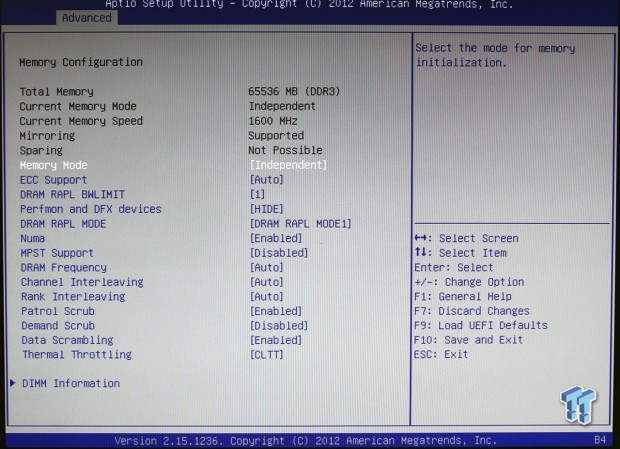 Next, we see the advanced memory tab and the options it has.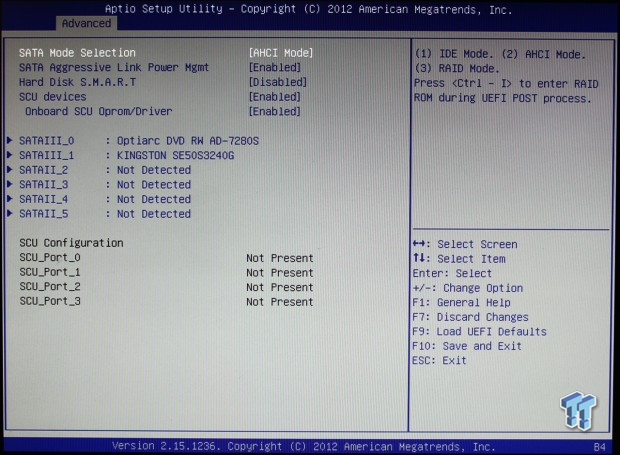 Moving along, we come to the advanced SATA tab.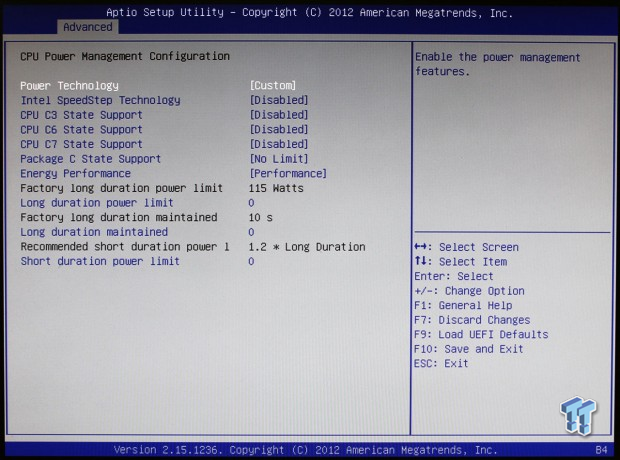 For the last screen, we see the advanced power management tab.
Software
The supplied driver disk has the basic drivers that you need to get this board up and running. Again, nothing fancy here.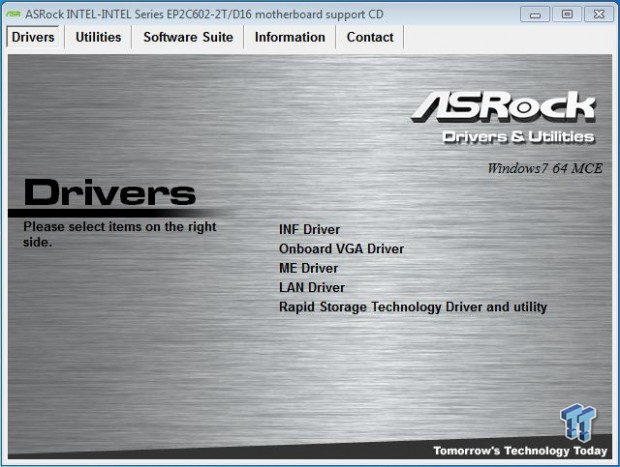 Inserting the driver disk, we come to the first screen, which shows the options available for this disk. Clicking on each of these sections listed will start to install the selected drivers.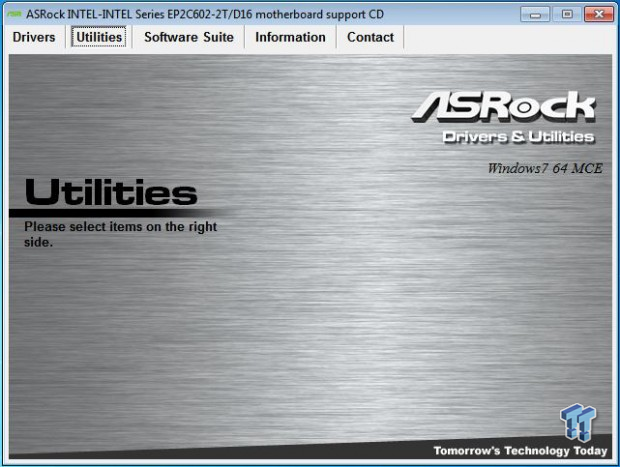 The driver disk does not come with any utilities.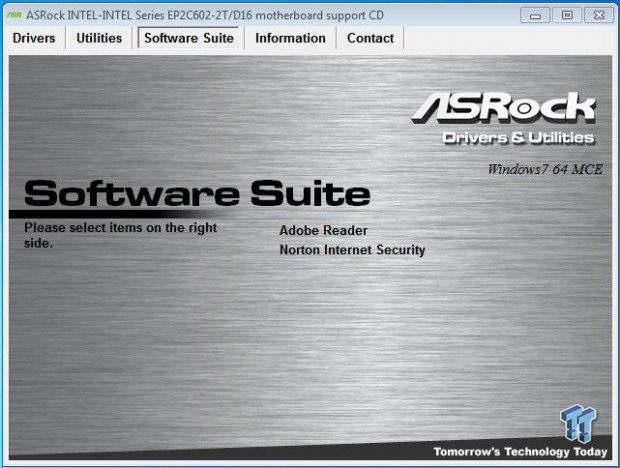 The software suite has only two options available.
The next two tabs show system information and contact information in case you need to contact ASRock.
Test System Setup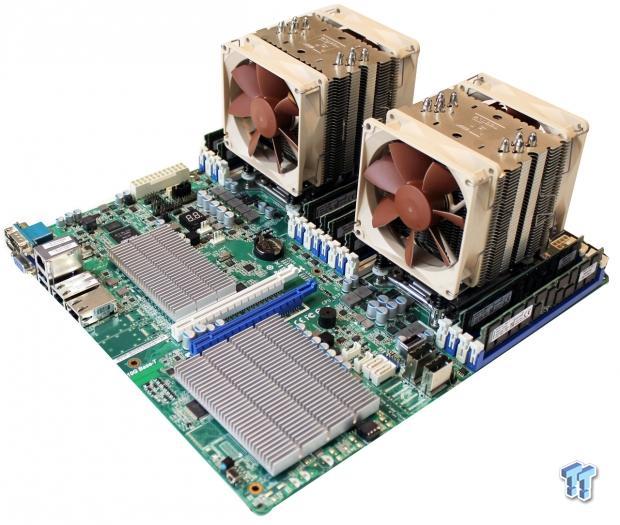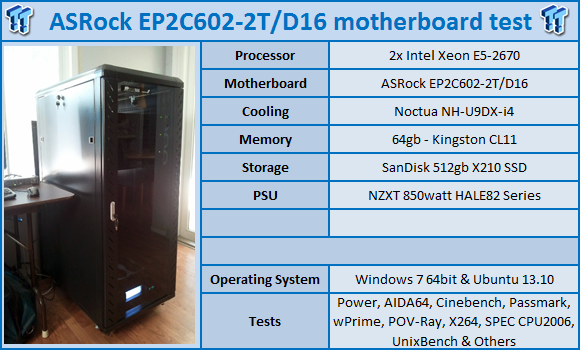 Special thanks to ASRock, NZXT, SanDisk, Noctua, and Kingston for their support!
The test setup is typical for a server setup. The CPUs used in these tests are a pair of Intel Xeon E5-2670 CPUs. The memory installed is 64GB of Kingston CL11 1600MHz RAM.
For all tests that we ran, we used optimized BIOS settings for performance.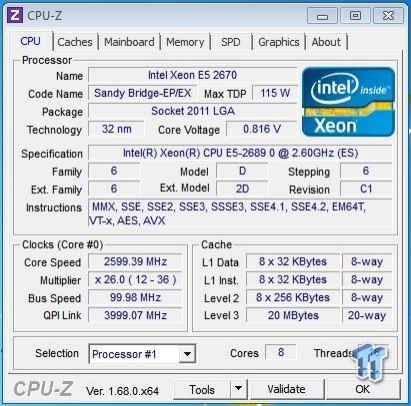 This is the CPUz screen showing the various stats of the Xeon E5-2670 CPUs. As you can see, this CPU has a max TDP of 115 watts and core voltage of 0.816V, which means this CPU runs nice and cool under low voltage.
System and CPU Benchmarks
Passmark8
PassMark performance test runs 32 tests, including CPU, 2D and 3D graphics, disk, and memory tests, to come up with an overall system ranking that allows you to determine how fast your computer is in comparison with other systems.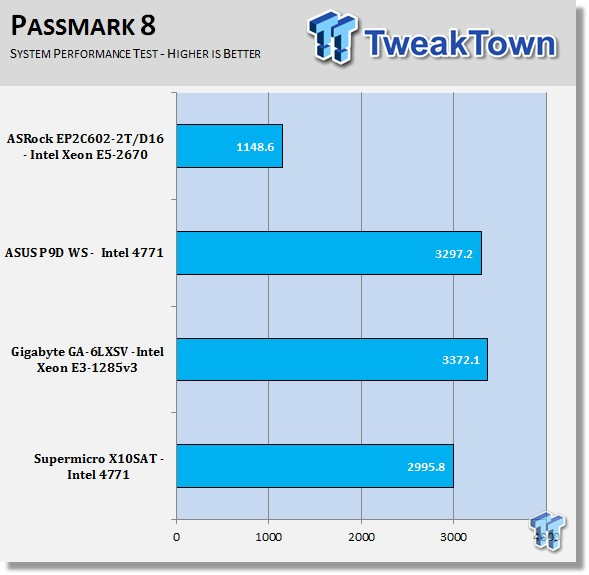 In the Passmark tests, we find that higher stock speeds and better graphics score better. The EP2C602-2T/D16 has limited graphics and that hurt the score a fair amount.
Cinebench 11.5
CINEBENCH is a real-world cross platform test suite that evaluates your computer's performance capabilities. The test scenario uses all of your system's processing power to render a photorealistic 3D scene. This scene makes use of various different algorithms to stress all available processor cores. You can also run this test with a single core mode to give a single core rating.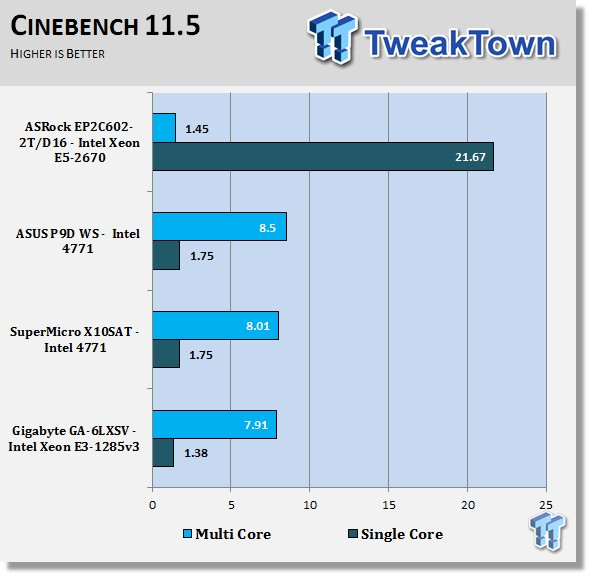 Again, we find the lower stock speed of the E5-2670s holds this board back in these benches, but it really takes off in the multi-threaded scores as we can see here. Having 32 threads is a real advantage here.
Cinebench R15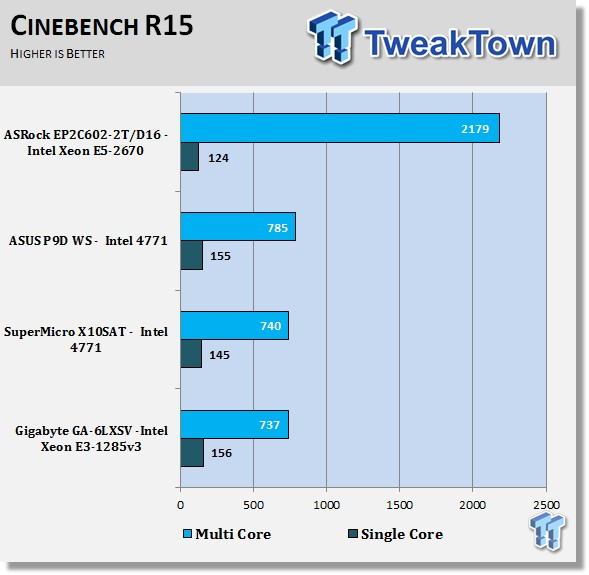 Just like in the Cinebench 11.5 results, we see a lower single-threaded score and a much higher multi-threaded score.
wPrime
wPrime is a leading multi-threaded benchmark for x86 processors that tests your processor performance. This is a great test to use to rate the system speed; it also works as a stress test to see how well the system's cooling is performing.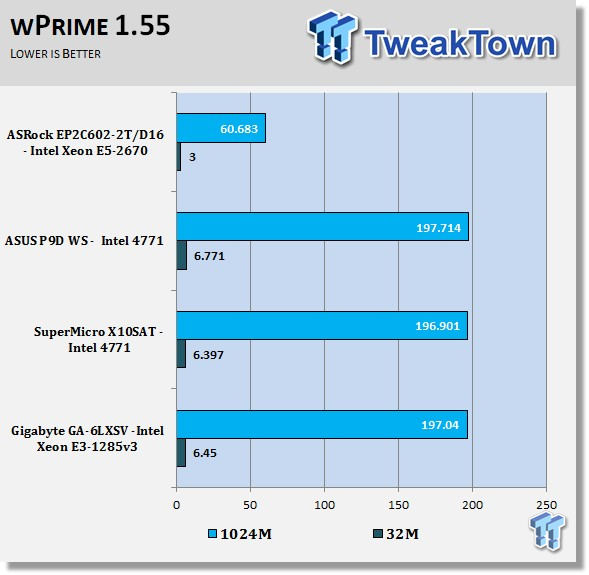 We are starting to see some nice increases in performance here. However, this is not a fair comparison with dual CPU systems vs the other single CPU setups. That is okay because we will be adding more systems later to the line up to compare with.
POV-Ray
POV-Ray (Persistence of Vision Ray-Tracer) creates three-dimensional, photo-realistic images using a rendering technique called ray tracing. Ray tracing is not a fast process by any means, but it produces very high quality images with realistic reflections, shading, perspective, and other effects.
This is a very good test to stress CPU threads, check memory stability, and stress overclocks to see if the system is stable. The latest version (3.6) is a free download and has a benchmark utility that we have run for these tests. Results are displayed showing the average PPS (pixels per second) that the render took.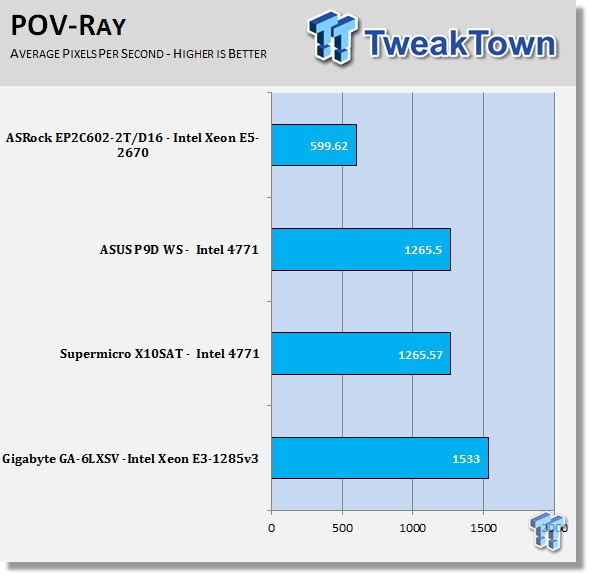 Single-threaded higher clock speeds will generate higher scores with this benchmark, so a dual-CPU system does not help this benchmark much.
x264 HD
x264 HD Benchmark measures how fast your computer can encode a 1080p video clip into a high quality x264 video file. This benchmark uses multi-core/threaded systems very efficiently and is a good memory stability test.
Results in this test are the average of each pass performed four times.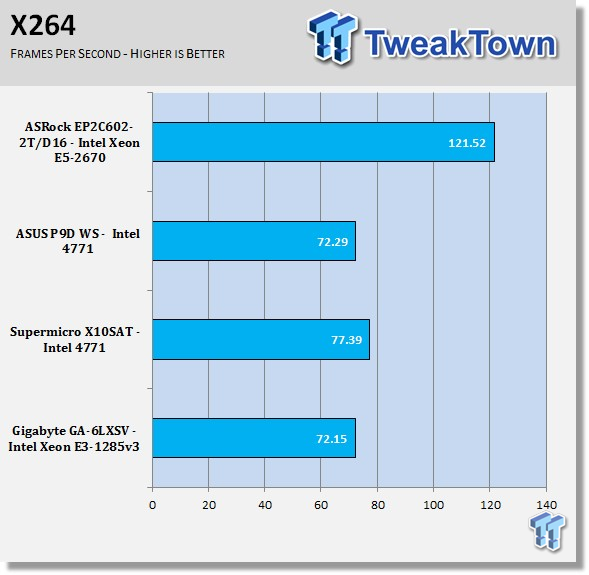 Again, we start to see the advantages of dual-CPU systems versus single-CPU boards.
Memory Benchmarks
AIDA64
AIDA64 memory bandwidth benchmarks (Memory Read, Memory Write, and Memory Copy) measure the maximum achievable memory data transfer bandwidth.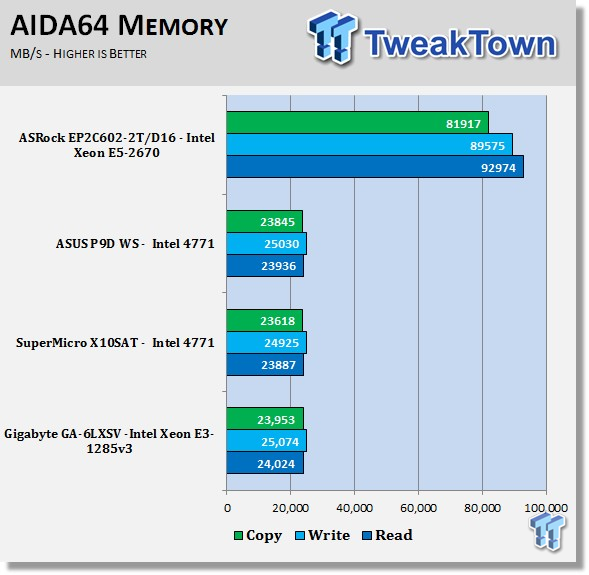 AIDA64 memory tests show the Kingston CL11 1600MHz RAM kits perform very well and get a nice boost with the socket 2011 quad-channel memory setup
LinX
LinX 0.6.4 is a CPU benchmark that measures floating-point operations per second and is used to compare CPU performance; it is also a very good stress test to run.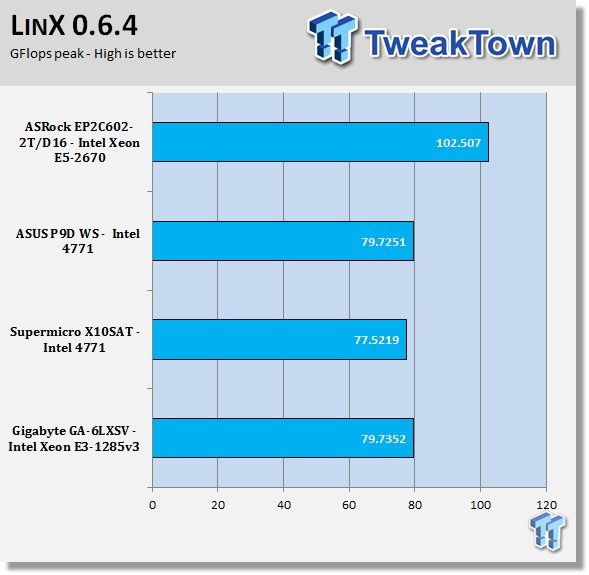 Just like in the AIDA64 memory tests, we see a nice improvement with quad-channel memory on this test.
UnixBench 5.1.3
UnixBench has been around for a long time now and is a good general-purpose benchmark to test on Linux-based systems.
This is a system benchmark and shows the performance of single-threaded and multi-threaded tasks.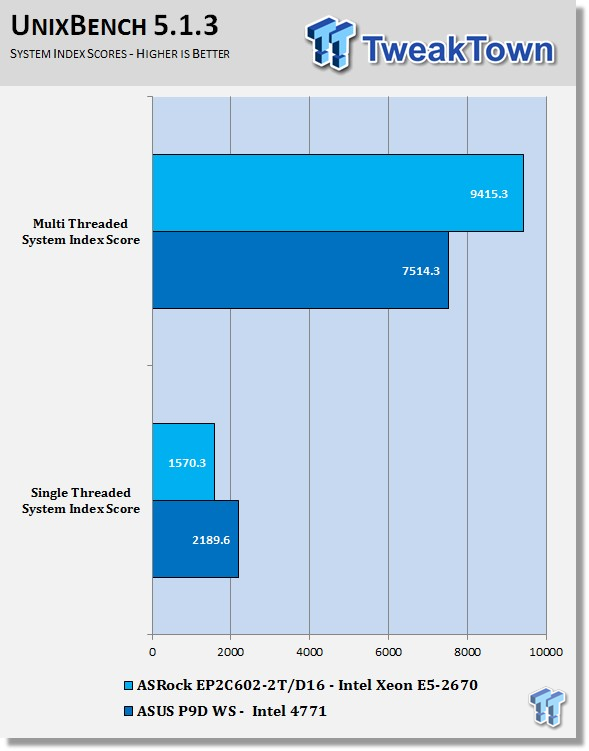 This shows the system indexes after a complete UnixBench run. Here, we get an idea of how much performance gain we get using multi-threaded applications. However, many applications are single threaded, so this number is really the base, and a higher clock speed will increase both indexes.
We can see that the slower clock speeds holds this benchmark back a little, but with 32 threads versus 8 threads, we can see a nice jump in the multi-threaded results.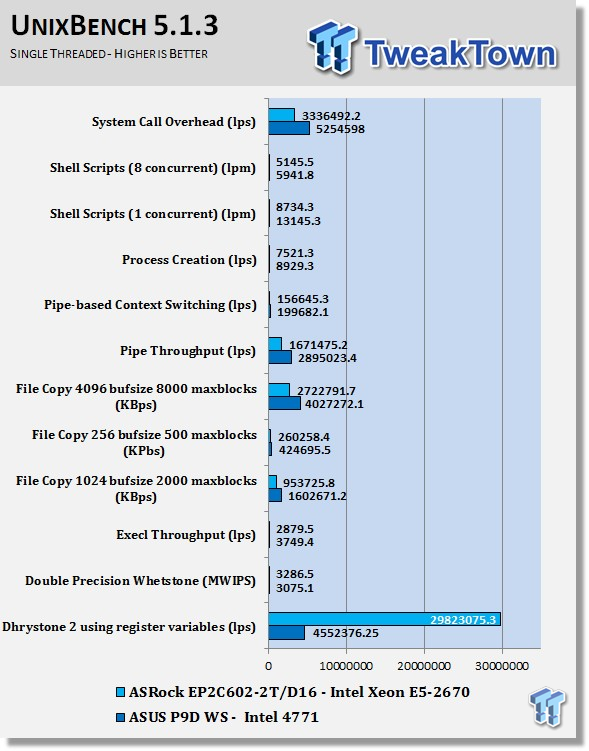 The single-threaded test shows the performance of a single core. With these types of tests, CPU architecture and speed are the basis of the score. A higher clock speed will increase these scores and have a greater impact on the results.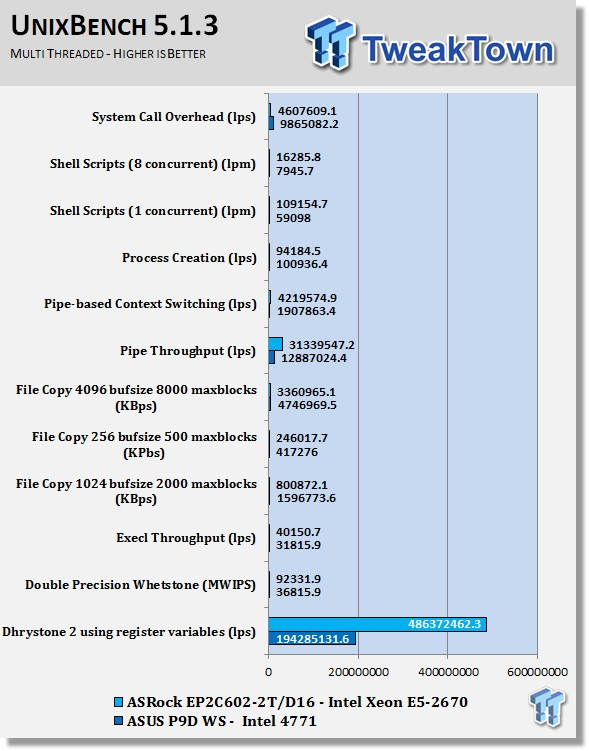 The multi-threaded test uses all 32 threads of the Intel Xeon E5-2670s. In this test, more cores/threads will have a greater impact on the results.
SPEC CPU2006v1.2
SPEC CPU2006v1.2 measures compute intensive performance across the system using realistic benchmarks to rate real performance.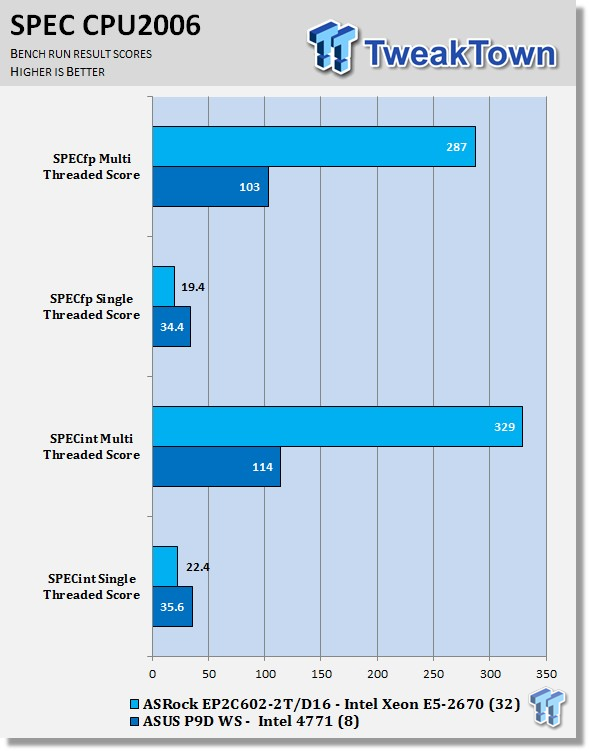 This benchmark has many different commands to use depending on what the user is looking for. For our tests, we used basic commands that run a full test.
You can see here the SPEC scores after full runs for Integer (int) and Floating Point (fp) tests.
Single-core runs show how fast (speed) a CPU can perform a given task. In the multi-core runs, we set SPEC CPU2006v1.2 to use all thread to measure the throughput of the system.
The additional cores/threads of this system has a huge impact on performance in these tests and really shows the amount of horsepower that a dual-socket system has over a single-socket board
Single-threaded results are still very important, but when you need lots of those to run, moving to a dual-socket setup is the way to go.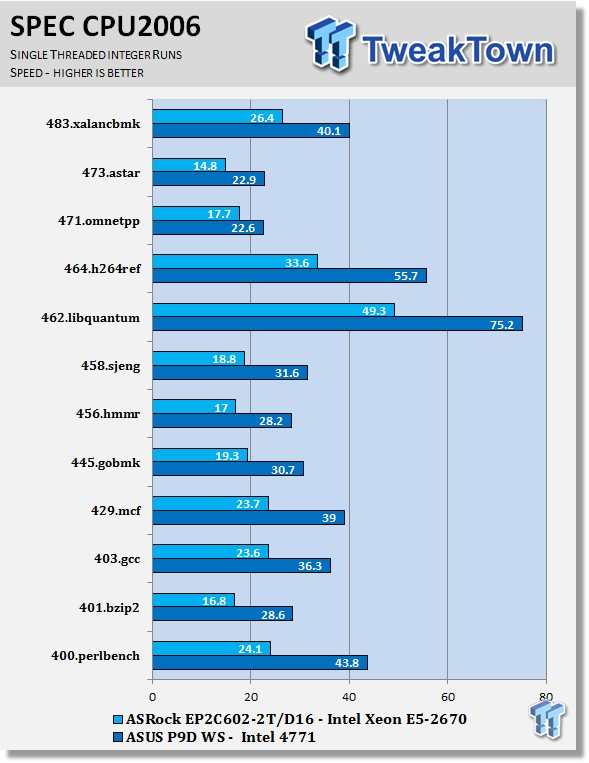 Looking at the results of single-threaded integer runs, we can get an idea of speed at which the Intel Xeon E5-2670s can crunch through the different integer tests. Not all CPUs are equal here, and ones that have a higher speed will perform these tests faster. In this case, this is the stock speed of the Intel Xeon E5-2670s. Naturally, using an overclocked system or CPUs with a higher stock speed will generate higher results.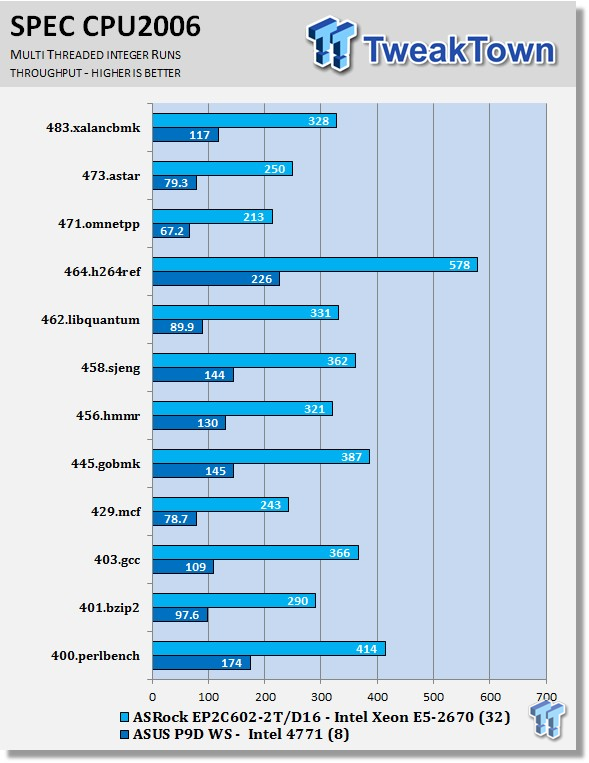 Now we run the test using all 32 threads of the dual Intel Xeon E5-2670s to measure the throughput of the system. In this test, more cores/threads will have a greater effect on the outcome.
We can see a big difference here using the dual socket setup,, with a three to four times performance boost in many cases.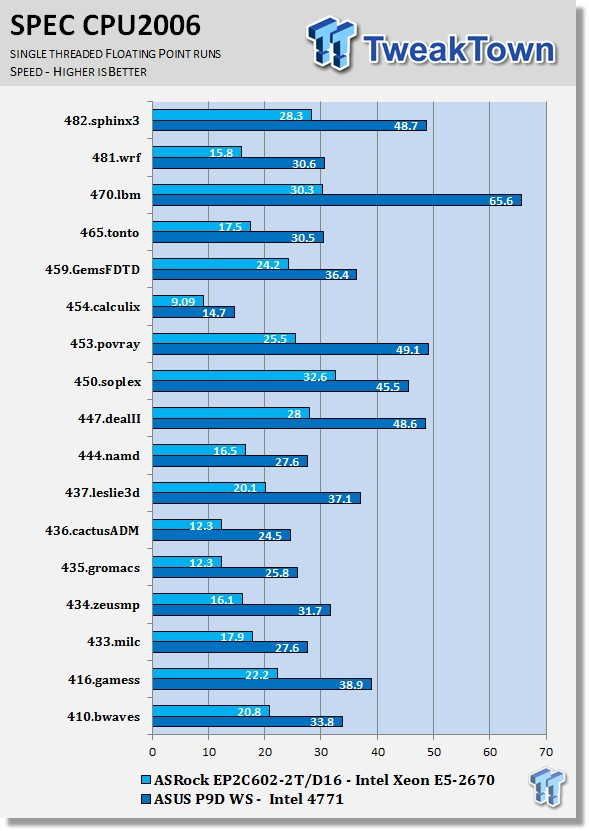 Just like the integer tests, we now run the floating-point tests in single (speed) mode. The lower clock speed of the Intel Xeon E5-2670s holds this benchmark back.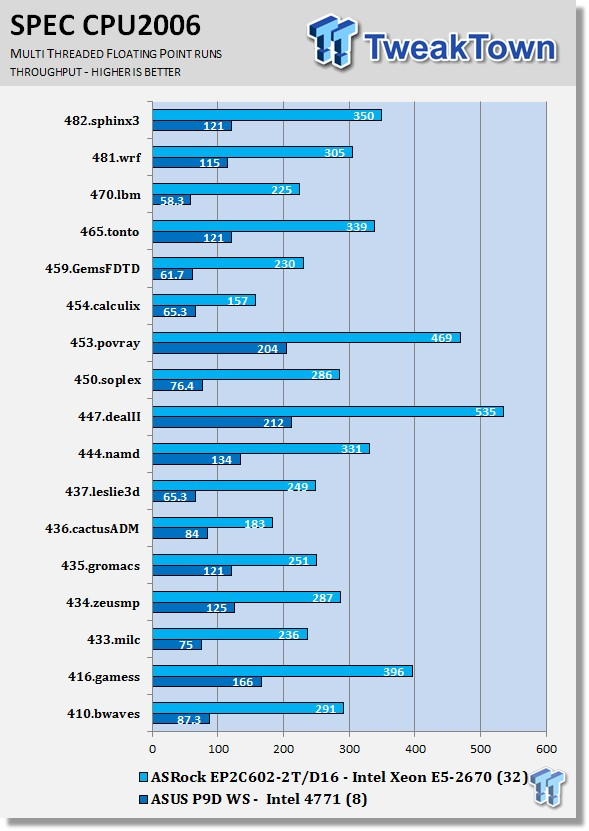 Here we see the results of the multi-threaded floating-point run that uses all 32 threads of the dual Intel Xeon E5-2670s. Like the multi-threaded integer test, more cores/threads will have a greater impact on the test.
Power Consumption
We used the WattsUp? Pro meter in these tests. This allowed us to measure power use directly from the wall. This meter also uses a USB cable to connect to a computer and Logger Pro software to graph the readings while we run our tests.
To test total system power use, we used AIDA64 Stability test to load the CPU,and then recorded the results.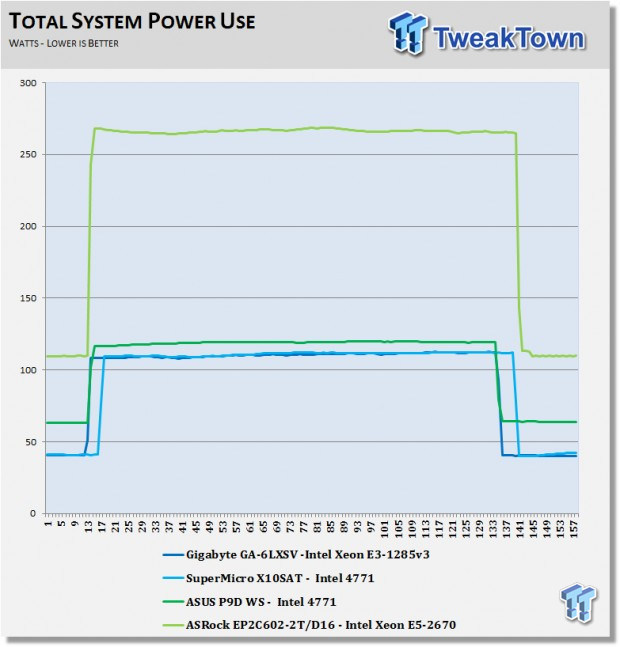 Here we can see the difference between single-socket and dual-socket systems. The ASRock EP2C602-2T/D16 dual-socket system can use around two and a half times more power than the other single-socket systems. Not only does this board have more CPUs but it also comes with larger amounts of RAM, which increases power use.
Final Thoughts
When we first pulled this motherboard out of the box, we were impressed with how the large chipset heat sinks for cooling make this board feel like a tank. This motherboard has very strong construction and a good, solid feel to it.
We were also impressed with the layout of all the connections; all are positioned near the edges so that no cables or wires would cross over the motherboard. It is a very clean design, which allows for unobstructed airflow through the case. This is important for 1U and 2U size cases so that everything runs nice and cool.
Installing CPUs, heat sinks, and RAM was a snap, and we had this board up and running in no time.
About the only problem we had was when trying to install a video card. There is only about 6.5 inches from the back of the board to the RAM slots and CPU heat sinks. This would limit the type of GPUs that you could install, but this is not really that type of board. A better use for the two PCIe slots is with network expansion cards.
The type of application that you run would determine what CPUs that you use. If you require higher speed single cores, then an E5-2687w v2 might be a better choice. Or you can go with E5-2695 v2s for stronger multi-threaded apps. Either way, this board can handle this with ease.
With a max capacity of 512GB RAM, this board would also work well with VM applications. With the storage options, it would make a very good storage box or SAN.
Warranty is a limited period for parts and labor of one year, which could be a deciding factor for you. At the time of writing, the price of the ASRock EP2C602-2T/D16 was $475.99, which is a little high, compared to other server motherboards in this class. You do get very nice storage options with this board, so you must consider those. Check below for up-to-date pricing.
PRICING: You can find the ASRock EP2C602-2T/D16 Motherboard for sale below. The prices listed are valid at the time of writing, but can change at any time. Click the link to see the very latest pricing for the best deal.
United States: The ASRock EP2C602-2T/D16 Motherboard retails for $599.87 at Amazon.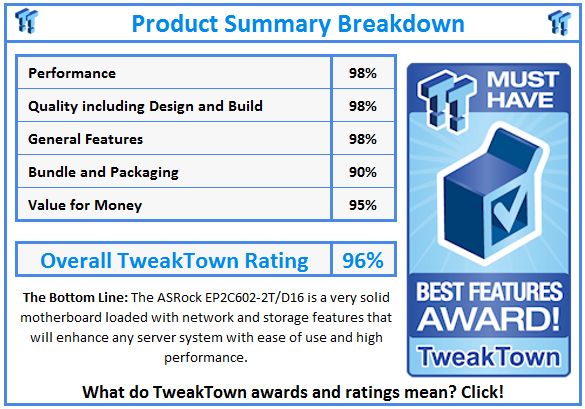 PRICING: You can find products similar to this one for sale below.

United States: Find other tech and computer products like this over at Amazon.com

United Kingdom: Find other tech and computer products like this over at Amazon.co.uk

Australia: Find other tech and computer products like this over at Amazon.com.au

Canada: Find other tech and computer products like this over at Amazon.ca

Deutschland: Finde andere Technik- und Computerprodukte wie dieses auf Amazon.de