A modest success during its 2004 cinema release, Anchorman: The Legend of Ron Burgundy went on to become a cult hit on home video, riding the crest of the mainstream success of the DVD format, which massively increased its fan base. Despite a number of aborted attempts to get a sequel off the ground, Paramount have, after nearly a decade, finally ceded to fan demands for a sequel. However, the old adage "be careful what you wish for" would seem to apply.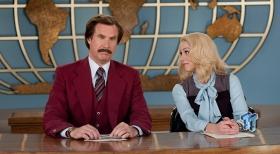 After falling foul of lead anchor Mack Tannen (Harrison Ford), Ron Burgundy's now wife Veronica Corningstone (Christina Applegate) is not only promoted ahead of Burgundy, but Burgundy himself is fired. His precious ego hurt, this puts an inevitable strain on their relationship, culminating in Burgundy walking out. Fumbling from one job to another, Burgundy finally falls on his feet at upstart network GNN who plan to launch with an unprecedented 24 hour news service.
As part of his contract, he dutifully begins re-assembling the San Diego news team of Brian Fantana (Paul Rudd), Champ Kind (David Koechner) and Brick Tamlin (Steve Carell) and continues from strength to strength, running sensationalist news beats up and covering ratings grabbing car chases. However, his fame quickly goes to his head and when disaster strikes, Ron quickly remembers the most important thing of all: the bonds of family.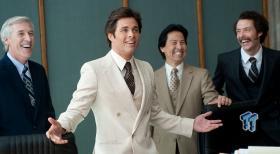 Disappointing sequels are hardly a new enterprise, but a sequel that takes the best elements of its predecessor, systematically rehashing and trashing them whilst contributing scant original laughs on its own right, is quite something. Anchorman 2 comes with a huge amount of goodwill and not overly lofty expectations, but to have both dashed so comprehensively is utterly wasteful and disappointing.
I was a huge fan of the original which makes, for me, this even more painful. Worse, I even considered the taboo final solution of bad films: walking out. That I didn't is more testament to wanting to see how the car crash is finally wrapped up, rather than any final saving grace.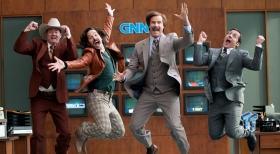 So, where exactly does it wrong? Well, for starters, almost every joke of any consequence is contained in the films theatrical trailer. Everything else is mostly rehashed, in a superior fashion, from its predecessor. Secondly, despite having two editors, Anchorman 2 is painfully overlong at two hours in length; nearly 30 minutes longer than the original. Half way through, the jokes are starting to wear thin, and by the end... well you get the idea. Whole subplots lead nowhere and should have been judiciously cut, including a poorly executed love interest for Brick played by the normally reliable Kristen Wiig and a soul searching sequence following Ron's fall from grace.
The core script, which on paper sounds promising, with Burgundy single handedly responsible for the downward spiral in news reporting, solidified by the likes of Fox News, is ill handled and an attempt to craft a Rupert Murdoch like figure ultimately falls flat on its face.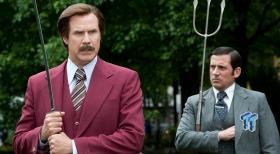 With such an impressive pedigree of talent both in front of and behind the camera, there are no excuses for Anchorman 2's failure as both a comedy, and as a sequel to one of the best comedies of the 2000's. It pains me to say, but the franchise probably needs one more entry in order to wipe away the distaste. If that eventuates, I can only hope the filmmakers spend the decade crafting a much better script.