Introduction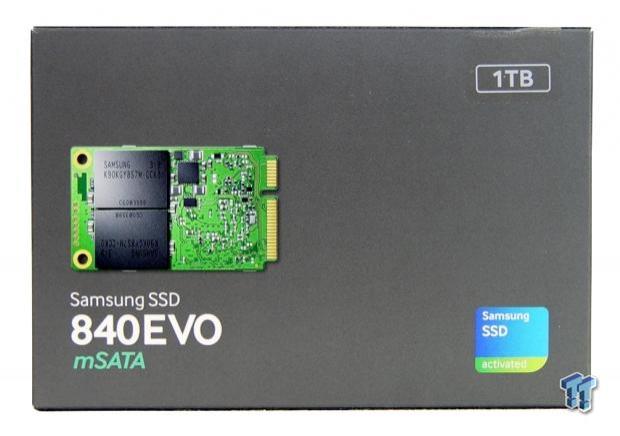 Samsung has an odd release schedule for new products. We're just days away from CES, and expect to see some new technology at the show, but nothing from Samsung's SSD division. The company holds an annual event in Korea called "Samsung Global SSD Summit" late in the year (after Computex), and new products generally hit retail shelves just after that. This year, the company released a mainstream SSD that we absolutely love: the 840 EVO; I'm using one right now. We expected Samsung to remain fairly quiet until next year, but that's not the case.
Just days ago, Samsung announced an addition to the 840 EVO product line, and new features added to existing products. Today we're looking at the new additions to the 840 EVO product family, and they are big, well kind of small, but they will have a large impact on Ultrabook and Notebook markets.

The 840 EVO just entered the mSATA market, and at the same time, doubled the capacity of the largest existing mSATA drives. When we tested Mushkin's Atlas mSATA 480GB SSD, we didn't expect a company to double the capacity so quickly, especially given the extreme engineering Mushkin put into building the Atlas with a dual PCB design.
Samsung, a NAND flash manufacturer, managed to place 1TB of flash on a single mSATA PCB, using just four NAND flash packages, which is half the number of package on the 1TB 2.5" form factor 840 EVO. To achieve this, Samsung stuffed 16 19nm NAND die per package. This is an impressive accomplishment that I feel will lead to the first 2TB 2.5" form factor SSD on a single PCB. Unfortunately, Samsung isn't ready to announce such a device, but it looks like the technology is in place for a future product, should Samsung wish to open that door.
Today we're looking at the new Samsung 840 EVO mSATA 1TB SSD, the largest of Samsung's new hardware releases. In a few days, we'll also publish a review of the 120GB capacity size.
In addition to the new hardware, Samsung has also unleashed new features that the company first announced at the Samsung Global SSD Summit just a few months ago. The 840 Pro owners now have access to RAPID Mode via Samsung's Magician software. The 840 EVO products gained support for SED (Self-Encrypting Drive), with either eDrive, or TCG Opal.
The mSATA EVO products should be a good fit for Ultrabooks, and they follow Intel's guidelines for DEVSLP, which is a technology used to reduce power at idle and sleep states, but wake rapidly from these lower power states.
Samsung's MSRPs are not as aggressive as I'd hoped for, but we should consider these "Day Zero" prices. Newegg, Tiger Direct, and other e-tailers will cut pricing as initial demand fades. The MSRPs are as follows: $149.99 (120GB), $259.99 (250GB), $489.99 (500GB), and $859.99 (1TB). The 1TB model we're reviewing today has a MSRP of just $10 more than the 2.5" version. At the time of writing, Newegg has the 2.5" 1TB model listed for $569.99. Both the 2.5" and mSATA products carry a three-year warranty inside the USA.
Samsung 840 EVO 1TB mSATA SSD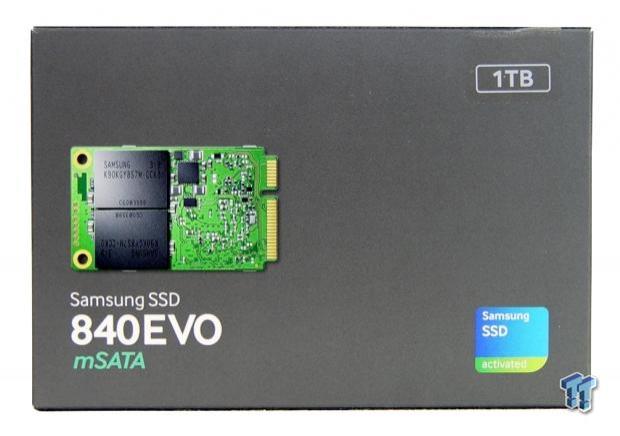 We're just going to roll right through the product packaging images.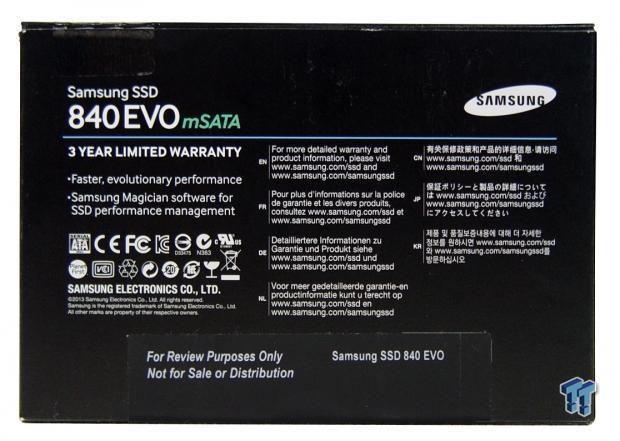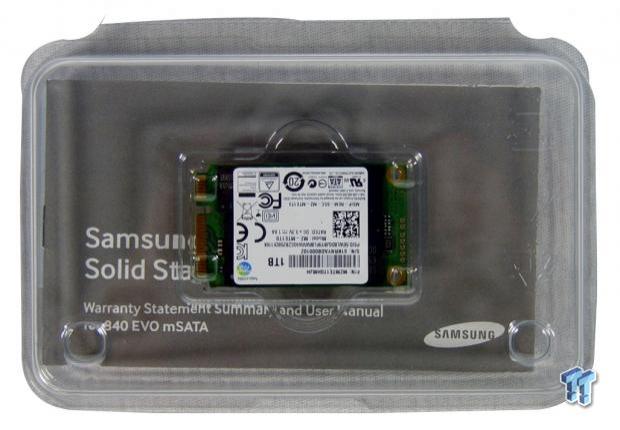 The drive placement is in the middle of the packaging, so your 840 EVO mSATA is well protected during shipping.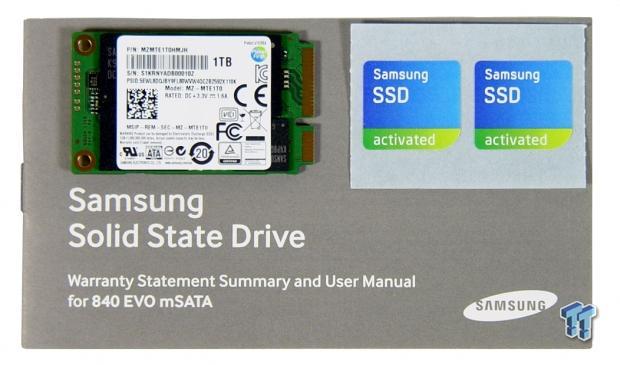 Inside of the package, we found a warranty statement summary that doubles as a user manual, two Samsung SSD Activated stickers, and the drive itself.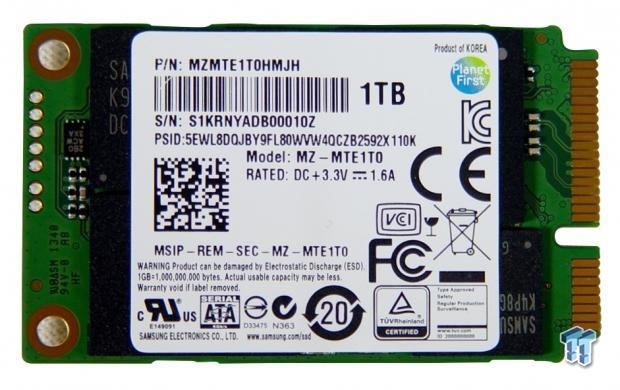 And here she is! Samsung stuffed 1024 MB of flash, and 1GB of DRAM, on a card that's smaller than the average Zippo lighter.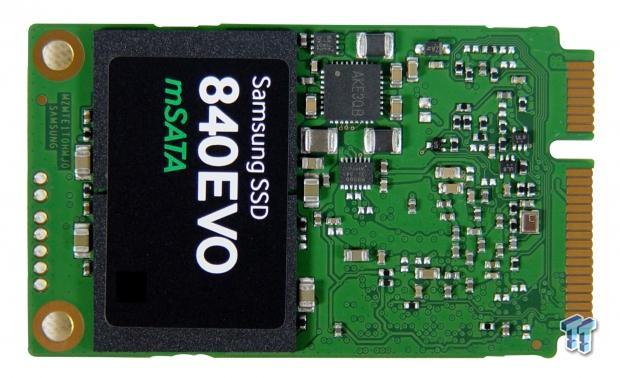 The backside has two NAND flash packages, and a handful of surface mount components.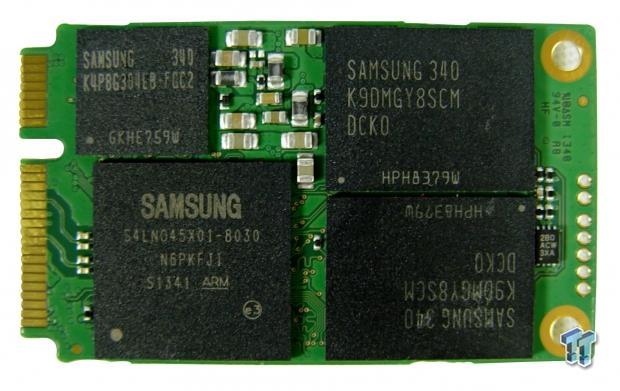 On the main side of the drive, Samsung has a MEX controller, a single 1GB DRAM package, and two additional NAND flash packages. As we mentioned in the introduction, in order for Samsung to achieve this density, the 840 EVO mSATA 1TB model achieves 16 NAND die per package. To my knowledge, this is the first time we've seen 16 die per package on a consumer SSD.
Benchmarks - Test System Setup and ATTO Baseline Performance
Desktop Test System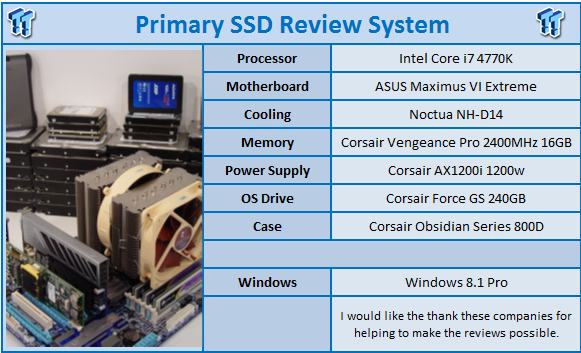 Lenovo W530 - Mobile Workstation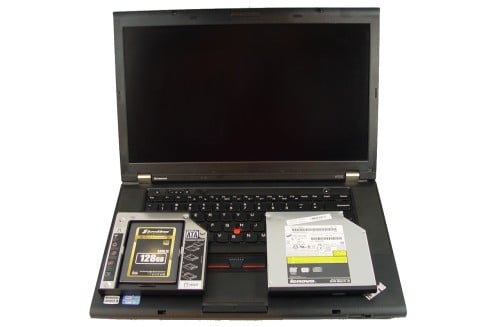 We use two systems for SSD testing. The desktop runs a majority of the tests, and the Lenovo W530 runs the notebook power tests, as well as the real-world file transfer benchmark.
ATTO Baseline Performance
Version and / or Patch Used: 2.34
ATTO is used by many disk manufacturers to determine the read and write speeds that will be presented to customers.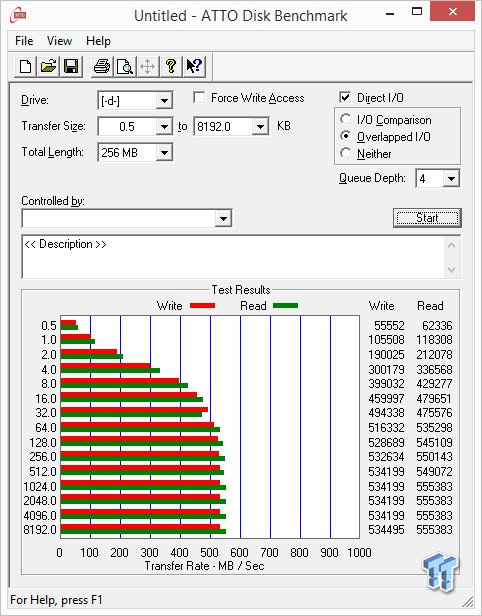 The Turbo Write feature on the flash partitions a small area on each die to SLC, and keeps the performance high for write bursts. ATTO doesn't pass enough data to see past the SLC layer in this sequential test. We achieved 555 MB/s sequential read, and nearly 535 MB/s sequential write.
Benchmarks - Sequential Performance
HD Tune Pro
Version and / or Patch Used: 4.00
Developer Homepage: http://www.efdsoftware.com
Product Homepage: http://www.hdtune.com
HD Tune is a Hard Disk utility which has the following functions:
Benchmark: Measures the performance
Info: Shows detailed information
Health: Checks the health status by using SMART
Error Scan: Scans the surface for errors
Temperature display
HD Tune Pro gives us accurate read, write, and access time results. It is now considered a must-have application for storage device testing.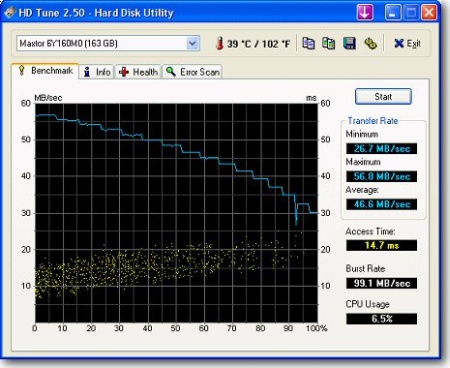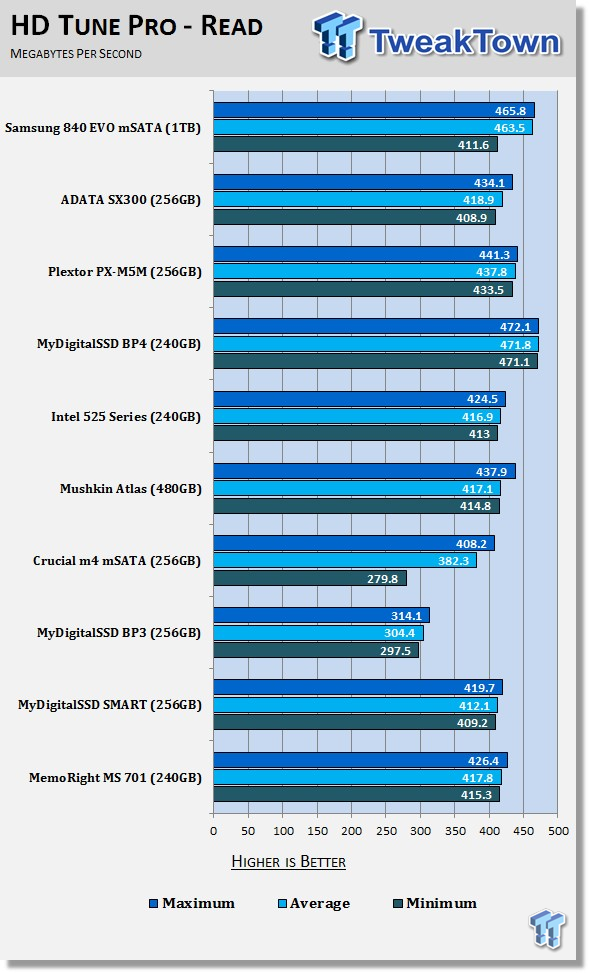 Not only is the Samsung 840 EVO mSATA 1TB the largest mSATA drive we've seen, it's also one of the fastest when reading sequential data. With an average sequential read speed of 463.5 MB/s at 64KB, the 840 EVO is only slightly slower than the MDSSD BP4.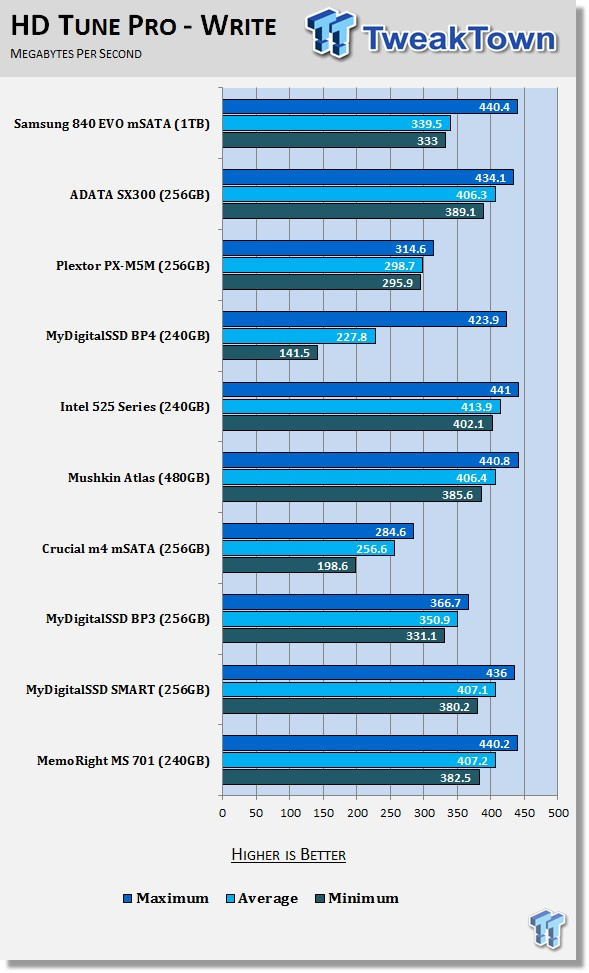 In this test, we write to every available user block to the drive, and thus we get past the Turbo Write area. For bursts, you can expect to write around 440 MB/s, and then that drops down to around 330 MB/s with the drive still somewhat fresh. When writing very large files to a drive populated with a significant amount of data, the performance can decrease even lower.
HD Tach - Sequential Performance after Random Writes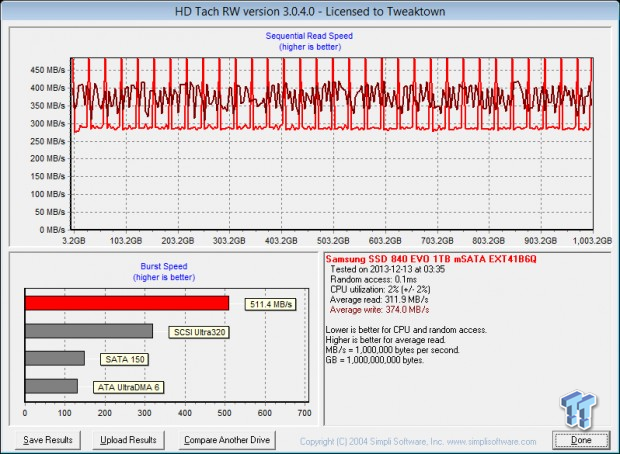 Here we see 128KB sequential read and write performance after a number of random writes to the drive. Surprisingly, the average write performance is still a bit higher than the average read performance; even after writing the random data to the drive. Turbo Write does a good job keeping the write performance high, even when working with large blocks of data.
Benchmarks - AIDA64 Random Access Time
AIDA64 Random Access Time
Version and / or Patch Used: 1.60
Developer Homepage: http://www.aida64.com
Product Homepage: http://www.aida64.com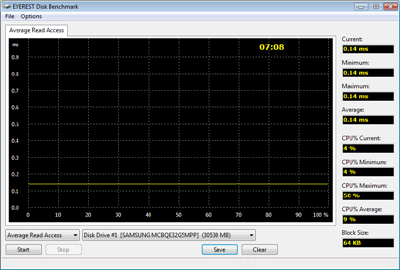 AIDA64 offers several different benchmarks for testing and optimizing your system, or network. The Random Access test is one of very few (if not the only), that will measure hard drives random access times in hundredths of milliseconds, as oppose to tens of milliseconds.
Drives with only one or two tests displayed in the write test mean that they have failed the test, and their Maximum, and possibly their Average Scores, were very high after the cache fills. This usually only happens with controllers manufactured by JMicron and Toshiba.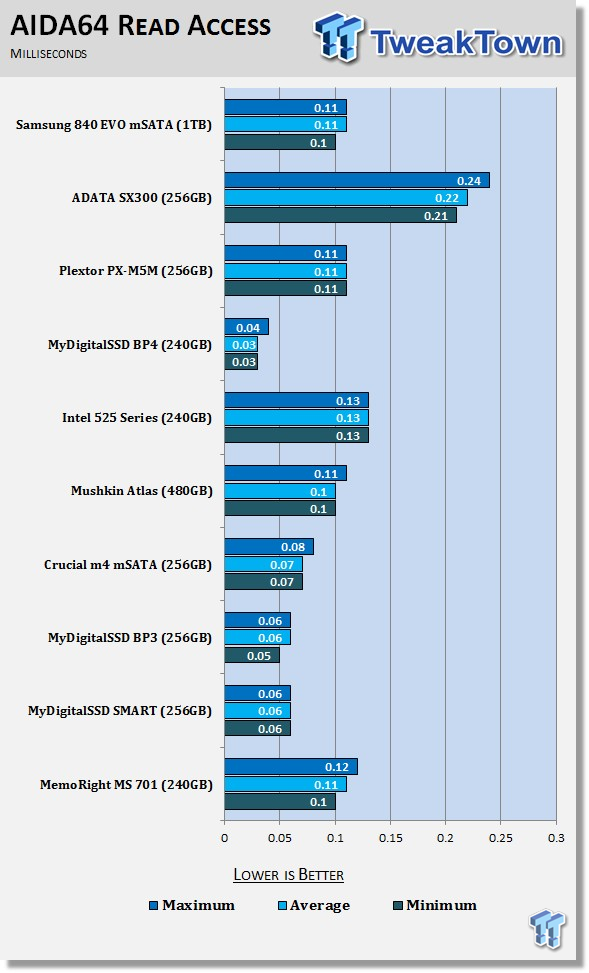 As expected, the read latency was very good on the Samsung 840 EVO mSATA 1TB. The TLC flash still manages to produce Marvell level read latency, as shown here with the Plextor PX-M5M.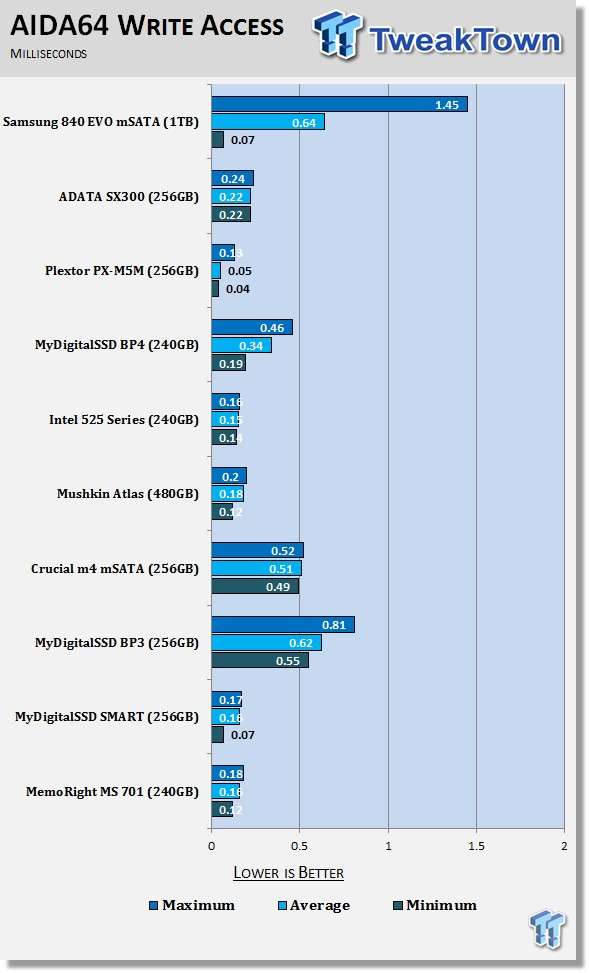 The write latency is a roller coaster of peaks though, with varying degrees of latency while moving through the cache stages of the flash.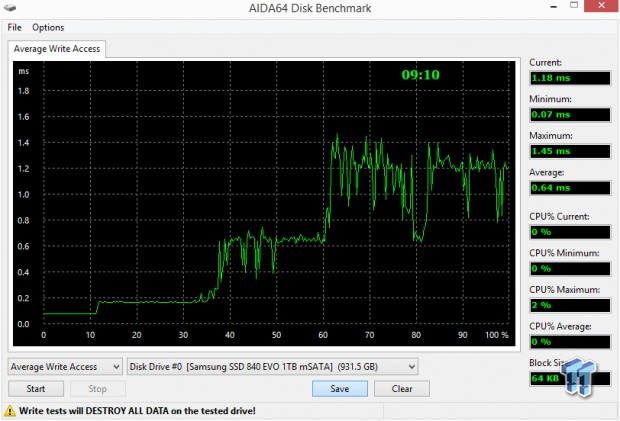 Here we see the actual latency test, measured in 64KB block size. We didn't run today's tests with RAPID enabled, so you can see the drive, and not the software performance. Samsung only mentions one cache stage, Turbo Write, but it appears there are two (if not three) layers before reaching TLC flash on its own.
What saves the 840 EVO in real-world use are flushes of the buffer. In this test, we write to 100% of the user available space, so we're writing nearly 1TB of data, but you won't do that under normal use. Even in extreme circumstances, you may write a 50GB Blu-Ray ISO file; less than half of the first buffer stage on an empty drive.
I've used a 750GB EVO 2.5" in my daily use notebook for the last six months, and have never run into a situation where the drive felt sluggish from write latency, either with, or without RAPID enabled.
Benchmarks - Anvil Storage Utilities
Anvil Storage Utilities
Version and / or Patch Used: RC6
So what is Anvil Storage Utilities? First of all, it's a storage benchmark for SSDs and HDDs where you can check and monitor your performance. The Standard Storage Benchmark performs a series of tests, you can run a full test, or just the read or the write test, or you can run a single test (i.e. 4K DQ16).
Anvil Storage Utilities is not officially available yet, but we've been playing with the beta for several months now. The author, Anvil, has been steadily updating the software on several international forums, and is adding new features every couple of months.
The software is used several different ways, and to show different aspects for each drive. We've chosen to use this software to show the performance of a drive with two different data sets. The first is with compressible data, and the second data set is incompressible data. Several users have requested this data in our SSD reviews.
0-Fill Compressible Data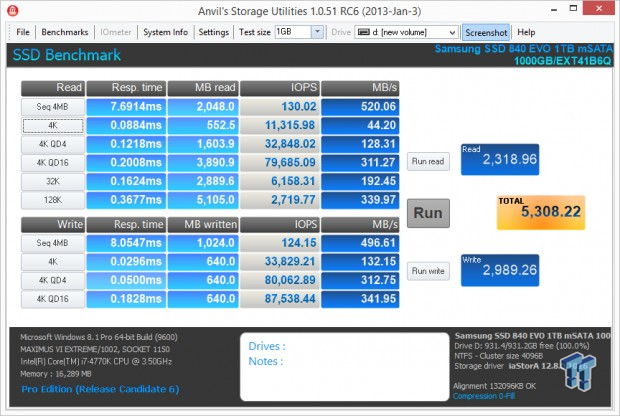 Incompressible Data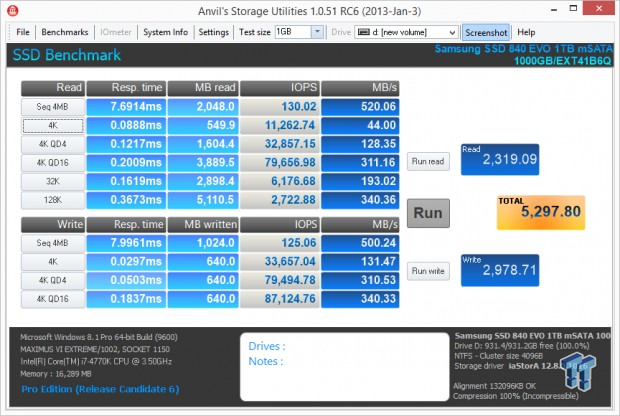 The Samsung 840 EVO mSATA does not slow when working with incompressible data.
Read IOPS through Queue Depth Scale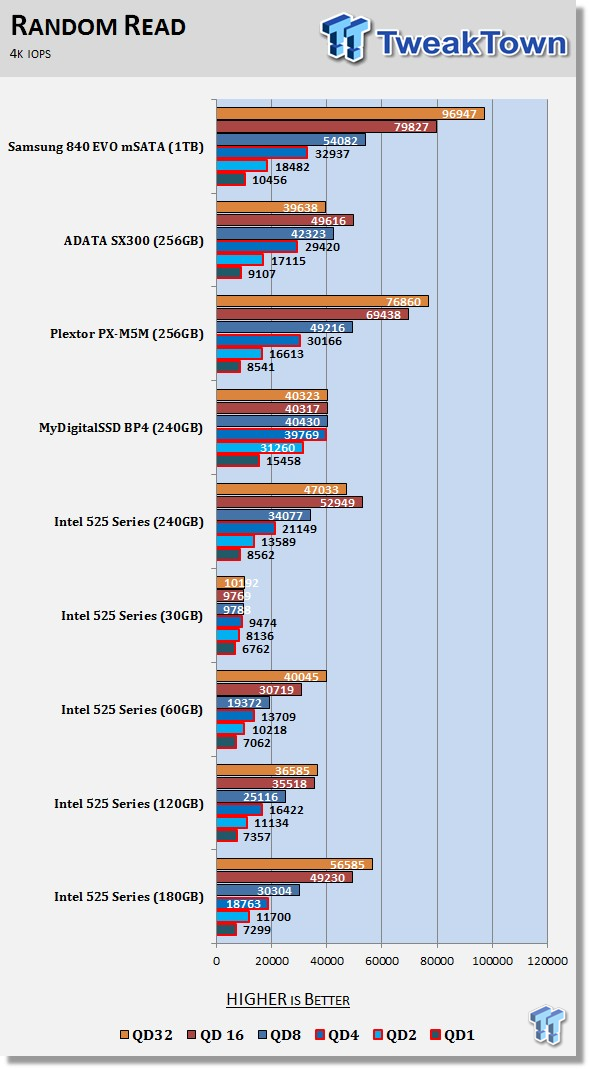 In real-world use, the larger capacity Samsung 840 EVO drives perform flawlessly. The drives feel very fast, and a large reason why is attributed to the low queue depth performance. Here we see the 840 EVO mSATA 1TB deliver over 10K read IOPS at QD1. The drive scales very well; up to nearly 100K IOPS at QD32.
Scaling Write IOPS through Queue Scale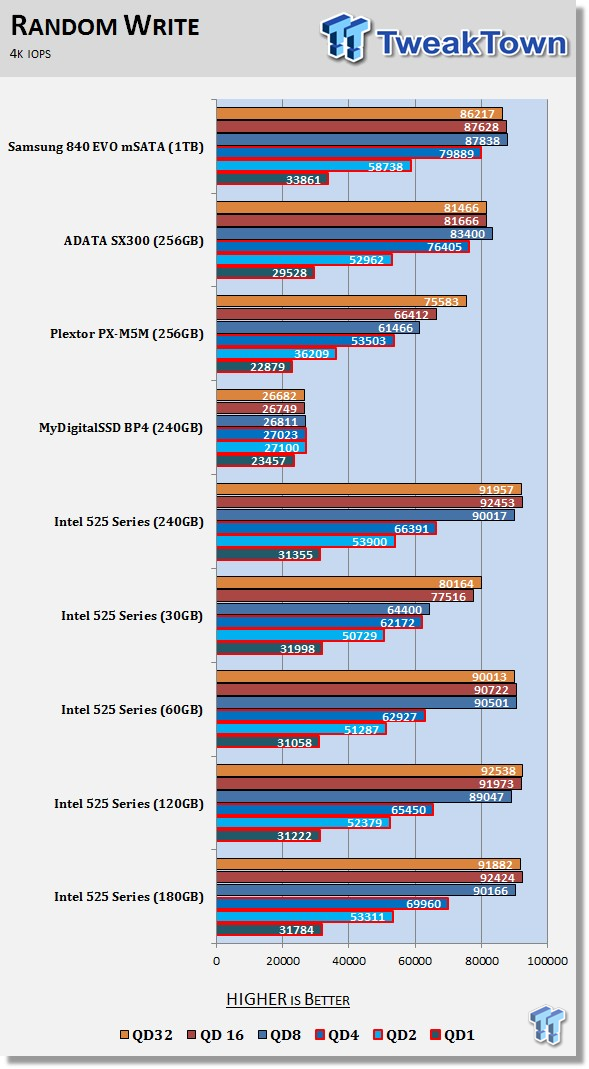 Thanks to Turbo Write, the low queue depth write IOPS are also very high; over 33K at QD1. This is faster than any of the other mSATA drives on the chart today.
Benchmarks - CrystalDiskMark
CrystalDiskMark
Version and / or Patch Used: 3.0 Technical Preview
Developer Homepage: http://crystalmark.info
Product Homepage: http://crystalmark.info/software/CrystalDiskMark/index-e.html
Download here: http://crystaldew.info/category/software/crystaldiskmark
CrystalDiskMark is a disk benchmark software that allows us to benchmark 4K, and 4K queue depths with accuracy.
Key Features:
* Sequential reads/writes
* Random 4KB/512KB reads/writes
* Text copy
* Change dialog design
* internationalization (i18n)
Note: Crystal Disk Mark 3.0 Technical Preview was used for these tests, since it offers the ability to measure native command queuing at 4 and 32.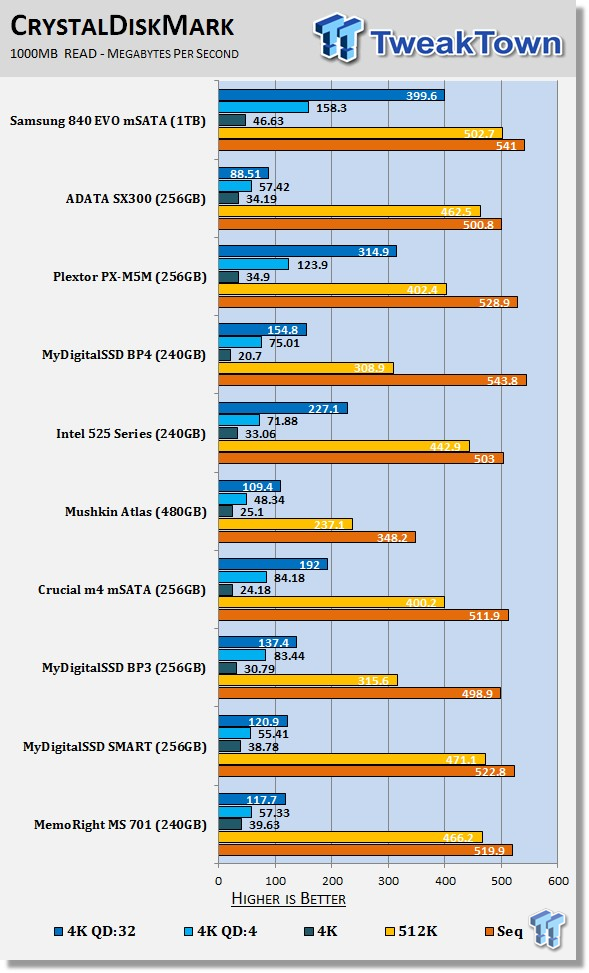 We measured 840 EVO mSATA 1TB at 46 MB/s 4K read using CDM. The drive scales well as the queue depth increases all the way to 400 MB/s at QD32.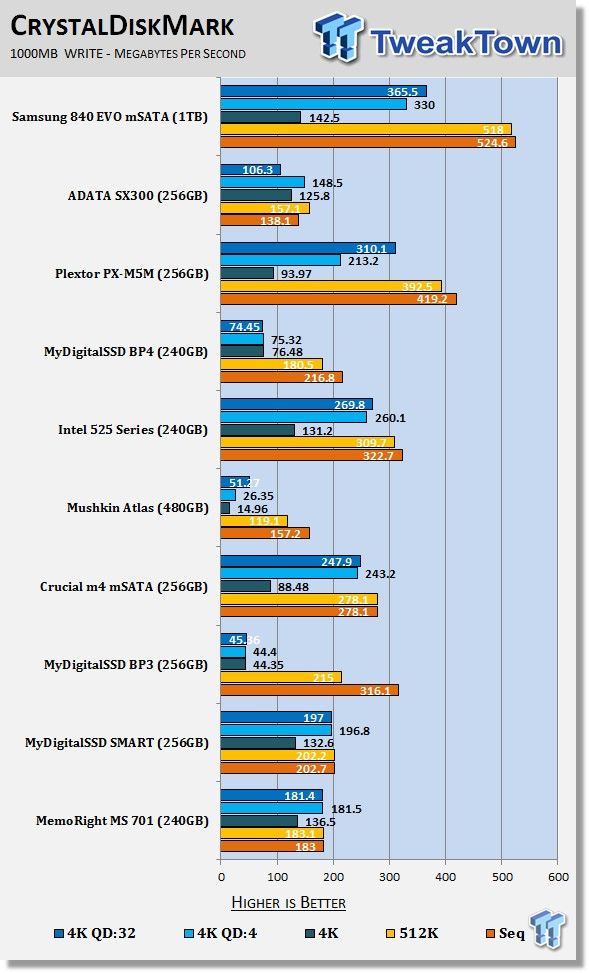 The 4K QD1 write performance is amazing for an mSATA drive; nearly 143 MB/s. Just as impressive is the sequential write performance at both 128KB, and 64KB.
Benchmarks - PCMark Vantage Hard Disk Tests
PCMark Vantage - Hard Disk Tests
Version and / or Patch Used: 1.0.0
Developer Homepage: http://www.futuremark.com
Product Homepage: http://www.futuremark.com/products/pcmarkvantage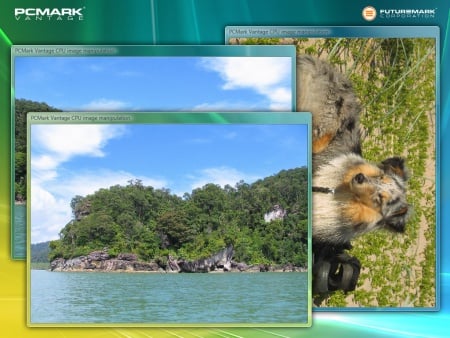 PCMark Vantage is the first objective hardware performance benchmark for PCs running 32, and 64 bit versions of Microsoft Windows Vista. PCMark Vantage is perfectly suited for benchmarking any type of Microsoft Windows Vista PC, from multimedia home entertainment systems and laptops, to dedicated workstations and high-end gaming rigs. Regardless of whether the benchmarker is an artist, or an IT Professional, PCMark Vantage shows the user where their system soars, or falls flat, and how to get the most performance possible out of their hardware. PCMark Vantage is easy enough for even the most casual enthusiast to use, yet supports in-depth, professional industry grade testing.
FutureMark has developed a good set of hard disk tests for their PCMark Vantage Suite. Windows users can count on Vantage to show them how a drive will perform in normal day to day usage scenarios. For most users, these are the tests that matter since many of the old hat ways to measure performance have become ineffective to measure true Windows performance.

HDD1 - Windows Defender
HDD2 - Gaming
HDD3 - Windows Photo Gallery
HDD4 - Vista Startup
HDD5 - Windows Movie Maker
HDD6 - Windows Media Center
HDD7 - Windows Media Player
HDD8 - Application Loading
The 840 EVO products do well in real-world applications testing, just as they do under real use in your notebook, or desktop. The mSATA version carries over the same appetite for crunching data.
Benchmarks - PCMark Vantage - Drives with Data Testing
For a complete breakdown on the Drives with Data Testing, please read this article. You will be able to perform this test at home with the files provided in the article - full instructions are included.
- Brief Methodology
SSDs perform differently when used for a period of time, and when data is already present on the drive. The purpose of the Drives with Data testing is to show how a drive performs in these 'dirty' states. SSDs also need time to recover, either with TRIM, or onboard garbage collection methods.
Drives with Data Testing - 25%, 50%, 75% Full States and Dirty / Empty Test
Files needed for 60 (64GB), 120 (128GB), 240 (256GB)
60GB Fill - 15GB, 30GB, 45GB
120GB Fill - 30GB, 60GB, 90GB
240GB Fill - 60GB, 120GB, 160GB
Empty but Dirty is a test run just after the fill tests, and shows if a drive needs time to recover, or if performance is instantly restored.

Even with 50% of the flash filled with data, the 840 EVO mSATA 1TB still performs very well. In our Data on Disk testing, the 840 Evo mSATA 1TB managed to outperform everything else on the chart at 50%.
Final Thoughts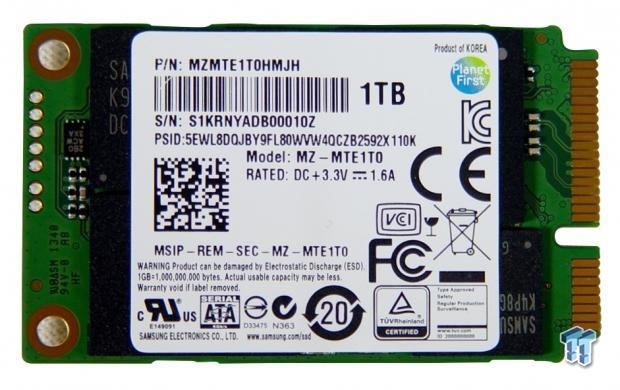 If you read our SSD reviews often, you might have noticed we didn't run the battery life test today. The 840 EVO supports DEVSLP, but our Lenovo W530 doesn't. We're currently waiting for a new Lenovo T540 with DEVSLP support to arrive. When it hits the door, we plan to publish a new article with all of the new DEVSLP supporting SSDs, and their battery life performance in MobileMark 2012.5. Check back in January for the update.
I'm not surprised by the performance of the 840 EVO mSATA 1TB. After installing the 2.5" 750GB model in my daily use notebook, I continue to be impressed with the drive's responsiveness, capacity, and ability to handle my I/O heavy applications. Until now, going mSATA meant a compromise in performance due to the amount of interleaving between the flash, and the controller. The Samsung 840 EVO doesn't appear to have this issue, since the performance is very close to that of the 2.5" model.
While unleashing the new mSATA products, Samsung also enabled a handful of features for the EVO class products. TCG Opal and eDrive are now supported, features which were promised at the Samsung SSD gathering when EVO launched.
All things considered, the 840 EVO isn't just a nice addition to the mSATA class of products: It's the new flagship. The MSRP for the 1TB model might cost as much as your entry-level Ultrabook, but if you use the notebook for more than just face-twitting, then the extra capacity and performance are welcome additions, and aid in fulfilling the best all-around experience.