Introduction
Solid state drives have crossed over from the enthusiast and power user market and are going mainstream. The early performance issues and later stability issues have been overcome. Modern SSDs are reliable, with predictable life spans and that has opened the door for business use.
The SanDisk X210 isn't the first SSD specifically for business notebook use, but it's one of the first to merge enterprise SMART registers and an affordable price. SanDisk used the same controller that the company used on popular Extreme II consumer SSD. The SanDisk in-house firmware team traded a small amount of performance from the Extreme II in for more reliability. The result is a high performance, business focused SSD that's sold at a low price.
The X210 also serves an additional role, server operating systems. We're often asked about what product to use for server operating systems when the workload takes place on secondary storage. The X210 brings a high level of reliability and was designed for this purpose as well.
Let's dig in now and take a close look at the 512GB model.
Specifications, Pricing and Availability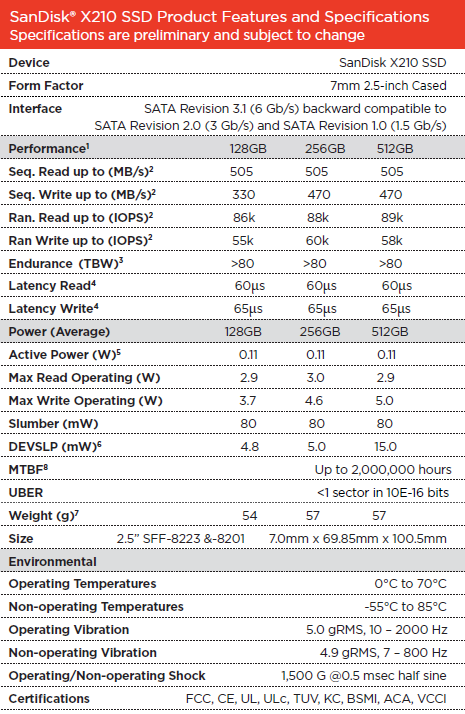 The X210 comes in three capacity sizes, 128GB, 256GB and the 512GB model we're looking at today. SanDisk ships the X210 products with the full capacity available to the user. This allows end users to over provision the drive as needed.
SanDisk claims sequential read performance at 505 MB/s and sequential writes at 470 MB/s. The read IOPS performance claimed is 89K and 60K for 4K write IOPS. SanDisk also takes performance claims a step further and lists read and write latency.
The high performance comes from SanDisk's 19nm All Bit Line (ABL) flash with SanDisk's proprietary nCache technology. The heart of the X210 is a Marvell 88SS9187-BLD2 controller that's loaded with SanDisk programmed firmware.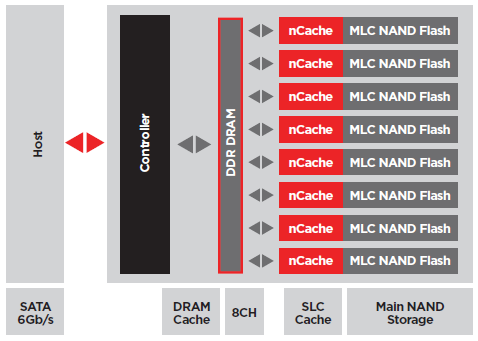 Haswell based systems have new power states for the processor, chipset and SSDs attached to the system. We've talked about DEVSLP for over a year now, but the X210 is one of the early SSDs to support the feature. The 512GB X210 drops all the way down to just 15 mW of power in DEVSLP. Slumber power is only 80 mW.
We put a little time between the X210 256GB review and this X210 512GB review. When we tested the 256GB model, the lowest price we could find online was $233 for the 256GB model and $410 for the 512GB model. The prices have now settled. Using Google Shopping, we found the X210 256GB for as low as $198 and the X210 512GB is now down to $374.99.
SanDisk X210 512GB SSD
Here we get our first look at the SanDisk X210 512GB SSD.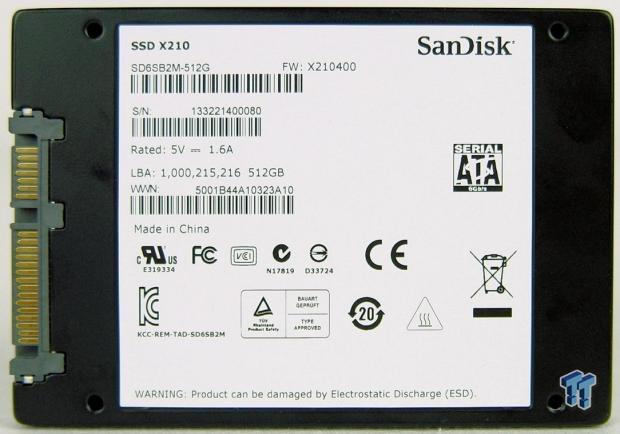 The model and serial numbers are located on the back and the bottom mounting holes are where they should be.

The X210 products are all 7mm z-height drives. This gives the X210 a large range of installation options since many new Ultrabook models require 7mm SSDs. The 7mm z-height retains the standard mounting points found on traditional 9.5mm height drives, so it will work in standard notebooks and server drive sleds as well.

The SATA power and data connectors are also located where they should be.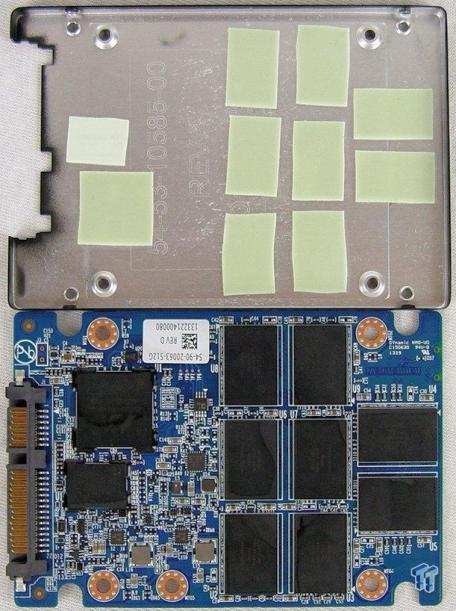 Inside we found a metal base with thermal pads that transfer heat away from the controller, DRAM and NAND flash.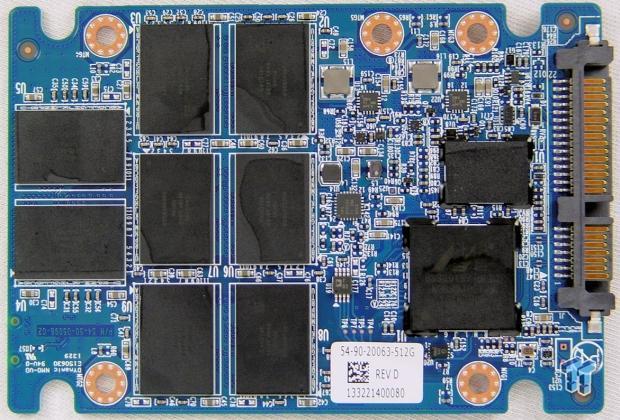 The Marvell controller has a DRAM buffer close to the controller and eight 19nm ABL NAND flash packages.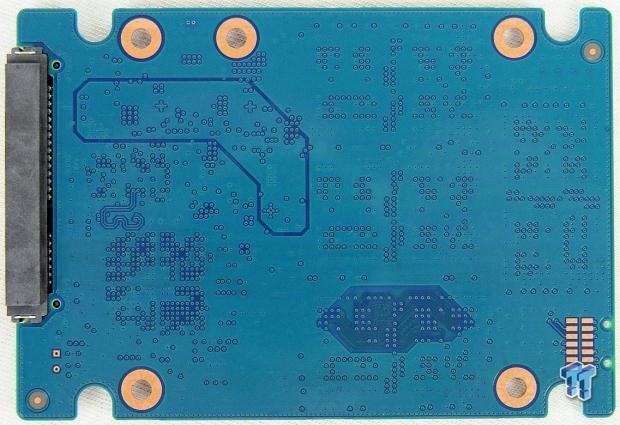 All of the surface mount components are on the same side of the drive.
Benchmarks - Test System Setup and ATTO Baseline Performance
Desktop Test System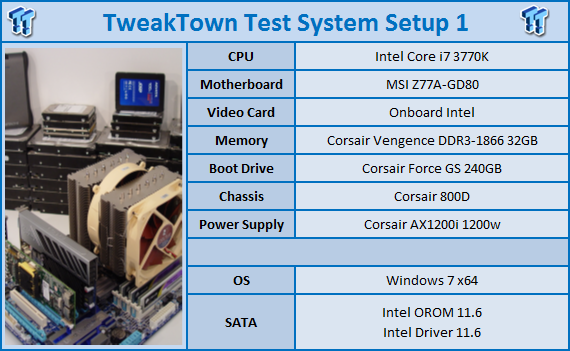 Lenovo W530 - Mobile Workstation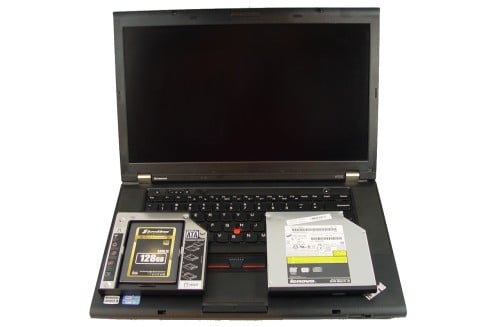 We use two systems for SSD testing. The desktop runs a majority of the tests and the Lenovo W530 runs the notebook power test as well as the real-world file transfer benchmark.
ATTO Baseline Performance
Version and / or Patch Used: 2.34
Many manufactures use ATTO to determine the read and write speeds that are used in marketing document and for comparison.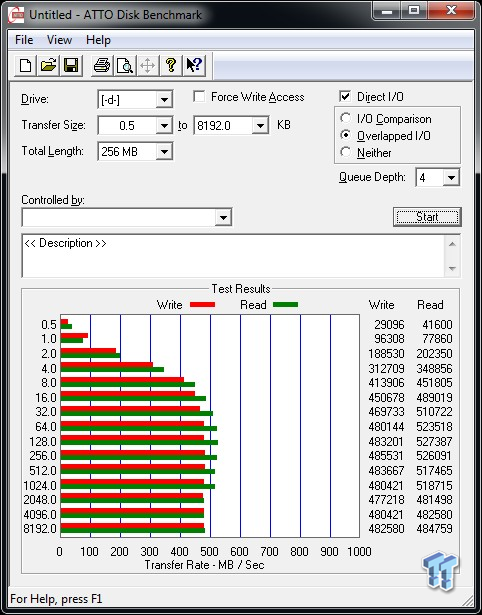 In our ATTO test, we pulled nearly 530 MB/s of sequential read performance from the X210 512GB and just over 485 MB/s sequential write performance.
Benchmarks - Sequential Performance
HD Tune Pro
Version and / or Patch Used: 4.00
Developer Homepage: http://www.efdsoftware.com
Product Homepage: http://www.hdtune.com
HD Tune is a Hard Disk utility which has the following functions:
Benchmark: measures the performance
Info: shows detailed information
Health: checks the health status by using SMART
Error Scan: scans the surface for errors
Temperature display
HD Tune Pro gives us accurate read, write and access time results and for the last couple of years has gained popularity amongst reviewers. It is now considered a must have application for storage device testing.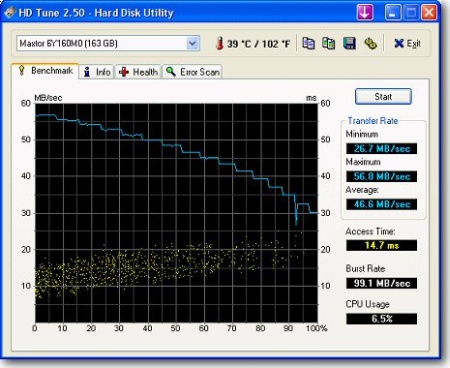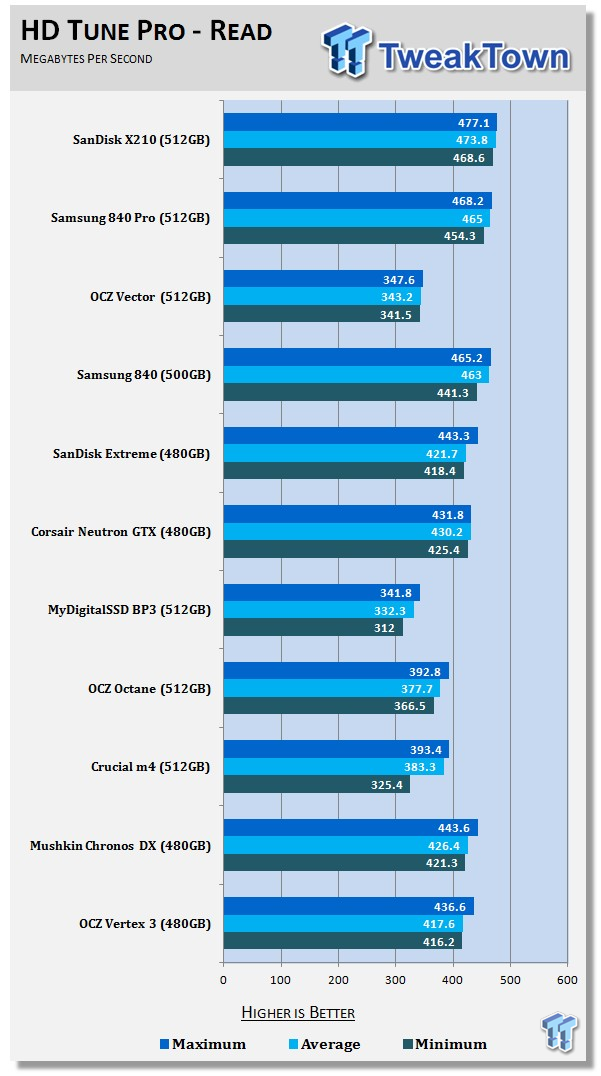 The SanDisk X210 is faster than the Samsung 840 Pro 512GB at reading sequential data by a small margin. The drive actually reported one of the highest results we've measured on a SATA product to date.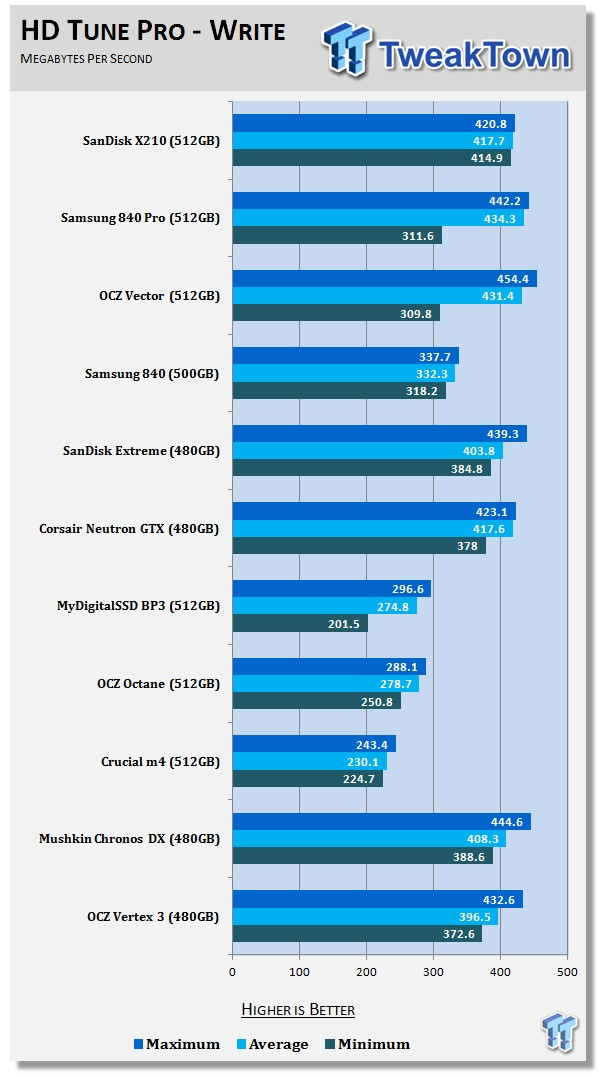 The sequential write test shows consistent performance across the span of the drive. We recorded an average sequential write speed of 417.7 MB/s with the default test using 64KB blocks.
HD Tach - Sequential Write Performance after Random Writes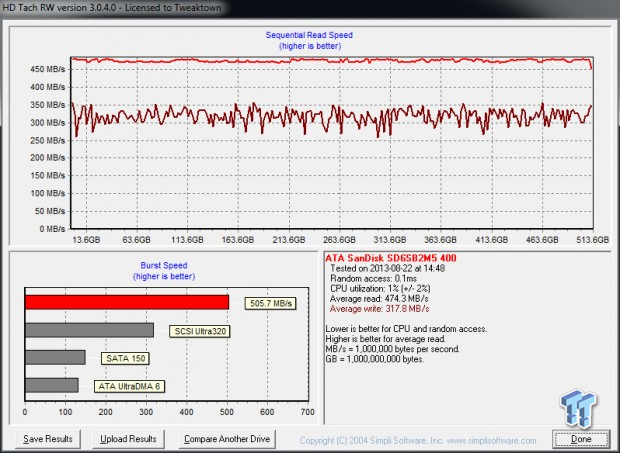 We ran HD Tach after all of HD Tune Pro's read and write random tests. The sequential write performance after a reasonable amount of random writes shows performance staying above 250 MB/s and an average write speed of 317 MB/s.
Benchmarks - AIDA64 Random Access Time
AIDA64 Random Access Time
Version and / or Patch Used: 1.60
Developer Homepage: http://www.aida64.com
Product Homepage: http://www.aida64.com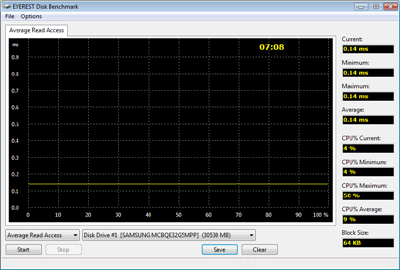 AIDA64 offers several different benchmarks for testing and optimizing your system or network. The Random Access test is one of very few if not only that will measure hard drives random access times in hundredths of milliseconds as oppose to tens of milliseconds.
Drives with only one or two tests displayed in the write test mean that they have failed the test and their Maximum and possibly their Average Scores were very high after the cache fills. This usually happens only with controllers manufactured by Jmicron.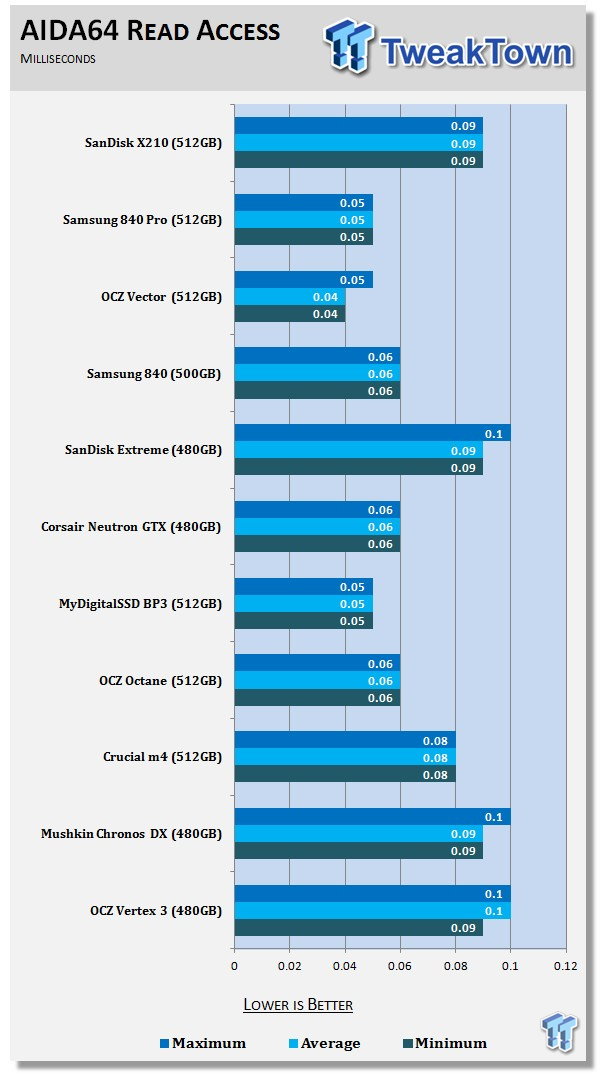 The SanDisk X210 512GB delivers consistent read latency, but it's a bit higher than many of the other drives on the chart.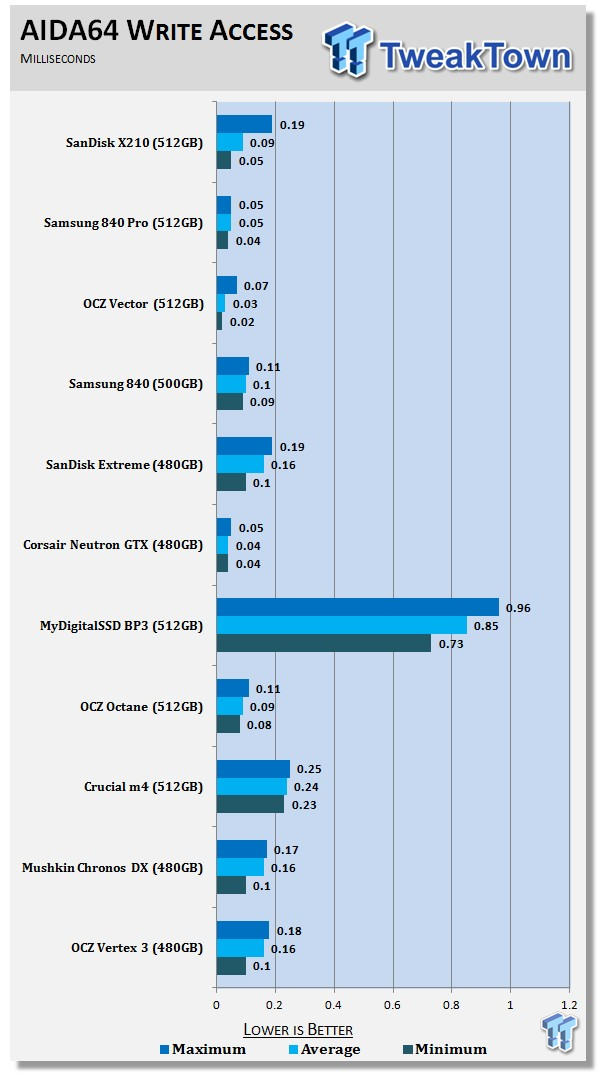 The write latency had a few peaks and some variability. This is expected since SanDisk uses nCache on this drive to write data to a SLC like layer on the NAND.
Benchmarks - Anvil Storage Utilities
Anvil Storage Utilities
Version and / or Patch Used: RC6
So what is Anvil Storage Utilities? First of all, it's a storage benchmark for SSDs and HDDs where you can check and monitor your performance. The Standard Storage Benchmark performs a series of tests, you can run a full test or just the read or the write test or you can run a single test, i.e. 4K DQ16.
Anvil Storage Utilities is not officially available yet but we've been playing with the beta for several months now. The author, Anvil on several international forums has been updating the software steadily and is adding new features every couple of months.
The software is used several different ways and to show different aspects for each drive. We've chosen to use this software to show the performance of a drive with two different data sets. The first is with compressible data and the second data set is incompressible data. Several users have requested this data in our SSD reviews.
0-Fill Compressible Data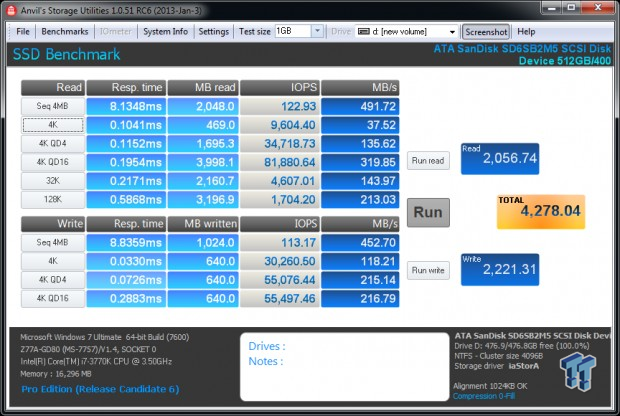 Incompressible Data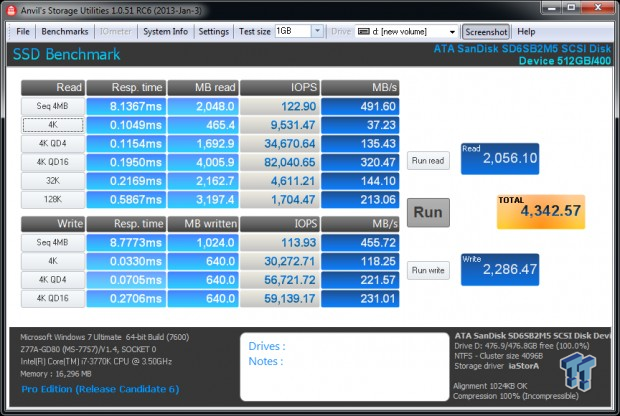 The X210 doesn't slow when moving from compressible to incompressible data. The drive is actually a little faster with incompressible data.
Read IOPS through Queue Depth Scale
[img]69[/img]
Although we like to focus on low queue depth IOPS performance, the high queue depth performance of the X210 is very impressive. At QD1 the X210 is a real competitor to the 840 Pro, both break into the 9,500 IOPS range, higher than any of the other 512GB drives on the chart.
Scaling Write IOPS through Queue Scale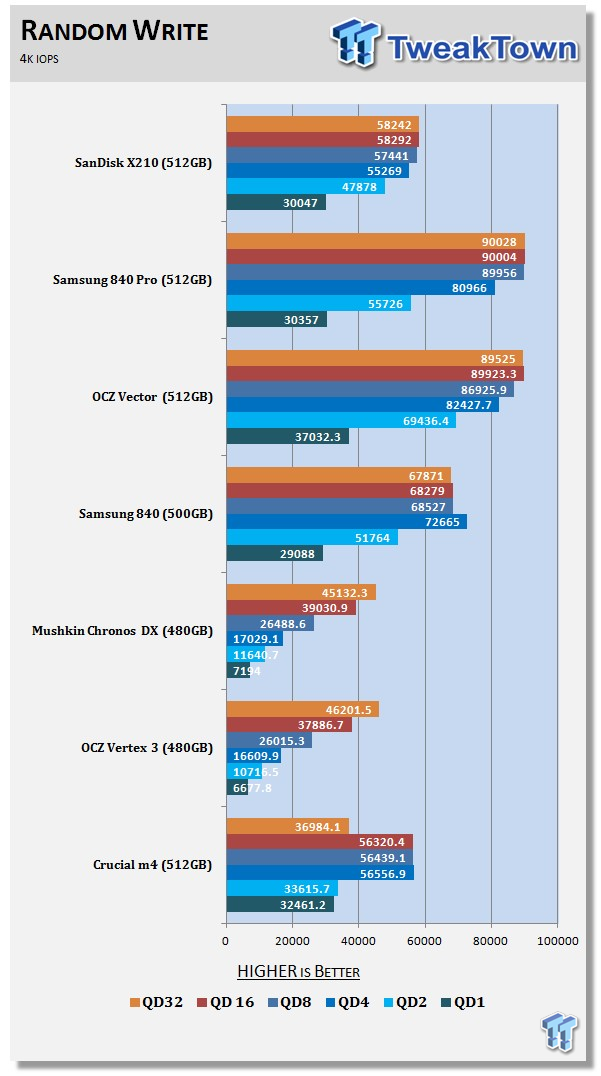 The X210 512GB delivers nearly identical QD1 write IOPS as the 840 Pro, but as the depth increases, so does the difference in performance.
Benchmarks - CrystalDiskMark
CrystalDiskMark
Version and / or Patch Used: 3.0 Technical Preview
Developer Homepage: http://crystalmark.info
Product Homepage: http://crystalmark.info/software/CrystalDiskMark/index-e.html
Download here: http://crystaldew.info/category/software/crystaldiskmark
CrystalDiskMark is a disk benchmark software that allows us to benchmark 4K and 4K queue depths with accuracy.
Key Features:-
* Sequential reads/writes
* Random 4KB/512KB reads/writes
* Text copy
* Change dialog design
* internationalization (i18n)
Note: Crystal Disk Mark 3.0 Technical Preview was used for these tests since it offers the ability to measure native command queuing at 4 and 32.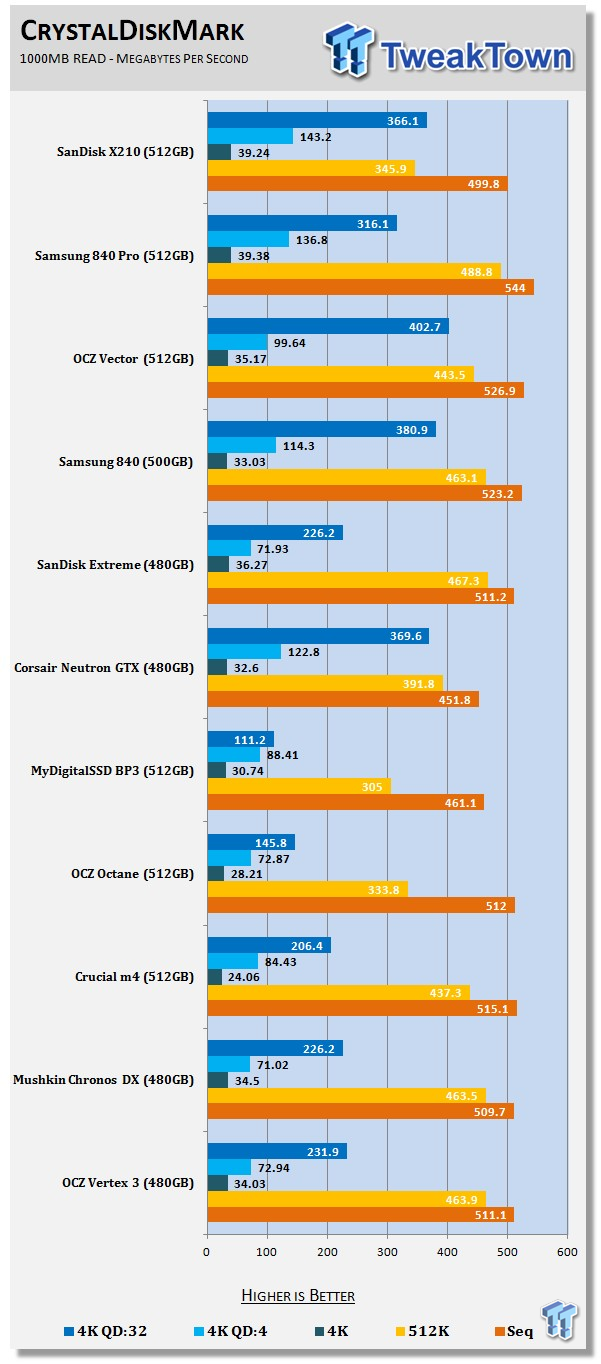 Here we're looking at 4K read performance at QD1, QD4 and QD32 with incompressible data. The X210 nearly breaks into the 40 MB/s QD1 4K read zone. Performance scales well through the additional queue depth ranges.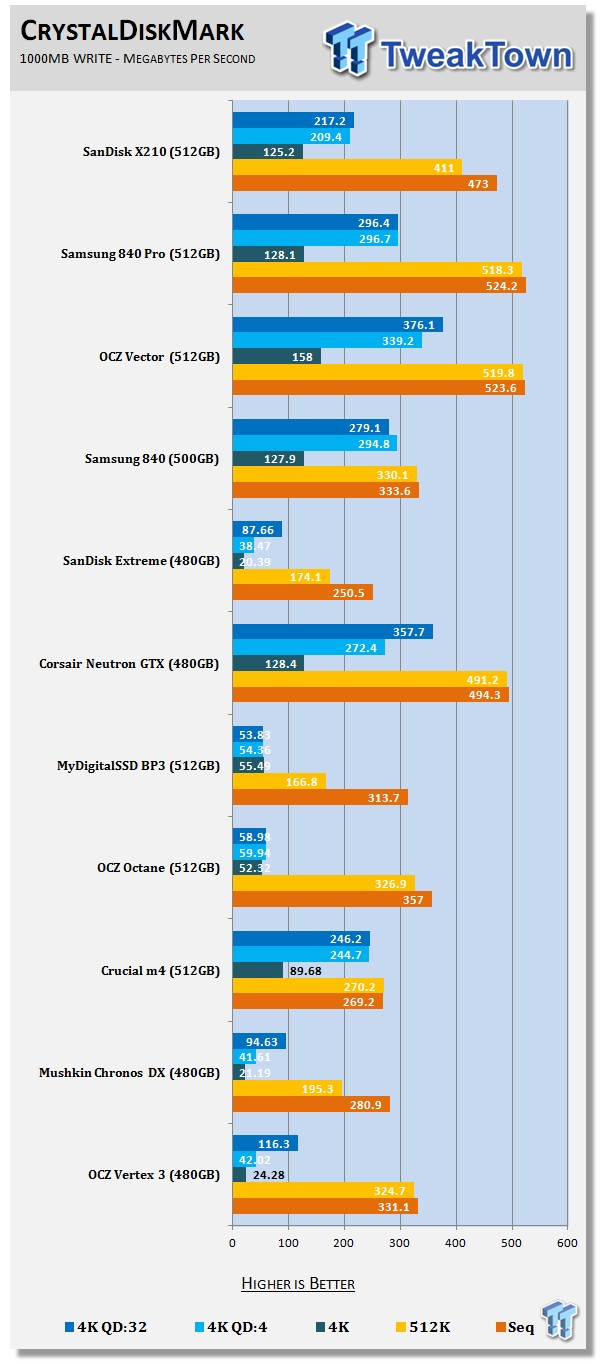 The 4K write performance at QD1 was 125 MB/s. At QD4 the 4K writes go to 209 MB/s, but the X210 doesn't scale performance much past 217 MB/s at high queue depths.
Benchmarks - PCMark Vantage Hard Disk Tests
PCMark Vantage - Hard Disk Tests
Version and / or Patch Used: 1.0.0
Developer Homepage: http://www.futuremark.com
Product Homepage: http://www.futuremark.com/products/pcmarkvantage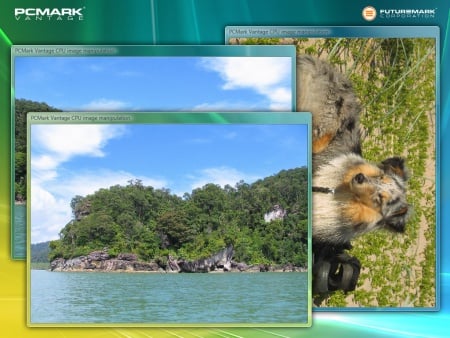 PCMark Vantage is the first objective hardware performance benchmark for PCs running 32 and 64 bit versions of Microsoft Windows Vista. PCMark Vantage is perfectly suited for benchmarking any type of Microsoft Windows Vista PC from multimedia home entertainment systems and laptops to dedicated workstations and high-end gaming rigs. Regardless of whether the benchmarker is an artist or an IT Professional, PCMark Vantage shows the user where their system soars or falls flat, and how to get the most performance possible out of their hardware. PCMark Vantage is easy enough for even the most casual enthusiast to use yet supports in-depth, professional industry grade testing.
FutureMark has developed a good set of hard disk tests for their PCMark Vantage Suite. Windows users can count on Vantage to show them how a drive will perform in normal day to day usage scenarios. For most users these are the tests that matter since many of the old hat ways to measure performance have become ineffective to measure true Windows performance.

Looking at the real-world performance in everyday use software, the X210 manages to outperform the 840 Pro in several tests.
Benchmarks - PCMark Vantage - Drives with Data Testing
For a complete breakdown on the Drives with Data Testing please read this article. You will be able to perform this test at home with the files provided in the article - full instructions are included.
- Brief Methodology
SSDs perform differently when used for a period of time and when data is already present on the drive. The purpose of the Drives with Data testing is to show how a drive performs in these 'dirty' states. SSDs also need time to recover, either with TRIM or onboard garbage collection methods.
Drives with Data Testing - 25%, 50%, 75% Full States and Dirty / Empty Test
Files needed for 60 (64GB), 120 (128GB), 240 (256GB)
60GB Fill - 15GB, 30GB, 45GB
120GB Fill - 30GB, 60GB, 90GB
240GB Fill - 60GB, 120GB, 160GB
Empty but Dirty - a test run just after the fill tests and shows if a drive needs time to recover or if performance is instantly restored.

We prefer to look at the performance with data on the drive. Using the 50% of overall NAND flash capacity full, the SanDisk X210 performs well, nearly 40K HDD Marks. The score is respectable for a SSD built for reliability.
Benchmarks - DiskBench
DiskBench - Directory Copy
Version and / or Patch Used: 2.6.2.0
Developer Homepage: Nodesoft
Product Homepage: DiskBench
Download here: http://www.nodesoft.com/diskbench/download
Note: In this test we use the Lenovo W530 Mobile Workstation and a SuperSSpeed S301 SLC 128GB SSD to move a 15GB block of data to and from the target drive. This is part of our real-world test regiment. Roughly 45GB of data resides on the target drive before the '15GB Block' is transfer. The 15GB Block is the same data we built for the Data on Disk Testing and is a mix of compressible and incompressible data.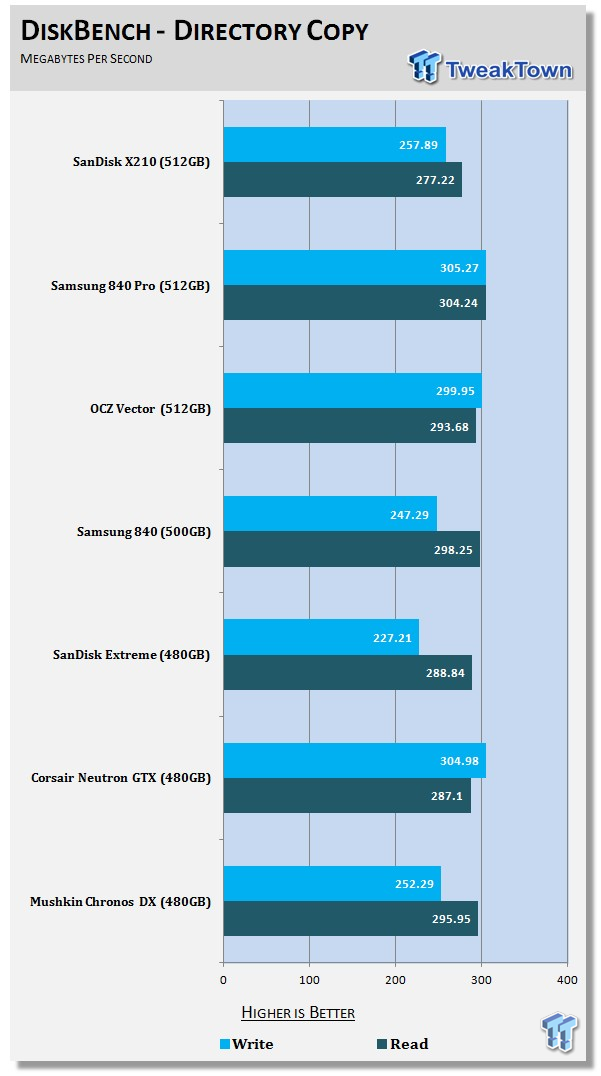 The X210 512GB proved to be a beast when transferring data to and from the drive from a secondary source. The directory copy read test score was over 277 MB/s and the write test was over 257 MB/s.
Benchmarks - Power Testing
Bapco MobileMark 2012 1.5
Version and / or Patch Used: 2012 1.5
Developer Homepage: http://www.bapco.com
Test Homepage: http://www.bapco.com
MobileMark 2012 1.5 is an application-based benchmark that reflects usage patterns of business users in the areas of office productivity, media creation and media consumption. Unlike benchmarks that only measure battery life, MobileMark 2012 measures battery life and performance simultaneously, showing how well a system design addresses the inherent tradeoffs between performance and power management.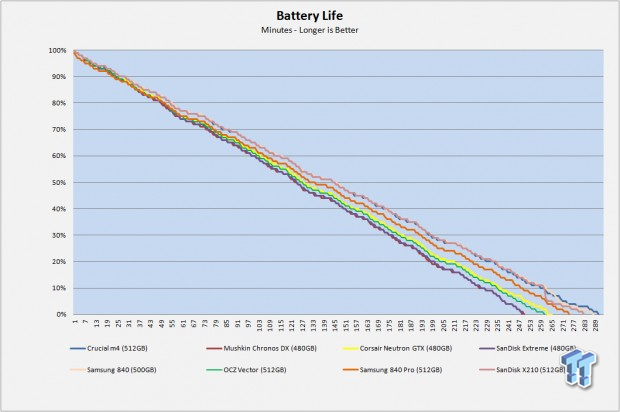 Without a Haswell based notebook in our lab, we can't test the X210 with DEVSLP enabled during a notebook battery test. The Lenovo W540 will hit the market soon and when it does, we'll upgrade our W530 and be set to test with the additional power states working.
Even without DEVSLP, the X210 does well in our notebook power test. The final result was 283 minutes with a 6-cell battery. That is the third best result we've recorded on a 512GB class SSD.
PCMark Vantage HDD Test - Power Draw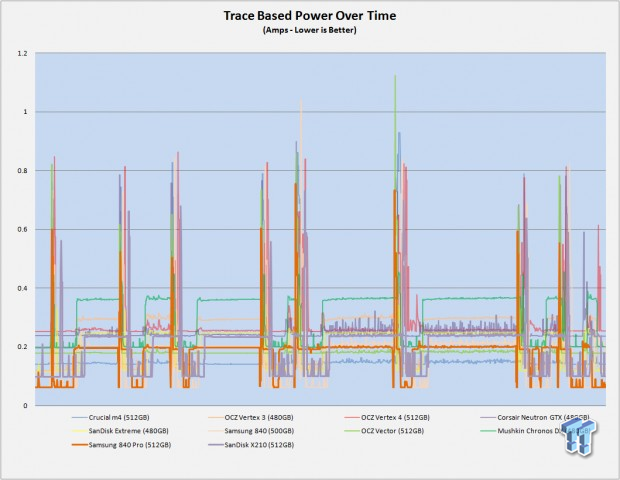 Without DEVSLP working we can't pull the X210 down to its lowest power state, but we do get to see the pauses between each test in Vantage. Only the Samsung 840 and 840 Pro go lower during the test.
Final Thoughts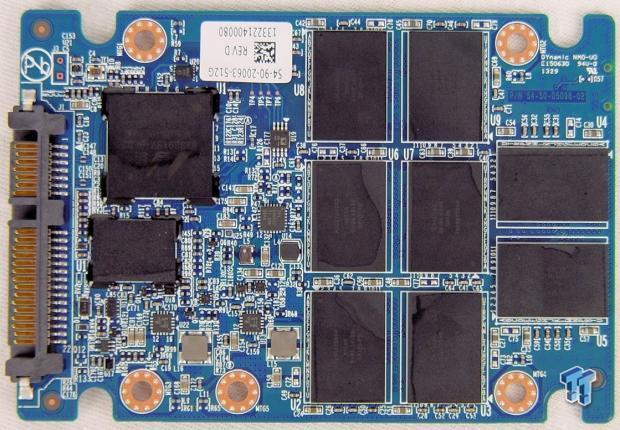 When we tested the 256GB model, the X210 had just hit CDW and a few other channel e-tails. Our review sample arrived before channel distribution, so we went live with the review as soon as the X210 made a debut. The price on release day was quite a bit higher than it is now. The initial price was within reason, but the new, lower price is much better. Since X210 is a product that gets deployed in a group of notebooks for companies, every dollar is multiplied by the number of deployments.
Looking at the performance, we can see where the X210 is based on the same hardware as the consumer specific Extreme II. The X210 was tuned in firmware for an even higher degree of reliability. In doing so some of the processing power was used for data checks, so a small portion of performance was lost. The X210 is still a very high performing drive. In out testing, we saw the X210 outperform the Samsung 840 Pro in a number of tests.
The testing we used today compare the X210 against consumer SSDs in typical notebook and desktop tests. Paul just finished wrapping up his testing with the X210 drives for server environments. His testing goes a step further and explores the different over provisioning levels for increased performance consistency.
We'll have more X210 coverage soon, so stay tuned to TweakTown.