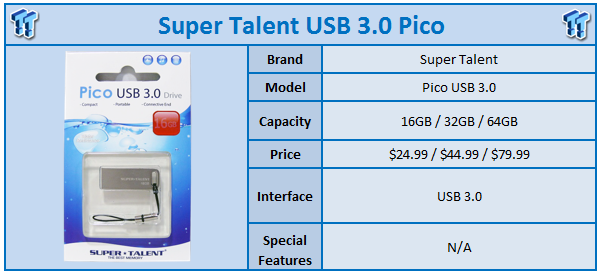 Continuing on the success of the Pico USB 2.0 flash drive line-up, Super Talent has gone back to the drawing board combining as many internal components as possible to create the next generation in small form factor, Pico drives.
The Super Talent USB 3.0 Pico is available in many flavours from 16GB all the way up to 64GB. Every capacity is tucked away inside a stylish aluminium exterior that's sealed tight for superior resistance to water. Marketing specifications for the Pico USB 3.0 flash drive are set at 72 MB/s read and 28 MB/s write. Super Talent warranties the Pico USB 3.0 for a period of three years.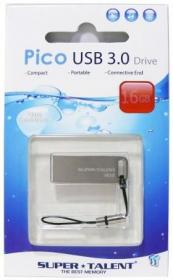 For our review, Super Talent sent over the 16GB capacity drive in its retail form.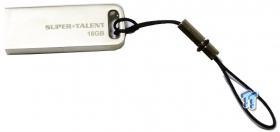 The top side of the Pico houses the Super Talent branding and capacity listed below. The drive is also shipped with the lanyard attached.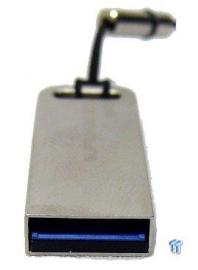 This new generation of Pico does comply with USB 3.0 standard, as such the port has been colored blue.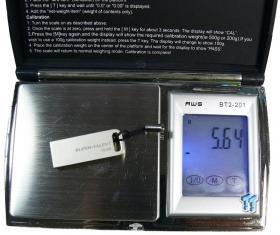 Setting the Pico on our digital scale, we found the drive to weigh just 5.6 grams.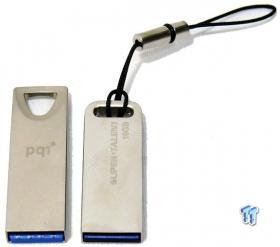 For comparison, we set the Pico up next to the PQI Tiffany, which we reviewed previously.
One of the lesser-known features of running Microsoft's new operating system Windows 8 is the native capability of USB Attached SCSI or UASP. In benchmarking flash drives, we utilize ATTO Disk Benchmark followed by DiskBench and our custom set of real-world data, and is by far the most important comparison when looking for a flash drive for everyday use.
Recently we have added our very own Price vs. Performance charts for both read and write performance of each drive, for these charts we take the average sequential performance over five runs and divide it by the price per GB. All pricing information is updated before a new drive is added and is taken from certified channel retailers such as Newegg or Amazon.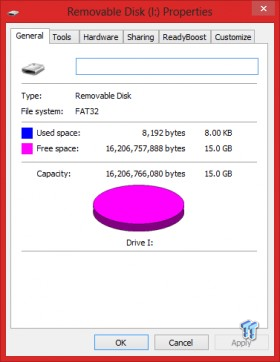 The Super Talent USB 3.0 Pico is factory formatted with the FAT32 file system, insuring compatibility between Windows and Macintosh computers. The usable capacity after formatting is 15GB.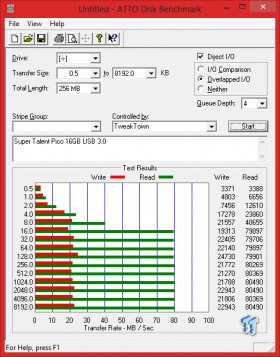 As we touched on earlier, Super Talent marketing has the Pico at 72 MB/s read and 28 MB/s write. In ATTO, we were able to touch 80 MB/s read (slightly higher than marketing), while write speeds came in at 23 MB/s, slightly lower than marketing.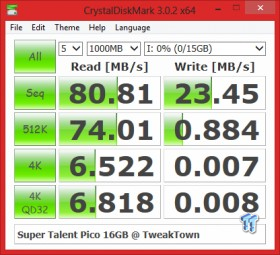 In CDM, our results were similar to what we found with ATTO. Here we were able to touch the same 80 MB/s read and 23 MB/s write.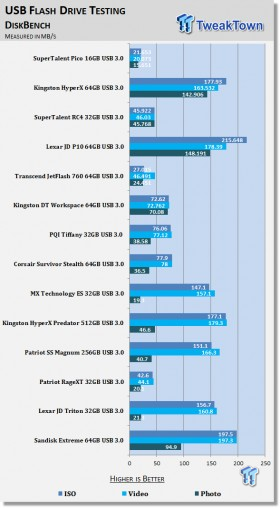 DiskBench testing had the Pico from Super Talent on par with the JetFlash 760 from Transcend.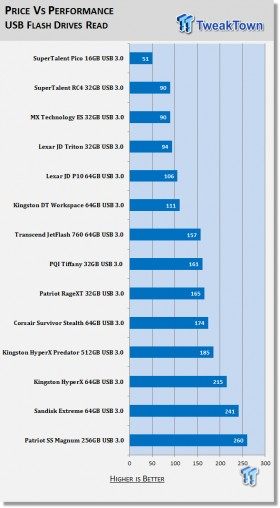 Above, we have our Price vs. Performance charts for read performance. As you can see, the Super Talent Pico didn't do too well here, with its high price per GB at $1.50.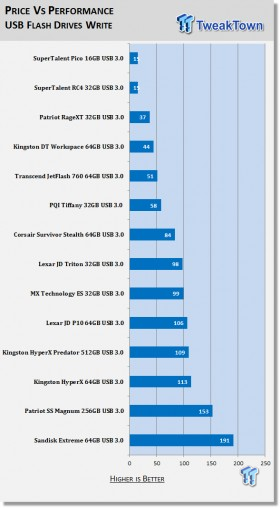 Write performance put the Pico on par with our previously reviewed Super Talent RC4, again this is due to the high price per GB.
With its extremely small form factor, the next generation of Pico drives from Super Talent are ready for your systems. Using aluminium, instead of plastic, allows Super Talent the ability to offer the Pico with a one piece enclosure, giving the end-user an increase in the overall durability of the product. Additionally, the one piece enclosure allows the unit to maintain its waterproof nature.
Performance of the Super Talent Pico was on par with what we expected from a marketing perspective. The Pico wasn't made to be a speed demon, but rather to fit where other drives just couldn't, like your key ring.
Pricing at this time for the 16GB capacity is set at $24.99, while the 32GB model is set at $44.99. And if you're hungry for top-notch capacity, you will even find the 64GB model for $79.99.