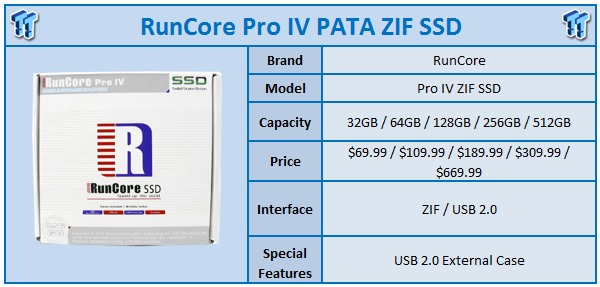 RunCore has been around for a number of years building unique solutions that cater to end-user's needs. Therefore, it comes as no surprise that today we have one of these solutions in house, namely the RunCore Pro IV ZIF SSD in the 256GB capacity. RunCore has also sent for this review, their external USB 2.0 HDD/SSD casing that utilizes the ZIF form factor, so we could take this drive for a spin.
Now you may be wondering, as I did when I first saw this drive, what uses the ZIF form factor these days? For starters, when Apple released the first MacBook Air in 2008, the super compact design of the chassis called for storage to suit, and since then we have seen other OEMs such as HP and Dell roll netbooks out using this form factor as well. Therefore, if you own a unit such as a MacBook Air Rev A, Dell Inspiron Mini12 or even an HP Mini 1000, then this drive is for you.
RunCore has spec'd this drive at 135MB/s read and 130MB/s write. This drive also carries bad block management and static wear levelling technologies.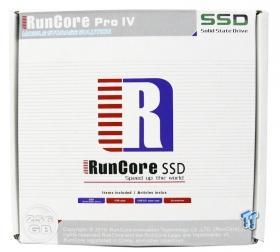 Our RunCore Pro IV SSD was delivered to us in its retail form. The front of the box carries the RunCore logo; at the bottom, you find a list of the included items.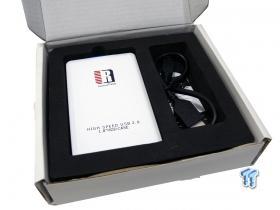 Upon opening the packaging we found everything tucked away securely in dense foam.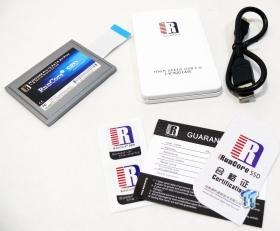 After laying everything out on our table, the scope of delivery included the ZIF SSD, HDD/SSD case, USB 2.0 cable and warranty papers.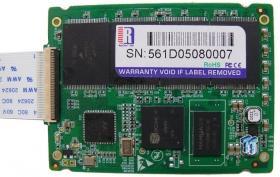 After opening up our SSD, we found the Silicon Motion SM2244 being utilized as the FSP. To the left we find the Marvel PATA to SATA bridge chip and above 256GB of Micron MLC NAND.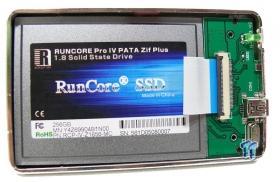 After positioning the ZIF cable properly, we were ready to install the cover and get to testing.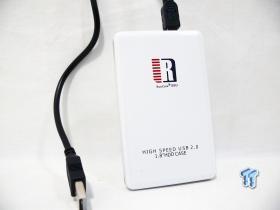 The casing for the RunCore ZIF SSD uses a 1.8" form factor, and is manufactured out of an aluminium shell with a plastic frame.
To test external storage platforms we utilize three of the most well-known and respected benchmark applications. ATTO Disk Benchmark is the first and is recognized as the industry standard for marketing specifications.
The second, CDM or Crystal Disk Mark offers sequential read and write metrics, 512K random read and writes and 4K data with Queue Depths up to 32.
Through Disk Bench, we offer real-world testing as it offers a custom data set that can be controlled by the user. For our testing I use a 10GB directory of mixed data that includes, pictures in both the RAW and JPEG file formats, AVCHD video and documents in both the XLS and DOC formats.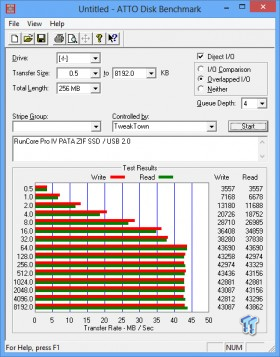 Since we are testing the RunCore ZIF SSD inside its USB 2.0 casing, we simply cannot expect that this drive is going hit its marketing targets. In ATTO the drive did pretty well topping out USB 2.0 speeds at 43MB/s read and 43MB/s write.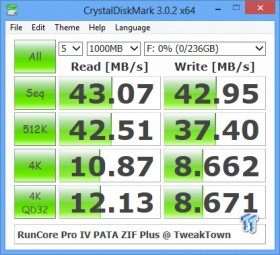 CrystalDiskMark we hit the same numbers in sequential testing. However, random reads were impressive at 42MB/s read and 37MB/s write. 4K did quite well pushing close to 11MB/s.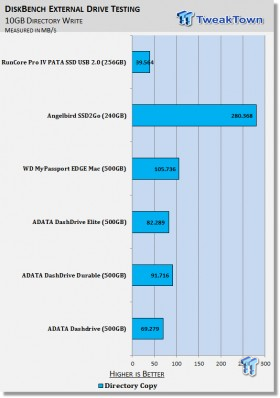 Looking over the DiskBench chart, we did not expect to see the RunCore top the charts with its USB 2.0 casing holding it back. However, it was only 30MB/s off the ADATA Dashdrive that came in at 69MB/s.
There's no doubt that the RunCore Pro IV PATA ZIF SSD caters to those of you that have and enjoy your first gen MacBook Air or any of the netbook PCs I mentioned earlier, and of course testing this drive through its USB 2.0 enclosure isn't really practical. There is a sunnier side to this though and that is, the speeds seen here are worst-case scenario, with the drive bottlenecked by USB 2.0.
Performance of the RunCore Pro IV in the configuration we have here and of course considering USB 2.0 was exceptional, and I say this because the drive maxed out USB 2.0 and of course, I have no doubts this drive will meet or even exceed marketing specifications.
Pricing of this drive at the time of writing is a bit of a wash. While I was able to find it at several online shops, none of them are what I call reputable. I was able to find the smaller 128GB capacity at MyDigitalDiscount for $189.99, so I would say you are looking at $289.99 for this drive in the 256GB configuration.