Seagate 600 SSD ST240HM000 240GB SSD Review
We have a number of Seagate SSD articles hitting TweakTown today. Let's start with the cornerstone of the mainstream consumer class.
Published May 7, 2013 7:05 AM CDT
|
Updated Tue, Nov 3 2020 7:00 PM CST
13 minute read time
Introduction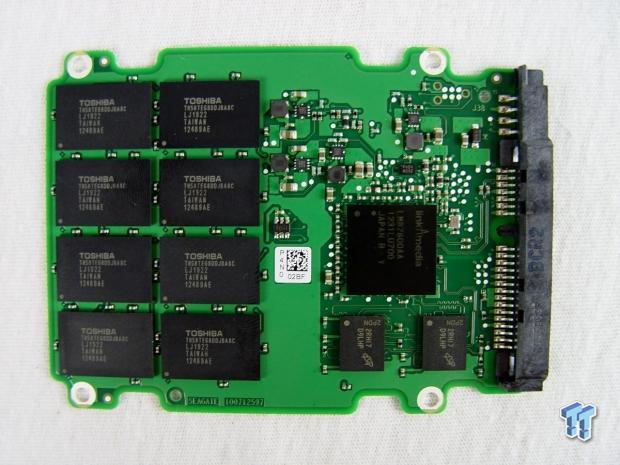 We have a wide span of Seagate products to cover today in a number of articles. By now we've broken the new products down in the Seagate 2013 SSD Lineup article is on the front page of TweakTown and we can start with the actual reviews now.
First up is the mid-capacity consumer drive, 600 SSD in 240GB capacity size. This is Seagate's entry to the consumer SSD market, an expected move despite statements made by Seagate's CEO over the last five years.
At this point going forward, the consumer market will have flash. Intel's new ultrabook specifications mandates flash in the data storage path. This comes in the form of either an SSD or a cache SSD paired with mechanical storage. Mechanical drives are quickly being displaced by flash for boot drives and out of box storage, like NAS servers and cloud-based storage are moving into the home.
We have a lot to cover today, so let's get started with the new Seagate 600 SSD specs on the next page.
Specifications, Pricing and Availability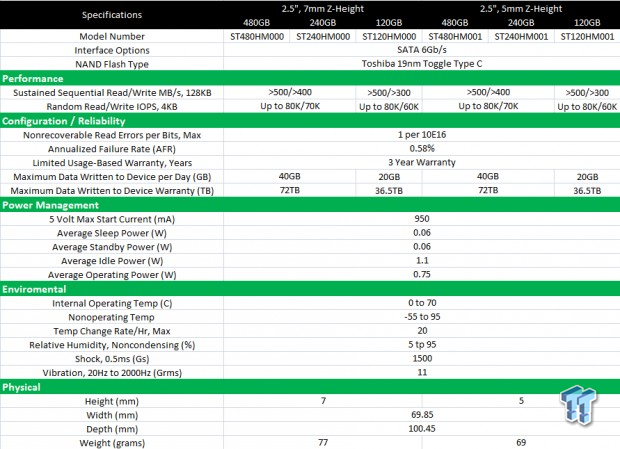 The Seagate 600 SSD has two categories divided by form factor. In each form factor are three capacity sizes and that leaves us with six individual model numbers. The form factors are 5mm and 7mm z-heights, so ultrabook and new ultrabooks popping up at Computex 2013 are covered. The 7mm z-height uses standard SATA power and data connectors so they also work in existing desktops and notebooks. The 5mm standard is a topic we'll talk about in a couple of days when we review a Western Digital 5mm mechanical HDD.
When it comes to performance, the six Seagate 600 SSD products boil down to two categories based on capacity size. The two 240GB and two 480GB drives share the same performance numbers as does the two 120GB sizes. Today we'll publish reviews of both the 240GB and 480GB 600 SSD's.
Seagate's performance ratings are fairly general, over 500MB/s sequential read and over 400MB/s sequential write on the two larger capacity drives. Random 4K IOPS performance comes in at up to 80K read and 70K write. We managed to break all four of the corner performance ratings in our test with both 600 SSD's we're testing today.
Even though we covered it in the Seagate 2013 SSD Lineup article, I want to bring up the fact that Seagate also has a 600 Pro model designed for enterprise use. The 600 Pro should also cross over to the enthusiast / power user market, if the price is within reach.
When it comes to prices, with 48-hours left to go before the NDA lifts, we don't have anything to mention on the MSRP for any of Seagate's new SSD's. To be fair, when Seagate releases mechanical drives, they don't provide us with MSRP information, but SSD's are an entirely different market. Seagate is struggling to get us a lot of the information we're asking for. This is their first real SSD launch, but we really expected a bit more from the company.
The Seagate 600 and 600 Pro both use the Link_A_Media Devices (LAMD) LM87800AA, the same Corsair chose for the Neutron and Neutron GTX products nearly a year ago. Seagate pairs both the 600 and 600 Pro with new Toshiba 19nm Toggle Mode flash, Type C. The Type C is the new dual plane flash with 16K page sizes. Both 600 Series products use Micron DRAM, two chips on the capacity sizes we have in hand. The 120GB model may use just one DRAM chip to store page table data.
The consumer 600 SSD has a three year warranty. Seagate, like many others, have included a total TB written warranty exemption. The 240GB and 480GB 600 SSD's are covered for up to 72TB written, while the 120GB models only go up to 36.5TB.
Seagate 600 SSD 240GB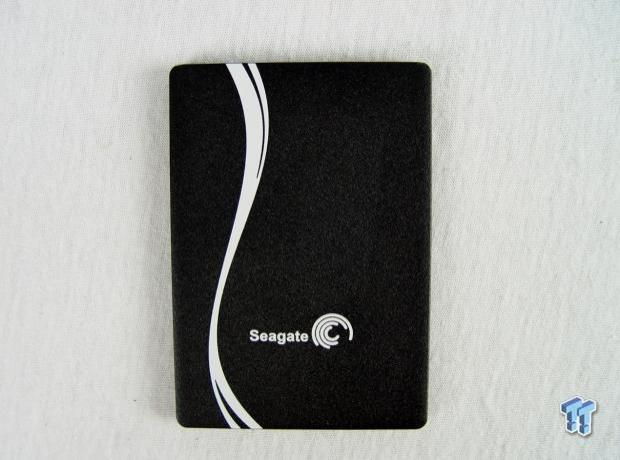 Here we get our first look at the Seagate 600 SSD. The black case is unique to the non-Pro model. Seagate put together an attractive design for the consumer market.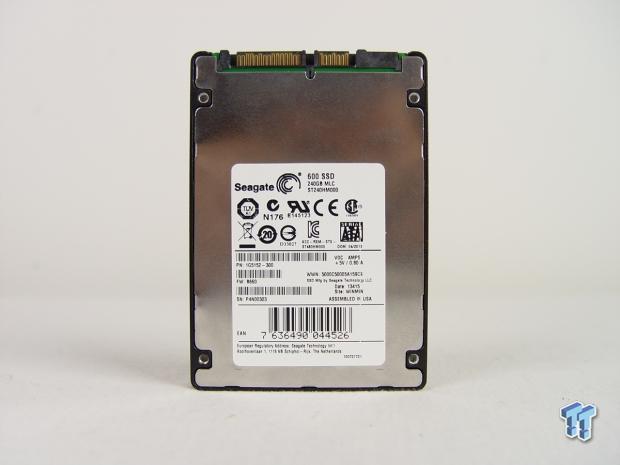 The capacity size, model number and serial number are all located on the back of the drive.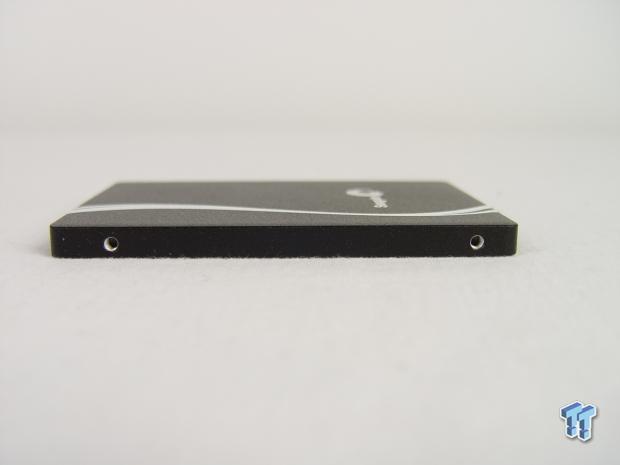 We're looking at the 7mm form factor drive today. This package uses standard 2.5" mounting points so it will work in a desktop adapter bracket, case drive sled and standard notebooks. The 7mm z-height design has taken on in the ultrabook market, where it was first designed for.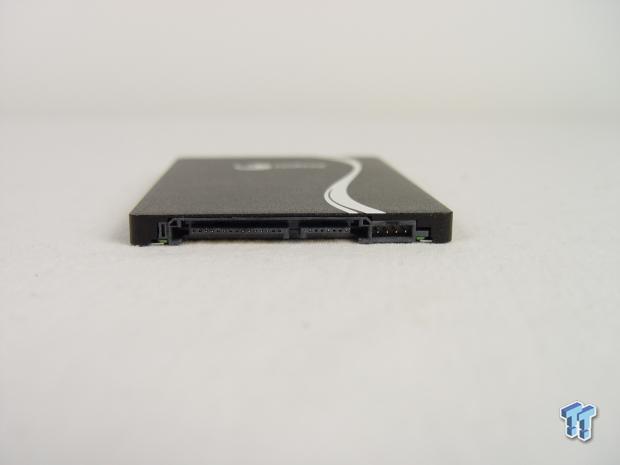 7mm drives use standard SATA power and data connectors. We've spoke about this for years with the anticipation of 5mm products. It took a little longer than we expected for 5mm to arrive, but 5mm drives do not use standard SATA power and data connectors.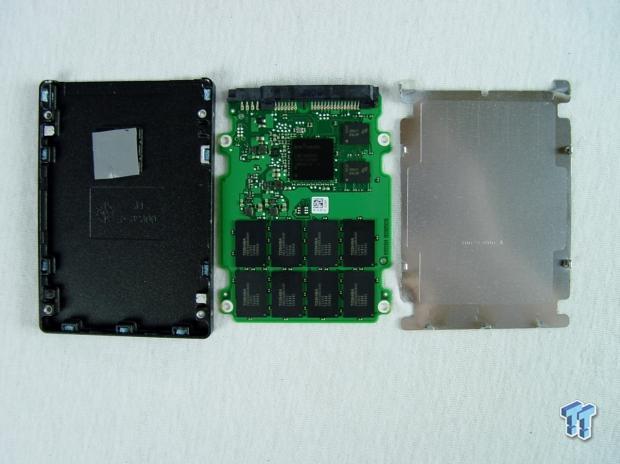 Seagate's 600 and 600 Pro SSD's have an anti-intrusion system. If you ever get your SSD open to this point, you will NOT get it back together and still look the same way. The cover plate, seen here on the right bends easily and locks into place. Seagate warned us not to expect to get a drive back together, and they were right. We did manage to put it back together, but it was obvious the drive had been tampered with.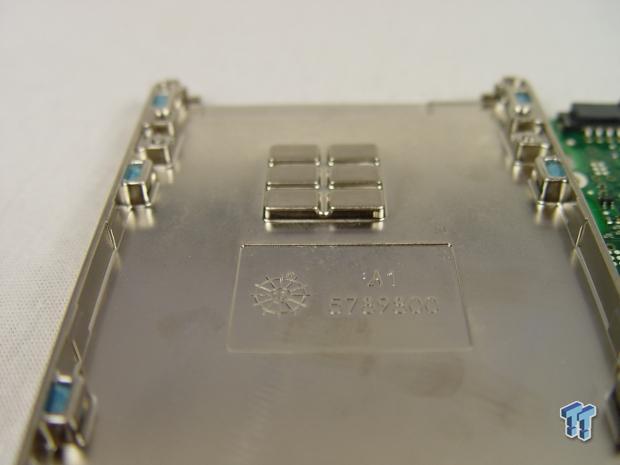 The case acts as a heatsink for the LAMD controller. This image is from the 600 Pro, but both the 600 and 600 Pro have the same extended area that contacts the LAMD controller.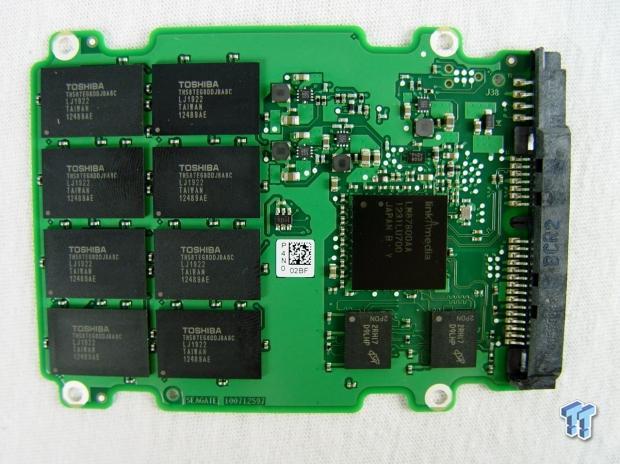 Here we see the PCB. All of the surface mount components are located on this side of the PCB.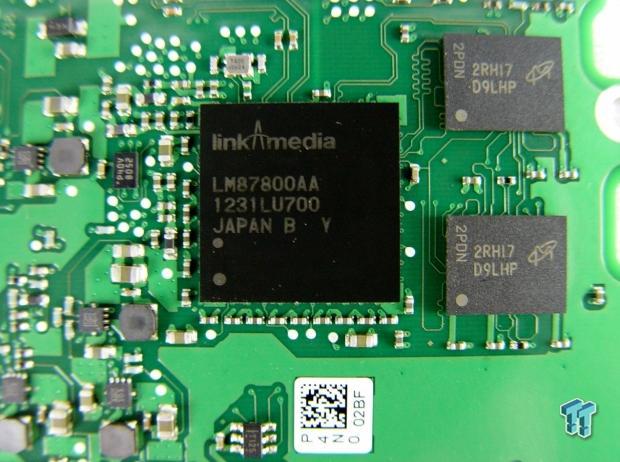 Seagate uses the same LAMD LM87800AA controller found on the Corsair Neutron Series SSD's, but Seagate tuned the programming and firmware. To the right we see the dual Micron DRAM buffers for page data.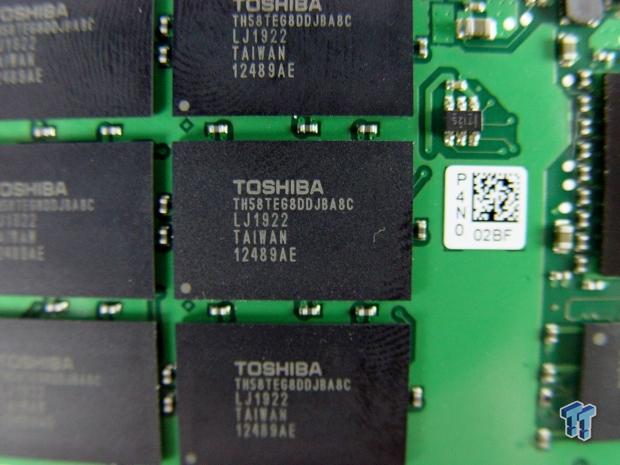 Toshiba's new Type C 19nm Toggle flash holds the data. There are eight chips total.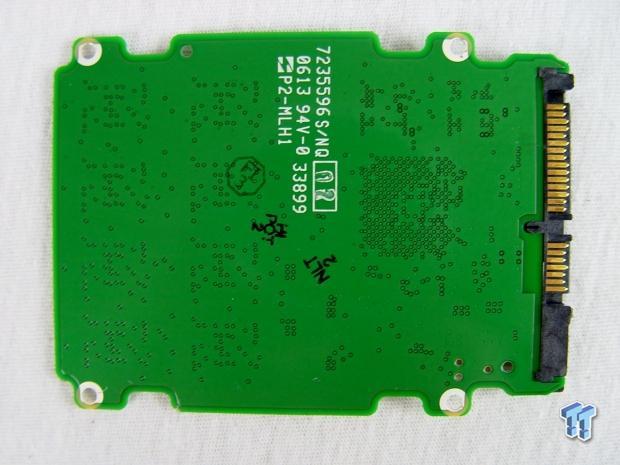 The other side is void of components.
Benchmarks - Test System Setup and ATTO Baseline Performance
Desktop Test System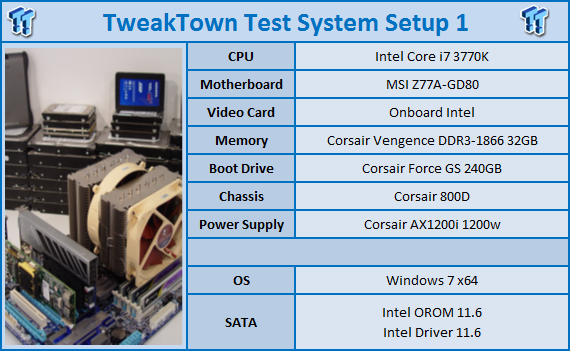 Lenovo W530 - Mobile Workstation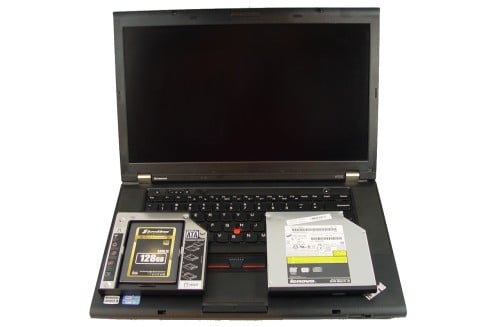 We use two systems for SSD testing. The desktop runs a majority of the tests and the Lenovo W530 runs the notebook power tests as well as the real-world file transfer benchmark.
ATTO Baseline Performance
Version and / or Patch Used: 2.34
ATTO is used by many disk manufacturers to determine the read and write speeds that will be presented to customers.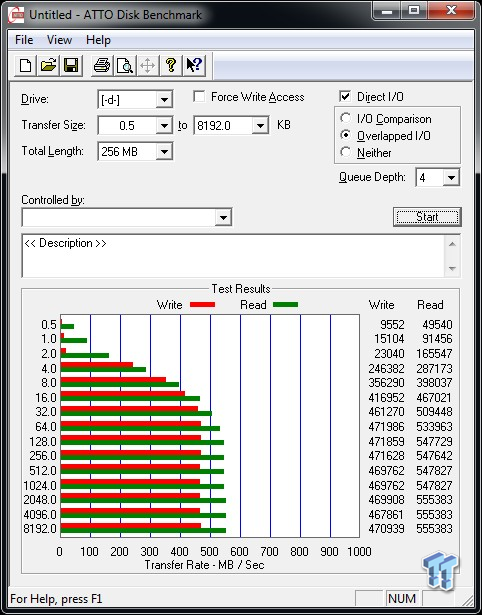 We easily topped Seagate's maximum stated performance numbers. In our ATTO test we posted a 555MB/s read speed and 471MB/s write speed. Not bad for a 500 / 400 rating, we'll take it.
Benchmarks - Sequential Performance
HD Tune Pro
Version and / or Patch Used: 4.00
Developer Homepage: http://www.efdsoftware.com
Product Homepage: http://www.hdtune.com
HD Tune is a Hard Disk utility which has the following functions:
Benchmark: measures the performance
Info: shows detailed information
Health: checks the health status by using SMART
Error Scan: scans the surface for errors
Temperature display
HD Tune Pro gives us accurate read, write and access time results and for the last couple of years has gained popularity amongst reviewers. It is now considered a must have application for storage device testing.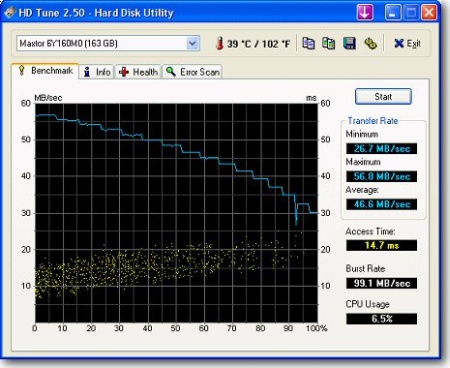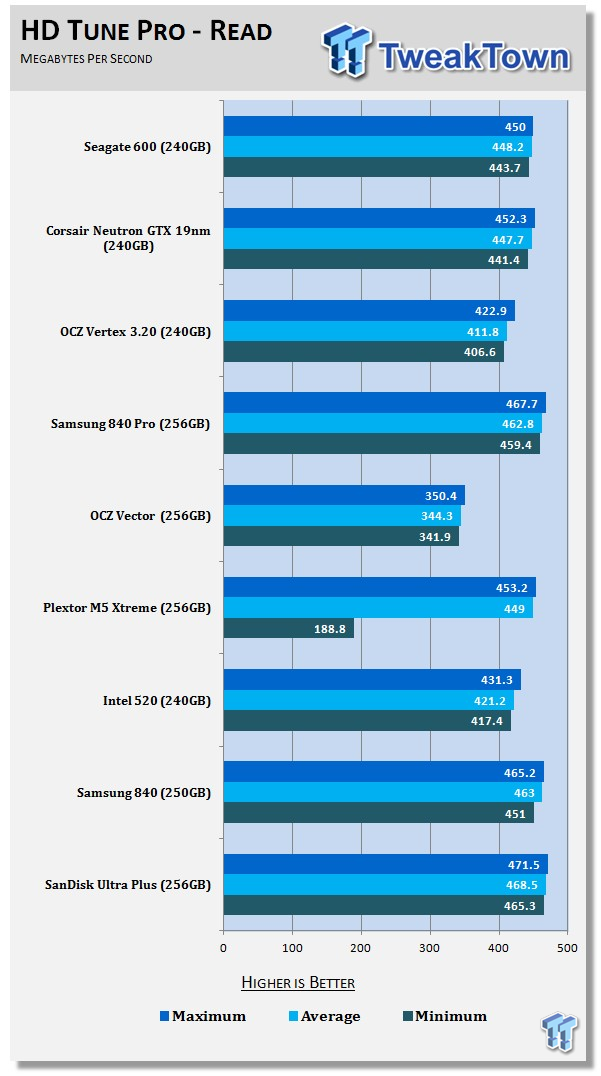 On the charts today is a drive we haven't published a review on yet, but it's relevant to post it against the Seagate 600 since the controller and the NAND are nearly identical. The drive is the Corsair Neutron GTX 240GB. This isn't the same Neutron GTX we tested last year, this one has a slight change to the BOM, 19nm flash instead of 24nm that the launch day product shipped with.
Reading across the Seagate 600 produces an average data rate of 448MB/s. This is a very high result and puts in close to the performance class that makes up the top tier.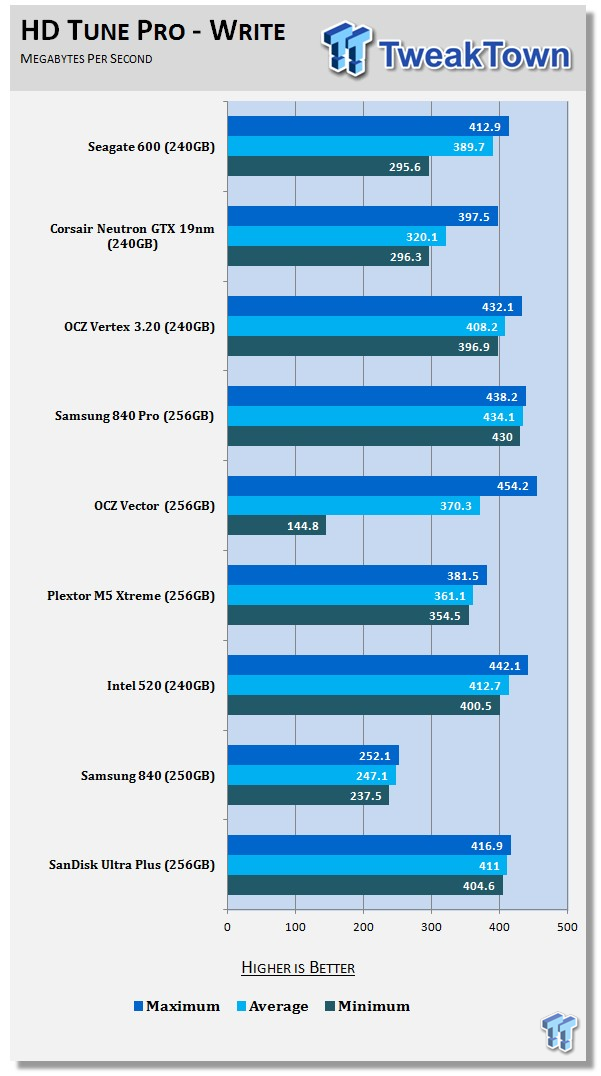 We've had a lot of experience with LAMD controllers. That experience has taught us that LAMD's architecture, no matter who tunes it, has write performance consistency issues. The only way to get around it is to throw a lot of overprovisioning at the issue. That's exactly what Seagate did on the Pro model, but the non-Pro 600 uses the standard 7% OP.
HD Tach - Sequential Write Performance after Random Writes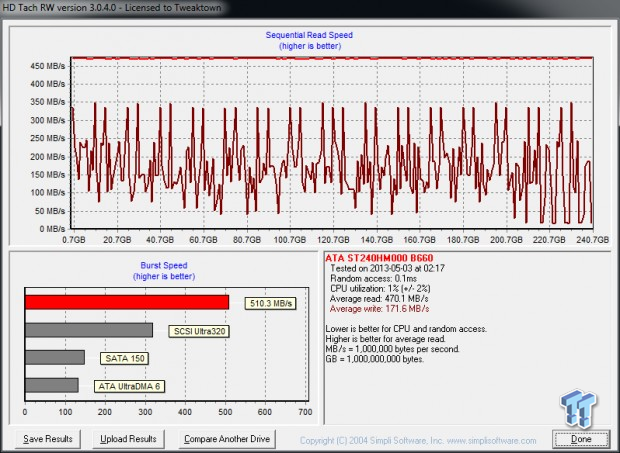 A sequential read and write test after a relatively small amount of random writes really drives the point home. Here we see the Seagate 600 drop down to less than 25MB/s writes in some places. The results are very disappointing, but expected with this architecture and flash combination.
Benchmarks - AIDA64 Random Access Time
AIDA64 Random Access Time
Version and / or Patch Used: 1.60
Developer Homepage: http://www.aida64.com
Product Homepage: http://www.aida64.com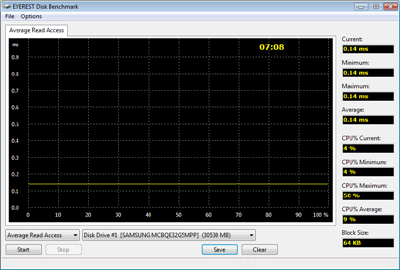 AIDA64 offers several different benchmarks for testing and optimizing your system or network. The Random Access test is one of very few if not only that will measure hard drives random access times in hundredths of milliseconds as oppose to tens of milliseconds.
Drives with only one or two tests displayed in the write test mean that they have failed the test and their Maximum and possibly their Average Scores were very high after the cache fills. This usually happens only with controllers manufactured by Jmicron.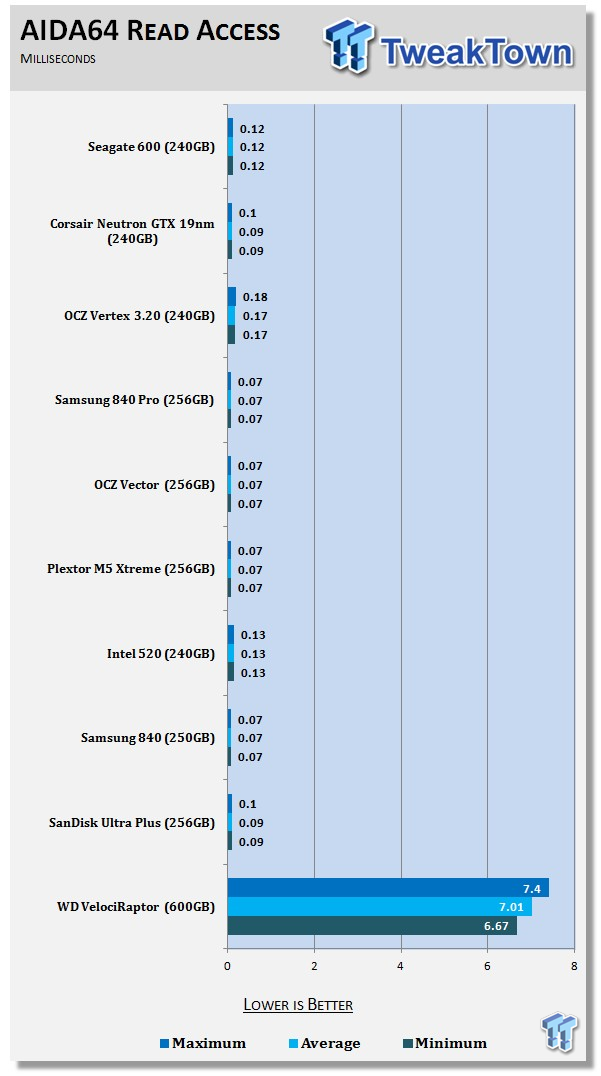 We shouldn't have any issues with read performance today with the Seagate 600 240GB. The latency is a bit higher than we expected, though, and that may pop up in the IOPS performance tests.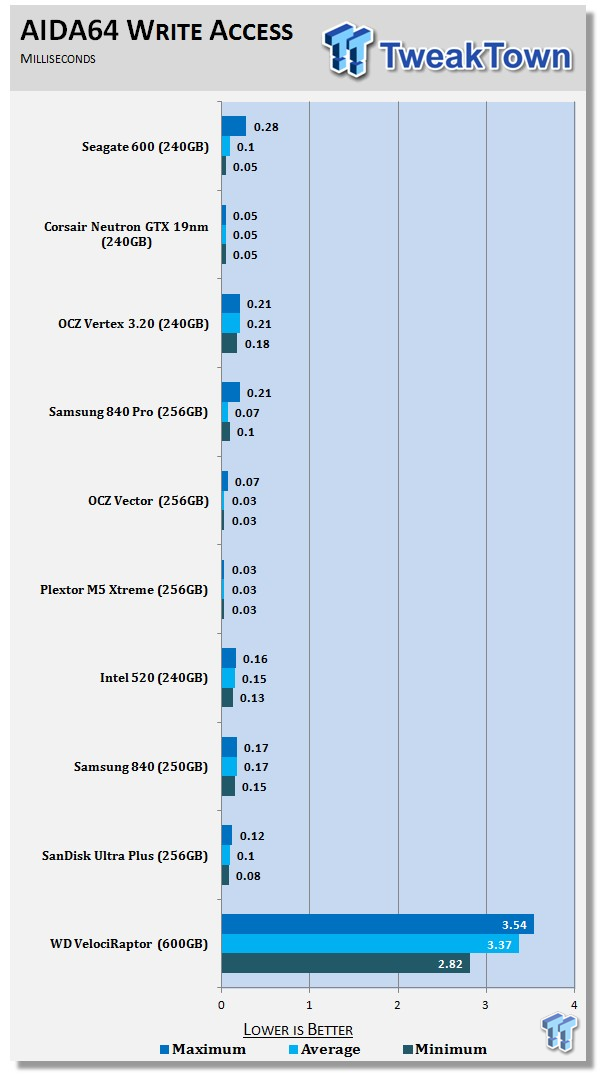 Seagate's inconsistent write latency was quite a bit higher than Corsair's Neutron GTX with 19nm flash. Corsair has a longer history to fall back on when developing SSD's and that experience is lacking in the Seagate corner.
Benchmarks - Anvil Storage Utilities
Anvil Storage Utilities
Version and / or Patch Used: RC6
So what is Anvil Storage Utilities? First of all, it's a storage benchmark for SSD's and HDD's where you can check and monitor your performance. The Standard Storage Benchmark performs a series of tests, you can run a full test or just the read or the write test or you can run a single test, i.e. 4K DQ16.
Anvil Storage Utilities is not officially available yet but we've been playing with the beta for several months now. The author, Anvil on several international forums has been updating the software steadily and is adding new features every couple of months.
The software is used several different ways and to show different aspects for each drive. We've chosen to use this software to show the performance of a drive with two different data sets. The first is with compressible data and the second data set is incompressible data. Several users have requested this data in our SSD reviews.
0-Fill Compressible Data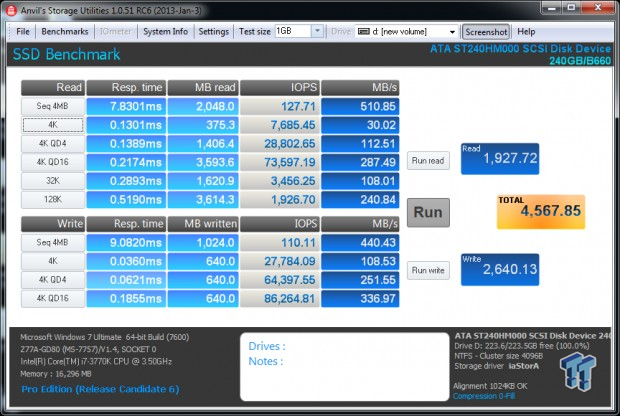 Incompressible Data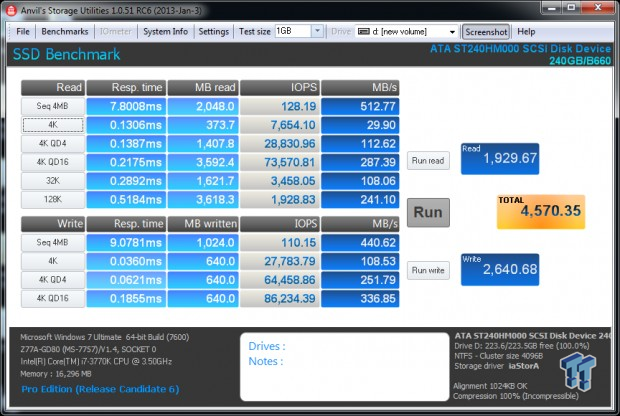 The Seagate 600 SSD doesn't lose performance when working with incompressible data.
Read IOPS through Queue Depth Scale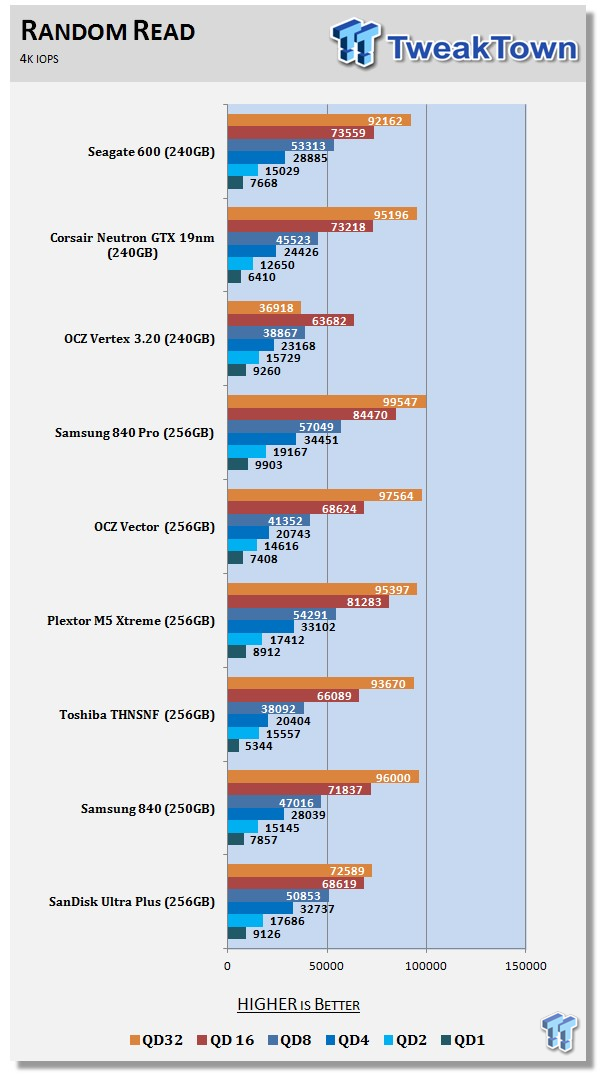 High queue depths are heavily advertised, but low queue depth performance is what drives desktop and notebook performance. The Seagate 600 manages to outperform the Neutron GTX, but falls behind the Samsung 840 Pro and LSI SandForce controlled OCZ Vertex 3.20 in the three lowest read queue depths.
Scaling Write IOPS through Queue Scale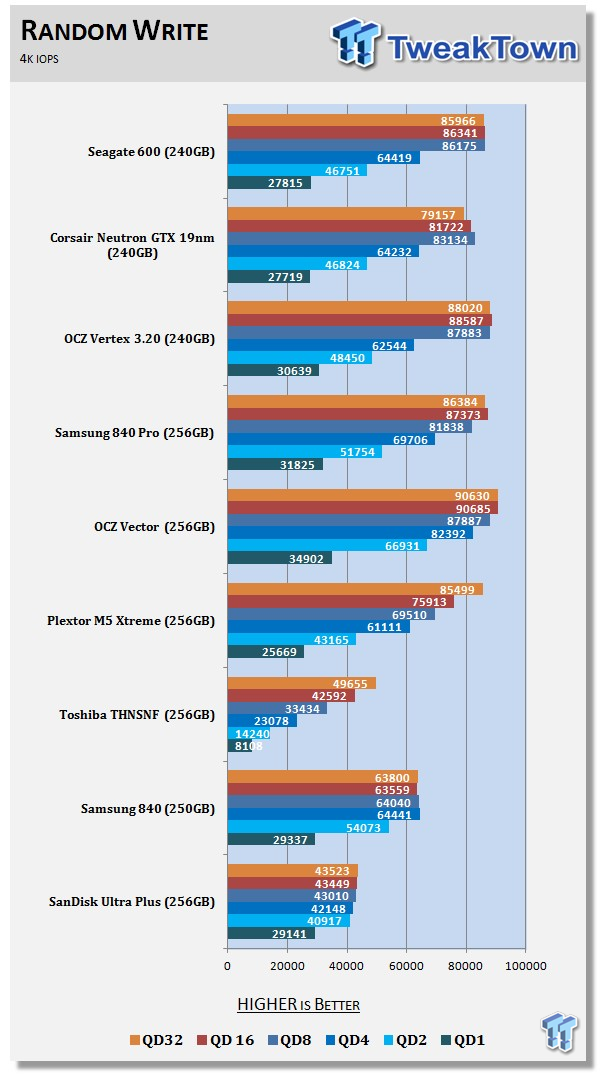 Low queue depth 4K write IOPS performance is pretty even at the top of the chart. The three lowest queue depths are around the same for everything except for Vector, the king of low queue depth write IOPS performance.
Benchmarks - CrystalDiskMark
CrystalDiskMark
Version and / or Patch Used: 3.0 Technical Preview
Developer Homepage: http://crystalmark.info
Product Homepage: http://crystalmark.info/software/CrystalDiskMark/index-e.html
Download here: http://crystaldew.info/category/software/crystaldiskmark
CrystalDiskMark is a disk benchmark software that allows us to benchmark 4K and 4K queue depths with accuracy.
Key Features:-
* Sequential reads/writes
* Random 4KB/512KB reads/writes
* Text copy
* Change dialog design
* internationalization (i18n)
Note: Crystal Disk Mark 3.0 Technical Preview was used for these tests since it offers the ability to measure native command queuing at 4 and 32.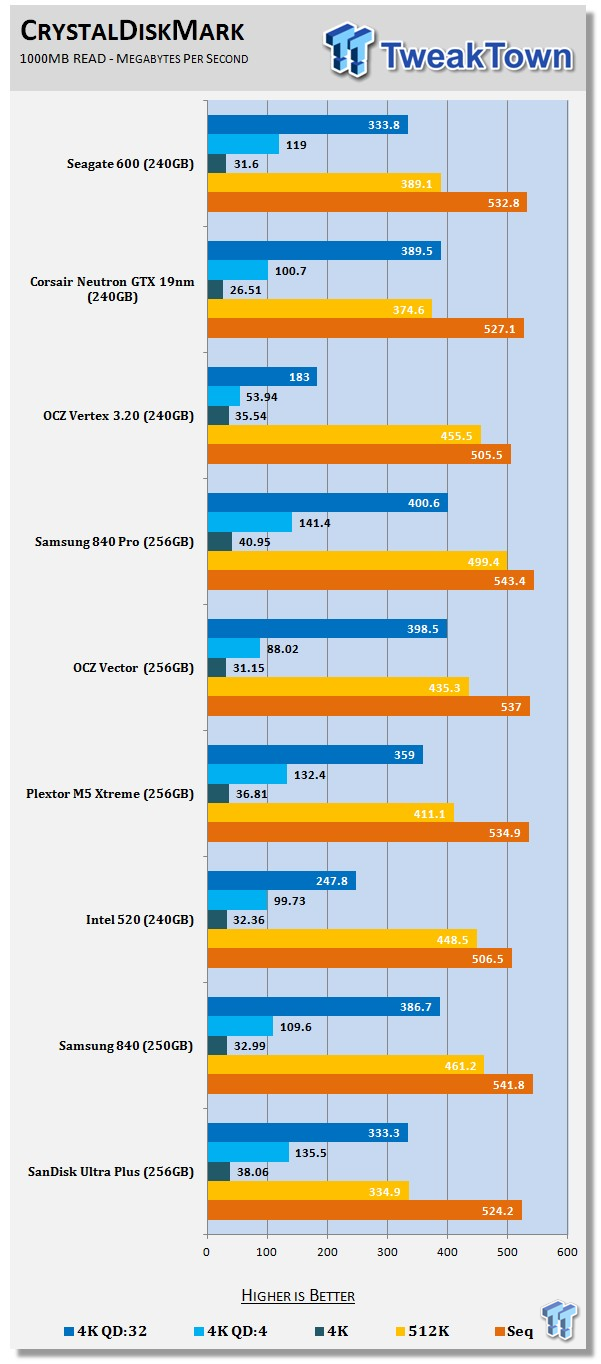 The Seagate 600 240GB has a lower 4K read speed when compared to some of the top performance SSD's on the market. This is one reason why the price is so important to know. Does it cost as much as the 840 Pro, or is it priced like the 840 and Vertex 3.20?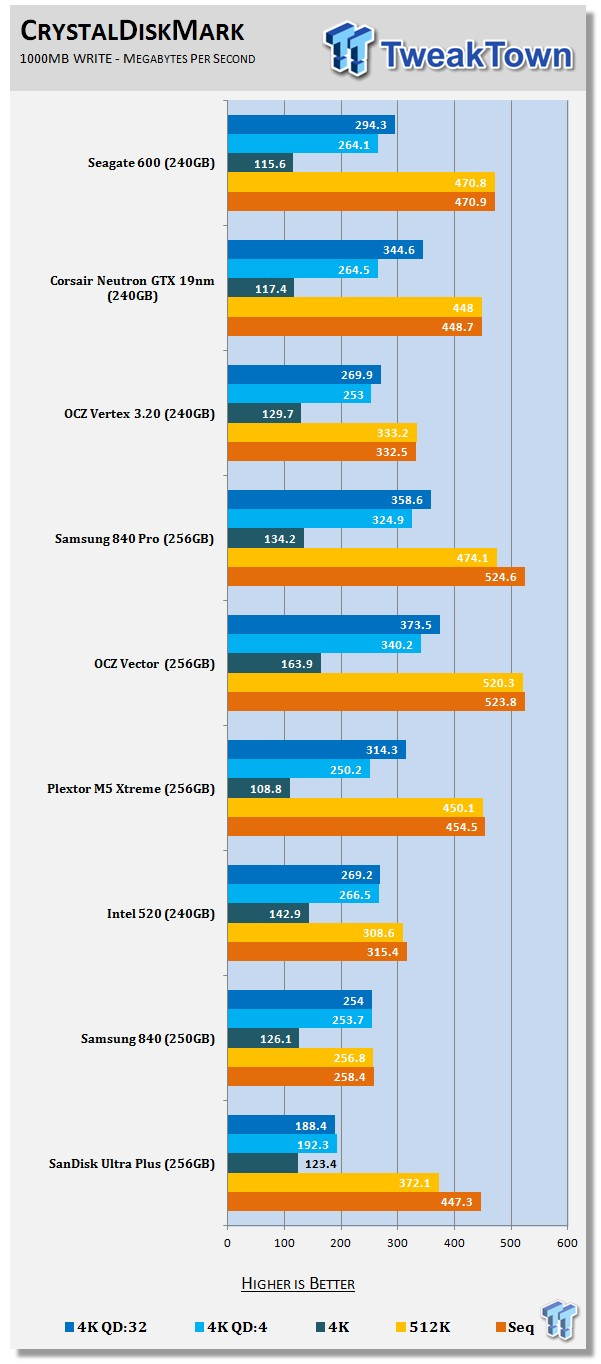 I was actually surprised to see the 600 SSD 240GB lose to the Neutron GTX at QD4 and QD32 in the write test since the 600 produced more IOPS in these tests on the previous page.
Benchmarks - PCMark Vantage Hard Disk Tests
PCMark Vantage - Hard Disk Tests
Version and / or Patch Used: 1.0.0
Developer Homepage: http://www.futuremark.com
Product Homepage: http://www.futuremark.com/benchmarks/pcmark-vantage/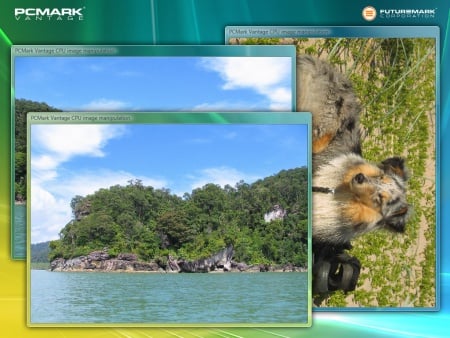 PCMark� Vantage is the first objective hardware performance benchmark for PCs running 32 and 64 bit versions of Microsoft� Windows Vista�. PCMark Vantage is perfectly suited for benchmarking any type of Microsoft� Windows Vista PC from multimedia home entertainment systems and laptops to dedicated workstations and high-end gaming rigs. Regardless of whether the benchmarker is an artist or an IT Professional, PCMark Vantage shows the user where their system soars or falls flat, and how to get the most performance possible out of their hardware. PCMark Vantage is easy enough for even the most casual enthusiast to use yet supports in-depth, professional industry grade testing.
FutureMark has developed a good set of hard disk tests for their PCMark Vantage Suite. Windows users can count on Vantage to show them how a drive will perform in normal day to day usage scenarios. For most users these are the tests that matter since many of the old hat ways to measure performance have become ineffective to measure true Windows performance.

HDD1 - Windows Defender
HDD2 - Gaming
HDD3 - Windows Photo Gallery
HDD4 - Vista Startup
HDD5 - Windows Movie Maker
HDD6 - Windows Media Center
HDD7 - Windows Media Player
HDD8 - Application Loading
The Seagate 600 240GB does really well when the drive is empty in our daily use consumer tests.
Benchmarks - PCMark Vantage - Drives with Data Testing
PCMark Vantage - Drives with Data Testing
For a complete breakdown on the Drives with Data Testing please read this article. You will be able to perform this test at home with the files provided in the article - full instructions are included.
- Brief Methodology
SSD's perform differently when used for a period of time and when data is already present on the drive. The purpose of the Drives with Data testing is to show how a drive performs in these 'dirty' states. SSD's also need time to recover, either with TRIM or onboard garbage collection methods.
Drives with Data Testing - 25%, 50%, 75% Full States and Dirty / Empty Test
Files needed for 60 (64GB), 120 (128GB), 240 (256GB)
60GB Fill - 15GB, 30GB, 45GB
120GB Fill - 30GB, 60GB, 90GB
240GB Fill - 60GB, 120GB, 160GB
Empty but Dirty - a test run just after the fill tests and shows if a drive needs time to recover or if performance is instantly restored.

Once we get data on the drives, performance decreases. The Seagate 600 240GB does well in this test, but once again we're left with questioning the price.
Benchmarks - BootRacer
BootRacer - System Boot Time
Version and / or Patch Used: 4.0
Developer Homepage: Greatis
Product Homepage: BootRacer
Download here: http://www.greatis.com/bootracer/download.htm
Note: In this test we use the Lenovo W530 Mobile Workstation loaded with an operating system and several program files. The data on the drive at the time of the test is 45GB. The second test, 50GB Free, was ran with the drives filled with block data until only 50GB of free capacity remained.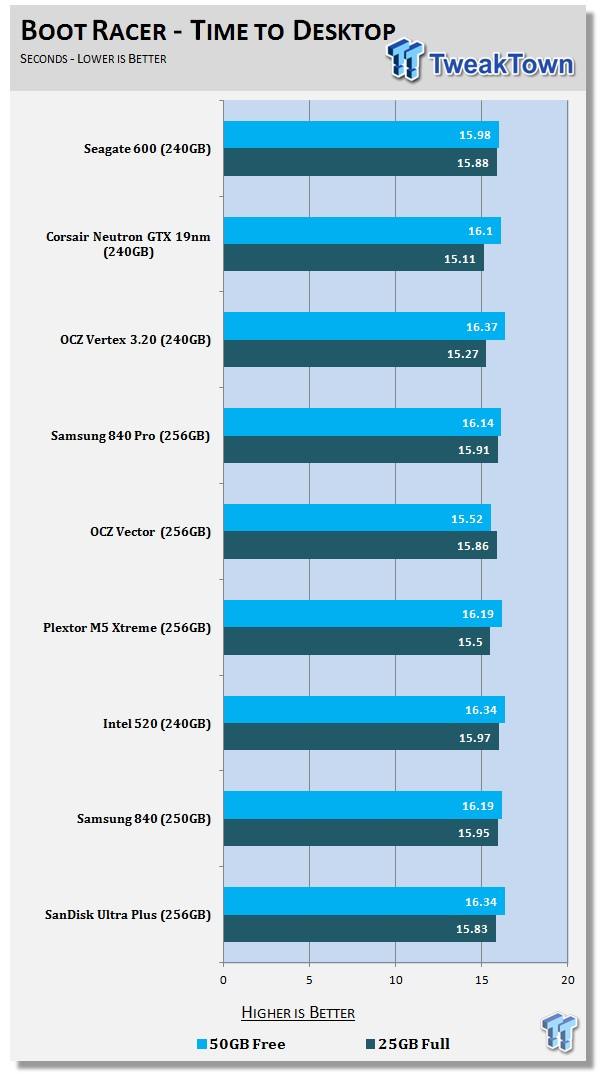 Our time to desktop after a reboot test shows fairly consistent performance across the chart.
Benchmarks - DiskBench
DiskBench - Directory Copy
Version and / or Patch Used: 2.6.2.0
Developer Homepage: Nodesoft
Product Homepage: DiskBench
Download here: http://www.nodesoft.com/diskbench/download
Note: In this test we use the Lenovo W530 Mobile Workstation and a SuperSSpeed S301 SLC 128GB SSD to move a 15GB block of data to and from the target drive. This is part of our real-world test regiment. Roughly 45GB of data resides on the target drive before the '15GB Block' is transfer. The 15GB Block is the same data we built for the Data on Disk Testing and is a mix of compressible and incompressible data.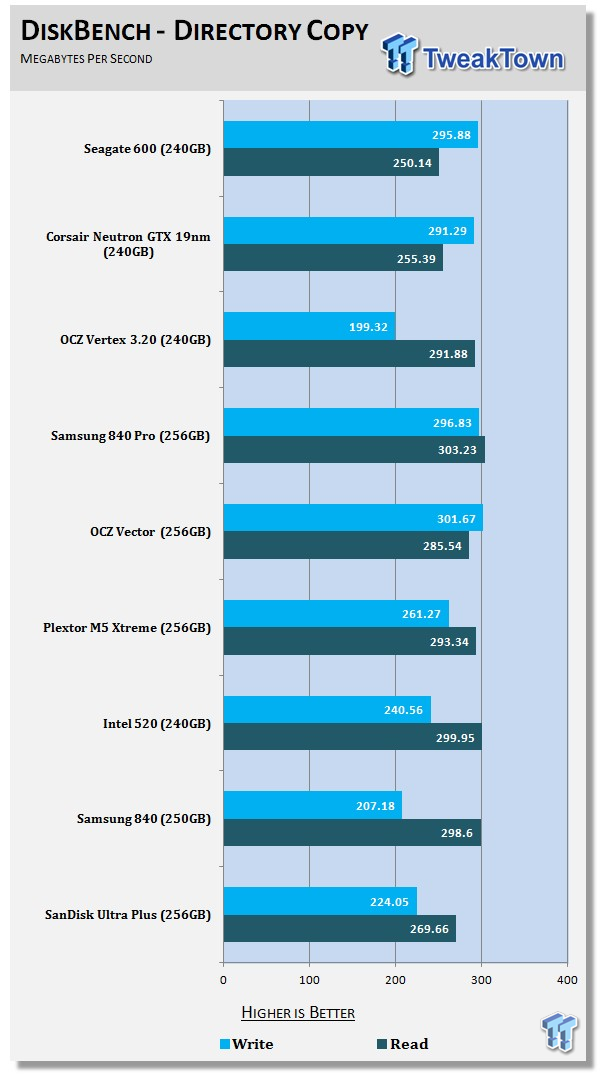 LAMD controllers are a rare breed, one of the few that actually write directory data (a folder full of mixed data) faster than reading it, while transferring data to another SSD.
Benchmarks - Power Testing
Bapco MobileMark 2012 1.5
Version and / or Patch Used: 2012 1.5
Developer Homepage: http://www.bapco.com
Test Homepage: http://www.bapco.com
MobileMark 2012 1.5 is an application-based benchmark that reflects usage patterns of business users in the areas of office productivity, media creation and media consumption. Unlike benchmarks that only measure battery life, MobileMark 2012 measures battery life and performance simultaneously, showing how well a system design addresses the inherent tradeoffs between performance and power management.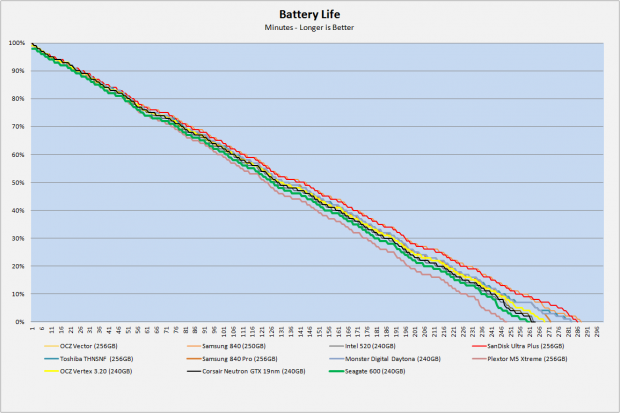 We ran into a strange issue when measuring the power. Right out of the box our Seagate 600 SSD 240GB pulled a lot of power, twice as much as Seagate stated in the specifications sheet. This led us to believe an IOmeter 4K write test was run at the factory prior to hitting our lab. In our first test where we read sequential data from the drive, the power use actually went down.
Seagate sent us a second 240GB drive and we found the exact same thing. Once we finished our tests the idle power consumption dropped down to advertised levels. If you write to the drive, the power takes quite a while to get back to idle. That usually happens when background activity is happening. We later figured out why the fresh out of box Seagate 600 pulled so much power in FOB state. When the drive is powered on for the first time, it builds the page table data.
That Seagate 600 SSD also has aggressive garbage collection. That is good for performance, but bad for battery life. Some SSD's let the dirty blocks stack up and then clean the blocks, while others try to keep the flash nice and tidy.
PCMark Vantage HDD Test - Power Draw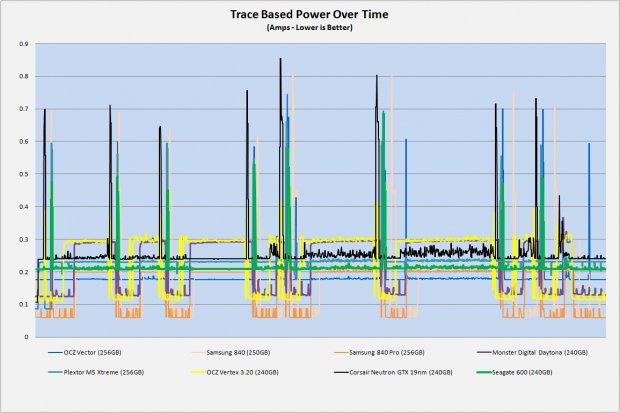 In our notebook test, we noticed the Corsair Neutron GTX 240GB with 19nm Toshiba Toggle flash delivered longer notebook battery life, but here we see the Seagate 600 actually uses less power while in use.
The difference is the idle power consumption. On the far left, you can see the Neutron GTX in black at its idle for a brief moment before the test starts. The 600 240GB (in green) never really drops below .2 Amps on our test bench, around twice that of the Neutron GTX.
Final Thoughts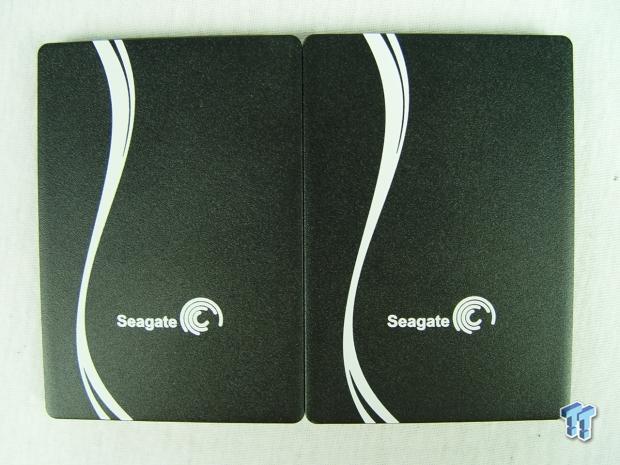 The 600 SSD 240GB is a solid first release for Seagate, but I have to admit I'm a bit disappointed with the performance in this capacity size.
I hate to say it, but I'm going to go ahead and toss this out there. Congratulations Seagate, you managed to make a Corsair Neutron GTX SSD, 11 months after Corsair. I don't feel that way about all of the capacity sizes. Our 600 SSD 480GB review is also live, and the extra flash helps stabilize write performance and consistency. If Seagate used 24nm flash, the 240GB write consistency would have been better, but with eight channels and eight 19nm NAND flash chips, the interleaving isn't ideal for the best possible write performance. We're running into the same issue with other SSD's moving to 19 and 20nm flash. The best performance is now in the higher capacity sizes. That wouldn't be an issue if all of the 25/24nm drives were already sold.
Without a price, we really don't have a lot to talk about today. We've covered the performance, but in the consumer market, the dollar is king. Seagate's three year warranty leads us to believe they will position this product closer to the 840 than the 840 Pro, but given their limited experience with SSD's, the gate is wide open to speculation. We rarely see low-cost SSD's using 19nm Toggle Mode flash, much less the new Type C version.
Stay tuned for more coverage of the Seagate SSD launch. We have a lot to cover today!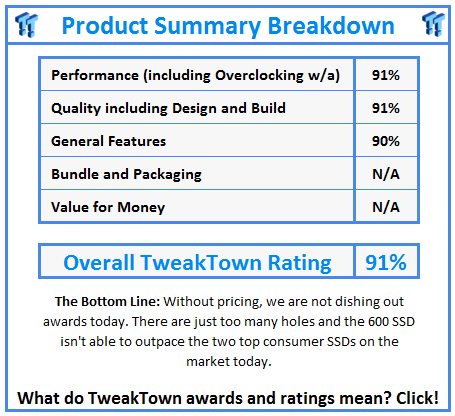 Update: Newegg just gave us our first glimpse of prices for Seagate's new 600 SSD Series. All pre-order prices are well below $1 per GB, a move that surprised us. If the pre-order prices hold up, then the 600 SSD is a helluva value coming in much less than any other LAMD controlled product on the market, and much lower than Samsung's 840 Pro and OCZ's Vector.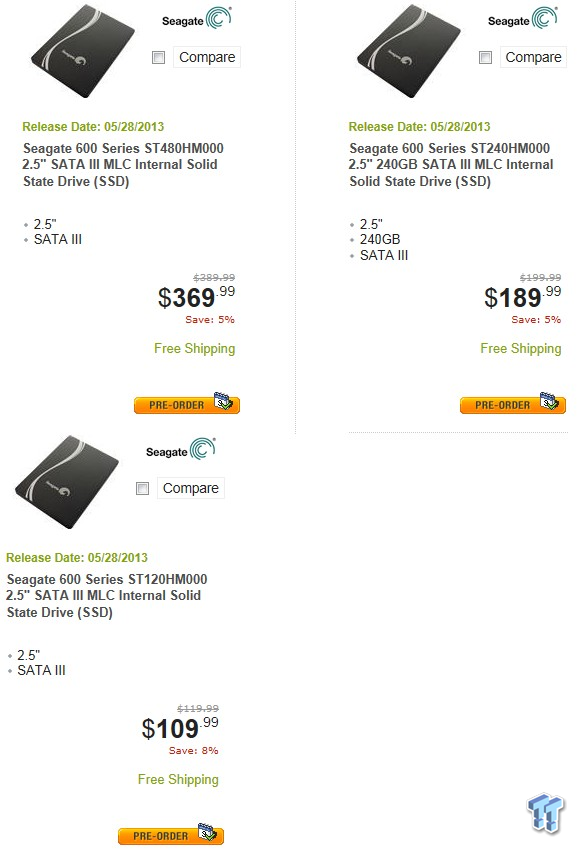 If we would have known pricing was this low our entire outlook on the drive might have been different. When it comes to mainstream SSD's the Seagate 600 is faster than many of the Team SandForce drives costs about the same. Look for more in our Mainstream SSD Roundup coming right after Computex.
PRICING: You can find products similar to this one for sale below.

United States: Find other tech and computer products like this over at Amazon.com

United Kingdom: Find other tech and computer products like this over at Amazon.co.uk

Australia: Find other tech and computer products like this over at Amazon.com.au

Canada: Find other tech and computer products like this over at Amazon.ca

Deutschland: Finde andere Technik- und Computerprodukte wie dieses auf Amazon.de
We openly invite the companies who provide us with review samples / who are mentioned or discussed to express their opinion. If any company representative wishes to respond, we will publish the response here. Please contact us if you wish to respond.
Related Tags