Introduction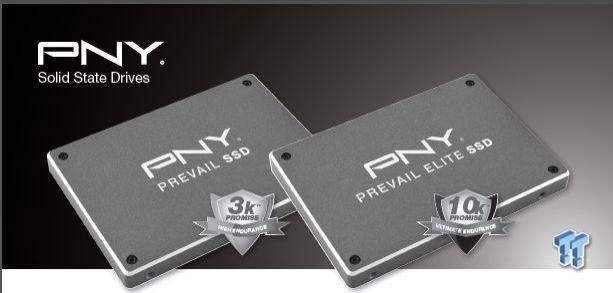 PNY has flown under the radar here at TweakTown for quite some time. The company tends to focus on their high-margin big box store products, NVIDIA Quadro parts that they have a monopoly on, at least on this side of the globe or with their relationships with large OEMs. From time to time, the company supports the DIY / overclocking / enthusiast market, but they don't intentionally toss their products in the ring very often.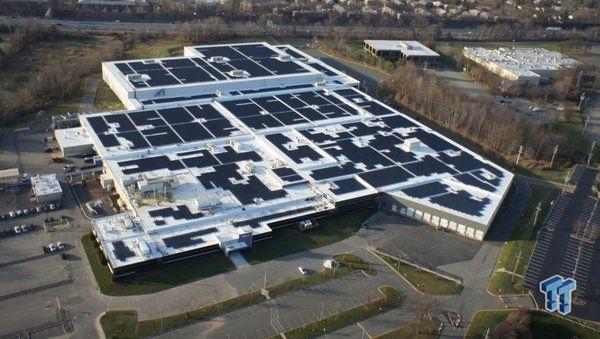 When it comes to products, PNY is all over the place. On one side, they have a run of professional products like the Quadro deal with NVIDIA, flash memory cards (PNY is actually a supporter of the White House News Photographers Association), a full line of DRAM products and their newest venture producing high quality solid state drives. At the same time, the company has consumer accessory-like products, like low-cost headphones and HDMI cables.
Going forward, PNY has high aspirations in the SSD space. With a large new factory built in New Jersey, PNY has one of the very few SSD manufacturing facilities in North America. PNY hasn't released their monthly production numbers, but with their own product line and parts made under the HP brand, PNY is churning out a large volume of SSDs.
Sitting at the top of the PNY SSD product line is the Prevail Elite. The Prevail Elite is a very special SSD that shares many of the same specs with the consumer focused Prevail. The difference between the Elite and the consumer Prevail is the Elite's 10K P/E cycle NAND flash, up from the 3K NAND found on a majority of consumer SSDs. PNY says the Prevail Elite is best used for cloud storage, networking, RAID configurations and servers.
In the past, we've seen other companies make a big deal about their 5K P/E cycle products. Intel's 520 Series and Kingston's original Hyper X come to mind. The PNY Prevail Elite trumps these products with double the program erase cycles. That makes it fit for high write environments, like a temporary destination for downloaded content on your NAS server. This is an area where I burn through consumer SSD's due to the PAR and RAR stages. These are also the same stages to benefit the most from flash-based storage due to the high IOPS performance.
That's just one example of use, but you may think the PNY Prevail is an expensive option for the task. If you look at PNY's website and see the $749.99 price, then you'd be correct. For those looking for one of the best values in the SSD space, then the Google shopping price of $229 is a better option. The Google option brings this hybrid consumer / enterprise product within reach of enthusiasts.
Specifications, Pricing and Availability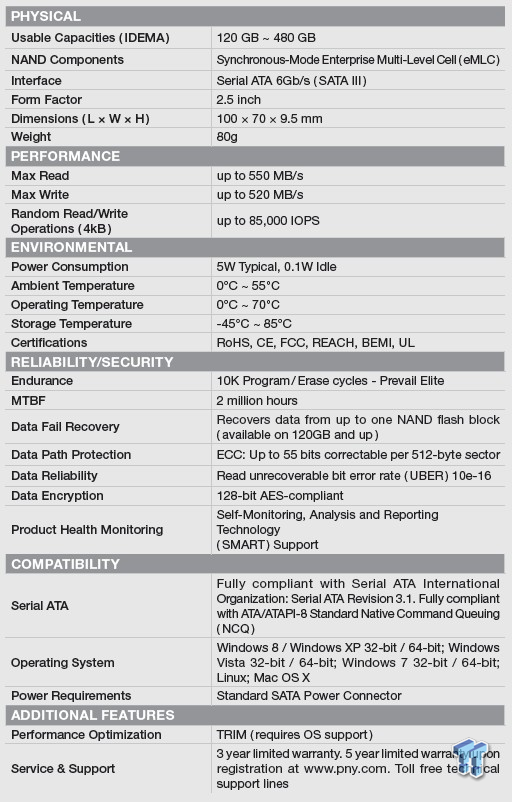 Offered in 120GB, 240GB and large 480GB capacity sizes, the PNY Prevail Elite is a unique product offered at a consumer SSD price, but utilizes high endurance, enterprise grade MLC flash. Unfortunately we've had the PNY Prevail Elite for nearly a year. When released, the Prevail and Prevail Elite shipped with LSI's 5.0.2 firmware, the last of the broken TRIM code. It took PNY quite a while to release a firmware update, but eventually they released both 5.0.5 and 5.0.6 code to customers. Today we're running 5.0.5 and hope PNY will publish 5.0.7 soon.
The typical LSI SandForce MLC performance numbers accompany the Prevail Elite 240GB - 550MB/s sequential read and 520MB/s sequential write speeds. PNY specifies random read and write operations at 4KB at 85,000 IOPS. That number should be correct for the random write speed, but the random read performance is closer to 60K at a queue depth of 32.
The PNY Prevail Elite uses the consumer class SF-2281 controller and pairs it with enterprise grade Intel 25nm synchronous NAND flash rated at 10K P/E cycles. As mentioned, this is a unique combination and one that you would expect to spend a fortune on to own. On the PNY website the 240GB model has a MSRP of nearly $750, but Google shopping unveiled a stunning number of e-tailers with the retail version of the drive for less than $250. Once you sift through the rubble, Tiger Direct and Provantage stand out with roughly $230 price points for the 240GB model we're looking at today.
Provantage shows the 120GB Prevail Elite in stock for $134.27 and the large 480GB for $576.84. PNY's catalog shows a number of part numbers for the three capacity size Prevail Elite. Options offered are two retail box versions of the 120GB and 240GB with a single retail box 480GB product. All three drives are also offered with brown box packaging and in bulk trays similar to how we receive products for large drive count RAID reviews.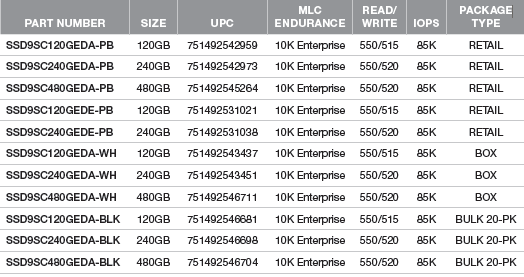 PNY backs the Prevail Elite with a three year warranty that extends to five years when registered at PNY's website.
Packaging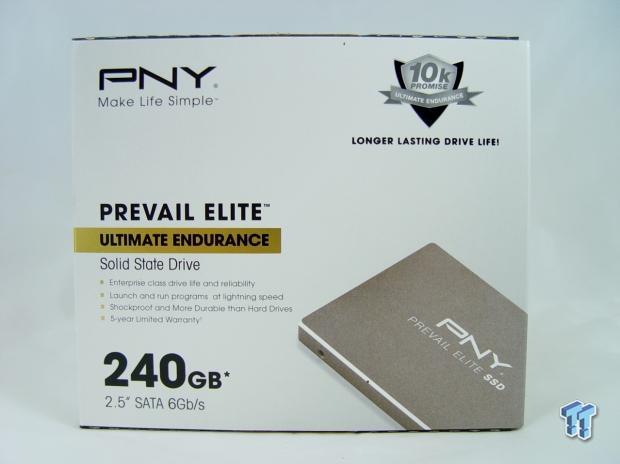 Our Prevail Elite 240GB arrived in a full retail package.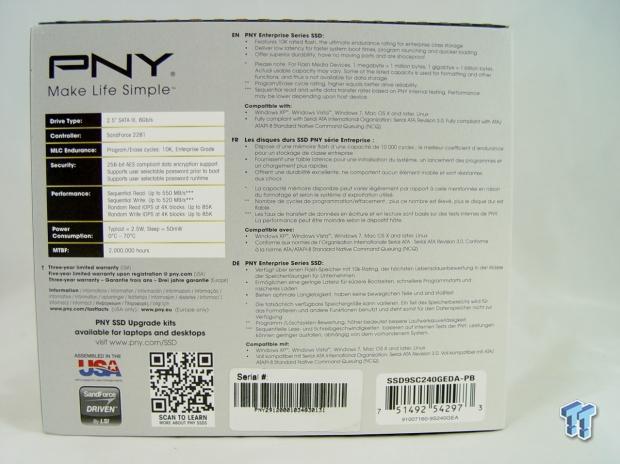 I haven't seen this model at my local Best Buy or Fry's, but the full retail package looks the part.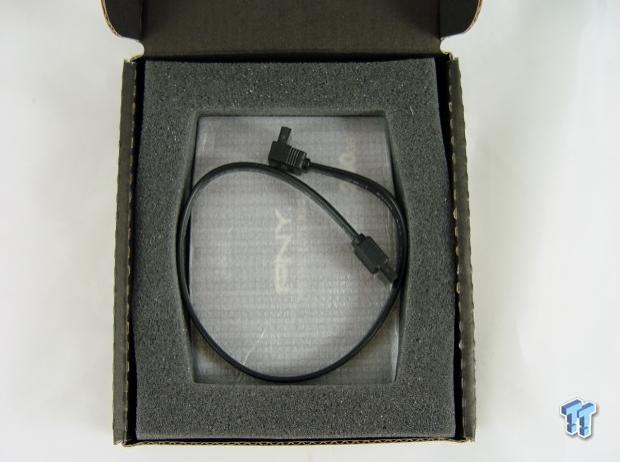 Inside the package we found the Prevail Elite 240GB SSD and a SATA cable.
PNY Prevail Elite 240GB SSD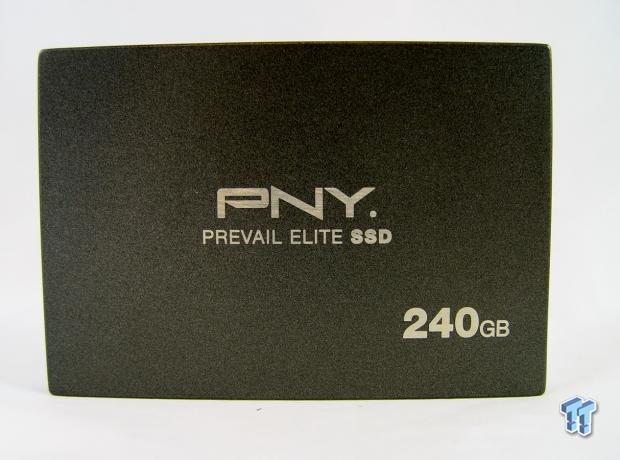 The Prevail Elite uses a 9.5mm z-height, standard notebook size case.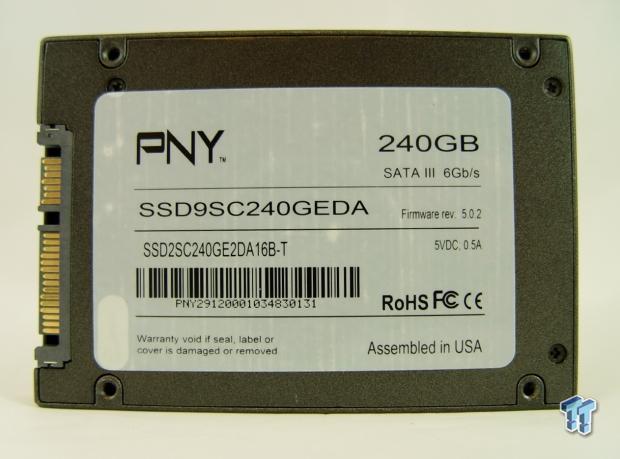 The model, part and serial numbers can be found on the back of the drive.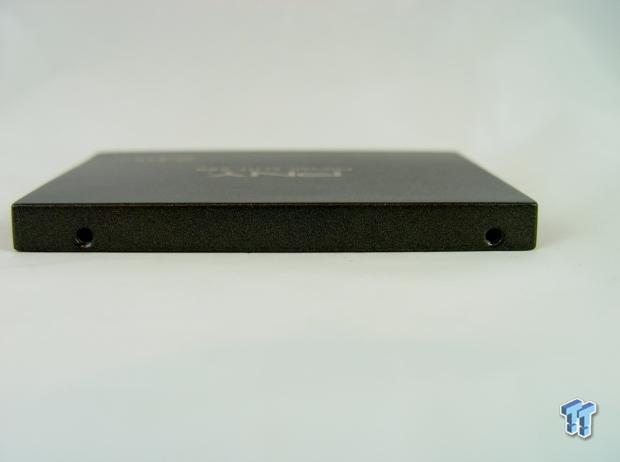 We found all of the standard mountings points positioned where they should be.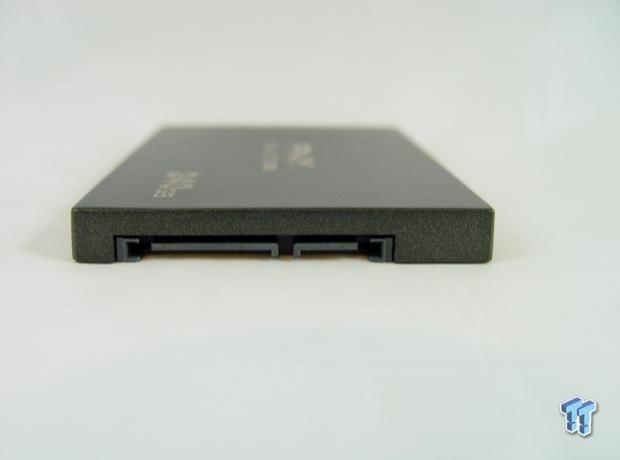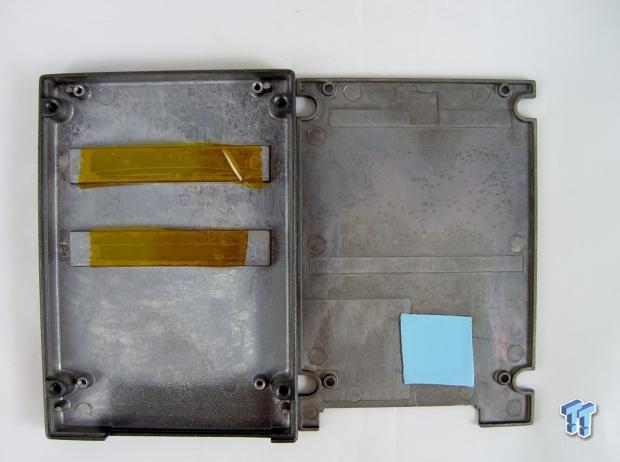 The inner case tipped up a surprise. The case was molded with two channels that contact the NAND flash. This acts as a heatsink for the NAND flash. The LSI SandForce SF-2281 controller gets a thermal pad to aid in heat extraction.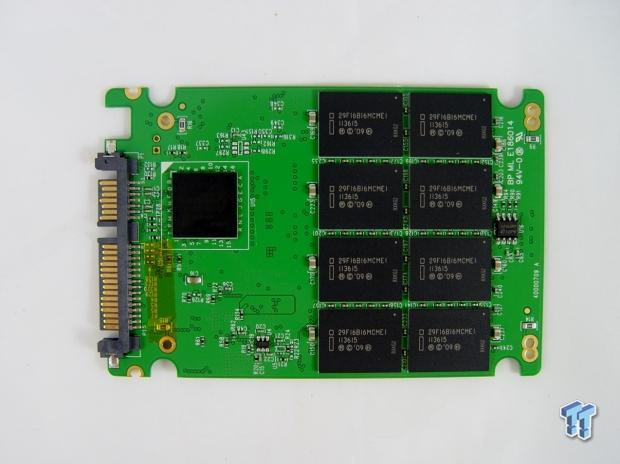 The oily residue from the thermal pad makes it nearly impossible to picture the laser etched letters on the controller, at least from a graceful angle.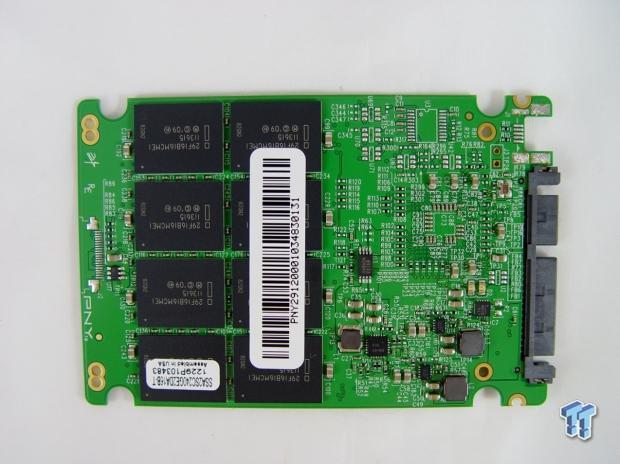 There are sixteen Intel 25nm NAND flash chips rated for 10K P/E cycles on the 240GB Prevail Elite. On the consumer side this flash is fairly rare, we don't see 29F16B16MCME1 very often.
Benchmarks - Test System Setup and ATTO Baseline Performance
Desktop Test System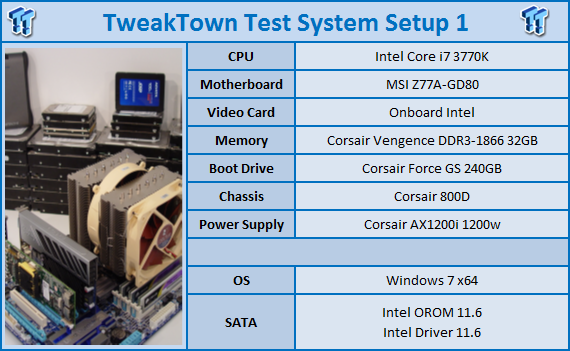 Lenovo W530 - Mobile Workstation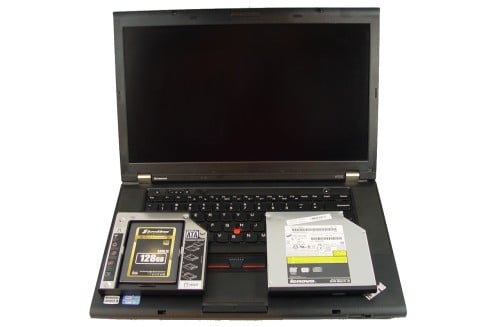 We use two systems for SSD testing. The desktop runs a majority of the tests and the Lenovo W530 runs the notebook power tests as well as the real-world file transfer benchmark.
ATTO Baseline Performance
Version and / or Patch Used: 2.34
ATTO is used by many disk manufacturers to determine the read and write speeds that will be presented to customers.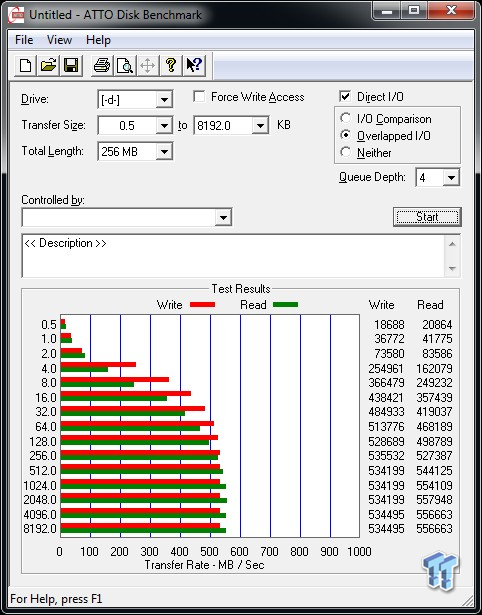 The Prevail Elite 240GB with a SF-2281 controller and MLC flash produces typical SandForce consumer performance numbers. We achieved 557MB/s read and 535MB/s write speeds in ATTO.
Benchmarks - Sequential Performance
HD Tune Pro
Version and / or Patch Used: 4.00
Developer Homepage: http://www.efdsoftware.com
Product Homepage: http://www.hdtune.com
HD Tune is a Hard Disk utility which has the following functions:
Benchmark: measures the performance
Info: shows detailed information
Health: checks the health status by using SMART
Error Scan: scans the surface for errors
Temperature display
HD Tune Pro gives us accurate read, write and access time results and for the last couple of years has gained popularity amongst reviewers. It is now considered a must have application for storage device testing.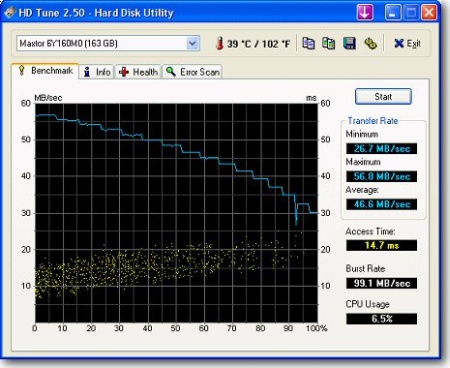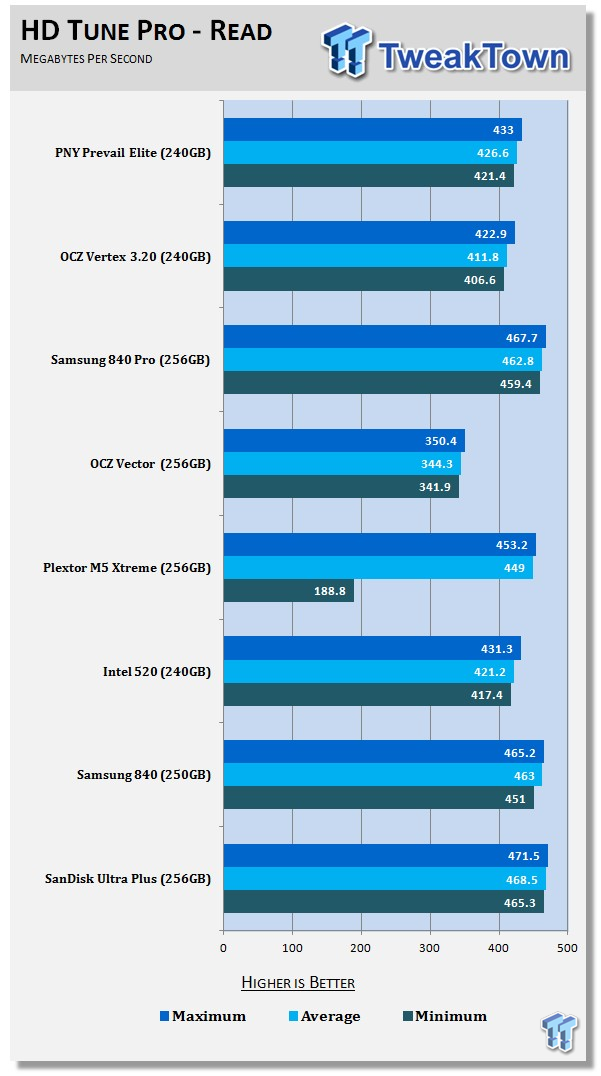 We don't mind "typical" LSI SandForce consumer performance as it represents a solid platform known for stability and has been around long enough for the bugs to get sorted out. In our sequential read across the drive test we achieved 426MB/s average read speed with a nice tight line on the graph that shows consistent performance at this stage in the test.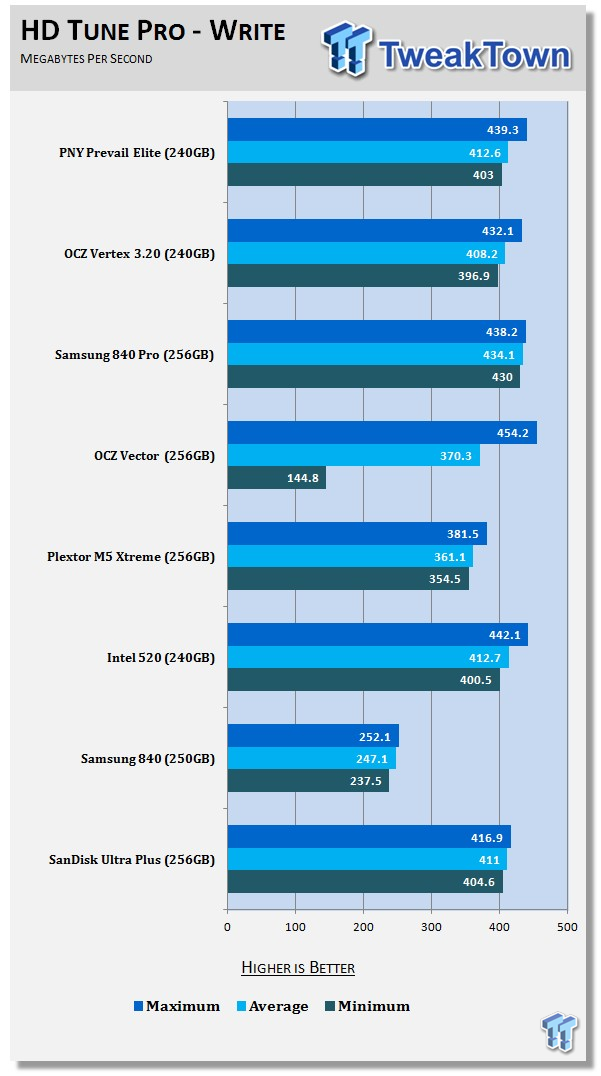 The sequential write speed topped 410MB/s, but HD Tune Pro uses incompressible data. We'll look at incompressible data performance later in this review.
HD Tach - Sequential Write Performance after Random Writes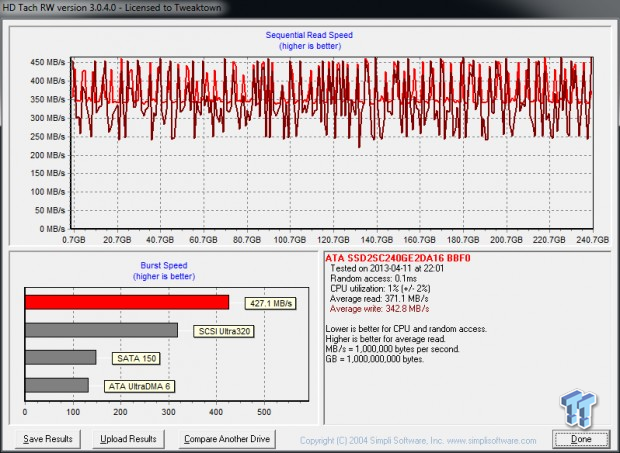 Here we see a light use consumer state after a number of random writes to the Prevail Elite.
Benchmarks - AIDA64 Random Access Time
AIDA64 Random Access Time
Version and / or Patch Used: 1.60
Developer Homepage: http://www.aida64.com
Product Homepage: http://www.aida64.com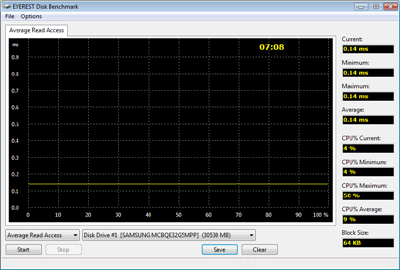 AIDA64 offers several different benchmarks for testing and optimizing your system or network. The Random Access test is one of very few if not only that will measure hard drives random access times in hundredths of milliseconds as oppose to tens of milliseconds.
Drives with only one or two tests displayed in the write test mean that they have failed the test and their Maximum and possibly their Average Scores were very high after the cache fills. This usually happens only with controllers manufactured by Jmicron.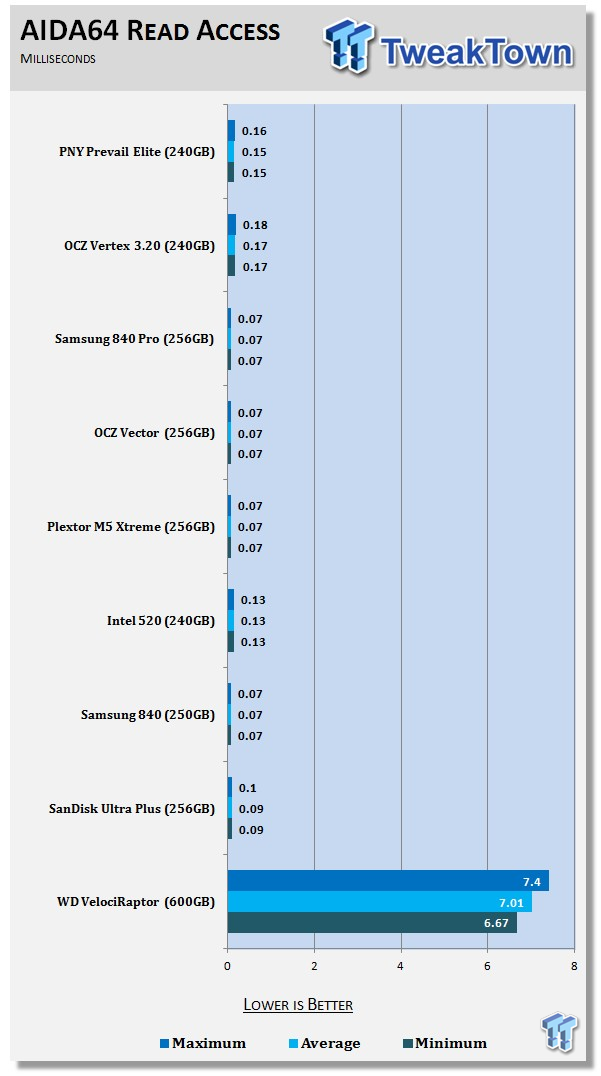 The high endurance 25nm NAND doesn't suffer from higher latency like what we're seeing on SSDs using 20nm flash.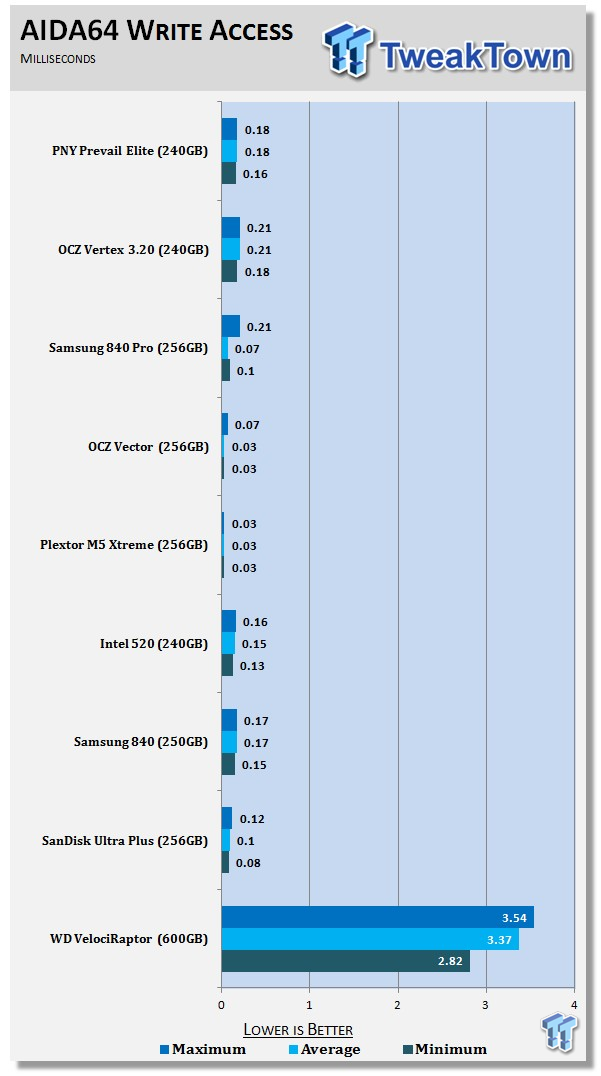 You can see the increased latency from 20nm flash in the OCZ Vertex 3.20 positioned just under the PNY Prevail Elite on the charts today.
Benchmarks - Anvil Storage Utilities
Anvil Storage Utilities
Version and / or Patch Used: RC6
So what is Anvil Storage Utilities? First of all, it's a storage benchmark for SSDs and HDDs where you can check and monitor your performance. The Standard Storage Benchmark performs a series of tests, you can run a full test or just the read or the write test or you can run a single test, i.e. 4K DQ16.
Anvil Storage Utilities is not officially available yet but we've been playing with the beta for several months now. The author, Anvil on several international forums has been updating the software steadily and is adding new features every couple of months.
The software is used several different ways and to show different aspects for each drive. We've chosen to use this software to show the performance of a drive with two different data sets. The first is with compressible data and the second data set is incompressible data. Several users have requested this data in our SSD reviews.
0-Fill Compressible Data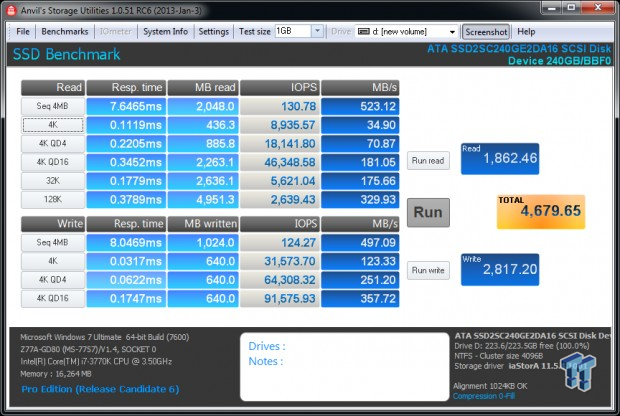 Incompressible Data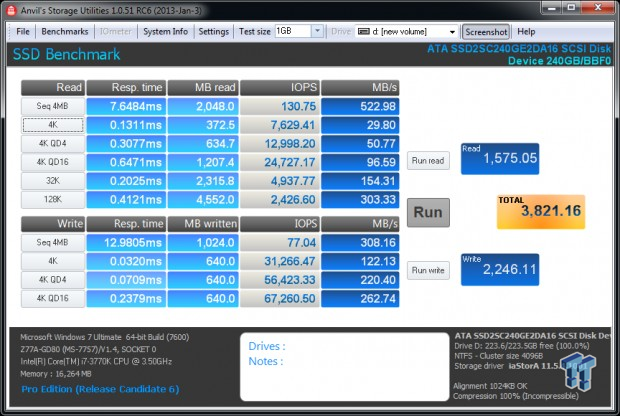 The PNY Prevail Elite still uses MLC flash so the SandForce algorithms for compressing compressible data apply. The result is slower performance when working with incompressible data. The only way to get around this is with SLC NAND, which is an expensive option.
Read IOPS through Queue Depth Scale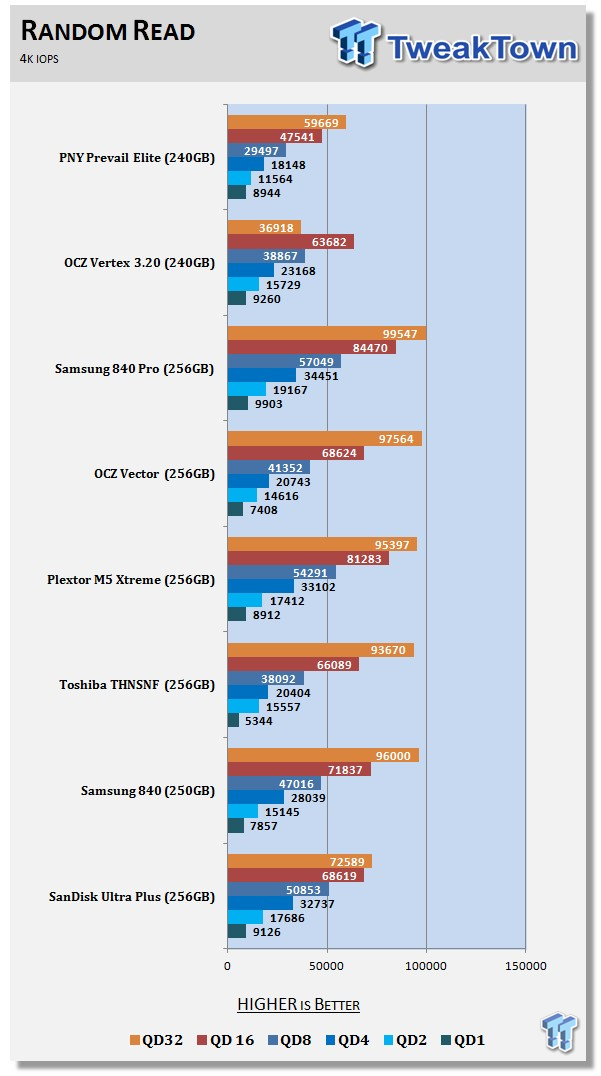 IOPS performance is linked to programming and firmware on LSI SandForce based SSDs. We've seen the maximum IOPS performance shrink and expand over the years with different firmware releases. Today we're focusing on the consumer market so lower queue depth IOPS performance data is more valuable than high queue depth performance.
At lower queue depths (1 and 4), the Prevail Elite doesn't fall too far behind the two enthusiast flagship drives, the Samsung 840 Pro and OCZ Vector. The Elite actually does better at single queue depth reads than Vector, but OCZ artificially limits QD1 performance to increase multitasking performance.
Scaling Write IOPS through Queue Scale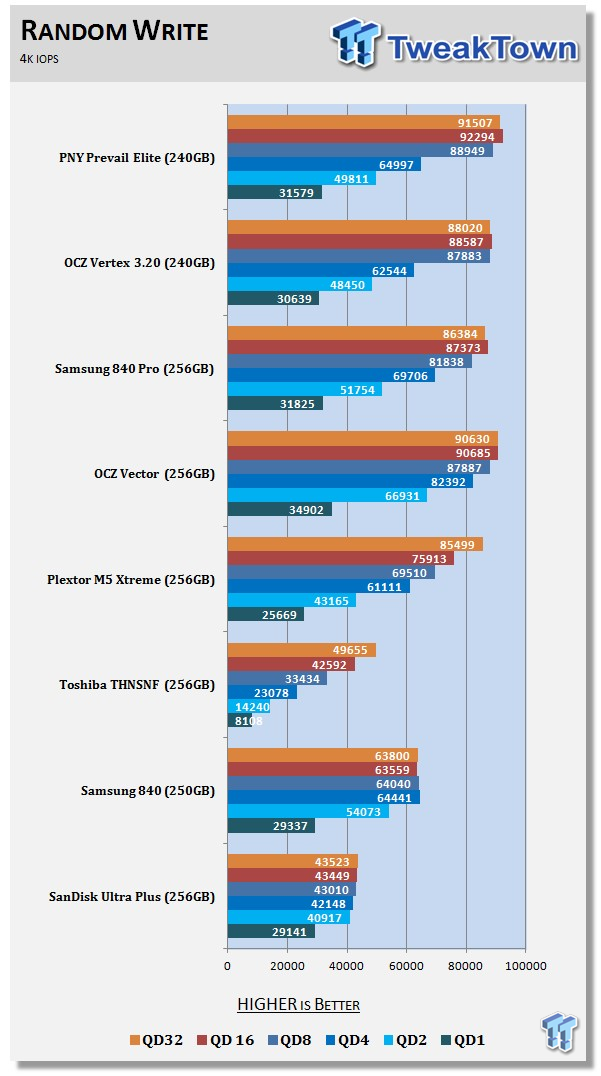 Low queue depth writes are tit for tat with Samsung's 840 Pro 256GB and even achieve a higher maximum write IOPS number.
Benchmarks - CrystalDiskMark
CrystalDiskMark
Version and / or Patch Used: 3.0 Technical Preview
Developer Homepage: http://crystalmark.info
Product Homepage: http://crystalmark.info/software/CrystalDiskMark/index-e.html
Download here: http://crystaldew.info/category/software/crystaldiskmark
CrystalDiskMark is a disk benchmark software that allows us to benchmark 4K and 4K queue depths with accuracy.
Key Features:-
* Sequential reads/writes
* Random 4KB/512KB reads/writes
* Text copy
* Change dialog design
* internationalization (i18n)
Note: Crystal Disk Mark 3.0 Technical Preview was used for these tests since it offers the ability to measure native command queuing at 4 and 32.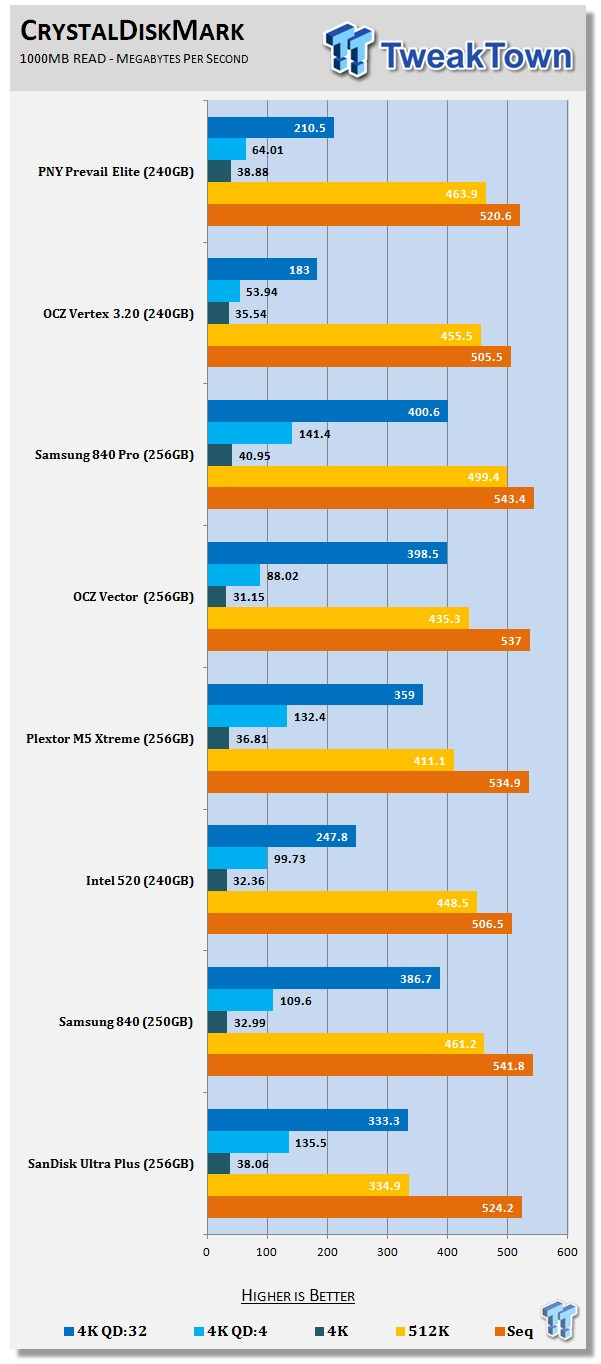 The PNY Prevail Elite didn't break into elite status, with 40MB/s single queue depth 4K read, but it was very close. The 4K reads scale well when the queue depths increase.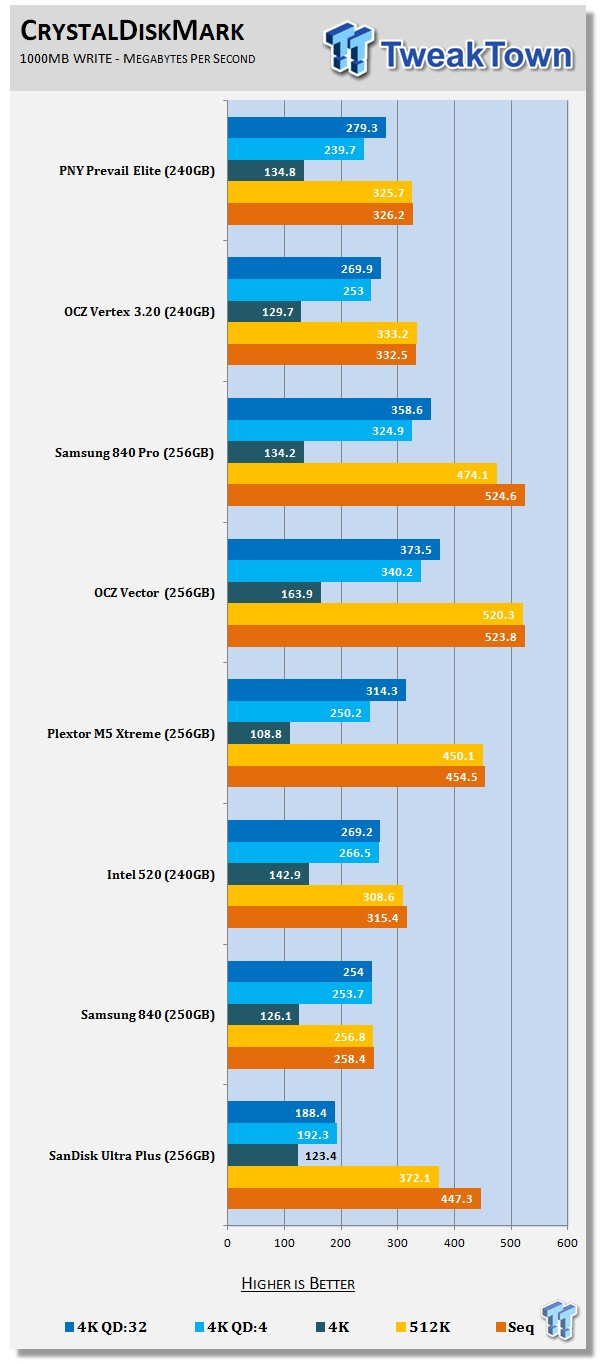 Here we get our first look at sequential write performance with incompressible data. The Prevail Elite gets close to 330MB/s, more than enough to move your Blu-ray movie at a brisk pace.
We want to point out the difference between the Vertex 3.20 and the Prevail Elite when working with 4K data. The Prevail Elite is just a little faster at QD 1, and we'll see how just a slight improvement in that space reflects on more sophisticated tests throughout this review.
Benchmarks - PCMark Vantage Hard Disk Tests
PCMark Vantage - Hard Disk Tests
Version and / or Patch Used: 1.0.0
Developer Homepage: http://www.futuremark.com
Product Homepage: http://www.futuremark.com/benchmarks/pcmark-vantage/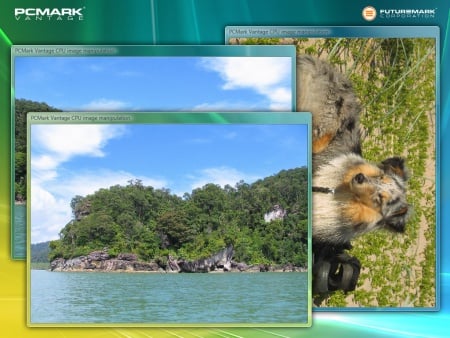 PCMark Vantage is the first objective hardware performance benchmark for PCs running 32 and 64 bit versions of Microsoft Windows Vista. PCMark Vantage is perfectly suited for benchmarking any type of Microsoft Windows Vista PC from multimedia home entertainment systems and laptops to dedicated workstations and high-end gaming rigs. Regardless of whether the benchmarker is an artist or an IT Professional, PCMark Vantage shows the user where their system soars or falls flat, and how to get the most performance possible out of their hardware. PCMark Vantage is easy enough for even the most casual enthusiast to use yet supports in-depth, professional industry grade testing.
FutureMark has developed a good set of hard disk tests for their PCMark Vantage Suite. Windows users can count on Vantage to show them how a drive will perform in normal day to day usage scenarios. For most users these are the tests that matter since many of the old hat ways to measure performance have become ineffective to measure true Windows performance.

HDD1 - Windows Defender
HDD2 - Gaming
HDD3 - Windows Photo Gallery
HDD4 - Vista Startup
HDD5 - Windows Movie Maker
HDD6 - Windows Media Center
HDD7 - Windows Media Player
HDD8 - Application Loading
Tests like opening common Windows applications see a large improvement with increased 4K low queue depth performance. 25nm isn't dead yet, but specialty products like the Prevail Elite will eventually be the only way to purchase LSI SandForce based controllers pair with 25nm MLC flash. We're not ready to let go of 25nm yet to embrace low-cost, higher latency 20nm flash.
Across the board, the Prevail Elite outpaces the performance set by the Vertex 3.20 240GB.
Benchmarks - PCMark Vantage - Drives with Data Testing
For a complete breakdown on the Drives with Data Testing please read this article. You will be able to perform this test at home with the files provided in the article - full instructions are included.
- Brief Methodology
SSDs perform differently when used for a period of time and when data is already present on the drive. The purpose of the Drives with Data testing is to show how a drive performs in these 'dirty' states. SSDs also need time to recover, either with TRIM or onboard garbage collection methods.
Drives with Data Testing - 25%, 50%, 75% Full States and Dirty / Empty Test
Files needed for 60 (64GB), 120 (128GB), 240 (256GB)
60GB Fill - 15GB, 30GB, 45GB
120GB Fill - 30GB, 60GB, 90GB
240GB Fill - 60GB, 120GB, 160GB
Empty but Dirty - a test run just after the fill tests and shows if a drive needs time to recover or if performance is instantly restored.

Here we see all of the drives with data populating the flash.
We roll through different stages, empty, 25%, 50%, 75% and empty again after deleting all the data to test TRIM. Before the firmware update the PNY Prevail Elite didn't recover, but here we see that isn't an issue.
Benchmarks - BootRacer
BootRacer - System Boot Time
Version and / or Patch Used: 4.0
Developer Homepage: Greatis
Product Homepage: BootRacer
Download here: http://www.greatis.com/bootracer/download.htm
Note: In this test we use the Lenovo W530 Mobile Workstation loaded with an operating system and several program files. The data on the drive at the time of the test is 45GB. The second test, 50GB Free, was ran with the drives filled with block data until only 50GB of free capacity remained.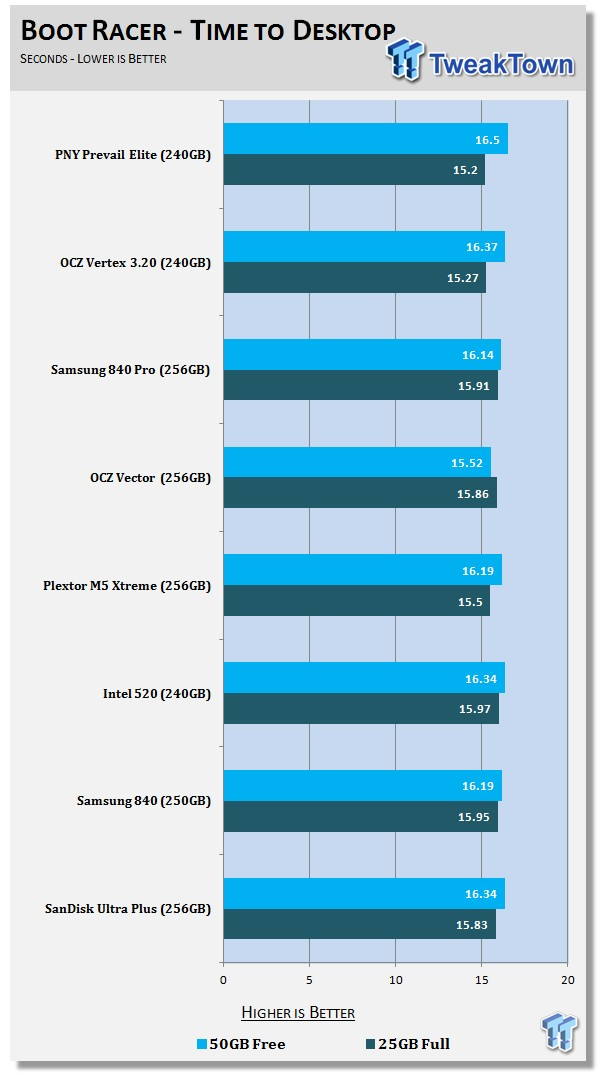 Rebooting our Lenovo W530 to measure the time to desktop shows roughly the same performance with all the top tier enthusiast and upper mainstream SSDs.
Benchmarks - DiskBench
DiskBench - Directory Copy
Version and / or Patch Used: 2.6.2.0
Developer Homepage: Nodesoft
Product Homepage: DiskBench
Download here: http://www.nodesoft.com/diskbench/download
Note: In this test we use the Lenovo W530 Mobile Workstation and a SuperSSpeed S301 SLC 128GB SSD to move a 15GB block of data to and from the target drive. This is part of our real world test regiment. Roughly 45GB of data resides on the target drive before the '15GB Block' is transfer. The 15GB Block is the same data we built for the Data on Disk Testing and is a mix of compressible and incompressible data.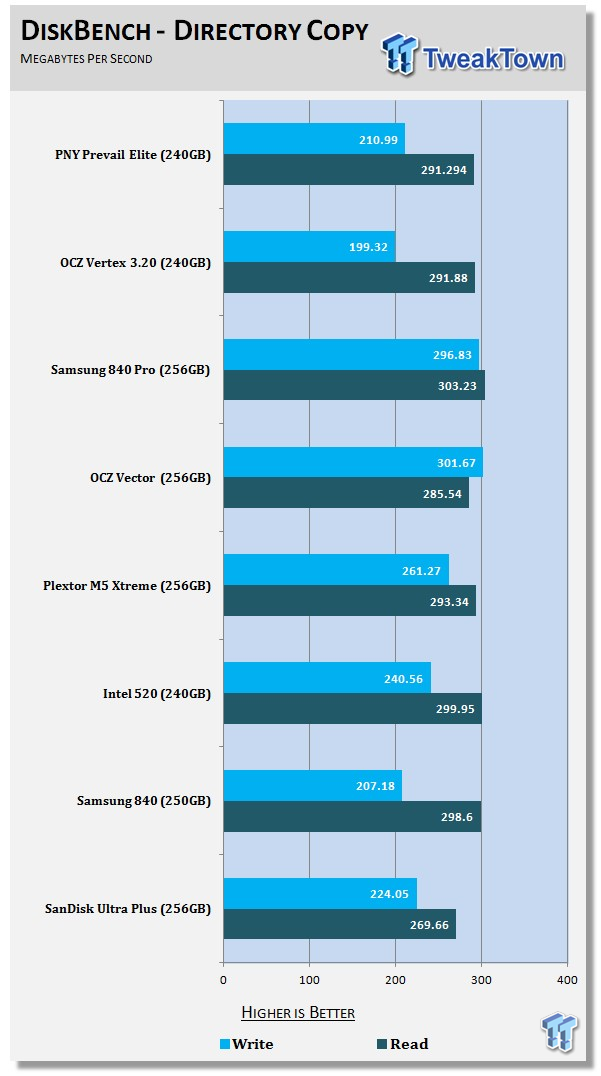 Our directory copy test uses a mix of compressible and incompressible files mixed to the same percentage as found on my daily use notebook when the test was constructed. The incompressible data hurts the LSI SandForce based drives, but the PNY Prevail Elite still outperforms the Samsung 840 in both reading and writing the test folder to and from the drive.
Benchmarks - Power Testing
Bapco MobileMark 2012 1.5
Version and / or Patch Used: 2012 1.5
Developer Homepage: http://www.bapco.com
Test Homepage: http://www.bapco.com
MobileMark 2012 1.5 is an application-based benchmark that reflects usage patterns of business users in the areas of office productivity, media creation and media consumption. Unlike benchmarks that only measure battery life, MobileMark 2012 measures battery life and performance simultaneously, showing how well a system design addresses the inherent tradeoffs between performance and power management.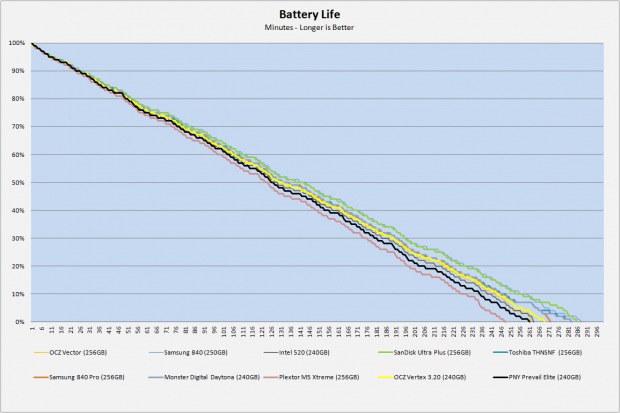 It was all going so well for the PNY Prevail Elite. The drive uses a lot of power, but we're not sure if this is an issue with the longer endurance NAND flash, or just less efficient power regulation. PNY doesn't state the Prevail Elite would make a good notebook drive, we should be clear about that.
PCMark Vantage HDD Test - Power Draw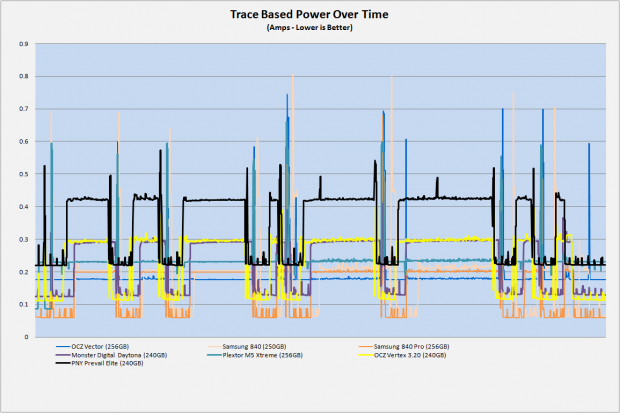 Here we see why the PNY Prevail Elite does so poorly in our notebook battery test. The drive idles where the Plextor M5 Pro Xtreme 256GB reads data. When reading, the Prevail Elite takes big gulps of power. On the bright side, the power spikes when writing random data aren't as pronounced, so your power supply with several Prevail Elite drives running in RAID won't think you added an electric jack hammer to the line.
In all seriousness, the Elite uses more power than we like to see on a consumer SSD. This is a repurposed review where we take entry-level enterprise grade products and drop them in a consumer environment. The low price dictates this review needed to come to light and many of our readers have special applications where high endurance NAND is recommended.
Final Thoughts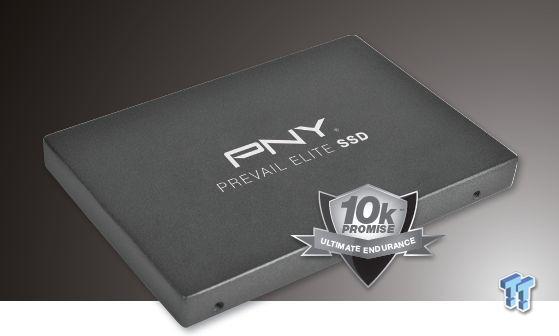 The relatively low price point moves the PNY Prevail Elite squarely into enthusiast and mainstream targets. Mainstream users surfing the web and Facetwitting don't require the endurance offered by the Elite version from the Prevail product line, but having the peace of mind can often ease internal rumblings about moving to a new technology. Many have yet to experience the performance offered by solid state technology. The price certainly makes the Prevail Elite attractive, although it does cost a bit more than average LSI SandForce drives on the market at this time. The price difference really isn't that far apart, much less than we imagined going into this review.
Enthusiasts are a different breed and the label spans a wide market, from gamers to power users. This drive would be really good as a boot/OS drive in your daily use desktop or notebook not requiring a lot of 'on battery' time. In a tiered storage situation with a Vector or 840 Pro taking the OS duty, the Prevail Elite would work really well as a scratch disk. A place to download your files from the web, run the decompression stage that chews through P/E cycles quickly, then you can shoot the data to a long-term storage device like a mechanical drive or NAS. Another high P/E cycle use is cache drives where the SSD sits in front of a larger storage group built with mechanical drives. Drobo already has this feature on some of their NAS products, and I wouldn't be surprised to see QNAP, Thecus, Synology and Asustor follow suit soon (hopefully at Computex next month). In a cache situation, the SSD is constantly changing data, so the drive runs at 100% utilization to keep as much hot data as ready as possible.
As a power user, I wouldn't mind picking up a handful of Prevail Elite drives to use with a dedicated RAID controller like a LSI 9271-8i. RAID 5 and 6 comes to mind for the best of both worlds, high performance that tops 2000MB/s sequential reads and writes with the data redundancy of RAID. RAID increases the P/E count because of the redundant data included with the actual data.
PNY doesn't include a desktop adapter bracket, but their line of thinking comes down to drive sled installations, mostly in rackmount servers. The price at the time of writing for the 240GB Prevail Elite was roughly $230. This is the lowest price point we've seen 10K rated flash in a 240GB SSD, so it's quite the cross over SSD going from enterprise to consumer. The Prevail Elite is available from a large number of e-tailers as well so it's not like the supply is limited like some of the specialty SSDs coming from Asia. Actually, PNY assembles their SSDs in its new factory in New Jersey.