Who Framed Roger Rabbit (1988) Blu-ray Movie Review
"No toon can resist the old shave-and-a-haircut trick..."

Published Sat, Apr 13 2013 11:16 AM CDT
|
Updated Tue, Nov 3 2020 7:00 PM CST
Rating:

78%
Producer / Publisher: Disney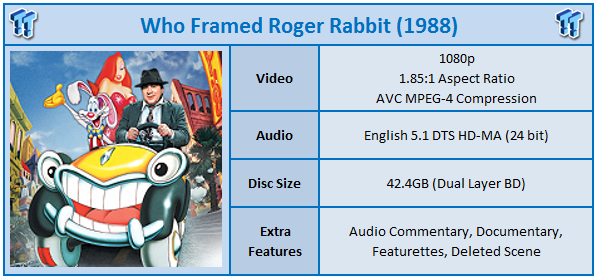 The Disney of the 1980's was neither a particularly pleasant, nor creatively uplifting place. Since Walt's departure in 1966, the company slowly slid into irrelevance, supplanted heftily by its competitors - barely a shadow of the company that created such timeless classics as Snow White and the Seven Dwarfs and Fantasia. But a funding injection by Silver Screen Partners allowed the studio to reinvent itself and one of the more curious (and riskiest) projects; the live action / animation hybrid Who Framed Roger Rabbit, went on to great success, utilizing cutting edge technology to tell a story that could not previously be visualized.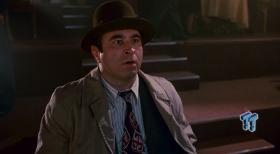 In an alternate 1940's Los Angeles, Toontown houses Hollywood's eclectic collection of animated stars, including Roger Rabbit (voiced by Charles Fleischer), the leading light of Maroon pictures, and his wife, Jessica Rabbit (voiced by Kathleen Turner). Concerned for his star, R.K. Maroon (Alan Tilvern) hires the down and out detective Eddie Valiant (Bob Hoskins) to investigate Jessica Rabbit's alleged adultery. Flung headfirst into a world he doesn't understand and with more than a chip on his shoulder, Valiant is dragged into a scheme hatched by the aptly named Judge Doom (Christopher Lloyd) to bulldoze Toontown and lay a highway in its place.
I've always loved Who Framed Roger Rabbit and the world that was created, now all the more so that I understand the backbreaking efforts and pre-digital craftsmanship that went into its production. Director Robert Zemeckis, fresh from his success with the Back To The Future franchise (the third of which was in post-production at the same time as Rabbit) was on a roll and successfully made a picture that although has well and truly been supplanted from a technical perspective, has the heart and soul as real and pervasive as anything made since.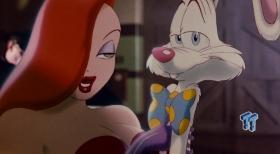 Video
Who Framed Roger Rabbit is presented in the aspect ratio of 1.85:1, encoded with AVC MPEG-4 compression.
Made well before the digital age, the film has always had a dirty and artifact addled transfer owing to limits of pre-digital compositing and manual rotoscoping techniques that lie at the heart of the production. However, clearly struck from a new transfer and significantly rejuvenated, Roger transcends its primitive shackles with a pleasant and striking Blu-ray transfer.
Newly color timed and digitally restored, the film now features nary a visible film artifact, which is somewhat of a minor miracle itself. There is evidence of judicious application of digital noise reduction, but never in the extreme. As such, grain is kept to a minimum. Shots with animation feature a slight, but noticeable drop in detail, which is no doubt built in to the master.
I've long watched Who Framed Roger Rabbit on previous mediums and it's a definite understatement to say that the film has never looked better than it does here. Sure, it could be bettered, but short of a full restoration and re-composition of its elements, (a hugely cost prohibitive measure), it won't likely be.
Audio
Who Framed Roger Rabbit is presented in DTS-HD Master Audio 5.1, at 24 bits.
Originally mixed with six channel audio, Roger hits Blu-ray with the same 5.1 mix as the 2003 DVD release, albeit now in lossless form. It's certainly not the most aggressive, nor impressive audio mix of all time, but I think most of the films fans will know exactly what to expect.
Dialogue for the most part comes across well, with good audio sync. A few of Bob Hoskin's faux American accented lines are difficult to make out, but more of a reflection of late 80's production methods.
Unsurprisingly the sound design frequently utilizes over the top sound effects and action to accompany the too-infused antics, and many are mixed to make use of surrounds at key moments. Low frequency usage is appropriate, however lacking the power to strike terror in the hearts of neighbors.
The score by Alan Silvestri is entirely memorable and suits the somewhat film noirish 1940's backdrop well.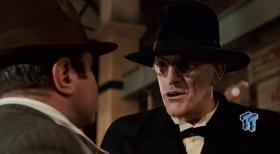 Extras
Disney have included some worthwhile extras on the Who Framed Roger Rabbit Blu-ray, but haven't taken the opportunity to create any additional ones.
First up is the screen specific Audio Commentary featuring Directors Robert Zemeckis, producers Frank Marshall and Steve Starkey, ILM visual effects supervisor Ken Ralston and writers Jeffrey Price and Peter S. Seaman. With such a large group of contributors, there's hardly a gap to be found, and the group discuss every aspect of the production, including the once cutting edge visual effects and some of the well hidden Easter eggs. Thanks to this track, I now know what a 'goose' is.
The 37 minute Behind the Ears: The True Story of Roger Rabbit Documentary hosted by the voice of Roger Rabbit, Charles Fleischer, unveils a reasonably in-depth look at the novel production by way of on-set footage, un-animated rushes and interviews, of which a significantly cut down version can be found in the shorter, and more kid-friendly Who Made Roger Rabbit featurette.
The highlight for me are the Three Animated Shorts, which were originally tied to theatrical exhibitions of Disney releases such as Dick Tracy and Honey, I Shrunk the Kids. The shorts are animated at the same level of quality as the film proper, and have similarly been remastered in HD, with 5.1 sound.
Next up are thee smaller featurettes Before and After which compares footage from the rough dailies with the final animated scene, Toon Stand Ins which reveals the on set aids which assist the actors to hit their marks and On-Set, which takes the form of some further behind the scenes outtakes.
Finally, we have one Deleted Scene, along with director introduction explaining why it was cut. It would have been nice to see this one integrated into the film proper. Perhaps for the 30th anniversary release.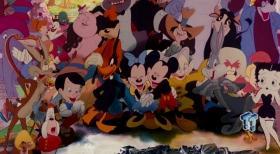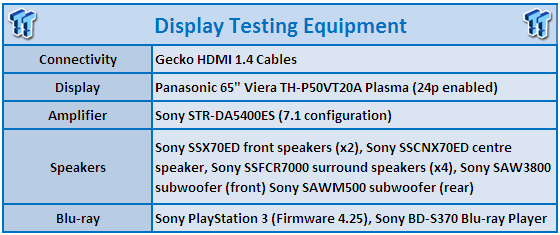 PRICING: You can find products similar to this one for sale below.

United States: Find other tech and computer products like this over at Amazon.com

United Kingdom: Find other tech and computer products like this over at Amazon.co.uk

Australia: Find other tech and computer products like this over at Amazon.com.au

Canada: Find other tech and computer products like this over at Amazon.ca

Deutschland: Finde andere Technik- und Computerprodukte wie dieses auf Amazon.de
We openly invite the companies who provide us with review samples / who are mentioned or discussed to express their opinion. If any company representative wishes to respond, we will publish the response here. Please contact us if you wish to respond.