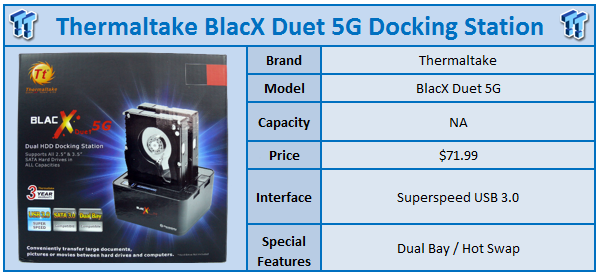 Over the years hard drive docks or docking stations have really helped in simplifying the way I work, especially when I have years of data backed up on spinners. Since I no longer have to fiddle around mounting drives in my system and can simply slap a drive in a dock and pull the data I need and move on with my day, it saves me a great deal of time.
Now the Thermaltake BlacX Duet 5G is certainly not the only dual bay docking station on the market, but it is among the smaller units available. The Duet is comprised of a plastic body with an internal weight to hold the dock steady, while you're slamming drives in and out of the system - and that goes to say it does support hot swapping. The internal SATA ports support a generation three configuration, but are also backwards compatible with SATA and SATA II drives. As far as OS compatibility the BlacX Duet 5G supports Windows XP, Vista, 7 and 8 along with Mac OS 10+.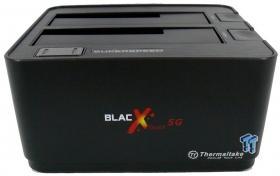 The BlacX Duet 5G shares many of its characteristics with its little brother, the single bay BlacX 5G. Everything from the shape and choice materials have stayed the same between units, but there are some obvious differences, such as the power button and internal PCB, which we will touch on shortly.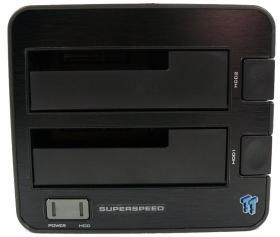 The top of the dock has a slight brushed appearance brought on by the slice of aluminium Thermaltake has placed here. As you will notice the power switch incorporates two LEDs, both of which are blue - one indicating the unit is switched on and the other for activity. To the right there are also two levers for ejecting your drives.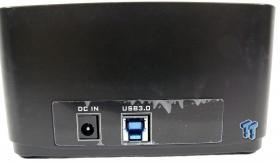 The back of the dock is rather simple, housing a power input and USB 3.0 connection.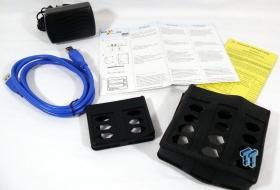 The scope of delivery for the BlacX Duet 5G includes the power adapter and USB 3.0 cable along with a warranty booklet and user guide. We also found two rubber drive covers in the box to combat drive acoustics.
The meat and beans of the BlacX Duet 5G all comes down to the PCB as it will determine how fast this dock really is. Above, as you can see, the controller used in this dock is the JMicron JMS551, a SATA III to USB 3.0 bridge controller that operates on the Bulk Only Transport specification - no UASP support.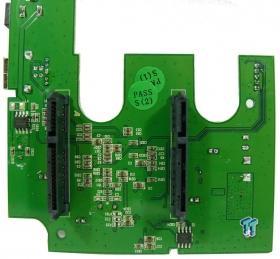 The flip side of the PCB houses the dual SATA III ports.
Choosing the proper benchmarks to be used in a review can be, at times, a hassle. While I would love to please all of you and run every possible benchmark on these enclosures, it would be at the very least time consuming. With that said I have chosen some of the more popular, and widely available benchmarks. All testing is run in the same order on every enclosure and that is the order you see it here in this review. Drives used in this review are a pair of very capable Corsair Neutron SSD's.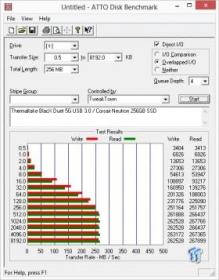 Using ATTO we see the BlacX Duet 5G top out at 267MB/s read and 263MB/s write. Our Z77 test motherboard has seen numbers close to 500MB/s on USB 3.0 previously, and as such, we know that this is where the BlacX electronics top out in the Duet 5G model.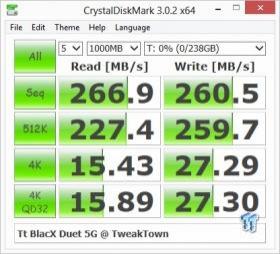 CrystalDiskMark, as expected, showed similar numbers in sequential read and write.QD32 results were similar to what I've seen from previous reviews at 15MB/s read and 27MB/s write.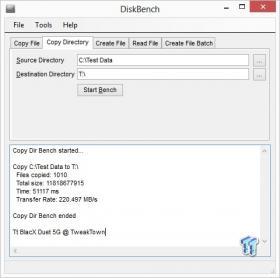 Moving over to DiskBench for some real-world testing we see the BlacX Duet 5G held on with 220MB/s transferring our test data folder.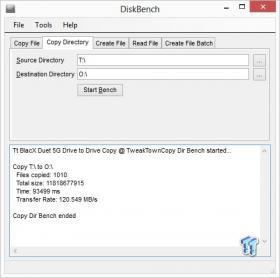 As this unit is a dock and supports no RAID features, I thought it would be nice to see how the unit does while transferring data drive to drive both installed in the BlacX. As you can see there was a slight bottleneck when we compare this to our previous transfer of 220MB/s PC to BlacX. However 120MB/s is not slow by any means, especially when working with platter drives.
Over the past few months it's pretty safe to say I have tested my fair share of enclosures, some of which carried extreme performance, but also a hefty price tag as well. With that said there is always the middle ground, the place where a great amount of manufacturers battle it out in price vs. performance, adding features to their product line-up to set themselves apart.
The Thermaltake BlacX 5G is one of these units, while it is no secret that this unit has been on the market for a while now, it was a trend setter when it came to market with several other manufactures taking notes from Thermaltake and releasing similar products shortly after.
As far as build quality goes, the BlacX Duet 5G is top tier in my book. The entire unit is well built with ABS plastics and even a slice of aluminium for aesthetics. The top mounted LEDs, while shining blue, aren't so bright that they blind you, but rather just perfect. Performance of the unit is on par with what I expected with no UASP support, with read and write speeds well into the 200MB/s + range.
Pricing of the Thermaltake BlacX Duet 5G sits at $71.99 as of today and seeing that this unit has been out for quite a while, I don't see the price coming down much from there.