Infortrend EonNAS Pro 200 2-Bay NAS Review
It's been a long time since we looked at a dual bay NAS product. Most have disappointed us, and others never worked as advertised. Infortrend did something a little different with the EonNAS Pro 200 - they used a real processor and a liberal amount of DRAM. The result is pretty good, but quality doesn't come cheap.
Published Sun, Jan 6 2013 9:25 PM CST
|
Updated Tue, Nov 3 2020 7:01 PM CST
Introduction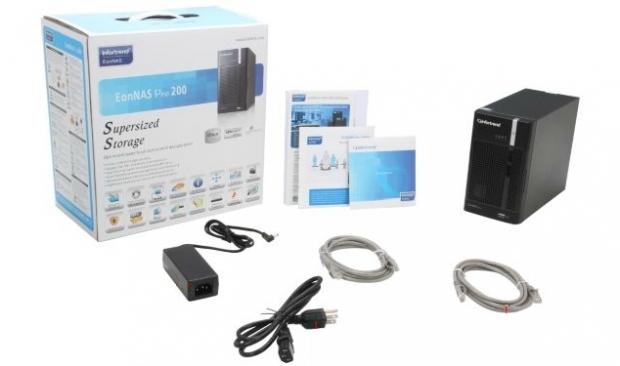 Before Infortrend contacted us about the EonNAS Pro 200, we'd given up on dual bay NAS products. Before today, we've never seen a dual bay unit that we would even consider a true NAS as we know them as today. Most of these products just aren't worth the box they are shipped in. We see them advertised all of the time, gigabit Ethernet, but the true speed never breaks 30MB/s, feature-rich, but only if you consider instability a feature. The list goes on and on, but those aren't the kinds of features we'll talk about today.
Infortrend choose to take the effective route and gave the EonNAS 200 a real processor. The Intel Dual-Core 1.8GHz is the same processor we see in four and five bay NAS appliances. This unit also ships with 4GB of DDR3 RAM, double what has become standard in some of the larger units as well.
Looking over the spec sheet we can't find any place where Infortrend cut any corners unless you take offence to this unit only having two HDD bays. We say that because this NAS has the internals that we hope to find in four and five bay NAS products.
Today we're taking a look at the entry level EonNAS Pro models, the 200. This is the first dual bay unit we've actually enjoyed testing in our lab and if you're looking for a lower cost NAS, this is your starting point.
Specifications, Availability and Pricing
Modern NAS servers have moved well beyond data storage through a network. In order to get the most out of a NAS you have and look at the extra hardware and software features.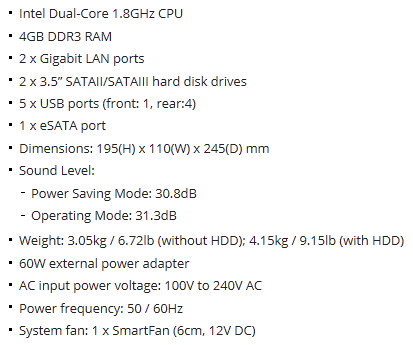 The heart of the EonNAS 200 is the Intel Atom processor clocked at 1.8GHz. It's a dual-core unit, the same that we see quite often in 4 and 5 bay units like the Thecus N5500. The processor is most likely overkill for this application, but we'll take over powered over under powered any day.
Keeping with the same excess theme, Infortrend ships this unit with 4GB of DDR3 DRAM. Other dual bay units we've seen shipped with 512MB and even some of the mid level SOHO units from QNAP only ship with 2GB. Infortrend isn't just tempting you to use this unit for serious tasks, they gave you the hardware to actually do it.
This unit does only ship with two drive bays, but you do have five USB ports and an eSATA port so you have a little wiggle room to add more storage. In the EonNAS Pro product family, Infortrend has a 5-bay and two 8-bay units as well. With only two drive bays, you are limited to dual JBOD, RAID 0 or RAID 1. You do get the ZFS file system which is a nice upgrade over EXT4.
This unit does have dual gigabit Ethernet ports, an option we've never seen on a dual bay NAS before. 802.3ad is supported so you can team the dual NICs to nearly double the bandwidth back to your network as long as your switch supports it.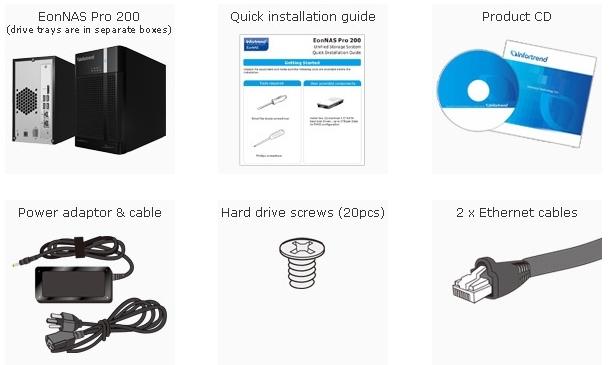 You get a nice accessory package with this NAS and an equally nice three year warranty. Then there is the price. At the time of writing, Newegg had the Infortrend EonNAS 200 for $369.99. I never said this was an ultra-low cost NAS, but given the quality hardware inside, I'd say the price is about what I expected going into this review.
Software Features
NAS products are an equal balance between hardware specifications and software features. Together, one compliments the other and a well-rounded product immerges.

The Infortrend EonNAS 200 isn't overflowing with software features included for home users...you hooligans pirates.
The NAS does include all of the business features you could ask for including many server virtualization support for vSpere, XenServer and Hyper-V.
Packaging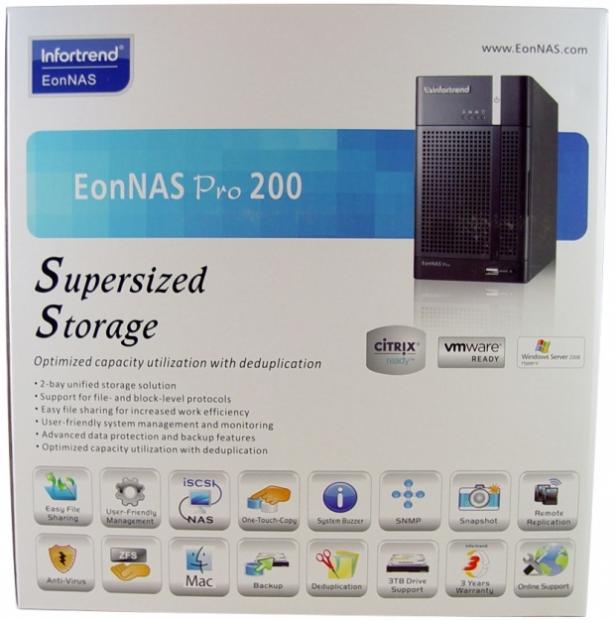 The Infortrend EonNAS Pro 200 ships in a nice retail ready package that is very informative and gives us a lot of product details.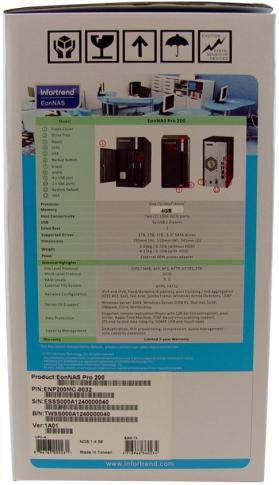 All the way around the box, we found information.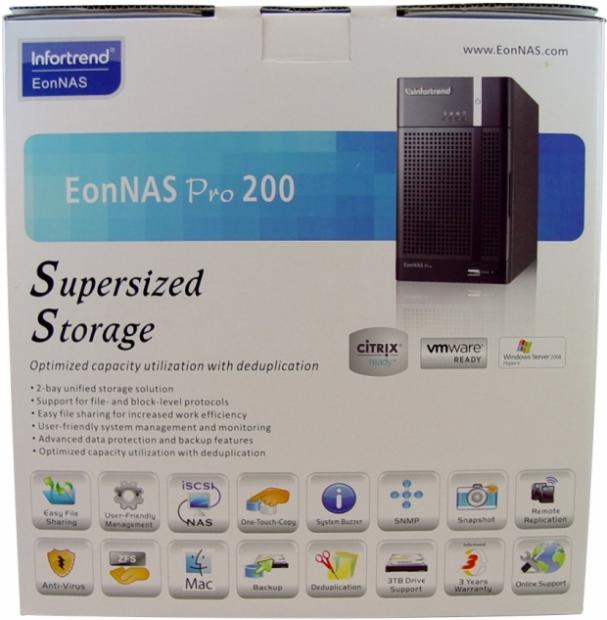 The front and back of the box have the same information...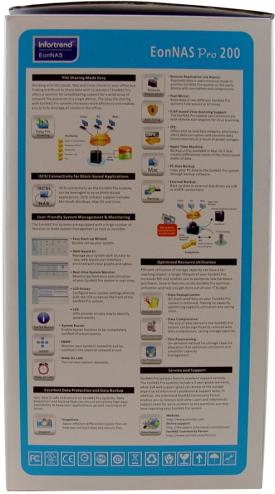 ...but the two sides are unique.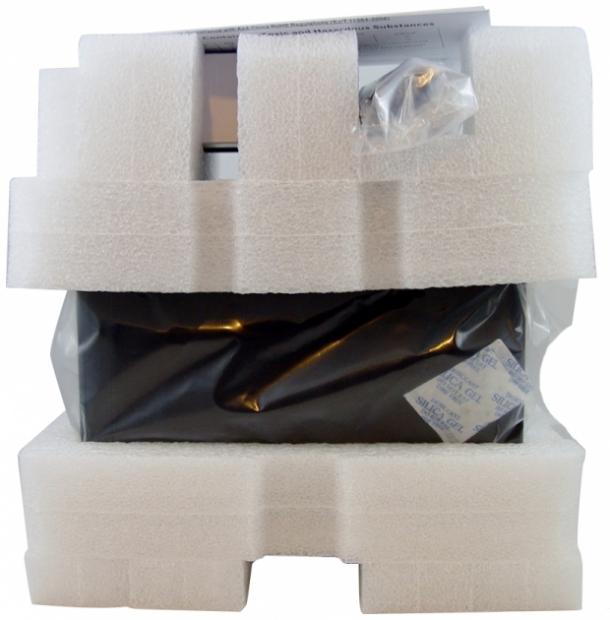 The inner packing is very good with the NAS surrounded by a generous amount of foam on all sides and the corners.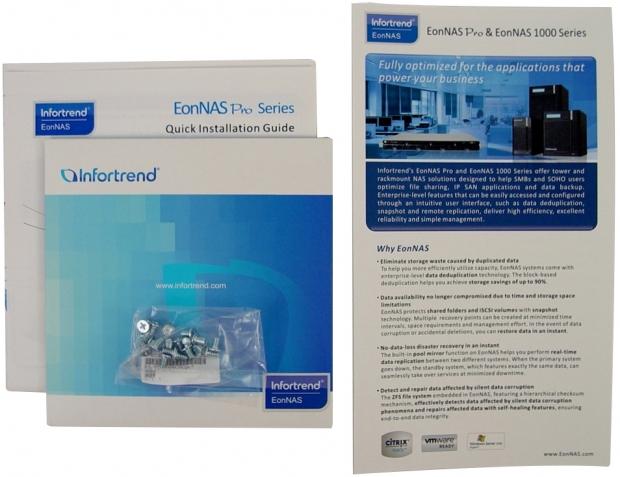 The documentation is actually printed with this unit, something we rarely see these days.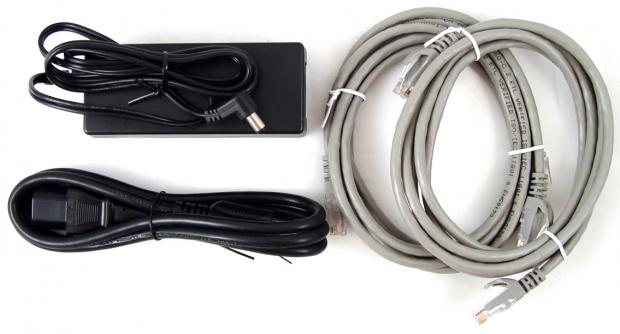 The NAS uses an external 60 watt power brick so the unit doesn't have to cool an internal power supply. Here we see the small power brick, power cable and the two included Ethernet cables.
Infortrend EonNAS Pro 200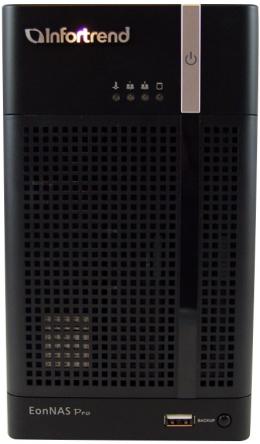 Here we get our first look at the Infortrend EonNAS Pro 200. On the front Infortrend has a power button, USB port with a one button back up option and the door that hides the two drive bays. Status LEDs illuminate to give status information when in use.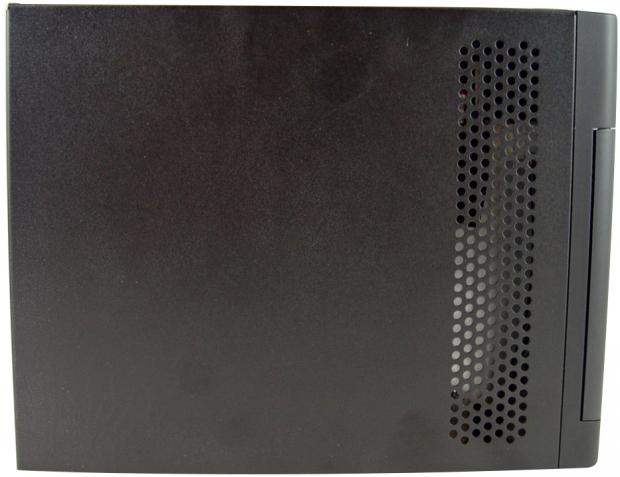 Extra ventilation on the side of the NAS helps to cool the electronics on the inside of the box.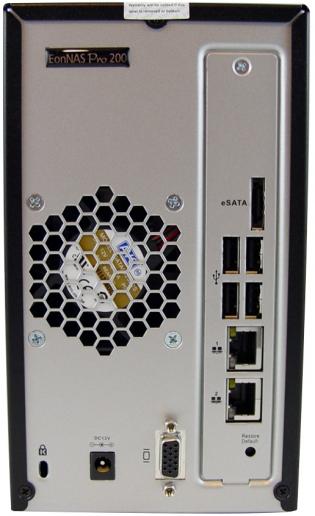 You get a liberal amount of connections on the back of the EonNAS 200. Those include eSATA, four USB ports, dual gigabit Ethernet and a video our connector.
The system is cooled by a single 80mm fan that is quiet when the NAS has settled.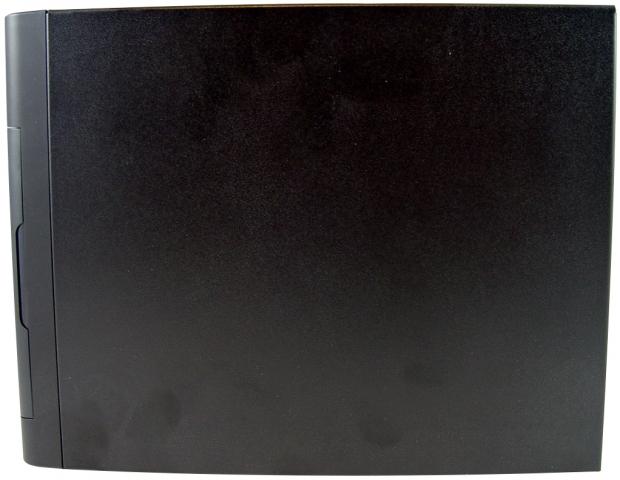 The other side panel is solid.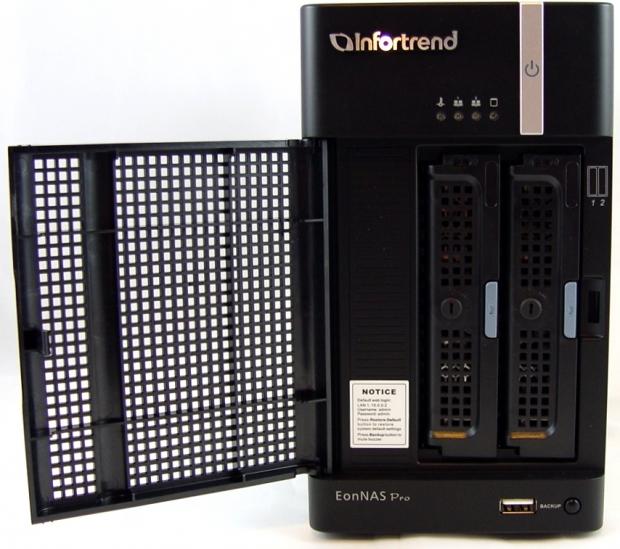 With the front door open, we see the two drive bays. These are semi-locking bays. You can open them with anything thin enough to insert into the slots, but a car key is too large.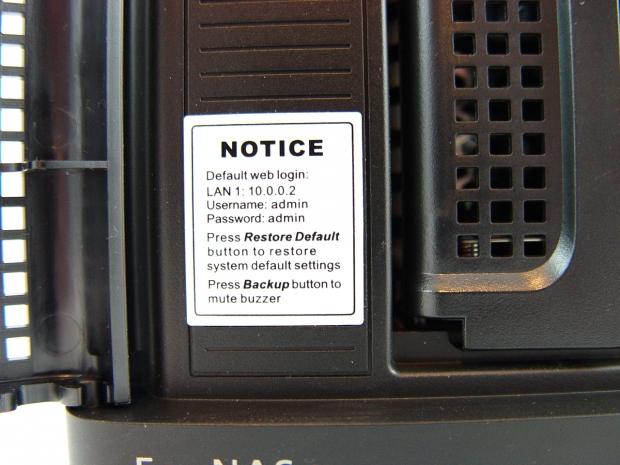 Getting started is easy enough with the preconfigured IP address and login info on the front of the NAS.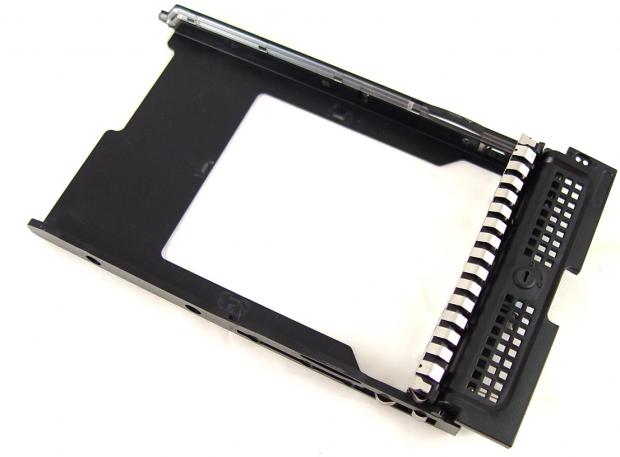 The drive sleds are made of plastic, but that helps to reduce any vibration from the drives.
Test System Setup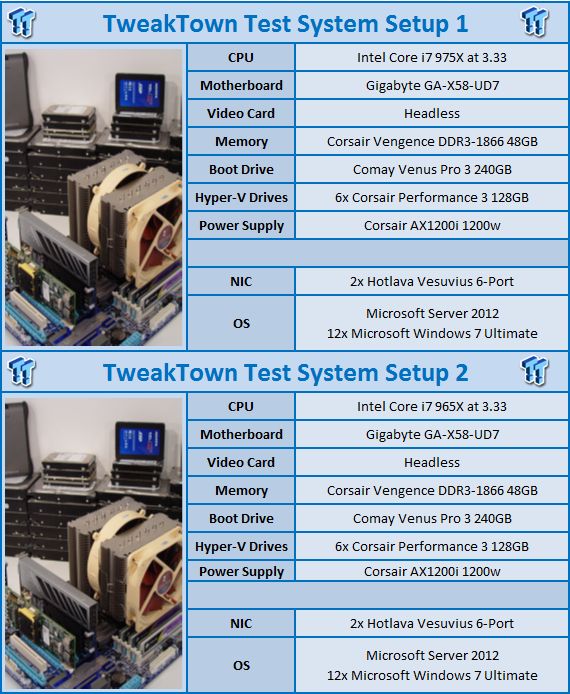 Intel NASPT
The Intel NAS Performance Toolkit (NASPT) is a file system exerciser and analysis tool designed to enable direct measurement of home network attached storage (NAS) performance. Designed to emulate the behavior of an actual application, NASPT uses a set of real world workload traces gathered from typical digital home applications. Traces of high definition video playback and recording, office productivity applications, video rendering/content creation and more provide a broad range of different application behaviors.
TweakTown Custom 48-Client Enterprise Test
The TweakTown Custom 48-Client Enterprise Test uses NetBench 7.03 with two custom workstations running 24 Hyper-V installs of Windows 7 to simulate small office multiuser performance. Both throughput (in Mbits per second) and latency (in milliseconds) are measured. The tests were ran in RAID 6 mode with the maximum number of HDDs installed.
- RAID Level Description
JBOD: Combine multiple drives and capacities into one drive.
RAID 0: Normally used to increase performance and useful for setups such as large read-only NFS servers where mounting many disks is time-consuming or impossible and redundancy is irrelevant.
RAID 1: Create an exact copy (or mirror) of a set of data on two or more disks. This is useful when read performance or reliability are more important than data storage capacity.
RAID 5: Use block-level striping with parity data distributed across all member disks.
RAID 6: Extend RAID 5 by adding an additional parity block; thus it uses block-level striping with two parity blocks distributed across all member disks.
RAID 10: A Stripe of Mirrors. Multiple RAID 1 mirrors are created and a RAID 0 stripe is created over these.
RAID 50: Combines the straight block-level striping of RAID 0 with the distributed parity of RAID 5.
RAID 60: Combines the straight block-level striping of RAID 0 with the distributed double parity of RAID 6.
Western Digital RED - The NAS HDD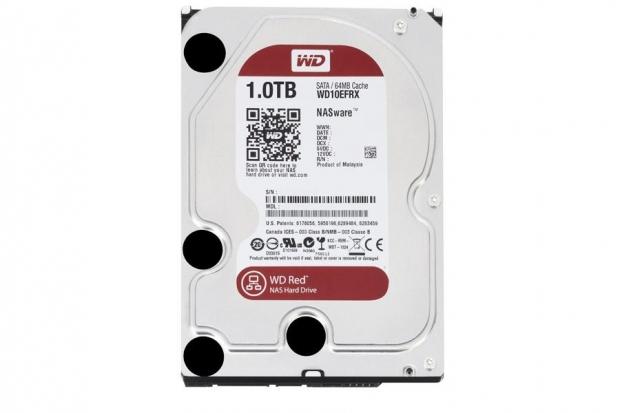 TweakTown uses Western Digital RED 1TB hard drives for all of our NAS server tests.
Benchmarks - NASPT JBOD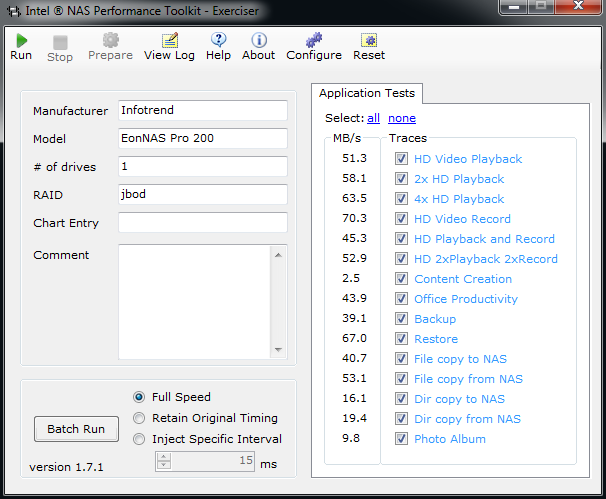 Since we've never had another dual bay NAS even finish NASPT we don't have a collection of dual bay units to compare the EonNAS 200 to. This unit also costs significantly less than our four bay models so we decided to just show the raw performance numbers and walk you through the data by the RAID level tested with.
Starting with JBOD or Just a Bunch of Disks, we use a single drive to test the NAS across the network. I've known of several people that purchase their first NAS and just a single drive and then add more drives as their needs change. With a single drive you don't have any data redundancy, but you do get storage on the network that is shared amongst your devices.
We know from our internal drive tests with the Western Digital RED that the drive is capable of 100MB/s sequential reads and writes at QD1 so the Infortrend EonNAS Pro 200 doesn't allow this drive to stretch its legs in a single drive configuration. We do see a nice performance increase when reading back HD video from QD1 to QD4.
The NAS write HD video at a fast pace, just over 70MB/s.
Benchmarks - NASPT RAID 0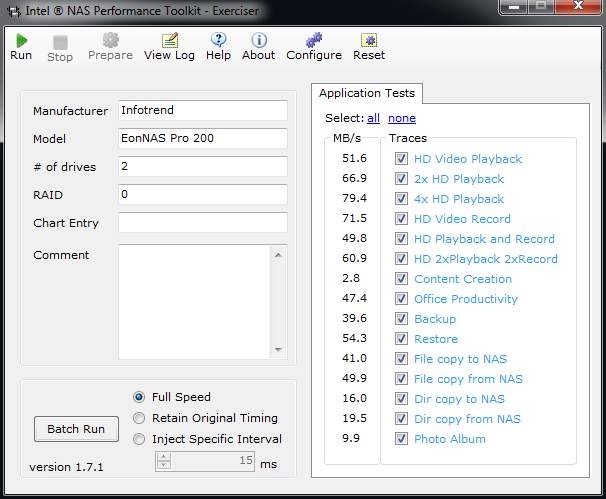 Most users aren't going to run their NAS in RAID 0 unless using the system for temporary storage, but it's still always fun to run the numbers.
The performance increased slightly in nearly all of the tests, but not as much as we hoped. Even though the Infortrend unit has the same core internals that some of the other units we tested, it just can't hit the 100MB/s numbers that we routinely achieve.
Benchmarks - NASPT RAID 1
Benchmarks - NASPT RAID 1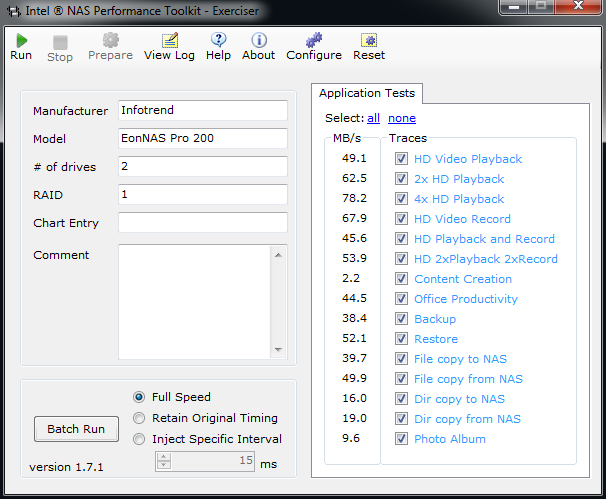 Most end users will run the EonNAS 200 in RAID 1, a redundant array that mirrors the data from one drive to the other.
In these tests, we see a mix of the same performance we observed in the JBOD and the RAID 0 runs.
Final Thoughts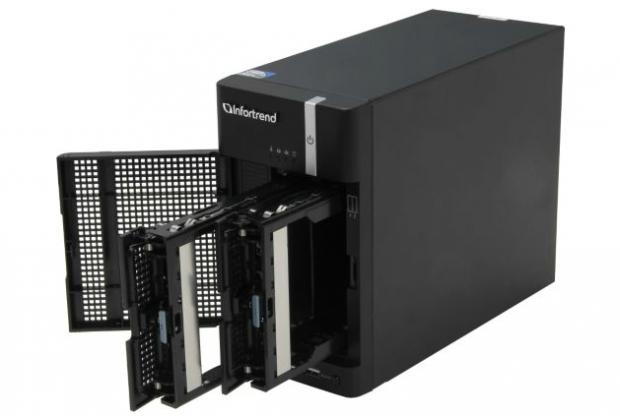 Before this unit arrived, I researched the current state of the two bay NAS market. What I found was crap, poorly designed plastic boxes with inadequate processors and nice units that were overpriced like the QNAP TS-269 that Newegg has now for nearly $600. The Infortrend EonNAS 200 is a nice fit right in the middle. It has the same similar performance to other high spec $500+ models, but costs more than $100 less.
Certainly a few more megabytes per second of performance would have been nice, but overall the Infortrend EonNAS 200 is a nice entry level NAS that can protect your data when used in RAID 1. Most buyers in this category are more interested in data security, both physical protection from a drive failure and user management security, than they are performance. With that in mind, the EonNAS 200 does very well and keeps your data safe.
Being able to transfer data to and from your NAS at 100+MB/s is always nice and makes those large file transfers less painful. This unit didn't hit the century mark in our tests, but came close when writing data to the NAS.
At $369.99 it's difficult to say this is an entry-level NAS, but the reality is this is where you want to start out at if you value your data. The cheap plastic $150 dual bay units deliver half of the throughput of the EonNAS and are made from questionable components. The unit we looked at today isn't a plastic box with an unnamed processor on the spec sheet. You get real Intel reliability and nearly all of the enterprise features that provide peace of mind. This is your data, don't put it at risk.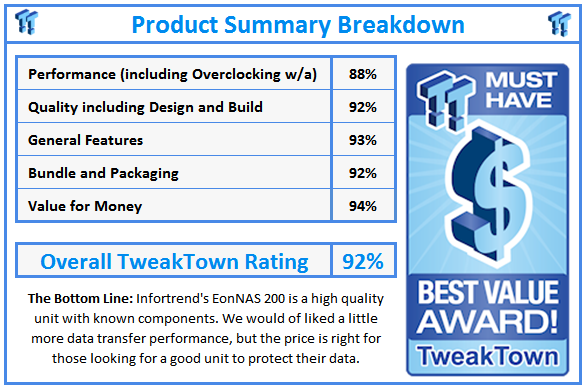 PRICING: You can find products similar to this one for sale below.

United States: Find other tech and computer products like this over at Amazon.com

United Kingdom: Find other tech and computer products like this over at Amazon.co.uk

Australia: Find other tech and computer products like this over at Amazon.com.au

Canada: Find other tech and computer products like this over at Amazon.ca

Deutschland: Finde andere Technik- und Computerprodukte wie dieses auf Amazon.de
We openly invite the companies who provide us with review samples / who are mentioned or discussed to express their opinion. If any company representative wishes to respond, we will publish the response here. Please contact us if you wish to respond.