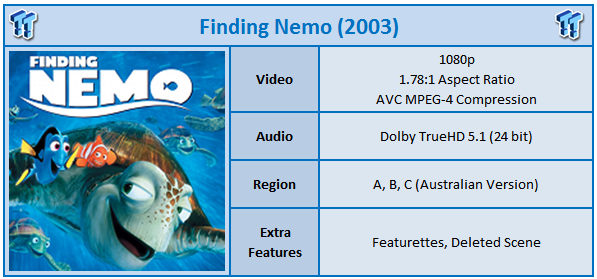 I'll be honest. Despite breaking box office records and evidently pleasing a lot of fans, I've never really liked Finding Nemo. Whilst many point to the critical disappointment of Brave or the earlier Cars as the first stumble for the previously untouchable studio, I genuinely think Finding Nemo marked the first real misstep, coming off the back of the unsustainably stellar string of hits including Toy Story and Monsters Inc..
It could be the fact I find Ellen DeGeneres about as appealing as nails on a chalkboard, it's somewhat awkward depiction of Australia or that I just didn't connect with the film on any significant level. Whatever the reason, I just didn't find the storyline emotionally involving and I consider this film of one the lesser entries in the Pixar cannon.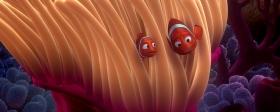 Finding Nemo, as the title somewhat suggests, is the story of a clownfish named Marlin (voiced by Albert Brooks) who sets out to find his young son (voiced by Alexander Gould) after he's snatched by a diver in Australia's Great Barrier Reef. His adventure will put him in great danger and unknown waters, and contact with all manner of undersea life, including Dory (voiced by Ellen DeGeneres) whose annoyance factor is surpassed only by the similarly computer generated bastard Jar Jar Binks.
Technically speaking, despite its impending 10th anniversary, the film still looks quite amazing. It's also important to note that when the film was originally premiered, back in 2003, the studio had only released Toy Story some seven and a half years earlier and Finding Nemo was only the sixth film to be released from the studio. Its latest Brave is the 13th. In many ways, the Pixar of 2003 was a studio that was still finding its feet.
Viewing the film again, I can't say I've changed my mind significantly regarding the film; perhaps the passing of time has made me see a few more positives.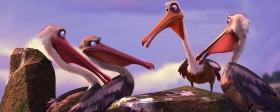 Video
Finding Nemo is presented in the original aspect ratio of 1.781, encoded with AVC MPEG-4 compression.
Barring any encoding disasters (see DreamWorks' Megamind, computer generated features generally scrub up well on the format and considering Disney's generally very high standard, it should come as no surprise that Finding Nemo looks flat out awesome in 1080p
Finding Nemo is an incredibly colorful film, with a really pleasing colour spectrum which translate nicely to the current crop of plasma and LCD displays. The image is crisp and clear, as a direct digital transfer would generate and overall there is really nothing much to complain about. At all. Despite my reservations with the film itself, no such complaints can be directed to the superlative transfer on offer here.
Audio
Finding Nemo is presented in Dolby TrueHD 5.1 at 24 bits.
Whilst Disney continues to encode its Blu-ray releases with DTS HD Master Audio, Pixar have jumped ship, utilizing the Dolby TrueHD codec, no doubt as part of the company agreement to tie in with the use of Dolby Atmos, the new theatrical surround system which premiered with Brave earlier this year.
Originally released with a 5.1 track, Finding Nemo has had a bit of aural nip and tuck. This is quite a wonderful track which pulls some impressive surround tricks to create a very immersive track. Importantly, dialogue comes through without a hitch, although when Ellen pipes up, you might regret its clarity.
There was a time when Disney was incredibly reticent to use LFE in any form of aggressiveness, for fear of scaring the littlies. That mentality has long since passed. The film features some incredibly deep bass notes.
Thomas Newman makes Finding Nemo his debut score for Pixar, which he'd return to work for again with Wall-E. I don't think this is up to the same standard as the latter in all honesty, but it's certainly no slouch either, with some nice themes.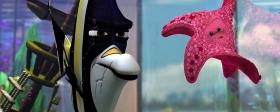 Extras
In its infinite wisdom, Disney have neglected to release the Blu-ray with the same extra features disc available in the US market, which means we receive significantly less extra features than the region-free import - unimpressive. Still, let's soldier on.
First up is Finding Nemo: A Filmmakers' Roundtable Featurette which reunites the Directors Andrew Stanton and Lee Unkrich and other key members of the crew for a jovial retrospective on the film's production. These are somewhat common on Pixar releases, but no less compelling. It's clear that the production forged solid camaraderie between these guys and they tell some genuinely funny and interesting stories through this breezy 18 minute feature.
Next is Reinventing The Submarine Voyage Featurette which looks at re-branding the 1959 Disneyland attraction with Finding Nemo characters and locations. I found it particularly interesting to see how Disney managed to overcome the limitations of not being able to use paint underwater. A Lesson in Flashbacks discusses the issues involved with using the narrative technique, and the 1989 Pixar short Knick Knack, which as a fun little short directed by John Lasseter which sees a stranded snow globe snowman wanting out of his confines.
Finally, we have one brief Deleted Scene that never made it past the storyboard process.