Introduction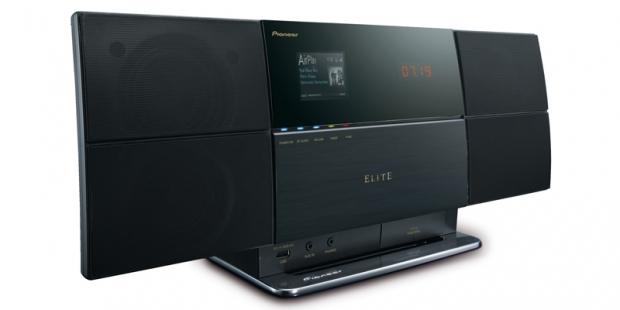 When I first started reviewing NAS appliances in 2005, DLNA was still just a proof of concept in Sony's laboratory. By 2011 over 9,000 products had received a DLNA certificate of compliance and that number is growing every year. In my NAS reviews I always talk about how great it is to stream music and movies over the network, playing content anywhere I please, when I please. Over the last year, the technology has added features, new higher speed processors have risen to levels that allow even the highest bit-rate content to play. At this time, we have the ability to stream 3D Blu-Ray ISOs directly from a fairly low cost NAS to your TV or media box.
Today we're going to look at DLNA and media streaming from the other end of the scope, the client side. The Pioneer Music Tap series of products aren't going to play 3D Blu-Ray content on their small screens, but you can use them to bust a move in your kitchen while preparing dinner.
Pioneer has three models available at the time of writing. The Pioneer X-SMC3-S, Elite X-SMC4-K and in Europe an Elite X-SMC5-K exists. The baseline non-Elite X-SMC3-S has nearly all of the same features as the SMC4 that we're reviewing today except it does not include a Bluetooth module. The unit we are testing today, the Elite X-SMC4-K includes the Bluetooth dongle and was optimized for better sound. In Europe Pioneer sells an Elite X-SMC5-K and it includes the Bluetooth dongle, optimized sound and includes a CD/DVD optical transport for playing your optical media.
Initially I tried to purchase the European SMC5 model, but with an initial price of 285 British Pounds and a massive shipping charge on top of that, I fell back on standard USA model, SMC4 sans optical capability.
Today we're going to take a look at this unit and show you just how easy it can be to play your entire audio collection in any room inside your home... and even outside as well.
Specifications, Pricing and Availability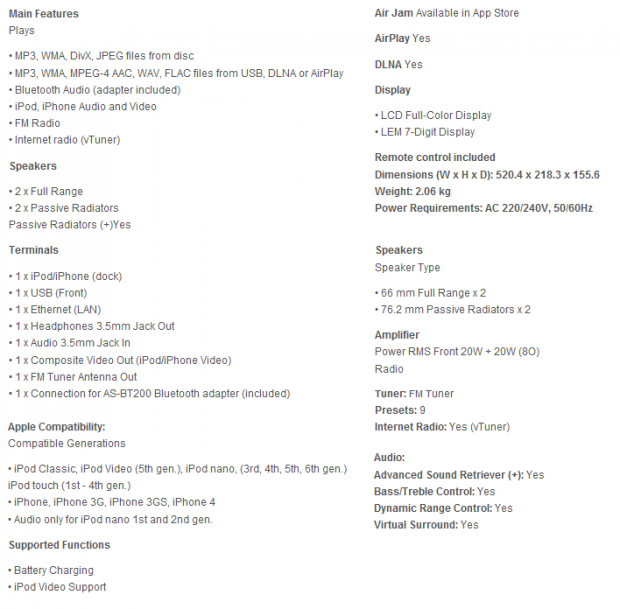 Even though we are mainly focusing on the DLNA media streaming capabilities today, the Pioneer Music Tap products are designed like mini receivers with several sources available. An iPod / iPhone dock is built into the front of the unit and the included remote control acts as the control device for the iPod. In the specifications you can see a list of supported Apple products which includes IPhone's. If Apple products aren't your thing, a single USB port is also located on the front of the Media Tap and you can play your audio directly from a USB drive or thumb drive. Other options include internet radio, FM Radio, Bluetooth (optional on the lower end SMC3), Air Play and of course DLNA streaming.
Sound is pumped out of two 66mm full range speakers, one on each side. Two 76.2mm passive radiators are also nestled on each side and stretch the lower frequencies down low to areas a 66mm speaker would never be able to reach. The internal amplifier is rated for 2x 20 watts RMS at 8 ohms. Pioneer included bass and treble controls that range from -5 to +5. They also included some audio enhancement features as well, virtual surround, advanced sound retriever and a dynamic range control. In our article we'll give you the settings we found worked best for MP3's off the iPod and FLAC files from our DLNA-capable NAS.
Then there is the price. We've already stated that the EU model would of cost us around 285 British Pounds, the best price we were able to find online. The Elite X-SMC4-K that I purchased has an MSRP of $479 and the X-SCM3-S has an MSRP of $399. I ended up paying right around $175 for my X-SMC4-K, but I had to wait for a sale which I found using Google's shopping feature.
To be honest, if I couldn't find a super deal on this unit, this review wouldn't have taken place. Nearly $500 for a media player to put in my kitchen is a little over board, even for me. Less than $200 though, well as you see this review is online so I was comfortable with that.
Now, let's see if I like the unit enough to put one in my bedroom, dining room and outside patio.
Packaging and Accessories
Packaging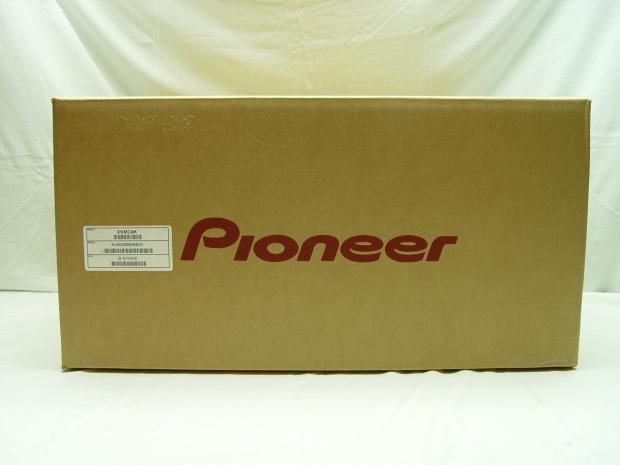 Our Pioneer Elite X-SMC4-K shipped to us double boxed. We discarded the outside package since it was quite dirty from shipping. The inner box is a typical Pioneer brown box.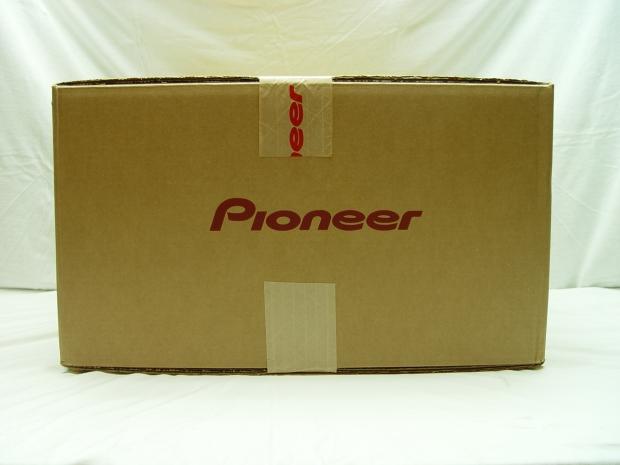 There is not much to see, but you do get an idea of the size.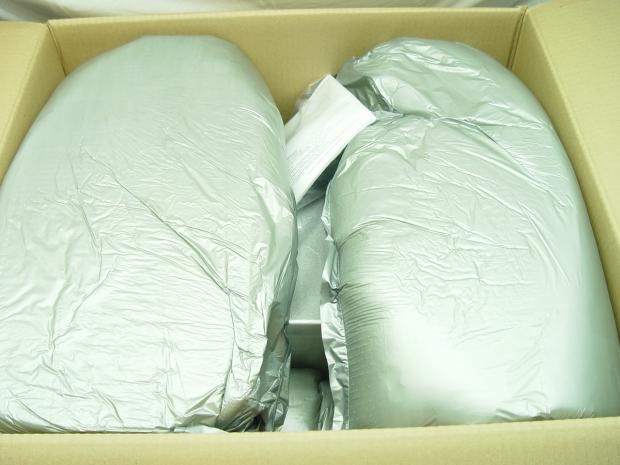 The inner packaging was very good and used form foam inside of four bags that keep the foam pieces from dusting the inner components. The main unit was wrapped in a white closed cell foam sheet.
Accessories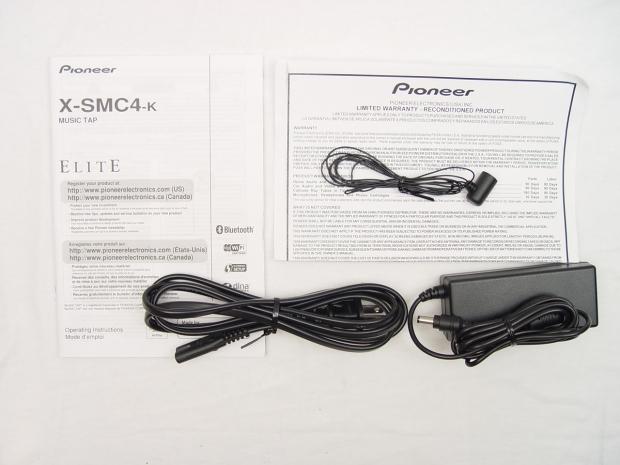 You receive a full printed manual in the package, a warranty paper as well. A FM antenna is also included as is a power brick and power cord for the brick.
Pioneer Elite X-SMC4-K Music Tap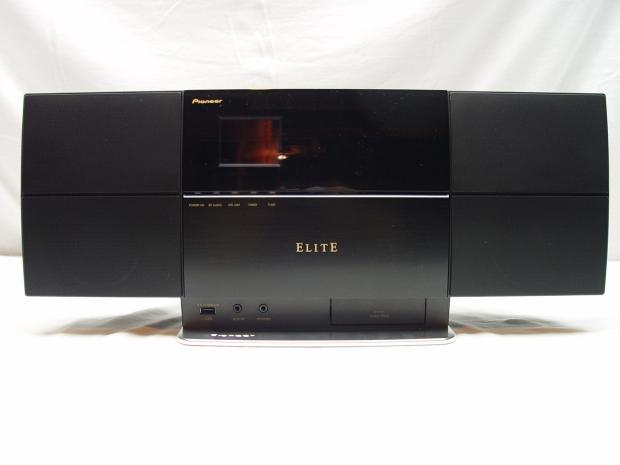 Here we get our first look at the Music Tap. The speakers are attached and not removable. The screen measures right around 2.5 inches diagonal. The height is less than 9 inches and the width is right around 21 inches. When keeping a 2 inch gap for the power cables between the unit and the wall, the X-SMC4-K is right around 8 inches from the wall and that moves closer to 10 inches with the iPod dock door open.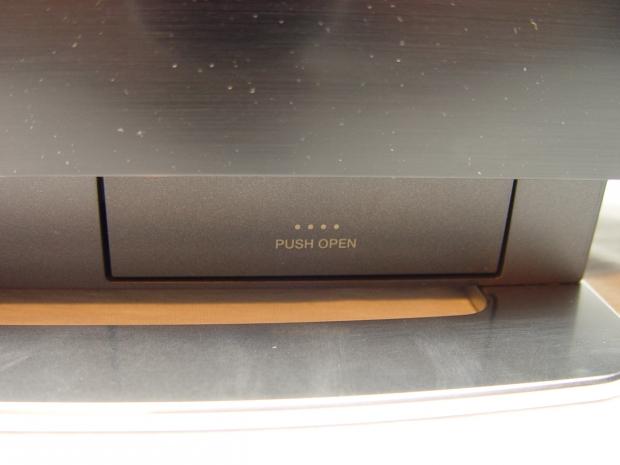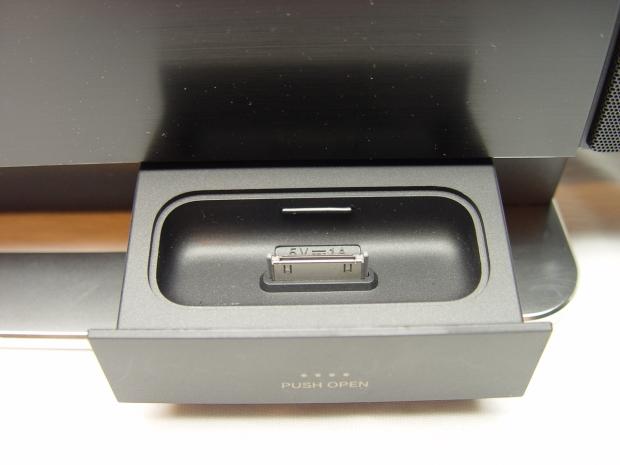 Here we see the iPod dock door closed and open. Your iPod or iPhone just slide right in without any fuss.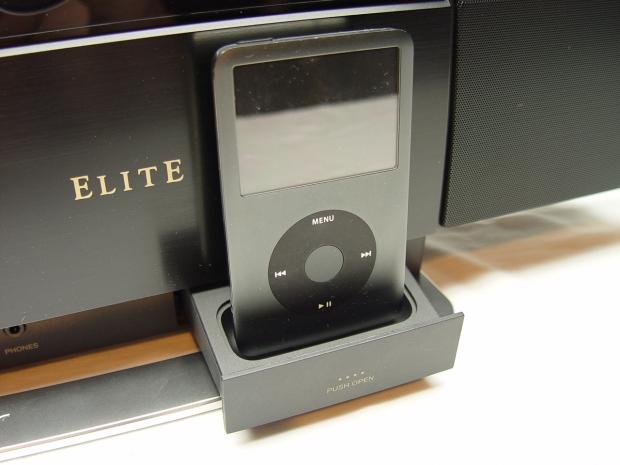 Given that several of these Music Tap systems will be used in kitchens it would of been nice for Pioneer to trim some of the fat on the door and slim things down.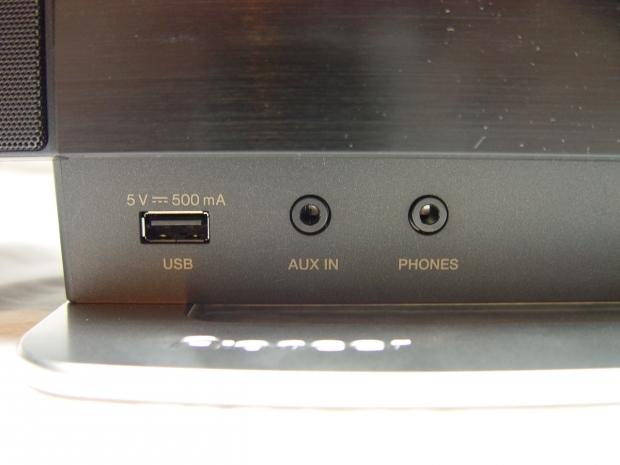 Three front ports are also located at the bottom left. The first is a USB port, but it is not a 'quick charge' 2 Amp port, it only supplies 500mA of power, so it won't charge your iPad or charge your phone as quickly as the NewerTech Power2U that we reviewed earlier in the month... another kitchen upgrade.
A headphone port is also located on the lower left corner as is a 2.5mm auxiliary input for your Zune or other audio devices.
Several function buttons are located at the top of the unit. The all-important power button is located at the far left.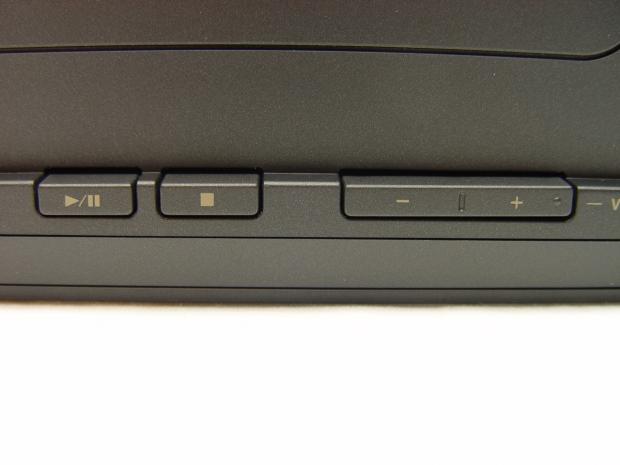 Then function, BT audio selector and Air Jam.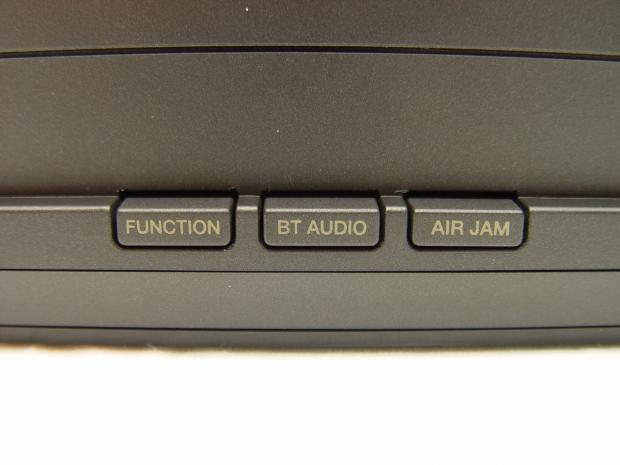 Further to the right are the play and stop buttons as well as volume control.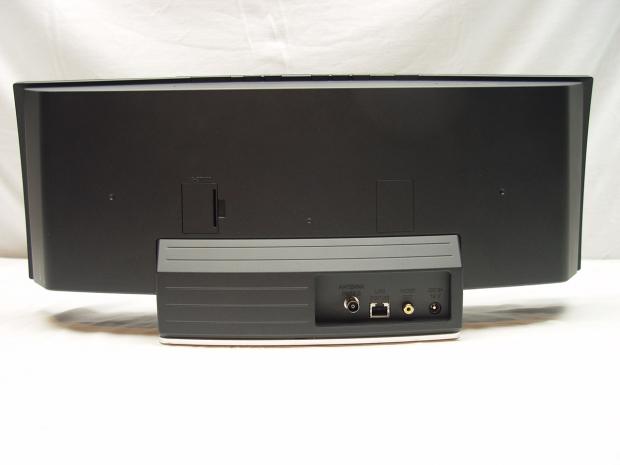 The back is basic enough with all of the wire connectors in a cluster. The Bluetooth model is built inside with a flush door that covers the module.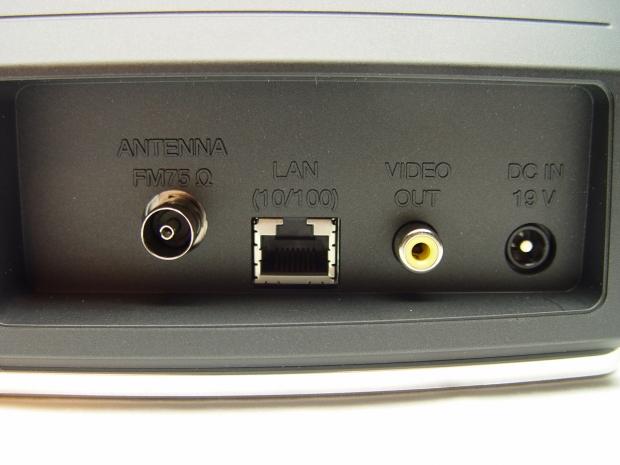 The wired cluster has jacks for a FM antenna (included), 10/100 Ethernet, composite video out and finally the power brick.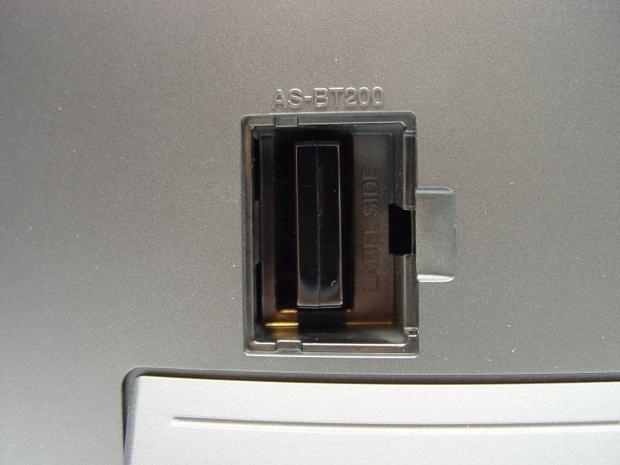 The Bluetooth module was already installed in our unit.
The Remote and Display
The Remote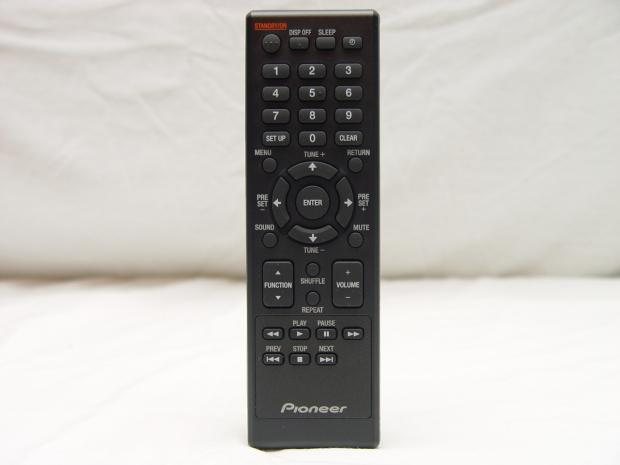 I have three Pioneer Elite receivers, two Elite Blu-Ray players and an Elite plasma display spread through my home so the X-SMC4-K remove felt right at home in my hand. Pioneer uses the same basic layout for most of their modern products. For the asking price of nearly $480, the remote should have shipped with a function display like the SC-37 receivers did.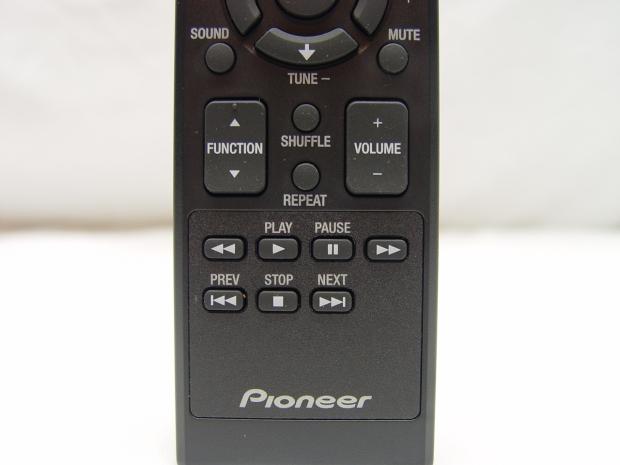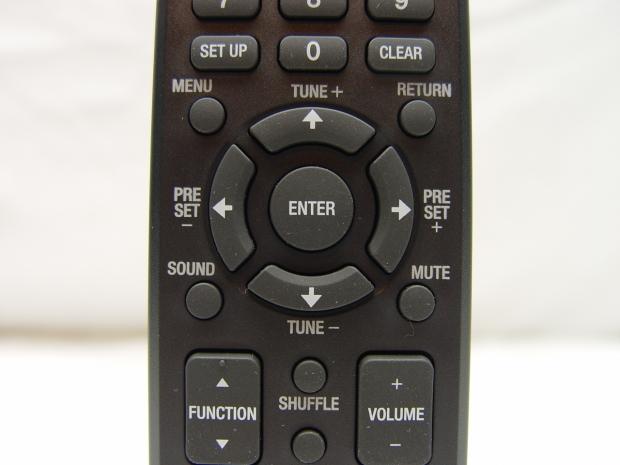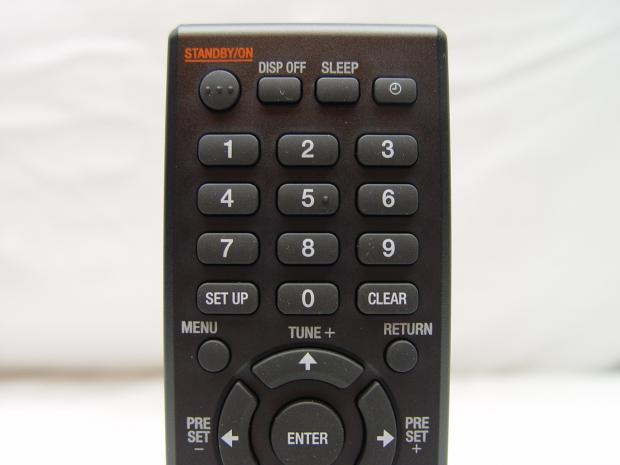 The remote gives you full access to the unit so you don't want to lose it or getting to menu items like Set Up will be tricky.
The 2.5" Display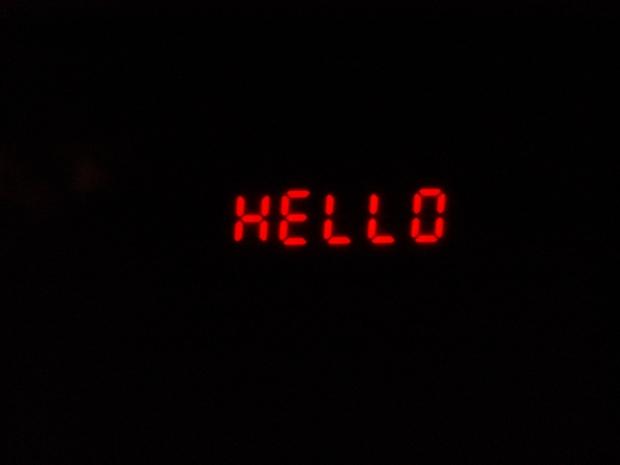 There are actually two displays on the unit that provide information. The first is a red LCD system that greats you when the system is first powered on. This also becomes a time display.
The 2.5" LED display provides a nice experience with its full color output.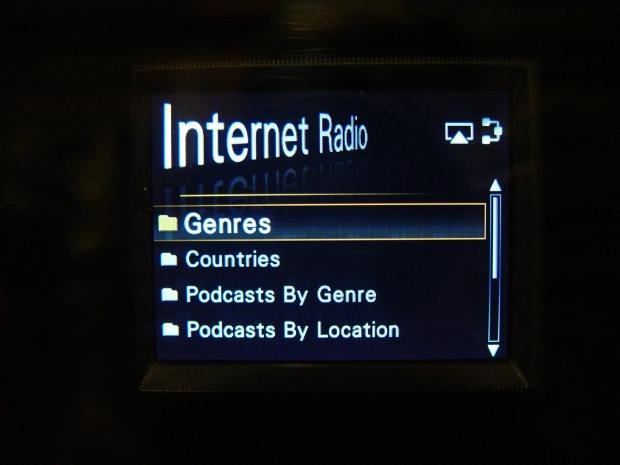 The menu system works well on this limited sized display and is typical Pioneer. If you have a Pioneer AVIC system in your car you are already familiar with the basic layout and how to navigate.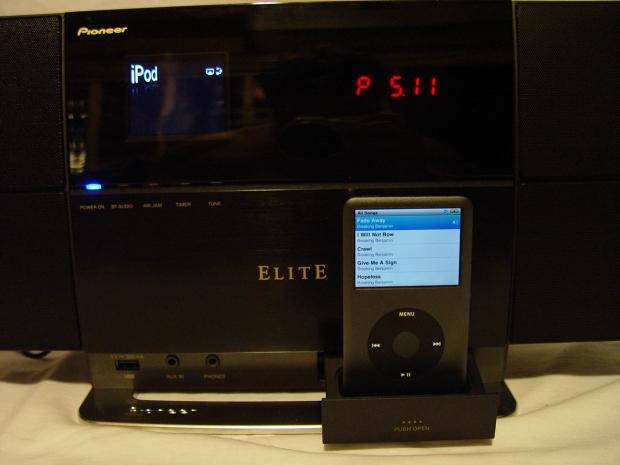 Your docked iPod or iPhone acts as a third screen. The remote moves the highlighted areas on the display, which is a feature I thought was nice.
Putting it to Work - Using the Pioneer Elite X-SMC4-K
Setup and Initial Thoughts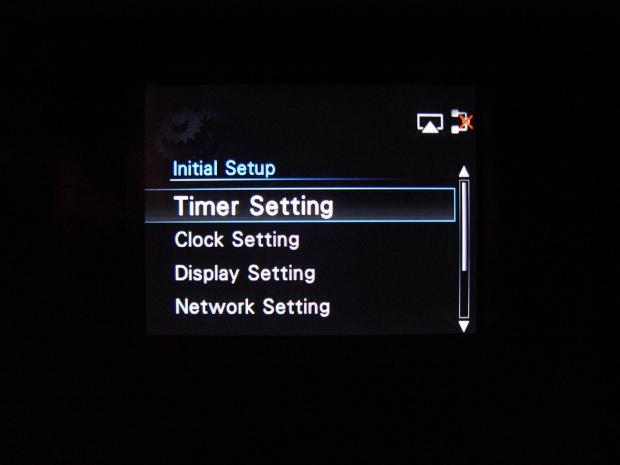 The setup process went smoothly and within minutes we were just about ready to get our groove on. The system has a timer and with a timer you need a clock, both functions are changed in the set up menu. There are three pre-programmed settings that control the brightness of the display and you also have the network settings.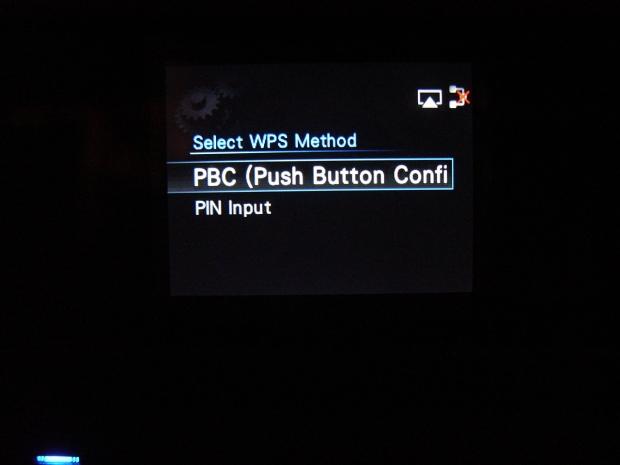 We ran into an issue with the WiFi setup. The unit didn't like all of my advanced wireless goodies so I had to change one of the bridges to run without turbo mode on. Once we made a strict compliance device for the X-SMC4-K to connect to everything went smooth.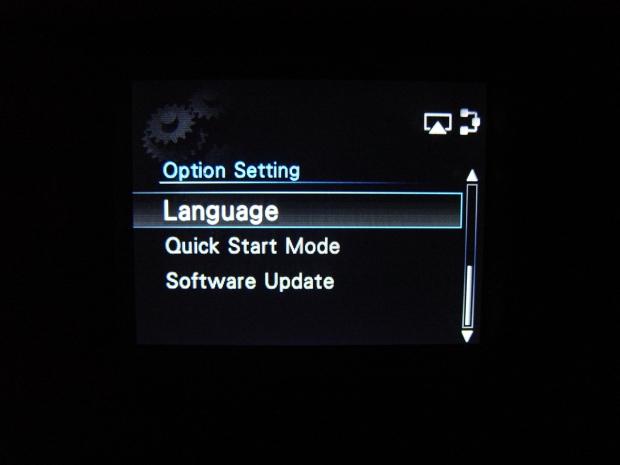 The menu system is small and laid out in a convent manner.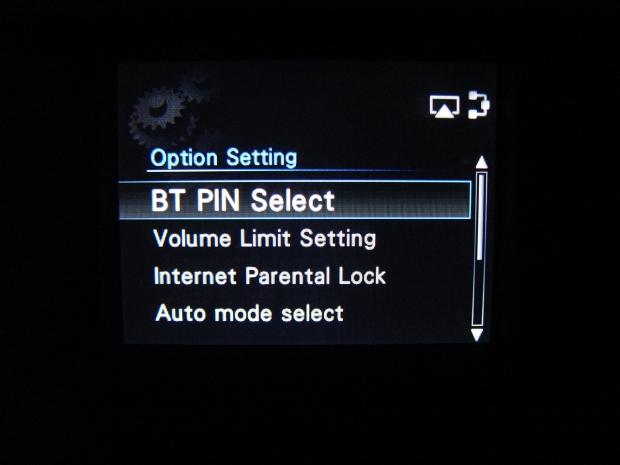 Advanced options allow you to configure Bluetooth connections, set volume limits, pass code the system and even configure the power savings technology.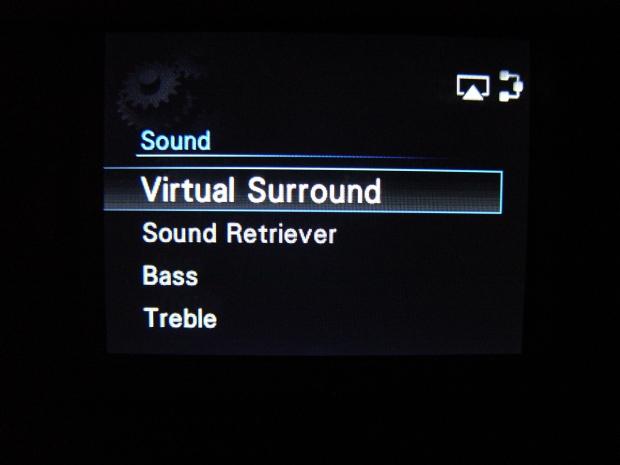 In the sound options you have access to the advanced settings. Virtual Surround gives your music a much larger sound. Sound Retriever restores frequencies lost in MP3 files, but with it on your FLAC music sounds too bright.
For MP3 files we enabled Sound Retriever and Virtual Surround, set the bass to +4 and the Treble to -1. The sound was very good and MUCH better than the stock settings with the enhancements turned off and zeroed out.
For FLAC files those settings were too bright and harsh. We turned Sound Retriever off, moved the bass to +3 and turned treble up to +1. Your ears will tell you what sounds good with your music, but this is a starting point.
We really don't like the fact that we needed to change settings depending on the quality of music we fed the system so over time we'll try to find a good compromise between the two.
Final Thoughts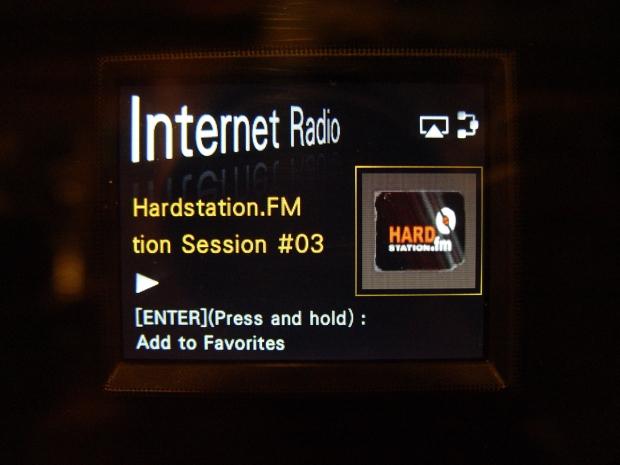 Out of the box the Pioneer Elite X-SMC4-K Music Tap sounded awful. Everything we fed the system sounded muddy and at first I was very disappointed, even for a system going in my kitchen. After adjusting the advanced sound settings I was amazed at the difference. The Virtual Surround really fattened up the sound and worked like the BBE Sonic Maximizer. The surround term Pioneer used is a bit misleading, make sure you try your system with and without this function enabled, but I think you will be pleased in the expansive sound with it turned on.
Another area that caused us alarm at first was the start up time. No one wants to wait 20 seconds to start using a device after turning it on, but with the power saving functions enabled that is what you had to do. One quick change in the menu and the system would snap on and be ready to use instantly.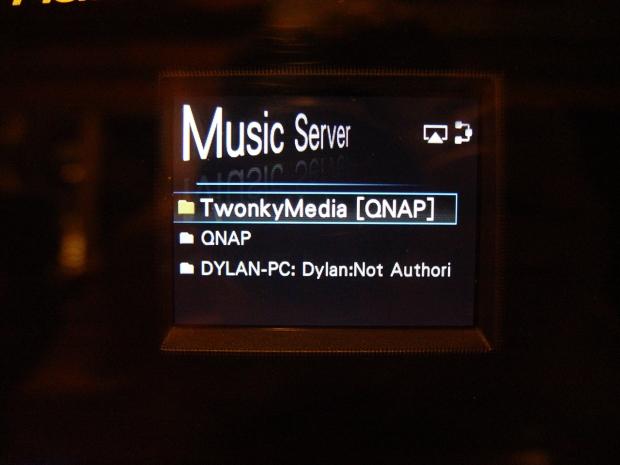 The menu system is surprisingly fast, much faster than my SC-37 receiver's Home Media Gallery function. We did have to play music through TwonkyMedia since we never found a way to input a password for the main QNAP folder system. TwonkyMedia is enabled anyhow on our NAS and is the primary DLNA / UPnP server for the entire house.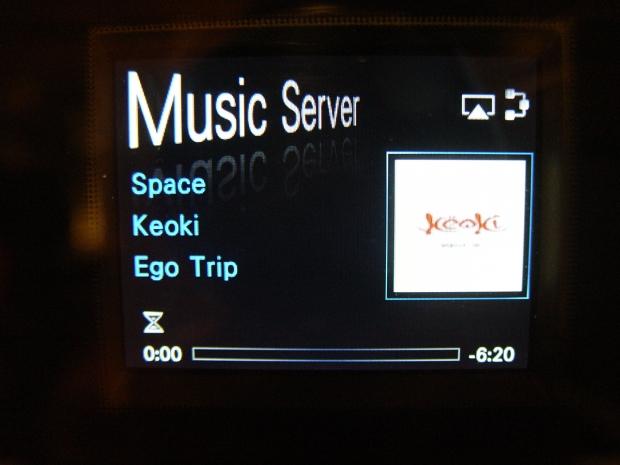 With the system configured the way we wanted it, all of the connections made and the music flowing the system performed as expected. With these types of devices there are always a few places where improvements can be made. The firmware is upgradable so if Pioneer does anything in that area the process is rather painless. Given Pioneer's track record of just releasing a new SKU instead of making significant updates to existing products, we'll just wish you good luck with that.
All things considered I'm happy with my purchase, at less than $200. Personally I would feel disappointed if I bought mine at anywhere close to the MSRP of $480. At that price you could buy a nice multi-room receiver and still have full surround sound in the main room while using the second room option where the Music Tap would be. I think the price is a big reason why no one is really talking about these Music Tap systems.
If you are looking to take advantage of your NAS' advanced media streaming features and you can find one cheap enough, the Pioneer Music Tap products are an easy way to add audio to small spaces without much fuss.