G.Skill RipjawsZ PC3-12800 16GB Memory Kit Review
We check out a really well priced RipjawsZ memory kit from G.Skill. Let's see just how it goes in our X79 testbed.
Published Wed, Jan 18 2012 10:48 PM CST
|
Updated Tue, Nov 3 2020 7:01 PM CST

Moving away from the AMD Radeon HD 7970 video cards for a little bit we check out another kit of RAM from G.Skill that isn't the typical high-end kit that we normally look at from the company. Instead it's an $89.99 USD kit that hits at a really aggressive price point. But what do we get for a kit of RAM from G.Skill for under $100 US? Well, let's get into it and find out.
The first thing you're going to notice is that the kit comes in as part of the popular RipjawsZ series which was introduced with the X79 chipset to let people know that it's a Quad Channel kit which of course means we've got four modules present in the kit. We've got the same heatsink design present with red being the color of choice here.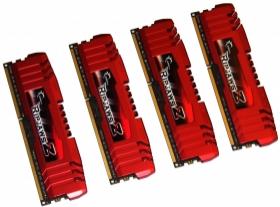 Looking at the kit, though, the one thing I absolutely love is that we've got a black PCB present. A lot of companies don't offer a black PCB as it is, the ones that do tend to always move to a green PCB when it comes to some of the cheaper kits. It's awesome to see the black PCB present here on this RipjawsZ kit.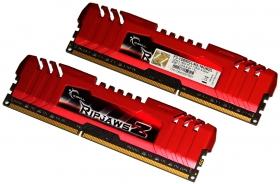 Moving a little closer we can see our RipjawsZ labelling on one side while the other gives us a sticker that lets us know the main specifications of the kit. As we move in closer, though, we again get a good look at that black PCB and against the red heatsink that G.Skill offer here. It looks fantastic.
Looking at our main specification sticker we can see what exactly we're dealing with today. One of the main reasons the price is more aggressive than some of the other G.Skill quad channel kits we've looked at is because we're dealing with a PC3-12800 kit that translates into 1600MHz DDR.

On the timings side of things we've got a CL9 setup that comes in at 9-9-9-24-2T with a default voltage of a low 1.5 volts. We're also of course dealing with a quad channel kit that consists of four modules. Each module comes in at 4GB which means we're dealing with a 16GB kit which has quickly become the size to get with the new X79 platform.
Being a 1600MHz DDR kit we knew that getting to that speed wasn't going to be an issue and we found ourselves in Windows straight away with the default timings. You can see our CPU-Z validation here. Up and running in Windows it was time to check out the performance we could get.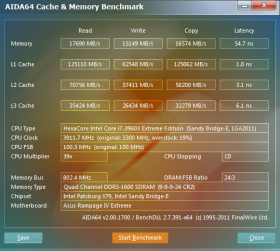 Under AIDA64 we ended up with read / write numbers of 17,969 MB/s / 15,150 MB/s, copy speed of 17,072 MB/s and latency of 54.7ns.
With everything up and running at stock with no issue we always head back into the BIOS and see what's going on with the overclocking side of things. The first thing we tried to do was move to the 1866MHz divider while pushing the voltage up to 1.65v. Unfortunately we didn't have any luck so we headed back into the BIOS and pushed the timings out to 10-10-10-24-2T and while we could boot, we couldn't get into Windows.
Back in the BIOS we started to mess around with the BCLK a little bit which lets us fine tune the memory clock speed. After a bit of messing around we ended up in Windows at 1630MHz DDR which isn't much of an overclock at all. Because of that we headed back into the BIOS and moved to a 9-9-24-1T setup from the default 9-9-9-24-2T setup.
With that up and running with no dramas, we headed back to the BIOS and pushed our multiplier up to 47x which brings our CPU clock in at 4.7GHz. You can see our CPU-Z validation here. Up and running in Windows it was time to check out the performance we could get.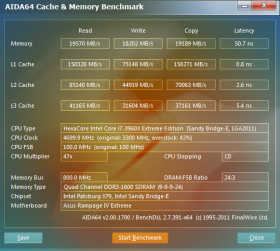 Under AIDA64 we ended up with read / write numbers of 17,969 MB/s / 15,150 MB/s, copy speed of 17,072 MB/s and latency of 50.7ns.
Comparing the results we see a nice little boost in performance, but for the most part that is due to the overclock more so than the 1T rating which would help a little with mainly just the latency side of things verse the overall bandwidth.
Before getting this kit I knew that overclocking wasn't going to be an area it shined in. The price tag that it comes in at and the competition around it means that it's targeted at an audience who aren't all that interested in overclocking, instead they just want a kit of RAM that's going to run well at stock. In this case the G.Skill does that perfectly while at the same time giving us the opportunity to move to a 1T command rate if wanted for that little bit of performance boost.
The biggest highlight for the kit is of course the price tag and at $89.99 USD it's priced extremely well against the competition. On top of the price, though, it's one of the best looking kits at this price point since it not only carries the same RipjawsZ cooler seen on the more expensive modules, but also has that black PCB that looks great, especially if you install it into a motherboard that also offers a black PCB.
G.Skill do a great job of targeting so many levels of consumers with 2400MHz CL9 kits, 64GB kits at different speeds or just well valued 16GB kits. If you look through the arsenal that G.Skill has, you'll find something for you and your budget. Today the PC3-12800 ZL kit we're looking at falls into that latter category extremely well.
With 16GB on offer from this quad channel kit for $89.99 USD, you get a good amount of RAM at a really good price. On top of that, it's probably one of the best looking kits that come in at under $100 US thanks to that black PCB and awesome looking RipjawsZ. If you've blown all your money on a new CPU and video card for your machine, you can turn around and buy this 16GB kit of RAM from G.Skill and know you're getting something that not only performs well, but looks great as well.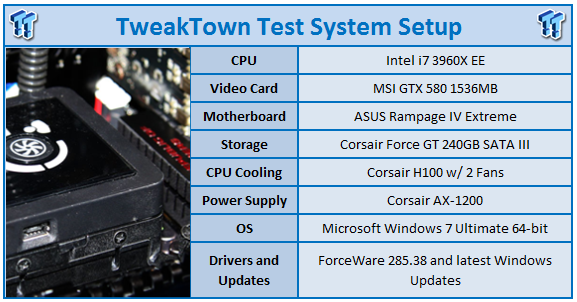 PRICING: You can find products similar to this one for sale below.

United States: Find other tech and computer products like this over at Amazon.com

United Kingdom: Find other tech and computer products like this over at Amazon.co.uk

Australia: Find other tech and computer products like this over at Amazon.com.au

Canada: Find other tech and computer products like this over at Amazon.ca

Deutschland: Finde andere Technik- und Computerprodukte wie dieses auf Amazon.de