Thermaltake eSPORTS Shock Spin HD Gaming Headset Review
Earlier in the year we took a look at the 'Shock One' gaming headset from Tt eSPORTS and were quite impressed. Today we examine another product from the same lineup.
Published Tue, Oct 25 2011 5:06 AM CDT
|
Updated Tue, Nov 3 2020 7:01 PM CST
As a quick refresher, Tt eSPORTS are a division of gaming giants Thermaltake whom have a massive reputation for some of the best gaming gear out there. They now have a division handling audio products - the first of which we took a look at earlier in the year and were quite pleased with the results. The 'One' was a very impressive headset, but can the new 'Spin HD' also impress us today?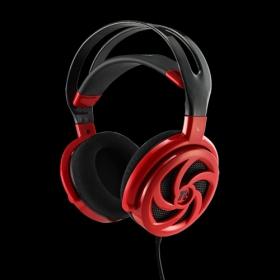 Utilizing a large and powerful 50mm driver, the Shock Spin HD is looking pretty serious from the outset, which is what we would expect from Thermaltake to be honest at this point. Moving along, though, and we are struck in somewhat of a sudden fashion by the quite alarming design choice for the outer shell of the headset itself. I can't help but feel it resembles something like a novelty spinning wheel from a children's fair, dramatically meeting a large piece of boiled candy in some kind of a particle smashing manor.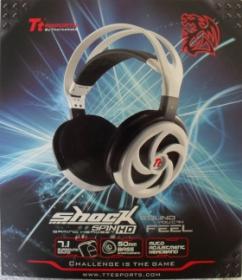 So, they look great then... if you are planning a mission in 2001: A Space Odyssey and require an appropriate headset for the trip. For the rest of us, though; err, sorry, but no thanks on the aesthetics. Let's hope sound quality and comfort come to the party quickly!
- The System Specifications
Headphones:
- 50mm with Neodymium Magnet for enhanced bass performance
- 15Hz-20KHz
- 32ohm Impedance
- 95db +_ 3db Sensitivity
- 100mW Max Input
- Microphone: OMNI directional
- 3 meter cable
- 100Hz-10KHz FR
- 2.2kohm Impedance
- -34 +_ DB Sensitivity
Sound Card:
- High Quality 7.1 channel virtual surround sound
- Four buttons of control over unit
Considering the technical specs, the Shock Spin HD appears much like most of the 50mm sized headsets out there at the moment, in terms of raw numbers that is. In fact, so much so that we do almost begin to wonder if many of them share the same parents or something like that.
Things we like here include a very long and nicely made cable that should be able to suit everyone's needs. Also, we thought the headband in its function to be very well thought out and quite comfortable over extended listening periods due to the self adjusting headband managing to fit the contour of our heads nicely.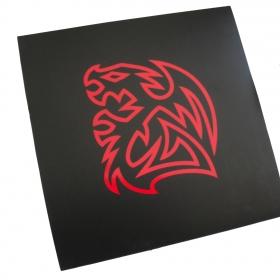 For those of you interested in software driven surround sound, there is also the option of using the supplied sound card. We think it wise of Thermaltake to include the option of using the built-in sound card which basically allows the headset to be used in many different scenarios.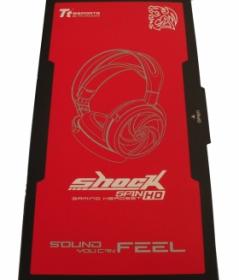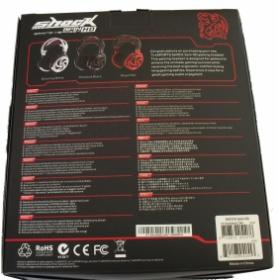 To control the volume of the headset, a small in-line volume control is included which features control over the volume as well as control over Mic settings. This small dongle can also be used in such a fashion as to allow itself to be removed so that the headset connects simply using the analog jack rather than USB, which we feel was a very good idea.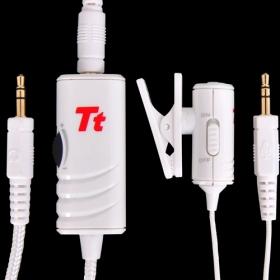 Before we get into how they sound, our only real quibble is the aesthetics which we mentioned earlier; otherwise the Shock Spin HD seems a very well thought out product which, again, does not really surprise us since they come from heavy hitters Thermaltake.
Just quickly, though, the product manual included with the Shock Spin HD is truly hilarious in its simplicity we feel, comprising of one single, lightly written on page out of oh so many others - the point of which we did not discover.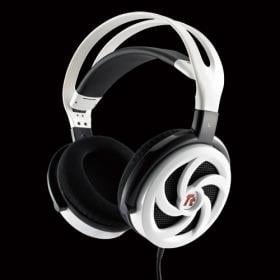 - High End
We found the high end to be quite smooth and well balanced, while not being too heavily focused as to cause fatigue over extended periods. The large 50mm driver seems to work quite well at producing higher frequencies which is not always the case in our experience. Extension is probably the only real limiter for the high end, but that is always going to be the case with headsets designed primarily for gaming.
- Mid Range
An area of strength for the large driver; mid range frequencies sounded quite open and unrestricted. We also found vocals to sound controlled and smooth with a very minimum of mid range clutter which impressed us. Dynamic response was also quite impressive, and what this means again, is the ability for the headset to respond in a fast and dynamic fashion to an abrupt change in frequency from high to low and vice versa. We probably thought the mid range had more to offer than the high end and that this characteristic is typical of a decent 50mm sized driver.
- Low End
Again, a characteristic of that big driver is good low end response and that can indeed be found here with the Shock Spin HD. Gamers will really love the punch they get when playing and we really loved it during our testing too. Actually, the first time we really turned these on, we were a little surprised at how much air the drivers can move. So following on from that logic, it would seem the Shock Spin will also fair well with heavy electronic music and movies.
The way that the low end can hold up so well really goes a long way towards providing a detailed and powerful sound cape for most uses, we feel. And even when the dial is turned up to boost the low end further, things still stay under control.

In terms of the included software, the user has the option of using their own sound card and bypassing the built in one, or connecting the dongle and then using USB to connect the headset to the PC. Assuming the built-in sound card is used, then the option of up mixing to 7.1 channel virtual surround becomes possible. The user can also use environment FX if they wish.
The argument over algorithm based surround in a headset vs. dedicated 5.1 wages on across the Web. But the truth is this my friends - these USB based algorithm driven virtual surround units are getting better by the day, and to top it off, heavyweights like DTS and Dolby Labs are in complete and total support of virtual surround. And the flexibility/compatibility over 5.1 analog that USB offers is vast and without a doubt, the way of the future.
Finally, coming in at $90 dollars AUD, the Shock Spin HD offers to walk that very fine line between competitive pricing and a little side step to look past. Realistically, in our opinion about thirty dollars less would make these stand out from the crowd, but that's easy for us to say.
At the end of the day, though, the Shock Spin HD is another well built Thermaltake product and much can be said for that. Comfort and sound quality are also on offer here today.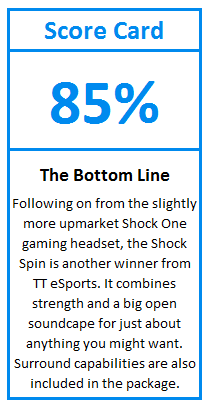 PRICING: You can find products similar to this one for sale below.

United States: Find other tech and computer products like this over at Amazon.com

United Kingdom: Find other tech and computer products like this over at Amazon.co.uk

Australia: Find other tech and computer products like this over at Amazon.com.au

Canada: Find other tech and computer products like this over at Amazon.ca

Deutschland: Finde andere Technik- und Computerprodukte wie dieses auf Amazon.de