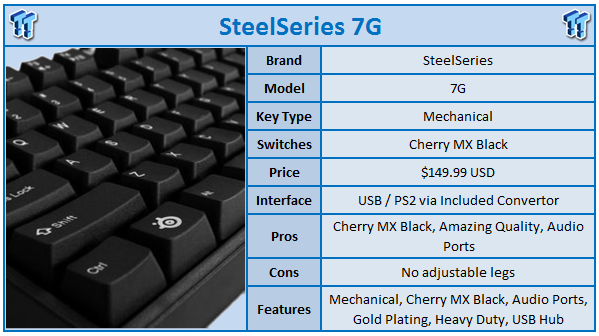 Simply an amazing keyboard! - I was struggling a bit at how to start this and figured why not just cut to the chase? - Once again, the SteelSeries 7G is just an amazing keyboard. Ignoring all the features and just getting stuck into using it, you can't help but feel the quality of the 7G being second to none. Still, we can't ignore those features, so let's not and instead get into what's going on.
Like most keyboards these days, the SteelSeries 7G doesn't have much going on in the form of a bundle; there's a manual, product catalogue, sticker and PS/2 to USB connector rounding it out, but when you dive into everything that's on offer, you quickly discover that the bundle is just such a tiny part of what's going on here today.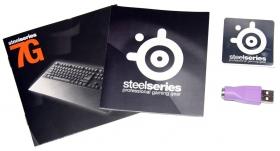 The SteelSeries 7G, like most keyboards we see these days, is mechanical. The big difference between it and so many others is the fact it uses the Cherry MX Black switches over the more common Blue and Brown. Known as the worst switches when it comes to typing, they're considered the absolute best when it comes to gaming.
While I agreed with that sentiment entirely when I first sat down on the 7G, my opinion of its typing capabilities has changed over the last few weeks. I type a lot; I've got the 175 reviews I've done for TweakTown this year to prove that and when I first sat down on the 7G I found myself either double tapping letters, not hitting them at all or doing all those other odd things that make a keyboard horrible at typing.
The Cherry MX Black switches are a different beast when it comes to mechanical switches, they're significantly quieter than their Blue and Brown counterpart which is something I've really enjoyed while trying to watch TV and use the keyboard. They also require slightly more force at 60g compared to 45g and 50g seen on the Brown and Blue switches. It doesn't seem like a lot, but you can feel it - I actually made the comment to a friend that I could feel myself literally getting a work out while using the 7G because there was more force needed.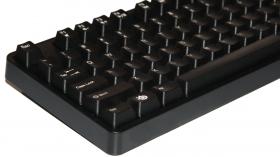 It's these benefits that make it such a great gaming keyboard; there's less chance that you're going to hit the wrong button. If your finger is resting on a button, you're also less likely to accidently push it as more force is needed to do so. It's those reasons, though, that they're not normally considered the best switch type when it comes to typing. You're using more force / energy when typing 50, 60 or 100 words per minute. It doesn't take long to get used to what's going on with the keyboard, though, and enjoy the benefits of a mechanical keyboard that isn't "clicking" 2 to 3 hundred times a minute.
It may feel we're talking about the switches a lot on the 7G before we actually start to go into the 7G itself, but the Cherry MX Black switches present are probably one of the biggest features of the keyboard and they aren't like most other switches that you've probably ever used before.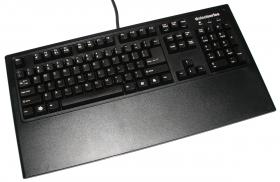 Onto the keyboard, though. The 7G comes in this massive package, because it comes installed with this massive armrest. When I originally saw pictures of it I thought to myself it wasn't going to like that. When I got it, my thoughts where confirmed, but it was mainly due to the fact that I wear a bracelet on my right hand and it just never feels good when pushed up against surfaces. Someone who wore a watch when on the keyboard would feel the same.

With my wrists bare, though, the palm rest feels great; it helps make sure you feel almost in the best position to use the keyboard. I can see why people have really grown to liking the palm rest. The good news is, if you're not a fan of it, you just simply lift it off and you're greeted with your more traditional looking keyboard.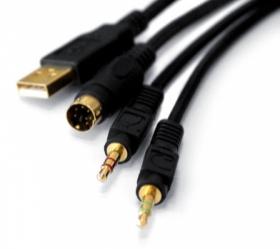 Coming out the back is a single braided cable that offers us a USB, PS/2 and two AUX connectors that resemble both headphones and a microphone.
Everything is gold plated and this is only part of the gold used in the keyboard with all the mechanical switches also being gold plated to make them more durable and prevent any kind of corrosion.
You may find yourself wondering where the whole headphone / microphone jack come into the mix. Moving back to the keyboard and turning it around, we get a better idea of what's going on. In the top left corner you can see we've got some built in connecters present on the 7G.
Along with the two USB 2.0 ports that aren't all that uncommon on many keyboards, we actually also have a headphone and microphone jack present. This is a really great addition to the keyboard and gives us the ability to achieve the maximum length on our headphones when plugged in here. With so much cord present on the headphones as well, we're able to really get them in the perfect position.
While any kind of "Extra Media Keys" aren't really visible, some basic function is on offer with the help of our "SteelSeries" key where the more common Windows key would be in the bottom left.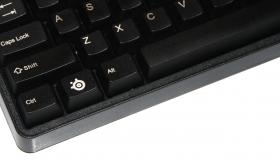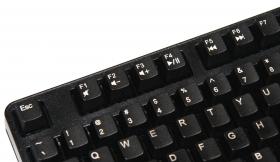 Using the "SS" key and F1 - F6 we're able to do stuff like mute, increase and decrease volume along with play / pause and skip forward / backwards. This is all done without the need for any software to be installed, which means that you're able to get up and running on this beast straight away.
Out of everything the 7G offers, the one thing that would have to stand out the most is the quality of the 7G. At $149.99 US the 7G isn't a cheap keyboard and when you consider it doesn't have any fancy back lighting or LCD screen, it's easy to understand why someone might ask why it's so expensive. The quality of this keyboard is just unreal, though.
Outside of all the features etc. the build quality is just fantastic; it feels that it's been built like a tank. You can see over at the SS 7G product page that they say it could cop some abuse if you happened to get a bit frustrated in a game, but honestly, we can really believe that.
What I love about SteelSeries, though, is if you think that this keyboard is for you, but you feel that you don't want the arm rest and the Audio Jacks / USB Hub aren't something that's necessary either, the 6GV2 at $99.99 US is an option. Sporting the same gold plating and mechanical features, it's a great option for people who could do without a few of the other little extras.
Going over the 7G with a fine tooth comb, I could only find but one flaw with it. The way it's been designed, with almost military toughness in mind, you don't have your little flicky legs underneath giving you the ability to lay it flat or have it slightly tilted. Instead, you're limited to the slightly tilted option as room is made for the USB Hub / Audio Jacks. For most I can't see it being too much of an issue as I've never really known someone to use their keyboard flat, but it's indeed something that stood out.
Gaming is where the 7G shines, though. In the way I sat down and used my first mechanical keyboard for typing and thought this was the best keyboard I've ever used, I've sat down on the 7G and fired up StarCraft II and Battlefield 3.
Like most keyboards, it's going to take a certain amount of time to adjust to using it for typing. But my god, get into a game and you won't know what hit you! With the release schedule of PC games in the coming months, there should be some money put aside to purchase what has to be the ultimate gaming keyboard.