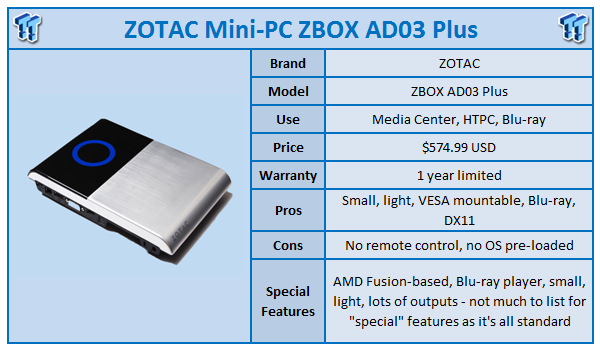 ZOTAC, mostly known for their GPUs have been busy bees this year by releasing AMD Fusion-based (as well as Intel-based) HTPCs in the form of Mini-PCs. Today we're looking at the ZBOX AD03 Plus which packs not only the AMD Fusion technology, but Blu-ray for your high-definition needs.
The ZBOX is specced well, sporting an AMD E-350 APU which is clocked at 1.6GHz and is based on a dual-core design backed up with AMD Radeon HD 6310 Discrete-Class graphics, Blu-ray, Wi-Fi 802.1b/g/n, Gigabit Ethernet, mini-PCI Express, two DDR3 SO-DIMM slots and space to take a 2.5-inch SATA HDD or SSD. A 250GB HDD is included with the ZBOX AD03 Plus as well as USB 3.0, USB 2.0 and eSATA ports.
The ZBOX AD03 Plus is aimed at consumers who want a low-cost, low-profile PC that is capable of playing back their high-definition content without the need for a clunky tower or noisy PC or media player. Considering the ZBOX AD03 Plus comes with a plethora of connectivity, it can match most PCs without an issue, but not even compare to their size.
The ZBOX AD03 Plus does not come with an OS installed, but supports Windows 7, Vista, XP and Linux OS's. Included in the box is the usual gear; CDs, quick-start guide and what I found was particularly impressive; a VESA mount.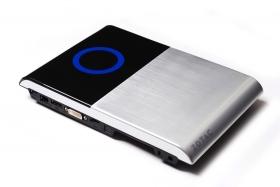 What I would've also liked to have seen included with the ZBOX AD03 Plus is a remote control. In this day and age, a remote control-less HTPC is pretty useless. I don't like getting up during my TV or movie marathons to double-click the mouse to start the next episode or movie. So that definitely gets some points taken away from the final count.
No OS is another downfall. For a pre-built system I would really expect an OS to be installed, or at least something on the box to notify me of this. If I was the typical end-user who would see this on a shelf at a store and it said all the right things like "AMD Vision", "PowerDVD", "Blu-ray", I would expect I can do these things out-of-the-box, but you'd be wrong.
I'm sure the normal user would turn it on and expect something, but an OS install would be required. But, I guess it's built as a HTPC and the OS is the choice of the user. So it makes sense both ways and I can understand ZOTAC's thoughts there, I guess.
Onto the playback and performance of the system itself. There's not really much that would surprise you. It plays back Blu-ray, 1080p video without an issue and compared to other media players - as long as you have the right codecs installed, you're all good to go.
I played through a couple of Blu-ray movies and it was no different to a desktop-based solution, except this thing feels like a matchstick in comparison. ZOTAC, you have impressed me with the power of this in such a small package.
[img]3[/img]
Noise wise, I found it quieter than a standard run of the mill desktop with stock fans, comparatively, quieter than my "fat" original PS3. The ability to open this thing up is actually impressive to me. At first glance I thought it would be a closed-off system where ZOTAC would stand guard and not let you rip it open. Hats off to ZOTAC for that one.
There is also a similarly-specced Intel-based ZBOX too, but I think the AMD Fusion-based design is better as it is DX11-capable which opens up new doors for basic gaming like the Sims and future-proofing as new codecs, etc. become available.
If the ZBOX AD03 Plus came with an OS pre-installed and a remote, it would get a near-perfect review, but unfortunately, it did not. The unit is still impressive nonetheless!