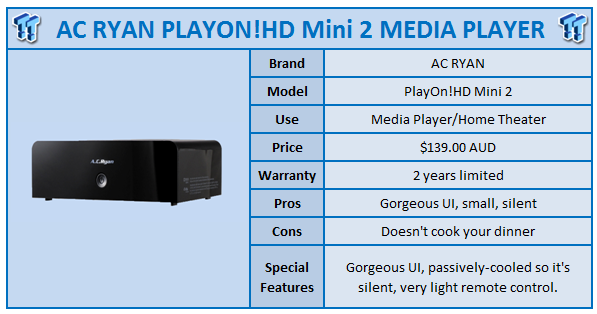 I recently reviewed AC Ryan's PlayOn!HD2, which is the bigger brother of today's entry that worked out heaps when it was young and grew to be a huge, goliath football-playing Media Player. This is the smaller sibling who stayed inside playing video games and never picked up a weight in its life.
Does this make it bad? No. The Mini-variant of the PlayOn!HD2 range is virtually the same as the bigger brother, sans the ability to install a 3.5-inch HDD, USB 3.0 and does not include a fan; it's passively cooled.
The PlayOn!HD Mini 2 player is quite small, light and portable; more than small enough to take on holiday with you with an external USB 2.0 HDD for some media playing in the hotel/motel/caravan or wherever you choose to stay. It feels over half as light as the bigger brother and definitely over half as small. It's petite.
Looking at the device, it's a piano-black finish. If you're looking directly at the unit, you're graced with the AC Ryan logo as well as the power button. That's all the front gets - the back of course has all the inputs, USB connections and power.
The UI is still the same as the HD2, powered by AC Ryan's gorgeous PlayOn! GUI 2.0. This is one of the best features of the player. The UI is absolutely gorgeous and since my review on the HD2, it had become my default media player until I started testing out the Mini.

The PlayOn!HD Mini 2 supports everything the bigger brother does; video codec, audio codec, Full HD streaming, Gigabit Ethernet, GUI 2.0 - but it's just tiny. Mini is really the perfect word that AC Ryan could've chosen. It almost reminds me of the girls that have those t-shirts on that are quite small (the girls, not the shirts you dirty person). The shirt reads "I'm not short, I'm fun-sized."
AC Ryan, feel free to send me a $10,000 cheque for that slogan. It would look great on the box of the Mini player! The Mini really is an amazing little box - it's totally silent thanks to its passively-cooled design. The one gripe I had with the HD2 was the noisy fan. It was noisier than everything else in my HT room; the TV, amp, heck, my 4-month old baby makes less noise when watching TV!
I don't know if it's just me, but my wife agreed with me on this point; the Mini player "feels" faster, more responsive to the remote control. The bigger brother (after more use) seemed to "lag", where the Mini just powers through. The remote seems much more responsive in tasks too, be it turning the player on, or using up/down to navigate through the (I'll mention it again) gorgeous UI.
[img]3[/img]
When testing the Mini player, I thought I'd delve deeper into the abyss that is the UI. I started messing around with different layouts for my videos, allowing the metadata to take control and show me those beautiful TV folder art. The Mini didn't miss a beat.
It flowed through everything I did, changing it to thumbnail, preview, list, icons all without breaking a sweat. I tested the same videos that I did on my previous review and it played them absolutely identically to the bigger brother, so I won't bother wasting precious bandwidth for you to read it over again.
All products have to have a wife-acceptance factor. My wife loves the Mini (what does that say about me?!) compared to the larger player. Noise was a big factor for our lounge room. Yes, it was only a small fan, but it was an annoying one. The Mini makes no noise at all which is a huge plus for the wife-acceptance factor.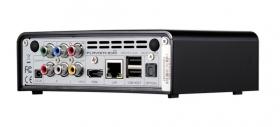 One big factor is setup. I'm a fan of "hurry up and go", and all I did was plug this up (power, Ethernet and HDMI), turn it on, set up my video and audio (two settings) and start browsing my network to get into my NAS. Done. This is how it should be - a Mini player, looks great, GUI is amazingly beautiful and it's a very easy task to setup. It's nearly Mum proof!
Should you buy the PlayOn!HD Mini 2? Yes, yes you should. If you don't already have a media player then I would highly recommend the Mini. If you already have one that is getting quite old and doesn't have say, HDMI, or it has a UI that is bland, then definitely look into getting the Mini.
I had a great time with it and I think I've found a new replacement for my HT - the Mini is getting a high recommendation from me.