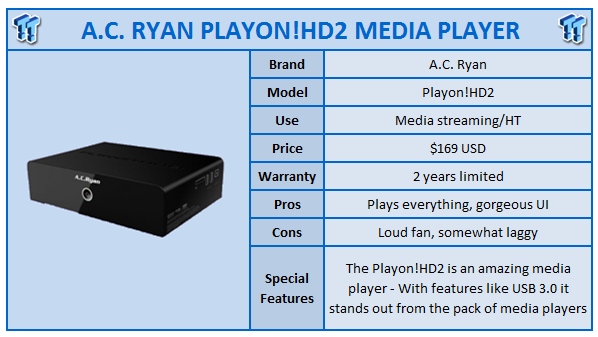 Today I'm going to talk about AC Ryan's PlayOn!HD2 media player. Just recently I took a look at KWorld's media player and this follows suit. One of the negative impressions I had with the KWorld player, however, was the UI. AC Ryan has not made the same mistake, believe me.
AC Ryan's PlayOn!HD2 media player has an absolutely gorgeous user interface - I fell in love with it the second it booted up. No low resolution, low quality, quickly-put-together UI; it was a polished, well thought-out, high-resolution UI. Tick!
The UI is a beautiful blue color and features a "wave" at the bottom where you have logos for PlayOn! as well as website links for playonhd.com and playondvr.com. This I didn't mind as the UI looks so good you just get used to it - it feels very "web 2.0" of them.
[img]2[/img]
Another tick is the style of the unit itself and the remote control. The unit is a beautiful black, but boy is it big. Standing next to my trusty Popcorn Hour, it is easily twice as high, but not as wide. The HD2 features USB 3.0 which is a great addition, for which it has 2 x USB 3.0 ports on the side of the unit.
Remote wise, the first thing I noticed is just how light it is - I have (excuse the following exaggeration) a 4.5 tonne Samsung remote for my TV (there's just no need) and my amplifier remote is not too bad; but compared to them both, the PlayOn!HD2 remote feels like air. The more I get into this player, the more I'm enjoying it.
I enjoyed the plethora of connections at the back with the bad boy :-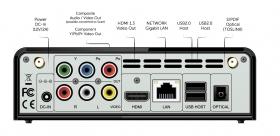 As you can see in the above image, the PlayOn!HD2 really gives its all. It doesn't hold back, especially with the inclusion of Gigabit Ethernet and USB 3.0 support. Two more ticks!
Does it stack up against other media players in general use? This is a yes and no. Everything else blew me away and I think I got over-confident in the abilities of this unit. I was streaming both 720p and 1080p MKV-based content from my NAS and on the Popcorn Hour and KWorld players - this was seamless.
On the PlayOn!HD2, it was at times, a mess. First up, navigating to the file is ok, but issues with the interface pop up. Let's say you have a folder with a TV series - 24 episodes in a folder, scrolling from the first file to the final file would result in a user holding the "down" button on the remote and scrolling through the eps, from 1 - 10 on the first screen. Once you reach the 10th episode it would refresh the page and start from say 11 to 20.
No - Not on the PlayOn!HD2. Once you've held the button down and reached the bottom of the page, it will refresh the entire page and start skipping in lots of 10. This means if you had a folder of movies, it would skip from 1, 2, 3 etc to 10, then 10, 20, 30 - which results in frustration as you have to let go of the down button as you get to the last file (9 or 10) or else it skips pretty far ahead. This is my first cross - unfortunately there's more than one.
Secondly, if you're in a habit of watching a bunch of episodes at once like I do, you might watch a few one night and leave it until the next day to finish it off.
Turn the player off and you come back to it with the player remembering where you were on the network/file list and you just select the ep and go.
Not with the PlayOn!HD2; it forgets your last location and requires you to reselect where you were, the folder, and navigate through the folder tree every time the player is turned off then on.
Onto performance; the PlayOn!HD2 was impressive bar one thing. The impressive part? It played everything as it should and looked great whilst doing so. The in-movie UI is beautiful and it helps create the whole "home cinema" feel. The remote is great because of its weight and the buttons are well placed so you don't press the wrong one.
Another benefit of the remote control is you can hold down the right (or left) button, let it skip by gradual bits and once you've hit the spot you want to play, instead of the media player just dunking you into that part of the file, you need to press the enter button to confirm you want that skip to be done - little things like this are very impressive.
The little issue? When I go to play back a 720 or 1080p file, it flicks the TV into a different resolution, back to normal, back out to a different resolution, then back into the 720 or 1080p resolution and continues to play - this takes around 7 - 8 seconds and has not happened to me on any other player. I do have the Mini version of the PlayOn!HD2 to test; I will definitely be seeing if the trend continues with that player.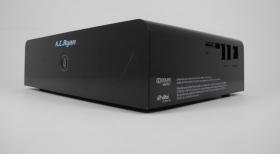 As soon as the PlayOn!HD2 is powered up, you can hear the included fan spin up and compared to fanless media players, this is a shock. When browsing menus and selecting files to play, it is quite noticeable. Of course, when media is actually playing, the sound of the fan is drowned out.
These problems may seem insignificant, but remember, I only watch my media through a network media player, so these issues are huge. They are issues in which someone can make a decision between something with little annoyances, but a great, fresh UI and innovative features like GbE and USB 3.0.
But you know what? They're my only gripes with the PlayOn!HD2.
Streaming 720p and 1080p content was nothing but bliss. I would go as far as saying the IQ is slightly better on the PlayOn!HD2 also, with 1080p-based content really shining on this player. The gorgeous UI definitely helps also.
PlayOn!HD2 also features more interaction with friends through Facebook, Twitter, MSN and Skype. These features work just like you'd think they would - except plugging in a USB keyboard is much easier.