PowerSkin iPhone 4 Silicone Case with Built-in Battery Review
Are you a heavy 3G user and on the road with the iPhone most days? PowerSkin might have a good option for you with this powered case.

Published Mon, Jun 20 2011 8:31 AM CDT
|
Updated Tue, Nov 3 2020 7:01 PM CST
There are literally hundreds, if not thousands of smartphone covers and cases on the market, but probably none as functional as the one I am going to tell you about now. You sometimes see almost every second person in a group with an iPhone 4 and they personalise it more times than not with a case of their preference.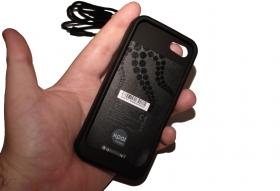 What you rarely see, though, are folks getting around with powered cases. What we are looking at today is an iPhone 4 case that comes with a built-in 2000mAh battery. It's from a relatively new company called PowerSkin and they claim to provide twice the amount of power with their iPhone 4 silicone case using patented XPAL Power technology.
PowerSkin say their product can provide up to an extra 480 minutes of talk time and up to 350 hours of extra standby time - both which actually calculate to a little over double what the iPhone 4 offers with its single standard built-in battery. After seeing claims like this one, we just had to get one in for testing.

The case comes in a small and well presented retail packaging that quickly sends the message that it can give two times the power for your iPhone 4. Switching over to the back of the package, you get some detailed information on the product and what the product can do for you, specifically avoiding a dead battery while you're on the go. The packaging is rather impressive in that on the side is a strip allowing you to feel what the case surface is similar to as well as being able to lift up the center of the package, revealing the case and a small hole to touch the case itself.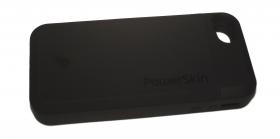 Moving onto the case itself, we are left with mixed emotions. The surface is made up of rubber silicone and is lightweight at only 82 grams; very smooth and comfortable to hold - it is even made of recycled materials, which is great to see. Mind you, it does smudge and pickup grease and so on from your hands very easily, but at the same time is fairly easy to clean off. The trouble with battery powered cases is of course the extra thickness that basically doubles the thickness of your iPhone - the case height comes in at almost 2cm or 0.77 inches. The case is fairly sturdy and while I wouldn't make a habit of it, I reckon it could protect your iPhone 4 pretty well from those mild occasional drops on the ground.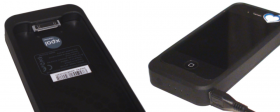 As far as installation goes, things really couldn't be any easier. I've been sent iPhone 4 cases in the past that I just ended up throwing away quick smart as they had to be put together a little like a jigsaw puzzle. All you need to do with this PowerSkin solution is gently slot your iPhone 4 into the case and connect it to the power connector at the bottom of the case - that's all there is to it. Once that power connection is made, the iPhone starts charging with only around a one second delay.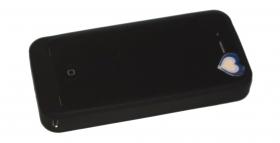 The case came with a small amount of charging juice out of the package, but not a lot. As for charging the case, that is done by way of the included USB cable that plugs into a small USB connector on the bottom right of the case, when looking at it from the front. A total of four cool looking blue LED lights indicates the total charge - two lights on indicate 50% and all four lights on indicate 100% charge.
When the case is charging, one of the four LED flashes on and off depending on which charge level it is at so far. Once the device is fully charged, all four LEDs remain lit with no flashing.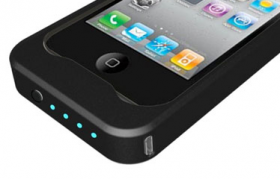 To give you an idea of charging time required, I had it plugged in for around two hours as I wrote this review and it didn't quite reach a 50% charge. So, we aren't talking about a quick charging device here. Once you get home from a full day of use and plug the case in to charge, it will easily be ready by the time you wake up the next morning for another full day of usage. You will also be happy to know that you can still sync your iPhone to your computer and iTunes with the case charging and your iPhone 4 in the case; you just hook into your computer via the included USB cable, rather than directly into your Apple cradle or other devices.
Now for the important part and that is in regards to how well the PowerSkin does at providing extra life for our standard non-modified iPhone 4 running Apple iOS 4.3.3. For this test we turned off Wi-Fi and turned on 3G and had a website open which refreshed every two minutes to keep the pressure on the battery. We also had MP3s playing at full volume and things like Twitter and so forth were still activated, sending notifications etc. through 3G now and again. Display brightness was set to 100% with auto brightness off as well as the lock screen off. On the iPhone 4 (fully charged) without the PowerSkin, we managed 5 hours and 29 minutes of usage before the battery died. With my iPhone 4 (also fully charged) hooked up with a fully charged PowerSkin case, we managed 10 hours and 50 minutes. This results in an extra 5 hours and 21 minutes of life. Very impressive! It is very close to the two times improvement promised by PowerSkin.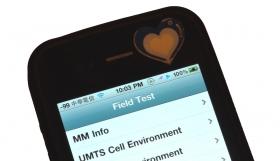 One final thing we didn't forget to test was GSM signal strength. Would the PowerSkin affect our signal? Using Apple's own built-in signal strength test in the iPhone 4 by calling *3001#12345#* on the keypad, it gives you a signal rating of usually between -80 and -120 (higher the number i.e. -80 being better). We saw very little difference with the case on or off - only 2 or 3 points here and there, but nothing that affected the performance of the phone. It some areas the signal was even better with the case on.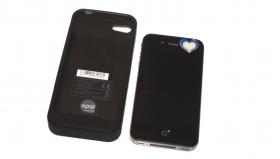 So, there we have it - the PowerSkin iPhone 4 silicone case with built-in Battery. Am I going to use it now I have finished playing with it and testing it? You bet. It's not a perfect product in that it does turn your iPhone 4 into a bulky device, but the benefits outweigh that and it is overall rather good.

PRICING: You can find products similar to this one for sale below.

United States: Find other tech and computer products like this over at Amazon.com

United Kingdom: Find other tech and computer products like this over at Amazon.co.uk

Australia: Find other tech and computer products like this over at Amazon.com.au

Canada: Find other tech and computer products like this over at Amazon.ca

Deutschland: Finde andere Technik- und Computerprodukte wie dieses auf Amazon.de
We openly invite the companies who provide us with review samples / who are mentioned or discussed to express their opinion. If any company representative wishes to respond, we will publish the response here. Please contact us if you wish to respond.