Introduction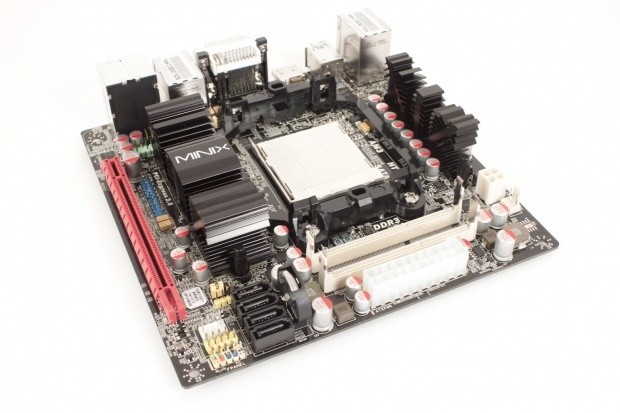 J&W is a company that I personally had never heard of before this review. But after taking some time to look over their site and what they have to offer, it is certainly one that I will have in my head for some time to come.
We had the chance to take a look at a very interesting offer from J&W. It is a Mini-ITX motherboard built around the AMD 890GX chipset, complete with four SATA 3.0 ports, two USB 3.0 and three network interfaces. There is an n-spec wireless card and two GBe LAN ports. This pint sized product also is capable of supporting up to a 95 Watt AMD CPU.
But, what happens if you drop a Phenom II X6 1100T into this board? We take the time to see if it can take it, or if the MINIX 890GX-USB3 will fold under the pressure. So please keep the fire extinguisher handy and remember kids, don't try this at home - it will void your warranty.
The Box and What's Inside
Package and Contents
The MINIX 890GX-USB3 comes in a black box that reminds me of the older Apple iPhone and Microsoft Zune packaging. The front of the box is very clean; you get a large red foil GX logo, the name of the board and a specifications list right up front.
The back of the MINIX box is still clean, but has quite a bit more information on it. Back here you get a good look at the board along with a much more detailed specification listing. Another nice feature is the picture of the back panel I/O ports.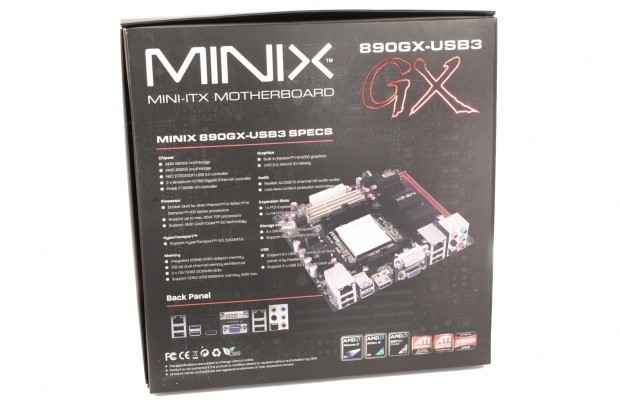 The side of the box lists some "unique" features. Well, you and I both know that none of these are truly unique, but they are still VERY impressive for a motherboard this size. The dual GBe LAN and the wireless connection that sits in a full mini PCIe x1 slot...well, you get the picture.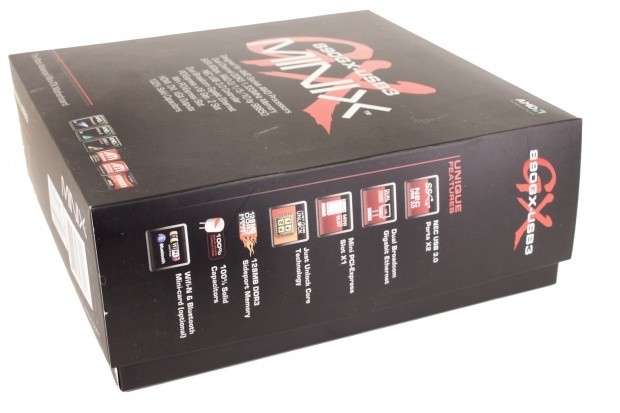 After you get the lid off of the box you get your first look at the MINIX 890GX-USB3.
It is a nice looking board. Underneath the plastic tray that holds the board is a small box that holds all of the included accessories.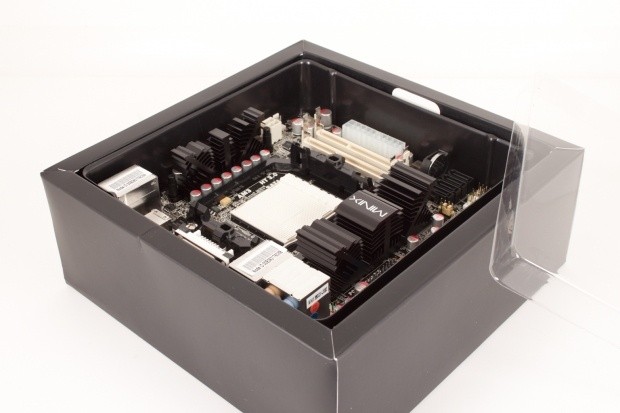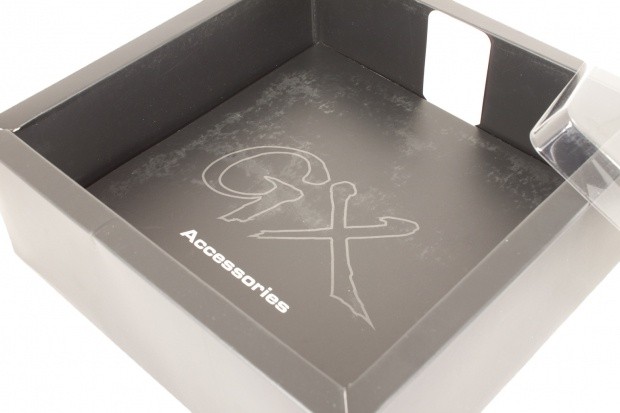 Speaking of accessories, while the ones included are not overly lavish or anything like that, you do get more than enough to put the MINIX 890GX-USB3 into full action.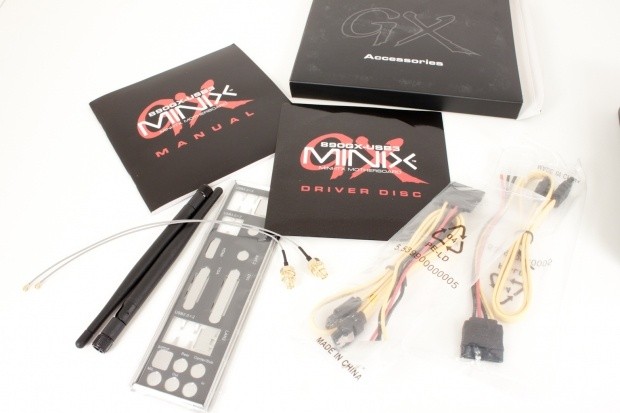 The one item that I was not overly happy about was the two wireless antenna cables. You have to connect these and then attach them to the I/O back plate cover. This is not overly difficult, but it is a pain to do and if you want to get everything secured will require a couple of extra tools.
The Motherboard
The Board
The MINIX 890GX-USB3 is another one of the increasing number of Mini-ITX boards on the market. This new form factor has sort of blown up lately and a number of manufacturers have jumped in with their offerings with everything from the P55 to the P/H67 being offered in this format.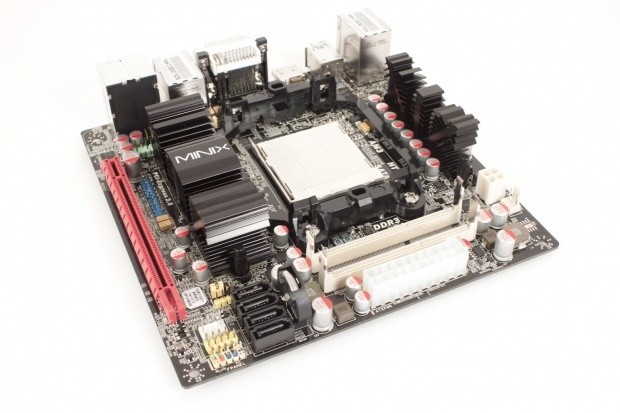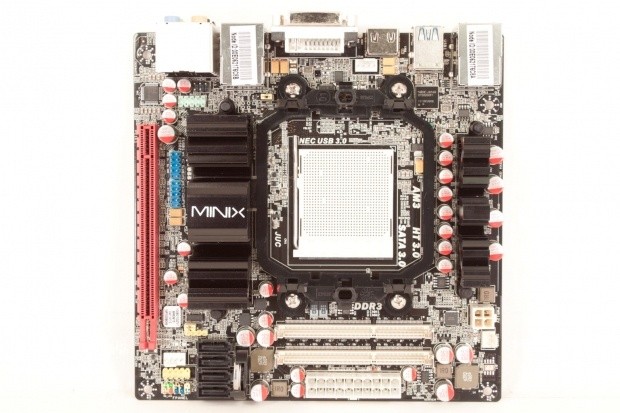 One item that is of concern with the MINIX design is the 20-Pin ATX power connector. We found this a little odd given that 24-Pin has been the standard for a few years now. It also makes us wonder if we are going to have power issues as we push the 95 Watt CPU envelope. Another item that may shy people away from this board design is the need for DDR3 SO-DIMMs. These can get expensive if you are looking for higher speed or capacity. We are very happy to see the solid caps (from a good vendor, too).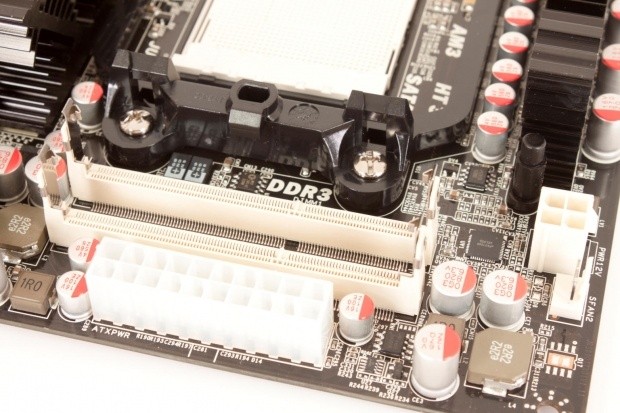 After seeing the 20-pin connector for power, we were even more surprised to see a single 4-pin Aux power connector. The cooling on the power regulators is decent, but it is not a firm connection. You can lift it up off of the components very easily. This is a concern for our future testing, especially since we are going to be trying to run the board at over its rated power draw.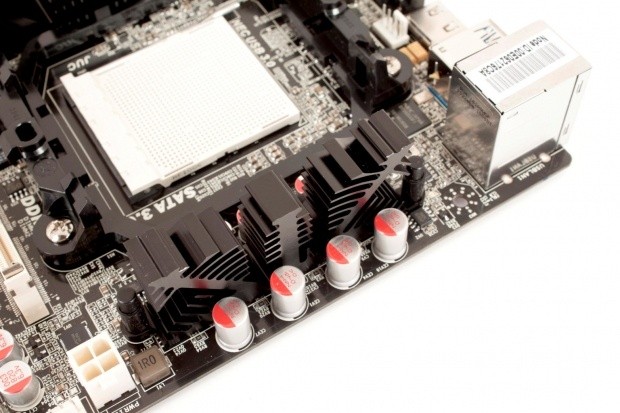 Looking at the shot below, you can see that this board is cramped! The 4-pin header visible is the one you are supposed to use for the CPU. Can you imagine trying to get the CPU cooler connected to that? I can and it can be quite a pain. Thankfully there are two other 4-pin fan headers that you can use, so do not worry.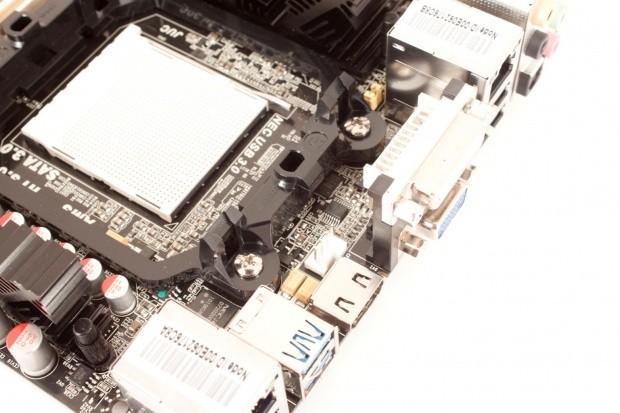 Continuing our short walk around the MINIX 890GX-USB3, we find that the heatsink for the 890GX chipset is about a flimsy as the one covering the voltage regulators. In fact, when we first touched the heatsink it rocked right off the chipset with very little resistance. We also see the single PCIe x16 slot that graces the MINIX. This is not a bad thing at all, as it means you can certainly drop in a high-powered GPU if that is what you want.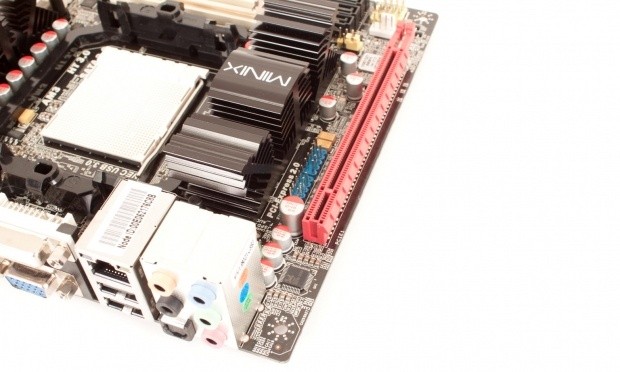 The MINIX 890GX does have four SATA 3.0 ports. This is a nice touch and goes well with the two USB 3.0 ports.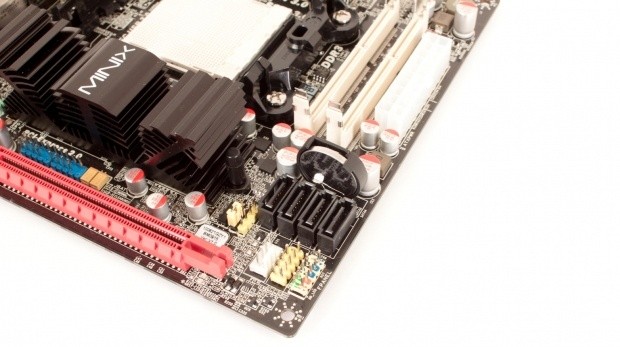 Flipping the 890GX-USB3 over, we find a Mini PCIe x1 slot. This houses the n-spec wireless card normally, but can fit any Mini-PCIe card as long as it is no more than 50.95mm.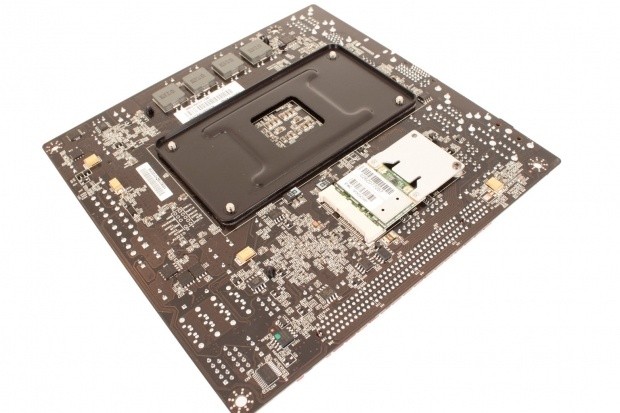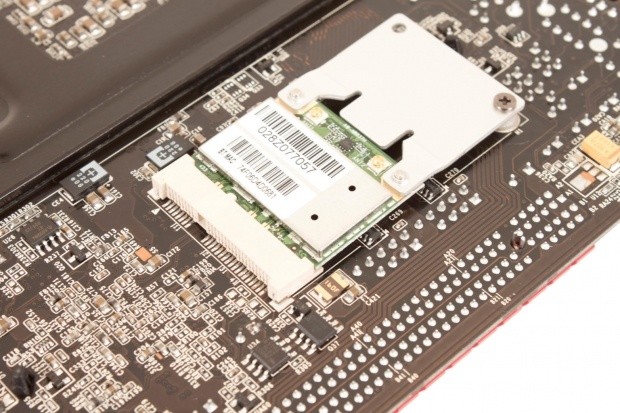 The I/O ports are fairly well laid out on the MINIX 890GX. You have two GBe LAN ports, two USB 3.0 ports, four USB 2.0 ports and a nice selection of video and audio out options. It is quite a lot to pack into such a small area.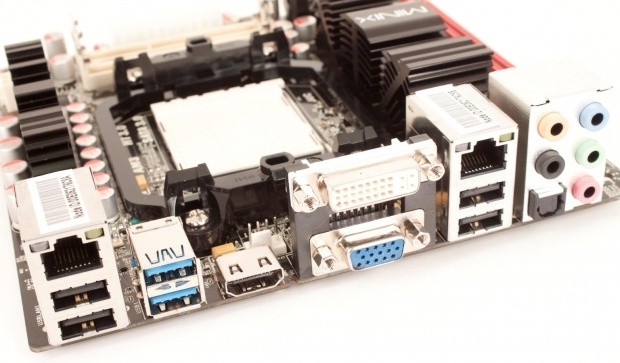 BIOS and Overclocking
BIOS
The BIOS on the MINIX is also sort of small. You get some of the same basic functions you would find in a regular sized board, but there are also many that are absent.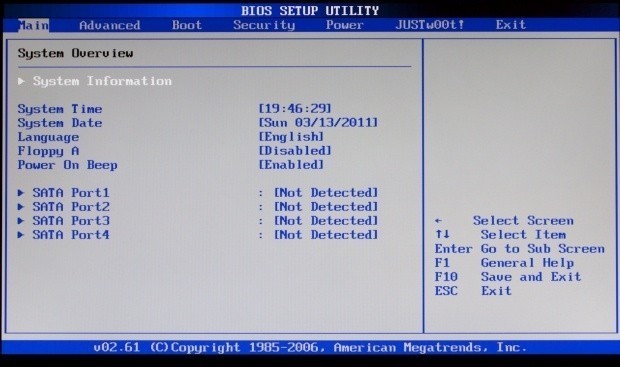 In the Advanced menu you can see most of the typical adjustments. Even in the advanced CPU section things are not that far off of the mark. You can also see that we were able to get the MINIX to post with the 1100T that we wanted to use. So far, so good for pushing that 95Watt envelope!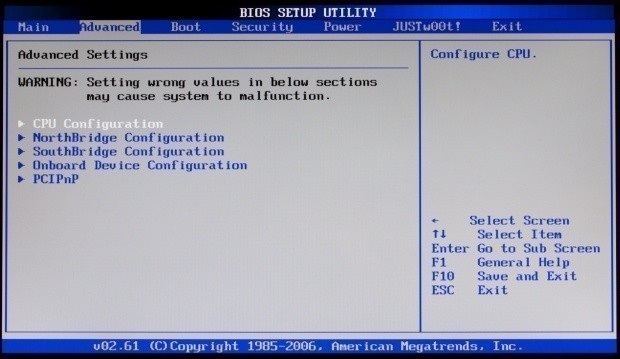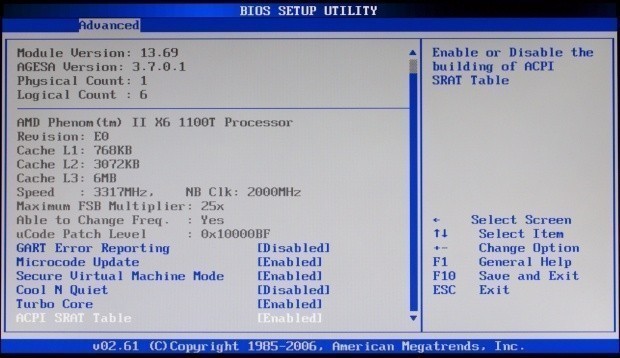 The Advanced Northbridge page has most of the same options you would have on any 890GX motherboard.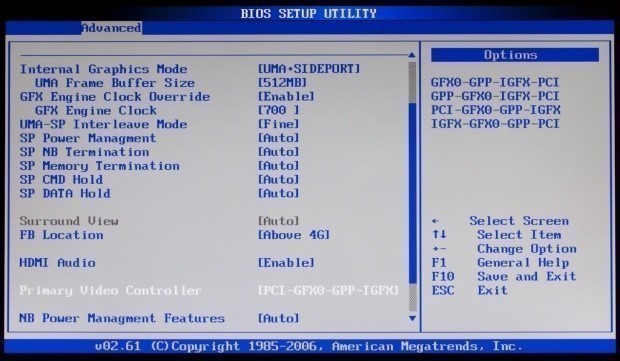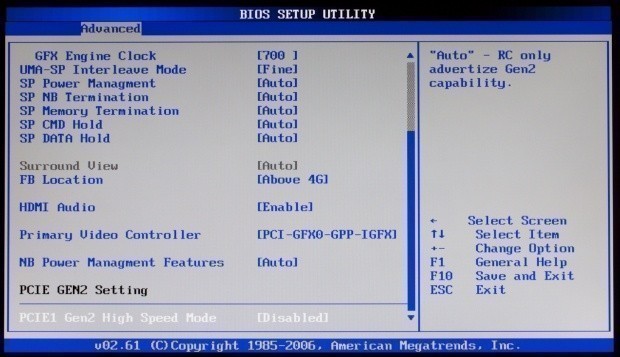 The same can be said with the Southbridge page.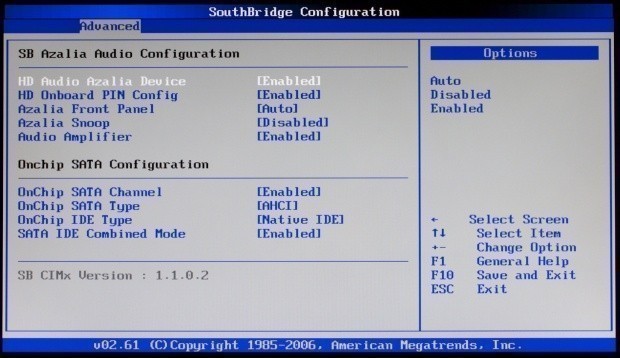 The Onboard device configuration page...well... it looks like most other AMD based systems.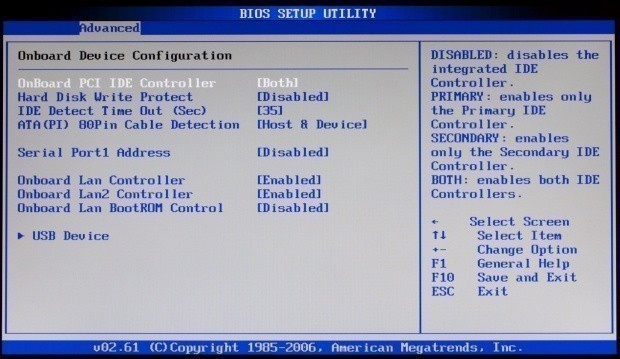 Ok...Umm, there is an overclocking section on the MINIX 890GX-USB3. It shows up as the JUSTw00t! option in the BIOS. It is fairly light on options, but we suppose it could be used to get a few more MHz out of a CPU as long as you keep things under control power wise.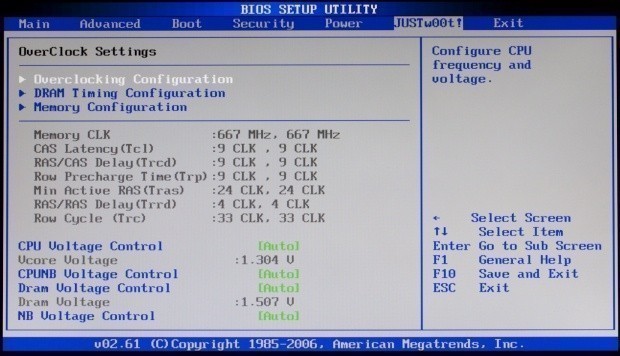 Overclocking
After seeing the JUSTw00t! section in the BIOS I had high hopes that I would get some sort of overclock out of the MINIX 890GX-USB3. However, that was not to be. The board did not lockup, or fail to post for that matter, it just would not accept the overclock no matter what I put in. I even checked multiple times to make sure the settings were in the BIOS. They were, it is just that the board was not applying them at all. We imagine that this is due to the 1100T we used and that if you drop in a CPU that comes in under that curve, you will have much better success.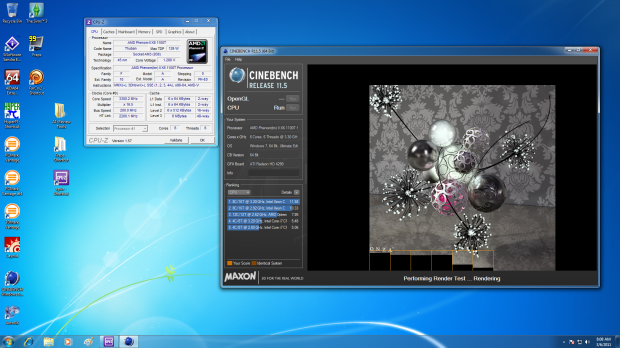 Important Editor Note: Our maximum overclocking result is the best result we managed in our limited time of testing the motherboard. Due to time constraints we weren't able to tweak the motherboard to the absolute maximum and find the highest possible FSB, as this could take days to find properly. We do however spend at least a few hours overclocking every motherboard to try and find the highest possible overclock in that time frame. You may or may not be able to overclock higher if you spend more time tweaking or as new BIOS updates are released. "Burn-in" time might also come into play if you believe in that.
Test System Setup and Comments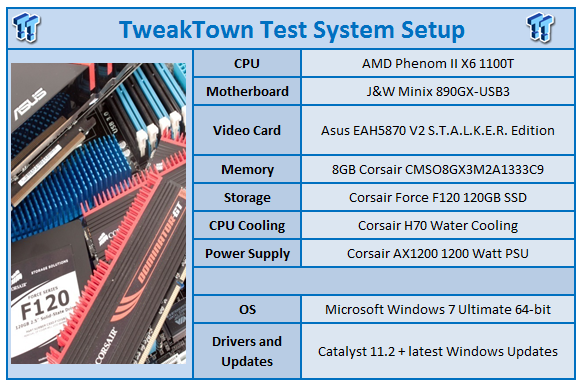 We would like to thank the following companies for supplying and supporting us with our test system hardware and equipment:
J&W
,
AMD
,
ASUS
,
Corsair
and
Sceptre
.
Setting up the MINIX 890GX-USB3 with Windows 7 64-bit Edition as the OS was a little bit of a chore. The driver DVD was tailored for Windows XP and then the 32-bit version at that. If you are running anything newer you will have to hunt around to actually find the drivers to get this board to work.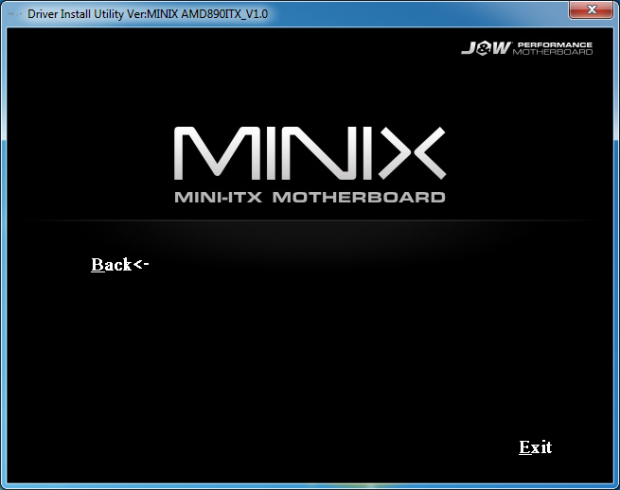 Once you click on the Motherboard driver link all you get is an option to go back. To find the 64-bit drivers you need to click on the "Useful Software Utility".
Unfortunately, even there all you are getting is the driver for the USB 3.0 chip. You will need to head over to AMD's website and grab the latest chipset drivers to the 8xx series chipset.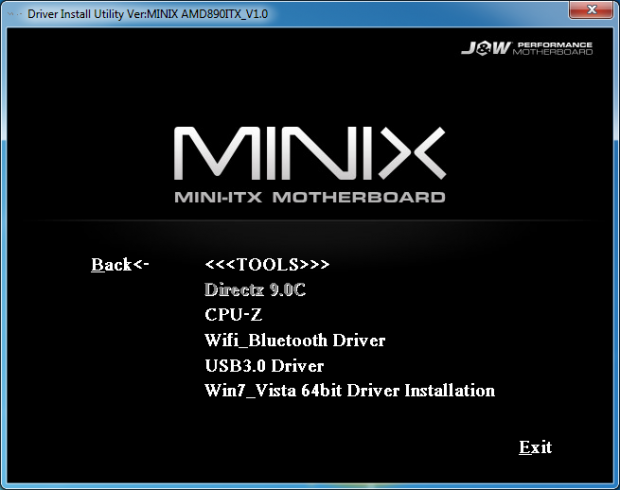 Synthetic Tests - Part I
With any system you will want to see a combination of synthetic testing and real-world. Synthetics give you a static, easily repeatable testing method that can be compared across multiple platforms. For our synthetic tests we use Everest Ultimate, Sisoft Sandra, FutureMark's 3DMark Vantage and PCMark Vantage, Cinebench as well as HyperPi. Each of these covers a different aspect of performance or a different angle of a certain type of performance.
Memory Bandwidth
Memory is a big part of current system performance. In most systems slow or flakey memory performance will impact almost every type of application you run. To test memory we use a combination of Sisoft Sandra, Everest and HyperPi 0.99.
Sisoft SandraVersion and / or Patch Used:
2010c 1626
Developer Homepage:
http://www.sisoftware.net
Product Homepage:
http://www.sisoftware.net
Buy It Here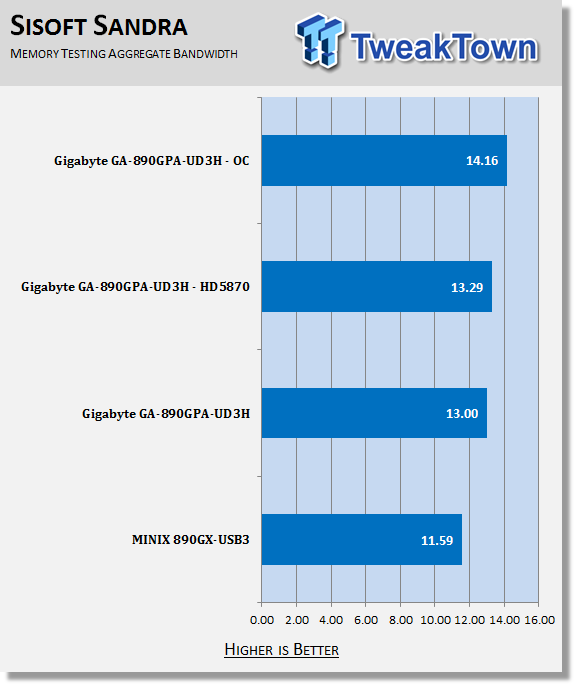 The MINIX 890GX is a little slow in our memory testing. It could be the SO-DIMMs, but it also could be the tuning of the traces as well as a BIOS issue. This will probably hurt us in later rendering and number crunching tests.
Everest UltimateVersion and / or Patch Used:
5.30.1983
Developer Homepage:
http://www.lavalys.com
Product Homepage:
http://www.lavalys.com
Buy It Here
Everest Ultimate is a suite of tests and utilities that can be used for system diagnostics and testing. For our purposes here we use their memory bandwidth test and see what the theoretical performance is.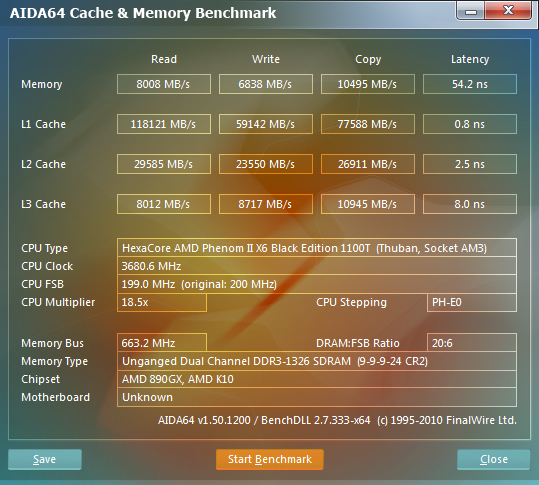 Stock Memory Performance
Everest tells the same tale. The memory performance showing from both Sandra and Everest shows slower than average (for an AMD based motherboard).
HyperPi 0.99Version and / or Patch Used:
0.99
Developer Homepage:
www.virgilioborges.com.br
Product Homepage:
www.virgilioborges.com.br
Download It Here
HyperPi is a front end for SuperPi that allows for multiple concurrent instances of SuperPi to be run on each core recognized by the system. It is very dependent on CPU to memory to HDD speed. The faster these components, the faster it is able to figure out the number Pi to the selected length.
For our testing we use the 32M run. This means that each of the four physical and four logical cores for the i7 and the four physical cores of the i5 is trying to calculate the number Pi out to 32 million decimal places. Each "run" is a comparative to ensure accuracy and any stability or performance issues in the loop mentioned above will cause errors in calculation.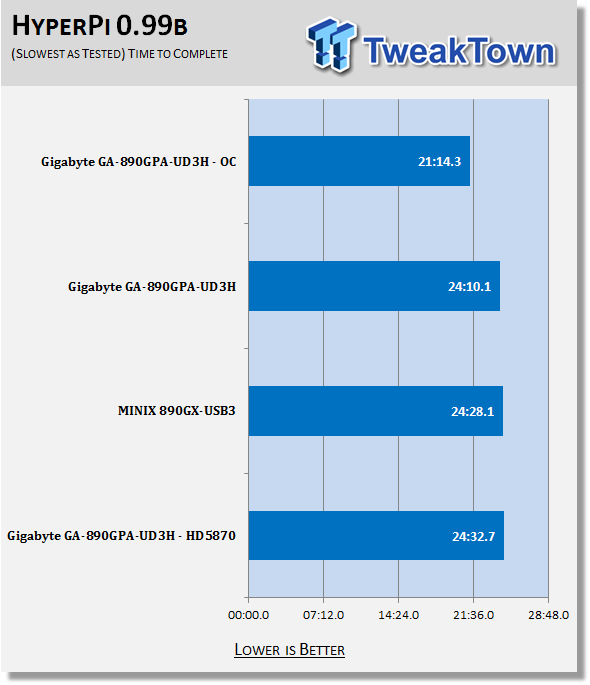 Interestingly enough, the MINIX did not do too bad at all in our HyperPi testing. We see numbers that put it the same ball park as other 890GX based motherboards.
Synthetic Tests - Part II
Disk Drive Controller
The system drive controller is an important part of system performance. In most modern boards your drive controller will run off of the PCI-e bus. The PCI-e bus performance can be affected by poor trace layout as well as many other design choices that show up on different boards.
For testing we use Sisoft's Sandra and Everest.
SiSoft Sandra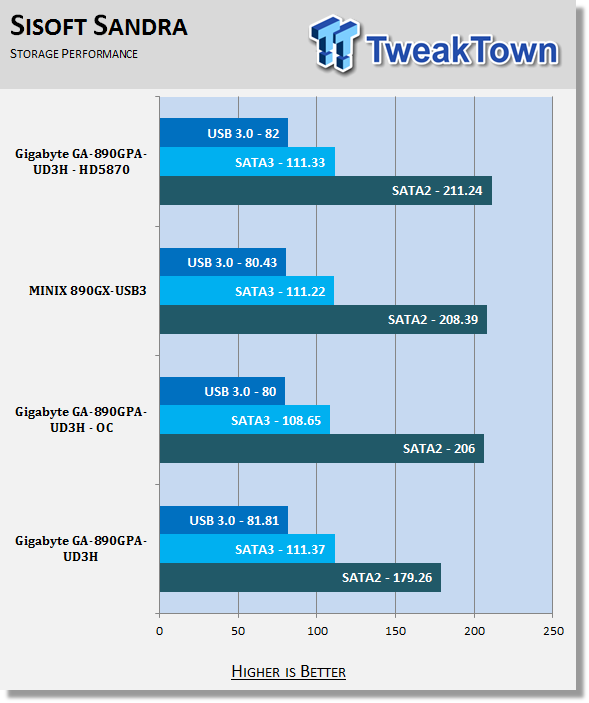 In HDD performance the MINIX does better than the GIGABYTE 890GPA even when it is overclocked.
Everest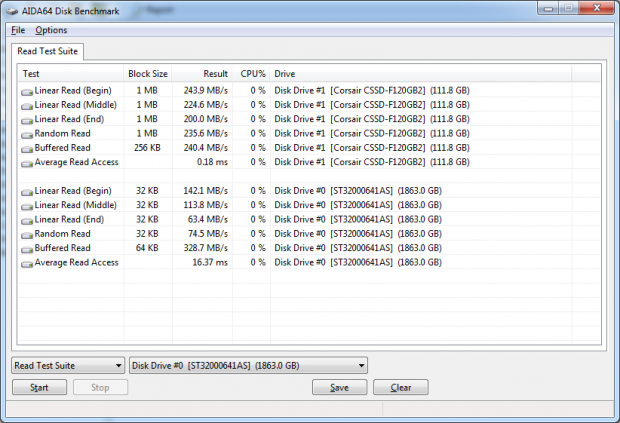 Stock HDD Performance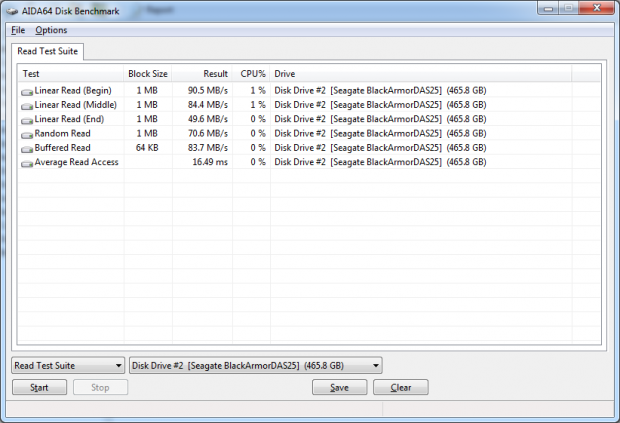 Stock USB 3.0 Performance
Everest confirms our Sandra findings and shows that the MINIX has better than average HDD performance.
Synthetic Tests - Part III
Here is where we dig out the FutureMark tests.
PCMark VantageVersion and / or Patch Used:
1.0.0.0
Developer Homepage:
http://www.futuremark.com/
Product Homepage:
www.futuremark.com
Buy It Here
For overall system performance we use PCMark Vantage. This is run in both x86 and x64 mode to give the best indication of performance.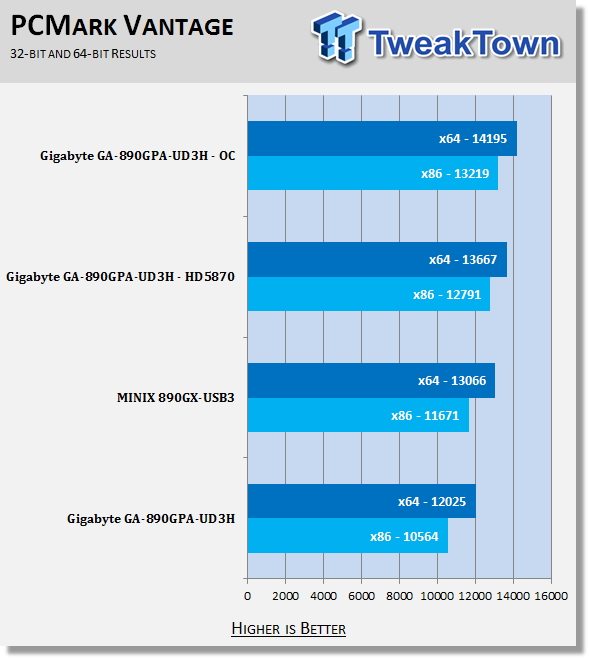 The MINIX is not going to win any prizes for its PCMark Vantage performance, but on the other hand it is still up there in the same range as the full sized boards, so we have to give it credit here.
3DMark VantageVersion and / or Patch Used:
1.0.1
Developer Homepage:
http://www.futuremark.com/
Product Homepage:
www.futuremark.com
Buy It Here
For synthetic gaming tests we used the industry standard and overlockers bragging tool 3DMark Vantage. This is a test that strives to mimic the impact modern games have on a system. Futuremark went a long way to change from the early days of graphics driven tests to a broader approach including physics, AI and more advanced graphics simulations.
3DMark Vantage uses the DX10 API in addition to having support for PhysX. As we are no longer using an NVIDIA GPU for testing (at least until we can get a GTX 4xx card) you will only see the CPU based PhysX results in the scores. For testing we use the Performance test run.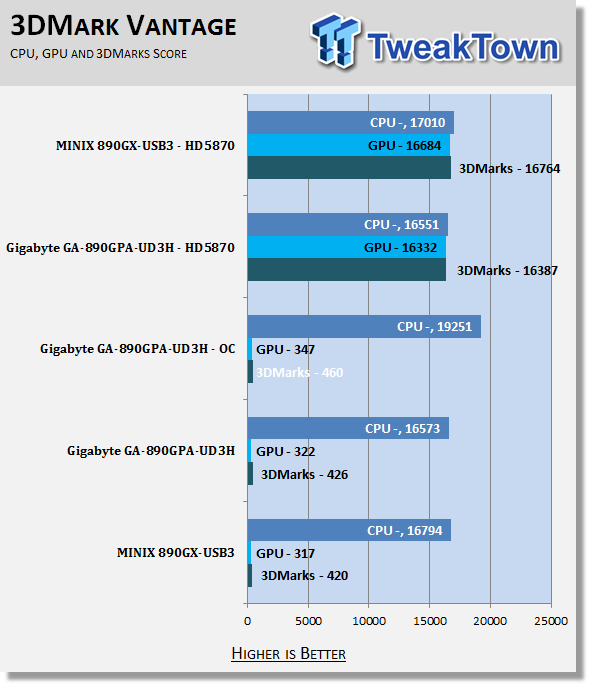 Again our results are nothing that you could not predict. Without the 5870 the MINIX is at the bottom, while once we drop the 5870 in we see things heat up.
Cinebench R11.5 x64Version and / or Patch Used:
R11.5 x64
Developer Homepage:
http://www.maxon.net/
Product Homepage:
www.maxon.net
Download It Here
Cinebench is a synthetic rendering tool developed by Maxon. Maxon is the same company that developed Cinema4D, another industry leading 3D Animation application. Cinebench R11.5 tests your systems ability to render across a single and multiple CPU cores. It also tests your systems ability to process OpenGL information.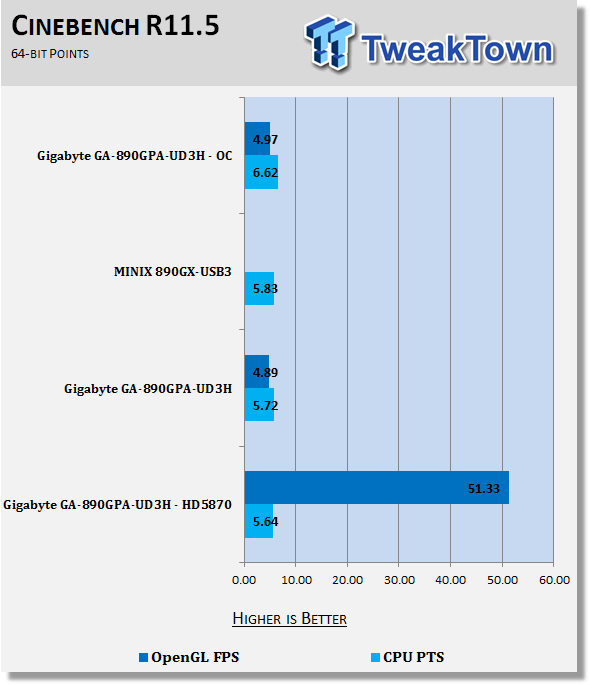 Here we had a problem. With only the IGP we could not get the OpenGL test to run at all. The CPU rendering was right where it should be, but the IGP failure is still concerning.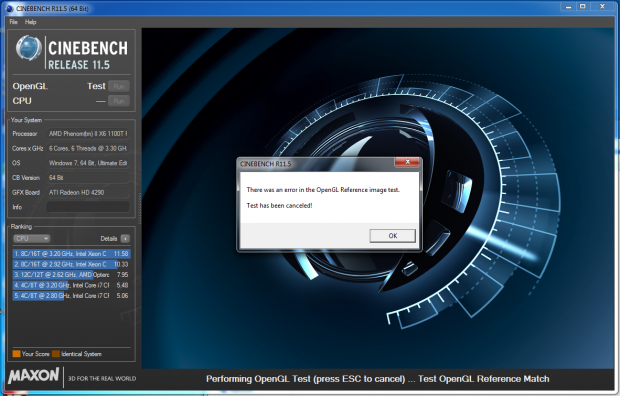 Real-World Tests - Part I
Real-world testing allows us to see how well a product will perform when used in the same manner as it would be in your house or office. It is an important side to performance testing as it can uncover hidden glitches in the way a product performs.
It is especially true when testing a mainboard; there are so many components of a board that have to interact that any problems between parts can cause a failure of the whole.
For real-world testing we use some common applications and functions. We test with LightWave 3D for rendering performance, AutoGK for transcoding from DVD to AVI and two games for gaming testing.
Rendering
Rendering of 3D Animation is a system intensive endeavor. You need a good CPU, memory and HDD speed to get good rendering times. For our testing we use LightWave 3D. This software from Newtek is an industry standard and has several pre-loaded scenes for us to use.
LightWave 3DVersion and / or Patch Used:
9.6
Developer Homepage:
http://www.newtek.com
Product Homepage:
http://www.newtek.com/lightwave/
Buy It Here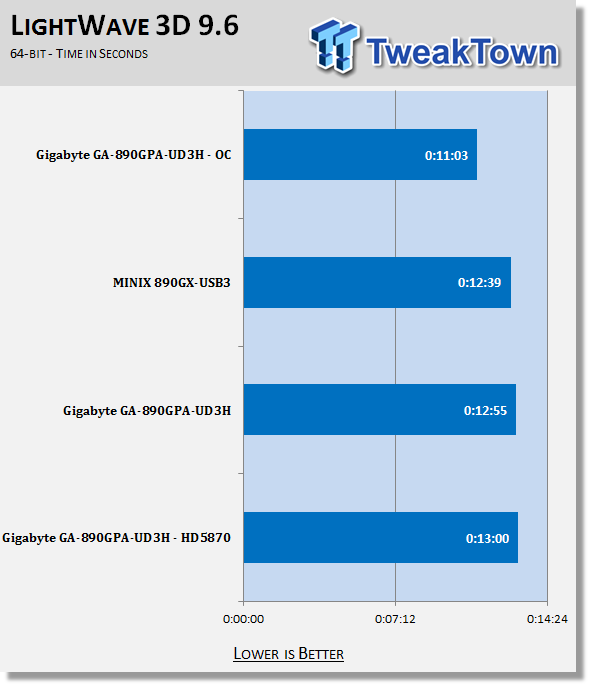 The MINIX 890GX did surprisingly well in LightWave 3D. We honestly expected it to do much worse considering the slower memory performance, but the quick HDD response pulled things back into line.
AutoGKVersion and / or Patch Used:
2.55
Developer Homepage:
http://www.autogk.me.uk/
Product Homepage:
http://www.autogk.me.uk/
Download It Here
AutoGK stands for Auto Gordian Knot; it is a suite of transcoding tools that are compiled into an easy to install and use utility. It allows you to transcode non-protected DVDs and other media to Xvid or Divx format. For our testing purposes we use a non-DRM restricted movie that is roughly 2 hours in length. This is transcoded to a single Xvid AVI at 100% quality.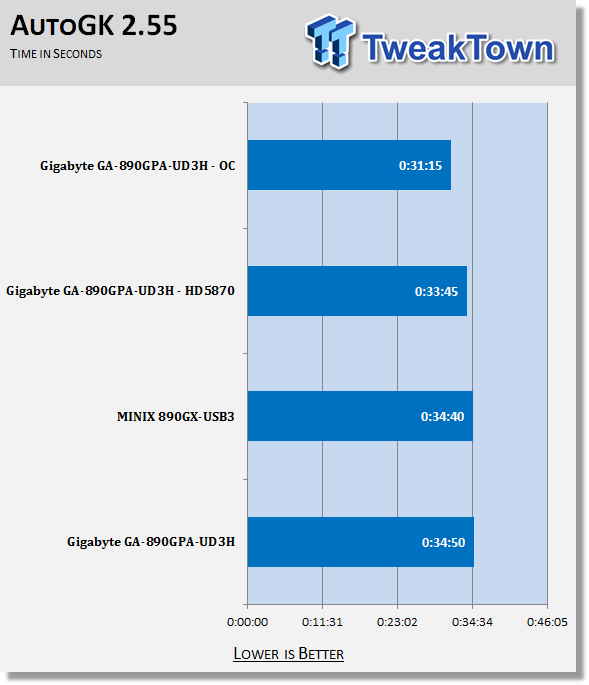 The MINIX is right about where it should be for Transcoding. Although not every piece of transcoding software is going to work as well as AutoGK does with multi-core CPUs, this should still give you a good idea of what to expect.
Real-World Tests - Part II
Here we have our real gaming tests. Each of the games we chose uses multiple cores and GPUs. They are able to stress the system through use of good AI. Both have decent positional audio that adds impact to the sound subsystem of the board. We ran each game through the level or parts listed and recorded frames per second using FRAPS. This brings the whole game into play.
As most IGPs are not meant for high-end gaming, we have swapped out one of our First Person Shooters for a more mainstream game. We have also adjusted down the testing resolution from 1920x1200 to 1280x960. In order to keep full measure of the board we return to 1920x1200 when we test the board with our HD 5870.
SIMS 3Version and / or Patch Used:
1.0
Timedemo or Level Used:
Ten Minutes of Game Play in Sunset Valley
Developer Homepage:
http://www.ea.com/
Product Homepage:
http://www.thesims3.com/
The SIMS 3 is the third complete edition of this popular game. In it you create a personality for use in a virtual world. The town we chose was Sunset Valley; we created a basic character and off we went. We performed as many actions as we were able to in order to give the board and GPU as much to think about as we could. The settings we used are shown below.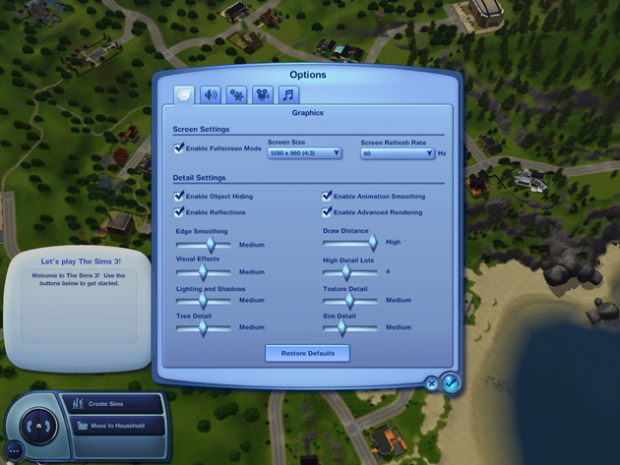 Settings for IGP testing at 1280x960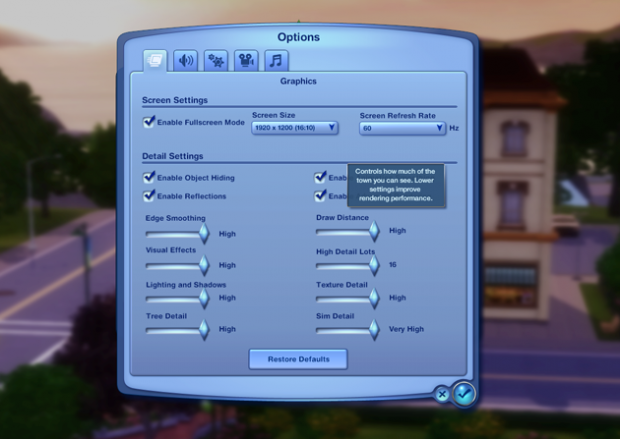 Settings for the HD 5870 testing at 1920x1200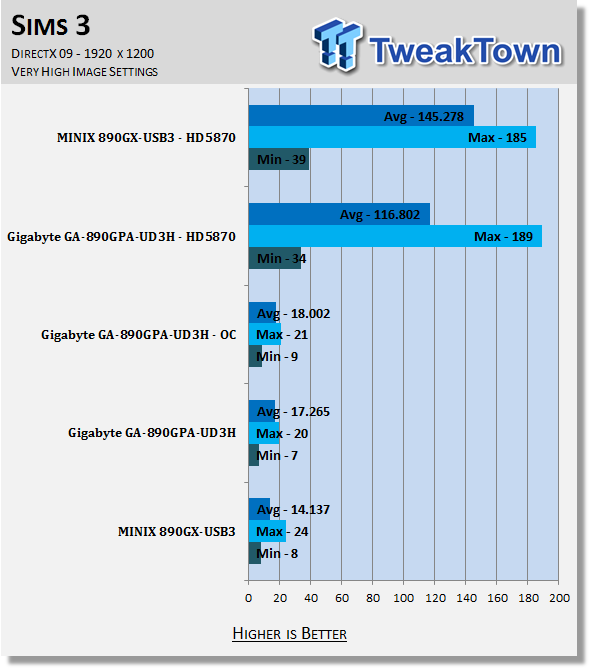 The SIMS 3 sort of beats up on the IGP built into the 890GX chipset. But then again, these are not meant for heavy gaming. They are more for casual gaming at low resolution.
Far Cry 2Version and / or Patch Used:
V1.00
Timedemo or Level Used:
Clearing the Safe house through to the Rescue
Developer Homepage:
http://www.ubi.com
Product Homepage:
http://farcry.us.ubi.com
Far Cry 2 is a large sandbox style game. There are no levels here so as you move about the island you are on you do not have to wait for the "loading" sign to go away. It is mission driven so each mission is what you would normally think of as the next "level".
In the game you take the role of a mercenary who has been sent to kill the Jackal. Unfortunately your malaria kicks in and you end up being found by him. Long story short, you become the errand boy for a local militia leader and run all over the island doing his bidding. The settings we used for testing are shown below.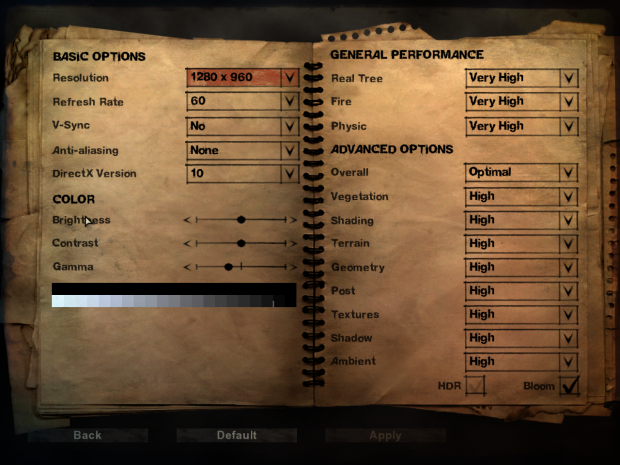 Settings for IGP testing at 1280x960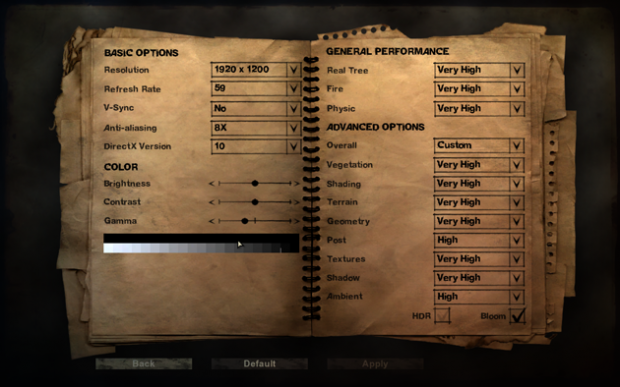 Settings for the HD 5870 testing at 1920x1200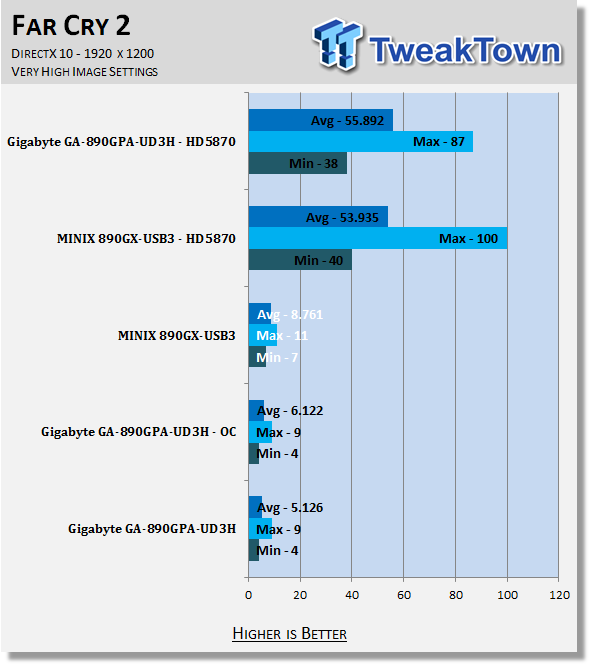 Well, the MINIX did a little better here, but to be honest it is still like playing a slide show when you are stuck with the IGP.
Gaming Conclusion
The MINIX all on its own is not going to satisfy any sort of gaming fix (except for very entry level gaming). Thankfully you can drop in a beefy discrete option like the HD 5870 and things will certainly pick up from there. The audio on the board was also up to the games that we threw at it. There were no stutters, jitters or other audio anomalies.
Power Usage, Heat Tests and Final Thoughts
Power Consumption
We are now able to find out what kind of power is being used by our test system and the associated graphics cards installed. Keep in mind; it tests the complete system (minus LCD monitor, which is plugged directly into an AC wall socket).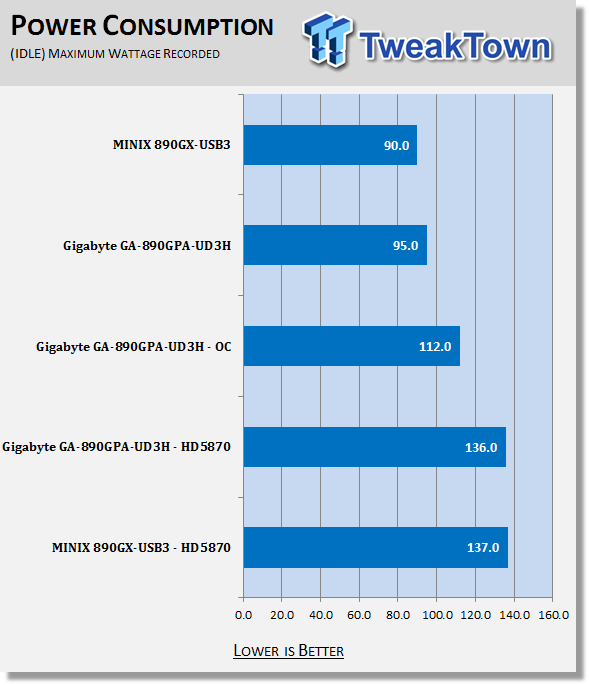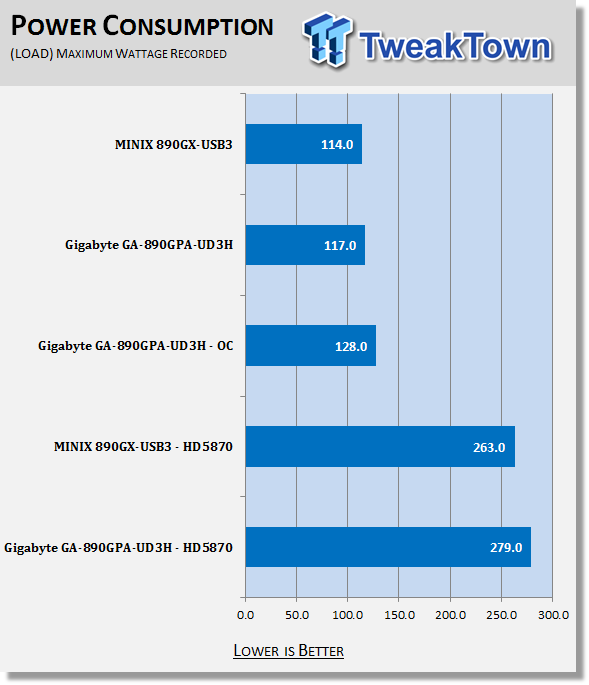 We are sure that it comes as no surprise that the MINIX 890GX is not a power hungry board. Even with the Phenom II X6 thrown in we still see excellent power efficiency.
Heat Generation
As a new measure, we are now monitoring the heat generation from the key components on the motherboard; this being the Northbridge, Southbridge (if it contains one) as well as the Mosfets around the CPU. The results are recorded at idle and load during the power consumption tests.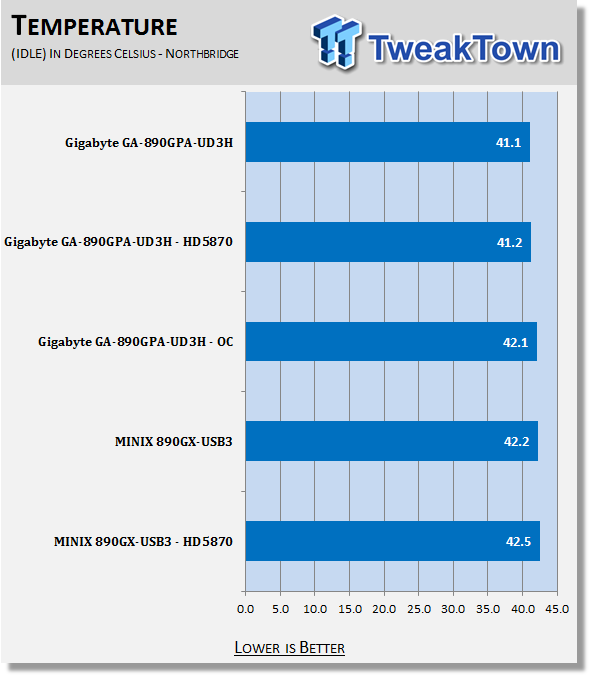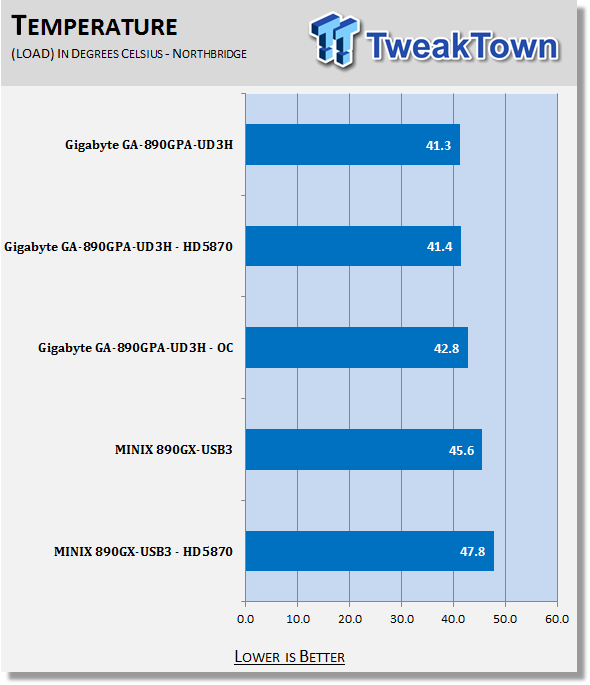 As we expected, the MINIX ran a little hot. It is certainly not the hottest board we have had in the lab, but if you plan on using it you might want to swap out the thermal pads for thermal paste and clamp the heat sinks down a little better.
Final Thoughts
The J&W MINIX 890GX-USB3 is a pretty tough little board. We have tried this same stunt in other Mini-ITX boards and we could not get past the POST, let alone actually finish our full testing suite.
The fact that this board seems to be able to handle a Phenom II X6 1100T without missing a step speaks volumes about its design and quality. Of course, we cannot guarantee that every 890GX will be able to do this, but we have a feeling that you would not be disappointed if you tried it.
Of course, there are other reasons to grab one of these. After all, you have dual GBe LAN ports, N-Spec Wireless, good Audio, room for a full sized PCIe video card and more. The down side is that you will have to spend a bit of time getting all the drivers installed as the shipping driver DVD seems built for XP and not much else.