Sapphire Radeon HD 6870 FleX 1GB Video Card Review
The FleX series from Sapphire grows up a little bit with the introduction of a HD 6870 version. Let's have a quick look at it.
Published Wed, Feb 23 2011 3:34 PM CST
|
Updated Tue, Nov 3 2020 7:02 PM CST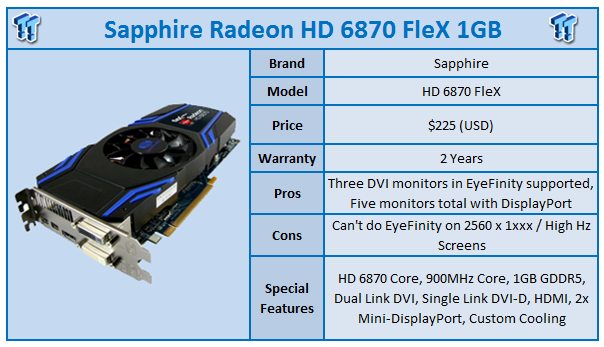 When I first looked at the
HD 5770 FleX
I was impressed that Sapphire had taken the time to acknowledge one of the biggest issues with Eyefinity and fix it. The issue we speak of is the need to have a DisplayPort monitor to make use of the technology. For some it's not an issue, especially if you're only on one monitor and you're going to buy three new ones for your setup. If you're not, though, and you already have a couple of monitors, the need for a DP enabled one is a pain.
While we've seen advancements in Active adapters with the introduction of Single-Link DVI to DisplayPort being released, the issue continues to be that it's hit and miss and can just be an all-round pain to get up and running. On the other hand, if you've got native DisplayPort monitors you shouldn't have many issues, if any.
What the HD 5770 FleX allowed us to do was use three DVI monitors on a single card. What you were doing was bringing the advantage of NVIDIAs Surround Sound, which is the use of DVI monitors, with the advantage of Eyefinity; the ability to run them off a single card.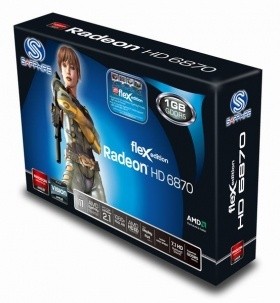 With the inclusion of a DisplayPort monitor you could kick it up a notch even further and run up to four monitors off a single card in "Eyefinity". The introduction of the HD 6870 FleX 1GB helps kick the series up another notch again.
Before we get into all the connectivity side of things, let's first check out what exactly is going on with the bundle Sapphire has put together, and just take a look at the rest of the card.
Apart from the standard paperwork and driver CD, the cable line-up consists of; two Molex to 6-Pin PCI-E adapters, DVI to VGA adapter, Mini-DP to DP adapter and a Crossfire cable. Also included, but not pictured, is a HDMI to DVI adapter.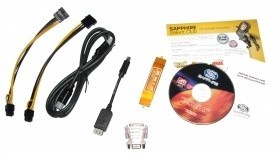 As for the card itself, it resembles the HD 6950 1GB we recently looked at that carries with it the same cooler. It's a great looking cooler that has a large fan in the middle. If you look closely, you can also see the heat pipes coming out of the heatsink.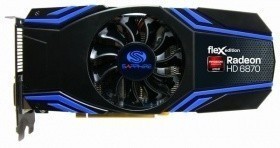 Looking around the rest of the card, you're not going to find too much that you haven't seen before. Power is provided with the help of two 6-Pin PCI-E connectors and we've got a single CF connector allowing you to run up to two of these cards together.
Looking at the connectivity, you're again not really going to see anything too different. We've got a Dual-Link DVI, Single-Link DVI, HDMI 1.4a and two Mini-DisplayPort connectors.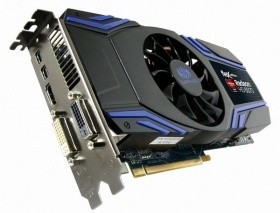 Diving a little deeper into the DVI connectivity on hand, you're able to see where the difference lies. A Single-Link DVI and Dual-Link DVI isn't anything new with all HD 6000 series cards carrying that setup. What's different is while normally we would see those connections in DVI-I format, the Dual-Link is DVI-I, but the Single Link is DVI-D, which means it can only carry a digital signal. This shouldn't be an issue for most, though.
Being a DVI-D, this means that you couldn't use an analogue monitor on it. In other words, you couldn't use a DVI to VGA connector as you're not able to convert the signal. Again, this shouldn't be an issue for people since we're trying to get DVI monitors running in Eyefinity, and not VGA ones.
With those two DVI ports and the included HDMI to DVI adapter, you're able to use three DVI monitors. If you wanted to go for a five monitor setup, the option is available via the DP connectors.
In the event you wanted to use five DVI monitors, you would need two Mini-DP to DP adapters and two Active DP to Single-Link DVI adapters. If you had something like the Dell U2410 which carries a native DisplayPort connection, you would only need two Mini-DP to DP adapters.
Of course, a combination of four monitors can also be used by using just one of the DisplayPort connections with an active DP to Single-Link DVI adapter, or if you're using a monitor that supports DP you can just use the included mini-DP to DP adapter.
It all becomes a little confusing and for the most part the extension beyond the use of three monitors isn't what makes this card so great, rather the ability to run three monitors via DVI instead of the typical two DVI and DisplayPort setup.
Of course, like the HD 5770 FleX, this setup isn't designed for gaming as a HD 6870 won't be able to really run any games at a smooth FPS under Eyefinity. The setup is more aimed at business users who want three DVI monitors without needing two cards like the NVIDIA solution.
On a whole, this is a really great card, but it can only be as great as sales teams make it by increasing the awareness on Eyefinity. Multi Monitor setups aren't anything new in the corporate environment, but the ability to move away from multiple card setups or adapters like the TripleHead2Go is what makes a card like this so attractive.
Of course, outside of just the typical "Corporate" environment, people who work from home or do a lot of work from home would again enjoy something like this, as it offers the same kind of benefits.
The FleX series creates the ability to use "Eyefinity" without the cost associated with going down the DisplayPort path, be it with expensive active adapters or new monitors. From the original HD 5770 FleX we looked at as well, with the assistance of DP monitors you could now run up to five off a single card.
In the sense of offering three DVI monitor support, the HD 6870 FleX doesn't really offer any improvements over the HD 5770 FleX. Both cards will let you run three DVI monitors and both cards won't let you game on those three monitors.
What the HD 6870 FleX does offer, though, is those improvements that the HD 6000 series brought with it along with support for up to five monitors instead of four with the assistance of a DisplayPort one.
I really like this card, and I really like that Sapphire continue to think out the box and offer us something new. Let's hope, though, that the people selling it can inform people what exactly is on offer along with the benefits this card offers over a dual card NVIDIA setup or a single card AMD setup which requires at least one DP monitor, or an expensive active adapter.

PRICING: You can find products similar to this one for sale below.

United States: Find other tech and computer products like this over at Amazon.com

United Kingdom: Find other tech and computer products like this over at Amazon.co.uk

Australia: Find other tech and computer products like this over at Amazon.com.au

Canada: Find other tech and computer products like this over at Amazon.ca

Deutschland: Finde andere Technik- und Computerprodukte wie dieses auf Amazon.de