The P321's are another USB powered headset from Arctic Cooling's Arctic Sound division. This time, however, they are of the stereo variety and as such are intended for music listening. Since this headset does not interface in the traditional sense with a sound card, it relies on a built-in sound processor much like the one found in its more advanced next of kin; the P531 (review coming soon). Company boffins also claim the use of some high fidelity drivers along with a design that aids in blocking out outside noise.
The package is very slim indeed, as one might expect with a headset like this. The ensuing setup is simply a matter of USB plug and play.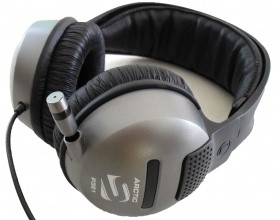 The headset receives its commands from an in-line volume control which while not feeling good to hold due to some melted down action figures being used to cast it, is adequate for what is required. One interesting feature to notice on the control is the skip track in either direction feature, which is a nice touch, we feel. There is also a built in Mic, which has become the obligatory set of steak knives in the headset world.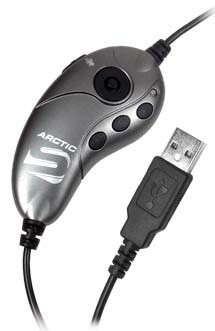 However, it does add another notch in this headsets feature list. The onboard sound processor is also of interest to us as there does not seem to be much in the way of technical information on it. The P321's use a larger 50mm driver than the more advanced P531, which in theory should provide a better overall image of the sound, as the larger driver is less restricted in the frequencies it can produce. It should be interesting to see how the two compare when tested.
- Features
- High-fidelity driver ensures uncompromised sound details and dynamics
- Powerful bass, crisp highs
- Retractable microphone included
- Lightweight and comfortable
- Distortion-free digital audio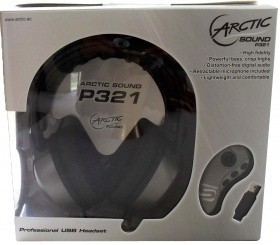 The specifications are a fairly standard affair. Really, the single most important thing in a headset like this is to use a speaker driver which is of a high quality and one that is capable of generating some good sound pressure on the users head. If you can get that right, in most cases those headphones will sound good. Intrinsically linked to the last point, secondly of interest is the feather like weight which comes in at only 225g. While sounding like a larkish thing to say, we probably like the ultra-lightweight-ness more than anything else about this headset.
The move to have a built in audio processor is one we like quite a lot. Obviously it's a new concept and new concepts need time to percolate into great concepts, but it's certainly a good move by Arctic Cooling which opens doors to allow tailor made digital processing solutions for specific headsets. It totally bypasses the need for on board processing in the users system, not to mention the potential for gamers and portable lovers. But there is also some scope for 'theme headsets' which use special processing equipment to create a certain usage template like 'movie buff' and 'heavy metal'.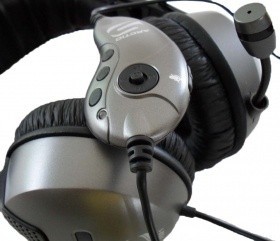 - High End
Fairly well balanced all around, although not exactly what might be referred to as high fidelity; also not managing to live up to the standard set by the slightly more expensive P531's.
- Mid Range
Probably stronger than the high end, but a little bit recessed and thin. Percussive tones were there, but not in spirit we are sad to report. Everything had a sort of 2D feel to it in the mid range; it's hard to describe with much useful accuracy as it could be a signal issue with the processing somewhere along the line we hypothesize, rather than an issue with the hardware. But we could also be completely incorrect.
- Low End
And things do not get a whole lot better with the low end we are afraid. They just have not used a driver with enough punch to deliver a strong low end. On a brighter note, though, they are very comfortable to wear, mainly due to how light they are. Given longer more sustained listening sessions, users should not experience any issues with comfort and neck complaints.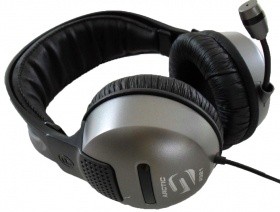 Overall, this headset does not sound bad; it is quite comfortable to wear and weighs in at a handful of change at the checkout (sub $40US). But it's a combination of factors that let us down today. The slightly more expensive P531's feel so much nicer to hold and just seem as though they are the product of a better design team.
If this system could be used with portable devices, we would be inclined to overlook some of the shortfalls, but as a desktop or laptop system only, as it has been designed, not withstanding the very low price, it just isn't really worth the bother. You might as well just save for a few more weeks and buy the P531's with no regrets and have surround built in.