Super Talent SuperCrypt 32GB USB 3.0 Flash Drive
With a marriage of solid state and USB 3.0, Chris sees what kind of performance is on tap with Super Talent's SuperCrypt series today.
Published Mon, Aug 9 2010 12:16 PM CDT
|
Updated Tue, Nov 3 2020 7:02 PM CST
Introduction, Specifications, Pricing and Availability

Introduction
We had our first taste of Super Talent's SuperCrypt USB 3.0 thumb drive at Computex back in June. Super Talent was set up in the Taipei 101 at the Gigabyte USB 3.0 Showcase that displayed several new USB 3.0 products from several manufacturers. Gigabyte put Super Talent at the head of the tables and after seeing the SuperCrypt and RAIDDrive, Super Talent's high performance USB 3.0 thumb drives, it was easy to see why Gigabyte wanted to showcase these creations.
Today we are looking at the Super Talent SuperCrypt 32GB USB 3.0 thumb drive that features high transfer speeds and enterprise level hardware security. The SuperCrypt is much faster than a standard thumb drive; up to 240MB/s since it is a marriage of solid state and USB 3.0 technology.
As you can imagine, high performance also comes at a high cost. This is one of the areas that to this point has held back high speed USB 3.0 devices. Today we will break down the Super Talent SuperCrypt pricing structure and see how the drive performs.
Specifications, Pricing and Availability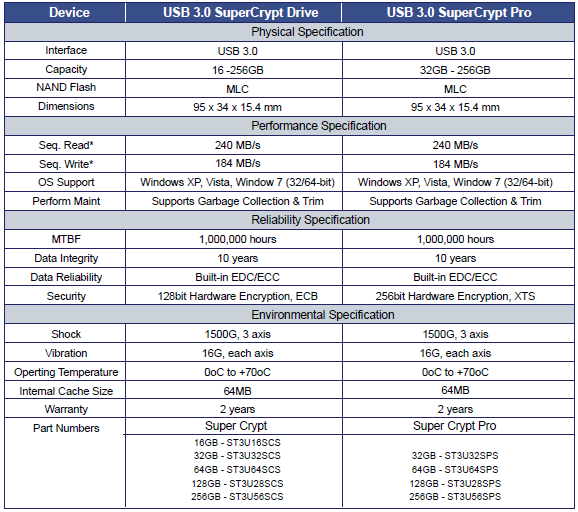 The SuperCrypt works in both USB 2.0 and USB 3.0 ports so you will be able to use the drive in just about any computer on the planet. Just don't expect speeds over 30 to 35MB/s when using the drive in USB 2.0 ports. The 64MB cache buffer eliminates any caching issue that would slow the drive while reading and writing. The real speed of the SuperCrypt comes into play once you start using USB 3.0 ports and Super Talent's modified USB 3.0 driver (found on the Super Talent website). At that point, you can expect read performance to go up to around 240MB/s and write speeds up to 184MB/s.
Speed might be the biggest advantage of the SuperCrypt but it is only half of the story. Our sample drive uses a 128bit encryption in ECB mode. Super Talent also offers a SuperCrypt PRO model that moves this up to 256bit AES in XTS mode. From the factory, the drive is divided into two separate partitions: one public and one private. A small software application is kept on the read only public portion of the drive and will allow you to unlock the hidden area as long as you have the password.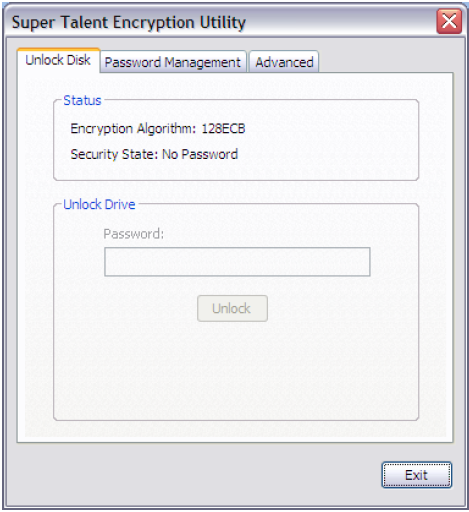 Here we see the log in screen that allows us to unlock the drive. No information is stored on the host PC and everything is handled in the SuperCrypt.
We were not able to find the SuperCrypt at Newegg, but did find the entire line up at Amazon. At the time of writing, the 16GB is available for 119.84, 32GB for 170.24, 64GB for 260.96, 128 for 487.20 and the massive 256GB for 778.40 USD. As always, high-end technology comes at a high cost.
The Packaging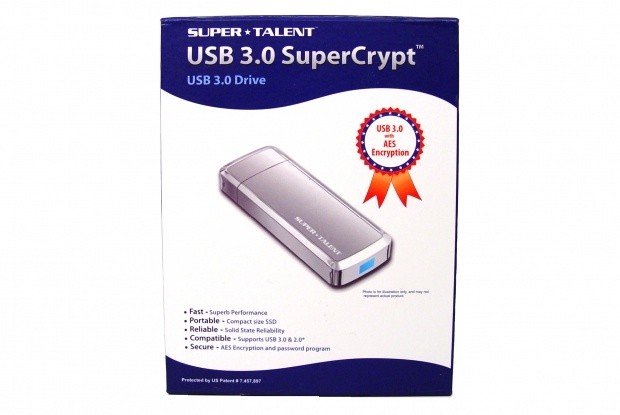 Super Talent put together an informative package for the SuperCrypt. At the bottom of the front, there is a list of features and at the top Super Talent has their AES encryption listed.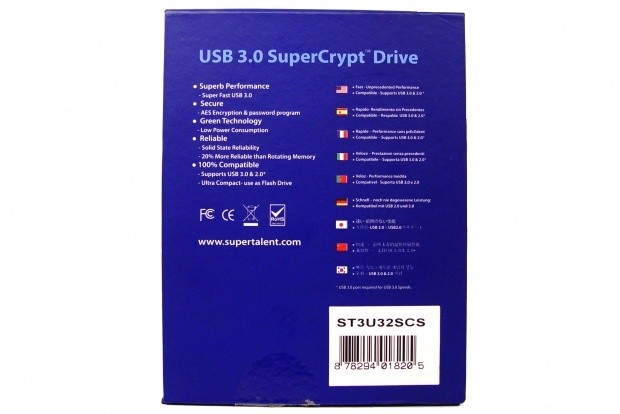 The only information that is missing is the read and write speed.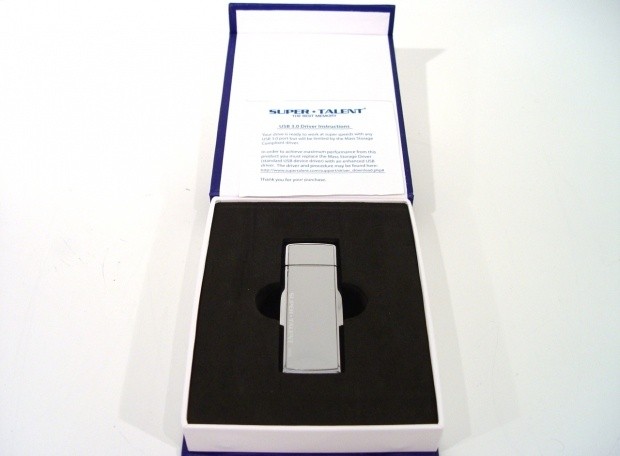 The inner packaging keeps the drive secure so there is little worry of the drive being damaged during shipping. Also, you will find a paper inside that talks about the special USB 3.0 drivers. You can use the drive without the special drivers but Super Talent says you will get better performance with their drivers.
The ideal solution with the drivers would have been to include them in the read only portion of the drive so you always have them. Instead, Super Talent wants you to go to their website and download the drivers.
The Super Talent SuperCrypt 32GB

Here we get our first up close look at the Super Talent SuperCrypt. The entire package is made from plastic but looks very good on the outside.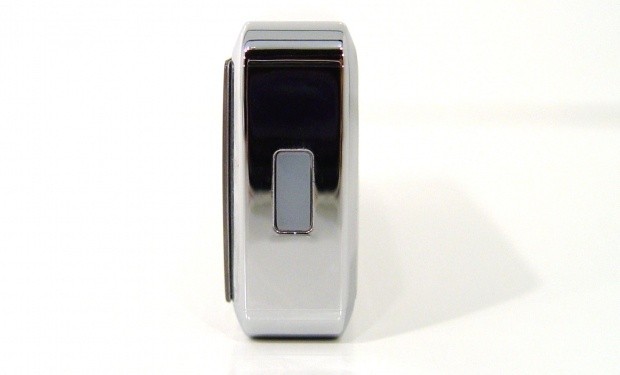 The back of the drive has a lighted portion that glows blue when the drive is connected to a USB 3.0 port.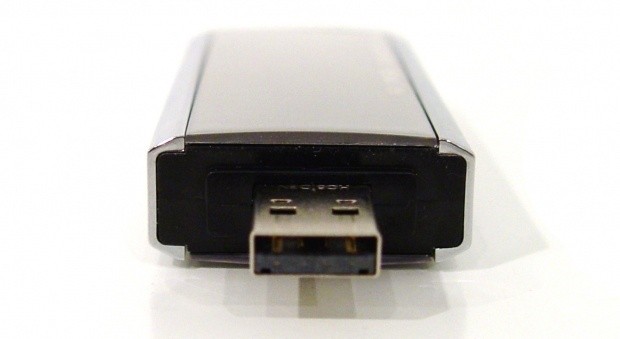 I was expecting to see a blue plug at this end since nearly all USB 3.0 products use a blue plug.

When it comes to the size of the SuperCrypt, we can see that it is larger than most thumb drives. In this image we see some of my most used thumb drives: the SuperTalent Luxio and the Godfather.
Test System Setup and ATTO Baseline Performance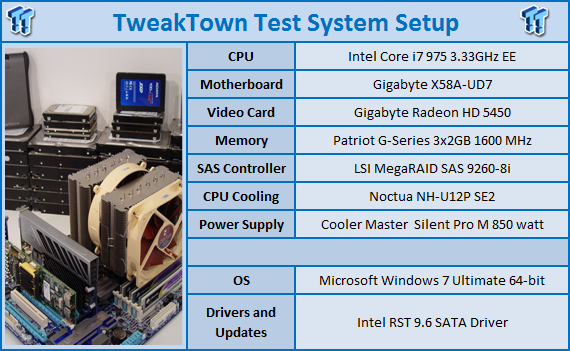 We would like to thank the following companies for supplying and supporting us with our test system hardware and equipment:
AVADirect
,
GIGABYTE
,
Cooler Master
,
LSI
and
Noctua
.
You can read more about TweakTown's Storage Product Testing Workstation and the procedures followed to test products
in this article
.
Today we are testing the Super Talent SuperCrypt 32GB SSD that uses a JMicron JMF612 SSD controller that is connected to a Lucid Technology bridge chip. The performance shown today represents the 32GB model; other capacity sizes will perform a little differently.
ATTO Baseline Performance
Version and / or Patch Used:
2.34
ATTO is used by many disk manufacturers to determine the read and write speeds that will be presented to customers.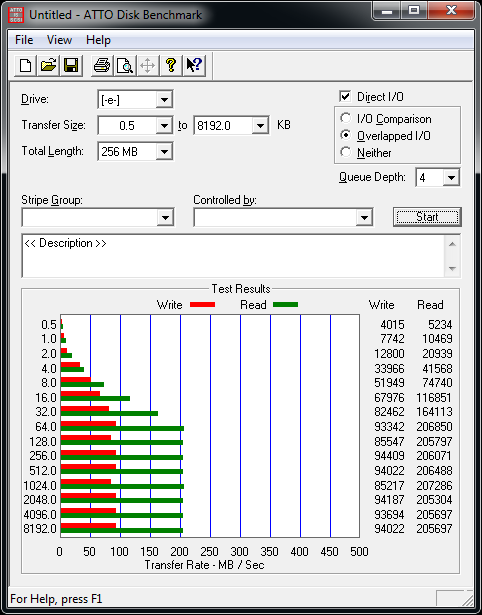 In ATTO we see the controller reading just over 200MB/s and writing just under 100MB/s on our 32GB sample. We are a long way past the old 35MB/s limits of USB 2.0.
Benchmarks - HD Tach
HD Tach USB 2.0 and 3.0 ComparisonVersion and / or Patch Used:
3.0
Developer Homepage:
http://www.simplisoftware.com
Product Homepage:
http://www.simplisoftware.com/Public/index.php?request=HdTach
Buy It Here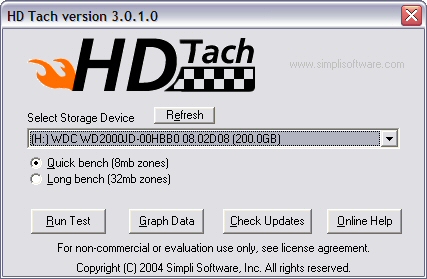 HD Tach has been around for a long time and is excellent when it comes to testing hard drive performance. It is also a very handy program when it comes to testing the controller used on particular motherboards. Tests such as Read, CPU Utilization and Burst are available at a click of the button and give you a good idea of how the hard drive can perform from system to system.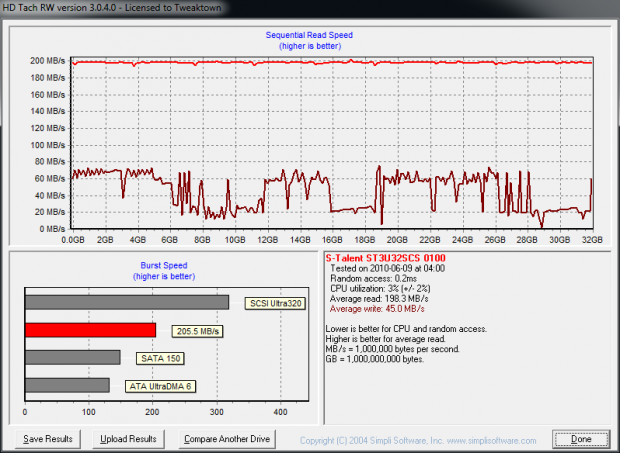 In HD Tach we get our first look at performance across the drive. This is also where we start having concerns about the JMicron 612 controller. Even with the 64MB buffer, we see that the drive does slow down while writing data and at one point the performance dips to a virtual standstill.
This makes our average write speed a disappointing 45MB/s. This would be very slow for a normal SSD. but is still much faster than what we are used to on a portable thumb drive. At least JMicron finally found something their 612 controller would be fairly good at.
Benchmarks - Crystal Disk Mark
CrystalDiskMarkVersion and / or Patch Used:
3.0 Technical Preview
Developer Homepage:
http://crystalmark.info
Product Homepage:
http://crystalmark.info/software/CrystalDiskMark/index-e.html
Download here:
http://crystaldew.info/category/software/crystaldiskmark
CrystalDiskMark is a disk benchmark software.
Key Features:-
* Sequential reads/writes
* Random 4KB/512KB reads/writes
* Text copy
* Change dialog design
* internationalization (i18n)
Note:
Crystal Disk Mark 3.0 is not available to the public yet, but the Technical Preview does allow us to test 4K performance at queue depths of 4 and 32 in addition to 1. The current release Crystal Disk Mark only shows us QD 1.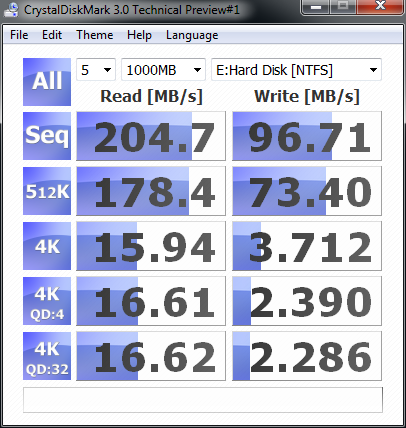 In a recent announcement, the makers of CDM stated that they were making the 1000MB test the default benchmark, so we have changed over from the 100MB test and started using the 1000MB test in our reviews.
Typically we use CDM to gauge 4K performance at different queue depths. Since USB 2.0 and USB 3.0 do not take advantage of NCQ, we use CDM for 4K performance testing. Here we see the SuperCrypt 32GB getting right around 16MB/s in 4K read speeds.
Benchmarks - AS SSD
AS SSD BenchmarkVersion and / or Patch Used:
1.2.3577.40358
Developer Homepage:
Alex Intelligent Software
Product Homepage:
Alex Intelligent Software
Download here:
http://www.alex-is.de/PHP/fusion/downloads.php?cat_id=4&download_id=9
AS determines the performance of Solid State Drives (SSD). The tool contains four synthetic as well as three practice tests. The synthetic tests are to determine the sequential and random read and write performance of the SSD. These tests are carried out without the use of the operating system caches.
In all synthetic tests the test file size is 1GB. AS can also determine the access time of the SSD, the access of which the drive is determined to read through the entire capacity of the SSD (Full Stroke). The write access test is only to be met with a 1 GB big test file. At the end of the tests three values for the read and write as well as the overall performance will be issued. In addition to the calculated values which are shown in MB/s, they are also represented in IO per seconds (IOPS).
Note:
AS SSD is a great benchmark for many tests, but since Crystal Disk Mark covers a broader range of 4K tests and HD Tune Pro covering sequential speeds, we will only use the Copy Benchmark from AS SSD.
- Copy Benchmark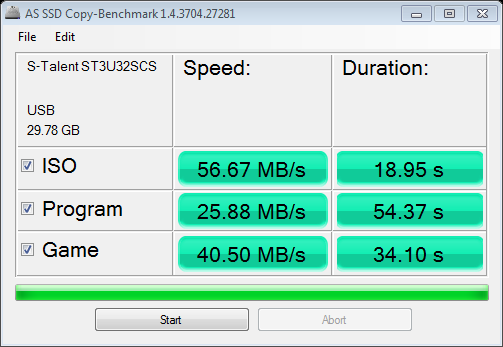 The most common use for a thumb drive is to copy and paste data to for short term storage and to transport the data from one place to another. In the AS SSD Copy test we are able to see how long it takes to move three common file formats.
Final Thoughts
We are starting to see a lot of USB 3.0 products hit the market. With NEC's recent price drop, more products will be coming out even faster. The most common USB 3.0 product has been 2.5 and 3.5" drive enclosures. Super Talent is one of the few companies taking advantage of USB 3.0's speed increase and applying the technology to thumb drives. When it comes to the data transfer performance, the Super Talent SuperCrypt is very fast given its category and competition. Being able to read data back at nearly 200MB/s is a long way from anything we have seen out of USB 2.0. The write speeds are about half of what read speeds are, but they are still three times faster than USB 2.0.
Users looking for both speed and security will find both needs met with the SuperCrypt. With two models available, the first featuring 128bit encryption and the second offering 256bit encryption, you can even choose the level of security needed.
Of course, all of this technology comes at a high cost. The 32GB SuperCrypt that we reviewed here today is available now from Amazon for 170.24 USD. The drive is large enough to hold a lot of data and is capable of delivering that data at very fast speeds. Users looking for even more storage can choose to purchase the 64, 128 or even a massive 256GB model. If you just want the speed and the security and can live with less space, Super Talent also offers a 16GB model in the 128bit encryption category.
The only fault that we found with our sample was the plastic housing. At this price, we feel the drive should be a little more robust. I don't mean titanium or carbon fiber (although that would be really nice) but having a little bit of metal would help the drive survive being closed in a door or any number of accidents that I have actually had happen with a thumb drive before.
PRICING: You can find products similar to this one for sale below.

United States: Find other tech and computer products like this over at Amazon.com

United Kingdom: Find other tech and computer products like this over at Amazon.co.uk

Australia: Find other tech and computer products like this over at Amazon.com.au

Canada: Find other tech and computer products like this over at Amazon.ca

Deutschland: Finde andere Technik- und Computerprodukte wie dieses auf Amazon.de
We openly invite the companies who provide us with review samples / who are mentioned or discussed to express their opinion. If any company representative wishes to respond, we will publish the response here. Please contact us if you wish to respond.
Related Tags