Alice In Wonderland Blu-ray Movie Review
"You're terribly late, you know. Naughty!"

Published Sat, Jul 17 2010 3:21 AM CDT
|
Updated Tue, Nov 3 2020 7:02 PM CST
The latest stab of Louis Carrols 1865 novel 'Alice's Adventures in Wonderland' is the most visually stunning yet. Finally, technology has advanced to a point where the tale can truly be told. However, whilst technology has improved, the story adaptation has not.
Told as a semi-sequel, Alice (Mia Wasikowska) returns to the world of Wonderland (now dubbed 'Underland') by chasing the white Rabbit and is re-united with the Mad Hatter (Johnny Depp) and the fairly hilarious March Hare (voiced by Paul Whitehouse). The battle with the White and Red Queens (Anne Hathaway and Helena Bonham Carter respectively) continues to devastate the land, but the return of Alice has been foretold to bring peace. But in true fashion, nothing in Wonderland is quite as it seems - our Alice may not be the 'correct' Alice, at any rate. Or is she?
Tim Burton, one of my favourite directors of all times, responsible for some of my favourite movies of all time, including
The Nightmare Before Christmas
,
Batman
and
Mars Attacks!
seems to be losing his edge. This effort represents a subject matter that, done correctly shouldn't be terribly family-friendly (although I do concede that Walt Disney's 1951 animation of the same name was quite good). Unfortunately, Burton has watered down the more subversive elements and gone to the family friendly centre. Obviously it's paid dividends for the studio, passing over a billion U.S. dollars from the theatrical release, putting it up in the higher echelons of highest grossing motion pictures of all time. But from a film perspective, the chance to portray the penultimate version of
Alice In Wonderland
has instead become a painfully missed opportunity.
Burton and regular Johnny Depp are once again reunited with a good portrayal of the Mad Hatter. However, Depp is a very talented actor and his seeming need to continually return to the character of Jack Sparrow from the
Pirates of the Carribbean
films is wearing very thin indeed. Maybe a break to more serious roles is what he requires to reset.
Of note in this initial release of the film is that it's provided in 2D only. A re-release compatible with 3D TV's will be forthcoming.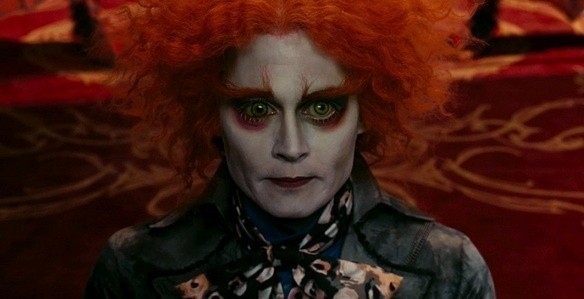 VideoAlice In Wonderland
is presented in a widescreen aspect ratio of 1.78:1.
The transfer is near flawless, but that's also its Achilles heel. The movie was filmed with Panasonic HD cameras with actors almost entirely against green screen, similar to
Avatar
and to a lesser effect, the
Star Wars
prequels. Exacerbated by the digital nature of the visual effects, it gives the transfer a very clinical feel. It's almost as if the whole film should have been a Pixar CG animated one; after all, it would have been a lot cheaper to produce.
I feel strange to bring that up, but there's just such a coldness introduced by this transfer that really takes me out of the film and makes it hard to separate the technical qualities of the film versus the technical merits of the film.
However, at the end of the day the real test of the video quality is whether or not it is a true representation of the way the film is meant to look and based on my theatrical experience of the film, I can safely say that this Blu-ray accurately depicts that.
The image is bright (brighter than the 3D theatre experience due to lack of polarization), sharp and free of film artifacts (being a completely digital transfer). Overall, it's a technically brilliant transfer, but it doesn't necessarily mean it's a pleasing image.
[img]2[/img]
Audio
The main audio track is encoded in DTS HD Master Audio 5.1, at 24 bits.
Demo worthy. Excellent. Amazing. I've run out of adjectives to describe a superlative audio track. There are simply no real problems to report. Vocals are always clear and easy to hear and synchronised perfectly, even for the CG creatures. The front soundstage does a good job of supporting the bulk of the audio, with some very aggressive split rear effects. Also strong is the usage of bass, frequently underscoring the more dramatic sections of the film.
The score provided by Burton regular Danny Elfman is fine enough, but fairly unmemorable and not a patch on his most standout soundtracks. It's arranged nicely into the mix, with a fair bleed into the rears.
Overall, a very pleasing audio track. Definitely up to scratch.
[img]3[/img]
Extras
Call me cynical, but I just know that this is the first of what will be forthcoming editions of
Alice In Wonderland
. Rushed to home video merely three months after the theatrical release, there evidently wasn't enough time to produce a truly amazing package. Don't forget the additional 3D version of the film sitting on Disney's hard drives that we'll get a re-release of, too; no doubt sooner rather than later.
For its maiden release, we have two
featurettes
. The first, entitled
Making Wonderland
, is a 20 minute documentary that briefly touches on many aspects of the film, but doesn't linger on any of them long enough to really delve into any substantial detail. Still, Burton fans will get a sense of the man at work.
The second is a 30 minute featurette entitled
Wonderland Characters
, which might as well have been melded into the aforementioned featurette as the topics are pretty cross relevant. Of note is the look into specific CG work and some character designs that hint at a darker (and more interesting) take on the source material.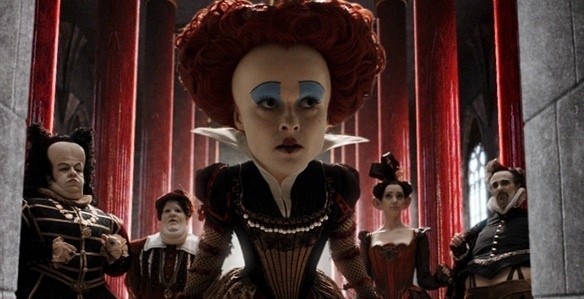 Overall
Review Equipment Used:
Display
: Sony KDL52X3100 LCD (1080p resolution/ 24p playback)
Player
: Sony BDP-S550 Blu-ray, PlayStation 3 (24p playback)
Sound
: Sony STR-DA5400ES Receiver (7.1 configuration), Sony SSX70ED front speakers (x2), Sony SSCNX70ED center speaker, Sony SSFCR7000 surround speakers (x4), Sony SAW3800 Subwoofer (Front), Sony SAWM500 Subwoofer (Rear)
PRICING: You can find products similar to this one for sale below.

United States: Find other tech and computer products like this over at Amazon.com

United Kingdom: Find other tech and computer products like this over at Amazon.co.uk

Australia: Find other tech and computer products like this over at Amazon.com.au

Canada: Find other tech and computer products like this over at Amazon.ca

Deutschland: Finde andere Technik- und Computerprodukte wie dieses auf Amazon.de
We openly invite the companies who provide us with review samples / who are mentioned or discussed to express their opinion. If any company representative wishes to respond, we will publish the response here. Please contact us if you wish to respond.
Related Tags